You've seen them on the runway, you've heard about their popularity, and now they've made a splash in my industry. The two-stone trend has become popular to the single stone solitaire. We see double everywhere, even in the wedding scene. Aside from trendy engagement rings, two-stone rings hold great appeal as anniversary gifts and right-hand rings.
You may be wondering to yourself, "Can I even afford two stones in one ring?" If this fast-moving trend causes concern, fear not! These were all created with flexible designs, allowing easy adjustment to metal type, stone size, type, and quality.
Whether you're in the mood for a floral motif or a juicy watermelon, these two colors fit the bill. We set the Pink Tourmaline and Peridot stones in white gold to make the bold colors pop. This unique style and color combination will definitely start a conversation with anyone who likes interesting jewelry.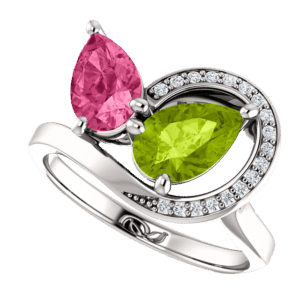 Want a bolder look? Try Blue Sapphire and Ruby, the epitome of royalty and power. These two timeless classics will never go out of style and make perfect heirlooms. Setting them in white gold helps to set off their boldness. And if you aren't a fan of this color combo, try adding a personal touch, like a birthstone.
These are just ideas.  Let us make your idea into a piece of jewelry!