Mother's rings with kids' names or birthstones are the ultimate expression of family pride and motherly love. Perfect both as gifts for both new moms as well as keepsake jewelry for yourself.  We have created a few mother's rings, but this 4 Stone Mother's Ring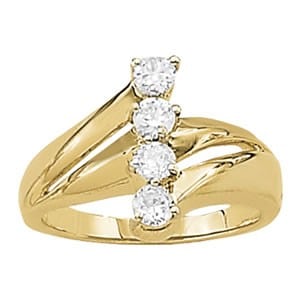 This 4 Stone Cocktail Ring would make a beautiful gift that any mom would adore, but usually they are cheesy and over the top.  This ring is elegant enough to also be work as a cocktail or right hand ring as well though. Set this with Diamonds and it is turned into an elegant piece of custom fashion jewelry.
Lucas Horton, owner and artisan jeweler at Valeria Custom Jewelry, came up with the contemporary design using comprehensive computer-aided design software. Any kind of diamond or colored gemstone can be set into the rings and they can be cast from sterling silver, gold, palladium or platinum. Multiple finishes are available such as a high, stone, brushed, or satin finish.
But the customization doesn't have to stop there. Working with a custom jeweler can open up a whole new set of options when shopping for Mother's rings. While most big box jewelry stores offer mass-produced mother's rings, Lucas can create a 4 stone Mother's ring the exact way you want it made.
With his graduate degree in gemology from the Gemological Institute of America, Lucas received a comprehensive education in the latest research, technology, and expertise in evaluating gemstones by color, cut, clarity and karat size. You can be confident in knowing that every diamond or gemstone set into the accented 2 stone bypass solitaire ring is of the highest quality available.
Why waste your time looking for 4 stone Mothers ring that was mass produced and sold by a commercial jeweler when you could invest in a custom 4 stone Mother's ring that was handcrafted just for you? Lucas is in the business of serving lifelong clients, not one-time customers, and is committed to making sure you are completely satisfied with his work. Give him the chance to exceed your expectations.
Click HERE to see another Cocktail or Mother's ring style.  Click HERE to learn more about custom jewelry, to see our portfolio, or to contact us about a 4 Stone Mother's Ring.  It can cost less than you think to have your very own custom mother's ring made just for you. Why hassle with the retail stores for boring and overpriced cocktail rings?  We can create exactly what you want and many times, at a cost lower than that of retail stores.