Art Deco Flower Diamond Ring
No style better represents sleek, elegant and modern design like Art Deco. Originating in the 1920s, the style features streamlined shapes, expensive materials, and precision symmetry. Lucas Horton, owner and artisan jeweler at Valeria Custom Jewelry, has masterfully captured the Art Deco style in a number of beautiful designs.
An Art Deco diamond band surrounds the princess cut diamond in his Art Deco Flower Diamond Ring design. Diamonds, cubic zirconium, emeralds, rubies or sapphires can be set into the scrolled band, making this intricately detailed piece a real show stopper.
Lucas has also designed a wide Art Deco gemstone or diamond band with milgrained edging, decorated with engraved semi-circles. Stone sizes can vary, and the band can be forged from silver, gold, palladium or platinum.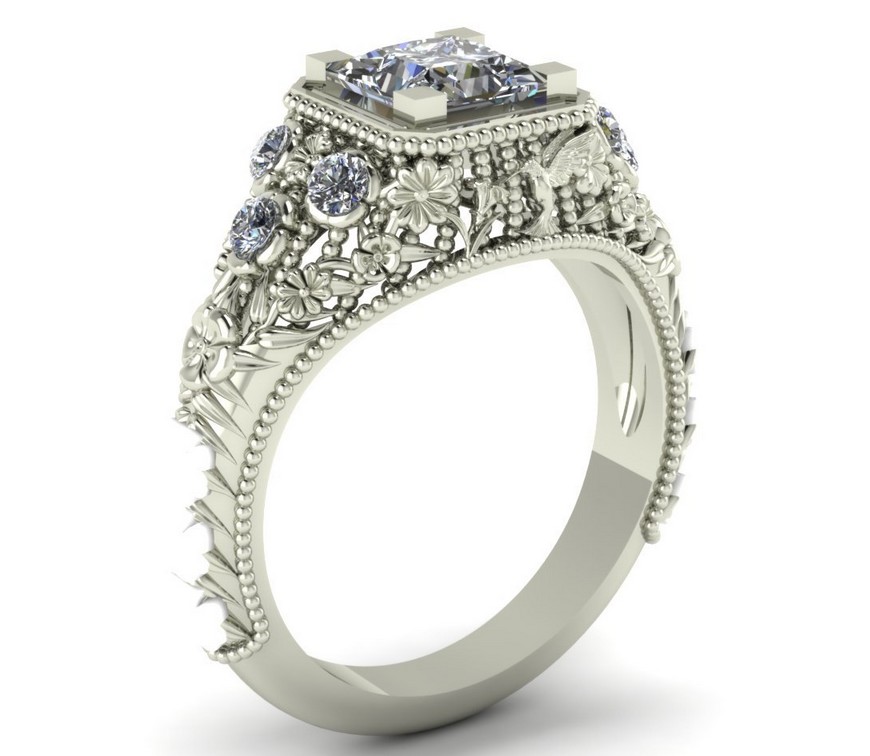 The Art Deco Flower Diamond Ring was inspired by an antique piece and is decorated with a bouquet of flowers dotted with gemstones. On the other side, a single hummingbird drinks from a flower just below the center stone, which can be square or round and cast in platinum, palladium, gold or silver.
Our custom flower bridal rings symbolize Lucas' ability to imagine and create intricate and beautiful designs inspired by the fashion and modernism of the last century. An educated gemologist, he also knows what qualities he's looking for in a stone, and has made his own contacts with trusted diamond and precious gem dealers all over the world. All his unique designs are made with the highest quality materials available, making his custom pieces likely to become lifelong family heirlooms.
Click HERE to see our portfolio of bridal jewelry.  Click HERE to learn more about custom jewelry, view our portfolio, or to contact us about your custom wedding ring.  It can cost less than you think to have a special engagement ring made just for you.  Why settle for the lame and overpriced bridal jewelry from the chain stores when we can make something showing your style and personality?