Bezel Set Diamond Rings
The Bezel Rings are not as common as prong set rings, but they are still a beautiful way highlight a special stone.  Bezel Set Diamond Rings are known for their sleek design and elegant curves.  They are also known for the security they provide as well.  This distinguished diamond setting is perfect when featured in the center of an engagement ring or even in a 3 stone engagement ring.  But we think it also looks distinctly unique when used for accent stones and in wedding bands.  And Bezel Set Diamond Rings aren't just for bridal jewelry either.  We have created a ton of cocktail and right hand fashion rings that utilize the bezel setting as well.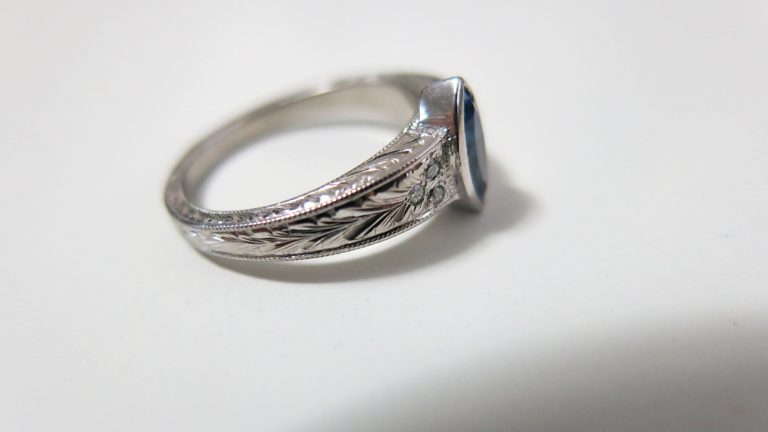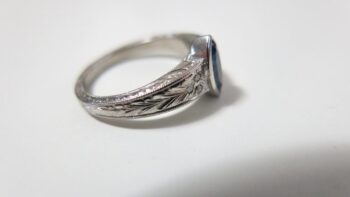 This engraved engagement ring was a little daring to go with a marquise shaped center stone.  But that was what was requested, so that is what we made.  The ring is a great example of the work our hand  engraver can do.
What Are Bezel Set Diamond Rings?
A bezel setting is when the diamond or gemstone is completely enveloped in the precious metal. It creates a metal "halo" around the stone and serves to secure the stone.  In actuality, bezels are more secure than even 6 prong settings.  So Bezel Set Diamond Rings make excellent options for stones that you cannot lose. Bezel Set Diamond Rings can vary from the simple designs all the way to very intricate designs. They can add a modern twist to vintage inspired cocktail rings that we love.  Or they can create their own modern engagement ring look.  One thing is for sure:  Bezel Set Diamond Rings garner more attention than regular settings because they are more unique.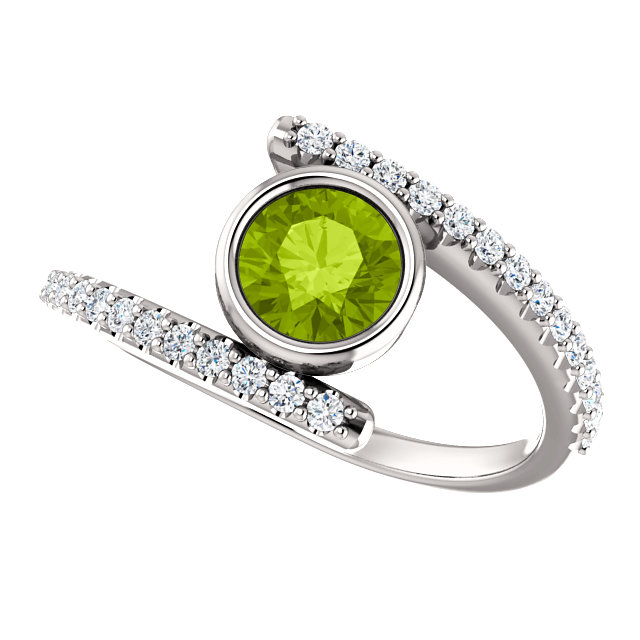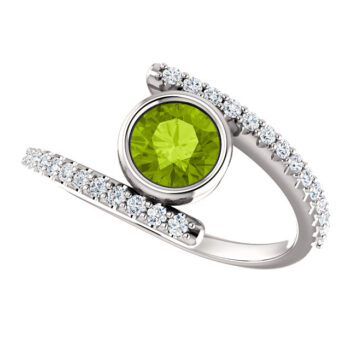 This Peridot & Diamond Bypass Ring is just one of many custom jewelry creations from Valeria Custom Jewelry.  The center stone on this one is a 6mm Peridot, but any type of stone can be used.  The accents are around 3/8 tcw with 28 stones.  The accents are 1.3mm, making the shank about 2mm wide,
Bezels Vs. Prongs in Bezel Settings
Rather than encircling the gemstone in metal, prong settings hold the diamond in place with either bead, peg, or claw prongs. The prong is notched at the gem's girdle and bent over the stone to secure it in place. Since prong set styles use less precious metal to hold the gemstone in place, more light filters through the diamond. This can sometimes cause prong set diamonds to appear more brilliant than bezel set diamonds. Solitaire prong settings also tend to be less expensive than solitaire bezel settings since less metal is used.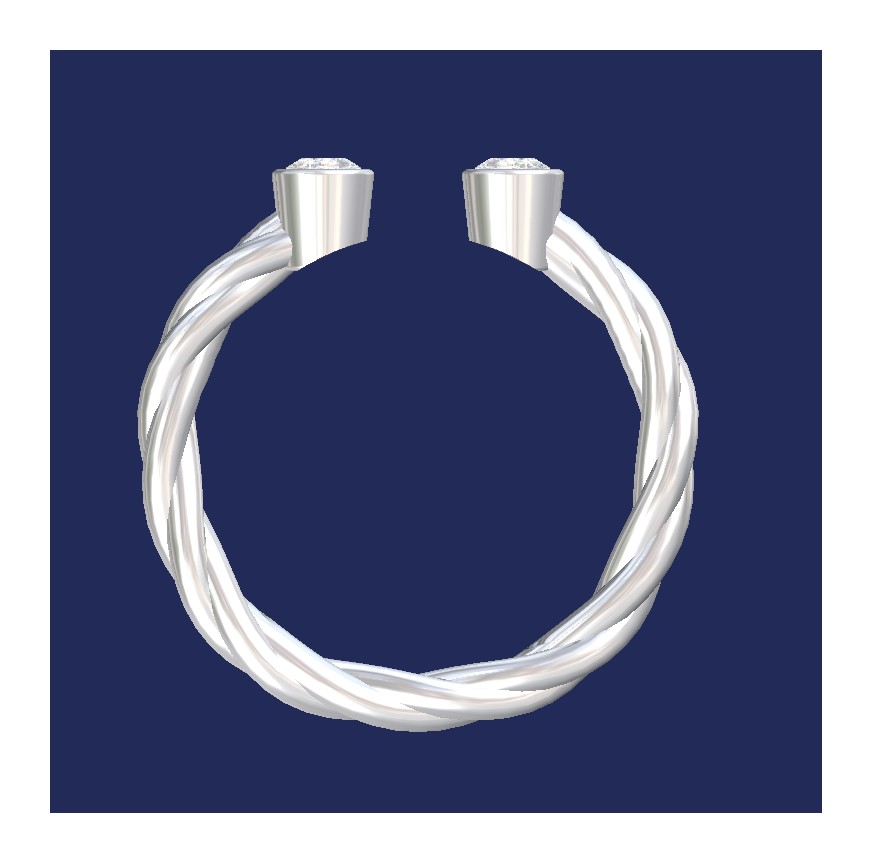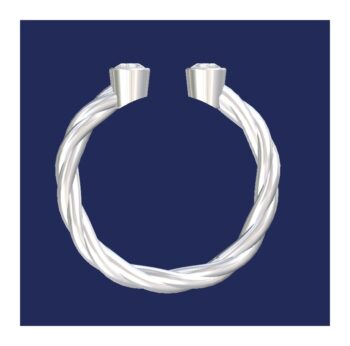 The double bezel open ring has a rope shank, but it could be made into a normal shank.  We like the open ring look with the rope band though.
Advantages of Bezel Set Diamond Rings
Do you live a very active lifestyle or work in an environment where your ring is likely to get bumped often?  If so, Bezel Set Diamond Rings are a great choice! Diamonds and Gemstones set in a bezel setting are less likely to be knocked loose and fall out. This makes Bezel Set Diamond Rings an excellent choice for active people.
These Rings can also be great at hiding a gemstone's visible defects, such as chips or inclusions.  Many times, a family heirloom stone isn't in the best shape.  Setting it in a bezel is a good way to avoid having to have the stone recut. If you are opting for a softer gemstone, such as an opal or emerald, a bezel setting will help to protect them from scratches and chips better than a prong setting would.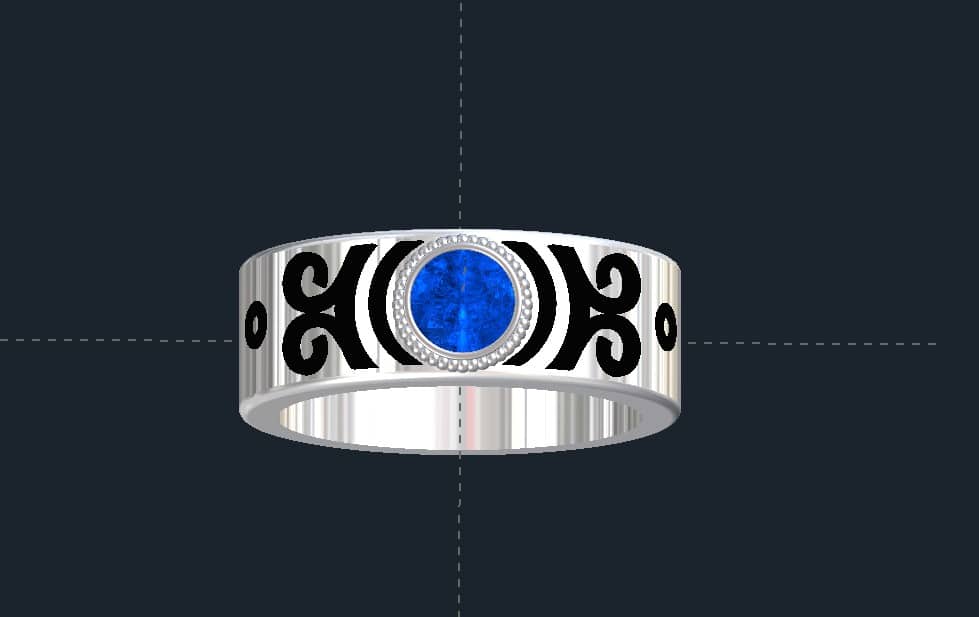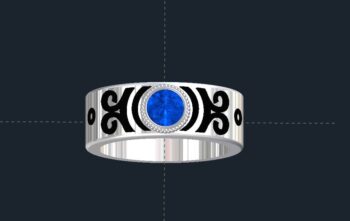 This 8mm wide cabochon ring looks gorgeous with the black enamel and cabochon Sapphire. The enameled Scroll designs straddle a 5mm Sapphire Cabochon that is set with a bezel made of milgrain.
Prong settings leave the diamond more exposed.  So if you are an active person, your stone might be at a higher risk of getting damaged.  Bezel settings totally wrap the stone in metal, keeping it very secure. Although less light reaches the diamond in a bezel setting, the bezel of precious metal may make your gemstone appear larger.
Bezel Set Diamond Rings Offer More Design Options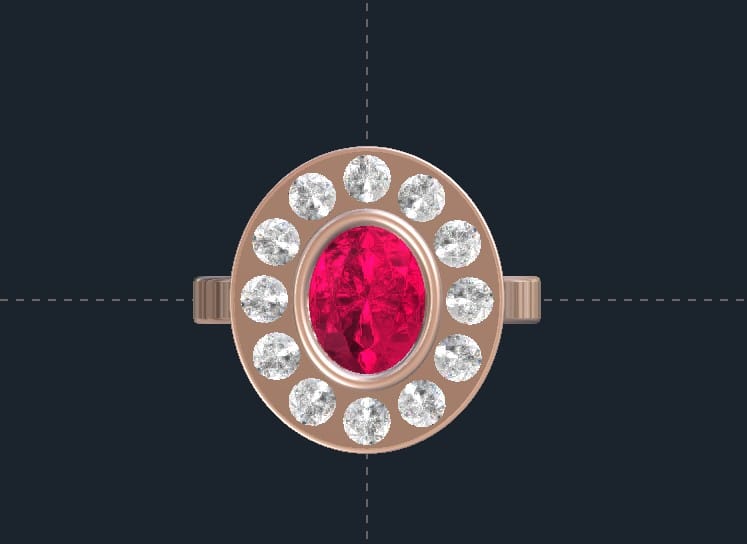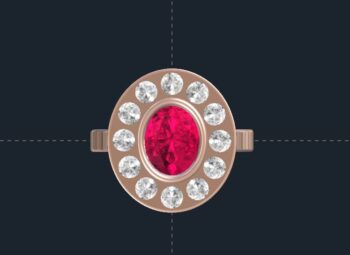 This Bezel Set Halo Ring holds a 9x7mm oval shaped center stone and is surrounded by a halo of 12, 3mm stones. We actually made it with pearls, but we think faceted stones would look better.  We also wanted to add a gallery to the underbezel, but the customer didn't want one.  Another thing we would have changed is the band.  We would have made it a little more feminine, but the customer wanted a rounded square for the shank.
These  Rings also offer versatility in style. They're especially great if you love modern engagement rings, but you want a ring with a bit of vintage flair. Choosing a bezel setting with light-reflecting milgrain can add a touch of old world charm. If you want something a bit more glamorous, you could choose a bezel setting with diamond accents. Semi-bezel rings—featuring a bezel that does not surround the entire circumference of the gemstone— are also secure and create gorgeous, flowing styles.  Whatever it may be, we can create whatever it is that you are imagining.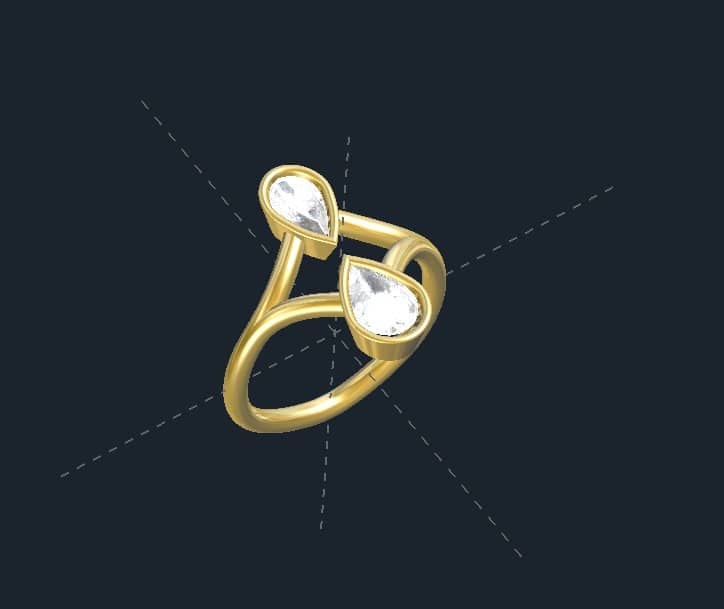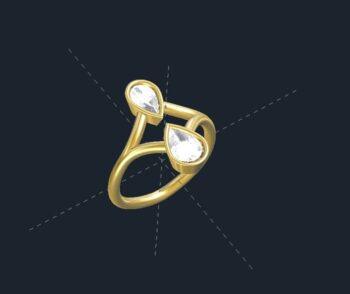 The 2 opposing pear shaped stones in this 2 stone bezel set ring gracefully face off in this striking ring. This one is shown with 6×4 and 8x6mm pear shaped diamonds, but other shapes and sizes could be used.  If you wanted some color, this ring would look good with colored gemstones.
Bezel Set Diamond Rings – The Bottom Line
Whether you're attracted to bezel settings for their sleek and modern appearance, or you prefer them for practical reasons.  There's no doubt that these rings are striking!  Bezel Rings are for the customer who wants to be a little more unique than someone ok with a ring from the mall.  Bezels aren't a big seller, so you won't typically find very many of them at retail stores if you do at all.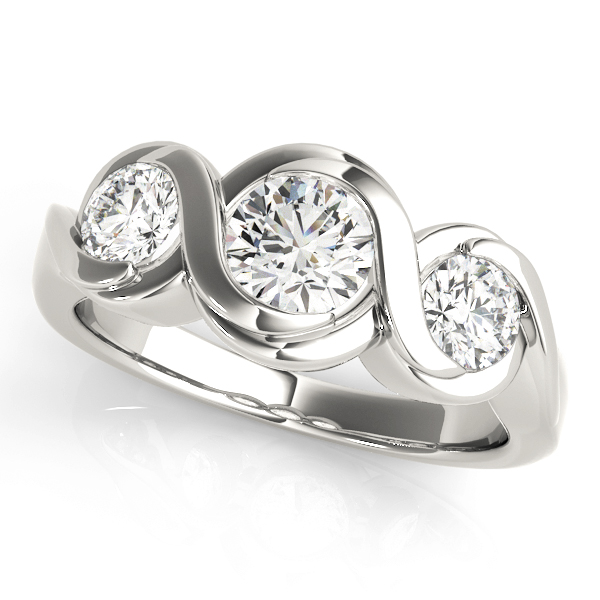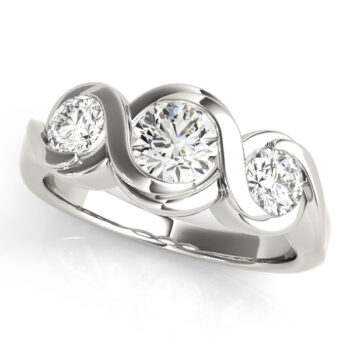 This Three Stone Engagement Ring is definitely a unique take on the traditional 3 stone settings.  The stones are bezel set by two strips of metal going around the top of one stone and then to bottom of the next, linking all 3 stones.  This is definitely a modern look with its sleek lines. 
Click HERE to see our complete portfolio of custom engagement rings.  Click HERE to lean more about custom jewelry, to view our the rest of our custom jewelry creations, or to contact us about Custom Bezel Set Diamond Ring.  It can cost less than you think to have your very own custom engagement ring made.  Why settle for boring, uninspiring, mass-produced bridal rings from the mall?  We can make exactly what you want.  Don't see what you are envisioning for Bezel Diamond Rings?  Send us the design you want and we will bring it to life.