At the top of a Google search for Bridal Custom Jewelry will be the usual suspect such national chains that are housed in expensive malls and shops that add a ton of costs to their overhead. While these shops might be convenient to a food court, that is where their value stops.  The salespeople people are just that: salespeople.  Very few have any actual knowledge of gemstones diamonds are jewelry and is there to sell you something over your budget.  At Valeria Custom Jewelry, you deal with a GIA graduate gemologist was more interested in getting you the right ring or stone than making the big sale.  You will also dealing with someone who knows how to create jewelry, making for far better jewelry buying experience.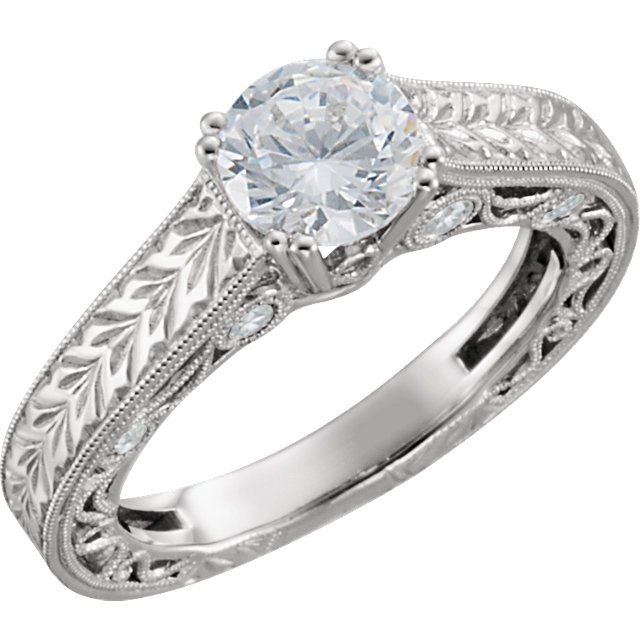 This Engraved Vintage Engagement Ring has both diamond accents as well as engraving on it.  It is stunning from all sides!   The center stone is a 6.5mm round, but it could be made for other sizes. This ring would also work well with a cushion or princess cut stone as well.  Nestled in the scrollwork on the sides of the ring are 8 bezel set diamonds for some oblique sparkle.  Do you like the idea of this Engraved Vintage Engagement Ring, but don't like the pattern or scrollwork?  We could engrave it with whatever pattern you wanted as long as it fit. 
We Don't Sell Mass Produced Jewelry
Custom Jewelry is all we do.  This makes creating custom jewelry a passion for us. Having tried our hand in the corporate world and hating it.  We found my way into jewelry manufacturing classes at the Dallas craft guild.  There, we learned the basics of fabricating jewelry.  We created some beautiful things  However, after a few years, I realized I would never be able to make REALLY awesome jewelry making it hand.  Enter CAD.
I enrolled in a CAD (computer aided design) class and learned how to make custom jewelry on the computer.  CAD opened up a whole new realm of possibilities with respect to making custom jewelry. Whether it's a ring, a bracelet, a pair of earrings, or a pendant, we can create jewelry it even is it isn't commercially available.
This Octopus Engagement Ring looks as if it just sprang from the sea!  It can be made with both a bezel set cabochon center stone or a prongs set, faceted stone.  Any size or type of center stone from 4-8mm can be used. The suckers are hand finished after casting to give them an organic look. 
Custom Jewelry Is The Way To Go
Along with of the custom CAD work we do, we can also make copies of existing jewelry.  As long as it is intact, we can make a mold of it and recast two new pieces.
Whether you're spending $500 or $500K, our goal is to exceed your expectations on your Bridal Custom Jewelry. We do everything we can to make sure every one of my clients feels special.  Additionally, we will do whatever it takes to make you happy. Our goal is that your experience is such that you will refer all of your friends, family and anyone you know to us for any of their jewelry needs. We are looking for lifetime relationships, not one time customers.
We are confident that if you give Valeria Custom Jewelry an opportunity, you will see that our design skill, value, quality, and knowledge make me the best choice to turn your vision and dreams into reality.
Click to see more of our custom engagement rings.  Click hereto learn more about custom jewelry, view our portfolio, or to contact us about about Bridal Custom Jewelry.  It can cost less than you think to have a special piece of custom jewelry made just for you.  Why settle for the lame and overpriced jewelry from the chain stores when we can make something showing your style and personality?