Custom Hip Hop Jewelry is ultra hot and is here to stay.  At Valeria Custom Jewelry, we are always among the trend setters, no matter the type of jewelry. Custom jewelry is as pervasive as ever in today's modern-day hip-hop culture. The most influential rap stars of the day all wear jewelry.
In fact, some jewelers are almost as famous as their superstar clients, with social media follower counts numbering in the hundreds of thousands in some cases, just due to the coolness of their creations.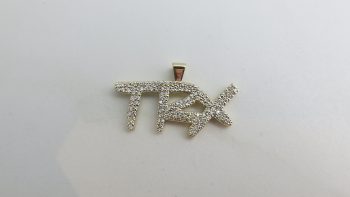 What Is Hip Hop Jewelry?
Hip hop jewelry is a style of jewelry that originated in the hip hop culture. It is known for its bold and flashy designs, often featuring oversized and exaggerated pieces. The jewelry is typically made from precious metals such as gold and silver, and adorned with diamonds and other gemstones. Popular hip hop jewelry pieces include chains, pendants, rings, bracelets, and earrings. This style of jewelry is often seen as a symbol of wealth, success, and status within the hip hop community.
One of the defining characteristics of hip hop jewelry is its size and weight. Chains and pendants are often oversized and heavy, making a bold statement when worn. These pieces are designed to stand out and grab attention. In addition to size, hip hop jewelry is also known for its intricate and detailed designs. Many pieces feature intricate patterns, symbols, and motifs that are significant to the hip hop culture.
Hip hop jewelry has become increasingly popular and mainstream over the years, with many celebrities and musicians sporting these bold pieces. It has also become more accessible, with a wide range of options available at various price points. Whether you're a fan of hip hop or simply appreciate the bold and flashy style, hip hop jewelry offers a unique and eye-catching way to express yourself and make a statement. So, if you're looking to add some bling to your wardrobe, consider checking out the world of hip hop jewelry.
Young Fresh Diamond Hip Hop Necklace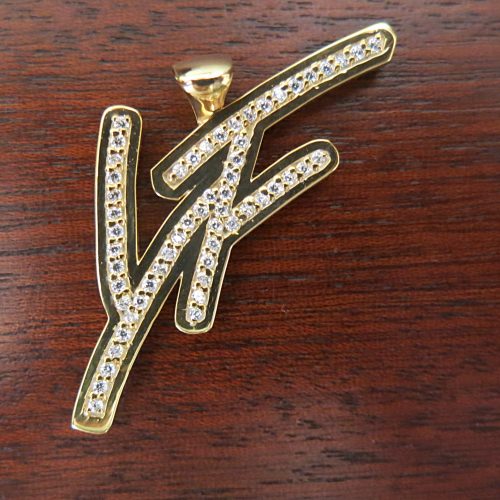 Custom hip hop necklaces don't have to be paveed with stones either.  Here, we just created a channel running the length of the piece and filled it with one row of stones.  This pendant was for a rapper named "Young Fresh", which we drew by hand.
Are you a rapper, label executive, or producer looking to become a big fish in the huge ocean of music talent? Nothing gets you noticed and builds brand awareness more than Custom Hip Hop Necklaces that sparkle from across the room.  Custom Hip Hop Necklaces with your logo or name are a great way to promote you, your company, or to thank your workers for going above and beyond the call of duty or for extended service.  They also just look cool.  That is reason enough to wear blingin' custom Hip Hop Necklaces for every occasion!
Custom Hip Hop Jewelry Is So Big In Pop Culture Right Now
Custom hip hop jewelry has become a major trend in pop culture today. Its popularity can be attributed to several factors. Firstly, it allows individuals to express their unique style and personality. With custom jewelry, people can create pieces that are one-of-a-kind and truly reflect their individuality. Secondly, hip hop jewelry has become a symbol of success and status. Many celebrities and influencers are often seen wearing elaborate and extravagant pieces, which has further fueled its popularity. Lastly, the rise of social media has played a significant role in the popularity of custom hip hop jewelry. Platforms like Instagram and TikTok have allowed people to showcase their jewelry collections and inspire others to follow suit. Overall, custom hip hop jewelry has become a significant part of pop culture due to its ability to empower individuals, symbolize success, and gain visibility through social media.
CUSTOM HIP HOP JEWELRY – NOT JUST FOR RAPPERS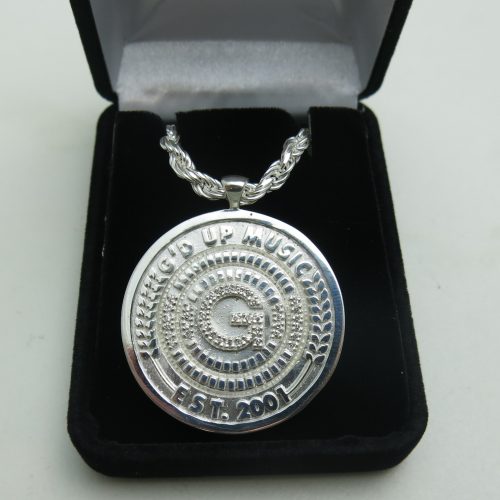 Although not iced out like most Custom Hip Hop Necklaces, this is the pendant we created for G'ed Up Productions.  It was 2.5 inches in diameter and only had diamonds on the G and a few on either side of it.  But it was still a stunning piece that was exactly what the customer had in mind.
Valeria Custom Jewelry is your destination for Custom Hip Hop Jewelry….everything from rings to chains to pendants and necklaces. If you can dream it, we can turn that dream into a stunning piece of Hip Hop Jewelry.  With the growth in CAD custom jewelry,  Hip Hop Pendants have had the bar raised to unprecedented heights when it comes to hip hop jewelry innovation. These aren't just pieces of jewelry; they're masterpieces in their own right and have created an entire underground culture.
CUSTOM HIP HOP JEWELRY – IT'S AN ATTITUDE
Hip hop jewelry comes in many forms and is more of an idea than a concrete thing. If you've got an exposed body part, there is hip hop jewelry you can purchase to wear on it. Hip hop jewelry styles are available in the such forms as Custom Hip Hop Necklaces, chains, watches, rings, earrings, belt buckles, jean chains, teeth grillz, and more.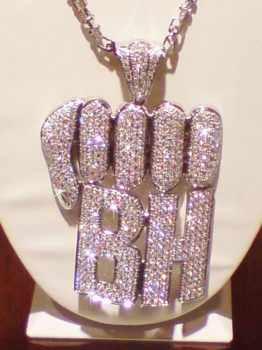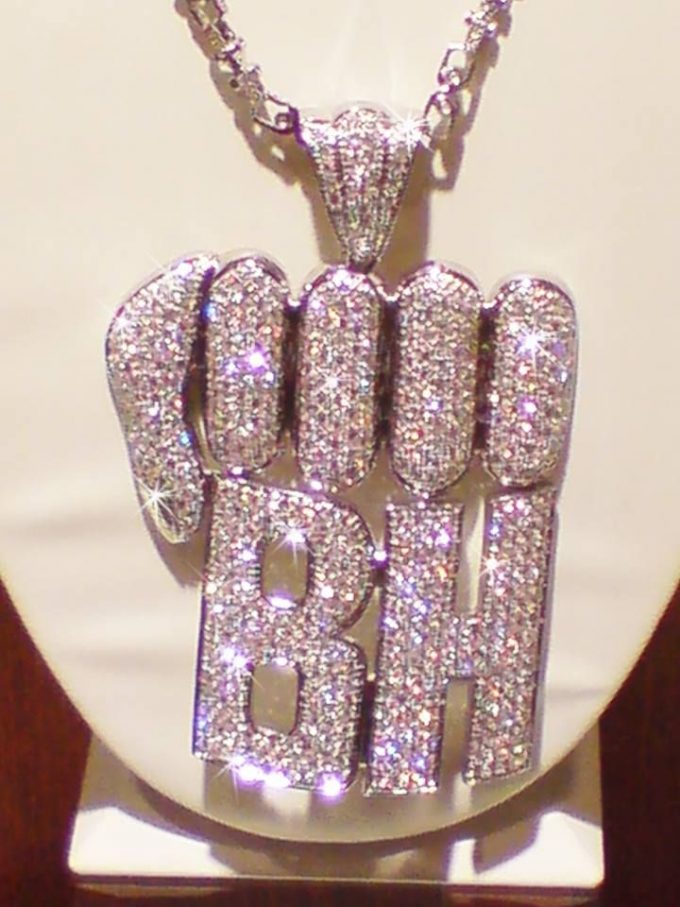 This Diamond Hip Hop Necklace was created from a logo given to us by our customer.  He wanted "big and blingin'" and this is what we came up with.  It was 3 inches tall with the bail and 2.5 inches wide. It was cast in White Gold and had over 5 carats of fiery white diamonds.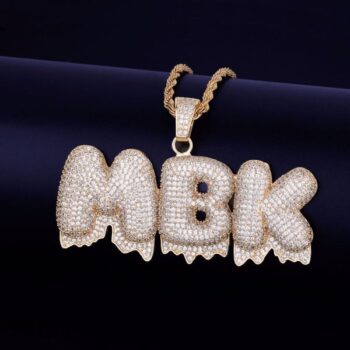 Do you have an idea for a Custom Diamond Hip Hop Necklace with your "catch phrase or nickname on it? What about a logo or character that you like? Contact us and let us know….It will cost less than you think. Send me your idea and let's get a custom project going.
Why Custom Hip Hop Jewelry Is Better Than Mass Produced Jewelry
Custom hip hop jewelry offers a range of benefits over mass produced jewelry. Firstly, custom pieces allow individuals to express their unique style and personality. With custom jewelry, you can choose the design, materials, and gemstones that perfectly reflect your individuality. If you find something from a chain store, it will be a piece that appeals to as many people as possible.  It will not be unique or one of a kind.
Secondly, custom hip hop jewelry is often of higher quality than mass produced pieces. Mass produced jewelry is usually manufactured in asia because of cheap labor.  However, these pieces are generally lighter and therefore less durable that custom made jewelry.  Custom Jewelers also pay far more attention to every detail.  This ensures that each custom piece is meticulously crafted. Lastly, custom jewelry offers a level of exclusivity that mass produced pieces simply cannot match. By wearing custom hip hop jewelry, you can stand out from the crowd and make a bold fashion statement. Overall, custom hip hop jewelry is a superior choice for those who value personalization, quality, and exclusivity.
Celebrities Who Wear Hip Hop Jewelry
Celebrities have long been known for their extravagant fashion choices, and one trend that has stood the test of time is hip hop jewelry. From oversized chains to blinged-out watches, these accessories have become a staple in the wardrobes of many famous faces. Let's take a look at some of the top celebrities who proudly rock hip hop jewelry.
First up is the iconic rapper and entrepreneur, Jay-Z. Known for his impeccable style, Jay-Z is often seen sporting an array of eye-catching pieces. From his signature diamond-encrusted Roc-A-Fella chain to his collection of diamond rings, he knows how to make a statement. Whether he's on stage or attending a red carpet event, Jay-Z's hip hop jewelry always adds an extra touch of flair to his outfits.
Next on our list is the one and only Cardi B. This Grammy-winning rapper is no stranger to bold fashion choices, and her jewelry game is no exception. From her massive diamond choker to her blinged-out grill, Cardi B knows how to turn heads. As a result, her fearless approach to fashion has made her a style icon.
Last but certainly not least, we have the legendary Snoop Dogg. With his laid-back California style, Snoop Dogg is often seen rocking some seriously impressive bling. From his diamond-encrusted chains to his oversized watches, he knows how to keep it flashy. Snoop Dogg's love for hip hop jewelry is a reflection of his larger-than-life personality and his status as a true hip hop icon.
CUSTOM HIP HOP JEWELRY – GIVE US A SHOT!
Do you have a business logo you created? A nickname that you like? We can create  Hip Hop Pendants up to 2.4 inches wide or tall in Brass, Bronze, Sterling or Argentium Silver, white, yellow, or rose Gold, Palladium or Platinum.  A wide variety of stones can be used, but they aren't mandatory.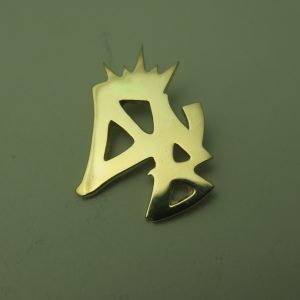 Are you looking for a Custom Hip Hop Pendant, but can't find what you want?  Are you unhappy with the quality found at the mall or other online jewelers?  Using CAD, lost wax casting, and even hand engraving, we can create almost anything you can come up with.
Are you looking for a Custom Hip Hop Pendant, but can't find what you want?  Are you unhappy with the quality found at the mall or other online jewelers?   This custom necklace was for the owner of a record label.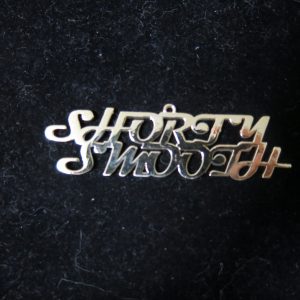 This custom name necklace was for a guy who called himself shorty smooth.  He wanted a pendant that was "smooth".  This is what we came up with…
WE CAN TURN YOUR DREAM INTO A STUNNING CUSTOM JEWELRY CREATION
Are you thinking about having a Hip Hop Necklace created?  Give Valeria Custom Jewelry a chance to show you what we can do. Owner and artisan jeweler Lucas Horton can transform almost any idea you have into a custom Hip Hop Pendant for less than you think it will cost. Our Custom Hip Hop Necklaces can be made in one piece up to 2.4 inches wide or tall, and can be cast in brass, bronze, silver, gold, palladium or platinum.  Add in some diamonds or gemstones, and you are on your way to blingville.  However, with close ties to diamond wholesalers, we can offer you the best deals on gold hip hop jewelry on the internet. Hip hop rings, chains, and pendants are what we do best.
NOT ALL CUSTOM JEWELRY IS CREATED EQUAL
We know there a quite a few places claiming to create Custom Hip Hop Jewelry.  However, we know that only a few of these places can come close to the skill and capabilities that we have.  Contact us with your idea.  You will be glad you did.
Click HERE to see more hip hop style pendants.  Click HERE to learn more about custom jewelry, view more of our custom necklaces, or to contact us about Custom hip hop necklaces.  It can cost less than you think to have your very own custom necklace.  Why settle for the lame and overpriced neckwear from the retail stores?  We can make something showing your style and personality?  Give Us A Try!   Indeed, you might never buy something from the mall again…
Men's Hip Hop Jewelry has been blowing up in the last 5 years.  Valeria Custom Jewelry has recognized this niche market, creating tons of iced out custom necklaces. Get your diamond hip hop jewelry from Valeria Custom Jewelry.
Click to see more of our custom pendants.