Custom Hip Hop Jewelry
Hip hop jewelry is ultra hot and is here to stay and at Valeria Custom Jewelry, we are always among the trend setters, no matter the type of jewelry. Custom jewelry is as  pervasive as ever in today's modern-day hip-hop culture. The most influential rap stars of the day all wear jewelry.
In fact, some jewelers are almost as famous as their superstar clients, with social media follower counts numbering in the hundreds of thousands in some cases, just due to the coolness of their creations.
Previous
Next
Young Fresh Diamond Hip Hop Necklace
Custom hip hop necklaces don't have to be paveed with stones either.  Here, we just created a channel running the length of the piece and filled it with one row of stones.  This pendant was for a rapper named "Young Fresh", which we drew by hand.
Are you a rapper, label executive, or producer looking to become a big fish in the huge ocean of music talent? Nothing gets you noticed and builds brand awareness more than Custom Hip Hop Necklaces that sparkle from across the room.  Custom Hip Hop Necklaces with your logo or name are a great way to promote you, your company, or to thank your workers for going above and beyond the call of duty or for extended service.  They also just look cool.  That is reason enough to wear blingin' custom Hip Hop Necklaces for every occasion!
CUSTOM HIP HOP JEWELRY – NOT JUST FOR RAPPERS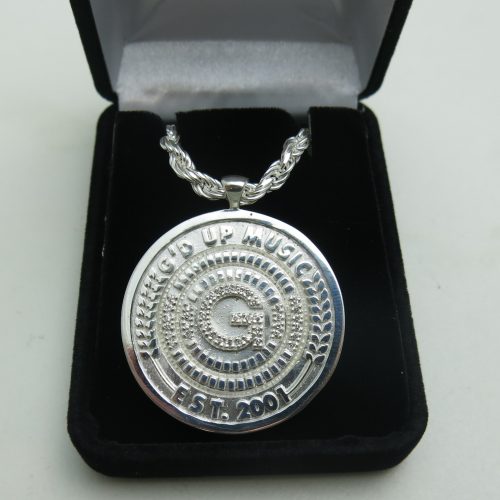 Hip Hop Style Business Logo Necklace
Although not iced out like most Custom Hip Hop Necklaces, this is the pendant we created for G'ed Up Productions.  It was 2.5 inches in diameter and only had diamonds on the G and a few on either side of it.  But it was still a stunning piece that was exactly what the customer had in mind.
Valeria Custom Jewelry is your destination for Custom Hip Hop Jewelry….everything from rings to chains to pendants and necklaces. If you can dream it, we can turn that dream into a stunning piece of Hip Hop Jewelry.  With the growth in CAD custom jewelry,  Hip Hop Pendants have had the bar raised to unprecedented heights when it comes to hip hop jewelry innovation. These aren't just pieces of jewelry; they're masterpieces in their own right and have created an entire underground culture.
CUSTOM HIP HOP JEWELRY – IT'S AN ATTITUDE
Hip hop jewelry comes in many forms and is more of an idea than a concrete thing. If you've got an exposed body part, there is hip hop jewelry you can purchase to wear on it. Hip hop jewelry styles are available in the such forms as Custom Hip Hop Necklaces, chains, watches, rings, earrings, belt buckles, jean chains, teeth grillz, shoe grillz, and more.
Diamond Fist Necklace
This Diamond Hip Hop Necklace was created from a logo given to us by our customer.  He wanted "big and blingin'" and this is what we came up with.  It was 3 inches tall with the bail and 2.5 inches wide. It was cast in White Gold and had over 5 carats of fiery white diamonds.
Diamond Hip Hop Necklace
Do you have an idea for a Custom Diamond Hip Hop Necklace with your "catch phrase or nickname on it? What about a logo or character that you like? Contact us and let us know….It will cost less than you think. Send me your idea and let's get a custom project going.
CUSTOM HIP HOP JEWELRY – GIVE US A SHOT!
Do you have a business logo you created? A nickname that you like? We can create  Hip Hop Pendants up to 3.25 inches wide or tall in Brass, Bronze, Sterling or Argentium Silver, white, yellow, or rose Gold, Palladium or Platinum.  A wide variety of stones can be used, but they aren't mandatory.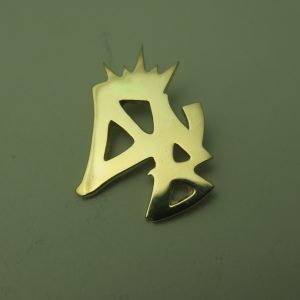 Are you looking for a Custom Hip Hop Pendant, but can't find what you want?  Are you unhappy with the quality found at the mall or other online jewelers?   This custom necklace was for the owner of a record label.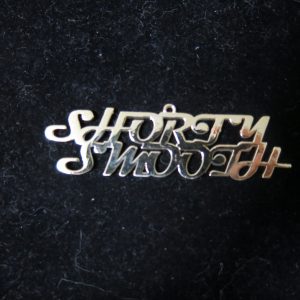 This custom name necklace was for a guy who called himself shorty smooth.  He wanted a pendant that was "smooth".  This is what we came up with…
WE CAN TURN YOUR DREAM INTO A STUNNING CUSTOM JEWELRY CREATION
Are you thinking about having a Hip Hop Necklace created?  Give Valeria Custom Jewelry a chance to show you what we can do. Owner and artisan jeweler Lucas Horton can transform almost any idea you have into a custom Hip Hop Pendant for less than you think it will cost. Our Custom Hip Hop Necklaces can be made in one piece up to 3 inches wide or tall, and can be cast in brass, bronze, silver, gold, palladium or platinum.  Add in some diamonds or gemstones, and you are on your way to blingville.  However, with close ties to diamond wholesalers, we can offer you the best deals on gold hip hop jewelry on the internet. Hip hop rings, chains, and pendants are what we do best.
NOT ALL CUSTOM IS CREATED EQUAL
We know there a quite a few places claiming to create Custom Hip Hop Jewelry.  However, we know that only a few of these places can come close to the skill and capabilities that we have.  Contact us with your idea.  You will be glad you did.
Click HERE to see more hip hop style pendants.  Click HERE to learn more about custom jewelry, view more of our custom necklaces, or to contact us about Custom hip hop necklaces.  It can cost less than you think to have your very own custom necklace.  Why settle for the lame and overpriced neckwear from the retail stores?  We can make something showing your style and personality?  Give Us A Try!   You might never buy something from the mall again…
Men's Hip Hop Jewelry has been blowing up in the last 5 years.  Valeria Custom Jewelry has recognized this niche market, creating tons of iced out custom necklaces. Get your real gold diamond hip hop jewelry from Valeria Custom Jewelry.
Click to see more of our custom pendants.