Custom Skull Wedding Bands
When you've finally found "the one," why propose with a generic ring from a big box store? Valeria Custom Jewelry creates custom, one-of-a-kind pieces like our custom skull wedding bands that are as unique as your significant other. As a customer, you have a say in every aspect that goes into creating your custom skull wedding Bands– from choosing the metal of the band to the cut of the center stone – and can rest assured that no other person in the world will have a custom skull wedding ring quite like yours.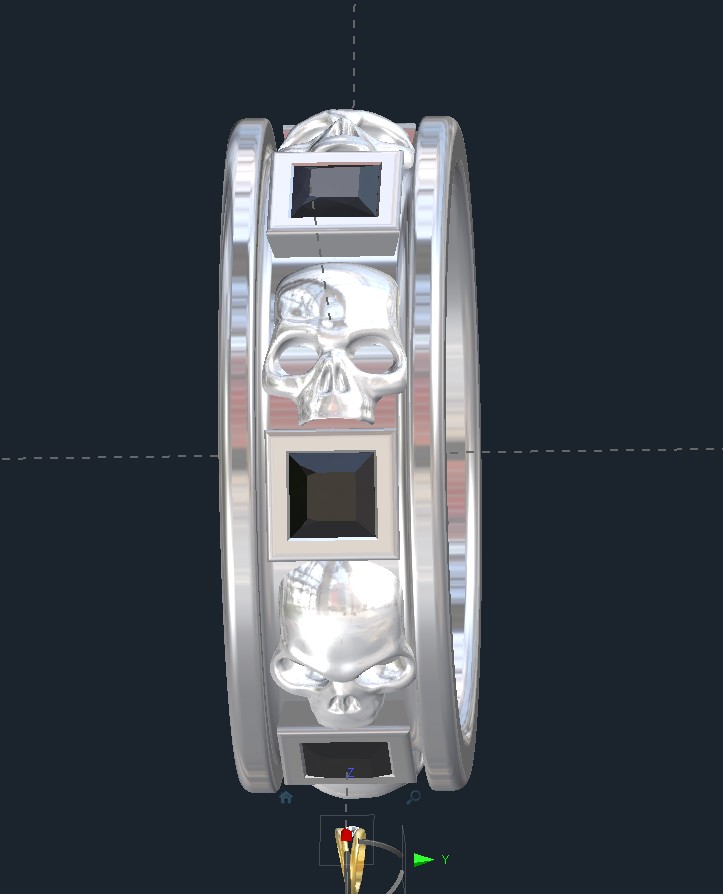 This is one of our favorite Diamond Skull Wedding Ring designs.  It is 8mm wide and has 6 skulls and 3mm Black Diamonds alternating around it.  It can be made as narrow as 6mm and as wide as you wanted it to be.  Almost any stone can be used and in the wider width, stones could be added to the eyes.  Different skulls can also be used as well.  
Custom Skull Wedding Bands aren't going anywhere,  so go ahead and own them if you have a fascination with them. For ages, Custom Skull Wedding Bands have been symbols of a variety of subcultures across the ages however are growing more and more widespread in mainstream fashion. Turn to the runways and skulls are all over the place. Check out street style and skulls still sustain their role in urban and underground settings. You can expect a variety of styles which will appeal to your desires in the same way skulls lend themselves to various subcultures and strive to create a mark in everyday fashion.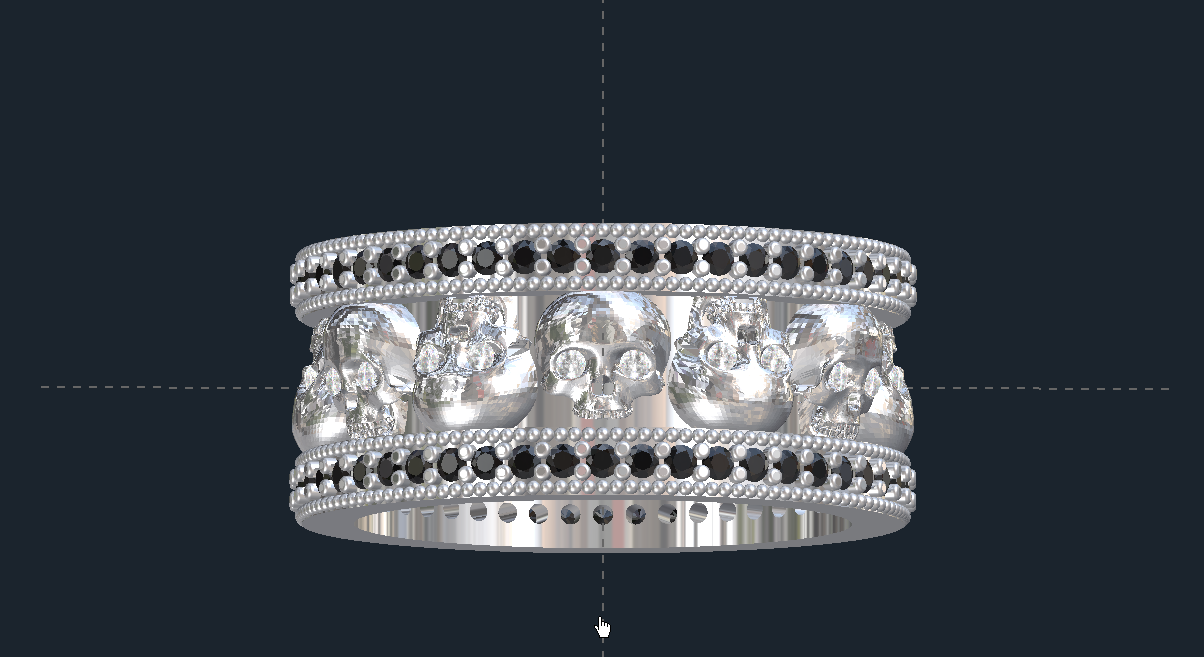 This custom men's skull ring has sparkle coming from all directions!  On top of the rows of black diamonds going around the outer rails, there are diamond accented skulls going around the ring.  This one is 12mm wide and has 1.5 mm accents going around the sides of the ring.
While skull fashion originally started to allow "outsiders" and sub-cultures (street gangs and motorcycle clubs for example) to flaunt their individuality and uniqueness as well as their alienation from conventional culture, it quickly had become the favorite in the world of fashion by popular approval. Movie and television stars and models quickly embraced the skull concept and brought it to the forefront through live appearances and runway walks. It has now become a frequent fashion statement in most walks of life and you will find all types of people from ages 20-60 sporting skull rings.
Truly Unique Custom Skull Wedding Bands
Valeria Custom Jewelry's Custom Skull Wedding Bands are truly a testament of the customization available at Valeria Custom Jewelry. Lucas Horton, the owner and jeweler at Valeria, uses comprehensive computer-aided design and lost wax casting to bring your ideas to life. His connections with diamond and gem sources around the world lowers his procurement costs, so he can create Custom Skull Wedding Bands with the same high-quality materials found at larger chain stores while still staying within your budget. And whether your budget is a few hundred dollars or upwards of a few thousand, Lucas' goal is the same: to exceed your expectations when creating custom wedding rings for his clients.
Click HERE to see more of our skull wedding rings. Click HERE to learn more about custom jewelry, view our portfolio, or to contact us about custom men's wedding rings.  It can cost less than you think to have your very own wedding ring made just for you.  Why settle for the lame and overpriced bridal rings from the retail stores when we can make something showing your style and personality?