Organized religion has always been recognized for using signs and symbols throughout time and this is no less true of Christians and their Diamond Cross Rings.  Wanting to show their faith, it is natural for the faithful in those religions wear those symbols of their faith close to their hearts and minds for others to see. Christians first began wearing the symbol of the fish well before the cross became popular and Jews will often wear the Star of David. Not all religions have symbols but all religions employ jewelry as a display of their specific religious beliefs. When someone believes in something very deeply, they want to proclaim that belief out loud and for all to see. It is impossible to talk to each and every person you meet about your faith, so wearing an outward symbol of this faith proclaims its message to everyone that noticed.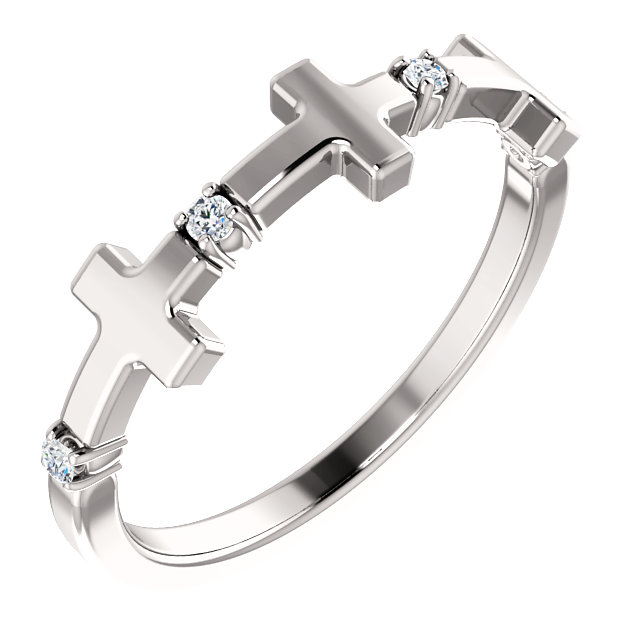 This Diamond Cross Ring is just one of many exquisite custom jewelry creations from Valeria Custom Jewelry.  The crosses going around the ring are accented with 4, 1.5mm diamonds, but other stones can be used.  The cross can also be made wider to accommodate larger stones.
The cross is the largest and most popular religious symbol in the world. After Jesus died on the cross, Christians began to use the cross as a symbol to remind them of the sacrifice and ascension of Christ. The crucifix is a symbol that shows Jesus on the cross and symbolizes Jesus' death and sacrifice. The empty cross symbolizes the same things, with the addition of the ascension. This is the cross used in Diamond Cross Rings.
The earliest examples of cross jewelry were worn by early Christians and made from wood or various stone materials. When precious metals were discovered and gained popularity, crosses were made out of gold and silver and some of the more wealthy Christians wore Diamond Cross Rings as a sign of their faith. Today, crosses are made in a ton of styles and patterns with all of the world's metals along with gemstones and a host of other accents.  But Diamond Cross Rings remain the most popular by far.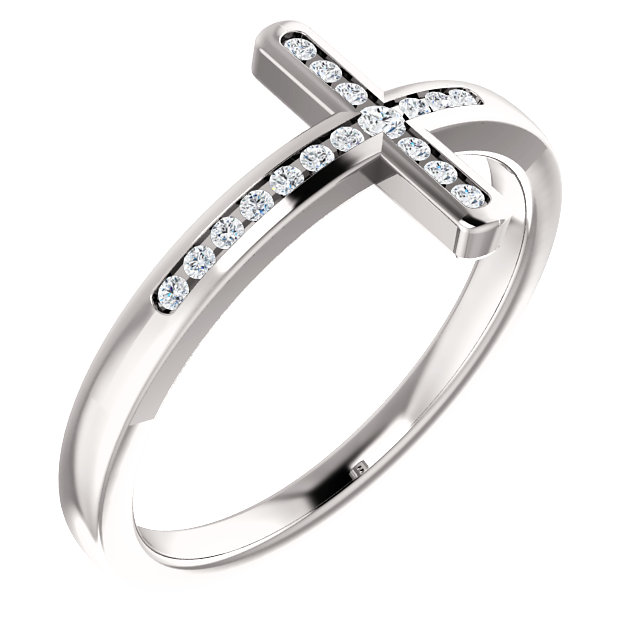 This Accented Sideways Cross Ring is just one of many custom jewelry creations from Valeria Custom Jewelry.  It is shown with 1mm diamonds in the cross, but the design could be changed to use larger stones. 
When it comes to finding just the right piece of religious jewelry, there are no right or wrong answers. when it comes to Diamond Cross Rings.  The right Diamond Cross Rings depend on the style and personality of the individual. The easiest way to choose Diamond Cross Rings is to wait for a specific piece to touch your beliefs, your style, your faith, and your aesthetic appeal at the same time.
Religious jewelry has endured through the use of various symbols throughout history. Some of the sacred symbols find their way onto personal jewels and then believers use wearing those jewels as signs of their faith. Most of the world religions have placed certain values on symbolism and wearing special religious symbols can mean plenty to the wearer.
Click HERE to see our portfolio of custom fashion rings.  Click HERE to learn more about custom jewelry, view our portfolio, or to contact us about your custom ring.  It can cost less than you think to have a special ring made just for you.  Why settle for the lame and overpriced jewelry from the chain stores when we can make something showing your style and personality?