The Diamond earrings sold at most retail stores are manufactured in Asian sweatshops where labor is pennies on the dollar compared to the US.  They are thin, flimsy, and are not very durable.  Also, the diamond quality leaves a lot to be desired, even at mass produced prices.  Valeria Custom Jewelry can create Diamond Earrings you won't find in retail stores and at prices lower than at the mall and for better quality.  We buy diamonds from the cutters in Asia, bypassing any domestic middlemen, resulting in lower costs for both you and us.  We also create sturdy, quality settings that won't fall apart on you, making for more durable Diamond Earrings.
These Pave Diamond Hoop Earrings are simply gorgeous.  Set in 14K Gold with 1 carat worth of sparkly I1, GH color diamonds, these will definitely be seen from across the room.  Hoop earrings are definitely in style, so get your pair today.  If this isn't the style you want, contact us with what you want.
Does Violence in Africa caused by the licit diamond trade make you worry about your Diamond Earrings being used to cause violence?  Put your mind at rest.  Any Diamond sold in the US are done so while adhering to the Kimberley Process, which keeps conflict diamonds out of the mainstream jewelry business.  It's stated mission is "The Kimberley Process (KP) unites administrations, civil societies, and industry in reducing the flow of conflict diamonds – 'rough diamonds used to finance wars against governments' – around the world."  Every wholesaler and retailer is audited regularly to ensure compliance with the KP and it is something we take very seriously at Valeria Custom Jewelry.
If you already have enough diamond jewelry or don't want to spend the money, gemstones are always a great option.  They can provide the color that Diamonds can lack and we always love creating earrings with both diamonds and gemstones to pride that sparkle as well as some color.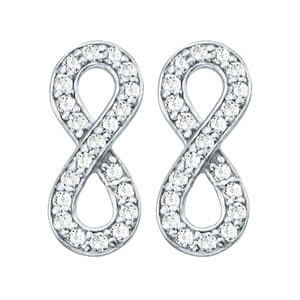 These Custom Diamond Infinity Earrings begin where they start, with a beautiful diamonds!  These have post backs, but other findings could be used as well.   Each earring has 1/5 of a carat of diamonds in them, but other type of stones can be used as well.
I am a GIA graduate Gemologist and am able to find the best gems for the price.  It is all about value with gemstones and I search out the best from the cutters in Thailand, bypassing any domestic vendors who just mark up the same goods!
We understand the competition for your jewelry business is stiff, but we are quite sure that the service, expertise, and value we provide will place us ahead of the pack in every way.
Click HERE to see all of our custom earrings designs. Click HERE to learn more about custom jewelry, view our portfolio, or to contact us about custom diamond earrings.  It can cost less than you think to have a special pair of earrings made just for you.  Why settle for the lame and overpriced earwear from the chain stores when we can make something showing your style and personality?