Diamond Men's Wedding Band
Diamond rings aren't just for women. If you are looking for something with an extra design element as well as some sparkle, why not consider a band with diamonds. We have created a host of Diamond Men's Wedding Ring designs whether you want minimalist or totally iced out. Some of our men's bands have sleek solitary stones and some have multiple rows of diamonds covering the whole ring.
 However, there are still a wide variety of Diamond Men's Wedding Ring designs available. Here are some considerations to make when purchasing a Diamond Men's Wedding Ring:
Men's Diamond Wedding Bands – Metal & Finish
The typical men's ring comes in either white or yellow gold; however, rose gold is is a hot trend that is being seen on an ever increasing number of  fingers.  All gold options make for a perfect Diamond Men's Wedding Ring, but avoid sterling silver if possible because there can be durability issues. You have various finish options such as high polish, matte, stone brushed, satin, or hammered).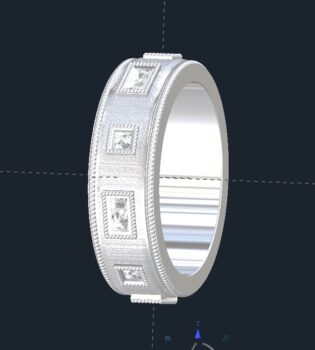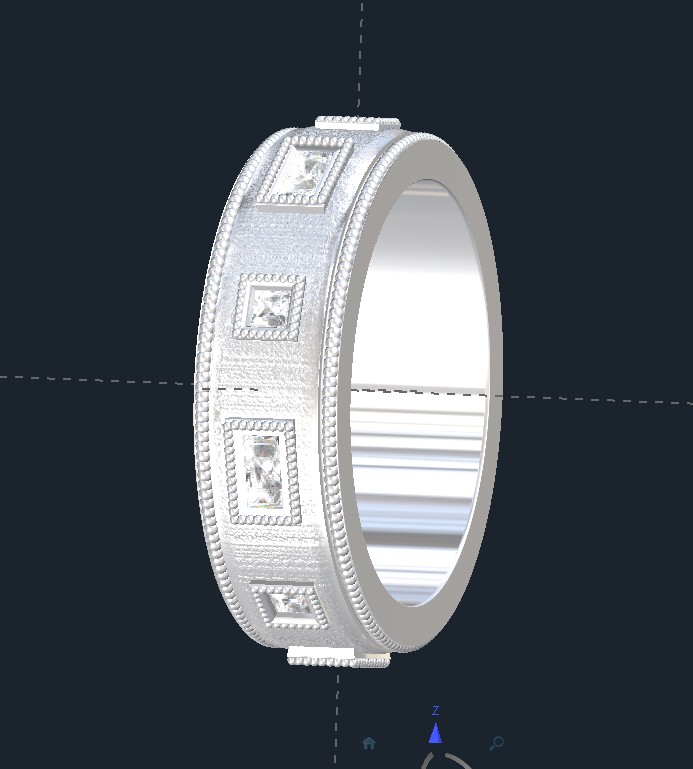 The Diamond Men's Wedding Ring above has a stone finish. Rough or matte finishes can really contrast with the clear fire of the diamonds.  The milgrain on the edges of the ring as well the bezels around the stones add elegance and style.
Men's Diamond Wedding Rings – Origins
Most women's wedding bands have diamonds in them, and up until recently, the vast majority of men's wedding rings did not have diamonds.  However, with the spread of CAD, this is changing quickly.  One trend borrowed from women is a Diamond Men's Wedding Ring with diamonds all around the band, sometimes in multiple rows.  With the high number of smaller stones — as opposed to one larger diamonds — you can achieve a subtler appearance but with an even higher amount of sparkle.
The Romans are believed to have started the tradition of betrothal rings in he 2nd century BC in lieu of giving the bride money or a valuable object. But the symbolism of the ring was more about ownership that it was a sign of love.  For hundreds of years, these betrothal rings were gold, silver, and and steel.  These were the only metals of the day though.  It also just isn't very pretty, nor can you set stones in it.
Blame DeBeers
While the type of wedding ring a man has worn has varied throughout history and across cultures, by the 1930s, the diamond engagement ring had become the go to symbol for the eternal union between a man and a woman.  It was around this time that DeBeers began marketing diamond engagement rings in the US and the "A Diamond is Forever" slogan was born a few years later.  Diamond engagement rings took off almost immediately, but it has taken Diamond Men's Wedding Ring a little longer to catch on.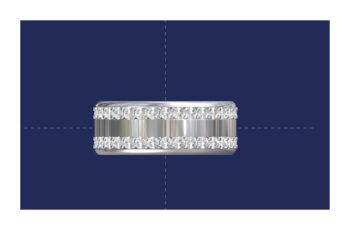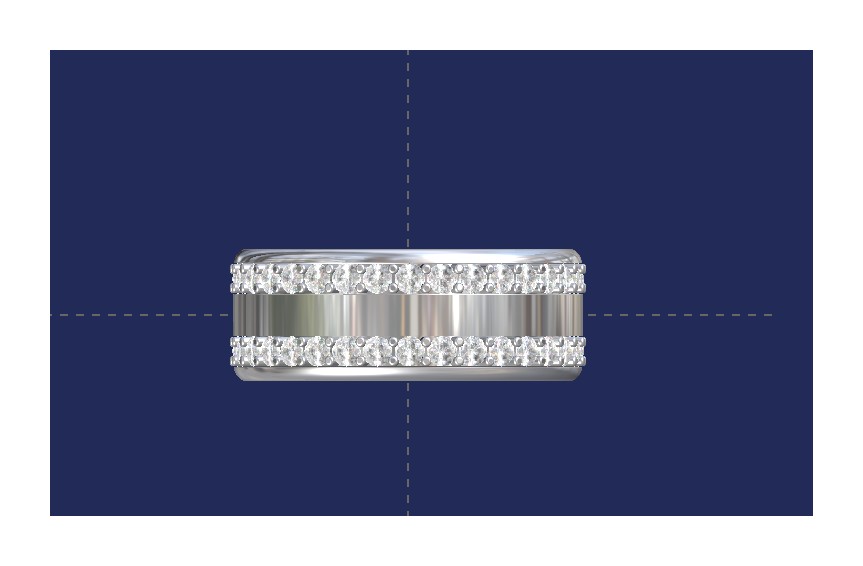 This is a simple Diamond Men's Wedding Ring, with just two rows of diamonds separated by strip going 3/4 of the way around the ring.  The strip in the center is shown with a high polish.  However, a contrasting finish could be used to give it some differentiation.
Diamond Men's Wedding Ring – Black Diamonds
Diamonds do not always have to be white!  They come in black, red, blue, yellow, and green and often can cost less than white diamonds.  So if you are looking for the sparkle and durability of diamonds, you have a few colors to choose from.
Diamond Men's Wedding Band – Art Deco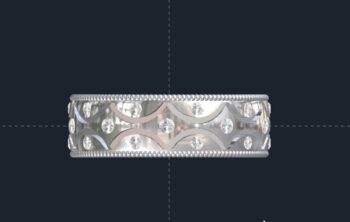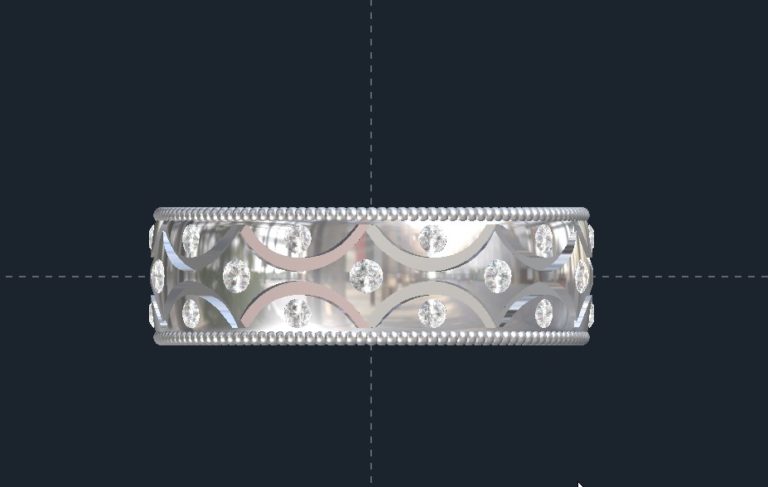 This 6mm wide Art Deco Diamond Men's Wedding Ring is edged by milgrain and decorated with engraved semi-circles.  It can be made as wide as 12mm and as narrow as 5mm.  It is shown with Diamonds, but almost any type of stone could be used.
Diamond Men's Wedding Band – Beveled Diamonds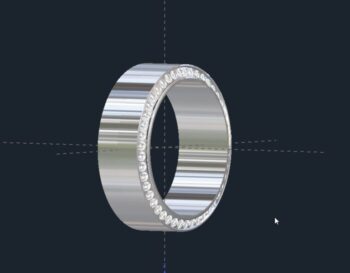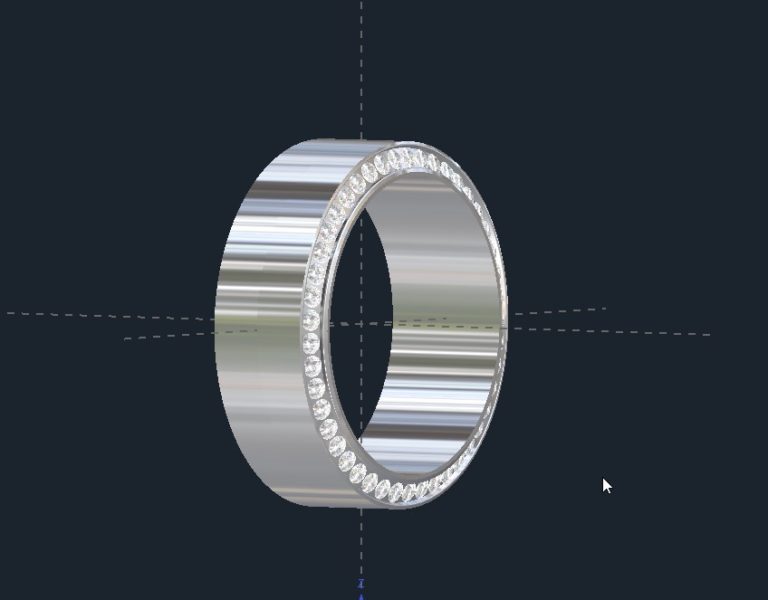 Diamonds wrap around each bevel in this classic ring with a high polish finish on the top.  The stones are only slightly visible from the top with this Diamond Men's Wedding Band, which we like.  To make the ring more yours, give it a special hand finish.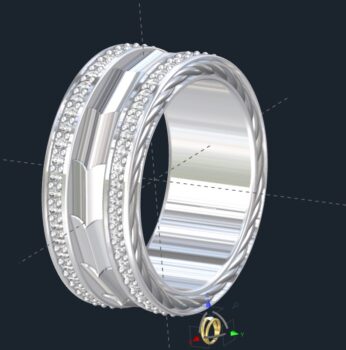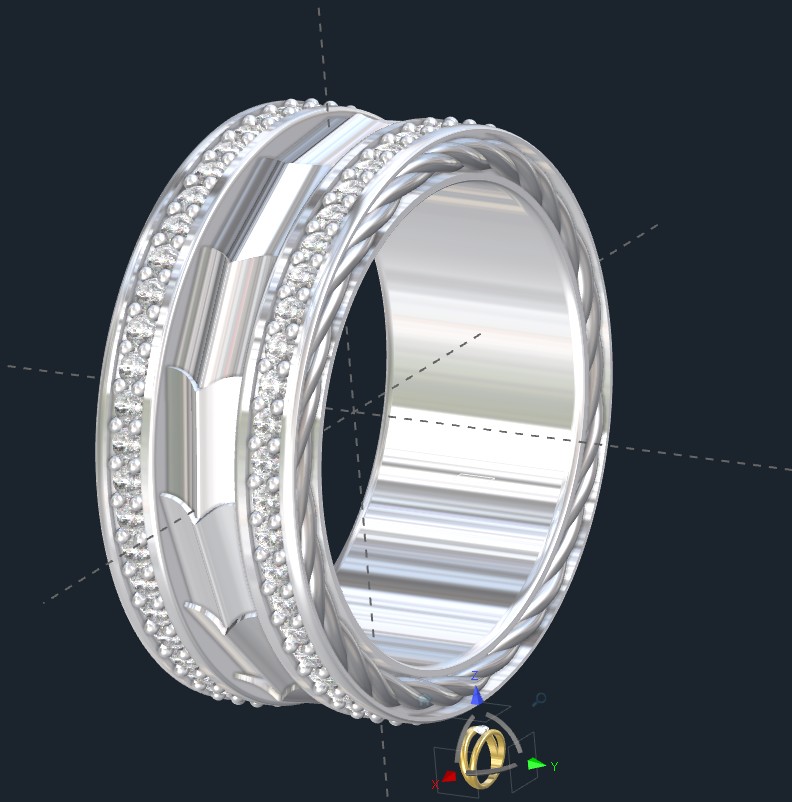 This Unique Diamond Men's Wedding Band has armored plates going around the ring in between two rows of diamonds.   If you like the idea of Spanish roof tiles better, then we welcome you to call the plates by that name!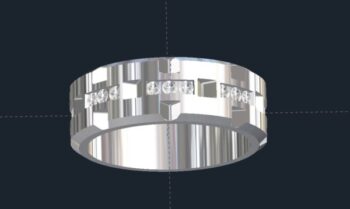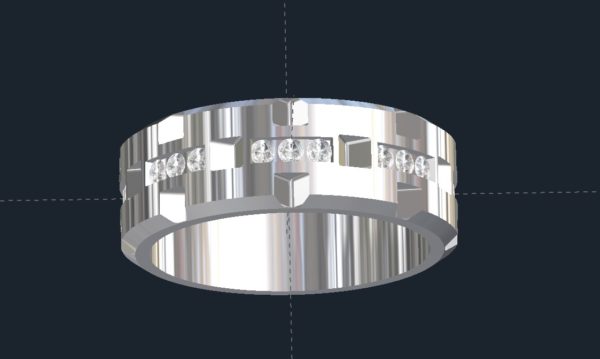 This elegant Wedding Ring features a beveled brick cut band with bright cut diamond accents that give contrasting finishes.  The design makes it look like three rows of bricks, with raised sections separated by grooves.   The separation of the sections can be amplified with the use of a polished finish in the grooves and a brushed finish on the flat faces.
The Bottom Line on Diamond Men's Wedding Bands
If the plain wedding band you can buy on amazon or at the mall isn't how you want to represent you union, or if you want something different than what everybody else has, then one of our Custom Wedding Rings is for you. It is impossible to go wrong with a custom men's diamonds wedding ring as there are so many ways to make it yours.
We guarantee all of our jewelry and don't actually create the ring until we have your blessing on the design, so you will get the wedding ring you are thinking of.  Creating Custom Wedding Rings is all about the details and we can either take care of everything for you, or let you be as involved as you want to be, giving you time to worry about things other than finding a wedding ring. Because let's face it…what man has time for that?
As you can see from the images in this post, men's wedding rings can be far more than a plain band.  And we want to give you that wedding ring that will make you stand out from the crowd. The wedding ring that makes you feel good as well.
Do Want Your Own Custom Diamond Men's Wedding Band?
Do you have an idea for a Diamond Wedding Ring you can't find anywhere?  Contact us with your idea today…It can cost less than you think to have your very own ring created just for you.  In fact, we have made tons of diamond wedding rings that cost less than a comparable mall option.
Click CUSTOM JEWELRY to see all of our custom men's rings.  We offer payment plans on our very competitive prices and can work with you to get the ring you want.
Diamond Men's Wedding Rings