Engagement Ring Trends for 2023
These are the Engagement Ring Trends for 2023 that we see as being popular with brides to be.  And As the saying goes, a diamond is forever.  But is what as true as it once was?  With many younger engagement ring buyers, diamonds have become less popular due to economic and social concerns.  We are seeing a large increase in colored gemstones being used in engagement rings and expect the trend to continue as one of the Engagement Ring Trends for 2023.
But like all pieces of jewelry, engagement ring styles come in and out of fashion, reflecting the time they're made.   And this is no different that any other fashion item such as clothing.
Engagement Rings With Multiple Stones Will Be Popular In 2023
In the past 3 to 5 years, engagement rings with ultra-thin bands and solitaire, or statement stones had become increasingly popular, but we are anticipating an increase in chunkier pieces in 2023. An example of this is the past, present, or future engagement ring, A.K.A. the 3 stone engagement ring.  These were increasingly popular last year and with the "past, present, future" idea, is always going to be a classic and desirable style.  And gone are the days when all 3 stones are the same shape.  Mixed cut 3 stone engagement rings are very fashionable at the moment.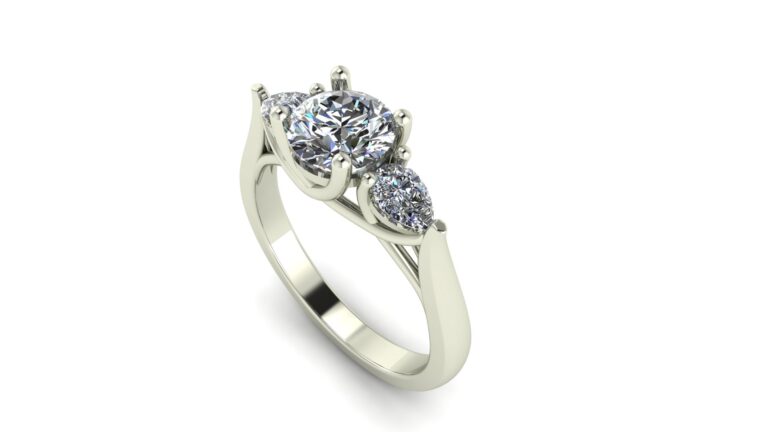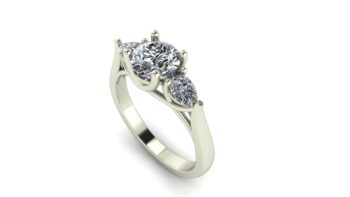 This mixed cut 3 Stone Engagement Ring has 2 pear shapes flanking the round center stone.
One reason why the 3 Stone Engagement Ring is appealing to people is that they look larger without having to spend so much on a single, larger stone.  You are also able to mix stone types and shapes.  We have done quite a few rings where the 2 side stones were different than the center stone.
The 'toi et moi' trend is Definitely one of the Engagement Ring Trends for 2023
In the same vein, we are placing bets that many brides to be will continue to be attracted to the "toi et moi" rings.  These consist of two stones, one of which is typically larger than the other, although not always  Toi et moi literally means to 'you and me' in French.  Like the past present and future engagement rings, this also feels like a relevant engagement ring choice for many. Additionally, the 2 stone engagement ring design offers a modern look that will endure fashion trends that come and go.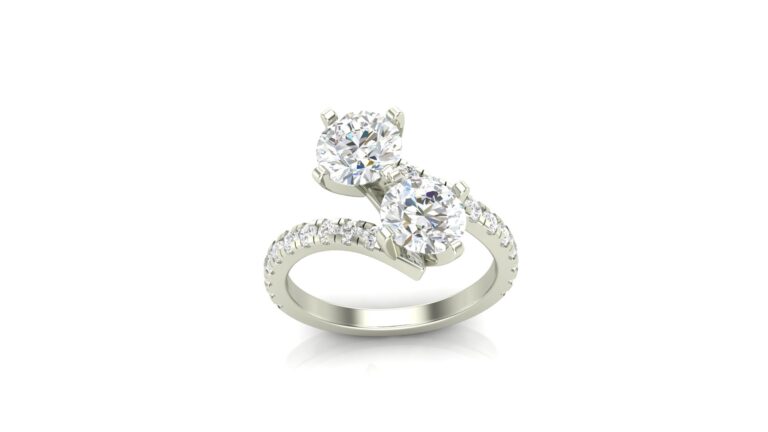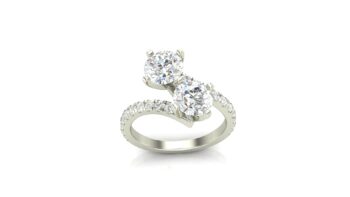 Here, we have 2, 6mm stones split in a bypass setting.  Then, we added stones to the band for some extra sparkle.  But it is easy to see the appeal of this ring design and why it is an Engagement Ring Trends for 2023,
Many Are Opting For Colored Stone Engagement Rings As Engagement Ring Trends for 2023
The default idea of an engagement ring is one with clear diamonds.   However, colorful diamonds and other durable colored stones also make excellent engagement ring stones.  Color is coming back in style for sure. And it can be really fun because there are so many different varieties of color out there.  Engagement rings aren't only made of diamonds." Interestingly enough, Princess Diana chose a Sapphire for her engagement ring when Prince Charles was proposing to her in the 80's. Following in his footsteps, Prince William later proposed to Kate Middleton with the same ring.
We forecast that many will choose the "toi et moi" style with colored stones, whether diamond or not. The cool thing about these is that you can pair a white diamonds with many colors of stone, making for a more unique ring.  It makes for a wonderful a way for couples to incorporate color with the more traditional white diamonds.  If you are choosing a non diamond for your engagement ring, make sure that you pick something that's durable. A stunning engagement ring that can't be work because of durability is a waste.  Especially since most women want to wear their engagement ring every day.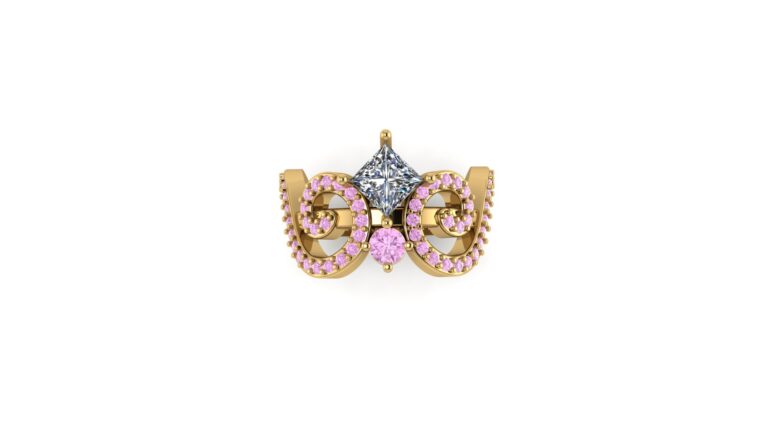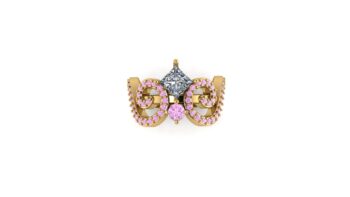 Here we have a Toi Et Moi ring with treble clefs on the shoulders.  Another aspect of the 2 stone ring that is appealing to couples is the ability to be playful with the design.
Lab Grown Diamonds are Legit and One Of Our Engagement Ring Trends for 2023
Lab-grown diamonds are going to eat into natural Diamond Sales more and more for the next few years.  Lab-grown diamonds are physically identical to earth mined diamonds.   The only difference between the two is that one is mined form the Earth and one is grown in a lab.   Lab diamonds are also far less expensive than mined diamonds, especially with recent price drops.
We are of the opinion that lab-grown diamonds will continue to be a favorite for engagement ring buyers because they allow consumers to get a much larger diamond for a fraction of the cost.  They also do not come with any of the environmental or social issues that natural stones come with.  And these days, many women are opting for a larger looking engagement ring than in recent years.
We blame this on Social Media.  Everyone loves to post videos or pics of their engagement rings.  And many just want to keep up with what they see online.  A lab-grown diamond is a good way to get the look you want at a fraction of the cost.
So…there are our Engagement Ring Trends for 2023!
Click HERE to see some of our Custom Engagement Rings.  Click HERE to learn more about custom engagement rings, to see more of our portfolio, or to contact us with your idea for a custom jewelry creations.  Why settle for the boring, mass-produced engagement rings you find at the chain stores when you can have your very own custom engagement ring made?  You know what they say.  Once you go custom, you never go back.  To the mall! Give us a shot…you will not be sorry. Engagement Ring Trends for 2023
Follow us in PINTEREST for our latest designs and funny images.
Engagement Ring Trends for 2023