The Hottest Trends in Men's Wedding Bands
Over the last ten years, we have witnessed a rebirth of men's jewelry due to the explosion of CAD-designed jewelry.  CAD has infinitely multiplied the capability of jewelry designers while also making it far easier for the regular person to get into jewelry design and creation.  Before then you had to learn how to carve jewelry out of wax, which requires far more time to learn than CAD.
This rebirth in men's jewelry has dramatically changed the landscape and availability of  Custom Men's Wedding Bands. Although the typical comfort fit Gold, Platinum, Palladium, and Silver rings are and will remain popular, we have seen the emergence of a new style of Men's Wedding Bands using, modern and new profiles as well as custom inlays and colored gemstones. And it is a popular trend that appears to only be gaining momentum as custom jewelry becomes more widespread. So kiss the traditional flat, gold wedding band goodbye, and get ready for Men's Wedding Bands, guys.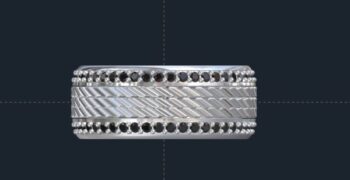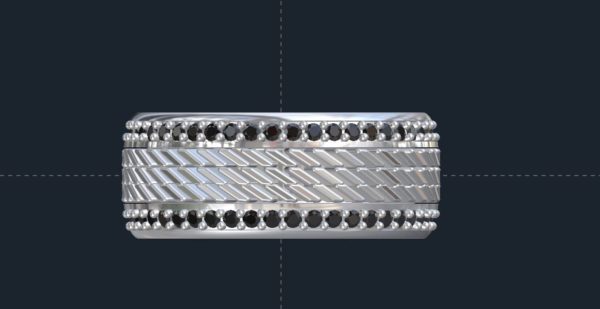 Our Talladega Diamond Tire Tread Wedding Ring is prefect for your man wanting a tire tread wedding ring.  This one has two rows of 1.5-stones on each rail outside of the tread. However, 1.3mm stones and up to 2mm stones could be used.
Men's Wedding Bands Now Are All About Options
Today, the world of men's wedding rings is all about options. We're talking about more comfortable, hand-friendly bands that actually show your personality and sense of style.  And why not? You're going to be wearing it for the rest of your life, so find one you love and that speaks to you. Here are 3 of today's latest trends in Men's Wedding Bands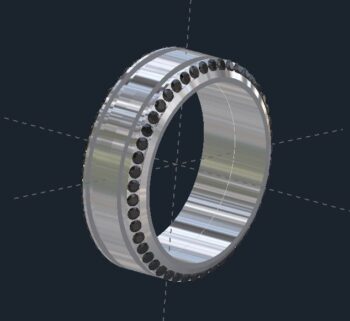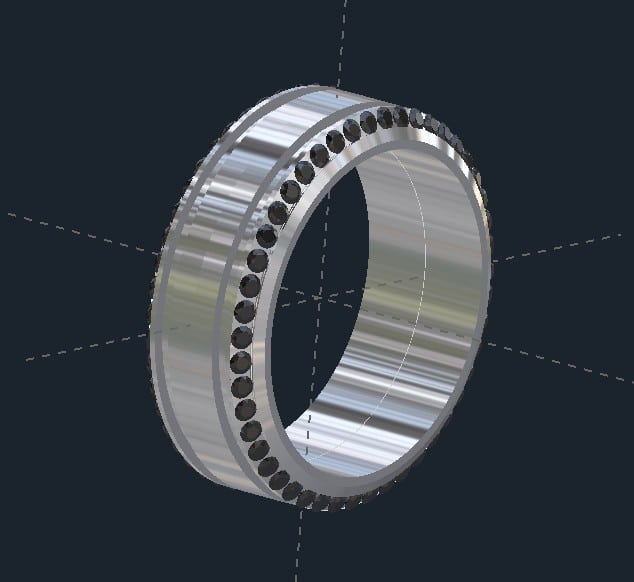 Our modern profile, beveled Men's Wedding Bands is a sleek option for those that like clean lines.  This one has stones going all the way around the ring on both edges while two grooves form a band in the middle. This one was 9mm wide, but the band can be made narrower for a thinner band. It can also be made wider.  We built this one with black diamonds, but CZ, Diamond, or precious gems could be used as well.
What Is The History Behind Men's Wedding Bands
Men's wedding bands have a fascinating history that dates back centuries. While the exact origins are unclear, it is believed that the tradition of men wearing wedding bands began in ancient Egypt around 4,000 years ago. These early bands were typically made from materials such as reeds, bone, or leather.
Over time, the popularity of men's wedding bands spread to other cultures and civilizations. In ancient Rome, for example, men would wear iron bands to symbolize their marital status. In medieval Europe, gold or silver bands adorned with intricate designs became the norm.
Today, men's wedding bands come in a wide variety of styles and materials, ranging from classic gold or platinum bands to more modern options such as tungsten or titanium. Ultimately, the history of men's wedding bands showcases the enduring tradition of symbolizing love and commitment through the exchange of rings.
Modern Men's Wedding Bands Are All About Being Personal
The generic, plain wedding band has become an antiquated concept with so many options for custom Men's Wedding Bands available. Your level of activity — whether you work with your hands, sit in a cubicle, or go to the gym every morning – should decide the type of Modern Men's Wedding Bands you are looking at.   What does this mean? It means that if you are rough on your hands, you might want to choose platinum or palladium over gold (for durability); avoid matte finishes (which show scratches), decorative and small details (easy to blunt after multiple bumps), and soft colored gemstones that  can chip, break, or fall out. If you are easy on your hands, something like gold or possible even sterling silver could be used.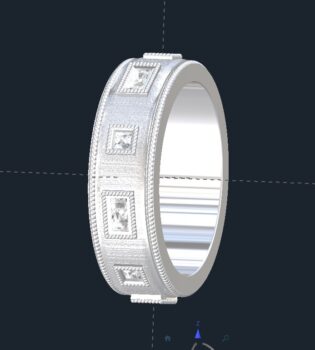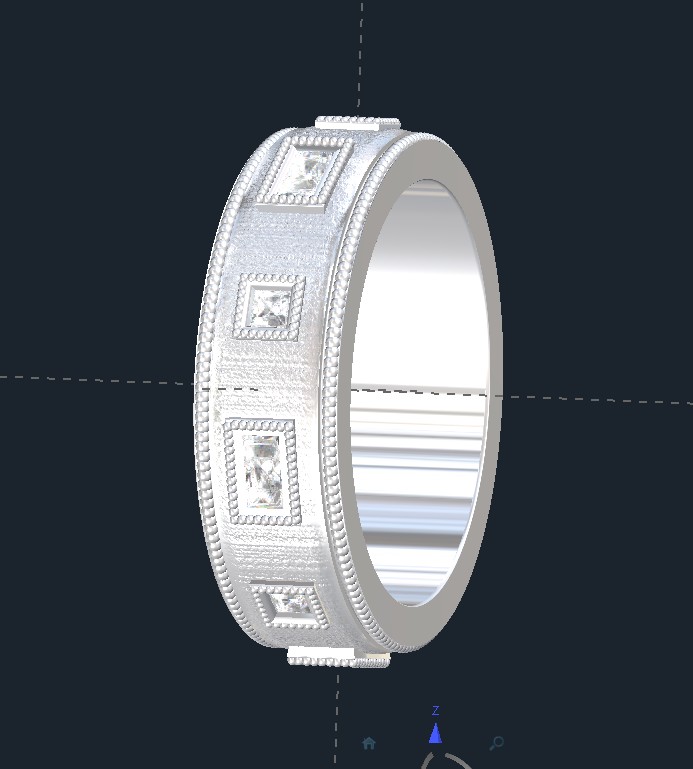 This Milgrained Men's Diamond Wedding Ring has a brushed texture that makes the alternating princess and baguette diamonds really pop.  Accenting both the bezels and edges of the stone is an elegant milgrain.
Diamonds in Modern Men's Wedding Bands?
Using Diamond in men's wedding rings have gone from unusual to totally acceptable and even desirable. Men who consider themselves stylish and fashionable love the sparkle and sophistication they can display. In fact, diamond wedding bands are the second leading category of men's jewelry after watches today.  It helps that diamond Men's Wedding Rings also wear well with diamond-studded watches as well as her diamond-set wedding and engagement rings.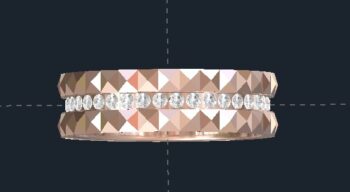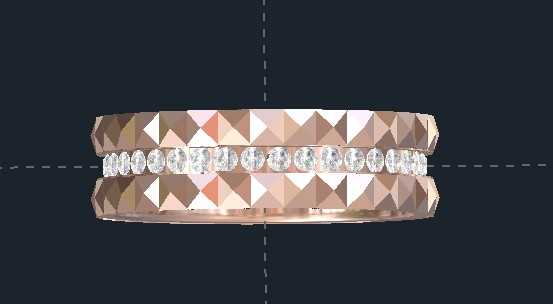 The most typical Men's Wedding Rings are low-key: involving less than a carat of diamonds, although this isn't a hard and fast rule.  They are also very wearable. Two popular men's styles of stone settings incorporate gypsy- and channel-set round or square diamonds (baguettes are not usually used for men's rings). And we're not just talking icy white diamonds, either — black, champagne, and yellow diamonds are hot gems for men's rings.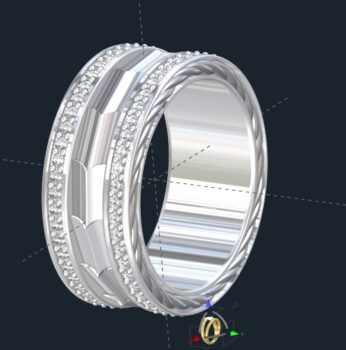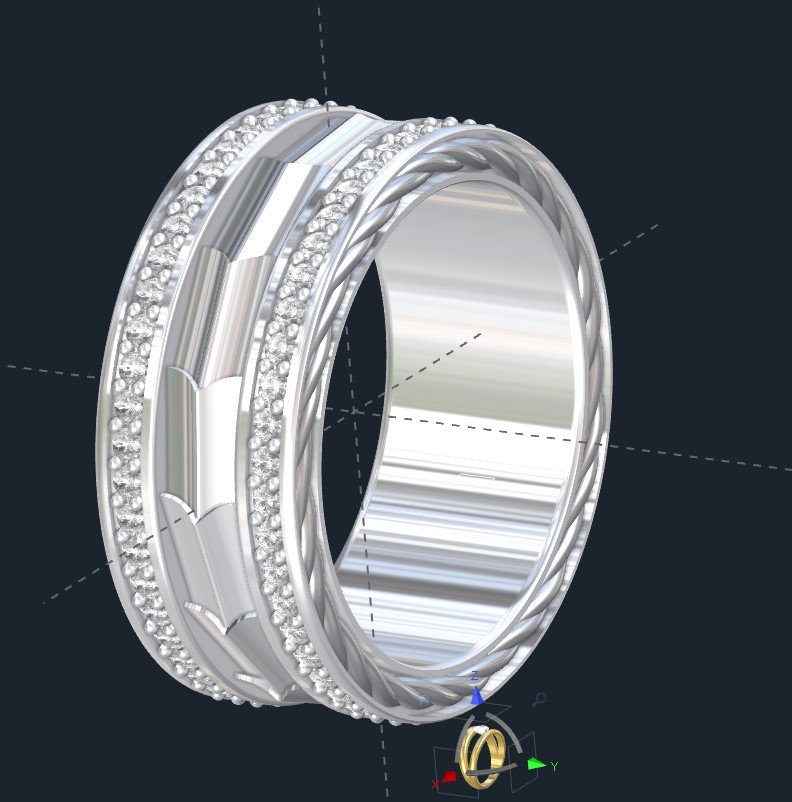 This Unique Men's Wedding Ring has armored plates going around the ring in between two rows of diamonds.  There is a rope inlaid on the sides of the ring rails as well.
Colored Gemstones Are White Hot in Men's Wedding Rings
Although we'll always love the classic sparkle of a white diamond. Men's Wedding Bands are increasingly being made with colored gemstones. They are perfect for the less-traditional, fashion-following crowd. And opting for something like blood red rubies or cool blue sapphire can really say a lot about what and who you are.  From an array colored diamonds to the huge world of colorful gemstones. There's a whole spectrum of colors to choose from: royal blue hues, lavish canary yellow diamonds, fiery red rubies, and emerald green…just to name a few. So if you're looking for wedding ring stones other than the typical diamonds, you've come to the right place.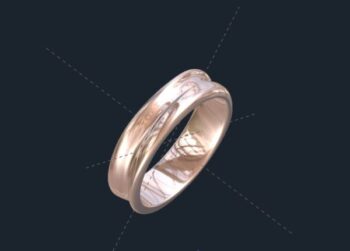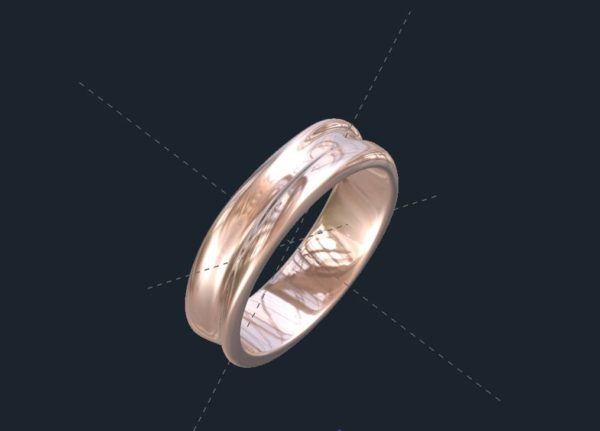 Are you looking for set of wedding bands that both partners can wear?  We have seen a definite rise in couples having matching rings created.  Here we have an elegant unisex wedding band has a wave that travels from one side of the ring to the other as you go around the ring. This one was 6mm wide, but it could be made as narrow as 4mm wide and could always be made wider.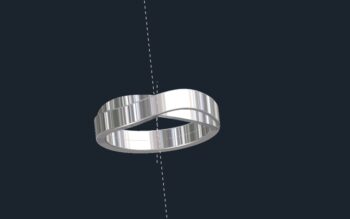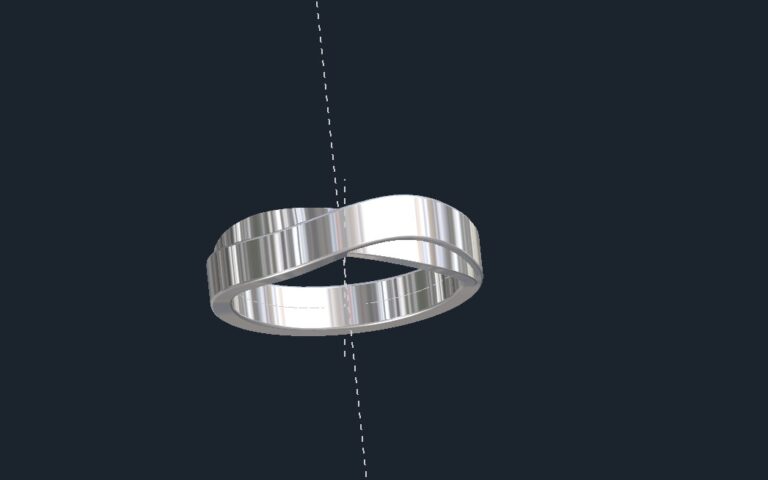 This elegant unisex crossover wedding ring has two sections that crossover each other on the top.  The finished image had been given a hammered texture.  However, that is optional and not the only texture it can be given.  Click the image to see an image of one of these with a hammered finish.
Multicolored Men's Wedding Rings
On top of being one of the most durable stones in nature, sapphires are available in far more colors than most people realize.  They can be found in yellows, greens, pinks, purples, etc. Are you wanting to show multiple colors that have meaning for you? A multi-colored wedding ring using a few of the sapphire colors gives a taste of all the possibilities you have with sapphire stones.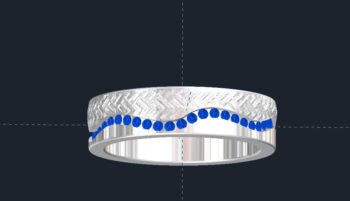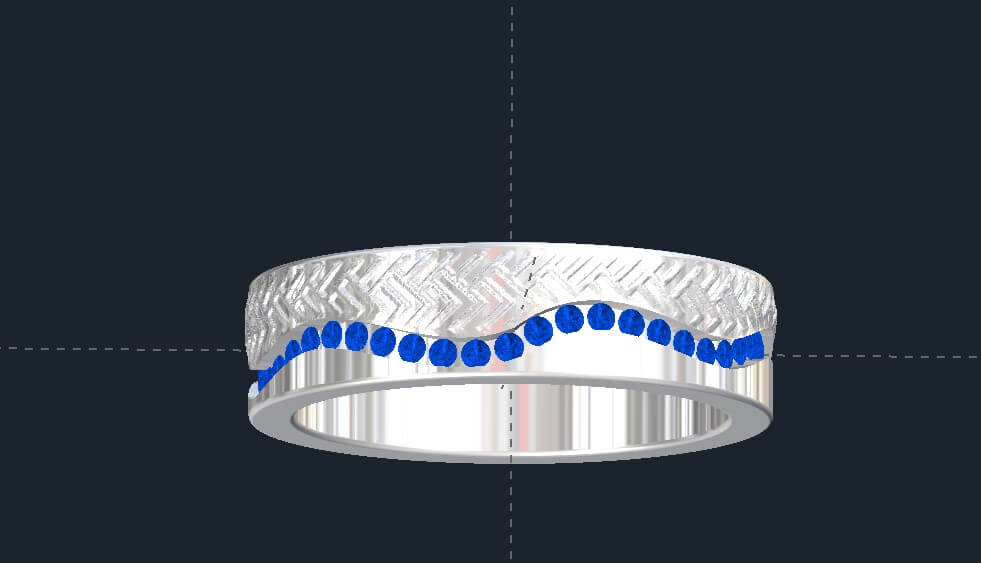 Our Wavy Men's Sapphire Wedding Ring boasts an offset wavy channel of stones. In this one, the top is textured, but we can texture the other side or both sides.  A wide variety of textures as well as stones can be used. This Custom Wedding Ring was 8mm wide, but it could be made wider or narrower.
Do you want a colored Men's Wedding Bands with the hardest stones in nature? Diamonds are they answer!  Diamonds are the hardest natural material in the world and they also come in almost every color of the rainbow. The Diamond Color Chart gives you an idea of all your color diamond options, ranging from faint to deeper yellow. The more colorful diamonds like pink, blue and black diamonds are known as fancy diamonds or fancy colored diamonds. Colored diamonds occur naturally but are more often produced through an irradiation process that permanently colors the stone. If you want a more ethereal or organic feel, natural gray, brown, or dark gray black, rough diamonds are beautiful.
Give Us A Shot
Want to start your own custom Men's Wedding Bands? Contact us with your idea today. It can cost less than you think to have your very own custom wedding ring created just for you. Many times, a custom-made comparable wedding ring can cost less than at a chain jewelry store. So, why bother with mass-produced designs?  Let us create something showing your personality and style. You will be glad you did.
Click here to see all of our custom men's rings.
The Hottest Trends in Men's Wedding Rings