Jewelry Recycling
We all have old jewelry that we just don't love, is broken, or maybe was given to you by a family member.  Why let it sit around doing nothing when you could use it in a new piece of repurposed custom jewelry?
Whether it was a poor gift choice, heirloom jewelry that was inherited, or something that was in style 10 years ago, but now is basically worth the scrap value, we can help. Using custom refining and CAD design, it is now possible to transform those pieces using Jewelry Recycling.  Have you been thinking of a ring or pendant, but just didn't thin k you could afford it?  Now you can.
There are numerous reasons Jewelry Recycling is a great idea.   These can range from a simple style preference to very personal and sentimental feelings. We have seen it all!  Because Jewelry Recycling is so versatile in the designs you can create, you shouldn't have to look hard to find a reason to part with your unused jewelry. Here are a few reasons that have lead our clients to go Jewelry Recycling.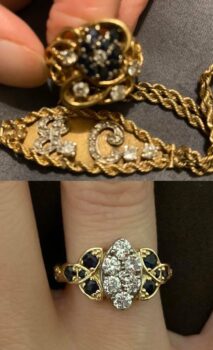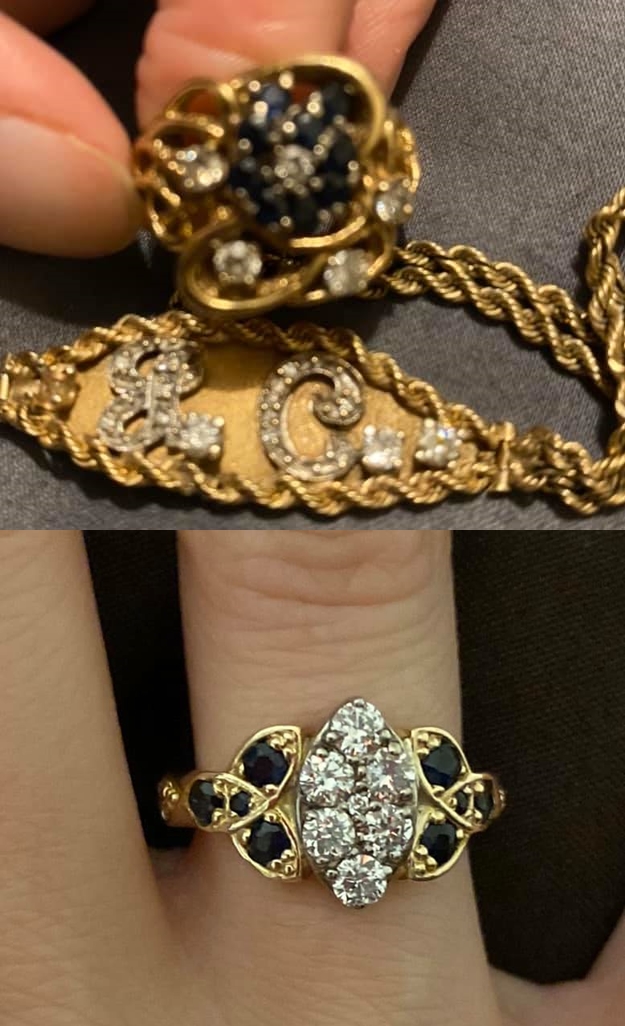 This is just an example of old jewelry that we repurposed into something new, current, and wearable!  Not only can the extra materials be put towards the cost of your new ring.  But you can also lessen your carbon footprint by using old gold.
Jewelry Recycling Can Preserve Sentimental Value
Jewelry Recycling is a way to keep your loved ones close to you in spirit, even if they are no longer with you. Remaking jewelry inherited from family members can also be incredibly sentimental and rewarding.
Sometimes family members pass down family engagement rings when you're ready to propose. If you were given an heirloom ring from a family member, but it isn't your style, repurposing the piece maintains the respect, sentimentality, and meaning of the gift but still allows you to add your style and personality to it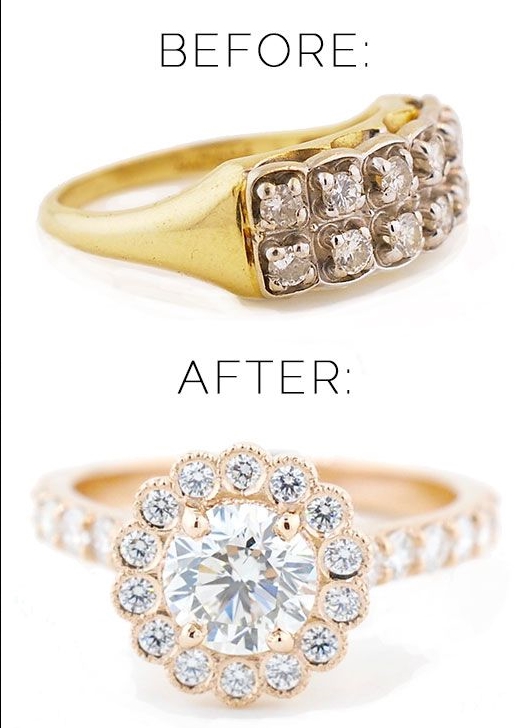 The Halo Ring was made from using the gold and accents from the ring on top combined with a center stone our customer had plus a few new stones.  It saved her over $4500.
Jewelry Recycling CAN Update Your Style
When you are gifted jewelry from a family member it is rarely what you want.  While easier to let it sit in the bottom of your jewelry box than to admit you hate it, with just a little effort and thought, it could be transformed into your go to piece!   With Jewelry Recycling, you have the ability to actually re-design the piece into exactly what you want. You have complete control and can infuse your own style and personality into the piece. You also have the ability to of combine two or more pieces into one. If you have stones in two different rings that you think would look great together, it is completely possible to combine them using Jewelry Recycling.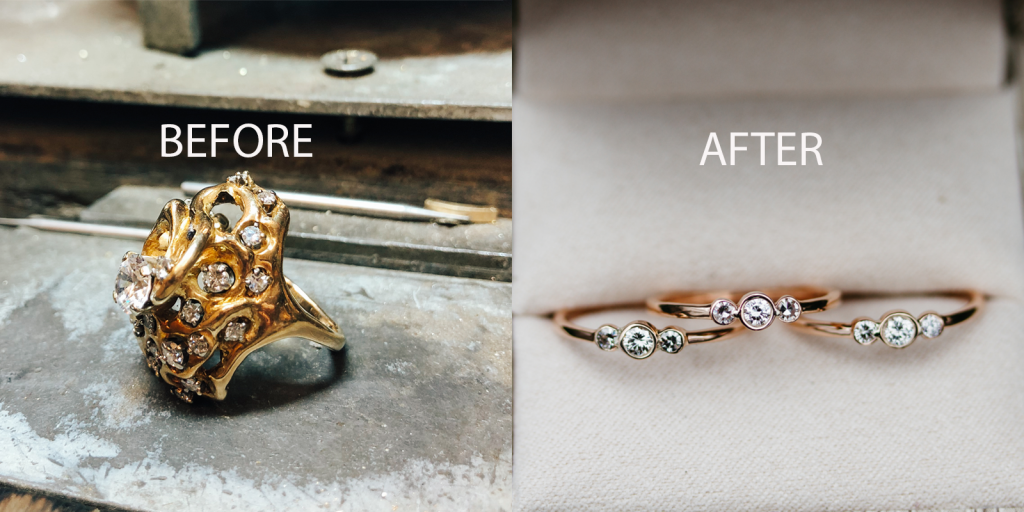 Diamonds removed from four old rings turned into 3 new rings.
Jewelry Recycling is Sustainable
Mother Earth will love you for repurposing your old jewelry because it is effectively recycling materials. Instead of buying something brand new, conserve our resources by recycling unwanted jewelry into new custom jewelry that you'll actually wear.  Using stones you already have is a practice in sustainability; it means one less stone mined from the earth. When we repurpose your jewelry, we keep sustainability in mind. Anything not put into your new jewelry, like your old metal setting for example, we recycle.
Jewelry Recycling After Bad Breakups
What do you do when your wedding is called off? What do you do with your engagement and weddings rings after a divorce? After a breakup, you don't want to wear the jewelry.  But if you sell it to a pawn shop, you will get pennies on the dollar for it. The best way to move on is to reinvent your jewelry into something that celebrates your new life and signifies a new beginning. You can get rid of that bad mojo creating repurposed custom jewelry with it.
What Types of Jewelry Can Be Used When Jewelry Recycling Instead Of Buying Something Brand New?
Almost all rings, necklaces, and earrings can be repurposed.  It's important to to take note of what type stones are set in the piece that you are thinking of Jewelry Recycling. This is because stones can wildly vary in hardness and durability. You can find out how hard your stone is by finding it on the Mohs Hardness Scale.  It is the scale used to grade the hardness of gemstones.
You can see more about the Mohs Scale HERE.
Stones like Diamonds, Sapphires, and Rubies are very hard and durable.  The jewelry remodeling process will probably not damage stones with their hardness. Softer stones like Turquoise, Opal, or Moonstone may not be the best stones to repurpose.  When being transferred between settings, they have a much higher chance of being scratched or cracked.
Give Us A Shot For Jewelry Recycling!
Many people don't know that it's possible to create Custom Jewelry using Jewelry Recycling.  But with our custom jewelry expertise, it is totally possible. Whether you want to carry on the family legacy or simply switch up your style.  The process is personal to you and the possibilities are endless.  Do you do have jewelry just sitting around the house not being worn? Consider giving it new life. We would love to create the design you are dreaming of!
Contact us to learn more about our Custom Jewelry or contact us with your idea for Jewelry Recycling. Engagement or wedding rings, pendants, bracelets, and pairs of earrings can all be recycled.  It can cost far less to reuse the stuff you have lying around rather than create something from scratch.
You can view our portfolio of custom engagement rings or custom pendants to look for ideas.  Or you can contact us with your own idea
Creating New Jewelry from Old Jewelry