Truly Unique 6 Prong Engagement Rings
If you ask 10 people, "what does an engagement ring look like"?  You will most likely get a few different responses, but all will probably imagine 4 prongs holding the center stone in.  Not one will mention anything like 6 prong engagement rings.  It won't matter the type of stone, band, or if the ring has accents.   The setting will have 4 prongs.  The 4 prong setting is by far the most common type of setting.  And we get it, on smaller stones, 6 prongs can crowd the stone, making it look smaller.  But on anything over 6mm, it looks fine.  And on stones larger than 7.5mm, we always recommend it just for security reasons.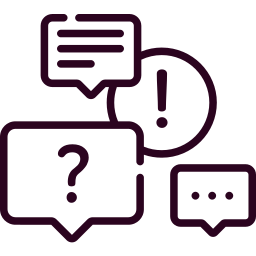 Discuss design ideas, options, budget, with your jewelry consultant – your guide to the custom experience.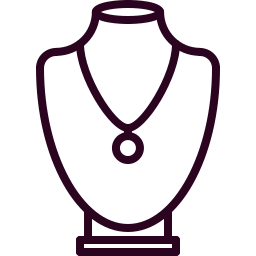 Visualize your piece with high resolution 3D renderings, and we'll adjust every detail until you tell us it's perfect.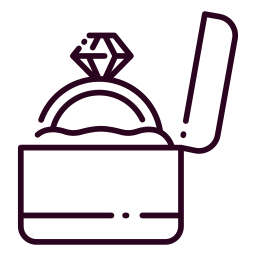 Receive your custom piece, with the assurance it's been made to wear and last a lifetime.
Are you looking for a handcrafted, unique and stylish engagement ring that symbolizes your undying love? Here is our running list of Unique Custom 6 Prong Engagement Rings that you won't find anywhere else. We've dug through the hundreds of custom engagement rings we have created and selected a number of rings we think warrant being on this page. This is kind of our one comprehensive list to highlight some of the coolest bridal rings we have designed. We have tried to break them down by type to make it easy for you. We will try to regularly update this list as we create new rings that might warrant being a member of this page. However, it isn't like these things happen everyday! They take time and attention, so we don't usually design them on our own.
Sculptural Engagement Ring
This is one of our sculptural 6 prong engagement rings that we love. The center stone is secured by 6 prongs that are accented with 1mm stones. If you don't like 6 prongs, or don't want the accents on the prongs, we can change that. The shank is an alternation of diamond accents and knife edged milgrain.
6 Prong Engagement Rings - Solitaire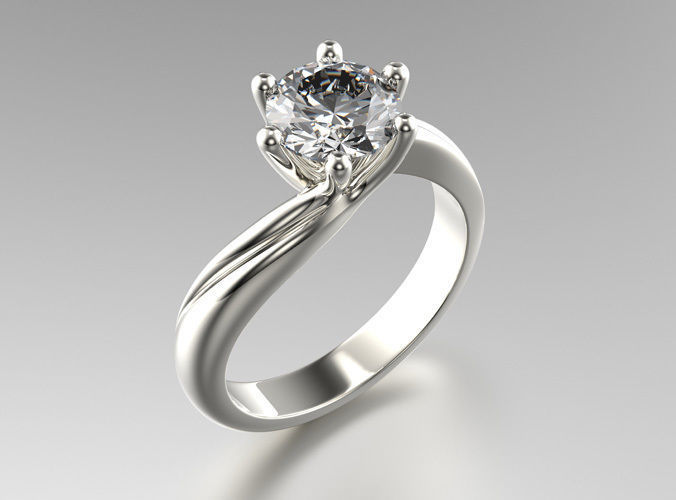 Sculptural 6 Prong Engagement Rings
This Sculptural Solitaire Engagement Ring is a type of bypass ring that we just love.  The shank is a wave of motion is it travels from one end of the ring to the opposite end.  The 6 prong basket securely holds even the largest stone intact.  This one is shown with a 5mm center stone, but smaller or larger could be used.  Almost any type of gemstone can be used.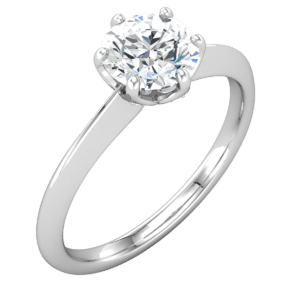 Solitaire 6 Prong Engagement Rings
 A six prong setting is an easy way to make any simple solitaire distinctive. This design goes further by detailing the bottom of each prong with a diamond-accented heart motif. Then the knife-edge shank adds depth and dimension that keeps the design simple, while remaining striking.
If you have decided on a custom engagement ring, you are in the right spot!  We are your custom engagement ring HQ!  Our specialty is creating that perfect ring that will wow her every time she sees it. Whatever your budget may be, we believe in providing you an engagement ring as splendid as your other half. And this is the same whether it is a 6 prong engagement ring or custom pendant.  Your engagement ring should stand for the commitment and loyalty of spending the rest of your life together with your better half. It might take a little more effort than if you went to the mall.  However, the dividends of giving your bride to be a custom 6 prong engagement ring are worth it! Just knowing you put a little of yourself will go far longer making her proposal everything she dreamed of.
Knife Edge 6 Prong Engagement Rings
This is an absolutely stunning 6 Prong Pave Engagement Ring design that really highlights larger stones!  However, we could make this a 4 prongs setting for a smaller center stone.  The 8.5mm center stone is secured with a 6 prong setting accented with 1mm stones.  However, a 4 prong setting could be used for smaller stones.  The knife edge shank has 50 pace set stones set on each side of the ring.
Asymmetrical 6 Prong Engagement Rings
This 6 Prong Engagement Ring is a modern, elegant design that you won't find anywhere else.  The center stone is held by 6 claws for maximum security.  The graduated accents are on opposite sides of the ring for a unique effect. The accents start at 2mm and go down to 1mm stones,  totaling a around a 1/2 carat.  The center stone is shown a round 6.5mm, but other sizes can be used. It is also possible to make the accents slightly larger or smaller.  We have also created an optional matching band that goes with our 6 Prong Engagement Ring.
CUSTOM ENGAGEMENT RINGS – 6 Prong engagement rings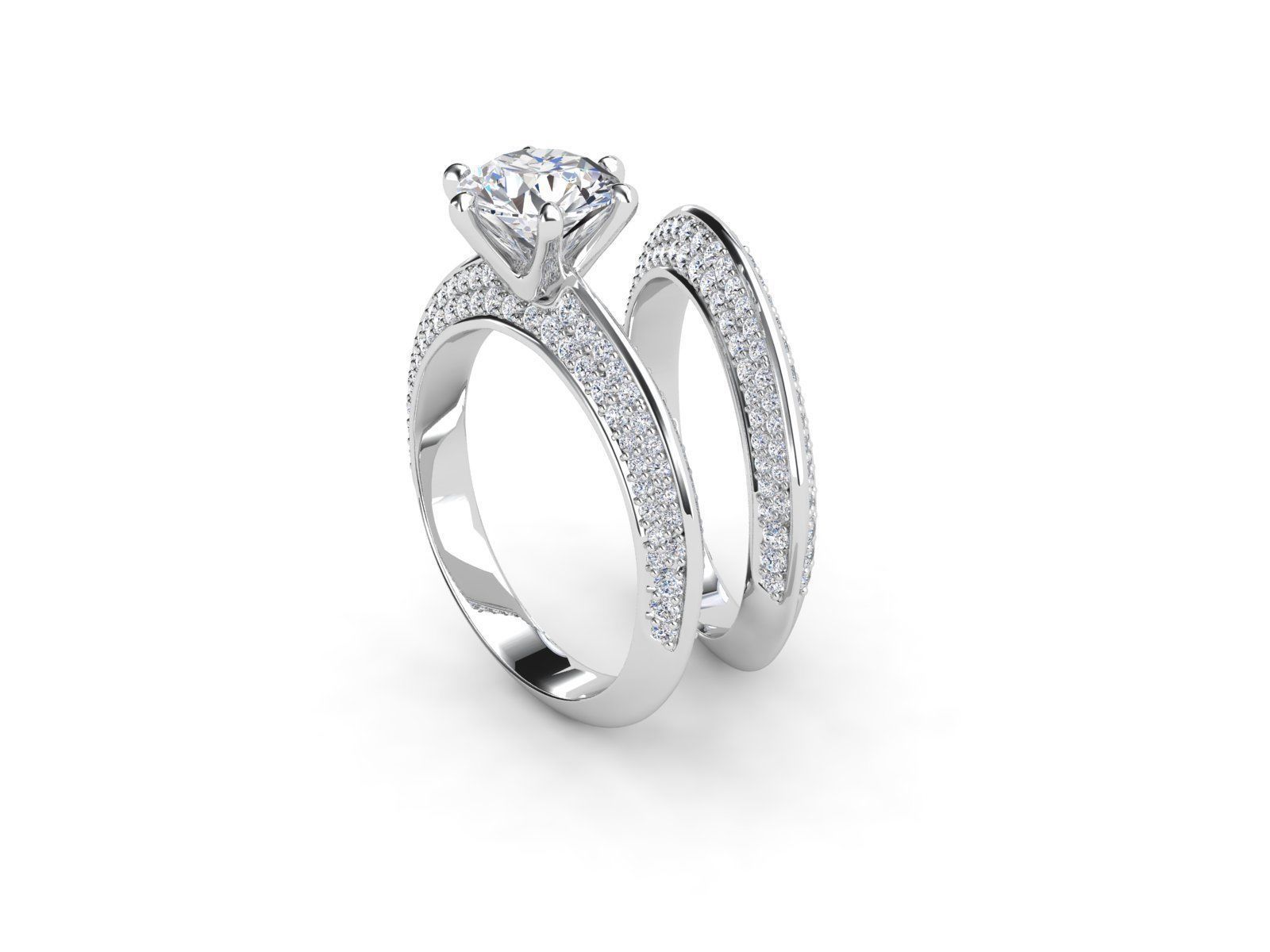 Art Deco Solitaire Engagement Ring
This is another of our many Pave Engagement Ring designs that you won't find anywhere else.   The 6 prong set, 6.5mm center stone sits among 100 pave set diamonds in a domed knife edge setting.  The optional band adds another 100 stones.  We can make this ring with any size or shape center stone.  However, the accents have to be diamonds or cz due to the size.  If the ring is too tall for your taste, we can remove one of the rows of stones.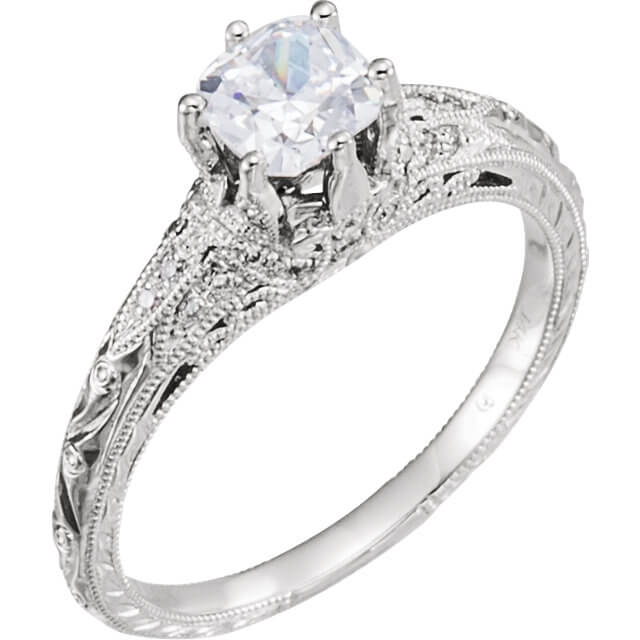 This 6 Prong Art Deco Engagement Ring has a lot going on!  The only place that isn't adorned with some design element is at the bottom, so the ring can be resized if necessary.  But the engravings on this ring are stunning.  Beautiful scrollwork and geometrical symbols are engraved on both the top and sides of this stunning vintage Engagement Ring.   The center stone is a 6mm cushion cut stone and is accented with 28 tiny stones for a total carat weight of 1/6.  However, this 6 Prong Art Deco Engagement Ring design would also look with a round or princess cut stone as well.  If you like the idea of this ring, but wanted different engravings.  We could make one and engrave it with whatever pattern you wanted as long as it fit.
Custom Engagement Rings are a chance for the buyer to oversee almost every part of the custom jewelry creation. This allows you to create a finished piece as unique as the wearer. Because you will wear your engagement ring every day, why not take the time to create a one-of-a-kind custom engagement ring that will act as a daily reminder of your love and make you stand out in a crowd of people wearing big box chain rings? Rather then purchasing a mass-produced ring from China, have a symbol of your dedication and commitment created by designing a unique Custom Engagement Ring – the result of this will become a treasured story about the most significant object she will ever own.
WE DON'T JUST MAKE CUSTOM ENGAGEMENT RINGS
At Valeria Custom Jewelry, we design Custom jewelry from the ground up and as long as the ring can be cast, there will find a way to make your idea come true. We cast custom engagement rings in Gold, Sterling & Argentium Silver, Palladium, and Platinum using the lost wax technique. And the best thing about custom engagement rings is that they can be created with gemstones that you don't find in chain stores.
While engagement rings are one of our specialties, we don't limit ourselves to that! With the latest CAD program, we are a full service custom jeweler for all of your jewelry needs. Whether a wedding ring, pendant, or bracelet, we can make anything. Don't settle for boring, pricey, mass-produced jewelry from the mall and chain stores. Show your personality and look into Custom Engagement Rings. Don't you want your ring to have a story you can tell people???
ONCE YOU GO CUSTOM, YOU NEVER GO BACK!
It is no secret that engagement rings can pricey. Therefore it's imperative to figure a designer who can provide a good value. At Valeria Custom Jewelry, we have a team of experienced designers and bench jewelers that can help you craft the perfect ring for your perfect spouse. Even if you have a smaller budget than you would like, we are bale to give you a good band for your buck. You can find our hundreds of 5 star reviews all over the internet and we pride ourselves in being the "right" designer.
In this age of the internet, there are hundreds of jewelry makers to choose from. However, finding unique Engagement Rings for Women out of the thousands of designs and styles is a tiresome process. With the huge variety of available styles, it can be quite daunting to choose the right one.
You may like style of a ring but its stone shape is not what you like. Or, are you impressed by the the design of the top half of the ring, but don't like the bottom half. We can help! And what is the solution to all this confusion? The answer lies in having a custom engagement ring created just for you. We will help you to create from scratch if that is what it takes to make your dream a reality. Instead of going for mass produced pieces, we can help you transform your own idea into reality.
While custom engagement rings are one of our specialties, we don't limit ourselves to that! Regardless of whether it is a wedding band, pendant, or bracelet, we can make anything.
Click HERE to see our complete portfolio of custom engagement rings. Click HERE to lean more about custom jewelry, to view our the rest of our custom jewelry creations, or to contact us about Custom wedding rings. It can cost less than you think to have your very own custom engagement ring made. Why settle for boring, uninspiring, mass-produced engagement rings from the mall? We can make exactly what you want. Don't see what you are envisioning for your unique engagement ring? Send us the design you want and we will bring it to life.
FREQUENTLY ASKED QUESTIONS ​
I found Valeria custom jewelry online and when I saw their awesome work on their website I knew this was the best place for custom jewelry. I live in New York and distance was no problem, I contacted Valeria jewelry by email with pictures of a ring that I wanted rubies mounted in and the price was very competitive so I doubled the order last minute and I sent two rings for custom work done, which they said was no problem. So I mailed the two rings and a few weeks later I have the rings and they look great! Job well done to Valeria for the custom jewelry and I can't thank them enough they surpassed my expectations for the rings. Getting custom jewelry done through the mail was easy safe and secure by insured usps. I look forward to having more jewelry done in the future at Valeria and am completely happy with my rings. Their website has good examples of their work so I am sure no matter the distance or need they will get it done quickly and with a good price. Thanks again Valeria !
I found Lucas via a google search, and his reviews honestly seemed too good to be true. I reached out to inquire about setting an antique diamond from a pendant into an engagement solitaire ring, and enlarging an antique wedding band. He responded to my initial email within minutes, and very quickly gave me design choices and an estimate for each. After dropping off the items, the rings were ready within 5 days - and they look better than I was even hoping for. His prices are exceptionally reasonable, and he gave full market value for the scrap gold my diamond was originally set in. I highly, highly recommend working with Lucas for the ease, responsiveness, and exceptional results he provides.
Lucas was absolutely amazing with his level of attention and detail to not only what I was looking for in the creative and concept stage, but throughout the process as a whole. We went back and forth for weeks about setting design and material, and specific gem selection and he was communicative and patient the entire time. Absolutely recommend he and his teams services.
My fiancé had my engagement ring custom designed through Valeria. Absolutely Beautiful, from the diamond setting to the finish. Thank you Lucas and his team for accomplishing this stunning ring in such a timely manner, which led to a beautiful and amazing experience.
Start design with us now!