Art Deco personifies modernism and fashion, and features sleek, elegant designs and stylized geometric shapes. Lucas Horton at Valeria Custom Jewelry has captured the crisp, clean lines and ornate designs of the Art Deco movement in his skillfully crafted art deco flower ring. Smooth, five-petal flowers have been expertly etched throughout the band's circumference, which can be forged from argentium, sterling silver, platinum, palladium or gold.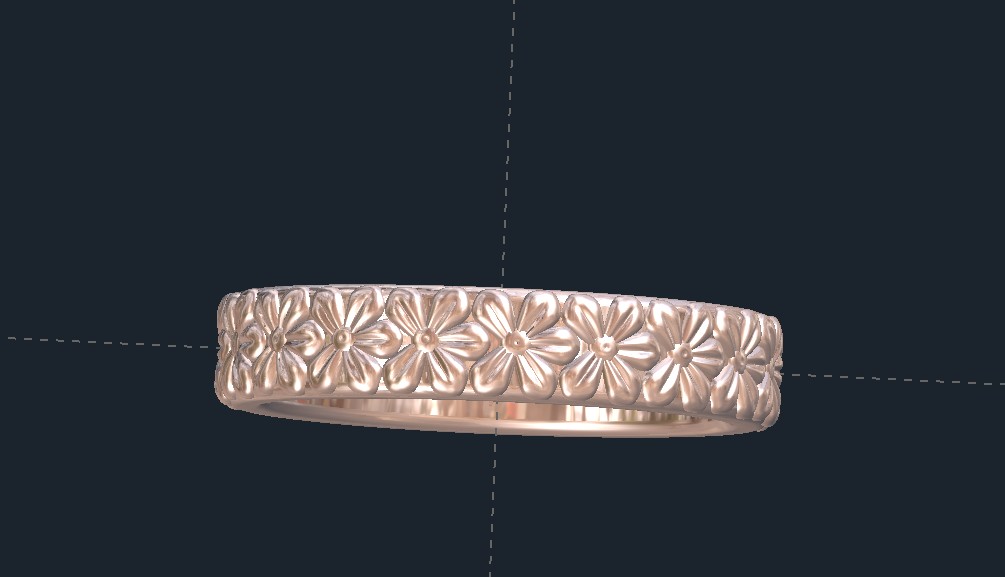 Much like the original proclivity for Art Deco designs to use luxury and expensive materials, all the designs crafted at Valeria Custom Jewelry uses the highest quality metals, diamonds, and gemstones available. The art deco flower ring may not reflect the modernism of machinery like most styles of the era, but the precision and symmetry of the petals certainly reflect Art Deco's well-known characteristics of simplicity and unvaried repetition.
The ring starts out at 4 mm wide but can be made wider per customer request. This kind of customization is only available when working with an individual jeweler who takes the time to make sure that his clients are completely satisfied with their purchase. By using comprehensive computer-aided design and lost wax casting, Lucas can create completely customizable rings, bracelets, earrings, and pendants.
Whether you can spend a few hundred dollars or a few thousand, Lucas can create art deco flower ring designs to fit your budget. His graduate degree in gemology makes him an expert in knowing what makes a stone desirable, and his personal contact with reputable diamond and gemstone dealers around the world allows him access to the precious stones at cost. As a result, he can create exceptional pieces using quality materials at a value that makes you wonder how he did it. Much like the art deco flower ring, every piece that Lucas creates is a testament to his impressive talent in jewelry making.
Click HERE to see the ring this one was created to match. Click HERE to learn more about custom jewelry, to see our portfolio, or to contact us about art deco Flower rings.  It can cost less than you think to have your very own custom wedding band made just for you. Why hassle with the retail stores for boring and overpriced wedding rings?