Here's Why Forever One Moissanite Engagement Rings Are Surging In Popularity
What is drawing hordes of engagement ring buyers to our Diamond Engagement Rings? In fact, searches for moissanite gems are up 294% on social media sites. Google reports similar findings. But more important than both of those stats is the number of Diamond Engagement Rings we are selling. It has more than tripled in the last 3 years! As a result, we have decided to share some of our favorite Forever One Moissanite Engagement Rings.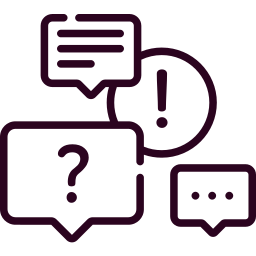 Discuss design ideas, options, budget, with your jewelry consultant – your guide to the custom experience.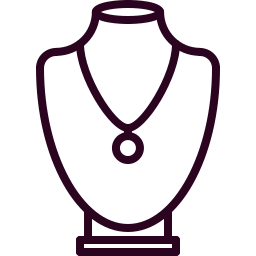 Visualize your piece with high resolution 3D renderings, and we'll adjust every detail until you tell us it's perfect.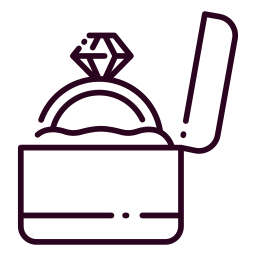 Receive your custom piece, with the assurance it's been made to wear and last a lifetime.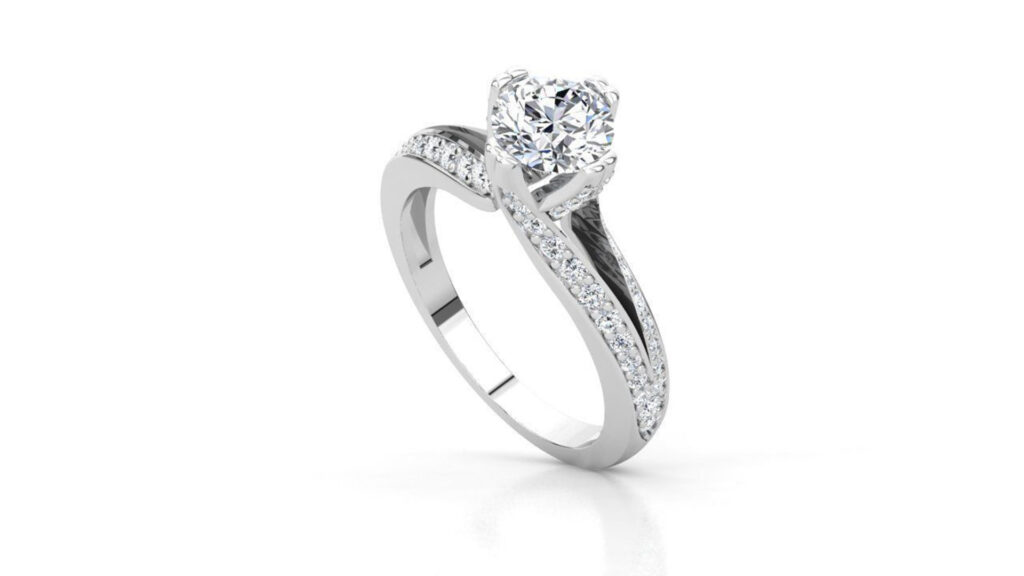 Modern Split Shank Diamond Engagement Rings
This is one of our favorite Diamond Engagement Rings…maybe because we designed it for ourselves! 2 of the prongs are formed by the shank and the other two appear out of nowhere for a dramatic effect. And the diamonds not being on a perpendicular plane of the ring also makes it unique and allows sparkle at more angles.
our Diamond Engagement Rings PROVIDE EXCELLENT VALUE
This growing trend in the popularity of our Diamond Engagement Rings is highlighted by the value that we provide. Brilliance and affordability are cited as key reasons why brides are opting for this alternative gemstone. Many brides today are looking for something a little bit more unique without breaking the bank. They are eschewing many of the traditional engagement ring norms and opting for something more out of the box. Brides to be are also wanting something that reflects their personality more than what is available at the mall. Custom Diamond Engagement Rings are a great to achieve that goal.
This is one of our latest batman Engagement Rings. It is more of a unisex ring that can be worn by moth males and females. It is shown with an oval, but could be made with a round. This was made for a man, if we made it for a woman, we would make the band a little more feminine. But that is just us.
Diamond Engagement Rings – PERFECT FOR CUSTOM JEWELRY
And their search for the perfect engagement ring is leading them to Custom Diamond Engagement Rings Rings. We can see why people are opting for Custom Diamond Engagement Rings. They are a great way to get a custom engagement ring made without spending a ton of money. And there are other aspects of Diamond Engagement Rings that make them attractive to people in the market for a custom engagement ring.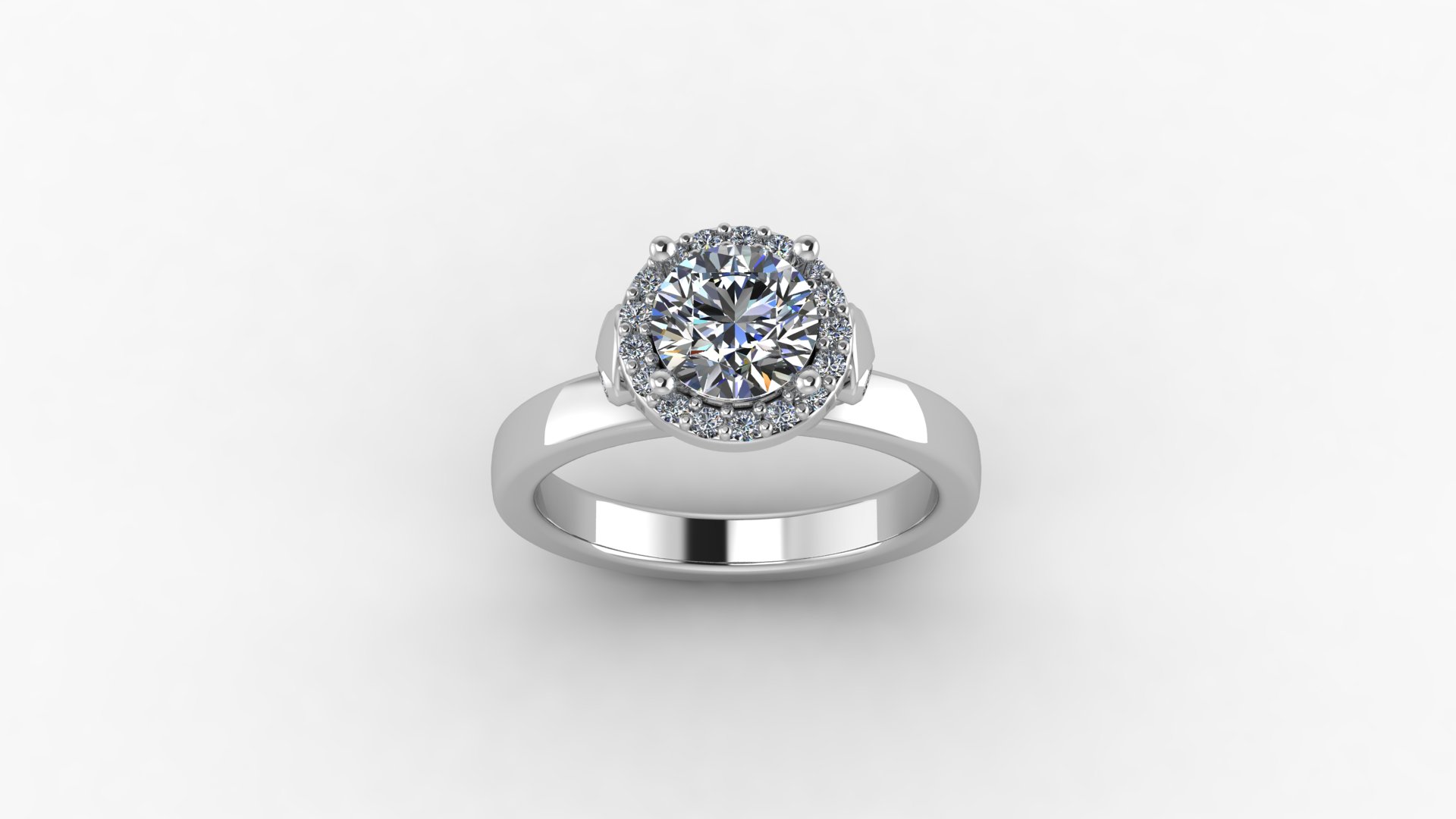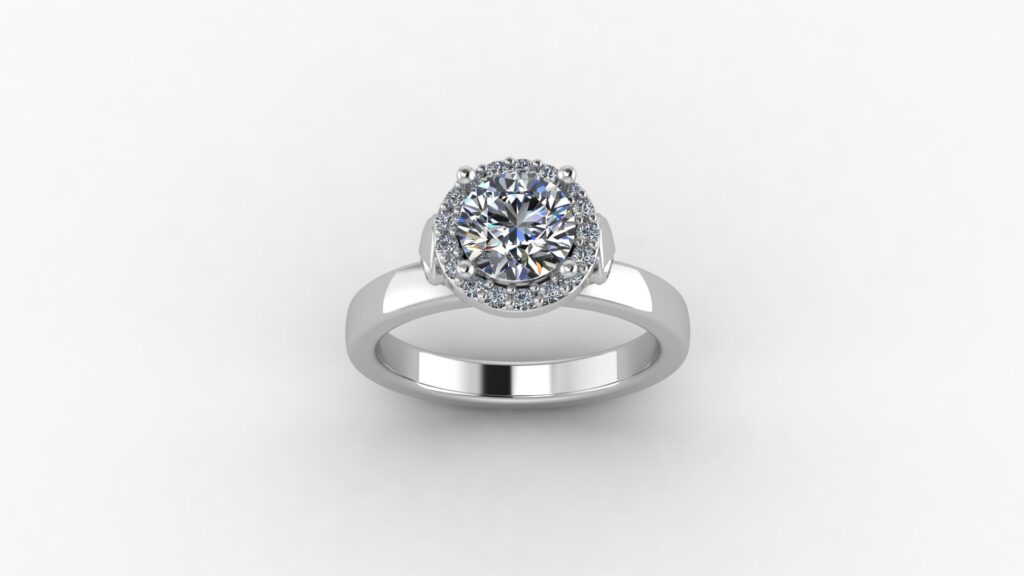 Harry Potter Inspired OwlDiamond Engagement Rings
Even if you aren't a Harry Potter fan, you can still wear our owl engagement ring without anyone know what inspired us to make it. The two owls support the halo surrounding the center stone. The eyes of the owl and halo are made with 1.3mm stones. It looks good as is, but our master engraver can take it to the next limit. We also have this ring with accent stones on the band.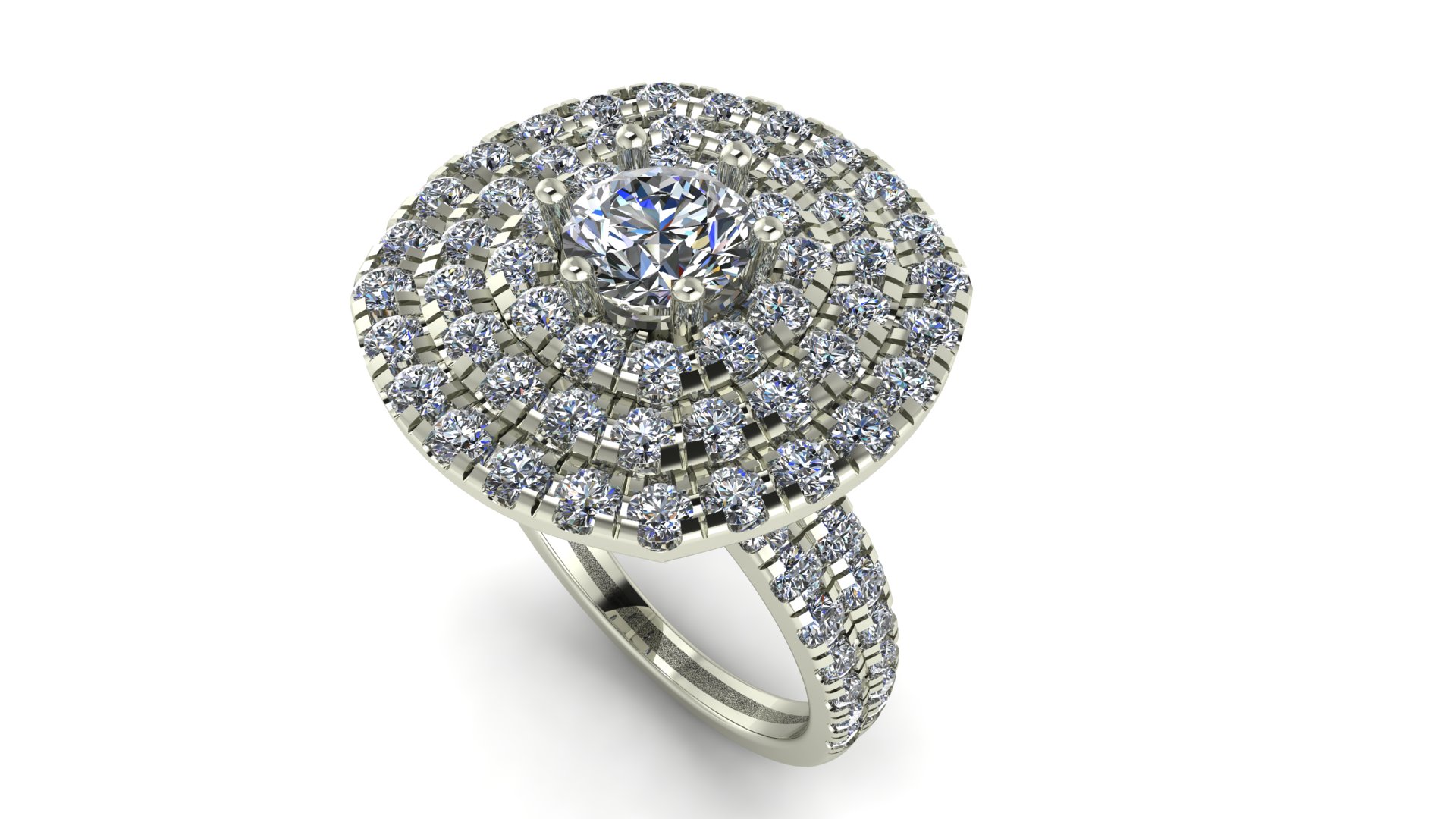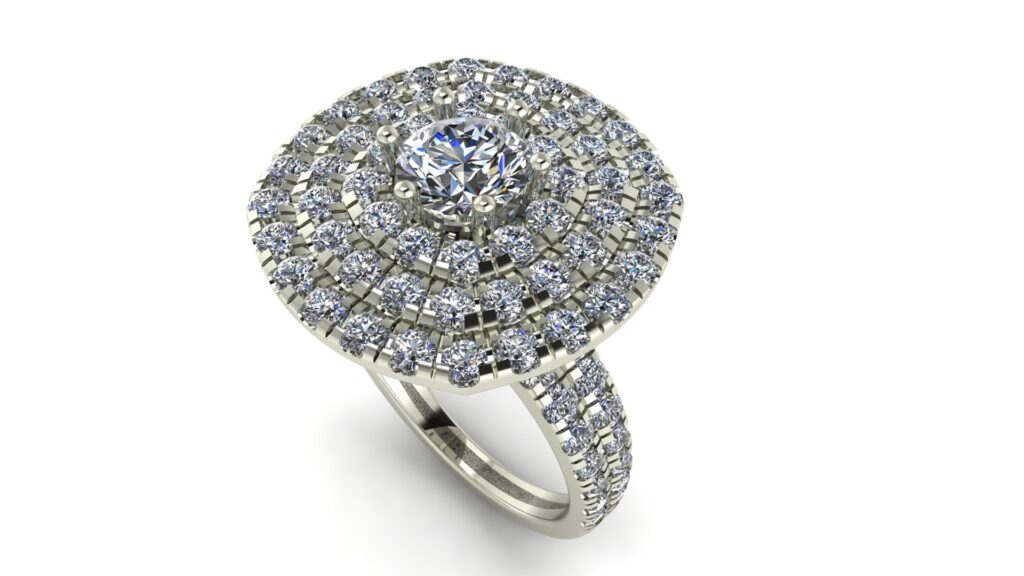 Triple Halo Diamond Engagement Rings
We had a customer with a bunch of old jewelry that she wanted repurposed into something new. This is a spin on that ring. The 2mm diamonds in the rounded square halo are french pave set, but we could make this a shared prong setting as well. It is also possible to play with stone sizes or even remove a halo if you like.
Our Diamond Engagement Rings – A GREAT VALUE
So what exactly is it? In its pure form, moissanite occurs naturally, developing over millions of years by extreme heat and pressure. However, the stones available to consumers have been created in a lab. Natural moissanite is incredibly rare. The natural version was first discovered by Nobel Prize–winning chemist Dr. Henri Moissan at the site of a meteorite strike in Arizona. He spent the rest of his life trying to re-create the mineral in a lab. Eventually, scientists managed to perfect it, creating silicon carbide crystals (known as moissanite) that are more durable than diamonds, sapphires, rubies, and emeralds.
WHAT MAKES our Diamond Engagement Rings SO POPULAR?
These days, most consumers are interested in environmentally and socially responsible products. According to a 2015 Nielson report, 66% of global consumers are willing to pay more for sustainable goods. However, they don't want to sacrifice beauty or quality in their search for sustainability and eco-friendliness. Millennial customers are drawn to products like Lab Created Diamond Engagement Rings because they are lab-created while surpassing the extraordinary optical properties of a diamond while providing extraordinary value. The 1 carat diamond equivalent in a lab created stone can cost as much as 50% less than a comparable earth mined diamond. Lab grown diamonds can also have a higher dispersion rate than diamonds do, so are more fiery.
Vintage Halo Diamond Engagement Rings
This Vintage Milgrain Halo Engagement Ring is a nod to the elegant engagement rings created by hand in the early 1900's. The stones in both the halo and band are accented with milgrain while the gallery beneath the center stone is artfully cut out with ballpark squares. We have also made this ring with an oval center stone.
Diamond Engagement Rings– THE SOLITAIRE
Beautiful, classic solitaires never go out of style. Our customers love them because they can purchase moissanite solitaire stones in a variety of shapes and sizes. They also cost a fraction of what a comparable diamond solitaire engagement ring does. Plus, solitaire settings go with everything! This year, we've seen classic round gemstones outperform all other shapes in solitaire settings. However, fancy cuts like ovals and pears are on the rise.
Diamond Engagement Rings– THE HALO
The popularity of halo engagement rings has continued to grow throughout the years. This is due to their added sparkle compared to diamonds and stunning look. They can also make a smaller center stone look larger. This adds to the value that Forever One Moissanite Engagement Rings already offer. When it comes to moissanite engagement rings, halos are an attractive option for consumers looking for a bold look that exudes brilliance from every angle. Moissanite halo engagement rings can take on a variety of center stones, however, cushions, rounds, and ovals are favored by most buyers these days.
Diamond Engagement Rings – THE THREE-STONE
Three-stone moissanite engagement rings are having a moment, thanks to Meghan Markle and Prince Harry's engagement. While the classic three-stone ring with matching side accents has always been popular. Pairing a large center stone with complementary shapes is the latest trend we're seeing in Forever One Moissanite Engagement Rings.
Diamond Engagement Rings – BIG & BOLD STONES
Halo Skull Engagement Ring
This stunning Gothic Skull Engagement Ring has a center stone flanked by two outward facing skulls. Ribbons of white pave stones wind around the center stone and skulls. Delicate milgrain adorns most of the ring for an added design element. We also have a matching band for this ring.
It's no secret, moissanite delivers unique value and beauty to the consumer. Forever One Moissanite Engagement Rings are the perfect example. Consumers are increasingly searching for high-quality products that are provide exceptional value while satisfying their need for sustainability. They also want custom engagement rings with large, opulent gemstones. Moissanite makes these dreams attainable with their pricing. Ranging from 3 to 15.5 carats, Forever One Moissanite Engagement Rings offer consumers the ability to design extravagant, custom engagement rings with huge stones. And all without breaking the bank!
Split Shank Floral Engagement Ring
This Split Shank Floral Engagement Ring is one of the more unique engagement rings we have created. In this graceful nature inspired engagement ring, the shank splits from a bezel set stone at 10 & 2 O'clock. From there, two diamond crusted leaves arch up the the center stone. We have shown it with a round, but other shapes could be used.
LET US DESIGN YOUR DREAM Diamond Engagement Rings!
Lab created diamonds are sold at a vastly discounted price over comparably sized diamonds. These gemstones are crafted from the highest quality man-made diamonds. A wide range of shapes are available to choose from. This available variety allows for the opportunity to design a stunning ring that embodies their character.
Diamond Engagement Rings – GIVE US A CHANCE!
When you think of cheap diamond alternatives, you probably automatically think of cubic zirconia. But don't confuse CZ with lab created diamond: There's no comparison between the two. lab created diamond is a gemstone quality synthetic stone that is guaranteed to hold its color and clarity forever. And not usually cut well. They are hard to the point of being brittle, do not always hold color or clarity, and can cloud within around one year after purchasing.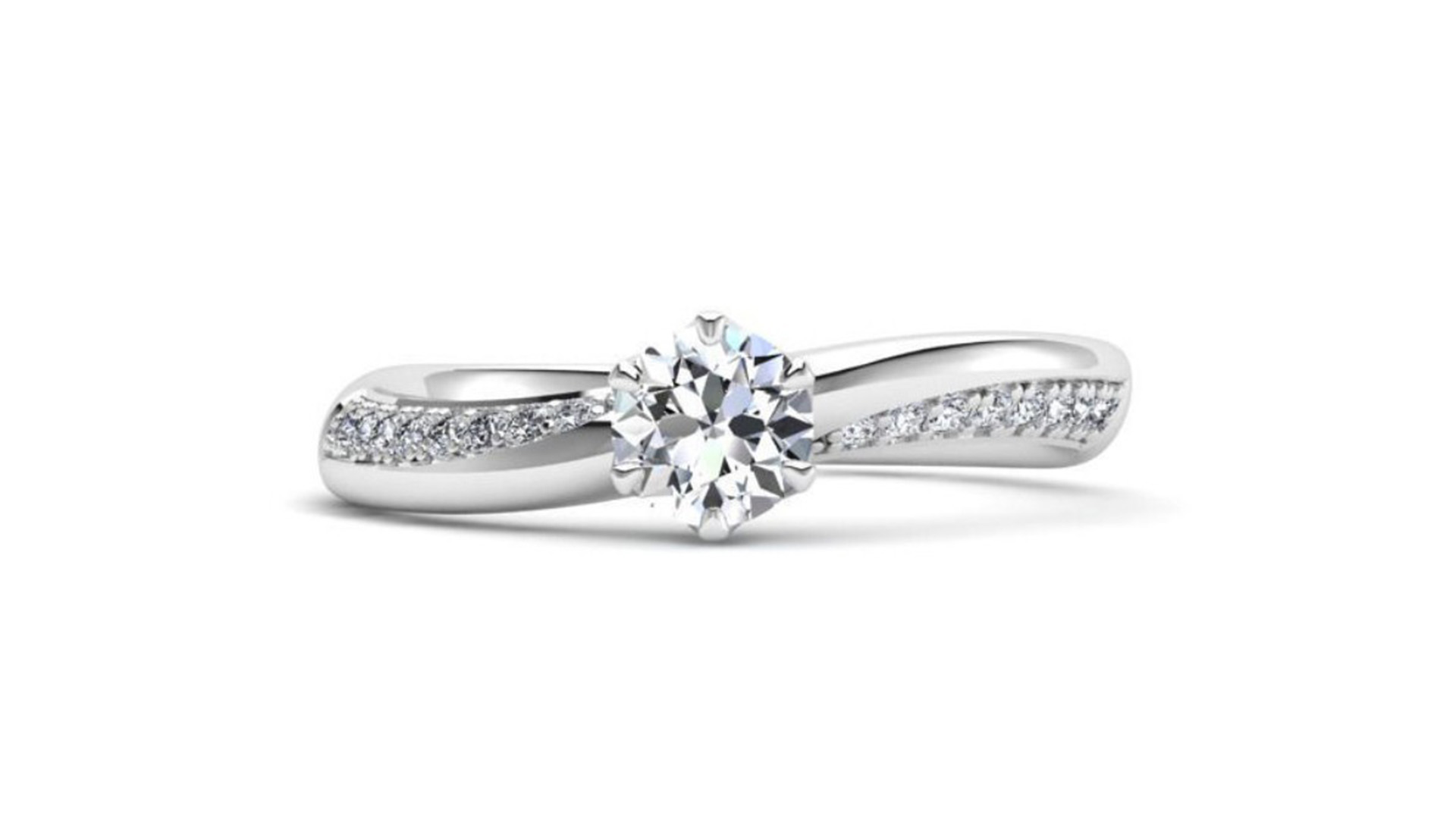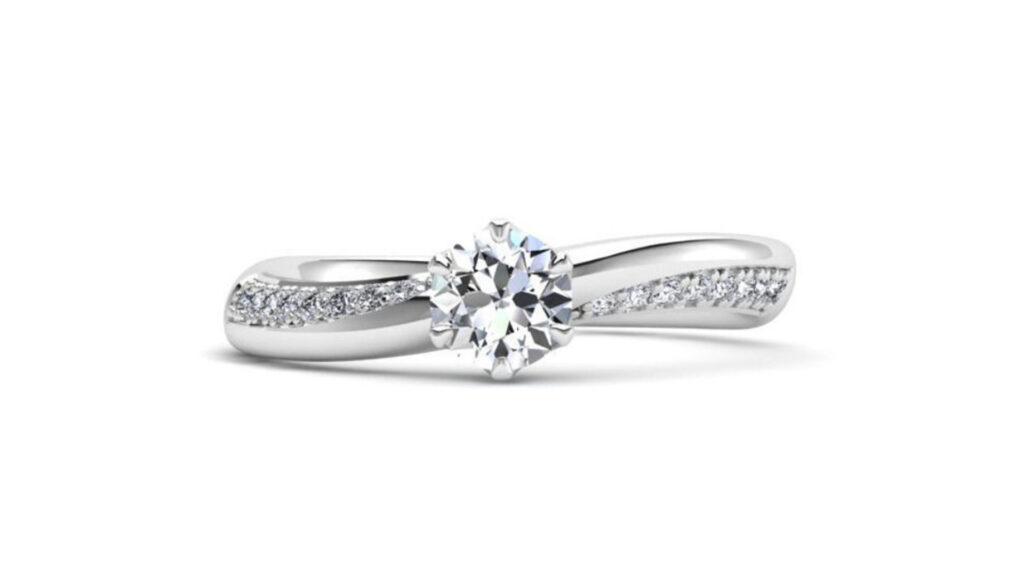 This 6 Prong Engagement Ring is a modern, sophisticated design that you won't find anywhere else. The center stone is held by 6 claws for safekeeping your center stone. The graduated accents are on opposite sides of the ring for a unique effect. The accents start at 2mm and go down to 1mm stones.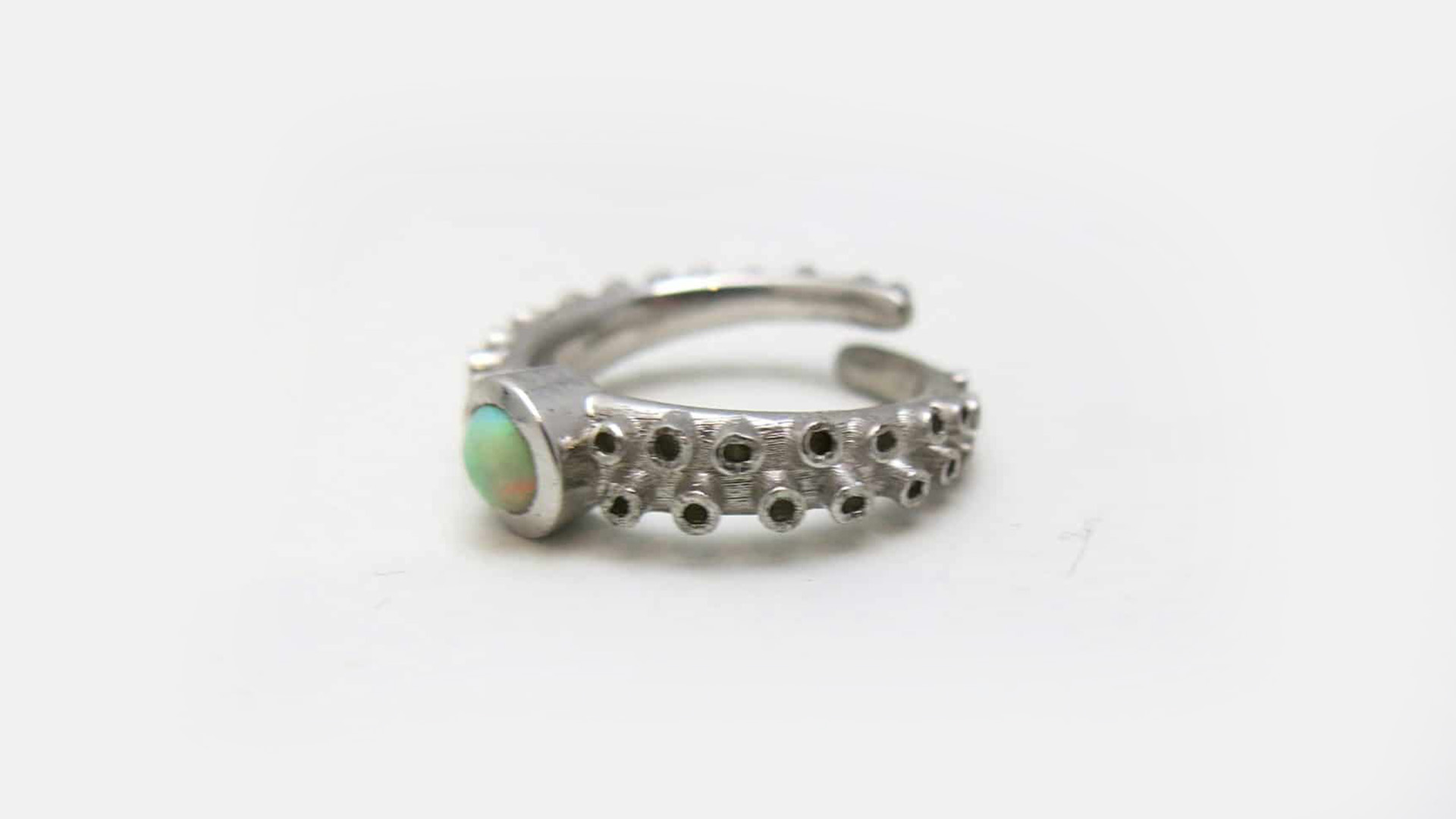 We had a customer with a bunch of old jewelry that she wanted repurposed into something new. This is a spin on that ring. The 2mm diamonds in the rounded square halo are french pave set, but we could make this a shared prong setting as well. It is also possible to play with stone sizes or even remove a halo if you like.
We know you have tons of options when looking for Diamond Engagement Rings. However, we are confident that if given the chance, our skill, value, and service will put us above the rest. Especially if you are looking for something that is a little different form what you can get at retail stores.
Click HERE to see more of our designs that can be turned into Diamond Engagement Rings. Click HERE to lean more about custom jewelry, to view our portfolio or to contact us about Custom Diamond Engagement Rings. It can cost less than you think to have your very own custom wedding ring made. Why settle for boring, uninspiring, mass-produced engagement ring? Don't see what you are wanting? Send us the design you want and we will bring it to life.
FREQUENTLY ASKED QUESTIONS ​
I found Valeria custom jewelry online and when I saw their awesome work on their website I knew this was the best place for custom jewelry. I live in New York and distance was no problem, I contacted Valeria jewelry by email with pictures of a ring that I wanted rubies mounted in and the price was very competitive so I doubled the order last minute and I sent two rings for custom work done, which they said was no problem. So I mailed the two rings and a few weeks later I have the rings and they look great! Job well done to Valeria for the custom jewelry and I can't thank them enough they surpassed my expectations for the rings. Getting custom jewelry done through the mail was easy safe and secure by insured usps. I look forward to having more jewelry done in the future at Valeria and am completely happy with my rings. Their website has good examples of their work so I am sure no matter the distance or need they will get it done quickly and with a good price. Thanks again Valeria !
I found Lucas via a google search, and his reviews honestly seemed too good to be true. I reached out to inquire about setting an antique diamond from a pendant into an engagement solitaire ring, and enlarging an antique wedding band. He responded to my initial email within minutes, and very quickly gave me design choices and an estimate for each. After dropping off the items, the rings were ready within 5 days - and they look better than I was even hoping for. His prices are exceptionally reasonable, and he gave full market value for the scrap gold my diamond was originally set in. I highly, highly recommend working with Lucas for the ease, responsiveness, and exceptional results he provides.
Lucas was absolutely amazing with his level of attention and detail to not only what I was looking for in the creative and concept stage, but throughout the process as a whole. We went back and forth for weeks about setting design and material, and specific gem selection and he was communicative and patient the entire time. Absolutely recommend he and his teams services.
My fiancé had my engagement ring custom designed through Valeria. Absolutely Beautiful, from the diamond setting to the finish. Thank you Lucas and his team for accomplishing this stunning ring in such a timely manner, which led to a beautiful and amazing experience.
Start design with us now!
Here Is Why Our Diamond Engagement Rings Are So Popular