Truly Custom Batman Rings For Him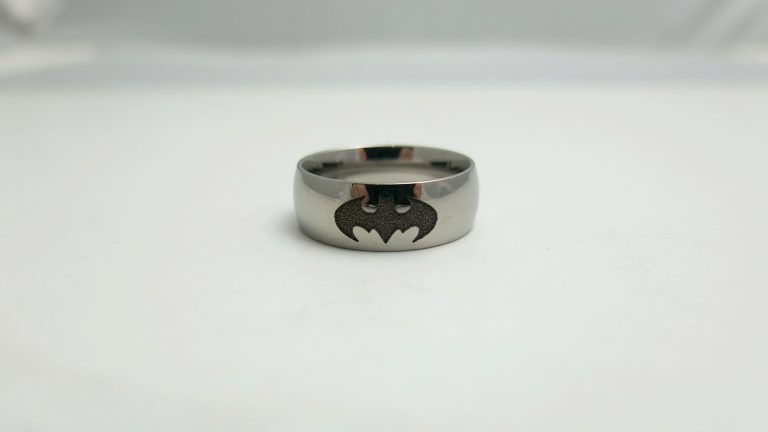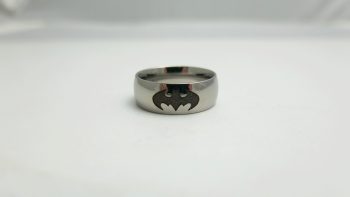 This is a plain titanium band that we have hooked up to a laser engraver and "burned" the bat into the ring.  Titanium is a very hot metal at the moment for its durability and price point.  However, it cannot be repaired or resized if it is damaged or you gain weight.  Please keep that in mind of going with one of the contemporary metals.
We do love our Batman Rings….
Whether talking about adults over 50 or teens who have never known what it was like to not have a cell phone or the internet, you would be hard pressed to find someone who hasn't heard of Batman, whether it be the Adam West, Michael Keaton, Christian Bale  or Ben Affleck incarnations.  The Batman has captured imaginations for over 50 years and the theme doesn't show signs of abating.  For this reason, we saw a huge demand for Batman Rings and went about creating a suite of them, both for men and women.  We now have over 15 batman rings we have created, but if you have an idea for any batman rings that we haven't made, send it over and we will add to that number!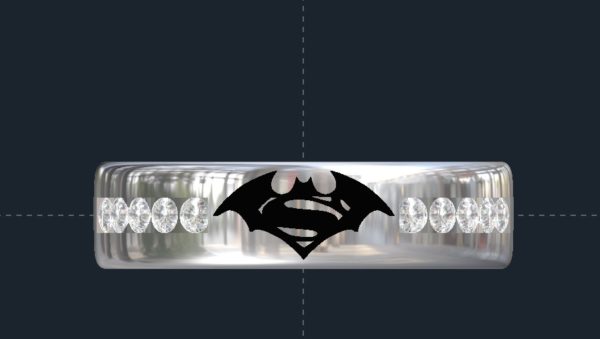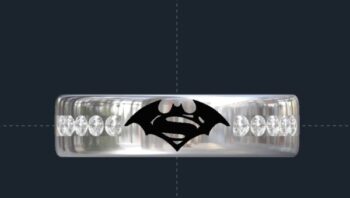 We love superhero rings so much, we created a Superman Batman ring!  The stones are optional, but we like them.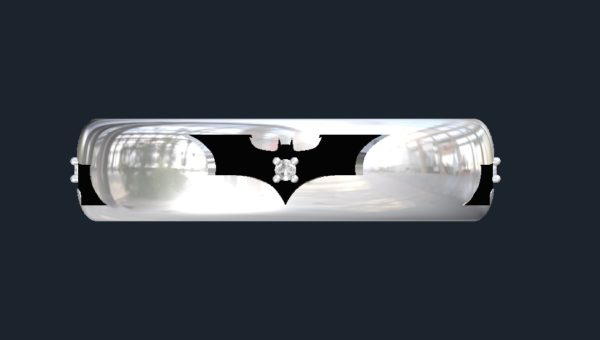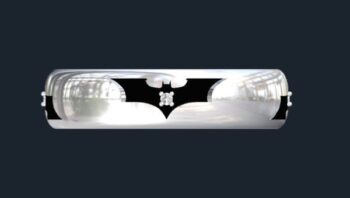 This is one of the first batman ring designs we ever created. It has 4 bats going around the ring, 2 of them upside down.  A stone can also be placed in the center of each bat, but we find that to be a little busy.
Real Batman Wedding Rings from Valeria Custom Jewelry
Available only at Valeria Custom Jewelry, our Batman Rings can be cast in sterling or Argentium Silver, Platinum, Palladium, or white, yellow or rose Gold. If stones are in the ring you want, a wide variety of shapes, sizes and stone types are available.  Gone are the days when you were limited to the 2 or 3 stone types the chain store stocked. If it works and can be bought, we can use it!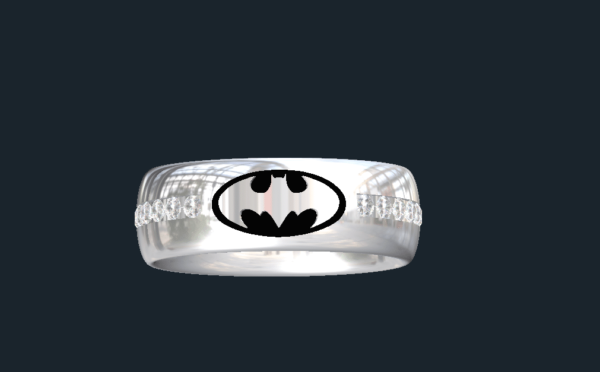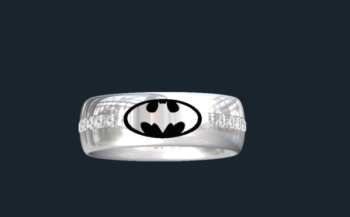 This is an inverse batman wedding ring that can also have channel set stones on either side of the bat.  The Bat us usually given a high polish.  However, a contrasting finish like stone or matte against the high polish of the band would look nice as well.
Buy A US Made Batman Ring
If you are looking for quality batman rings, don't give in and buy from Asian manufacturers on Ebay or Amazon.  We know they might cost a little less.  But is the potential hassle worth the savings?  On top of having to deal with someone on the other side of the world, Asian jewelry is notorious for being cheaply made and not very durable.  Our custom jewelry is manufactured here in the US and the quality definitely shows!  If there happens to be a problem, which is rare, we will fix it far easier than if we were located in China.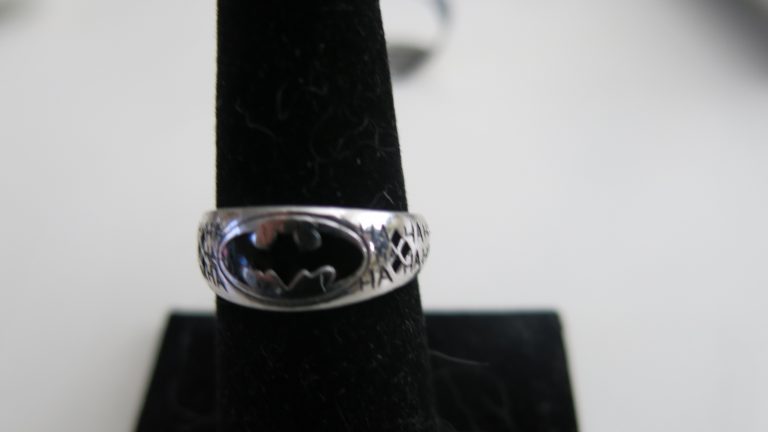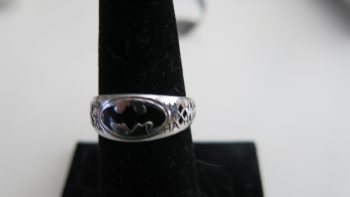 This is one of our most recent Batman Rings.  We added the circle around the bat for a cool effect. The Harley Quin Symbols were also added on either side.  The were all done in black enamel. It also has "HA HA" hand engraved all over the ring.  This one is 8mm wide, but tapers to 4mm wide at the bottom.
The Bottom Line
Although the actual Batman may be fake, there's nothing fake about the materials Lucas uses when crafting his Batman Rings. His graduate degree in gemology and his personal connections to reputable diamond and gemstone dealers secure precious stones that are up to his high standards. He uses comprehensive computer programming to perfect his designs and lost wax casting to bring those designs to life.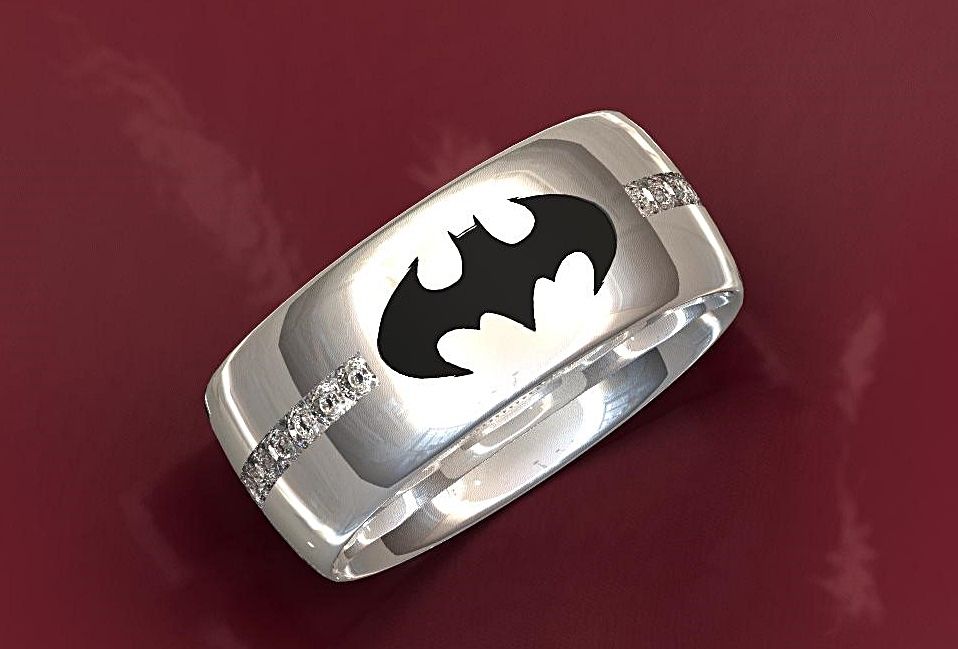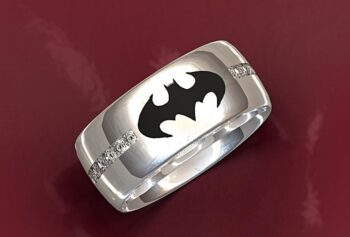 This is our most popular batman ring.  And it isn't even close.  This one offers a chance to accent the bat with diamonds or gemstones.  You can have the stones going all the way around the ring.  Or, if you just want a certain number on each side of the bat. We can do that.
We Can Work With Almost Any Budget
No matter what your budget is, Lucas works with each client to ensure that they feel special, listened to and ultimately satisfied. He's not in the business of one-time customers.  He wants to build lasting connections with each of his clients. He also works hard for your referrals, which are the ultimate form of compliment.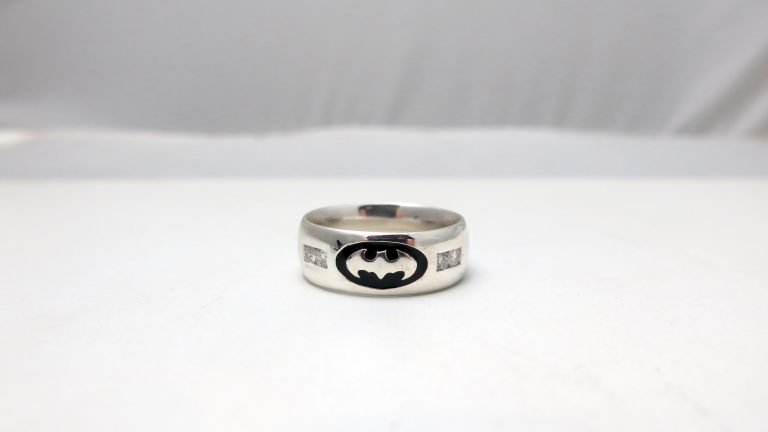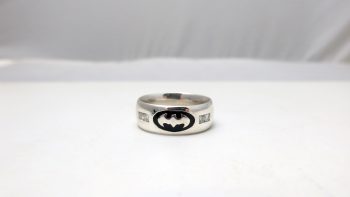 This Men's Batman Ring is the inverse of one of our other batman wedding rings. The black around the bat in our Men's Batman Ring is made with enamel.  Enamel is far more permanent than the oxidation used my most jewelers. It is only damaged by heat and solvents like acetone.  But if you would like the bat left empty, that can be done as well.
Give Us A Chance!
We are both committed to creating custom, high quality, and covetable batman rings. This is in addition to his main goal of exceeding our customer's expectations.  And if you check out our reviews, you will see that we have achieve that goal hundreds of times.
Often times, the brides are the recipients of extravagantly crafted and meaningful engagement and wedding rings. But our Batman Rings give grooms a chance to customize a one piece of jewelry that will last them the rest of their lives and even the score.  Don't settle for a plain, out of the box chain store wedding ring when you can have unique Batman Rings made right here!  Many might say, "Batman Rings? Why would you want to wear that on your finger?"  But to those who might have that opinion, we say you do what you want to do and we will do what we want to do!  There are no rules anymore for what goes when custom engagement or wedding rings are concerned.
We know that there are many people selling batman ring designs on Ebay and Amazon.  Be wary of these sellers are they are all Asian manufacturers who don't know what the word quality means.  And if you need custom service? Forget it!  We know from dealing with Asian manufacturers that is it is a pain the ass.
Click HERE to see our custom wedding ring portfolio.  Click HERE to lean more about custom jewelry, to view our portfolio or to contact us about Batman Rings.  It can cost less than you think to have your very own custom wedding ring made.  Why settle for boring, uninspiring, mass-produced jewelry?