Geek Wedding Rings
Have you met the Healer to  your Tank, crossed all of Middle Earth/Westeros/The Netherworlds to find your the one, or battled Ra's al Ghul to save the girl?  Now it is time to propose with one of our Geek Wedding Rings because it's dangerous to go alone: luckily we can help!  Whether you are a gamer, fantasy reader, comic book fan, Sci-Fi enthusiast, or anime lover, we can create the perfect wedding ring to reflect who you are and what you love.
We specialize in custom geek and nerd wedding rings. From Harry Potter to Halo (and everything in-between), we've created many geek wedding rings for couples wanting to celebrate their love with their shared fandom of a topic not found in mall wedding rings.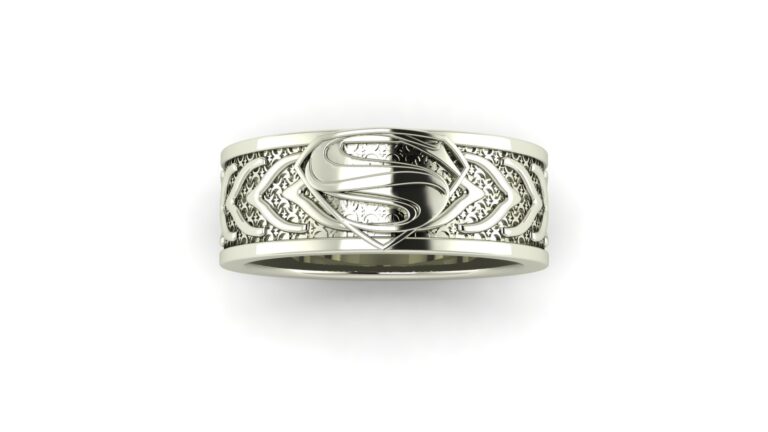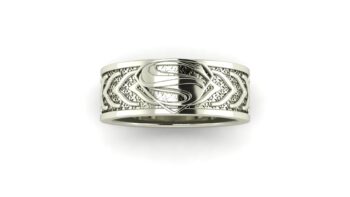 This is one of our White Gold Superman Wedding Ring designs.  However, we can make it in a few different metals.  In this one, we made the S with some swirling to give it motion.  Most of our other superman rings had the S made with enamel.  Then we took the symbols from superman's new suit and put those on the base.  We made this ring for a couple who wanted some kryptonese on the side, but we wanted to do something that clashed less with the background.  So basically, we just thought the wishbone shape looked cool.  If you have an idea for something else, we could make it with that.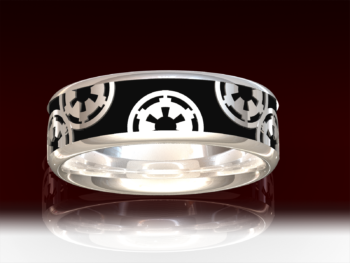 Here is a Star Wars wedding that has the galactic empire logos alternating around the ring. They form small "pools" in which we can add the enamel.
We understand that designing a timeless piece of jewelry can be overwhelming, so we've created this guide as a helpful jumping off point so that you know what to expect (and hopefully inspire your own geek ring idea) when having Geek Wedding Rings created.
Step 1: Choosing the Design for your Geek Wedding Rings
All geek wedding rings starts with an initial idea that you can send to us through our website's contact form here. You don't need a fully thought out design with detailed sketches, however, we will ask for a detailed idea as well as what elements you want incorporated into your geek wedding rings.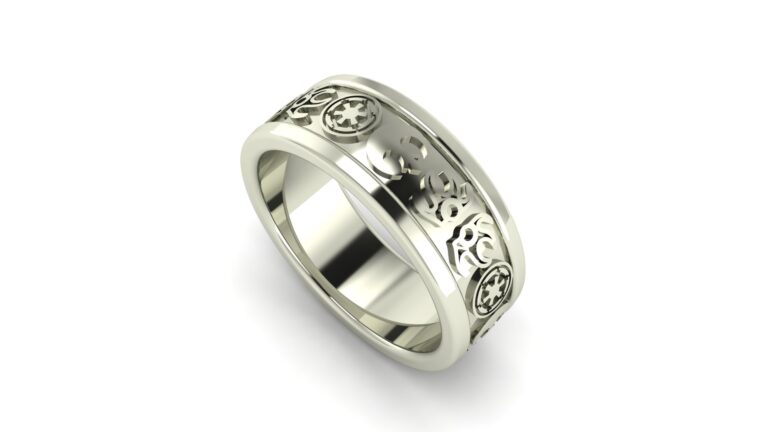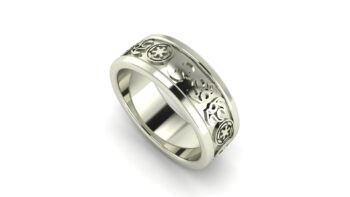 Our Rebel Alliance VS Empire Star Wars Wedding Ring is a play on another of our star wars wedding rings we created.   You can see it HERE.  This one features the rebel alliance and empire logos at odds with each other and we also have thrown in with a few of the shapes from princess Leia's outfit in the the Return of the Jedi.  However, other shapes can be used as long as they fit.  It could also be possible to add stones to the outer rails if you wanted some color or sparkle.
We can create Geek Wedding Rings based on anything.  A character or location in a series, a reoccurring symbol or theme, or an iconic weapon or emblem.  If you happen to have images of other ring styles that you like, please send them so that we can better understand what you want.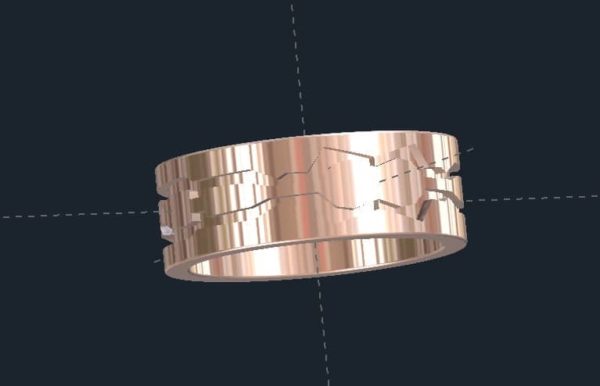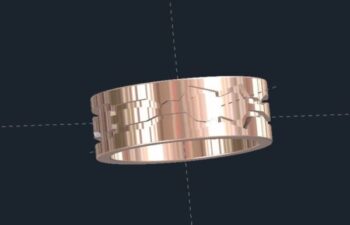 We had a client who wanted a ring made from Cortana's suit and so this is what we came up with.  As we have said before….no matter how weird or obscure your desire is, we can make it come true!
Step 2: Selecting the Materials for your Geek Wedding Rings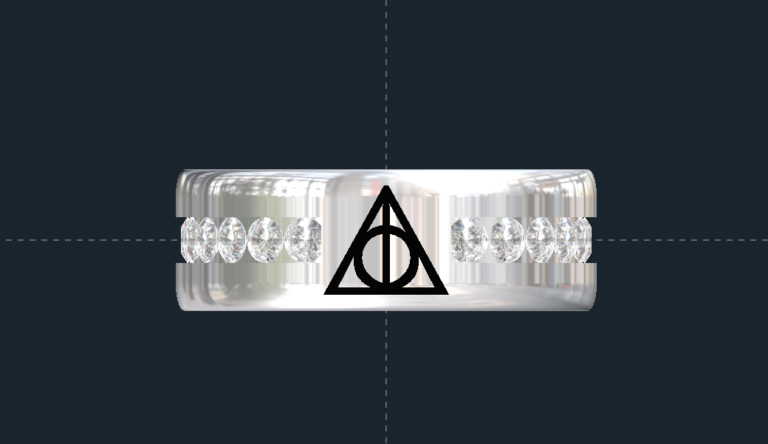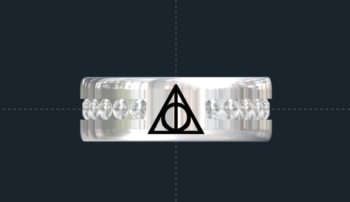 Our Harry Potter Wedding Rings are perfect for lovers of Wizards, Basilisks, and Boggarts!  Show you are a true potterhead with one of our Harry Potter Wedding Rings.  There are many ways to make this ring yours.  Let us help show you how.
The materials available in your geek wedding rings will largely be dependent on your budget. For example, a sterling silver ring can cost 4-5 times less than a platinum ring, but if silver is what your budget allows, then that is the best metal for you.  We will work with you and your budget to find the best materials for your geek wedding rings.
We get that some customers don't like offering a budget, however, without knowing what you want to spend, it is hard for us to make the appropriate material recommendations.   Also, pricing custom geek wedding rings can be timely and it saves both of us time if we know off the bat that your budget isn't going to work.
We create all of our geek wedding rings based on the customer's specific requests.  If you need budget-friendly recommendations, we are more than welcome to offer them!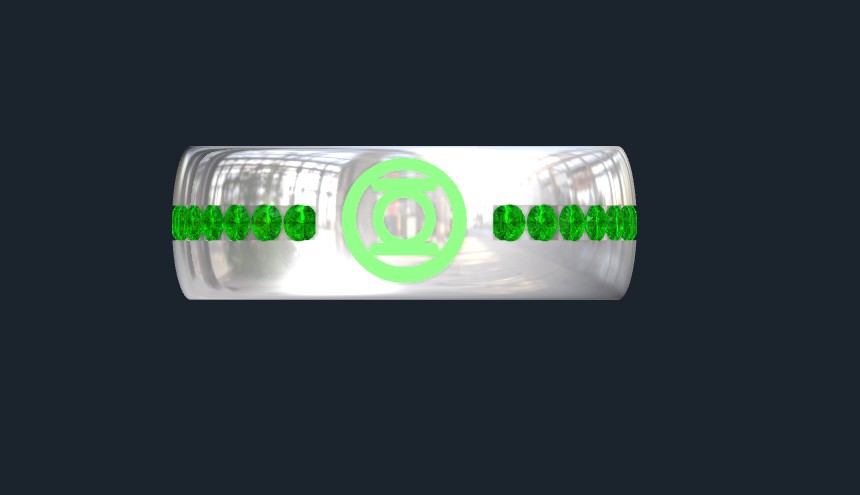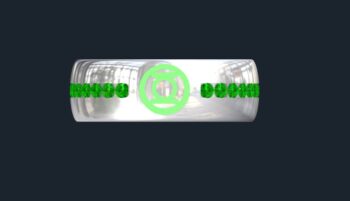 This design with a logo and stones on either side is a go to design for many of our nerd wedding rings.  As long as it fits, we can make something like this with your favorite superhero, nerd, or game logo
Step 3: Designing Your Geek Wedding Rings
After we have agreed on the overall design for your Geek Wedding Rings.  We will then provide you with a quote based on your design and materials. Creating any custom jewelry piece is a very labor and cost intensive process. Therefore, we require a first deposit of 1/3-1/2 of the total cost before we begin work on your custom wedding ring.
Once the deposit has been paid, we will design your ring using a 3-D computer-aided design (CAD) program. CAD enables us to create realistic rendered images of your design, and with these images, you will have a clear sense of what your finished piece will look like from multiple angles.
After we send you images, you will have the opportunity to make any changes to your ring's design. Our first and foremost concern is that you are 100% happy with the design.  So we encourage you to communicate even the smallest adjustments you would like to make.  Once we have your approval on the design of the ring.  We will send it to be cast and then finish it out.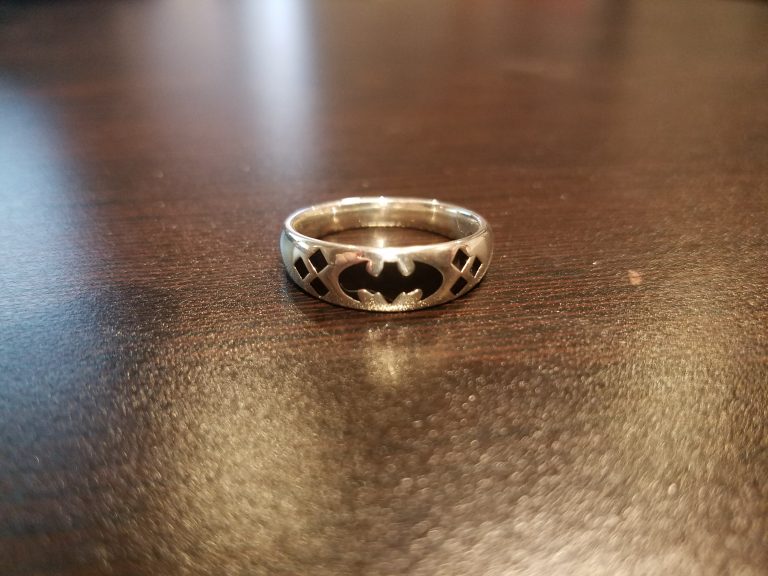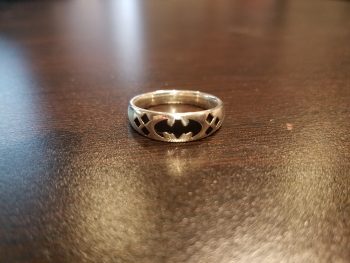 Nerd Wedding rings are just limited to men!  Here is one of your tapered batman wedding rings perfect for your heroine.  We have added the harley quinn symbols on either side of the bat in this one.
Step 4 – Producing Your Geek Wedding Rings
Once we have your approval, we can begin the final step in producing your Your Nerd Wedding Rings! The first step in the production process is we send the CAD file that you approved to be printed. By "printed", we mean 3-D printed wax model of your Geek Wedding Rings .  It is this wax model that is used to create a mold that will form your ring. Molten metal is then poured into the mold, burning the wax away and leaving your ring in the metal.
After casting, any stones are set the ring is polished.  Then any special finishes or engravings are then done.  This entails putting the final touches on your ring.  Congratulations, you now have your Wedding Ring, so we'll let you take over from here!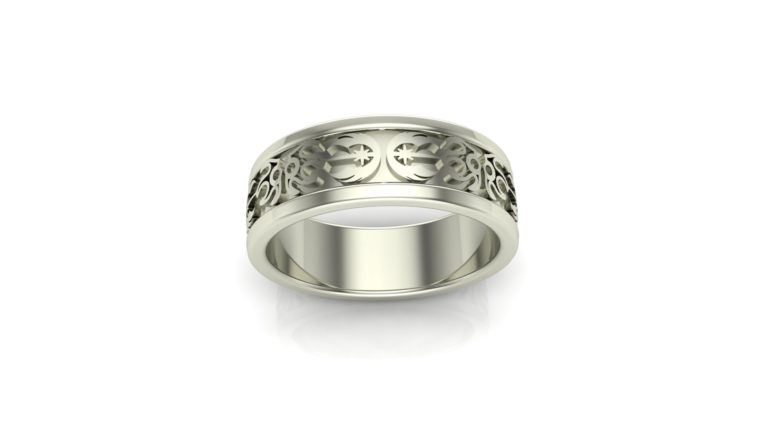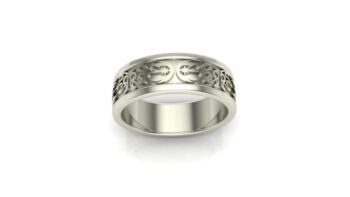 This Jedi Order Star Wars Wedding Ring is the matching men's band to a star wars engagement ring we created.   It features the rebel alliance logo mixed in with a few of the shapes from princess Leia's outfit in the the ROJ.  However, other shapes can be used as long as they fit.
The Bottom Line on Geek Wedding Rings
If the plain wedding band you can buy on online or at the strip mall isn't what you want on the finger for the rest of your life.  Or if you want something different than what everybody else has.  Then one of our Custom Nerd Wedding Rings is for you. There are many ways to customize any of our Wedding Rings.  And we don't create it until you approve it. So you can't go wrong with having one made just for you. And don't forger that we can make anything you don't see in our portfolio.
We guarantee all of our jewelry and don't actually create anything until we have your blessing on the design. This ensures you will get the wedding ring you are thinking of.  Creating Custom Geek Wedding Rings is all about the thinking about the details. We can either take care of everything for you, or let you be as involved as you want to be.  This will allow you time to worry about things other than finding a wedding ring. Because let's face it…what man has time or wants to make time for that?
Give Us A Chance – You Will Never Go To The Mall Again!
As you can see from the images in this post, men's wedding rings can be far more than a plain band.  And we want to give you that wedding ring that will make you stand out from the crowd. That wedding ring that make you feel good.  We also want you to feel like you are wearing something that no one else has.
Want to start your own Geek Wedding Ring?  Contact us with your idea today…It can cost less than you think to have your very own ring created just for you.  In fact, we have made tons of Geek Wedding Rings that cost less than a comparable (not custom) mall option.
Click HERE to learn more about custom jewelry and Geek Wedding Rings or to contact us.  We offer payment plans on our very competitive priced Custom Wedding Rings. We want to work with you to get the ring you want.  Unfortunately, we can't offer financing, but a payment plan is almost as good!