Truly Unique Custom Vintage Engagement Rings
Whether it's a family treasure passed down or a custom ring you design with your fiancé, the style of your engagement ring is important. After all, it is the one piece of jewelry you'll wear for the rest of your life.  So it is understandable that you want it to be uniquely yours. We know there are hundreds of engagement ring styles out there. Consequently, you can be confronted with a sometimes overwhelming amount of options when it comes to the cut and shape of the stone, the metal of the band, as well as the type of setting. Like clothing or any other type of jewelry, popular engagement ring styles have come and gone over the years. Just imagine your mom or aunt's engagement ring.  It is likely very different from yours or your girlfriends'.
Art Deco Hummingbird Ring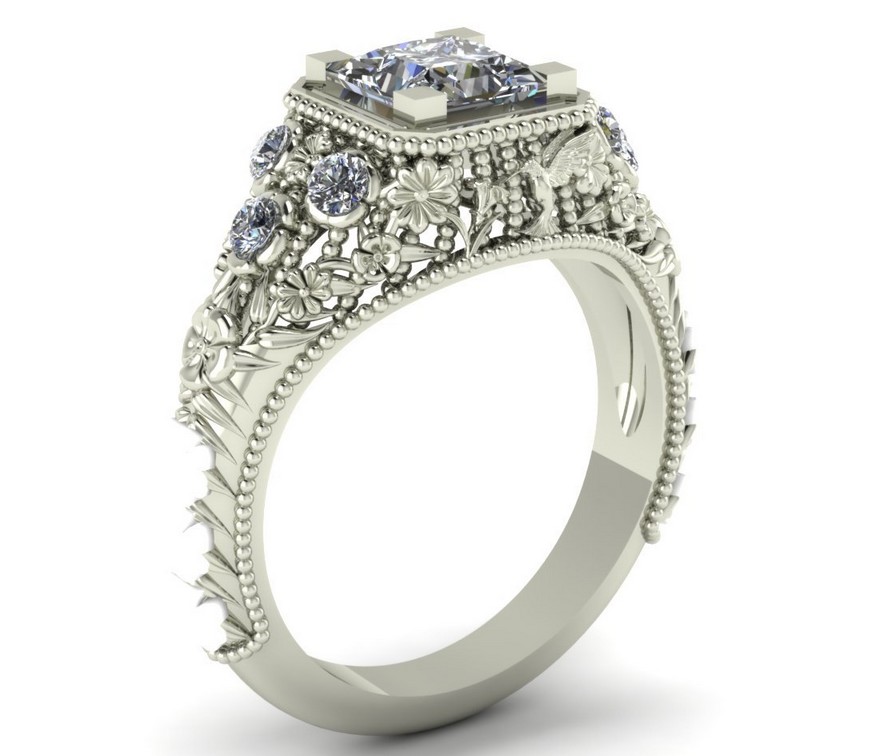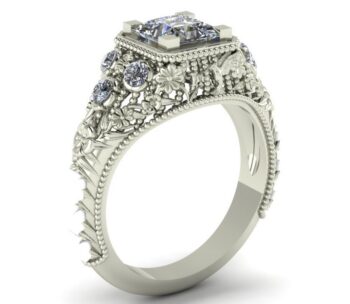 This Nature Inspired Engagement Ring consists of a 5mm center resting atop and lush garden of flowers and milgrain vines.  And just about to feed on a flower is a hummingbird.   This is one of our favorite rings. Hands down.
However, that doesn't mean that "old", "antique", or "art deco" designs aren't desirable for today's bride to be.  On the contrary, while everyone wants something different, they still accomplishing that using many of the same vintage designs elements.  The growth of CAD engagement rings has enabled ring shoppers to combine style, themes, and motifs unlike ever before.  And the results are pretty cool.  Here we have complied a list of our favorite engagement rings that utilize "vintage" design aspects.
Custom Vintage Engagement Rings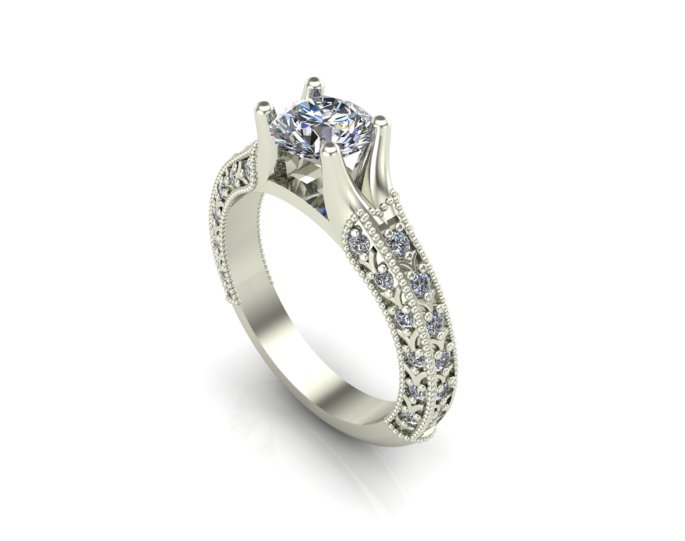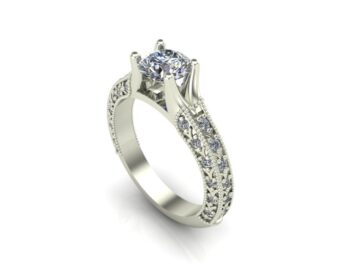 This beautifully Milgrained Engagement Ring will definitely turn heads with its elegant design elements and minimalist setting. This stone is 6.5mm, but larger or smaller could be used. The sides and top of the ring are adorned with milgrain, "V" shapes, and 1.5m stones.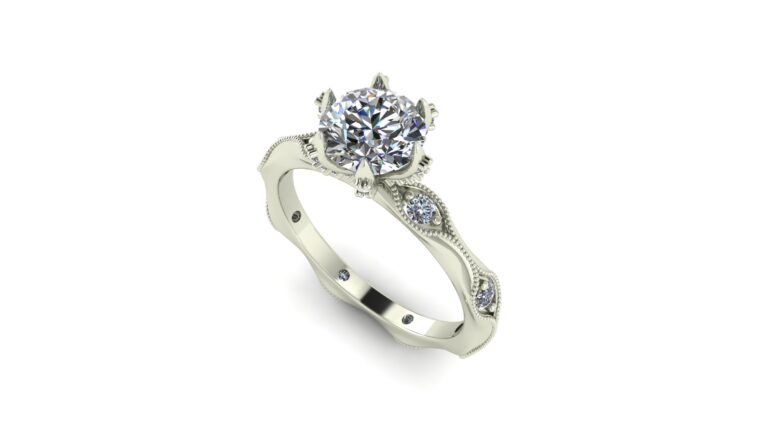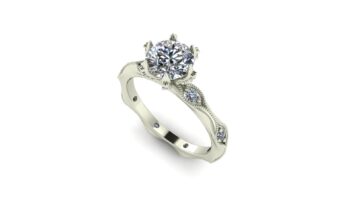 This is one of our Sculptural Engagement Ring designs that we love.  The center stone is secured by 6 prongs that are accented with 1mm stones.  If you don't like 6 prongs, or don't want the accents on the prongs, we can change that.  The shank is an alternation of diamond accents and knife edged milgrain. If you wanted more stones, we could probably add 2-4 more.  We could also remove stones.
What Does Vintage Mean?
People, and even jewelers, use the term "vintage" to describe a lot of things, but its meaning isn't clear.  What does vintage mean? Some people think a vintage ring is old.  That is not the case.  Custom Vintage Engagement Rings are an idea without any defined meaning.  Something that looks vintage to one person might not to another.  We use the term "vintage" to mean a new ring styled to look like a ring from an older era.  Our vintage-inspired rings feature intricate milgrain, filigree, and hand-engraved shanks. Custom Vintage Engagement Rings may also feature organic elements such as flowers, leaves and vines.  These elements are an homage to bygone eras when romance reigned and fashions were unapologetically feminine.
Vintage Engagement Rings – Usually Ornate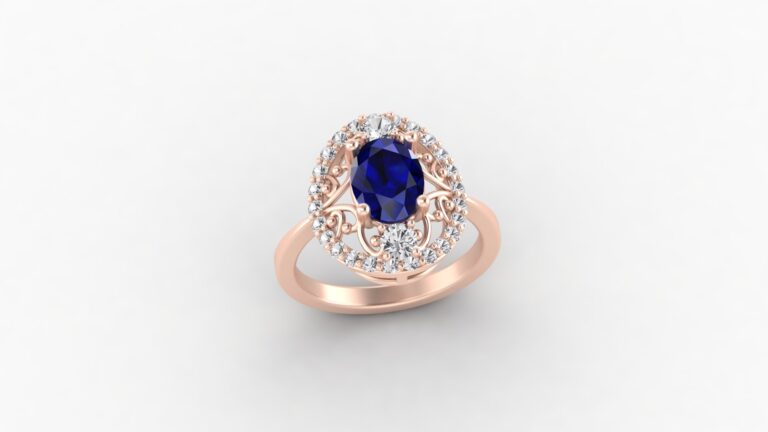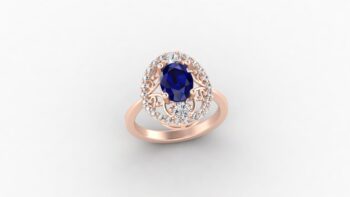 This is one of our earliest Custom Vintage Engagement Rings.  It has an 8x6mm oval center stone surround by swirling bulbed arches leading to a halo of 26, 1.3mm stones.  It is accented by 2, 3mm round stones as well.
When a couple gets engaged, it is almost expected of the groom to give the bride to be an engagement ring.  In the West, it is almost unheard of not to happen.  And westernization coupled with the marketing efforts of companies like DeBeers are making it more common in the rest of the world as well.
Art Deco Halo Engagement Ring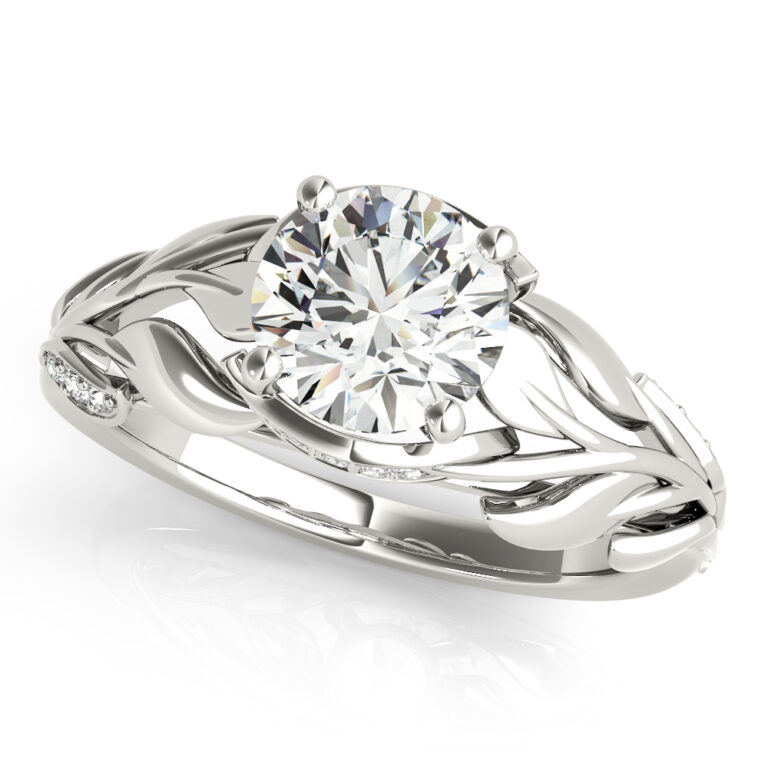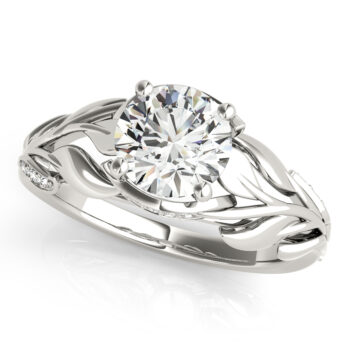 This Art Deco Halo Engagement Ring isn't your typical halo.  It is inset into a v shape from the side view, but looking from the top, it appears to be a standard halo. The stones in the halo as well as beneath the center stone are bezel set, defining each stone.  The band is elegantly adorned with floral scrollwork with some milgrain thrown in for good measure.
Up until the last century, engagement rings were almost always constructed with a single stone mounted on a band.  This eventually came to be known as the Solitaire Engagement Ring and has remained the most common style of engagement ring.  Our Unique Solitaire Engagement Rings reflect the love of the bride and groom: pure, innocent and endless. But where does this idea come from?
Antique Engagement Ring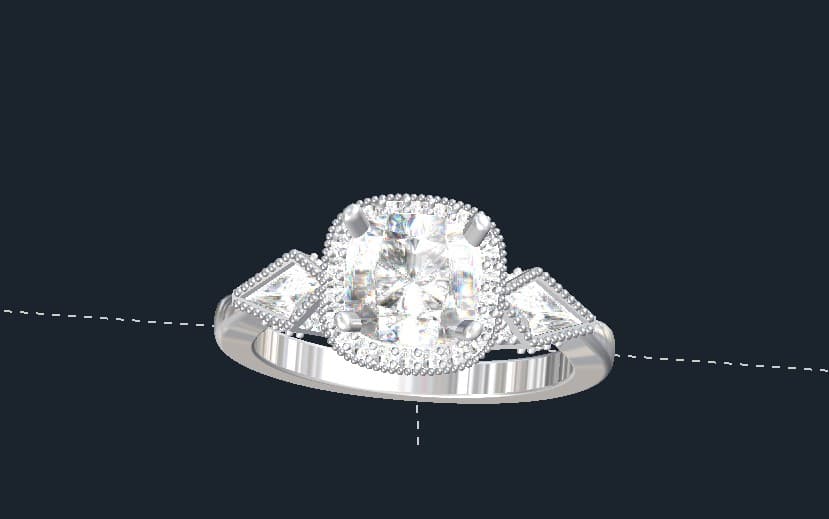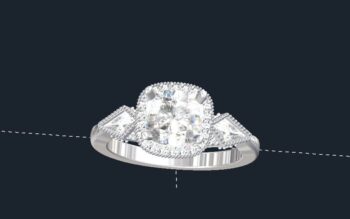 Thank God for CAD!  Without it, we would have a very hard time creating this by hand as they did in the early 1900's.  Sadly, that kind of fabrication is a dying art.  Luckily, we can come very close with casting and engraving.  Unfortunately, there really is no substitute for the real thing.
Early Engagement Rings
The ancient Romans wore their wedding bands on the left ring finger because that finger supposedly had a vein in it that went to the heart.  Because of this belief, the Romans called that vein the "vena amoris" or vein of love, a name which still is used today. Initially, gold, silver, and steel were used to create engagement rings, as these are solid materials which symbolize continuity and strength. Today, gold, silver and platinum are used more because steel doesn't lend itself to today's custom engagement rings.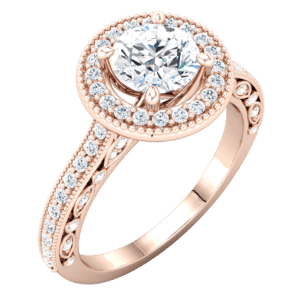 This Vintage Halo Engagement Ring easily looks like it was manufactured in the 20's, when engagement rings like this were fabricated by hand in Platinum.  Only master bench jewelers can create these kinds of Custom Vintage Engagement Rings by hand, of whom there are very few left.  Unfortunately, hand fabrication is a dying art and could be lost.
Celtic Engagement Ring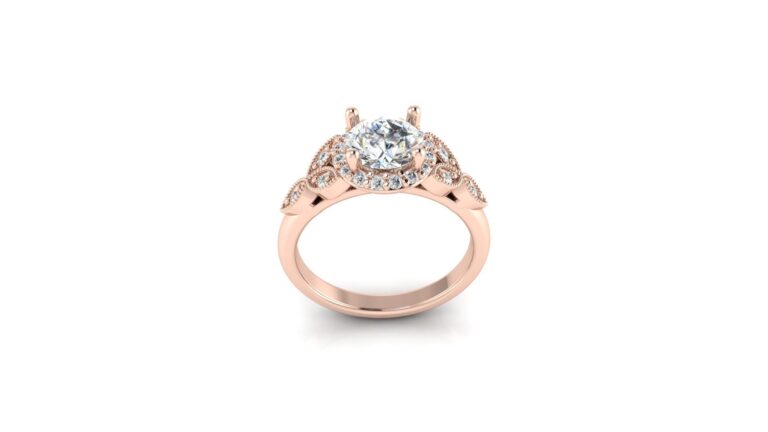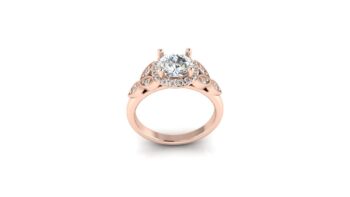 This Celtic Halo Engagement Ring boasts triquetras on the shoulder that have been accented with diamonds.  They are also milgrained.  The 6.5mm center stone is surrounded by a halo of 1.3mm stones.
The Significance of the Diamond in Engagement Rings
The giving of a diamond engagement ring was first recorded in the late 1400's. Archduke Maximilian of Habsburg wowed his bride to be, Marie de Bourgogne, with a diamond engagement ring.  It was a success!  And for a few hundred years, this practice was only afforded by the ultra rich. However, the tradition eventually became more widespread after huge South African diamond mines were discovered in the early 1900's.  After that, it was up to the marketing minds of companies like DeBeers to make everyone feel compelled to spend 3 months salary on an engagement ring!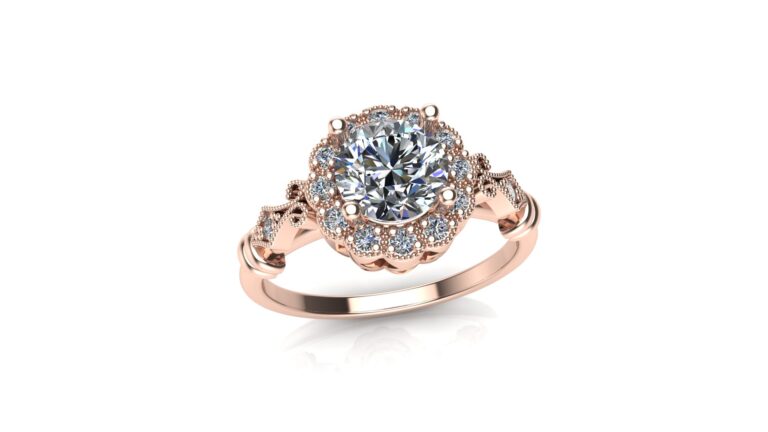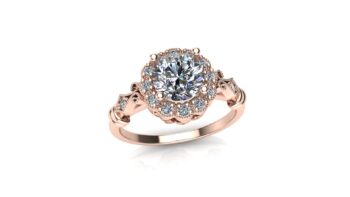 As with most of your vintage rings, this Scalloped Halo Engagement Ring that pays homage to the exquisite engagement rings created solely by hand in the early 1900's. The stones in both the halo and band are accented with milgrain while the gallery beneath the center stone is artfully cut out with ballpark square shapes.
Antique Halo Engagement Ring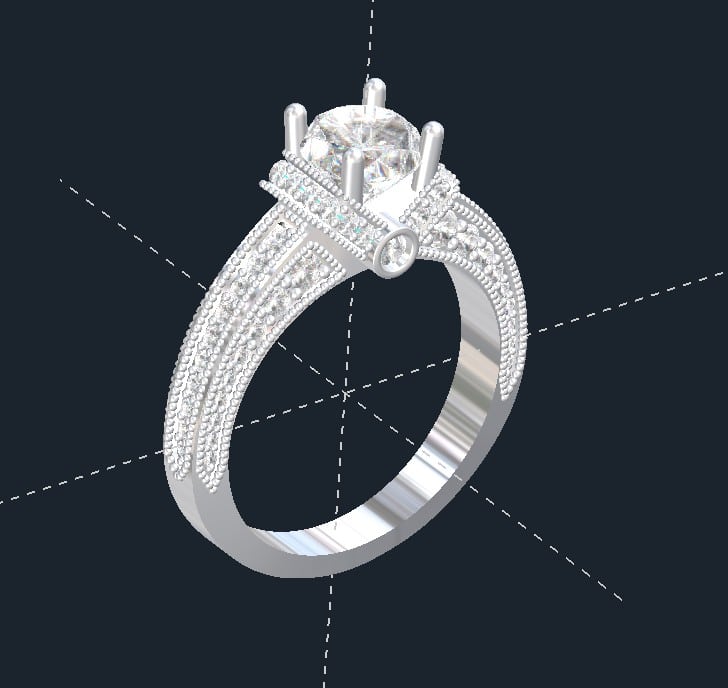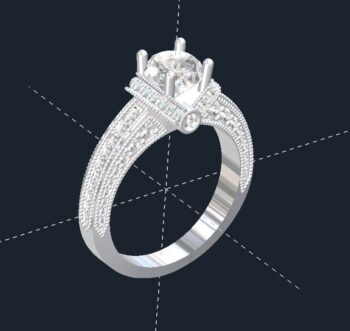 This V Halo Engagement Ring starts with a 6.5mm stone that is nestled into a V-shaped halo. It is accented by 1-2.1mm stones. The stones on the sides of the ring start at 1mm and graduate to 2.1mm.  The stones in the halo are 1.3mm.  The top of the band has 1.5mm stones.  All of these sizes can be played with.
According to those minds, diamonds are forever. This makes them an ideal vehicle to represent the love between a bride and groom. However, diamonds aren't necessary to create our Vintage Engagement Rings.  Colored gemstones such as Sapphire, Ruby, or Moissanite make excellent choices for Custom Vintage Engagement Rings that symbolize the eternal union between lovers.
Vintage Solitaire Engagement Ring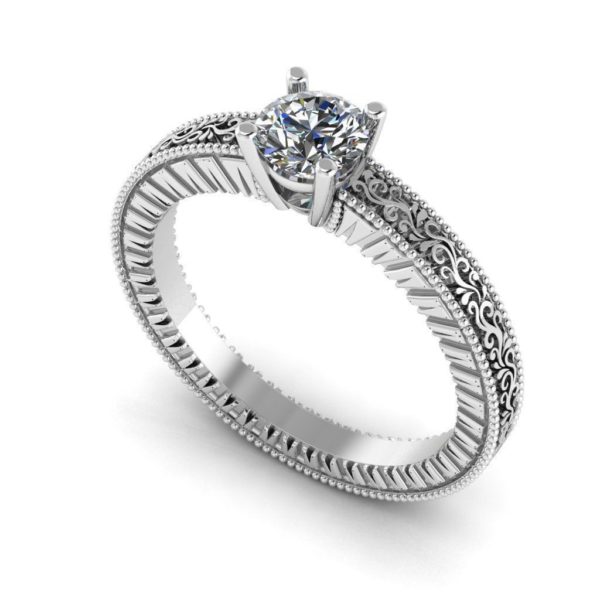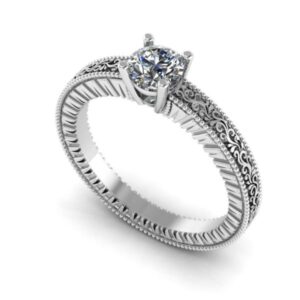 Our  Scrolled Solitaire Engagement Ring is a perfect for those that want a solitaire, but not with the ubiquitous plain band. The top of the Scrolled Solitaire Engagement Ring is decorated with beautiful scrollwork that goes all the way around the ring.  The side of the ring has a rectangular scalloped design that adds another design element.  This one has a 6mm center stone, but smaller or larger could be used.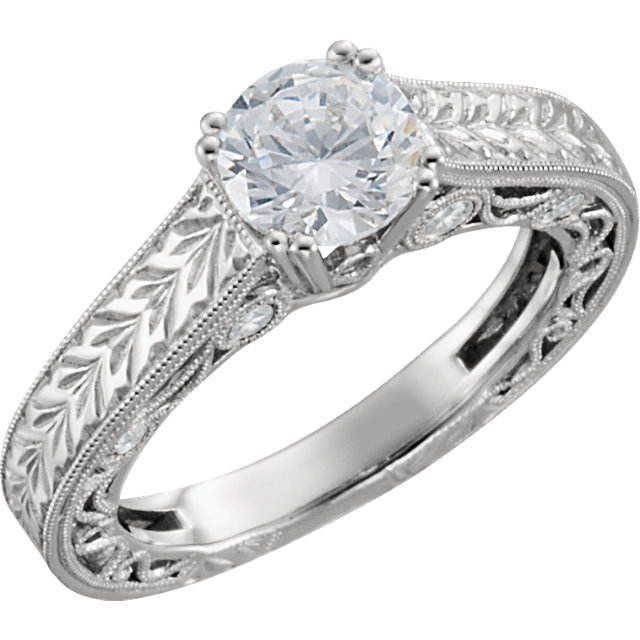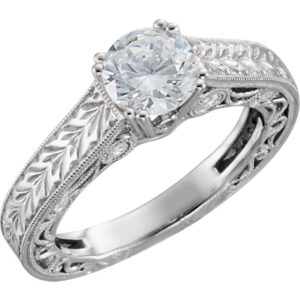 This Solitaire Vintage Engagement Ring has both diamond accents as well as engraving on it.  It is stunning from all sides!  The center stone is a 6.5mm round, but it could be made for other sizes.  It would also work well with a cushion or princess cut stone as well.  Nestled in the scrollwork on the sides of the ring are 8 bezel set diamonds for some oblique sparkle.
And please don't forget the less precious stones like Opal or even Moonstone either! We want our Custom Vintage Engagement Rings to symbolize this eternal union and so we won't limit your vision by only offering a few stone choices.  There is no hard and fast rule that bridal jewelry must contain diamonds.  We have made tons of custom Vintage Engagement Rings with center stones that cost less than $100.
Engraved Engagement Ring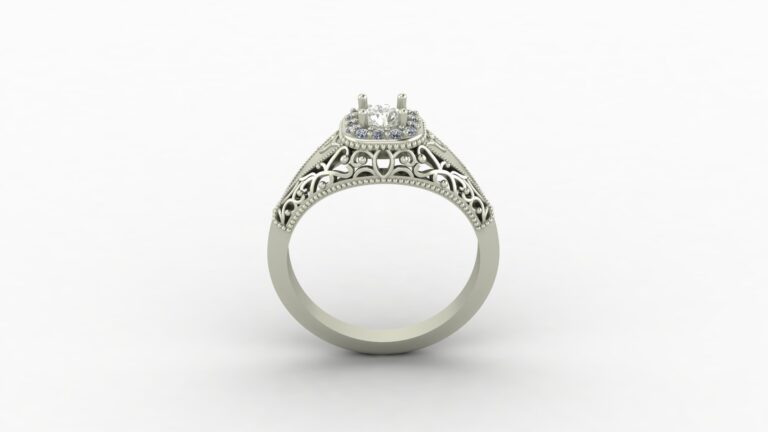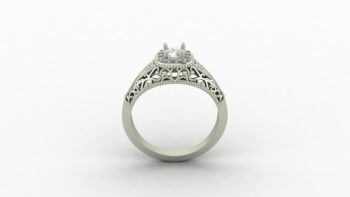 This is one of our favorite Art Deco Engagement Rings.  It  is cast as shown in the renderings and then hand engraved to give it an antique, beautiful look.  Click on the image to see the finished image!
The Bottom Line on Vintage Engagement Rings
Engagement Ring trends come and go, but there is no doubt that Custom Vintage Engagement Rings, with their unique designs and feminine details, are here to stay! That is because vintage just means something that looks old!  That can be almost anything to anyone!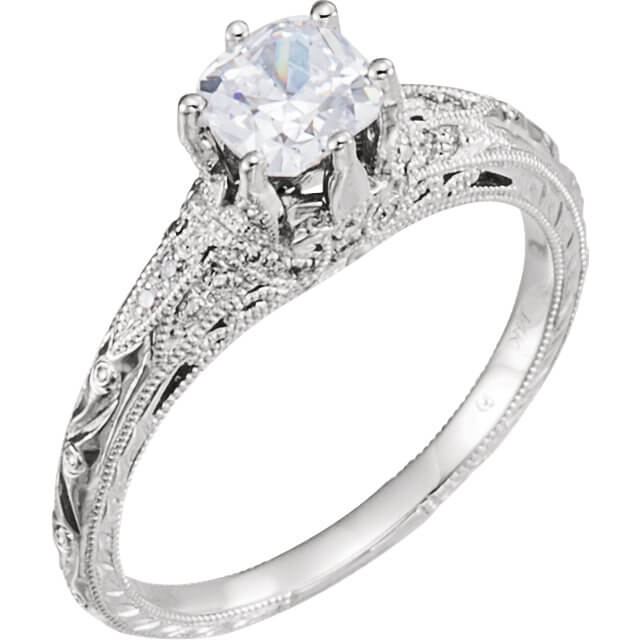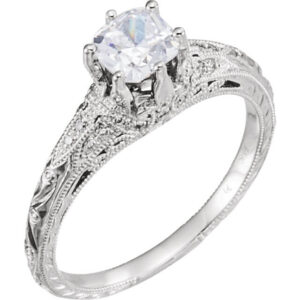 This Art Deco Solitaire Engagement Ring has a lot going on!  The only place that isn't adorned with some design element is at the bottom, so the ring can be resized if necessary.  But the engravings on this ring are stunning.   However, this design would also look with a round or princess cut stone as well.
Does the traditional solitaire engagement ring leave you with something to be desired? Do you want something different from what is at the mall?  Then having a Custom Vintage Engagement Rings created is for you. There are so many ways to customize any of our Custom Vintage Engagement Rings. It almost makes it impossible to go wrong with having one made just for you.
Vintage Cathedral Engagement Ring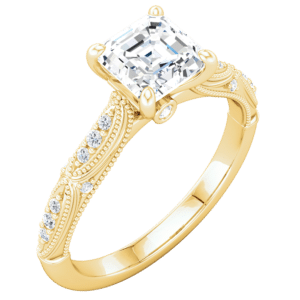 This is one of our most understated Custom Vintage Engagement Rings.  With its sweeping arches, this Cathedral Engagement Ring elegantly offers its center stone in this striking setting. This one was made with an Asscher cut stone, but any shape can be used. It is accented both on the band and underneath the center stone.
Creating Custom Vintage Engagement Rings is all about the details.  Luckily, we can help you traverse those details if it seems a daunting task.  This will give you time to worry about other things as well.  For brides looking for a versatile, yet still traditional diamond engagement ring, solitaire rings make an excellent choice.
Art Deco Solitaire Engagement Ring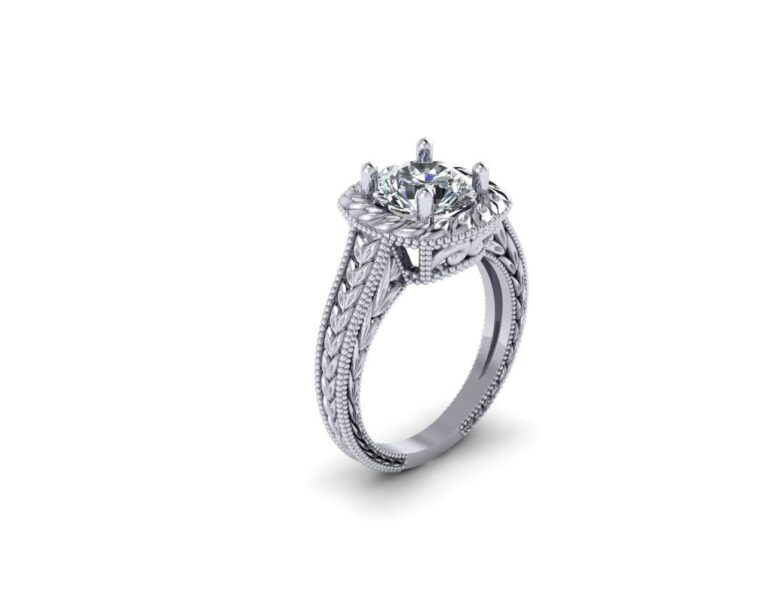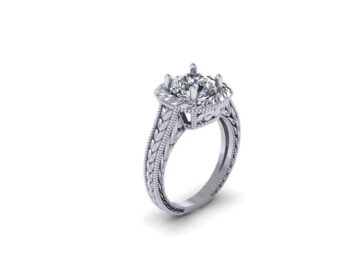 This Art Deco Engagement Ring has a lot going on even though it only has one stone in it.  That is what makes it so stunning.  All of the space that would normally be given to stones is filled with leaf patterns.  There is also plenty of milgrain to add another design element to this Art Deco Solitaire Engagement Ring.  The center stone is a 6.5mm round.  However, smaller or larger stones, in addition to other shapes could be used.   The halo has a leaf pattern on it, but we think it might look good to have stones instead.  Just a thought.
Give us a Chance on Vintage Engagement Rings!
As you can see from the images in this post, the Custom Vintage Engagement Rings can mean a very wide variety of styles and designs.  To create Custom Unique Vintage Engagement Rings on one else has, we take inspiration not just from the rings made 100 years ago. We combined those ideas new other style and design elements, creating something truly unique.  We are in love with Vintage Engagement Rings. The provide countless possibilities in terms of making a ring that is just for you.  Do you want to create a ring that is truly yours? Custom Vintage Engagement Rings give you one of the best chance to achieve that goal.
Bazel Set Ring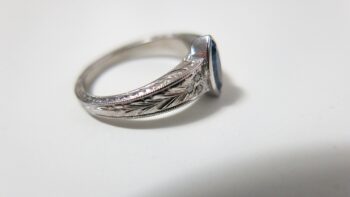 We know that is not a pretty rendering of this Bezel Set Engagement Ring.  But if you click on the image, you will see the finished ring after it was engraved by out master engraver.  You will barely be able to recognize it.
Just google Custom Vintage Engagement Ring and TONS of jewelers selling it will pop up.  We know you have plenty of other options.  However, we also know that we are head and shoulders above most people claiming to make custom jewelry.  Give is a chance, and our expertise, service, and value will be evident from the start.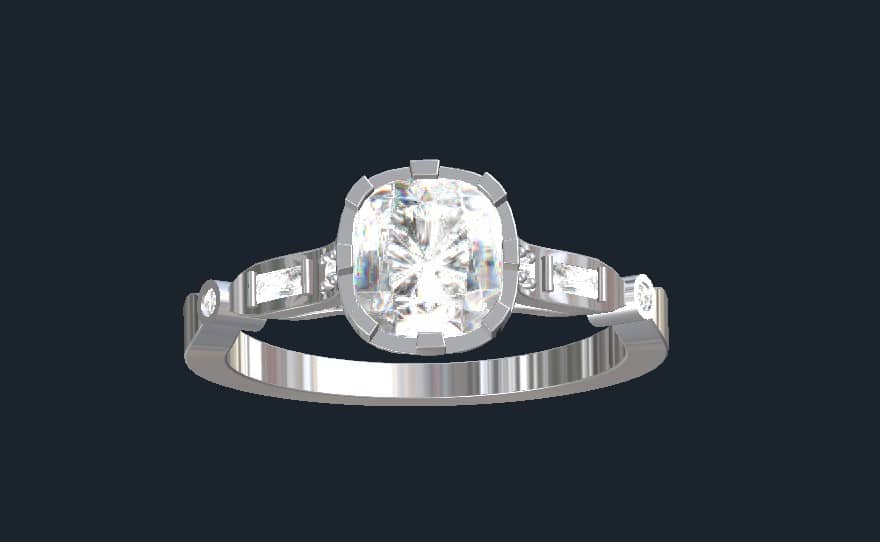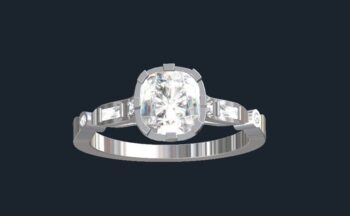 This is another of our Antique Style Engagement Rings.  This one has both bezel and prong set accents in both baguette and round shapes. The center stone is shown as a cushion cut, but a round, square, or rectangular stone could be used. The accents shown are 3 x 1.75mm Baguettes and 1.3mm rounds, but larger stones could be used for a wider band.
Click HERE to learn more about our custom jewelry, view our portfolio, or contact us about our Custom Vintage Engagement Rings.  Click HERE to see the rest of our custom engagement rings.
It can cost less than you think to have your very own custom Vintage Engagement Ring made just for you.  Why deal with the retail hassle for an overpriced and uninspiring engagement ring?
Custom Vintage Engagement Rings