Celtic Jewelry: What Does It Mean And Where Did It Come From?
Celtic language and culture first reached Ireland, the place most associate with Celts, around 500 B.C. The style of artwork that was created by this group is called La Tène.  This is an area of Switzerland where artifacts reflecting La Tène style were first found. La Tène artwork is defined by curves and spirals.  Representative art, such as human figures, is rarely created. Rather, the symbols are geometric or abstract, such as the common triple spiral design.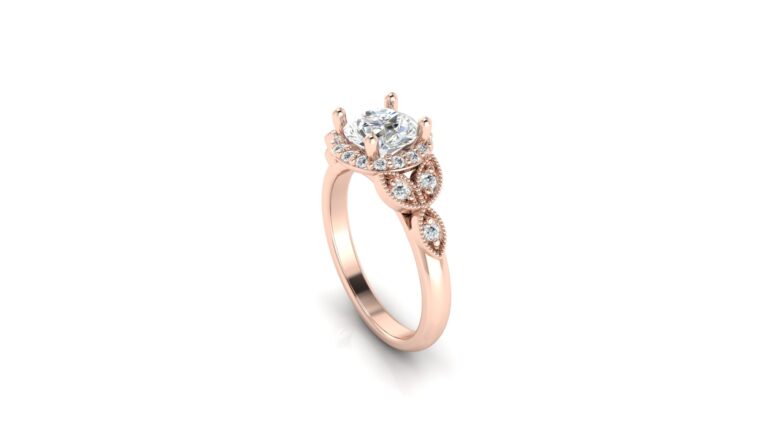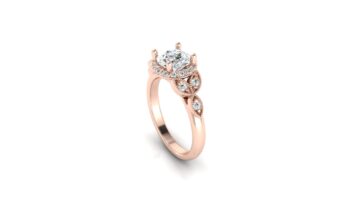 The 6.5mm round center stone is surrounded by a halo of 1.3mm stones.  Adorning the shoulders are 2 Triquetra symbols that are accented with 1.5mm stones.
The origins of Celtic Jewelry are believed to have originated between 2000 BC to around 550 AD when precious metals were first used by Celtic craftsmen to fabricate exquisite jewelry decorated with Celtic symbols.  Although time has progressed and the process of making Celtic jewelry has been refined, what remains prominent in the decoration of modern day pieces is the representation and meanings of the ancient Celtic symbols, so whilst the styles may have changed what remains very much evident is the significance, which is why charming and symbolic Irish Celtic Jewelry is so highly sought after and admired throughout the world.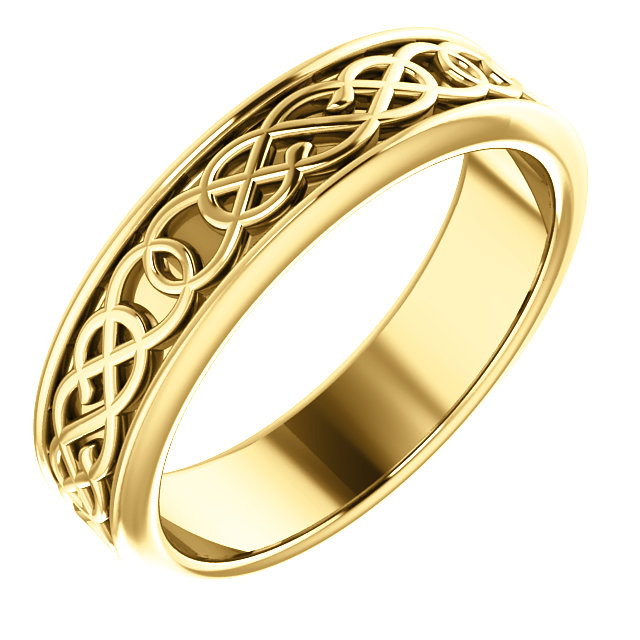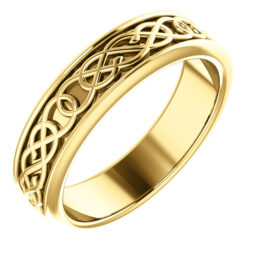 This Celtic Weave Wedding Band has a Celtic pattern going around the ring.  I can make them in widths from 7 to 16mm wide and in a variety of profiles as well.  Do you have another idea for a Celtic Wedding Band?  Send it to us and let us show you what we can do.
Celtic Jewelry Is Of Exceptional Quality
Owing to its quality construction, many metal Celtic jewelry pieces have been discovered from this time period. One common item found are torcs, which were likely a status symbol.  Most of the jewelry of the time was both decorative and made of precious metals.  Consequently, most jewelry discovered in archaeological sites is determined to be decorative rather than practical. Around the same time that Celtic culture found its way into Ireland, the Irish Iron Age took hold.  This combined the new Celtic culture with the old Irish culture. While iron was used for tools, jewelry and other pieces were made from the more impressive and long-lasting bronze and gold.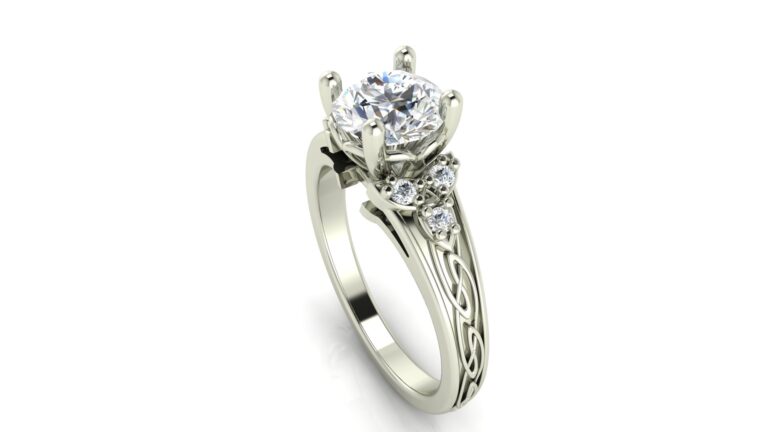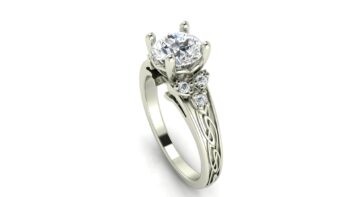 Looking for a Celtic Engagement Ring?  This stunner has Celtic symbols crawling up the band to the shoulders.  There 3, 1.5mm stones are set in Triquetras symbols.  The basket holding the head also has some symbols in it.  The cathedrals are cut on the side to add an elegant design element.  This one is shown with a 6.5mm round, but almost any size or shape stone could be used.  We could also change the pattern on the band if you had something else in mind.  Make it yours!
Over thousands of years, the process of making Celtic inspired pieces has gone through changes.  However, what remains very much evident is the popularity of jewelry using Celtic symbols and themes, which is why the arcane and symbolic Irish Celtic Jewelry is so highly desired and enjoyed all over the world and by people of many cultures.  Distinctive in meaning and style, the range of  Celtic Jewelry that is available today includes Celtic rings, bracelets,  Celtic pendants, Celtic earrings, and Celtic brooches.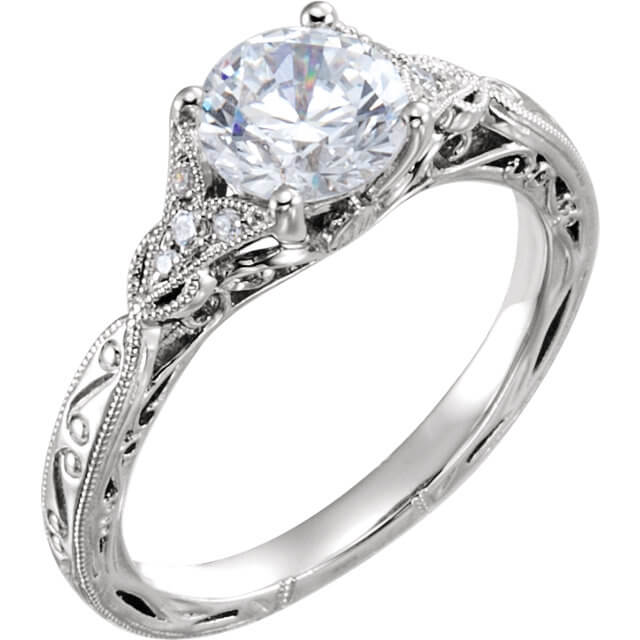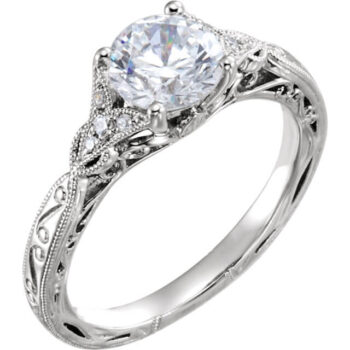 This Celtic Cathedral Engagement Ring has a lot happening on it.  There is almost no place on this ring that isn't adorned with some sort of design element.  That is what makes it so stunning.  Beautiful scrollwork, milgrain, and Celtic symbols are on the top and sides of this stunning Ring.  The center stone is a 6.5mm round and is accented with 8 stones.  However, this design would work well with a cushion or princess cut stone as well.  If you like the idea of this Celtic Cathedral Engagement Ring, but don't like the patterns.  We could make it with whatever pattern you wanted as long as it fit.
History And Meaning Of Symbolism In Celtic Jewelry
Circles, squares, triangles and crosses are all motifs found in Celtic jewelry. These patterns and shapes have actual functions in the world around us. In Celtic knots, the shapes are combined in a variety of ways. For example, crosses are created using triangles and trinity motifs. A basic understanding of the meaning behind these basic shapes will allow e you to interpret meaning in your ring, necklace or any other piece of stylized jewelry.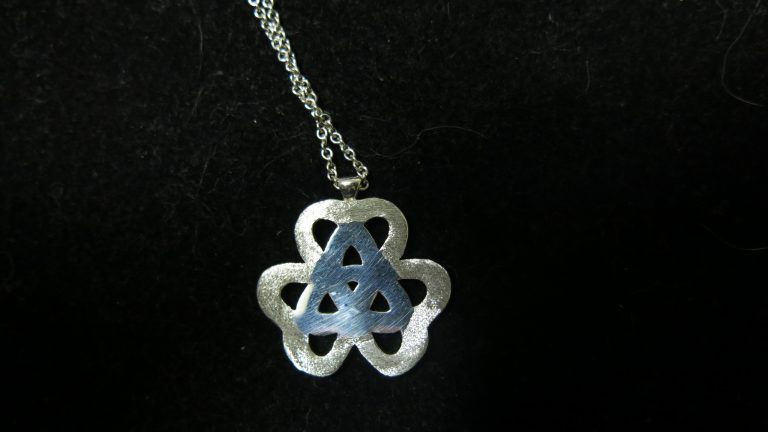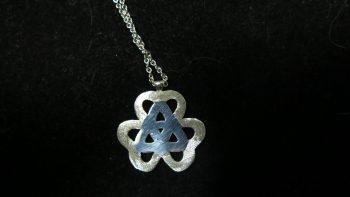 This Celtic Necklace was a combo of a shamrock and the triquetra.  We gave the outer part a stone finish to give the two pieces some contrast.
Crosses:
Using two lines, the most basic element of any piece of Celtic Inspired Jewelry is the crossing of two lines. Any time that two separate lines cross, it forms a cross, no matter at what angle.
Circles:
The natural world is full of the circles. The sun being the most obvious example; there are countless others.  We talk of a circle of friends, the cycle of the days and seasons and of life. Circles certainly represent equality and community. Circles are infinite.
Waves:
From the circle comes the wave.  An arc of the circle can be used to form wave like patterns. Waves are fundamental expressions of the circle. Physical laws state that matter itself exists in waves, such as light and sound. On a more tangible level, remember think of what it feels like to be in the ocean, feeling the steady onslaught of waves. Waves are a steady, constant movement and flow over time.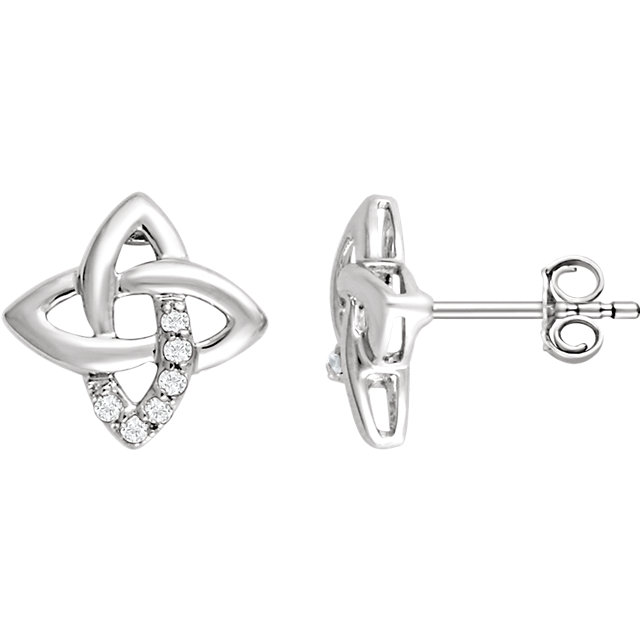 Looking for Celtic Inspired Diamond Earrings?  If you can dream them up, we can make them! These triquetras only have one arm accented, but we could easily add stones to the entire piece.
Brooches were were very popular during this time period. The Tara Brooch is especially stunning. It is constructed of silver-gilt and decorated with filigree and interlace design. This is a style repeated throughout Celtic jewelry. Irish metalworkers also created the Ardagh Chalice around this time. It remains one of the most impressive Celtic creation.  It was created from 354 separate pieces put together to form a chalice intricately decorated with the interlace typical of Celtic Irish art.  While jewelry remained a status symbol, it was often infused with Christian elements.  The apostles' names were even inscribed on many pieces, giving special prestige and meaning to some pieces.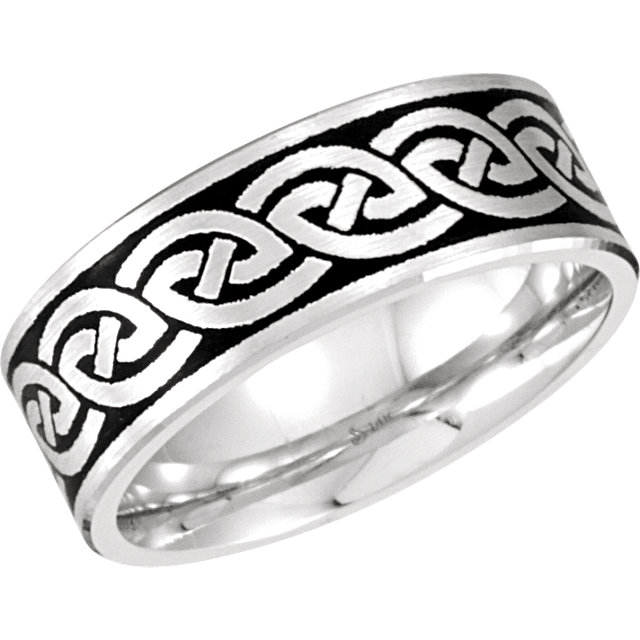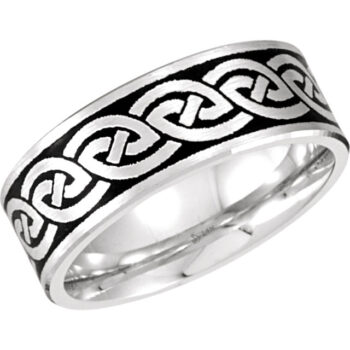 This Enameled Celtic Wedding Ring has a Celtic Weave pattern going around the ring. The negative space is filled with semi permanent black enamel. 
The Christian influence also resulted in crosses, which were very common around the ninth century. The Cross of Cong is an example of the excellent goldsmithing skills of Celtic artists. The Cross of Cong had high religious value when it was created, as it was initially made to hold a piece of the cross the Irish believed Christ was crucified on.
Celtic influence is still very strong in Irish jewelry today. The iconic Celtic Cross is a common theme, though historians and researchers can only speculate upon the meaning of the ring at the intersection. Celtic knots are also a familiar symbol, used today to honor Irish and Celtic jewelry tradition. Through modern Celtic jewelry, the masterful metalworkers of the past live on.
Click HERE to see more of our Celtic inspired jewelry.  Click HERE to learn more about custom jewelry, to see our portfolio, or to contact us about Celtic Jewelry.  It can cost less than you think to have your very own custom engagement ring made just for you. Why hassle with the retail stores for boring and overpriced engagement rings?