Cool Wedding Rings For Men
The typical male usually puts a ton of effort into picking out the engagement ring for his partner, but when it comes time to buy a Wedding Ring, you will probably realize that you have no clue what you wants or how to go about figuring it out. If that describes you, let Valeria Custom Jewelry guide you through the process! Since you will hopefully be wearing your wedding ring for the rest of your life, and it is probably the only piece of jewelry you will wear, you should enjoy your wedding ring just as much as your partner loves the engagement ring you spent a ton of time and money procuring. There are 6 things to consider when buying Cool Wedding Rings For Men. They are width, metal choice, fit, finish, accents, and engraving.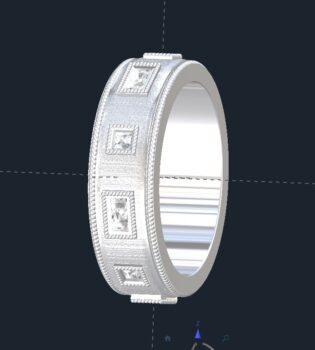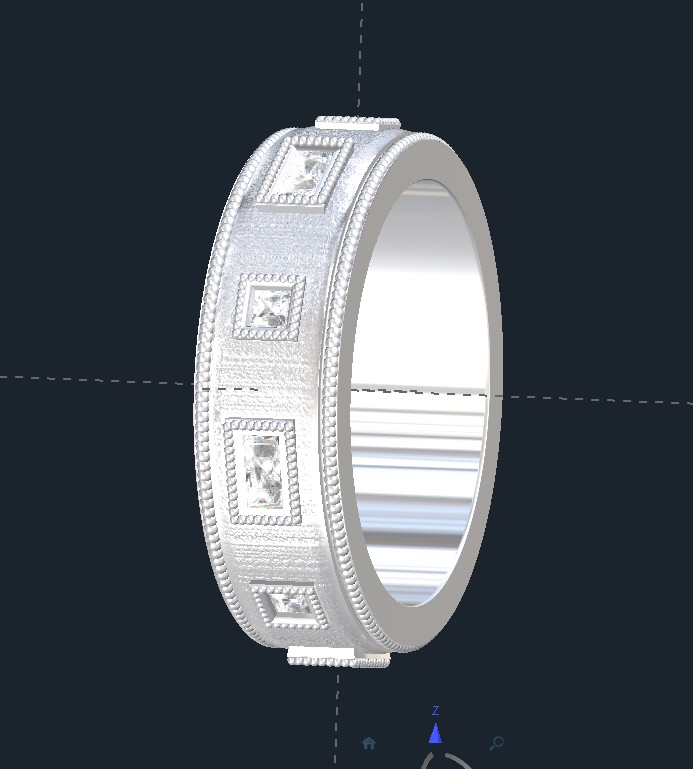 This Milgrained Men's Diamond Wedding Ring has a brushed texture that makes the alternating princess and baguette diamonds really pop.  Accenting both the bezels and edges of the stone is an elegant milgrain.
Why Cool Wedding Rings For Men Are In Such High Demand
Cool wedding rings for men are currently experiencing a surge in popularity. With their unique designs and stylish appeal, it's no wonder why they are in such high demand. These rings offer a refreshing alternative to traditional wedding bands, allowing men to express their individuality and personal style on their special day.
One of the main reasons why cool wedding rings for men are in high demand is their ability to make a bold fashion statement. Gone are the days when men were limited to plain gold or silver bands. Nowadays, men want a ring that reflects their personality and stands out from the crowd. Cool wedding rings offer a wide range of options, from sleek and modern designs to rugged and masculine styles. This allows men to find a ring that truly represents who they are and what they stand for.
Matching Ring Set Are Hot Too
Another reason for the popularity of cool wedding rings for men is the growing trend of couples wanting matching or complementary rings. Many couples today are looking for rings that symbolize their unity and shared interests. Cool wedding rings provide the perfect solution, as they can be customized to match the bride's ring or incorporate similar design elements. This not only creates a cohesive look for the couple, but also adds a touch of uniqueness and personalization to their wedding bands.
In conclusion, the high demand for cool wedding rings for men can be attributed to their ability to make a fashion statement and their appeal to couples seeking matching or complementary rings. With their unique designs and customization options, these rings offer men the opportunity to express their individuality and style on their special day. So, if you're a groom-to-be looking for a wedding ring that stands out from the crowd, consider opting for a cool wedding ring that reflects your personality and captures the essence of your love story.
Width
The first question to ask yourself when buying Cool Wedding Rings For Men is how wide you want your wedding ring to be.  Go to a mall jewelry store and try on a few men's wedding bands in a variety of different widths to decide what fits you best. If you are on a budget, know that wider rings will be more expensive (since they require a larger quantity of precious metal), but you can balance size and price by choosing a metal that's help you stay within your budget. For example, palladium looks very similar to platinum, but costs less.  Also, all white gold Men's Wedding Rings are rhodium plated, so 10K is the best option as it is more durable than 14K and costs less.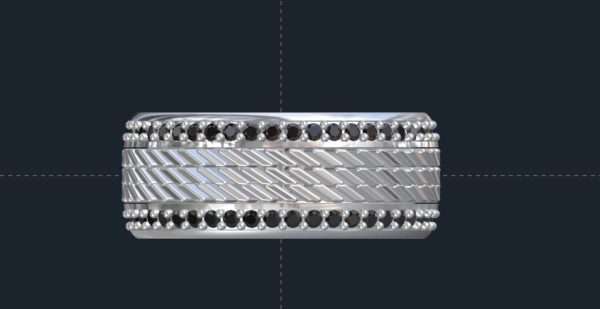 Our Talladega Diamond Tire Tread Wedding Ring is on the wider side of things at 10mm wide.  8mm is the most common width we make our custom wedding rings in, although we have made plenty that were thinner.
Cool Wedding Rings For Men – Metal Choice
The metals traditionally available for Cool Wedding Rings For Men are platinum, white gold, yellow gold, rose gold and palladium. Here are some aspects of each:
White Gold
White gold is gold alloyed with white metals and plated in rhodium, a member of the platinum family, which gives it a brilliant white color similar to platinum's but at a lower price point (note: the rhodium plating on white gold jewelry may need to be replaced after a decade or so).  It can be made in 10, 14, and 18K, but as stated earlier, there is no real reason for more than 10K when Buying Men's Wedding Rings.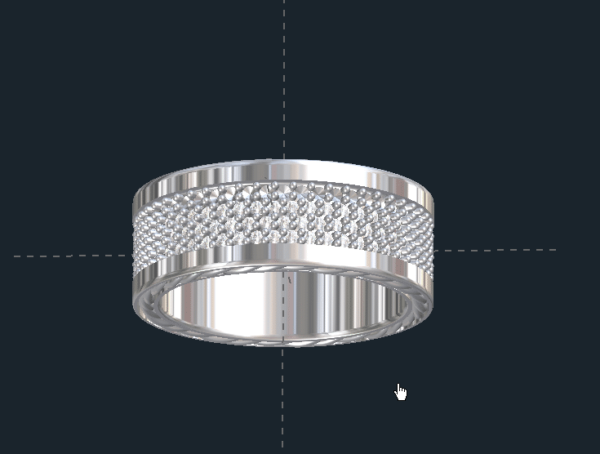 This white gold men's diamond wedding ring has 4 rows of diamonds, although we could go down to as few as two rows if that is what you want.  The sides of the ring are decorated with a rope. It is shown with 1.3mm stones, but larger stones could be used. 
Palladium
Palladium is a member of the platinum family of metals and has a very similar look, but Palladium isn't as dense and weighs less, consequently making it cost less than platinum.  It is very hard, durable, and hypo-allergenic, making it a good choice for active guys or people with metal allergies.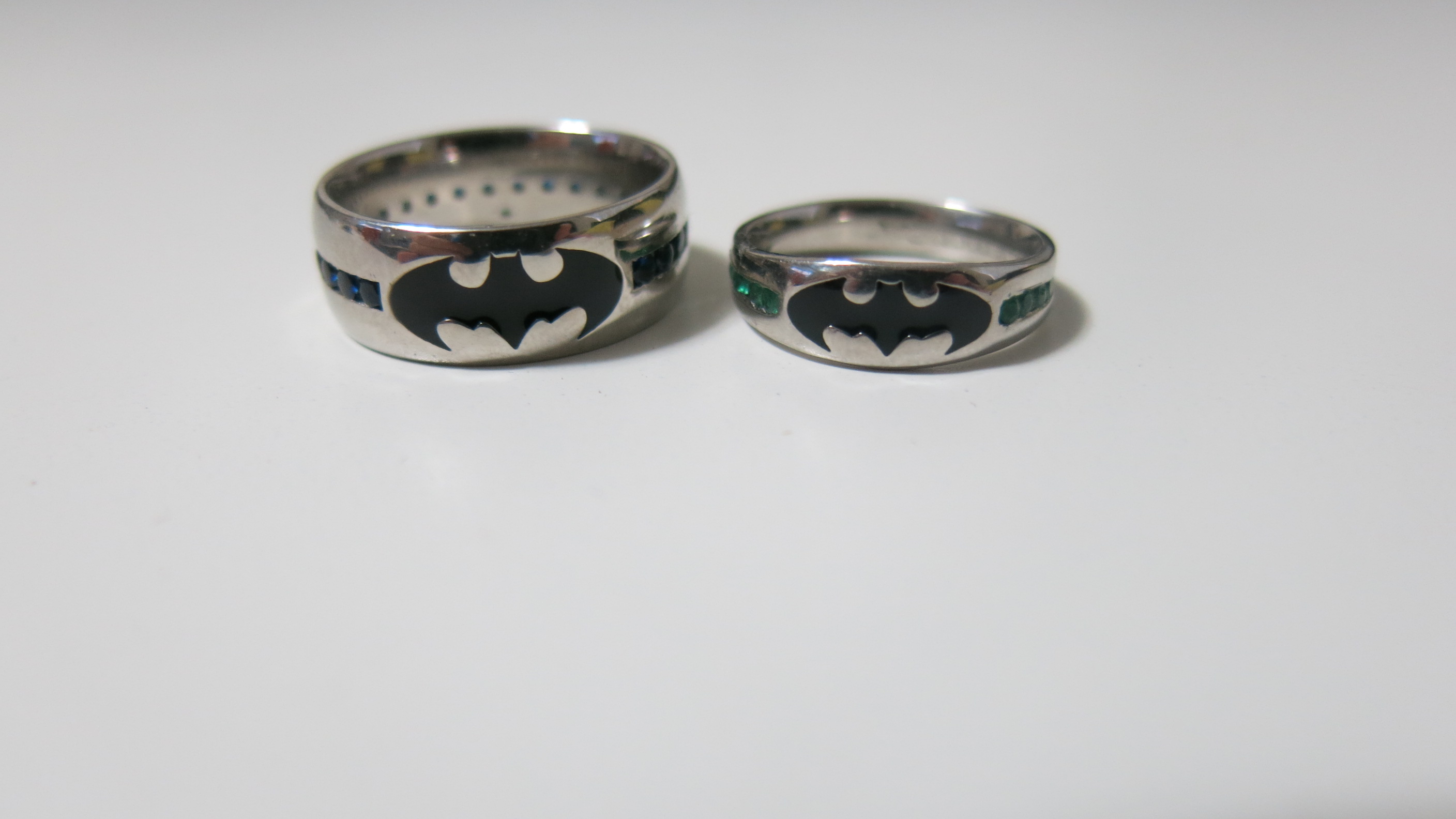 Palladium looks very similar to white gold and platinum.  The Batman wedding bands could pass for either of those metals.
Yellow Gold
Yellow gold gives off a subtle, warm glow and behind silver, is the oldest metal used in jewelry.  Like white gold, it can be cast in 10, 14, and 18K.  But unlike white gold, the different amount of gold give each purity a certain color.  10K has the lightest gold color, while 18k has the richest gold color.  If you decide on yellow gold when Buying a wedding band, try on each purity and decide the color you like best.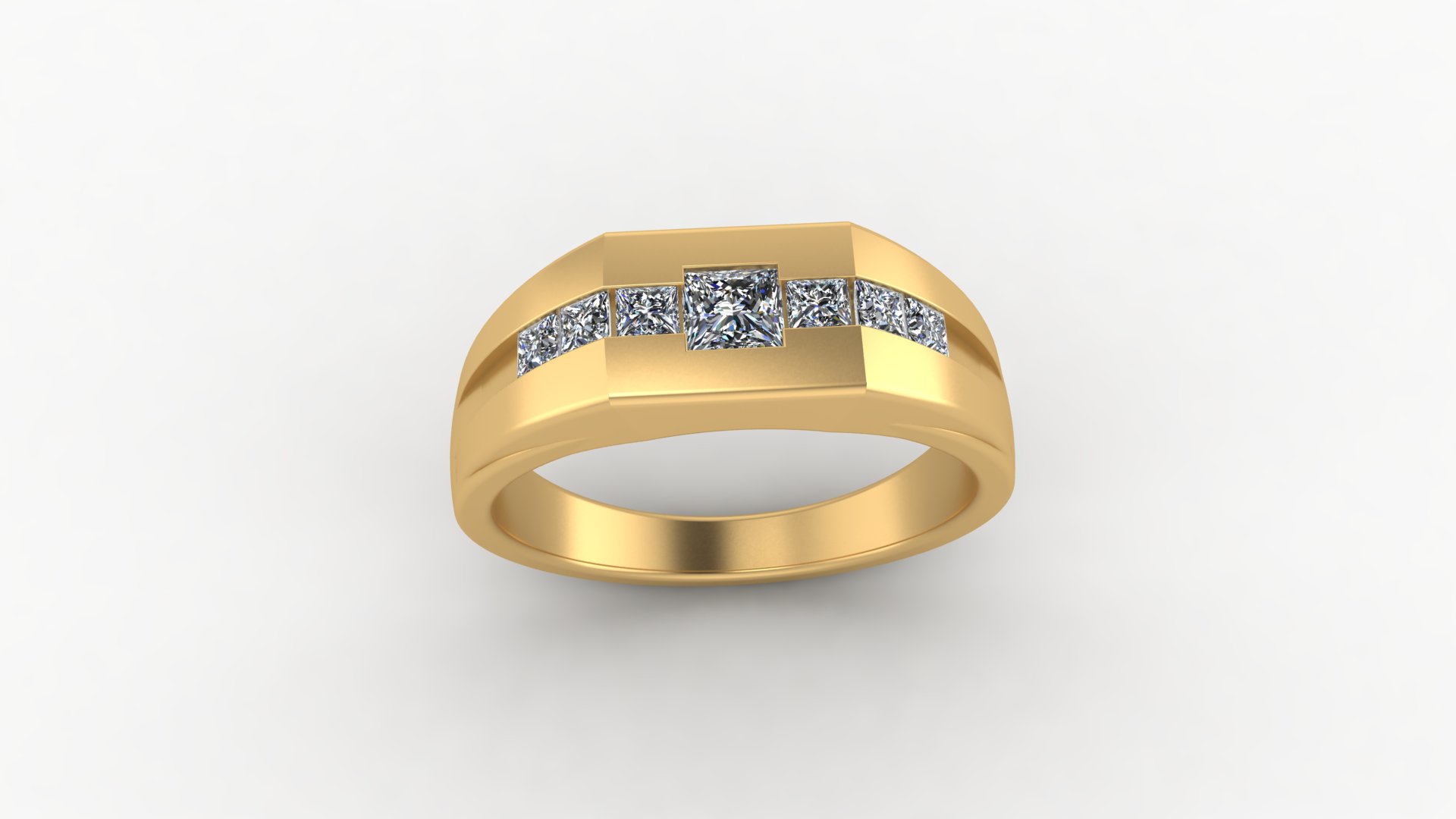 This yellow gold diamond wedding ring has a 4mm center stone flanked by 3 2.5mm stones on each side. This one was 8mm wide at the top, but tapers down to 3.5mm wide.  Those widths can be changed to your taste though
Rose Gold
Rose gold is a beautiful, less common choice and creates a unique vintage effect.   The warm tones of rose gold make it a perfect accent for men's jewelry and the unique color gives a distinctive touch to men's wedding rings. Rose, (or pink or red) gold also has a different looks at each of the purities.  Depending on the ratio of gold to copper, the color of rose gold jewelry can range from orange-yellow to dusky pink to red-orange.   The more red or pink you want in the metal, the higher karat you should choose.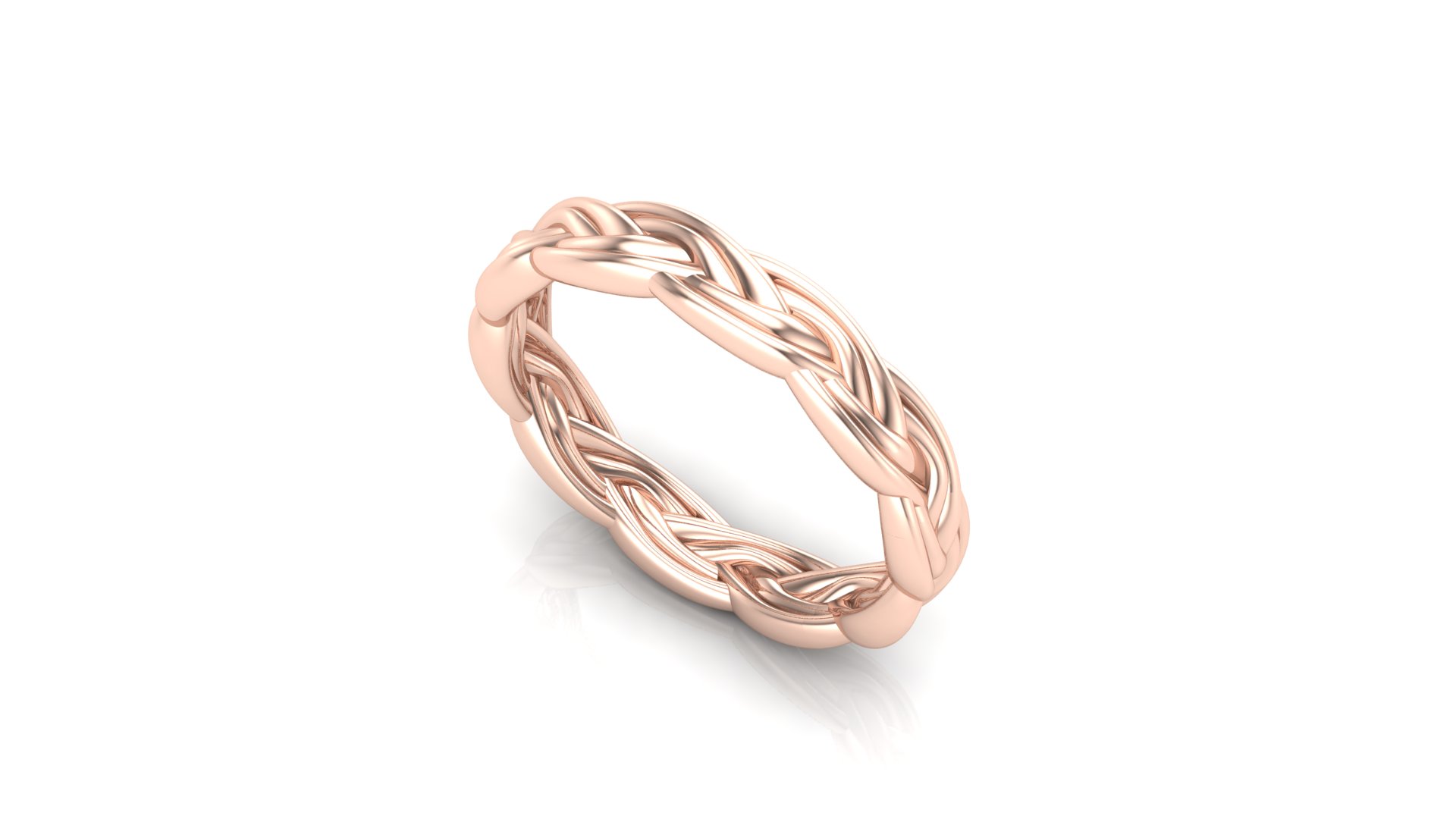 The two strands in this rose gold rope wedding band represent the unification of two people for life. This one is 4mm wide, but it can be made wider.  The rope could also be changed to another one, or another strand could be added.
2 Tone
Can't decide which metal you like best?  Consider a mixed metal wedding band.  We can cast a ring in pieces of different metals and then assemble them.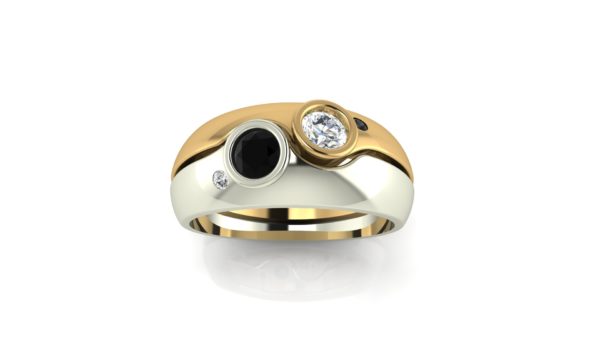 We are making more and more 2 tone wedding rings lately as people really go for unique looks.  This one was cast separately in yellow and white gold and then assembled.  Bezel set in each metal is a 4mm diamond.  Don't be fooled by 2 tone rings at mass retailers.  Those will have one of the colors plated on, which will eventually wear off.
Cool Wedding Rings For Men – Fit
The edges and underbelly of men's wedding bands can be curved or flat, forming right angles to the sides of the ring. Our popular Comfort Fit band has gently rounded edges, which can make it a good choice for men who are concerned about how it will feel to wear a ring every day. In addition to comfort fit, there are half round, rectangular, etc, so when Buying Men's Wedding Rings, make sure and on all of them to see what feels best.

Cool Wedding Rings For Men – Finish
The finish describes the texture of a finished ring. These are the terms to know Buying Men's Wedding Rings.  The default is a high polish.
High Polish
High Polish is the most common and tradition option and describes metal with a reflective finish.  The only downside to a high polish is that is shows scratches and wear more easily.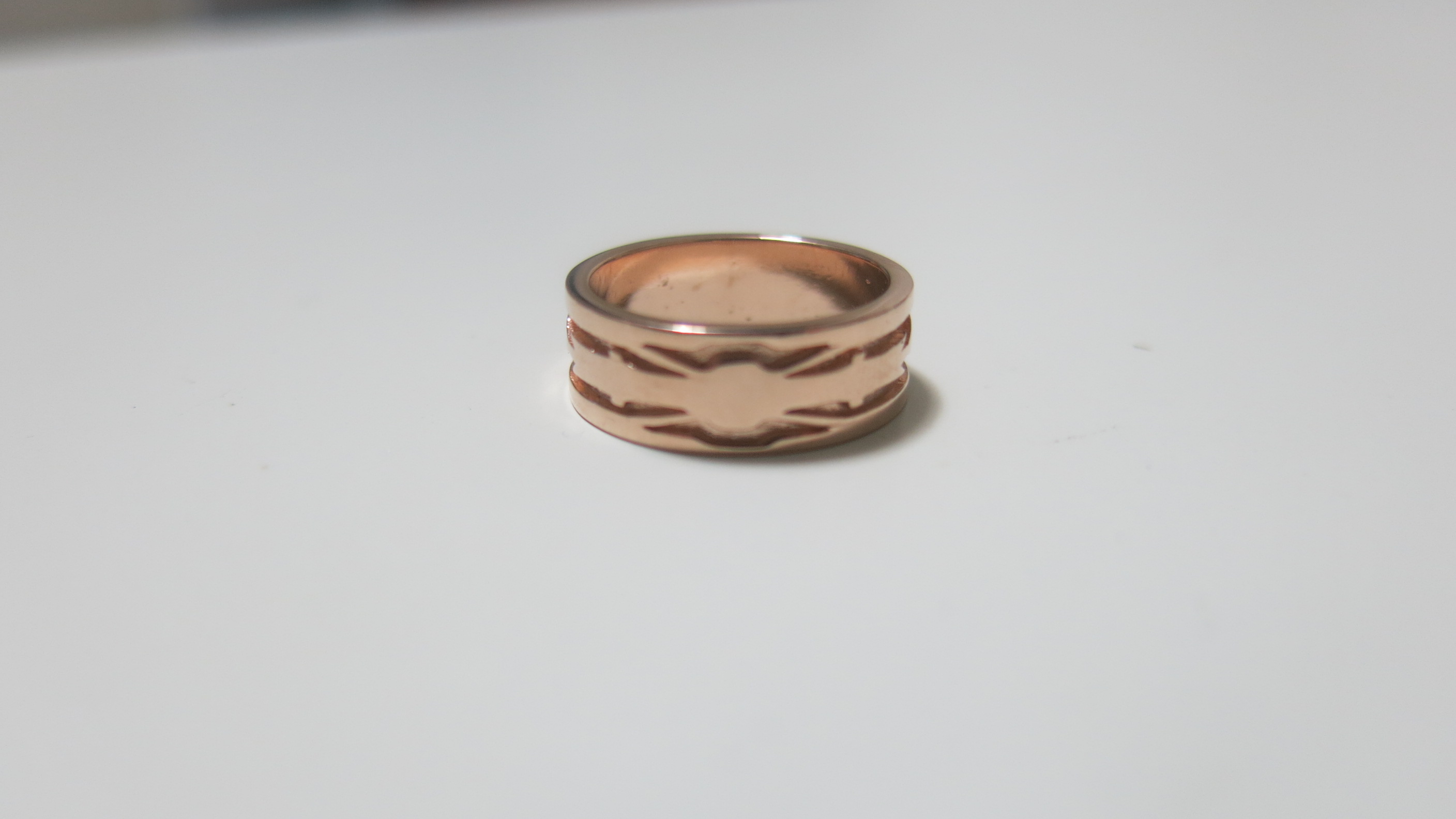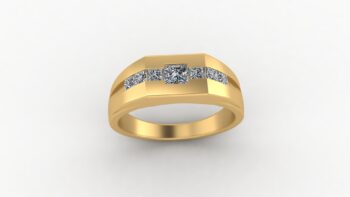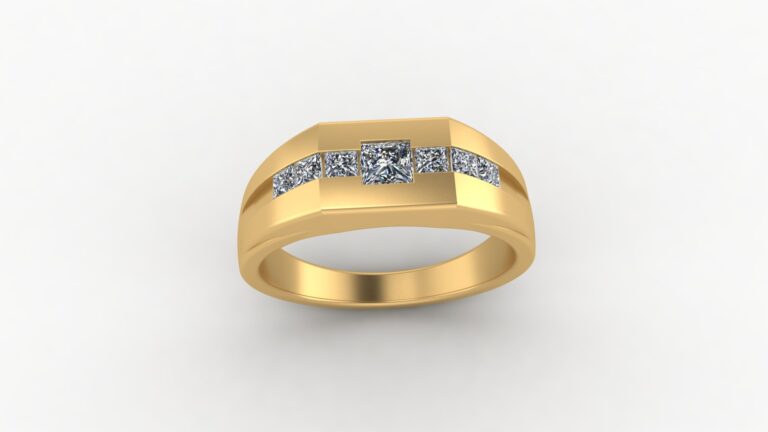 In this high polish ring, we had a client who wanted a ring made from Cortana's suit, so this is what we came up with.
Matte Finish
A Matte finish is less reflective with an understated, modern feel.  While not as flash as high polish, it does hide scratches better.

This matte finish Men's Wedding Ring is a simple beveled band with 3 vertically channel set stones.   
Stone Finish
A stone finish is a lot like the matte finish.  However, it is rougher and looks more randomly scratched up than a matte finish.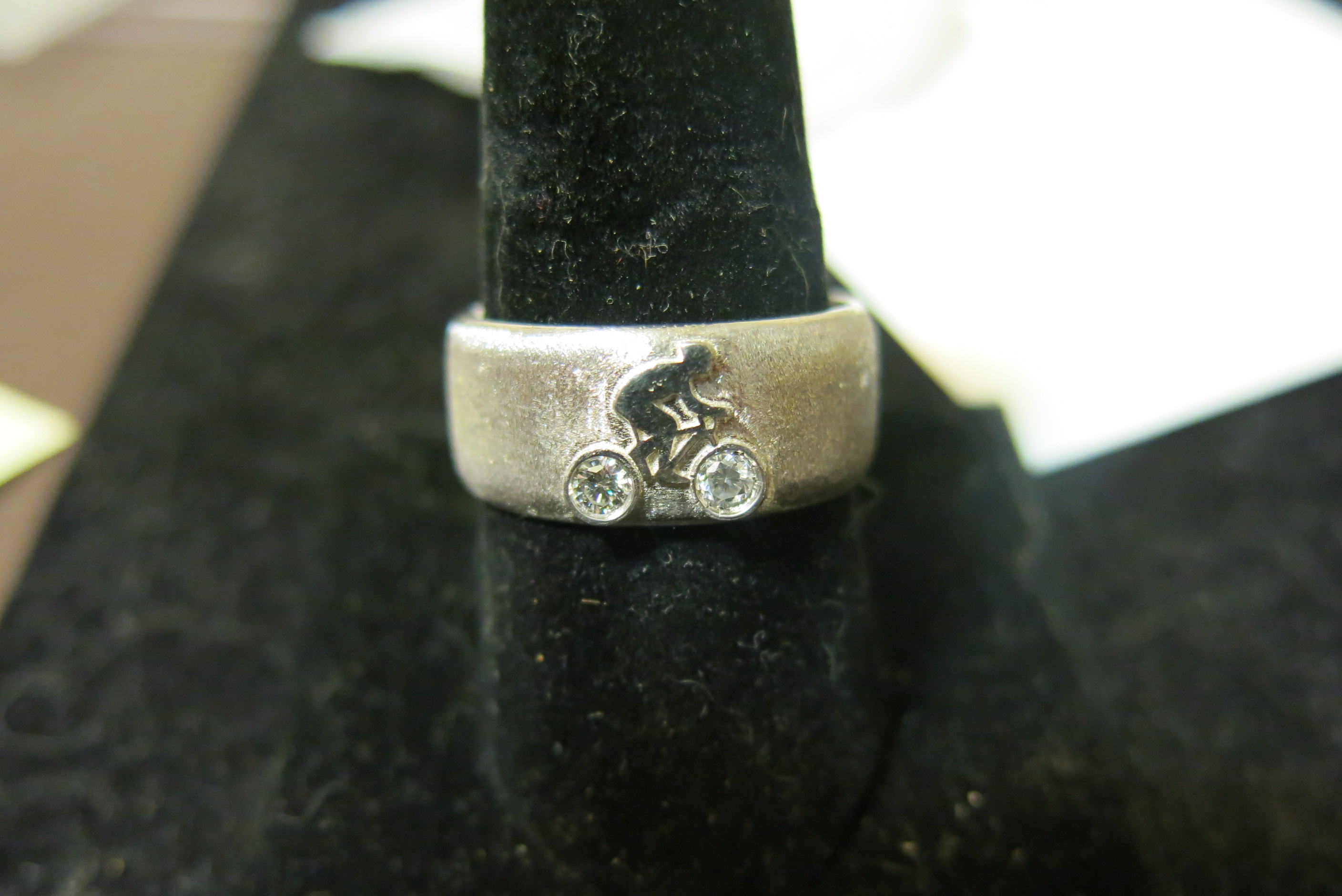 This stone finish biker wedding rings have both bezel set accents in the tires. It was part of a set of his and her wedding rings.  Click the image to see the female version.
Hammered
A hammered finish is achieved when a tiny hammer is used to pound the metal to create a textured effect. They are popular with men who want a rugged, eye-catching look.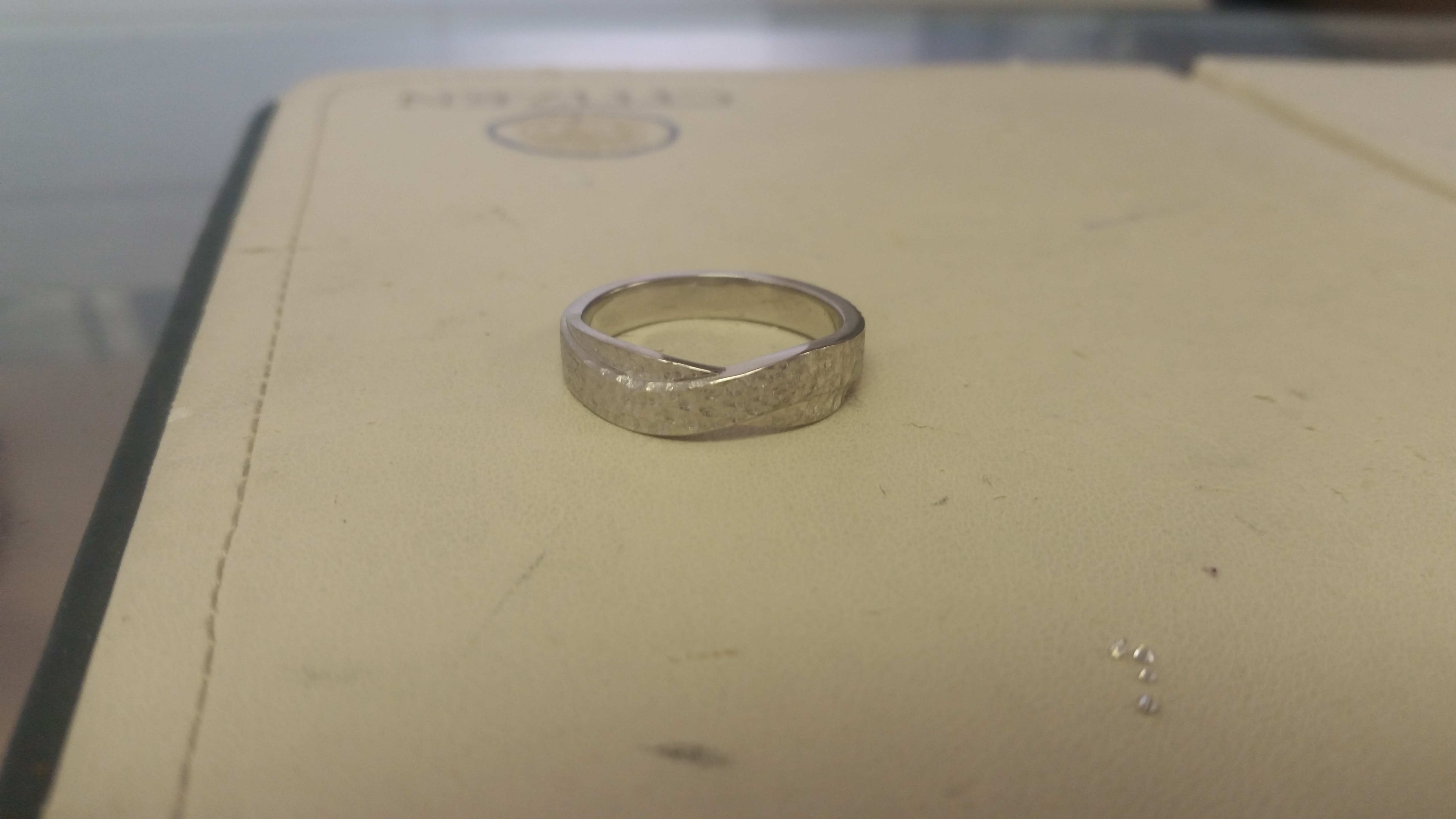 This elegant unisex crossover wedding ring has two sections that crossover each other on the top.   We gave it a hammered finish at the request of the customer.
Combination Finish
A Combination is just what it sounds like, using two or even three different textures.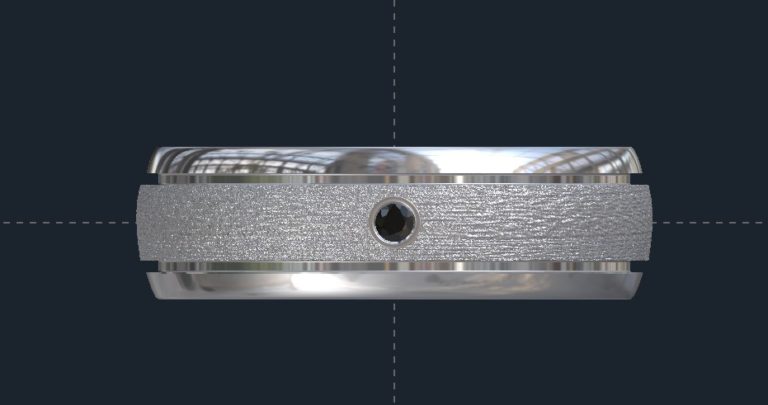 Cool Wedding Rings For Men always  have something separating them the rest.  We love using a variety of textures and finishes to get made just to your taste.  This has a stone finish in the center with a high polish on the outer rails.
Cool Wedding Rings For Men – Accents
Until recently, there were very few options when Buying Men's Wedding Rings beyond choice of metal.  Luckily for us guys, these days you can have a very unique men's wedding ring created just for you. Adding diamond or sapphire accents can add a lot of style and personality to your ring

Diamonds wrap around either side of this classic ring with a high polish finish. The interior also has a rounded inside edge for increased comfort.  This one is 8mm wide, but it could be made 5mm wide up to 12mm wide.
Cool Wedding Rings For Men – Engraving
Whether you choose a ring that's classically subtle or something more unique and eye-catching. There are endless ways to personalize the band with engraving when buying Men's Wedding Rings. Your wedding date, your partner's name or initials, a word, phrase or song lyric that's a key ingredient of your love.  Engraving any of these on your ring will give it extra meaning.  You can have both the inside and or the outside of your wedding ring engraved.  It just depends on whether you want to keep the engraving private or display it to the world.

We have one of the few remaining master hand engravers local to us and he can do things like this all day. If it fits and isn't too detailed for a space measured in millimeters. We can have it masterfully engraved on a ring.
Cool Wedding Rings For Men – The Bottom Line
Do you want a wedding ring that truly reflects your one-of-a-kind personality? Then consider having your wedding ring custom designed. We will turn your unique idea into a stunning one of a kind wedding ring. We can also make suggestions if you just have a vague idea of what you want.
There never been a better time for custom wen's wedding rings than now.  There are more options for men's wedding rings than ever. Men today are going beyond their father's standard, plain bands to choose wedding rings that reflect their unique personalities and tastes. If you want to talk about your idea for a custom wedding ring, please contact us. We would be pleased to maneuver you through the process of choosing or creating your perfect wedding ring.
What's your favorite men's wedding band style? Let us know on in the Facebook or Instagram comments section!
Give Us A Shot!
Want to start your own custom wedding ring? Contact us with your idea today. It can cost less than you think to have one of the Cool Wedding Rings For Men created just for you.
Click here to see all of our custom men's rings.  Learn more about custom jewelry, view the rest of our custom jewelry creations, or contact us about the Cool Wedding Rings For Men.  It can cost less than you think to have your very own custom wedding ring made.  Why settle for boring, uninspiring, mass-produced bridal rings from the mall?  We can make exactly what you want.  Don't see what you are envisioning in our portfolio?  Send us the design you want and we will bring it to life.  It is that simple.  The bottom line is that we create the Cool Wedding Rings For Men.
A Guide to Selecting Men's Wedding Rings