Creating A Custom Engagement Ring
Creating A Custom Engagement Ring is not as far out of reach as many think it is!  When considering buying a custom engagement ring, most people mistakenly believe
that it is too expensive or that they lack the technical expertise.  At Valeria Custom Jewelry, we make creating custom bridal jewelry as easy and painless as possible. There
really are only a few things that you as a buyer need to do when Creating A Custom Engagement Ring.  We take care of the rest and you end up with a stunning custom
jewelry creation that you and your partner will cherish forever.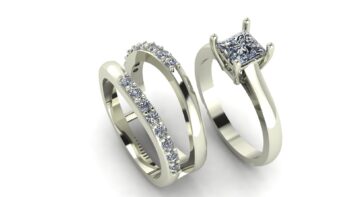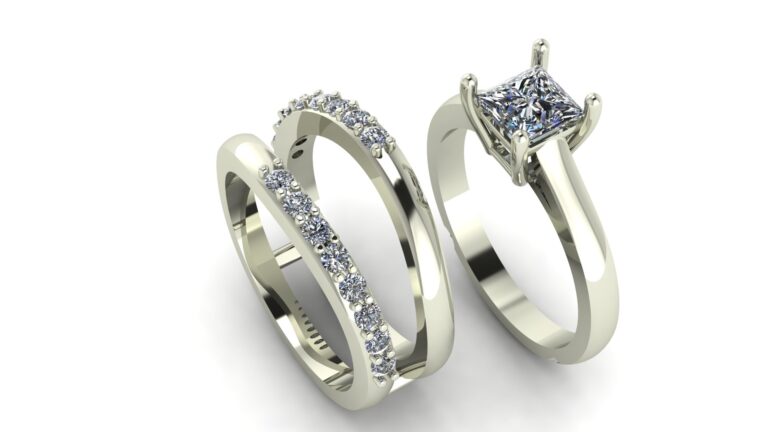 Here is a solitaire engagement setting with a diamond accented enhancer.  She made it her own style by having the stone rows  mirrored on the x and Y axes.
There Are A Lot Of Options In Bridal Jewelry
Being in the market for bridal jewelry is a lot like shopping for a car.  You have to look at and drive a ton of models to land on the vehicle that you want.  As you consider
the different styles, gemstones, and ring settings, you may find yourself frustrated and overwhelmed at all the options.  What metal should the ring or rings be in? What
type of stone or stones do I want? If I want diamonds, do I want lab or natural stones? What about the color and clarity?  Then there are the various styles of engagement
rings.  Do you want a solitaire?  Or are you more partial to a 3 stone engagement ring? Do you want accents on the band? Have you found yourself loving certain elements
of specific ring styles, but can't seem to find one that satisfies all of your desire. For brides to be who have a unique sense of style, Creating A Custom Engagement Ring
allows for you to combine any style elements that you want into the perfect engagement ring.  If you have certain design requirements such as lab-grown
diamonds, a rare colored gemstone, a custom cut stone, etc., a custom engagement ring is the best way to check these criteria off of your list.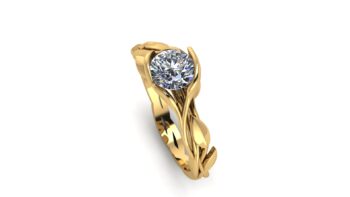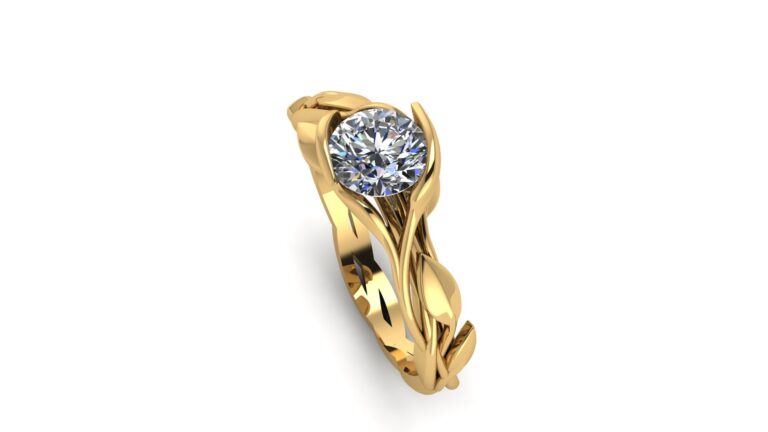 Floral themed engagement rings are one of our most popular motifs when creating custom engagement rings. Here, we have leaves and vines going up the ring to envelope and hold the stone.
Don't Stress Out!  We Are Here To Help You In Creating A Custom Engagement Ring
The first step in having a custom engagement ring made is to to shop around and become familiar with the different ring styles and available materials. This will be crucial
in understanding what it is that you want.  It will help to define your sense of style and will ultimately shorten the time you spend with the jewelry designer as you already
have the required design elements that you want in your head.  Once you have shopped around some, tried various ring styles on, and looked at diamonds or gemstones,
then the next step is to reach out to a custom jeweler.  This is where the expertise of a custom jewelry such as Valeria Custom Jewelry will be able to turn your ideas into a
more cohesive and workable project.  This is also when things like budget and timeline should be established to ensure both parties are on the same page.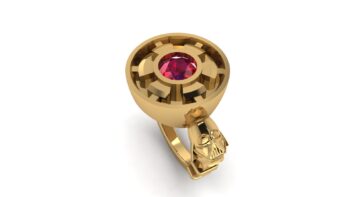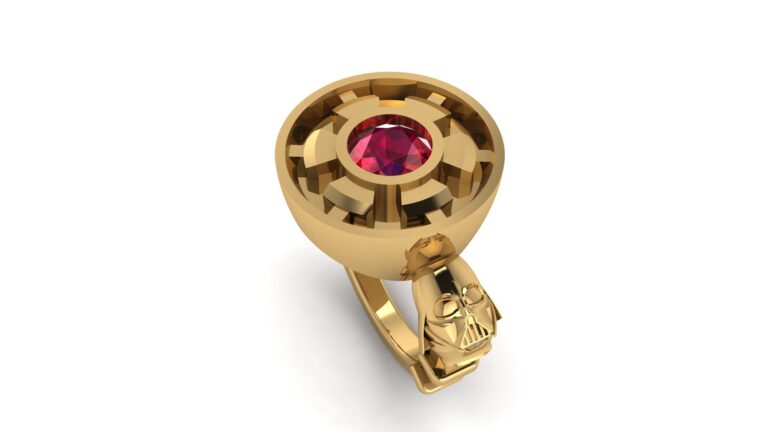 Nerd, Geek, and Gamer rings are another one of the most common requests for Creating A Custom Engagement Ring that we have. You would never find anything like this in a chain store and so the only option is a custom engagement ring. This is the main attraction for those that go the custom engagement ring route.
The Next Steps
Once the project parameters have been set, the exciting phase starts.  In this stage, the we will take your ideas and directions and create a rough draft of the ring or rings in
a CAD program.  We will then send you renderings for your review.  You will then have a chance to have any design changes you want made to it.  The only design
restraints are that it must be a castable design!  Once we have made the requested changes or received your approval on the design, we will begin the manufacturing
process. While the process may seem daunting at first, once you get into it, you will find it is painless and actually gratifying to see your design idea come to life.
After the approval, a file is generated using your design that is used to "grow" a wax of your ring or rings.  This was is then used to mold and cast your ring.  Once it is cast,
it is polish and the stones are set.  If there is any special finish or engraving to be put on the ring, it id done last. And Voila!  Your ring is ready.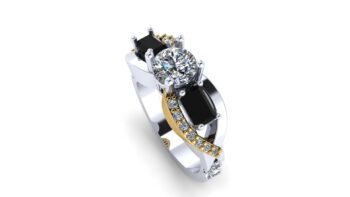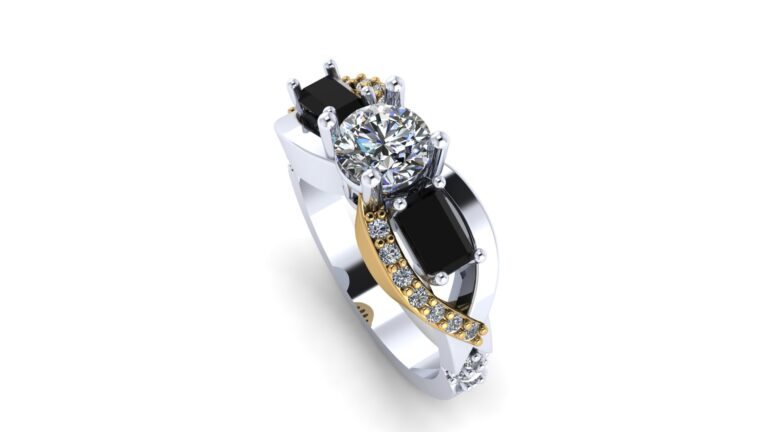 This is one of the more interesting 3 stone engagement rings we have created. It is uncommon to use east west emerald cuts in the past, present, and future style.  Then, we add the twist of the small portion being ion another color. In 2 tone rings, we grow and cast each color separately and then assemble them before setting the stones.
How Long Does Creating A Custom Engagement Ring Take?
Depending on the custom jeweler you choose, the entire process of creating a custom engagement ring can take anywhere from a few weeks to two or three months. It
depends on how quickly a final design is nailed down, the time of  year, and where the stones going in your ring are coming from.  Many times, they come from Asia, which
can add to the total project time.  We speak with and begin Creating A Custom Engagement Ring for many couples before they are even engaged.  Many women have been
dreaming about their engagement rings since they were younger and want the thing on their finger ASAP!!  We also work with men who are Creating A Custom
Engagement Ring for their partner as a surprise and so we do not have the female's input on those.  It can be a little more work and somewhat more nerve wracking
because the man is kind of guess at what his partner wants.  However, with our experience, we are able to guide these guys through the process, ensuring they don't fall
into any traps or go down the wrong roads.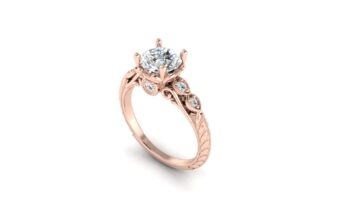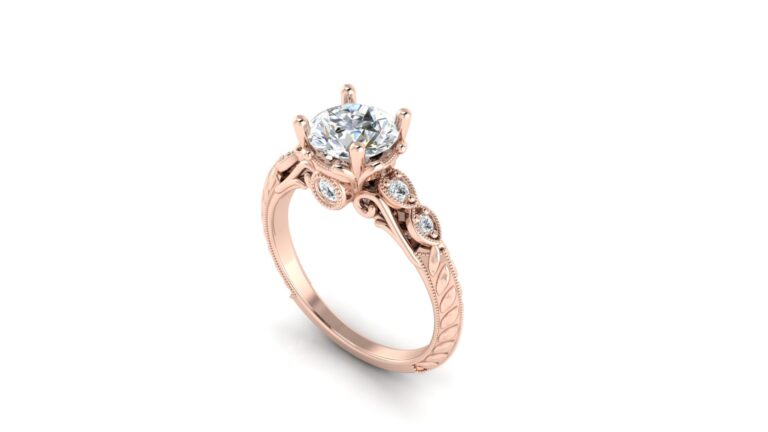 We love vintage engagement ring designs too. This knife edged shank has been scalloped to give it some texture and milgrain for an added design element.
What Does Creating A Custom Engagement Ring Cost?
As with anything custom, your cost will depend on the difficulty of the design, the amount of labor, and the materials used.   We've worked with a wide range of budgets
and will explain the cost ramifications of your design and material choices.  However, on average, Creating A Custom Engagement Ring will generally start around $3,000
if you are wanting diamonds and can go up to  $20,000 if you are putting a fat, high quality rock in the ring. Different custom jewelers will also have  differing prices, so
make sure you  are comparing apples to apples when looking at custom jewelry  prices.  Generally,  custom jewelers in fancy parts of town and ones that heavily advertise
on will be more  expensive than ones with a less expensive zip code.  Also inquire as to if  the job is farmed out or if ring will be designed in house.  Many "custom" jewelers
simply farm  custom work out and then add 25% for doing nothing.  In addition to that, if they are not jewelry designers themselves, they will not have the same knowledge
that someone who is.  At Valeria Custom Jewelry, you will speak directly with the person designing your ring, so there is no "telephone" issue where there is a disconnect
between the designer and you.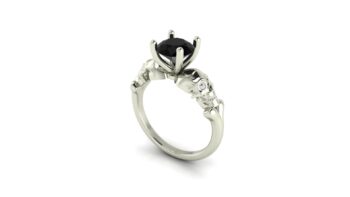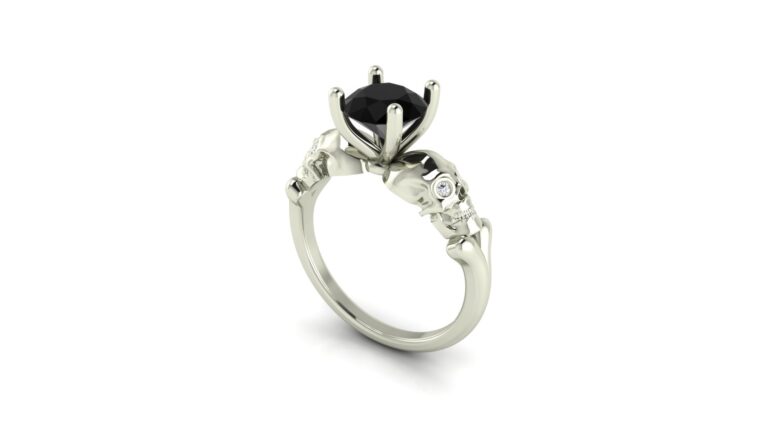 As we stated before, if your idea can be cast, we will be Creating A Custom Engagement Ring for you! No topic is off limits.  Skulls Engagement Rings are another big draw.  And it isn't big biker goths buying them either!
How To Choose A Custom Jeweler when Creating A Custom Engagement Ring
The optimal outcome when Creating A Custom Engagement Ring is one where both you and the jewelry designer are happy with the final product. The custom jeweler you
select should help guide and inspire your design ideas.  So take a look at their portfolio.  If you like what you see, then you are probably good to go.  But keep in mind that
at somewhere like Valeria Custom Jewelry, custom jewelry is all we do and we make everything to order.  So, the vast majority of the custom jewelry you see on our
websites was inspired by someone else and doesn't necessarily reflect the style of the designer.   After picking a custom jeweler, do your due diligence and make sure they
are legit.  Is the jeweler a GIA Graduate Gemologist? Our CAD designer is.  This will ensure they know what they are talking about in terms of diamonds and gemstones.
Google their company and look for any Google or Facebook reviews.  Creating A Custom Engagement Ring, especially something that hasn't been made before, will
require some back and forth with the designer as you go through the process of Creating A Custom Engagement Ring.   Consequently, you want to find someone who isn't a
pain to deal with, answers emails promptly, and has the expertise to make your engagement ring dream a reality.  Not doing so could make Creating A Custom
Engagement Ring a horrible ordeal and sour you on the outcome.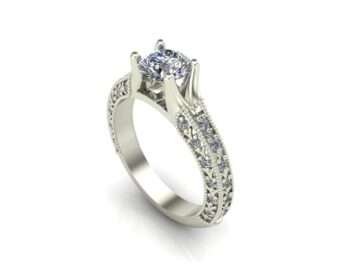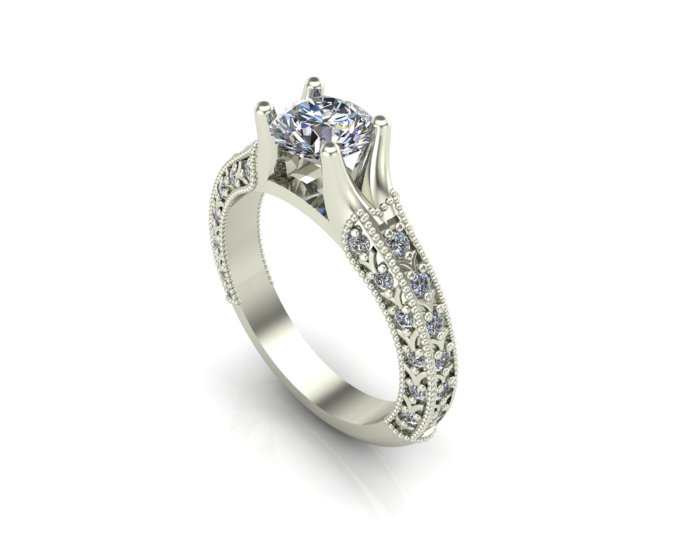 This is an art deco engagement ring design with a shank that is ornamented on both the sides and top.
Custom Engagement Ring Tips
Have an idea of what you want. It is not the designers job to come up with your idea for you. His job is to make your idea come to life while guiding and helping you through the process.
A competent jeweler designer will immediately know if your design isn't possible when it comes to Creating A Custom Engagement Ring. He will also be able to give you alternatives that will work.  Additionally, if your ring design is over your budget, they should be able to work with you to create something that works. Don't be afraid to ask questions. Hopefully, they have been Creating A Custom Engagement Ring for many years and will have the expertise to create what you are looking for at a price you can afford.
If you are wanting an exact copy of another ring, you need to be somewhat flexible.  While rings are possible to copy, it is not always possible to copy it 100%. Many times, designers will only post a few pics of a ring so that it is hard to see how it is made.  Also, some rings are copyrighted and not allowed to be copied.  On these, your design can be inspired by the ring, but not totally copied.
Here, we combined 2 of the most popular design elements, the halo and infinity symbol. We also created a matching band for it.  One thing to think about when Creating A Custom Engagement Ring is how it will fit with the wedding band.  Most women want the band to sit flush with the engagement ring and many times you will end up with a funky shaped band like this.
Give Us A Shot – You Will Be Glad You Did!
Click HERE to more of our bridal collection.  Click HERE to learn more about custom jewelry, view our portfolio, or to contact us about your
Creating A Custom Engagement Ring.  It can cost less than you think to have a special engagement ring made just for you.  Why settle for the lame and overpriced
bridal jewelry from the chain stores when we can make something showing your style and personality? You know what they say.  Once you go custom, you never go back.
To the mall!
Want to learn more about the 4 C's of diamonds?  Click there.  GIA is the gold standard in diamond grading and if your center stone is natural, it is best to have it
certified by GIA.  There are other grading labs, but GIA is the most reliable and well known. If it is a colored gemstone that you want, click HERE for an excellent guide to
buying gemstones.
Creating A Custom Engagement Ring