Truly Unique Custom Designed Jewelry
Custom Designed Jewelry is an exciting and ever changing world.  And due to recent technological advances and price drops, it is now possible to have Custom Designed Jewelry created for just about any customer.  Is there a piece of jewelry you've always wanted?  Have you ever wondered how a custom piece of jewelry is made?  Do you know the steps involved and how much time can it take?  This article will tell the story of a ring being created, from the sketch being drawn to the ring being slipped on a finger.
Whovians will recognize this custom pendant as the TARDIS.  We antiqued it to make it black and then took it off the telephone sign.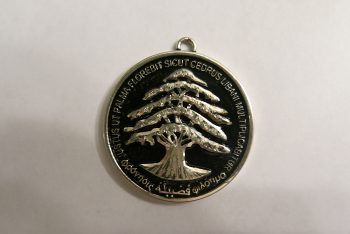 We can't remember what this was for, but it turned out so well, we put in on here anyways.  It is a great example of the things we can make that you can't get anywhere else.
Custom Designed Jewelry – A Few Different Ways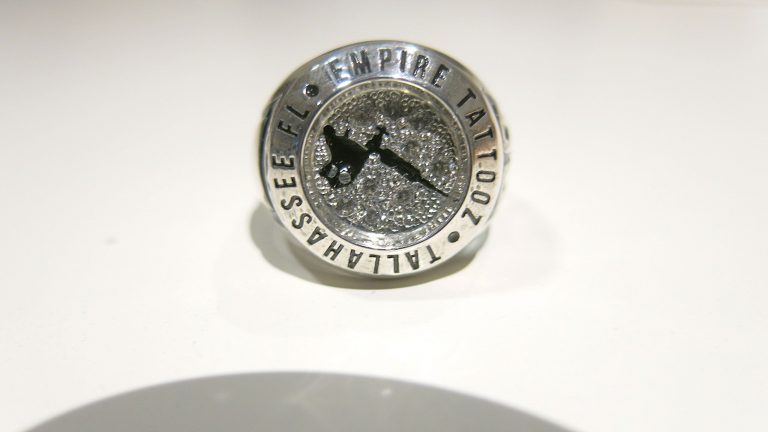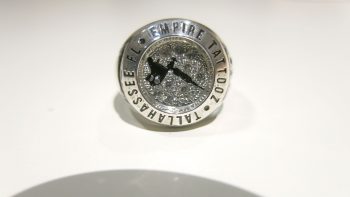 Using stones, enamel, and engraving, we can create a wide variety of Championship Rings that most will even attempt.  This custom signet ring was made for a tattoo parlor owner.
Custom Designed Jewelry can be manufactured in a few different ways.  These are the two most common.
The oldest way to produce a ring is hand fabrication  This means the jeweler with saws, files, pliers, various other metalsmithing tools, and a soldering torch will form metal into the shape that is desired.  Though a tried and true method, this process is sometimes tedious, labor intensive and does have its limitations.  It is also very difficult and time consuming to master.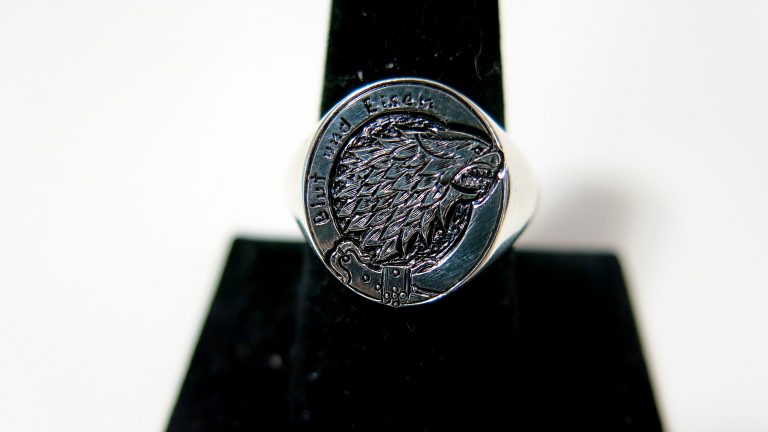 This custom signet ring shows off our master engraver's skills.  Hand engraving is a dying art.  And we are extremely lucky to have one of the few remaining master engravers local to us.
The second method has several more steps and a greater cost, but it generally allows for more intricate detail and control:
Wax Printing and Last Wax Casting: This is how majority of custom and even mass produced jewelry is produced.  First, the piece is printed in wax to the exact scale of the final piece.  More organic jewelry pieces will often be hand carved.  For technical pieces that require a wealth of precise detail, CAD software is often used in the industry.  The item can be built and modified in the computer, and then a three dimensional wax printer will create a to-scale version of the final piece.  That wax is then used to mold and cast the piece in metal.  This is the process we use for our Custom Designed Jewelry.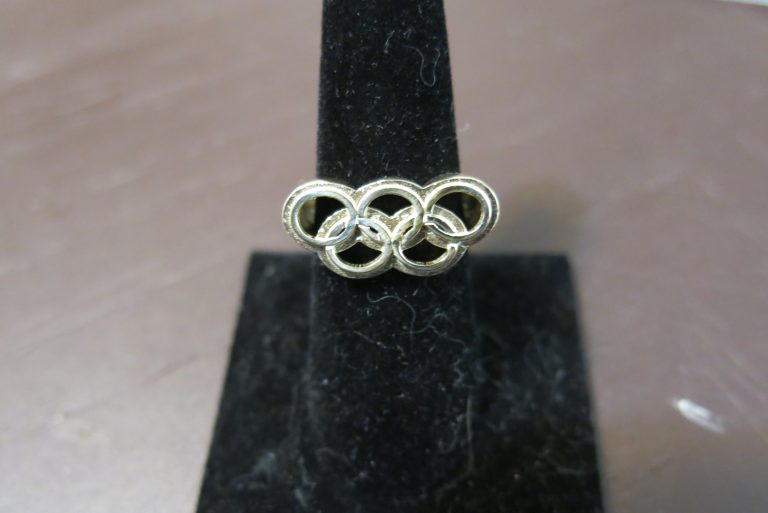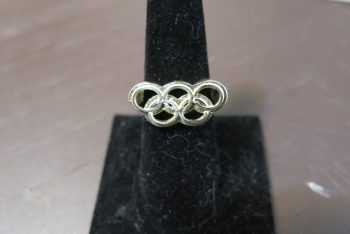 ANYTHING you want to celebrate or commemorate, we can help!  We had a customer who participated in the '72 Munich Olympics and wanted a ring to memorialize it.  On the sides we put the 1972 and the logo for the games that year.
Custom Designed Jewelry – Beginning The Process
The first step is to decide what you want to have made.  The designer and customer should work together to decide on the idea and design of the piece to be created.  It is important for a jeweler to be involved in these design discussions.  This will help to ensure that there won't be structural issues in the design and that it will cast.  Unfortunately, there are tons of cad renderings on the internet of rings that look cool, but don't work.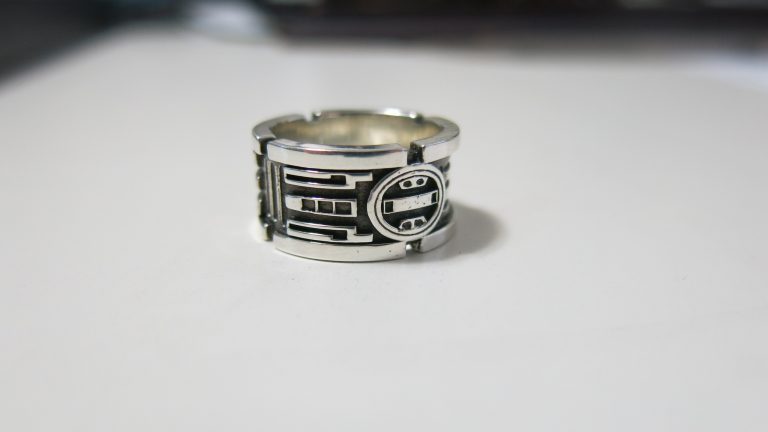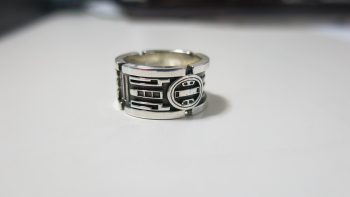 This is one of our Star Wars Wedding Rings.  We took Luke's lightsaber from Empire Strikes Back and turned it into a ring.  The base of the ring was painted with model aircraft paint to give it some contrast.
The second step is the actual design of the piece.    Here, we will turn your idea into an actual piece of jewelry.  Once completed, your design is converted into a file that is used to print a wax of the piece.
Custom Designed Jewelry – Once a Wax Mold Has Been Made
Once you have the wax piece completed, the next step is to cast the piece in metal.  The wax piece is encased in a plaster like substance, which dries and becomes rock hard.  The wax is then heated out of the plaster mold, leaving a cavity in the plaster that is the exact design of the previous wax piece.  Then, molten metal is cast into the plaster cavity and allowed to cool.  This is a process known as "lost wax" casting – because the original wax model will be destroyed in the casting process.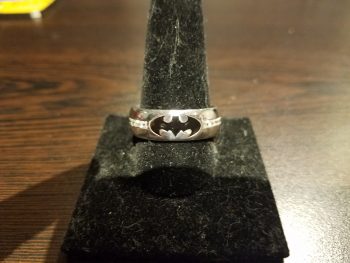 This is our most popular superhero wedding ring.  By far.  However, we can make a ring out of just about any comic book or video game theme that you can think of.
The third step is polishing.  After the piece has been cast in gold (or platinum, palladium, or silver), it is cleaned and polished.  At this point, tool marks are removed and the ring is inspected for any defects caused during the casting process.
The fourth step is to set the stones if there are any.
After setting, there is a final polish and cleaning. This eliminates any minor scratches still remaining after the setting.  At this point, the ring is also ultrasonically cleaned, eliminating any oils or residue from the jeweler's hands and from the polishing compounds used.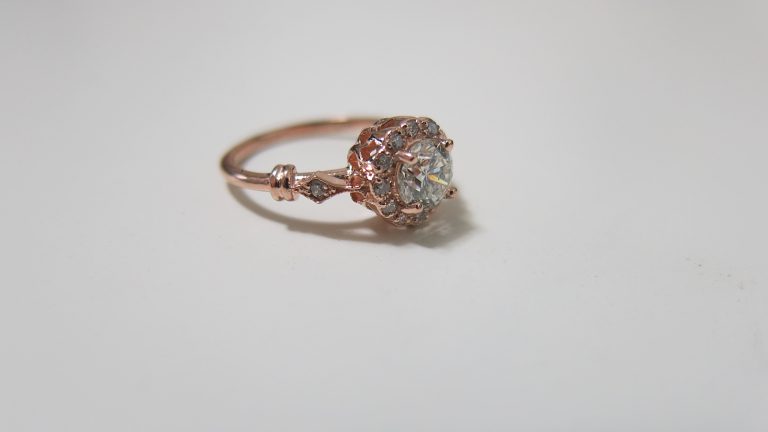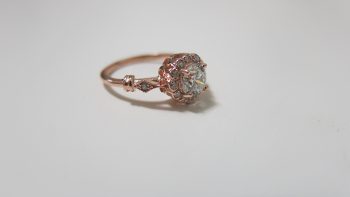 This is one of our art deco halo engagement rings.  Unfortunately, our photography skills are terrible and you will need to click on the image to see a better one!
Custom Designed Jewelry – It Is Our Specialty
My name is Lucas Horton and I own and operate Valeria Custom Jewelry in Dallas, Texas. After 10 years in the corporate world , I was still finding myself miserably facing each day.  I accidentally stumbled into the world of jewelry and fell in love with it.  Eventually, I found myself combining the art of jewelry fabrication, my knowledge of gems, and my  CAD (computer aided design) ability into creating Custom Designed Jewelry.  This opened up a whole new realm of possibilities. Whether it's a ring, a bracelet, a pair of earrings, a pair of cufflinks, a pin or a pendant.  We can create jewelry not commercially available anywhere else.  Although we will sell mass produced item, Custom Designed Jewelry is our passion and specialty.
Custom Designed Jewelry – Easier Than You Think!
Here is a breakdown of the of Valeria Custom Jewelry's Custom Designed Jewelry process.
STEP 1: Contact us to receive a no obligation quote. We will use your design concept, precious metal, gemstones, and ring size to come up with a very competitive price.
STEP 2: Working together, we will use drawings & pictures to create a CAD design that you will be able to have changes made to. Our GIA Graduate Gemologist can help you select the perfect conflict free Diamonds or Gemstones for your design.
STEP 3: Once your Custom Designed Jewelry has been approved, we will use the (CAD) model to "grow" a wax of your piece.
STEP 4: Upon completion of the wax, our manufacturing team will mold and cast your design in the precious metal of your choice. Your gemstones – if there are any- are then meticulously set by our expert craftsmen. The piece will then be polished, and any special finish or enameling will be added.
Once You Go Custom, You Never Go Back (To The Mall)
We are confident that if you give Valeria Custom Jewelry the opportunity to create a piece of Custom Designed Jewelry for you, our skill, knowledge, value, and quality, make us the best choice to turn your vision and dreams into reality.  And probably at a price that is less than you are thinking or would pay elsewhere. Custom Designed Jewelry is a special thing and we look forward to working with you on your Custom Designed Jewelry.
Click HERE to learn more about custom jewelry, to see our portfolio, or to contact us about Custom Designed Jewelry.  It can cost less than you think to have your very own custom engagement ring made just for you. Why hassle with the retail stores for boring and overpriced engagement rings?  If you can dream it, I can create it!