Truly Unique Custom Engagement Rings
If you're looking for something special to dazzle your beloved, then look no further than our custom engagement rings.
From traditional diamond rings to more innovative designs, we have the perfect ring for any taste. Our experienced designers will work with you to craft a ring that is uniquely yours, seamlessly blending the beauty of your partner's style with an element of surprise.
The process of creating a custom ring is truly unique. You can choose the type of metal, the stone type, the setting, and then it is off to the races.
Creating Custom Engagement Rings is Easier Than You Think
In the western world, there is probably not a more contentious and stressful purchase than the engagement ring.  A house is a close second, but.  There are societal and financial pressures in buying an engagement ring that can make it far more difficult than it needs to be if you let it.  We are here to streamline the process and make it as painless as possible.
Ok, so you have finally decided to bite the bullet and take one of the steps of becoming an adult!  The  plans on embarking on a life together can be daunting and a little scary.  
However, congratulations are still in order! We want to wish you a blissfully happy marriage and will to do whatever we can to make this exciting time as painless for you as possible.  Almost all women dream of their engagement and what it entails.  However, the engagement ring is arguably the most important factor in this and will play a key role in making your engagement period an exciting or memorable time for both you and your spouse. For about 3000 years now, the engagement ring has been a symbol of union, love, and commitment among couples.  We want to continue to honor that tradition while modernizing and streamlining the process.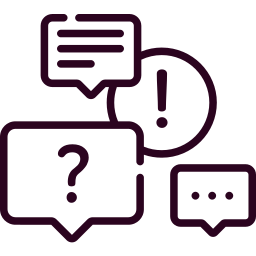 Discuss design ideas, options, budget, with your jewelry consultant – your guide to the custom experience.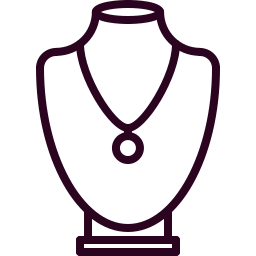 Visualize your piece with high resolution 3D renderings, and we'll adjust every detail until you tell us it's perfect.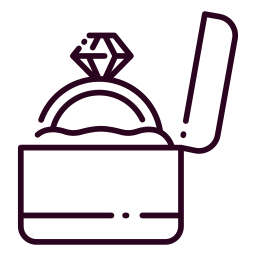 Receive your custom piece, with the assurance it's been made to wear and last a lifetime.
Sculptural Engagement Ring
This is one of our Sculptural Engagement Ring designs that we love. The center stone is secured by 6 prongs that are accented with 1mm stones. If you don't like 6 prongs, or don't want the accents on the prongs, we can change that. The shank is an alternation of diamond accents and knife edged milgrain.
On the hunt for a handcrafted, unique and stylish symbol of your undying love? Here is our running list of Unique Custom Engagement Rings that you won't find anywhere else. We've dug through the hundreds of custom engagement rings we have created and selected a number of rings we think warrant being on this page. This is kind of our one comprehensive list to highlight some of the coolest bridal rings we have designed. We have tried to break them down by type to make it easy for you. We will try to regularly update this list as we create new rings that might warrant being a member of this page. However, it isn't like these things happen everyday! They take time and attention, so we don't usually design them on our own. ​
CUSTOM ENGAGEMENT RINGS – WILDLIFE INSPIRED ENGAGEMENT RINGS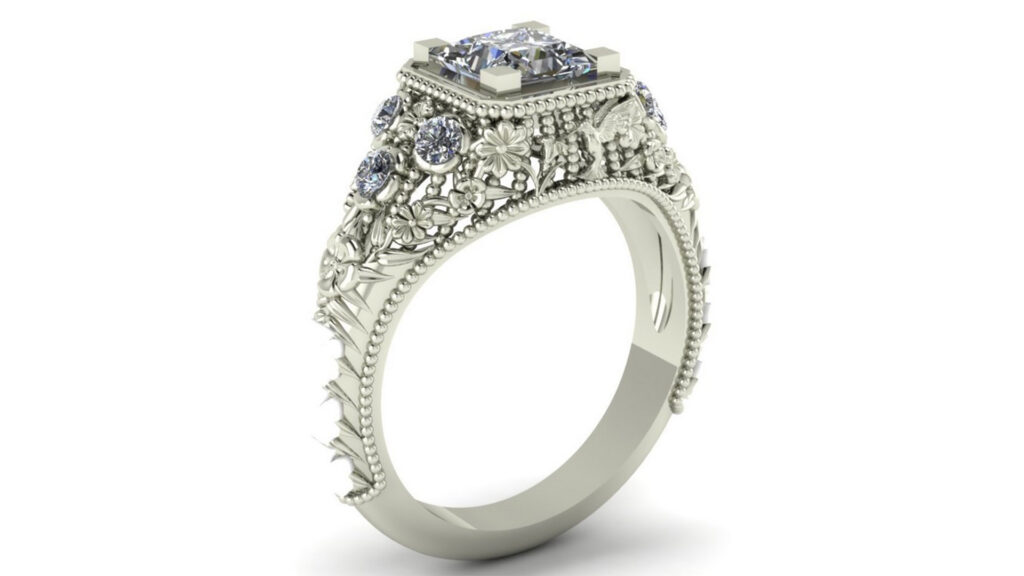 Nature Inspired Engagement Ring
This is our art deco hummingbird engagement ring. It is a stunning example of our nature inspired engagement rings. Beneath the center stone is a lush garden of flowers and vines. And feed We have created a matching band you can see if you click on the image. It holds a 5-6mm square or round center stone. The accents are 2.25mm rounds.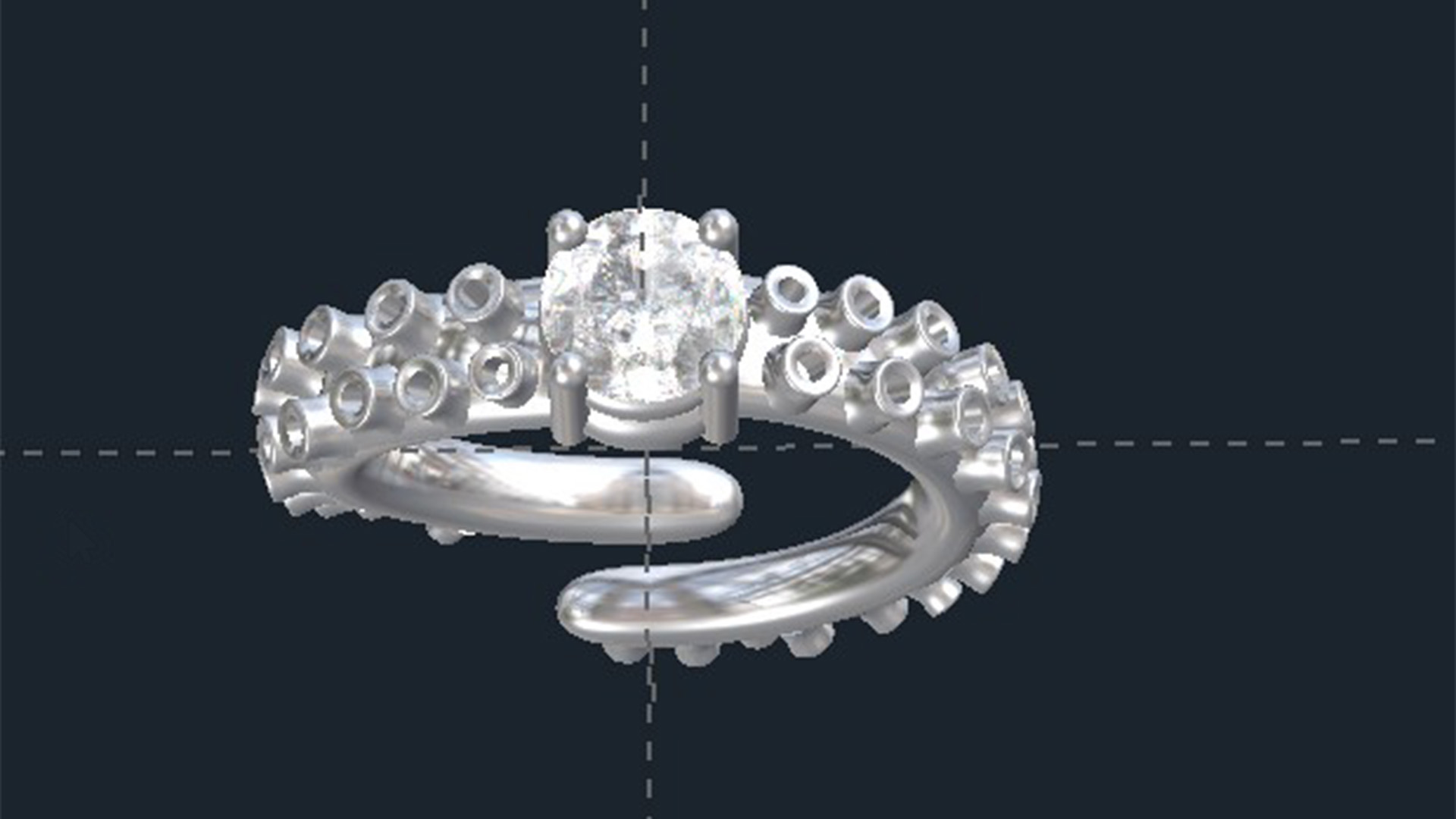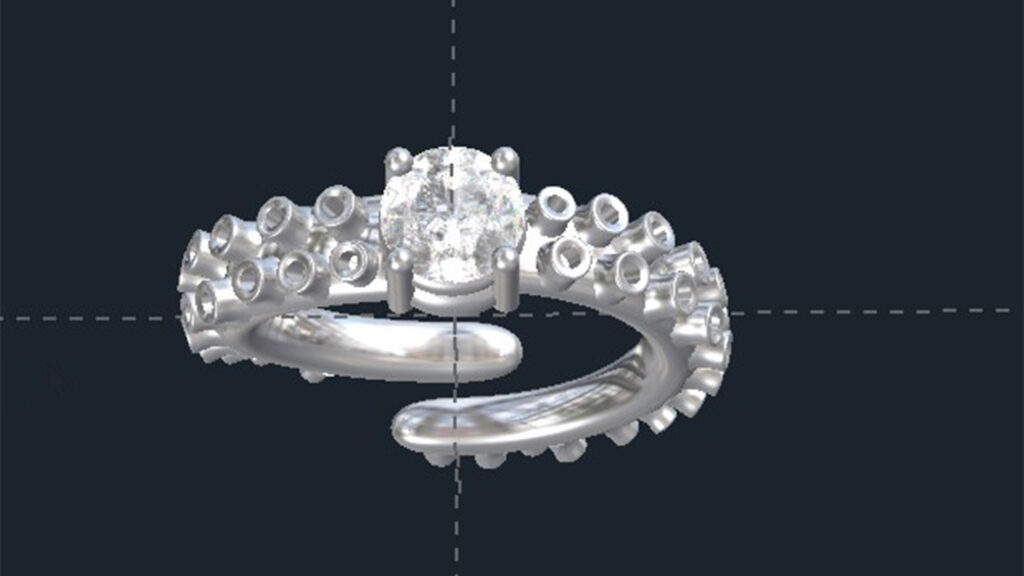 Cabochon Octopus Engagement Ring
This Octopus Engagement Ring looks as if it just sprang from the sea! It can be made with both a bezel set cabochon center stone or a prongs set, faceted stone. Any size or type of center stone from 4-8mm can be used. The suckers are hand finished after casting to give them an organic look. We can also make it with a straight shank as well.
If you have decided on a custom engagement ring, you are in the right spot!  We are your custom engagement ring HQ!  At Valeria Custom Jewelry, we can make that perfect ring that will wow her every time she sees it. Whatever your budget may be, we believe in providing you an engagement ring as splendid as your other half. Your engagement ring should stand for the commitment and loyalty of spending the rest of your life together with your better half. It might take a little effort, but the dividends of giving your bride to be a custom engagement ring are worth it! Just knowing you put a little of yourself will go far longer making her proposal everything she dreamed of.
CUSTOM ENGAGEMENT RINGS – 2 STONE ENGAGEMENT RINGS
Engagement rings are one of the most recognizable pieces of jewelry. And whether you're already engaged, about to be, or are hopelessly single, looking at diamonds and gemstones can always be enticing. Over time, as it is with any accessory, engagement rings have experienced their fair share of trends. We are on the forefront of these trends as we get to make the jewelry that people want, but can't find at the mall.
French Pave 2 Stone Engagement Ring
This is a split shank 2 stone ring with only 1 of each shank getting stones! The contrast of the high polish metal contrasts well with the sparkle of the diamonds. The accents are set in a French Pave setting, but we h ave created it with a typical shared prong setting as well.
CUSTOM ENGAGEMENT RINGS – ART DECO ENGAGEMENT RINGS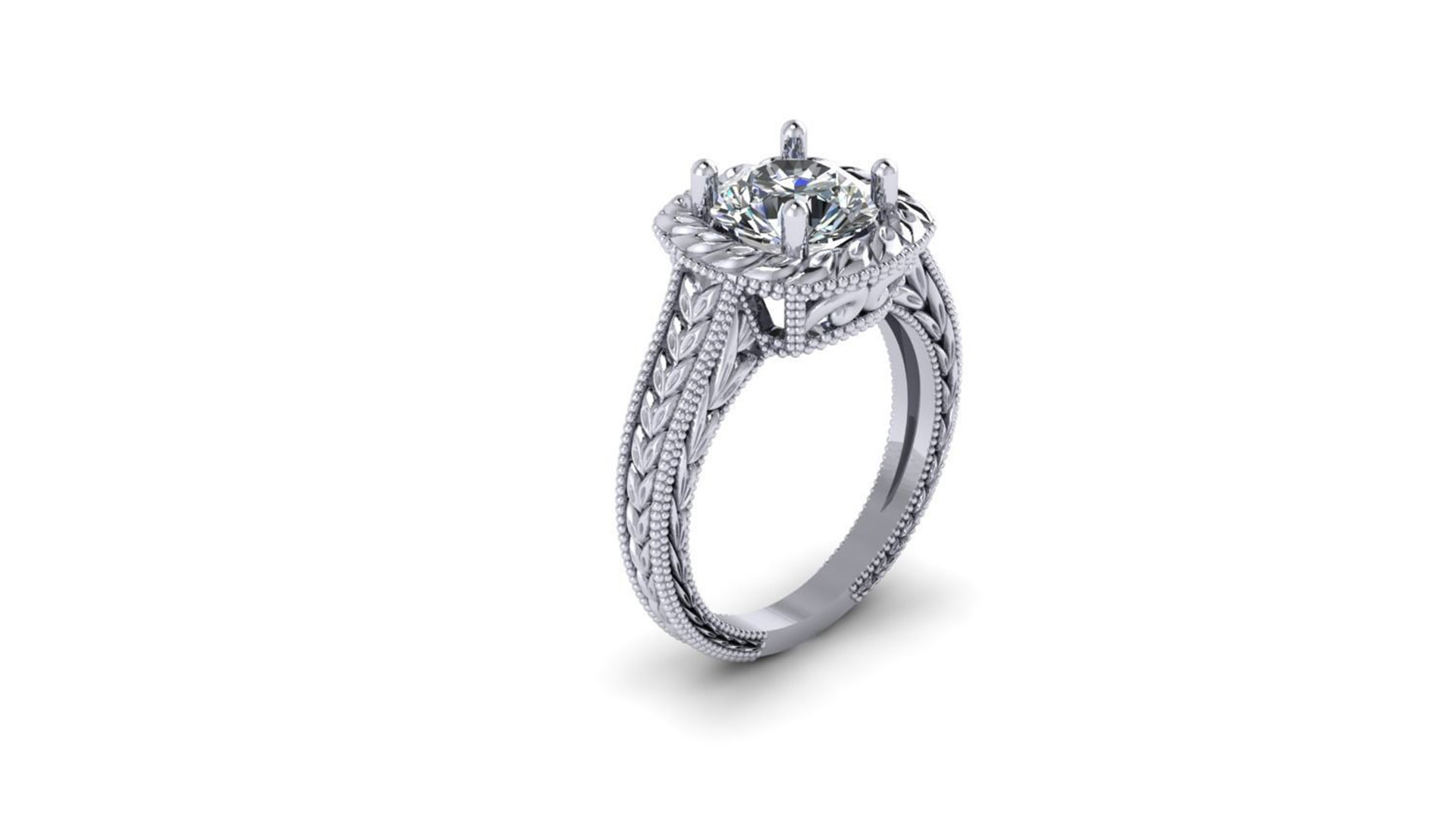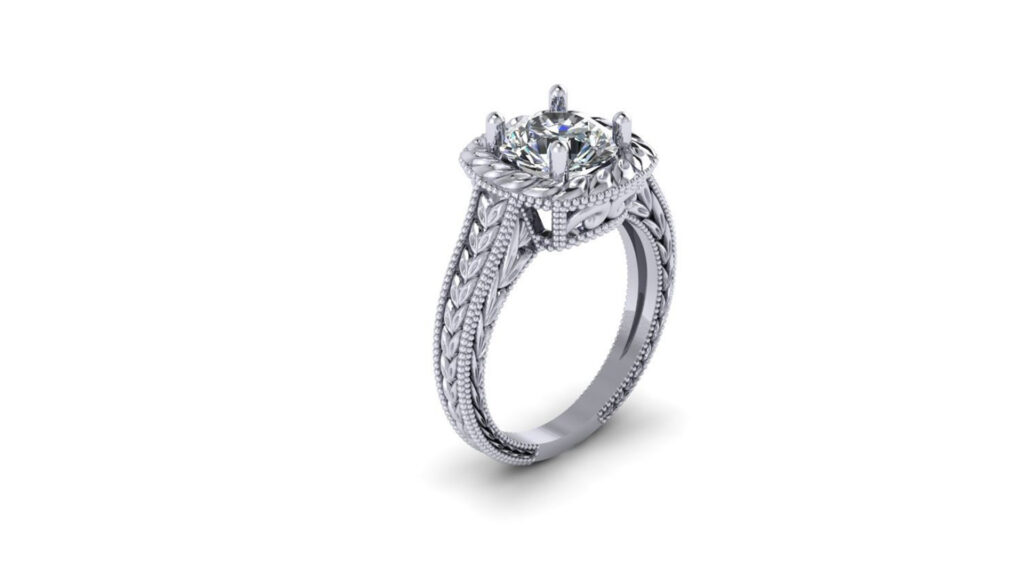 Art Deco Solitaire Engagement Ring
What makes this Art Deco Solitaire Ring so beautiful it that it has a lot going on even with only one stone in it. All of the real estate that could be given to stones is filled with leaf patterns. There is also plenty of milgrain that adds another design element to this stunning and unique engagement ring.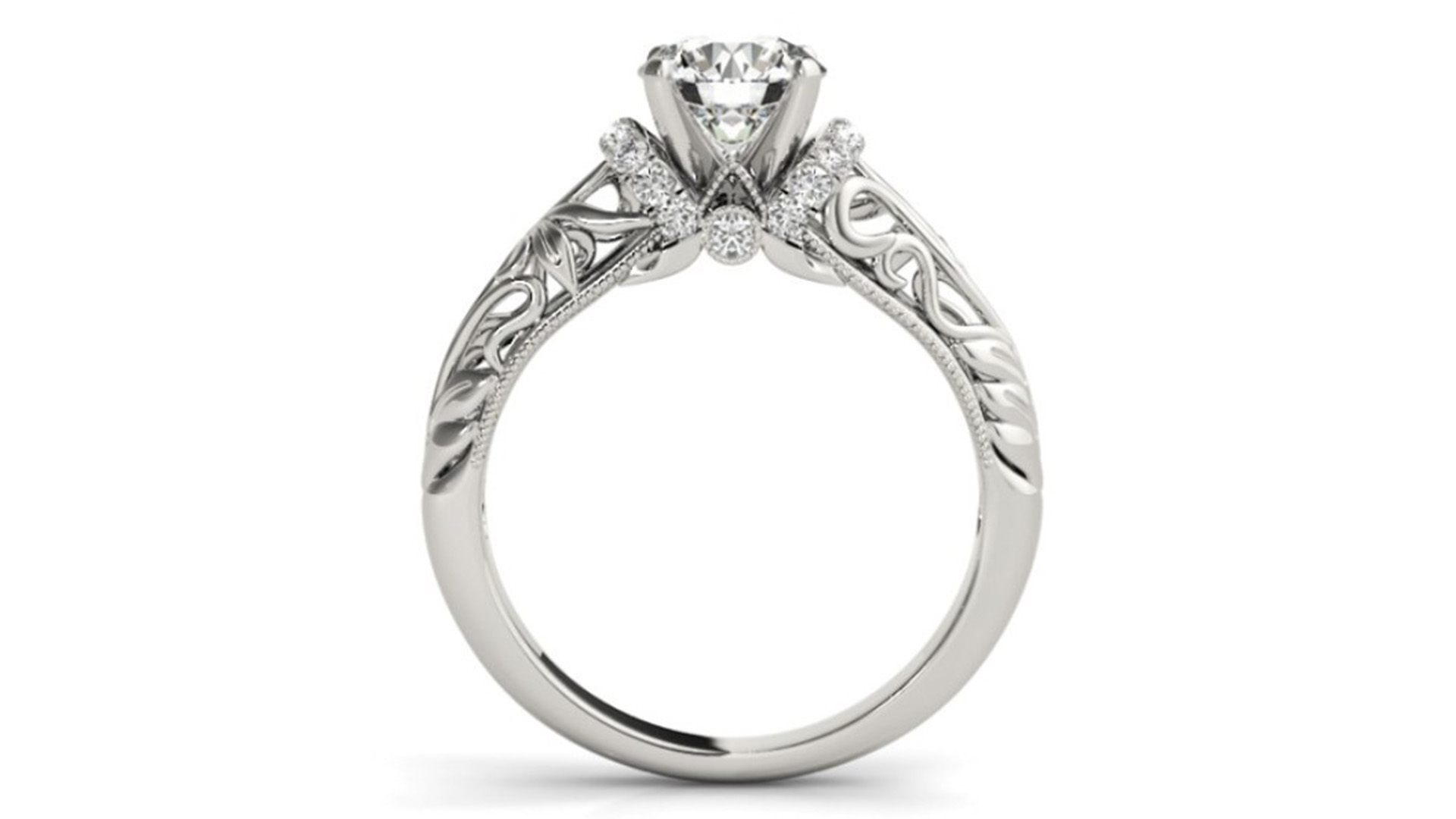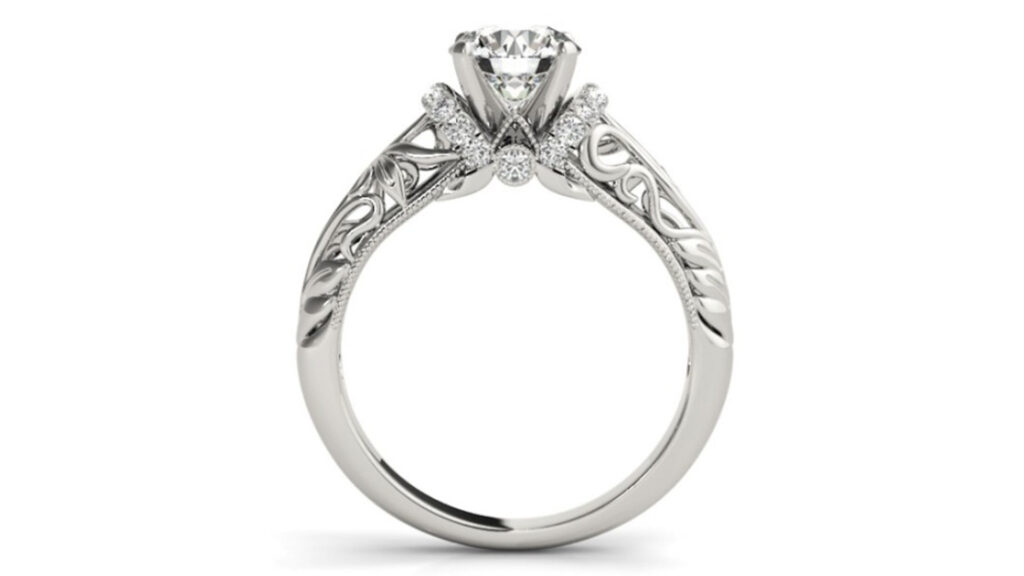 This Art Deco Halo Engagement Ring isn't your typical halo. It is inset into a "V" shape from the side view, but looking from the top, it appears to be a standard halo. The stones in the halo as well as beneath the center stone are bezel set, defining each stone. The band is elegantly adorned with floral scrollwork with some milgrain thrown in for good measure.
CUSTOM ENGAGEMENT RINGS – SKULL ENGAGEMENT RINGS
V Halo Skull Engagement Ring
This is one of skull engagement rings. It has a V halo surrounding the center stone with skulls on the shoulder. They are accents with stones as well. Oddly enough, skull bridal jewelry sells more than one would think. We also have a matching band that we can create with it.
CUSTOM ENGAGEMENT RINGS – NATURE INSPIRED ENGAGEMENT RINGS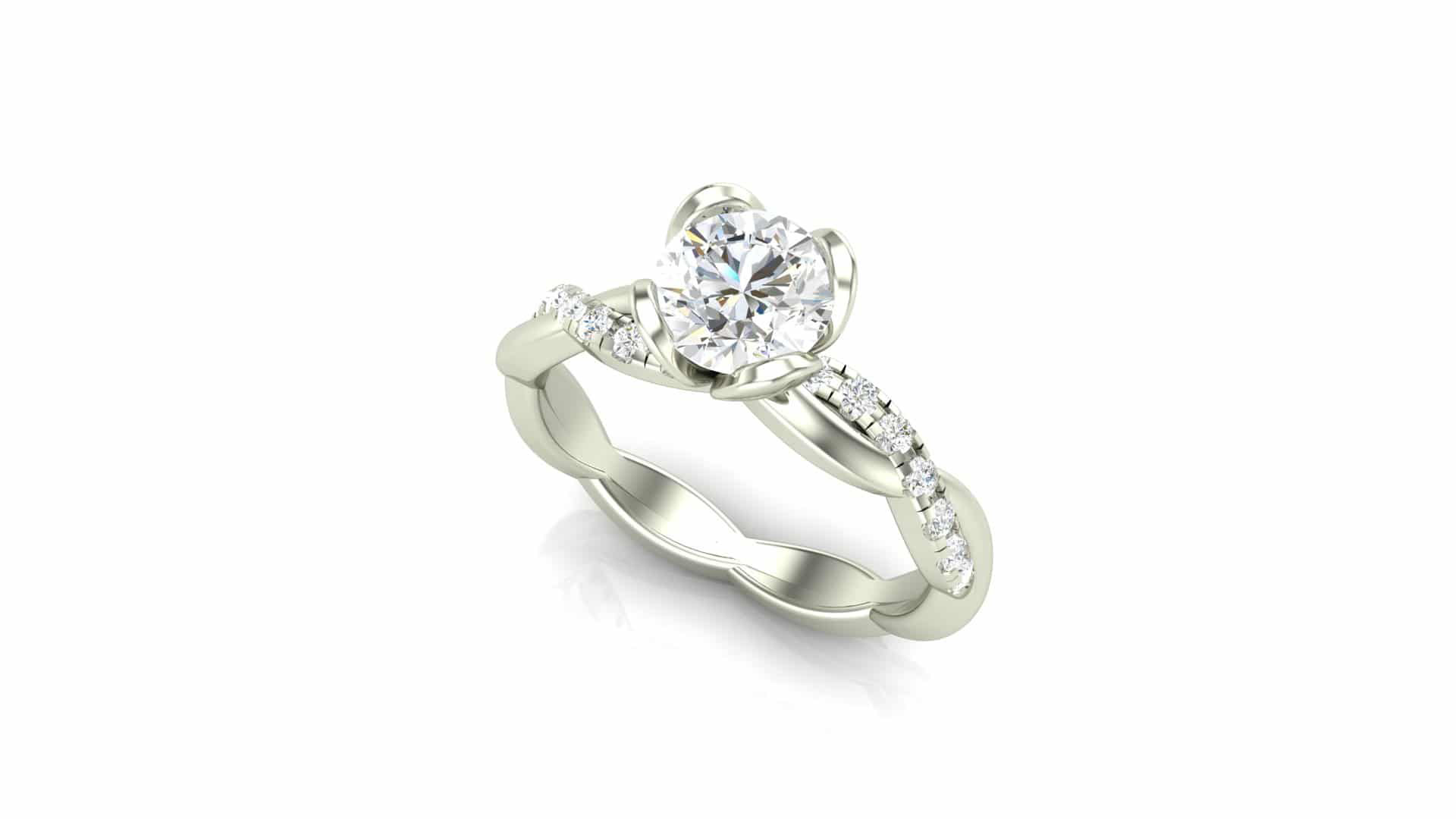 Split Shank Floral Engagement Ring
This crossover tulip engagement ring is simply beautiful. One of the intertwining bands is accented with french pave set accents. The other is left to contrast with a high polish. Finally, we have the center stone set in the 4 tulip petals. Just stunning if we do say so ourselves…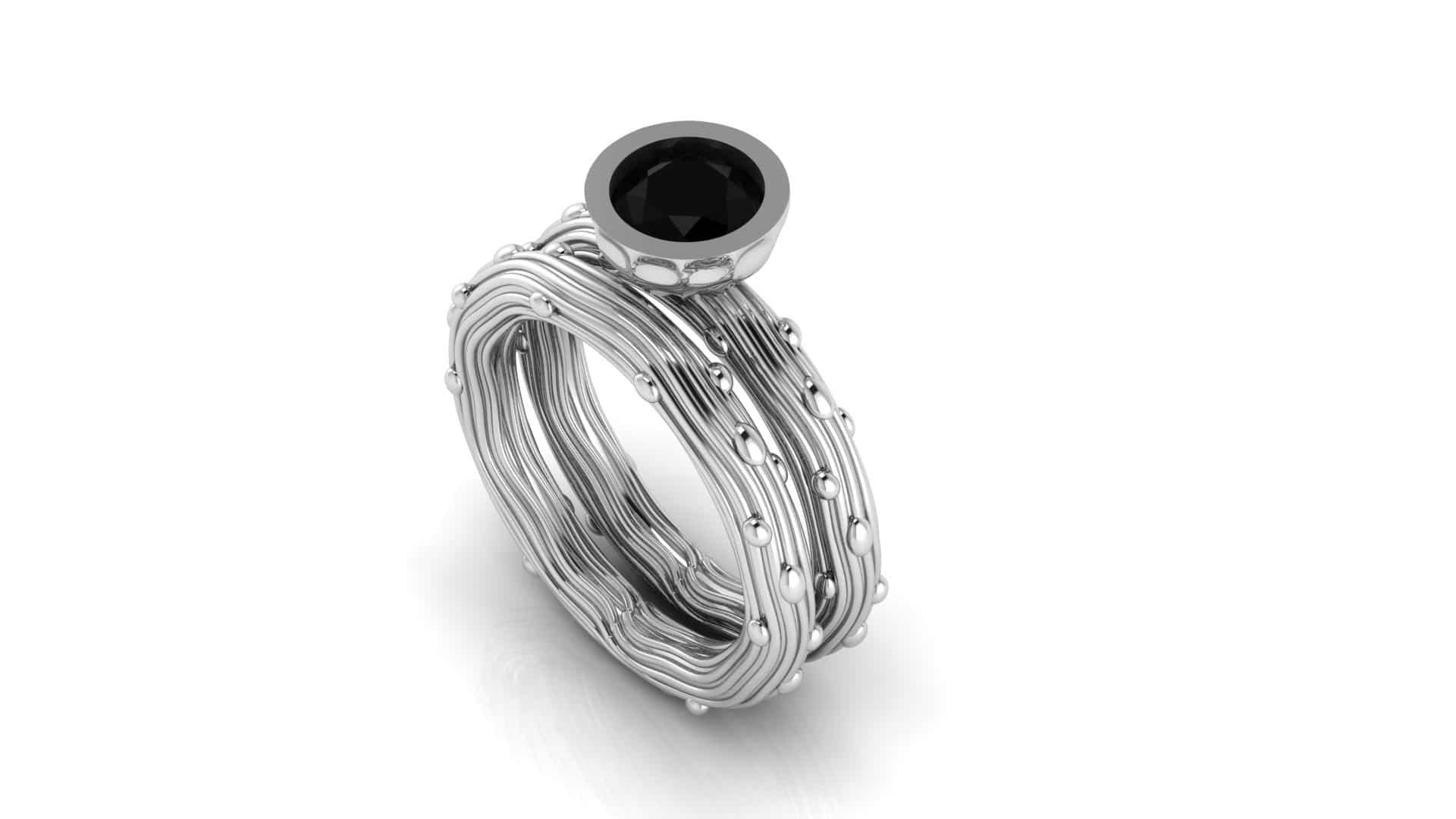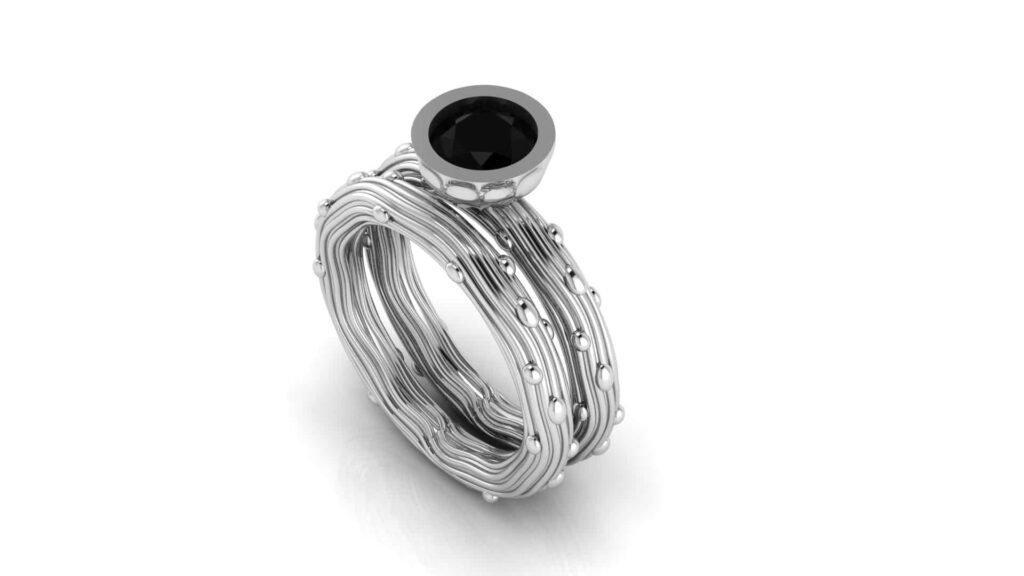 Tree Branch Engagement Ring Set
This is one of our nature inspired Tree Branch Engagement Rings. It has antiqued recesses that truly give it a realistic look of tree bark that will only grow over time as the Patina of the Silver sets in. It is shown with a round center stone, but any shape can be used as long as you are ok with a prong setting. CLICK THE IMAGE TO SEE A FINISHED RING…IT LOOKS FAR BETTER!
CUSTOM ENGAGEMENT RINGS – SOLITAIRE ENGAGEMENT RINGS
Milgrained Cathedral Solitaire Engagement Ring
This Milgrained Solitaire Engagement Ring is a unique take on the traditional solitaire engagement ring. The cathedral shank comes to a point in the center of the stone. It is then cut out and filled with elegant scrollwork while milgrain creeps up the sides and around the 6.5mm center stone.
Custom Engagement Rings are a chance for the buyer to oversee almost every part of the custom jewelry creation. This allows you to create a finished piece as unique as the wearer. Because you will wear your engagement ring every day, why not take the time to create a one-of-a-kind custom engagement ring that will act as a daily reminder of your love and make you stand out in a crowd of people wearing big box chain rings? Rather then purchasing a mass-produced ring from China, have a symbol of your dedication and commitment created by designing a unique Custom Engagement Ring – the result of this will become a treasured story about the most significant object she will ever own.
CUSTOM ENGAGEMENT RINGS – 3 STONE ENGAGEMENT RINGS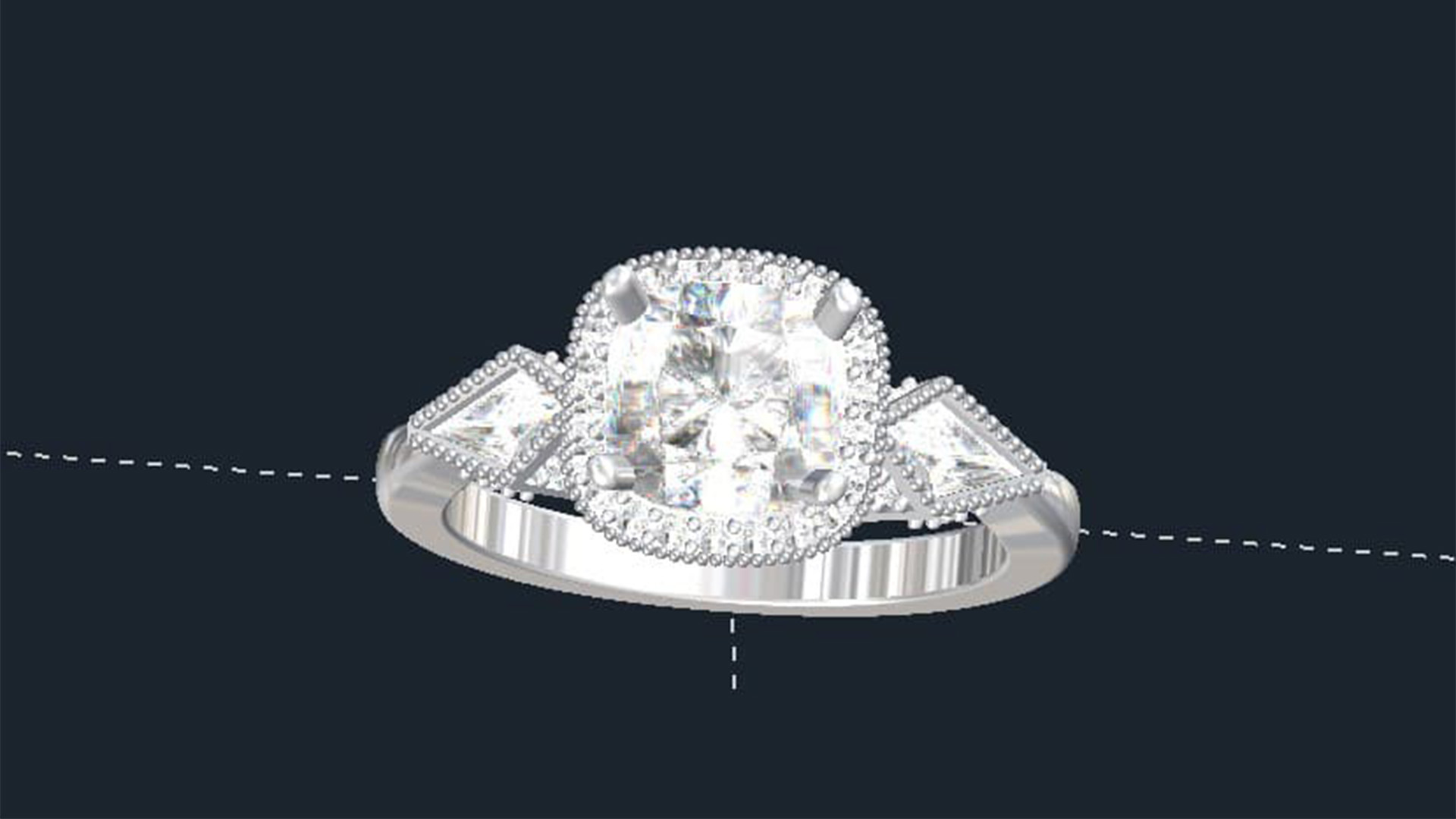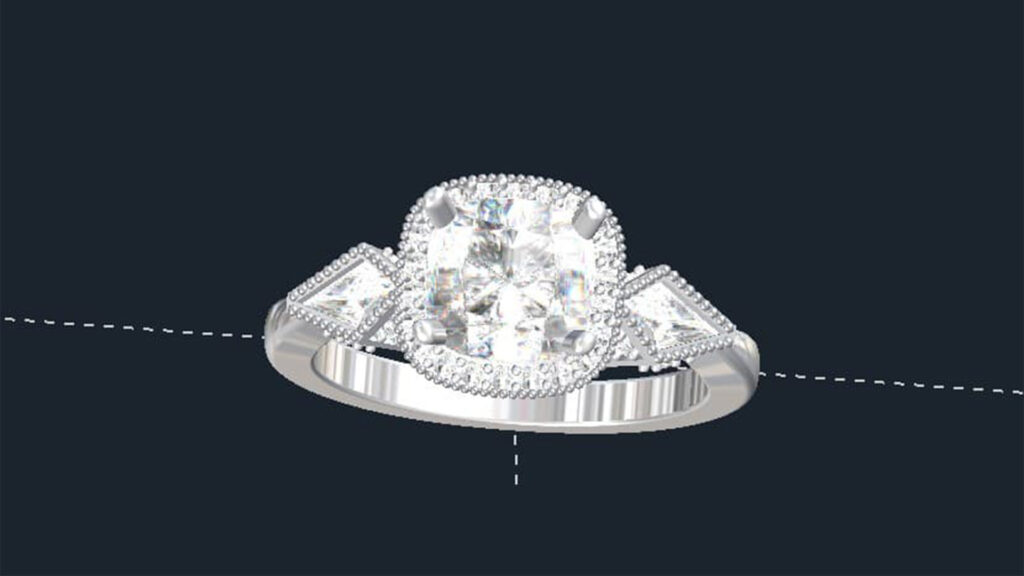 Antique 3 Stone Engagement Ring
This 3 stone antique engagement ring hearkens back to the days of the early 1900's, when platinum rings like this were fabricated by hand. Thank God for CAD! The center stone in our 3 stone antique engagement ring is a 7mm Cushion cut accented by Kite, Round, and Square shape stones. We also added some milgrain for an added design element
CUSTOM ENGAGEMENT RINGS – SPLIT SHANK ENGAGEMENT RINGS
CUSTOM ENGAGEMENT RINGS – CATHEDRAL ENGAGEMENT RINGS
A gifted designer, Lucas possesses more than a creative eye and talent for jewelry making. His GG diploma from the Gemological Institute, hand fabrication skills, connections to reputable diamond and gemstone dealers around the world, and overall knowledge and insight into the world of jewelry makes him a trusted source for jewelry that is high quality and fairly priced. Google Valeria Custom Jewelry and you will find hundreds of 5 star reviews from happy customers. We aim to please and it shows in the feedback from our customers.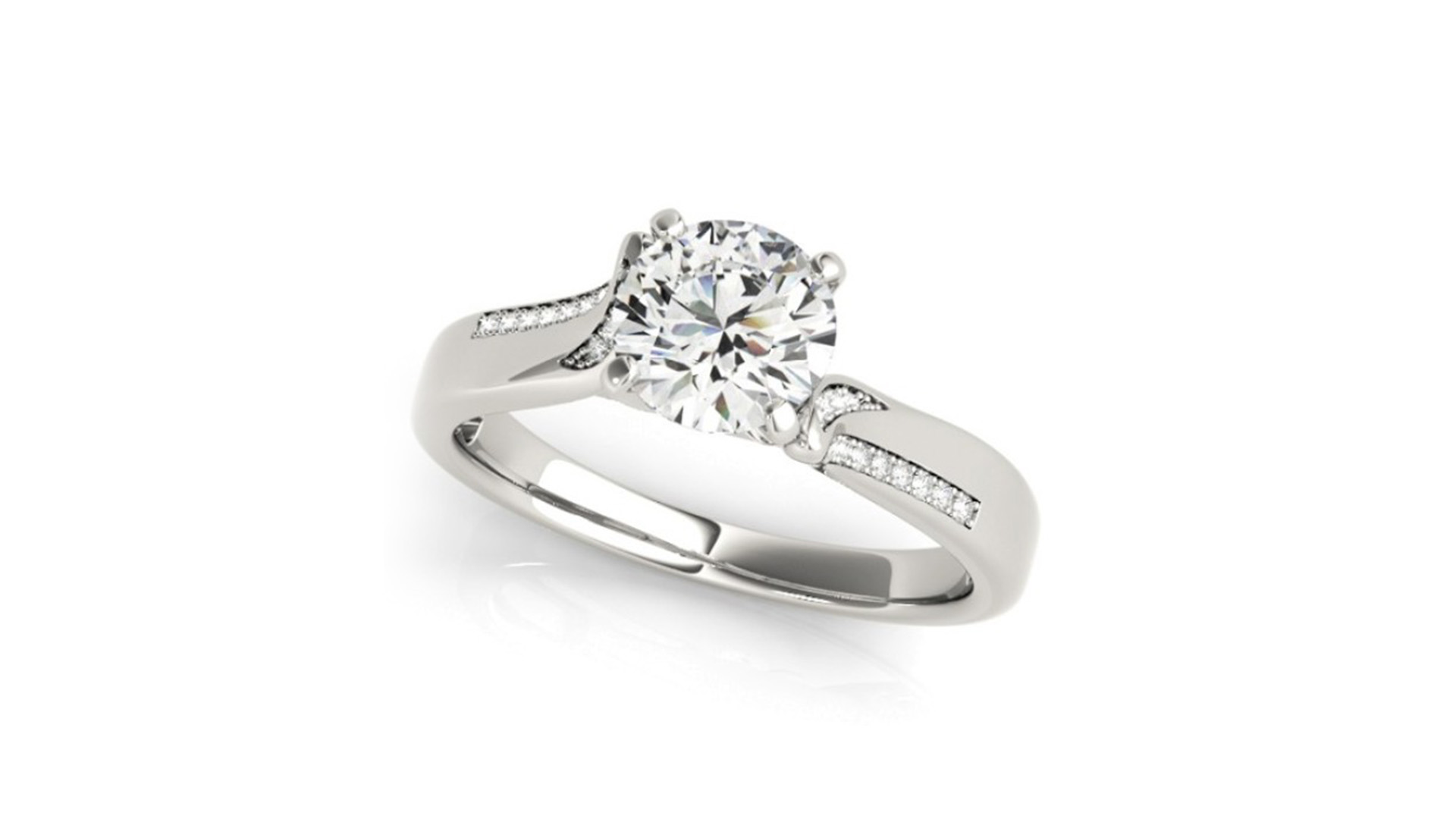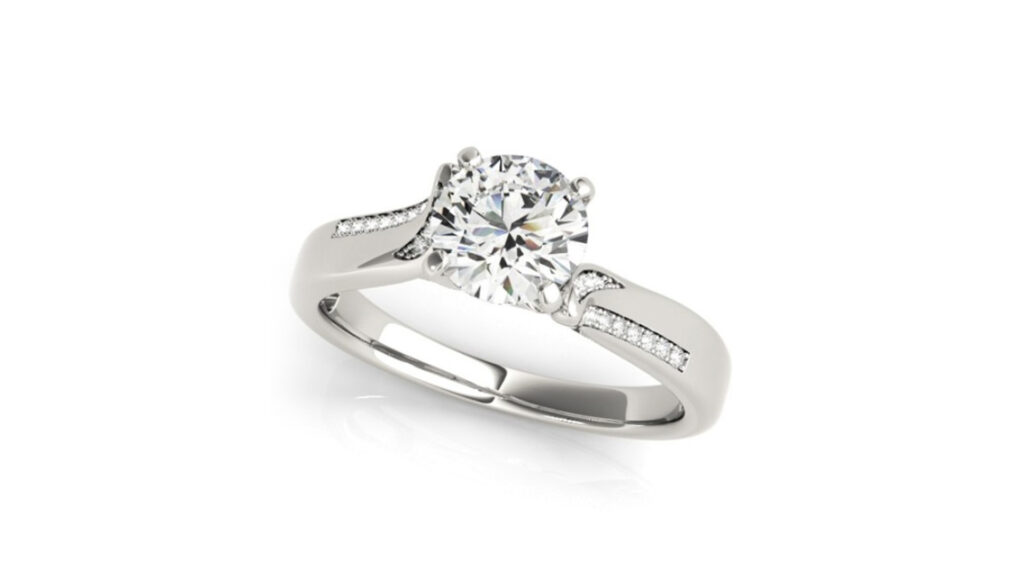 Asymmetrical Engagement Ring
This Contemporary Cathedral Engagement Ring is a new twist on the classic cathedral ring. There are 2 rows of diamonds on the opposite sides of the band, which is a little cool, but then those rows are interrupted by swooping lines of stones that go up the sides of the cathedral. It is a very dramatic effect.
THE VALUE OF CUSTOM ENGAGEMENT RINGS
Retail jewelry is designed to appeal a mass, undiscerning audience while maximizing profits. To do so, they use as little metal as possible, low quality stones, and employ child labor in their factories. At Valeria Custom Jewelry, we encourage clients to custom design their Custom Engagement Rings so that they receive exactly what they want. This is why we never cast a piece without the client's approval. This means that you will get the ring that you dreamed of. At Valeria Custom Jewelry, the piece you create will be handmade and superior in quality and design to anything that has been mass-produced. Our rings are more durable than mass produced jewelry as well. They will generally last far longer than what you can get at the mall. This allows for custom made jewelry to be passed down from generation to generation.
THE ALLURE OF CUSTOM ENGAGEMENT RINGS
Creating custom a engagement rings is your opportunity to be immersed in creating a piece that you will cherish – not only because you had hands on involvement in the creation of the ring, but also because of what the ring represents. When it comes to Custom Engagement Rings, never settle. At Valeria Custom Jewelry, our expert designers will directly with you to ensure that when you receive the final piece, you're not just satisfied, but blown away. Take advantage of our experience and knowledge. Contact Valeria Custom Jewelry to start work on your masterpiece today.
Triple Halo Engagement Ring
We had a customer with a bunch of old jewelry that she wanted repurposed into something new. This is a spin on that ring. We made it in round and rounded square shapes as well. The 2mm diamonds in the cushion halo are french pave set, but we could make this a shared prong setting as well. It is also possible to play with stone sizes or even remove a halo if you like.
Valeria Custom Jewelry is becoming the go to designer for unique and different custom engagement rings. Many of our pieces are so personal that they will never be made for anyone else again. And that is OK with us. All that matters to us is that each piece is special to its owner.
WE DON'T JUST MAKE CUSTOM ENGAGEMENT RINGS
At Valeria Custom Jewelry, we design Custom jewelry from the ground up and as long as the ring can be cast, there will find a way to make your idea come true. We cast custom engagement rings in Gold, Sterling & Argentium Silver, Palladium, and Platinum using the lost wax technique. And the best thing about custom engagement rings is that they can be created with gemstones that you don't find in chain stores.
While engagement rings are one of our specialties, we don't limit ourselves to that! With the latest CAD program, we are a full service custom jeweler for all of your jewelry needs. Whether a wedding ring, pendant, or bracelet, we can make anything. Don't settle for boring, pricey, mass-produced jewelry from the mall and chain stores. Show your personality and look into Custom Engagement Rings. Don't you want your ring to have a story you can tell people???
ONCE YOU GO CUSTOM, YOU NEVER GO BACK!
It is no secret that engagement rings can pricey. Therefore it's imperative to figure a designer who can provide a good value. At Valeria Custom Jewelry, we have a team of experienced designers and bench jewelers that can help you craft the perfect ring for your perfect spouse. Even if you have a smaller budget than you would like, we are bale to give you a good band for your buck. You can find our hundreds of 5 star reviews all over the internet and we pride ourselves in being the "right" designer.
In this age of the internet, there are hundreds of jewelry makers to choose from. However, finding unique Engagement Rings for Women out of the thousands of designs and styles is a tiresome process. With the huge variety of available styles, it can be quite daunting to choose the right one.
You may like style of a ring but its stone shape is not what you like. Or, are you impressed by the the design of the top half of the ring, but don't like the bottom half. We can help! And what is the solution to all this confusion? The answer lies in having a custom engagement ring created just for you. We will help you to create one from scratch if that is what it takes to make your dream a reality. Instead of going for mass produced pieces, we can help you transform your own idea into reality.
While custom engagement rings are one of our specialties, we don't limit ourselves to that! Regardless of whether it is a wedding band, pendant, or bracelet, we can make anything.
Click HERE to see our complete portfolio of custom engagement rings. Click HERE to lean more about custom jewelry, to view our the rest of our custom jewelry creations, or to contact us about Custom wedding rings. It can cost less than you think to have your very own custom engagement ring made. Why settle for boring, uninspiring, mass-produced engagement rings from the mall? We can make exactly what you want. Don't see what you are envisioning for your unique engagement ring? Send us the design you want and we will bring it to life.
FREQUENTLY ASKED QUESTIONS ​
I found Valeria custom jewelry online and when I saw their awesome work on their website I knew this was the best place for custom jewelry. I live in New York and distance was no problem, I contacted Valeria jewelry by email with pictures of a ring that I wanted rubies mounted in and the price was very competitive so I doubled the order last minute and I sent two rings for custom work done, which they said was no problem. So I mailed the two rings and a few weeks later I have the rings and they look great! Job well done to Valeria for the custom jewelry and I can't thank them enough they surpassed my expectations for the rings. Getting custom jewelry done through the mail was easy safe and secure by insured usps. I look forward to having more jewelry done in the future at Valeria and am completely happy with my rings. Their website has good examples of their work so I am sure no matter the distance or need they will get it done quickly and with a good price. Thanks again Valeria !
I found Lucas via a google search, and his reviews honestly seemed too good to be true. I reached out to inquire about setting an antique diamond from a pendant into an engagement solitaire ring, and enlarging an antique wedding band. He responded to my initial email within minutes, and very quickly gave me design choices and an estimate for each. After dropping off the items, the rings were ready within 5 days - and they look better than I was even hoping for. His prices are exceptionally reasonable, and he gave full market value for the scrap gold my diamond was originally set in. I highly, highly recommend working with Lucas for the ease, responsiveness, and exceptional results he provides.
Lucas was absolutely amazing with his level of attention and detail to not only what I was looking for in the creative and concept stage, but throughout the process as a whole. We went back and forth for weeks about setting design and material, and specific gem selection and he was communicative and patient the entire time. Absolutely recommend he and his teams services.
My fiancé had my engagement ring custom designed through Valeria. Absolutely Beautiful, from the diamond setting to the finish. Thank you Lucas and his team for accomplishing this stunning ring in such a timely manner, which led to a beautiful and amazing experience.
Start designING with us now!
Truly Unique Custom Engagement Rings