Do you have an upcoming wedding, proposal,  birthday, anniversary, or graduation party?  Or, are you are looking for a gift to surprise that special someone? Perhaps even something special for yourself?  Dare to be go outside of the box! Custom jewelry, whether a ring, pin, or a bracelet, come in different shapes, forms and sizes. A Custom Jewelry Designer such as Valeria Custom Jewelry is what you need.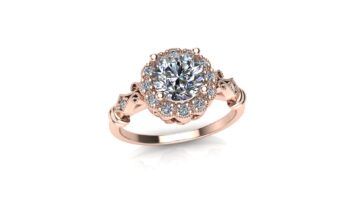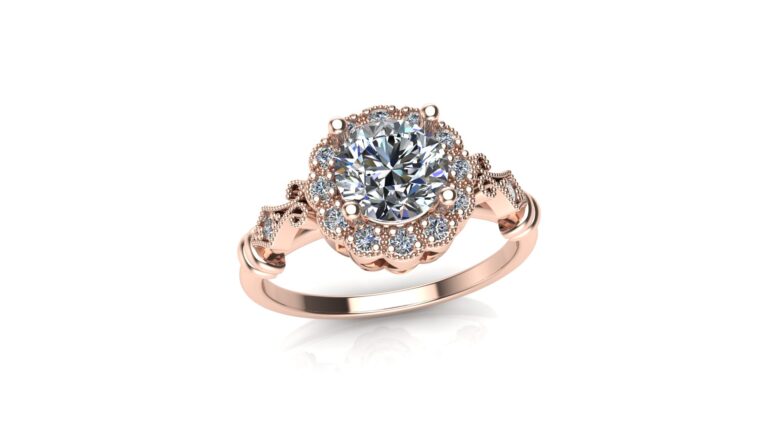 This vintage stunner has a round center stone surrounded by milgrain and 1.3mm diamonds.  The shanks are adorned with scrollwork and diamond accents.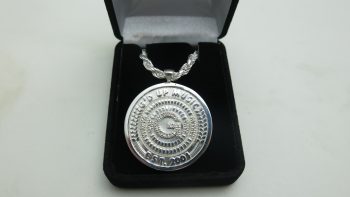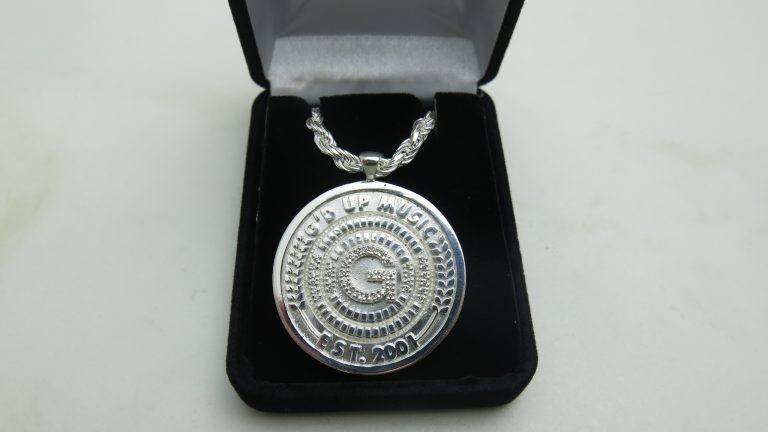 This Logo Necklace was made for the owner of a record label.  Do you have a business you would like to promote?  Custom necklaces are an excellent and cost efficient way to advertise your business.
A Custom Jewelry Designer All About You
Valeria Custom Jewelry can specially design custom jewelry creations for you based on your request.  You might be worried that you won't end up with your vision.  However, with our collaborative process and the skill of our Custom Jewelry Designer, we ensure that you do.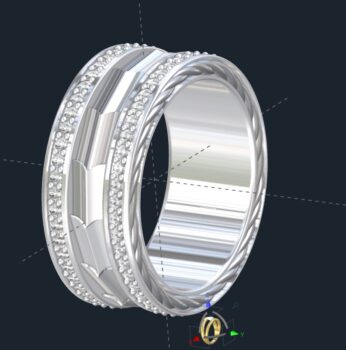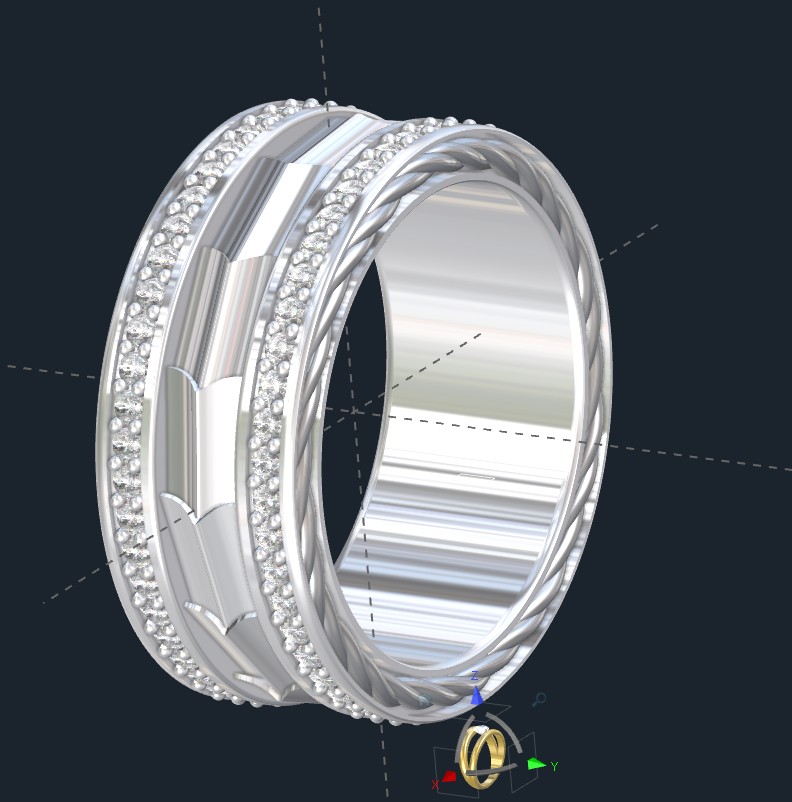 This custom men's wedding ring consists of armor plates and 2 rows of diamonds going around the ring.  Tucked away on the sides are two ropes.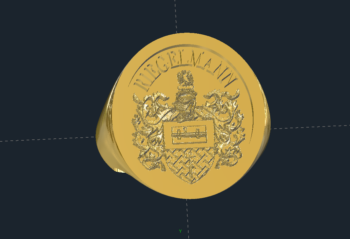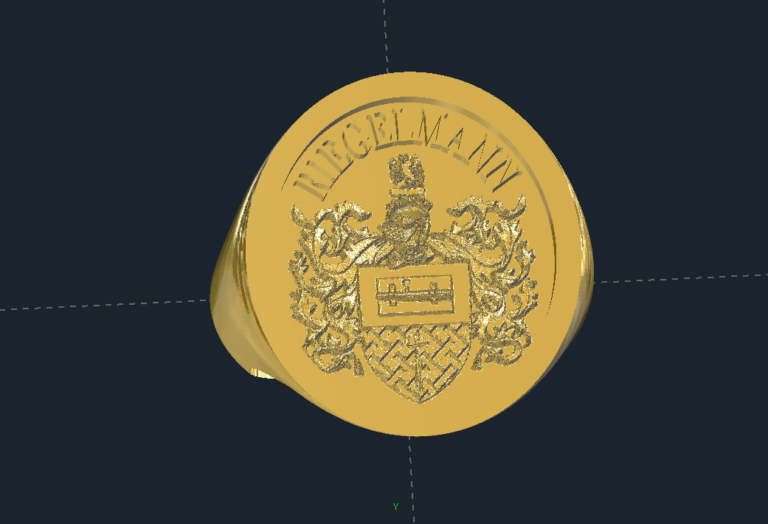 Family crests usually require very large rings.  But this was for a female who wanted a smaller ring.  So we took cut out everything but the name and the stork and turned it into a family crest ring.
Your jewelry of choice can be a unique blend of metals, gemstones, and diamonds.  Gold comes in a few colors: rose gold, white gold or yellow gold.  Gold can also be mixed other metal and or colors such as two-tone (yellow/white, white/rose or yellow/rose) or even three-tones with yellow, white and rose gold.  As far as stones go, there are diamonds, natural gemstones, and man-made stones.  As a Custom Jewelry Designer, we will help you navigate which of these options is best for you.
Why Having A Custom Jewelry Designer Is So Great
When it comes to buying jewelry, having a custom jewelry designer is a better choice than going to a chain jewelry store. Custom jewelry designers offer a personalized experience tailored to your preferences and style. They can create unique pieces that reflect your individuality, making them truly one-of-a-kind. Additionally, custom jewelry designers often use high-quality materials and craftsmanship, ensuring that your jewelry will stand the test of time. With a custom jewelry designer, you can have a piece that is not only beautiful but also meaningful and personal to you.
Unlike chain jewelry stores, where you are limited to the selection available, custom jewelry designers can bring your vision to life. They work closely with you to understand your style, preferences, and budget, and then create a design that matches your exact specifications. Whether you want a classic, timeless piece or something more modern and unique, a custom jewelry designer can bring your ideas to reality. They can also incorporate sentimental elements, such as birthstones or engravings, to make your jewelry even more special.
In addition to the personalized experience, custom jewelry designers often use higher quality materials and craftsmanship compared to chain jewelry stores. They have the expertise and skill to create intricate designs and use precious metals and gemstones of the highest quality. This means that your custom-made jewelry will not only look stunning but also last for generations to come. With a custom jewelry designer, you can be confident that you are getting a piece of jewelry that is made with care and attention to detail.
Why Custom Jewelry Is Trending Upwards
Custom jewelry has been gaining popularity in recent years. People are increasingly drawn to the idea of owning unique, one-of-a-kind pieces that reflect their personal style and individuality. Custom jewelry allows individuals to express themselves through their accessories, making it a trend that is only growing stronger.
One of the main reasons why custom jewelry is trending upwards is the desire for personalization. In a world where mass-produced items are the norm, people are seeking ways to stand out and showcase their own distinct taste. Custom jewelry offers the perfect solution, allowing individuals to have a say in the design process and create something that is truly their own.
Another factor contributing to the rise of custom jewelry is the increasing accessibility of the customization process. With advancements in technology, it has become easier than ever to create custom pieces. Online platforms and jewelry designers now offer a wide range of options, making it convenient for anyone to design their own jewelry from the comfort of their own home.
Basically, custom jewelry is a trend that is on the rise for several reasons. The desire for personalization and the increasing accessibility of the customization process have both played a significant role in its growing popularity. As more and more people seek unique and individualized accessories, custom jewelry will continue to be a trend that is here to stay.
Custom Jewelry Designer – A Jack of All Trades
Valeria Custom Jewelry is able to create pieces that suit your preferences and taste.  Jewelry crafted to a person's taste will be enjoyed by the recipient for years to come.  And custom jewelry is usually passed down from one generation to the next because of the sentimental value.  Our custom-made jewelry is made from hand-selected metals and gems.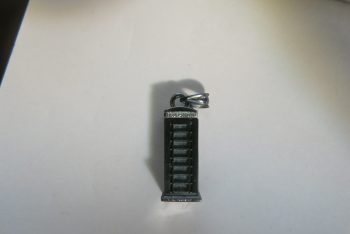 Whovians will recognize this as the TARDIS.  It was cast in Sterling Silver and plated with black Rhodium.
Additionally, each piece is given the copious amount of labor required in creating it. So, as opposed to walking into a store and picking a ready-made jewelry piece, we have to make it for you.  Custom jewelry can be pricier than store-bought or mass-produced jewelry. This is not to say that a Custom Jewelry Designer is always more expensive or will create pieces that cost more than at the mall.  It can happen, but oftentimes, custom jewelry can be cheaper.

This is one of our Sculptural Engagement Ring designs that we love.  The center stone is secured by 6 prongs that are accented with 1mm stones.  If you don't like 6 prongs, or don't want the accents on the prongs, we can change that.  The shank is an alternation of diamond accents and knife edged milgrain. If you wanted more stones, we could probably add 2-4 more.  We could also remove stones.
Custom Jewelry Designer – We Are Here To Design Your Dream
If you are interested in ordering custom jewelry, one that fits your style or that of your loved one, you have come to the right place. We here at Valeria Custom Jewelry specialize in creating masterpiece designs for those with ideas like yours. You are the expert at what you like and we are the jewelers who can bring your visions and desires to life. Let us help you build the treasure that you desire. We are based out of Dallas, Tx, but we offer our services worldwide.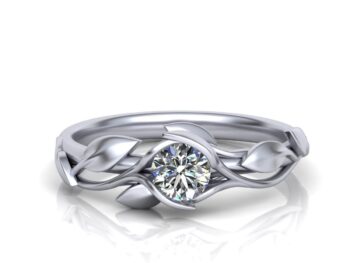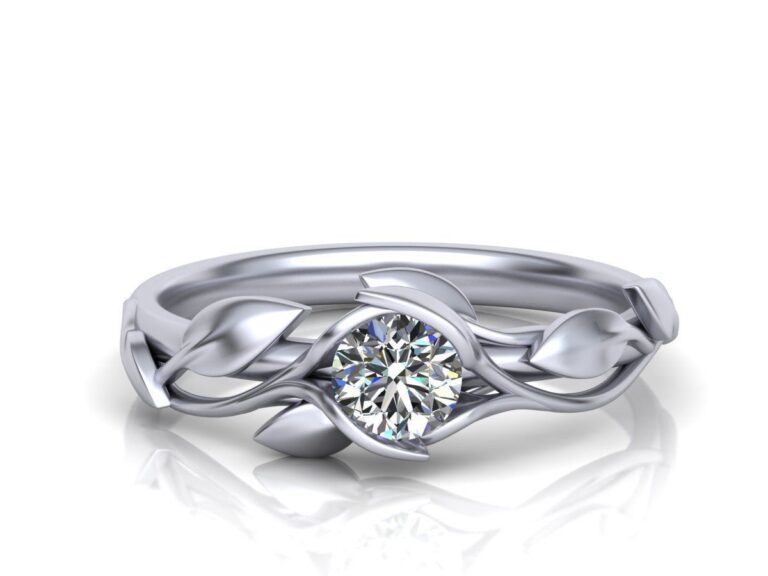 As the leaves on this tension set engagement ring crawl up the shank, they envelop the center stone, securing it to the ring. This is our top selling floral engagement ring.
Custom Jewelry Designer – Resilient to Trends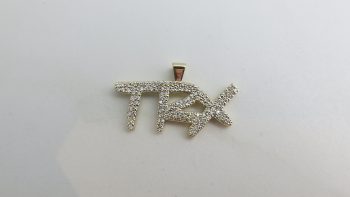 This Diamond hip hop necklace was made for a group of the same name.  They wanted something that "blinged" from across the room, so that is what they got. It was 1.25 inches by 3/4 of an inch and had 133 stones.
Do you turn left when your friends go right? Are trends not important to you? Do you march to the beat of a different beat? If so, you'll appreciate jewelry that's not available to everyone and that makes you a candidate for Custom Jewelry Designer.
The same is true if you've searched the chain jewelry stores and websites .  Yet somehow, you have had no luck finding what you want.  If you fall into that category, using a Custom Jewelry Designer might be worth your time.
It's important to understand the difference between customized and custom jewelry. If you engrave someone's name or "build" a piece of jewelry from a list of options, that isn't custom jewelry.  Creating true custom Jewelry is a far more involved and expensive process.  However, using a Custom Jewelry Designer like Valeria Custom Jewelry will simplify the process and leave you with a customized, meaningful and beautiful piece of jewelry.
Give Valeria Custom Jewelry A Chance!
A Custom Jewelry Designer, though, designs custom jewelry from scratch in a CAD program.  And the design is usually only used only once or maybe a few times. Using a Jewelry Designer is often an option when you can't find exactly what you want.  Kind of like an wanting updated version of your mother's lost Art Deco earrings. Custom rings may be similar to something you saw online. But with a simpler design for a diminutive finger or even just a different shaped stone.
Perhaps it's a pendant that has a word or phrase on it that is special.  You also might have diamonds or gemstones from a ring you want to turn into another piece of jewelry that represents you. Regardless of the reason behind the vision.  Using a Custom Jewelry Designer is the ultimate expression that a loved one took the time to understand the recipient in a meaningful way.
Click on our Homepage to learn more about custom jewelry, to view our entire portfolio, or to contact us about a Custom Jewelry Designer.  It can cost less than you think to have your very own custom ring, pendant, or pair of earrings made just for you. Why hassle with the retail stores for boring and overpriced jewelry?  Our Custom Jewelry Designer can create whatever you need and usually for less than a comparable retail piece.