3 Stone Engagement Ring
Ever since Meghan and Harry's royal wedding, the trend for 3 Stone Engagement Ring designs has been growing like wildfire. Coming in different shapes, sizes, and styles, 3 stone engagement rings are getting extraordinary attention from couples looking for rings.  Why would any girl would stick to just one stone when she can get three instead!  In addition, A center stone, along with the other two other jewels of your choice leave a lot of room for personalization.  Here are some of our favorite 3 stone engagement rings…enjoy!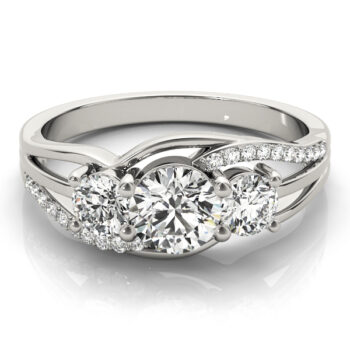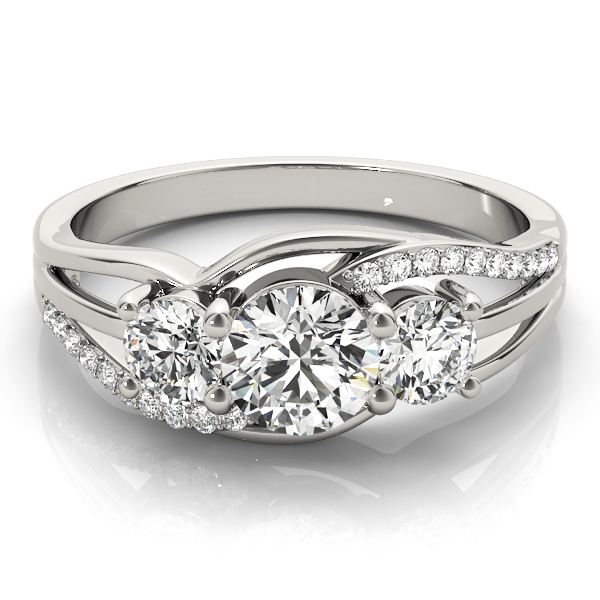 This Asymmetrical Three Stone Engagement Ring is one of our favorites of its type.  The only thing typical about it the 3 round stones.  The 6mm stone weighs twice is much as the 4.3mm side stones.  The three main stones could be a few different shapes as well as different sizes.  Where the ring get interesting is on the band.  At about 3 and 9 o'clock, they split into 3 thinner shanks, each traveling up the ring to touch a stone.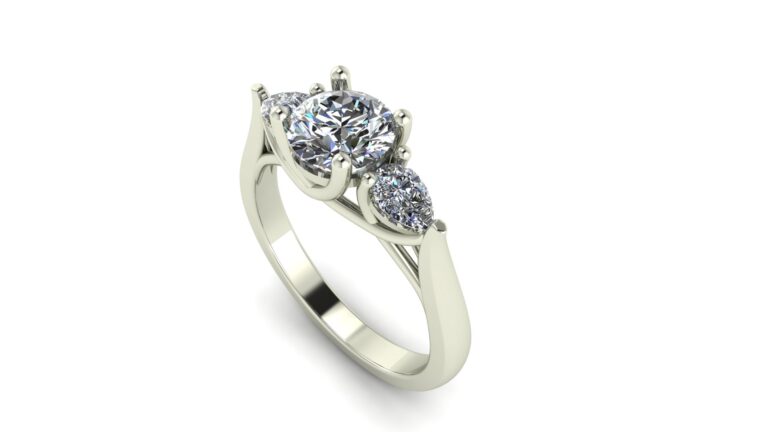 This Pear 3 Stone Engagement Ring is unique for using pear shapes on the shoulders.  You don't see many three stone engagement rings with pears on them.  We also like the elegant trellis setting.  This one had a 3/4 carat center stone and 4.5×3.5mm pears.  Those sizes can easily be changed to suit your needs. 
AKA Past Present & Future Engagement Rings
Three stone engagement rings are a popular choice for couples looking for a unique and meaningful symbol of their love. As the name suggests, these rings feature three stones set side by side on the band. The center stone is typically larger and flanked by two smaller stones. This design creates a stunning and balanced look that is both elegant and eye-catching.
The concept of three stone engagement rings dates back centuries, with the earliest known examples dating back to the Renaissance period in Europe. However, it wasn't until the late 19th century that these rings gained popularity and became a sought-after choice for engagement rings. Since then, they have remained a classic and timeless option for couples who want a ring that symbolizes their past, present, and future together.
Today, three stone engagement rings come in a variety of styles and settings, allowing couples to customize their ring to suit their personal taste and budget. Whether it's a traditional design with diamonds or a more modern interpretation with gemstones, these rings continue to be a meaningful and cherished choice for couples embarking on their journey of love and commitment.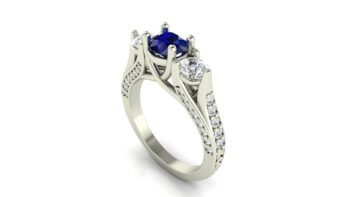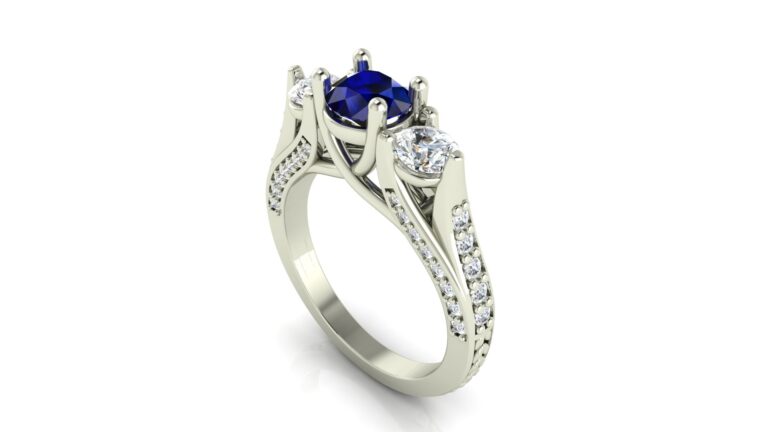 This Sapphire 3 Stone Engagement Ring is a stunning take on an old classic.  There  are diamond accents on both the sides and top of the ring.  What we like about this one is how the prongs are formed and they you can see through the ring.
So Many 3 Stone Engagement Ring Styles To Choose From!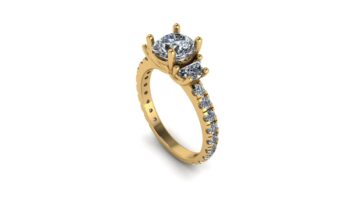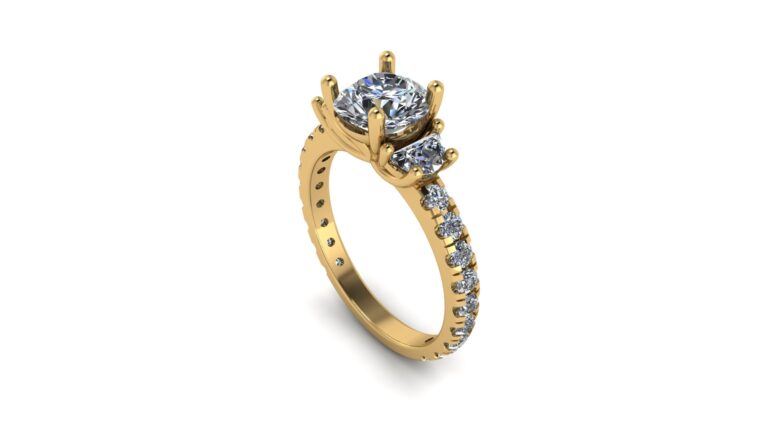 This Half Moon 3 Stone Engagement Ring is something you would never find in the mall or at a chain store.  Half moons are just not popular enough for them to carry.  However, we will make custom engagement rings with any shape of stone you want.  Even if we have to have them custom cut to your specs, we will do it!
When choosing an engagement ring that represents and celebrates the between you and your partner, lots of things come into play. Obviously, you want to choose a ring that both of you (mainly Her!)  love.  While many couples go for the traditional diamond solitaire, there are those who take a road less traveled and look for other ring styles.   One of these is the 3 stone engagement ring.   Consequently, we have created a suite of 3 stone rings that are comprised of an array of styles.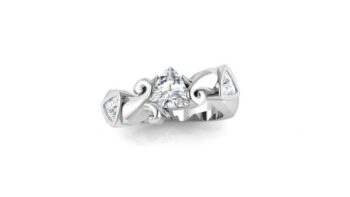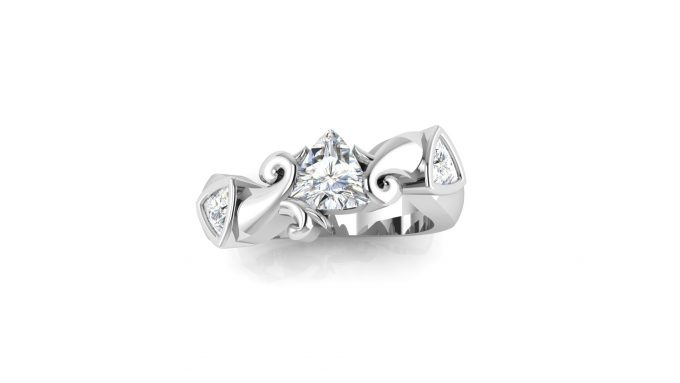 This is one of our Trillion 3 Stone Engagement Rings that is you won't find any where else.  The center stone is a semi-tension set 6mm trillion, which the 4mm side stones are bezel set.  These sizes and ratios can be played with.  We shows it with yellow and white diamonds, but almost any type of stone could be used.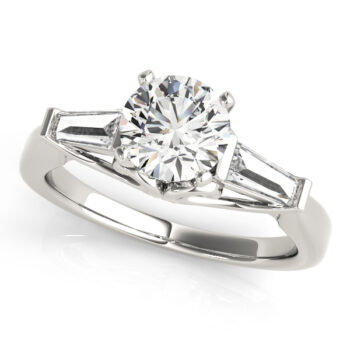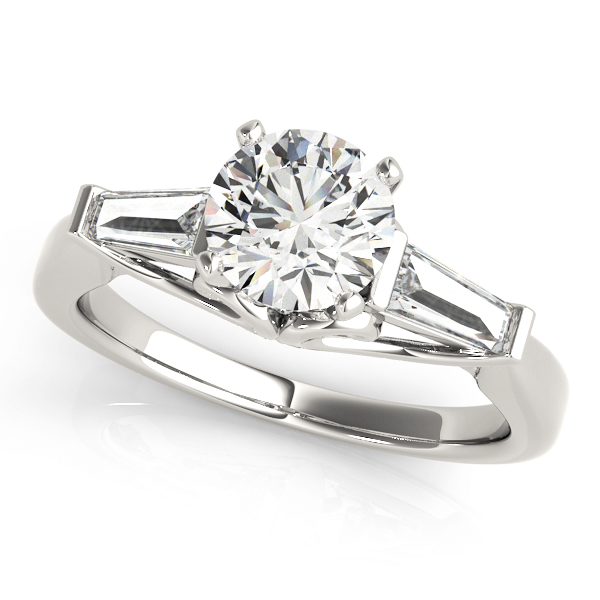 This is a very elegant and simple 3 Stone Engagement Ring design. It is 3 stones and a little metal.  That is it.  We like the tapered baguettes.  And their dimension could be played with too. These measured 5.5 ×2.5 x 2mm.
Past, Present, Future: The Meaning of 3 Stone Engagement Rings
3 stone engagement rings are meant to imply a simple narrative.  it is the narrative of your love that existed, exists, and will exist.  The three main stones featured on these engagement rings symbolize a couple's past, present, and future. While every custom engagement ring is created with its own special meaning, this beautiful representation makes three stone engagement rings an especially romantic choice. When proposing with a 3 stone engagement ring, one can reflect with their partner on the love they have shared, the love they share now, and the unique love they will always have for each other.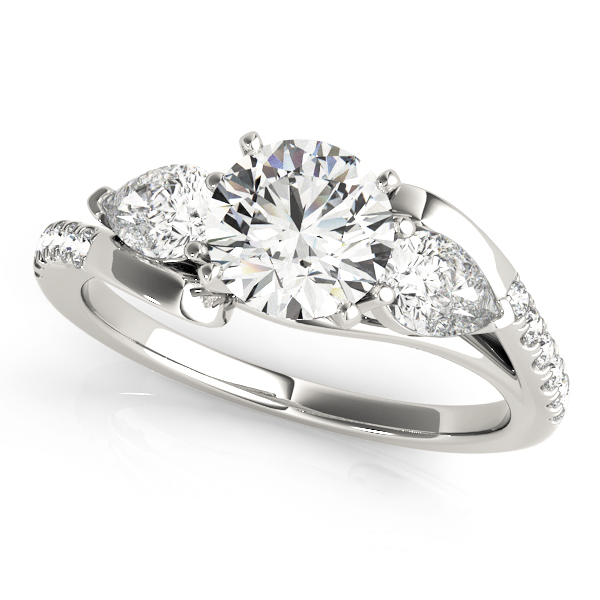 This is one of our favorite Split Shank 3 Stone Engagement Ring designs. You probably won't find anything similar anywhere else either as pear shapes just aren't that common.  Additionally, the way the shank curves to avoid the pear shapes is a nice design element.  It also provides sparkle at oblique angles.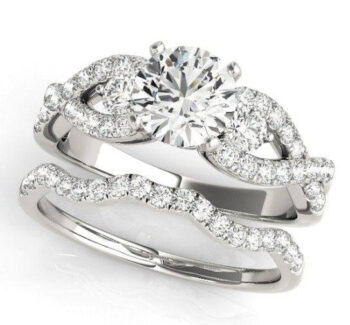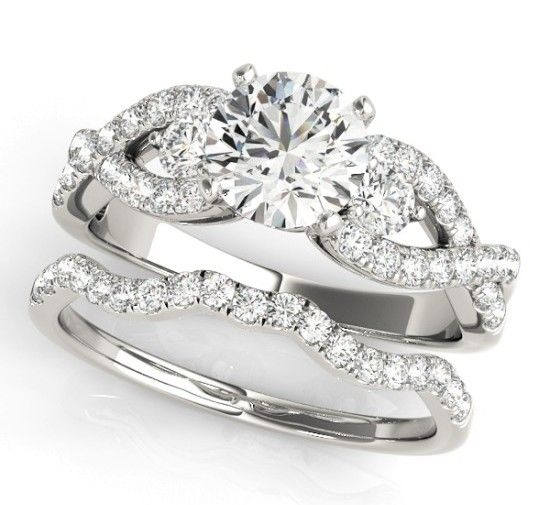 This 3 Stone Infinity Engagement Ring will definitely catch eyes from across the room with the bling surrounding the 6.5mm stone. Smaller or larger stones could be used as well.  It is shown with an optional band.  The side stones are 3.5mm and the accents in the band are 1.5mm.  Smaller or larger stones could be used as well.
Tons Of Meaning & Symbolism
3 stone engagement rings are marvelous in terms of the hidden meaning they illustrate. Also known as a trinity or trilogy rings, they are the perfect choice for the couples who incline poetic metaphors or romantic symbolism. These engagement bands are not only distinguished in their outlook but are also appreciated to convey a sole message of commitment, love, and family values. Apart from the usually depicted meanings, they can also be exploited to signify new things depending upon a couple's thoughts and tastes. Before explaining the metaphoric meaning of each stone, let's just take a look at the origin of a trinity ring.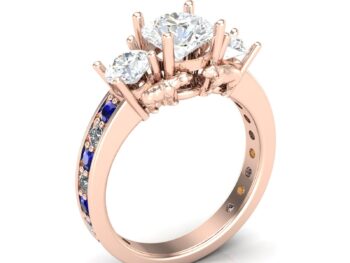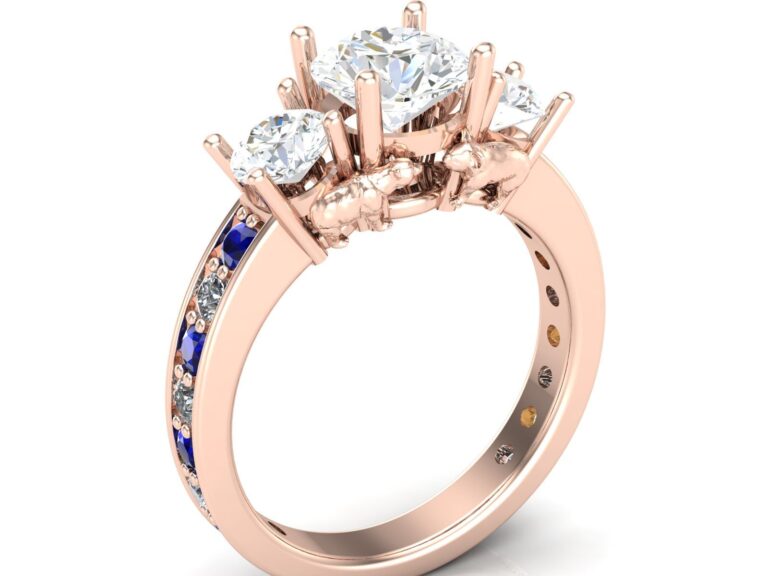 This is one of our Nature Engagement Rings that was made for bear lovers.  Facing each other under the center stone are Koala and Polar bears.  The are 3 center stones that can be a wide variety of sizes and types.   We did the Sapphire and Diamonds in a hybrid channel – prong setting, but we think it would look better in a shared prongs setting.
 Custom 3 Stone Engagement Ring Designs Make A Statement!
Past, Present, Future diamond engagement rings often feature round or princess cut diamonds, or sometimes a mixture of a variety of fancy shaped diamonds.  Styles range from simple to ornate  They can also include halos or diamond accents as well as engravings on the band.  Three stone engagement rings can also feature colorful gemstones in a variety of shapes.  Sapphires, aquamarines, or morganites are just a few examples of stones that can be used.   Setting colored gemstones in your engagement ring can offer a gorgeous array of color.  For a look that's unique to you, a custom ring is perfect!  The options are almost endless.  You may choose to have your custom ring feature one colored gemstone exclusively, or you might want to mix and match.  Accenting a center diamond with two colored gemstones makes for a beautiful look, and vice versa!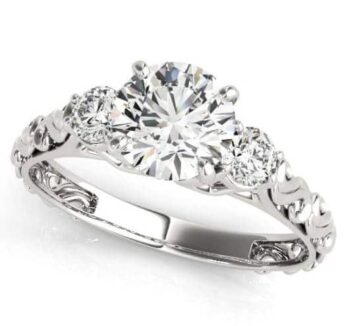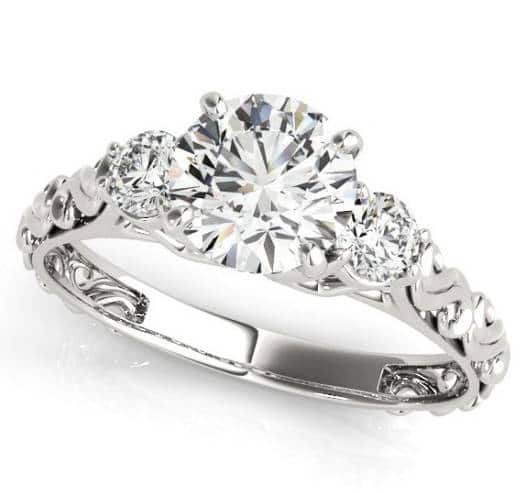 This beautifully sculpted Art Deco Engagement Ring perfectly accentuates the 3 center stones.  They are shown as diamonds, but they could be almost any gemstone you wanted to use.  The Shank is decorated with elegant scrollwork that could be changed to suit your taste.
Why 3 Stone Engagement Rings Are So Popular
Three stone engagement rings have become incredibly popular in recent years, and it's not hard to see why. These stunning rings feature a trio of diamonds or gemstones, symbolizing the past, present, and future of a couple's love story. The three stones create a captivating visual effect.  This draws attention to the center stone while adding extra sparkle and depth to the overall design.
One of the main reasons why three stone engagement rings have gained such popularity is their versatility. With a variety of stone shapes, sizes, and settings to choose from, couples can customize their ring to perfectly reflect their personal style and preferences. Whether you prefer a classic round diamond or a unique emerald-cut gemstone.  There is a three stone ring out there to suit every taste. This flexibility allows couples to create a truly one-of-a-kind piece that stands out from the traditional solitaire engagement ring.
In addition to their visual appeal and customization options, three stone engagement rings also offer practical benefits. The side stones provide extra support and stability to the center stone, ensuring its longevity and durability. This makes three stone rings a great choice for those with an active lifestyle or who work with their hands.
3 Stone Engagement Ring – Once You Go Custom, You Never Go Back (To The Mall)
If the bride wants to stand out from the crowd a bit more, or she is a romantic who wants her ring to tell the story of your love, the three-stone ring should be on your radar. The three-stone engagement ring creates options for creativity in designing the perfect symbol of your lasting commitment.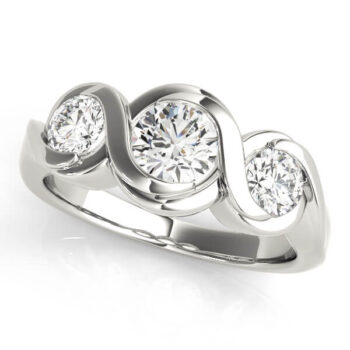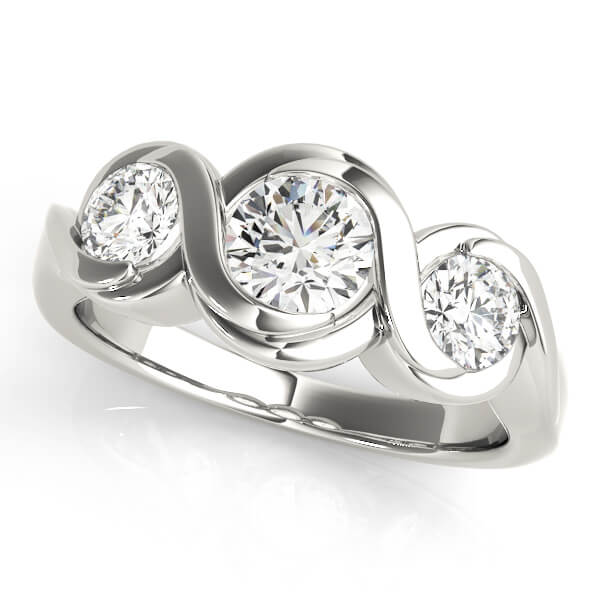 This Bezel Set Engagement Ring is definitely a unique take on the traditional 3 stone settings.  The stones are bezel set by two strips of metal going around the top of one stone and then to bottom of the next. This links all 3 stones.  This is definitely a modern look with its sleek lines.
For instance, most couples choose diamonds for all three of the stones in a three-stone ring.  However, the side stones could be virtually any stones you like or that holds meaning for you. If the bride loves blue, sapphires may be the perfect choice for side stones. The birthstones of the both the bride and groom (or of the month you're getting married) are also meaningful options for side stones.  Really, this is YOUR ring, so we will make whatever is meaningful to you.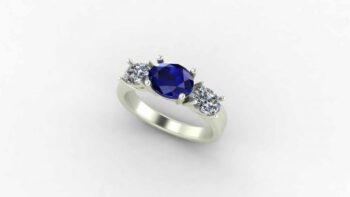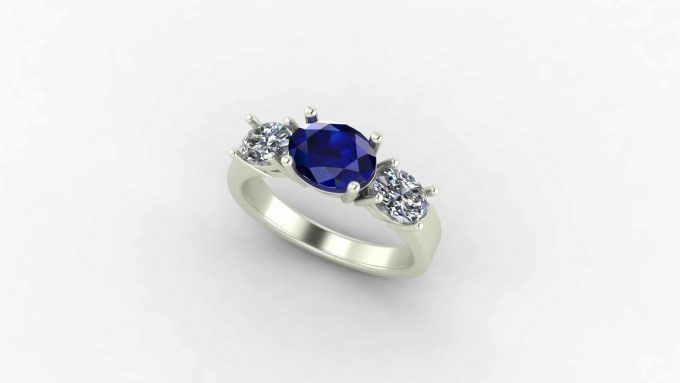 This the East West version of one of our 3 Stone Oval Engagement Rings; and it is definitely simple and refined.  Its uniqueness is that the stones are set horizontally rather than the typical vertical style.  
We Make What You Can't Find Anywhere Else
If you have a specific design in mind, choosing a custom designed three stone ring is definitely the way to go. Send us your unique vision and we will bring your one-of-a-kind engagement ring to life.  Another option when shopping for the perfect three stone engagement ring is to look through our selection of vintage engagement rings. Originating from romantic eras of the past, these rings are embedded with a history of their own.  Consequently, the symbolic meaning of three stone rings is all the richer. The distinctive beauty of vintage rings adds to their appeal.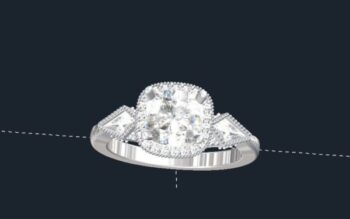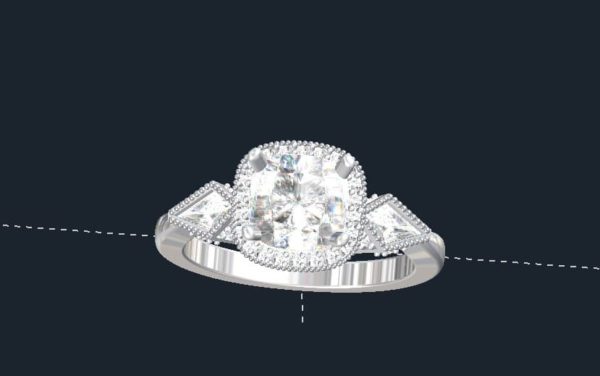 This 3 stone antique engagement ring hearkens back to the days of the early 1900's.   During that time, platinum rings like this were fabricated by hand. Thank God for CAD!
Click here to see all of our custom engagement rings.  If you don't see anything you like or can modify to your taste, send us your idea.  We will see what we can do for you.  It can cost less than you think to have your very own Custom Rings made just for you. Why hassle with the retail stores for boring and overpriced rings that don't suit your taste and style?  Click HERE to follow us on Pinterest.
Juicy Tidbits About 3 Stone Engagement Ring Designs
To get you intrigued, we have collected several facts related to 3 Stone Engagement Rings. These interesting facts should strengthen your decision to get a three stone engagement ring.
Did you know that Meghan Markle's engagement ring was a 3 stone? The center stone was designed by Prince Harry himself.  The two side stones were from the royal collection of Princess Diana.  According to Google, searches for 3 Stone Engagement Rings have quadrupled since their wedding.
De Beers, who controls world diamond market, is well known for essentially creating the tradition of the diamond engagement ring. In 2001 however, they made history again with the introduction of the three stone diamond ring.  However, its origins dates back to the 15th century. According to the experts, Mary of Burgundy has the distinction to be having the first-ever three stone ring in her royal collection. The ring was given to her by Archduke Maximilian of Austria.  Since then, 3 Stone Engagement Rings have been largely limited to royal collections.
Blue Sapphire is the second most used stone in 3 stone engagement ring designs.  Diamond is the first.
According to the sale trends of 2018, platinum and white gold are the most common metals used in 3 stone engagement rings.
Celebrities of all kinds are sporting three stone engagement rings.  Indeed, Jessica Simpson, Christina Ricci, and Miranda Lambert are just a few celebrities with 3 Stone Engagement Rings