Custom Made Engagement Ring Designs – Our Specialty
So finally, you have met your dream girl and going to embark on a life as a team. Congratulations! We wish you a very prosperous future and want to do whatever we can to make this exciting time as easy for you as possible.  Almost all women dream of their engagement.  And the engagement ring is the most plays a key role in making an engagement an exciting or memorable event. For about 3000 years now, the engagement ring has been a symbol of union, love, and commitment among couples.  We want to continue to honor that tradition by creating a Custom Made Engagement Ring just for you!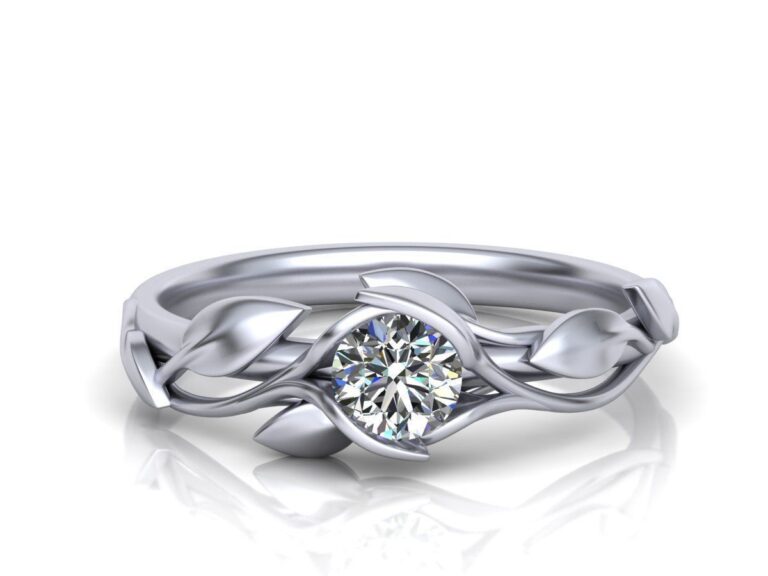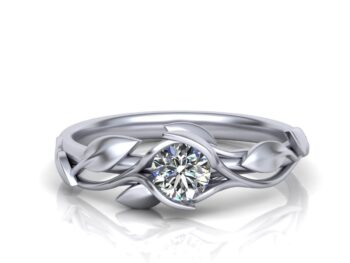 The ring above is one of our floral Custom Engagement Ring designs.  Simple and elegant, it is a beautiful engagement ring for flower lovers.  We think it would look great with a colored gemstone as well.  The center stone is tension set by the petals, making for a dramatic effect and eliminating pointy prongs.
If you have decided on a custom engagement ring, you are in the right spot!   At Valeria Custom Jewelry, we can make that perfect ring that will wow her every time she sees it.  Whatever your budget may be, we believe in providing you an engagement ring as splendid as your other half.
Custom Made Engagement Ring – Not Just For The Rich Or Athletes
We are in the forefront of jewelers that see engagement and wedding ring trends as they emerge.  At Valeria Custom Jewelry, we create jewelry that people want, but can't find at the retail stores.  So we are the first to see new styles and shifts in consumer demands.  As they do, we pounce on them, creating custom engagement and wedding rings that wow everybody who sees them.  That is not to say that we copy the styles, although we can.  Once we recognize a demand, we put our own twist on it.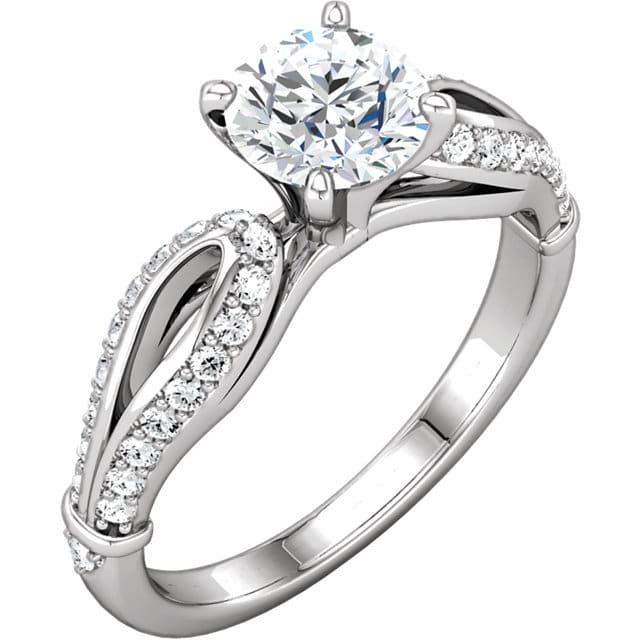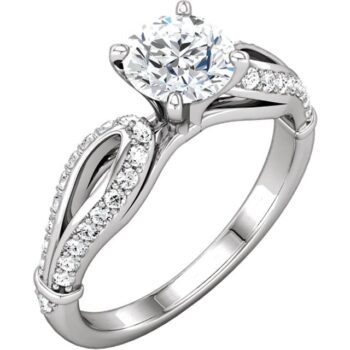 This Split Shank Engagement Ring is different from others in that the accent stones are mounted an an angle and not the typical perpendicular to the ring.  It also accented with a band going around the ring with a stone beneath it.  This one will work with any shape center stone.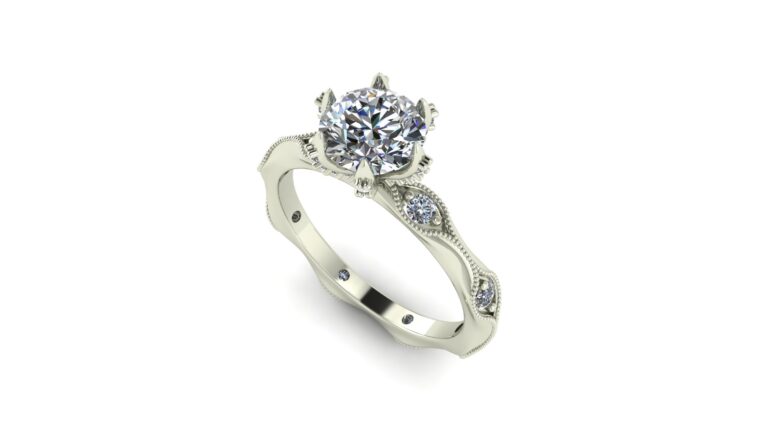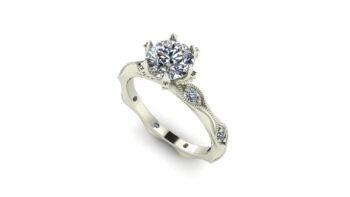 This is one of our favorite Sculptural Engagement Ring designs.  6, diamond accented prongs secure your center stone to the ring.  If you don't like 6 prongs, or don't want the accents on the prongs, we can change that.  The shank is an alternation of diamond accents and knife edged milgrain. If you wanted more stones, we could probably add 2-4 more.  We could also remove stones.
Custom Engagement Ring – Get The Real Deal
When searching Google for a Custom Made Engagement Ring you will no doubt find all of the big box jewelry stores as well as numerous expensive mall shops.  However, these shops aren't really custom jewelers.  Most will offer to engrave your ring and call it custom.  That isn't custom jewelry.  The rest will make a custom engagement or wedding ring.  However, they outsource the job and tack on their mark up for facilitating the job. That ends up costing you more.  You need to find someone like Valeria Custom Jewelry who creates custom jewelry in house.  Using a go between is much like telephone as a child.  A lot can be lost in the relaying off the messages.  This can delay projects or even cause the final product to not be what the customer wanted.   We keep as few hands as possible in the pot!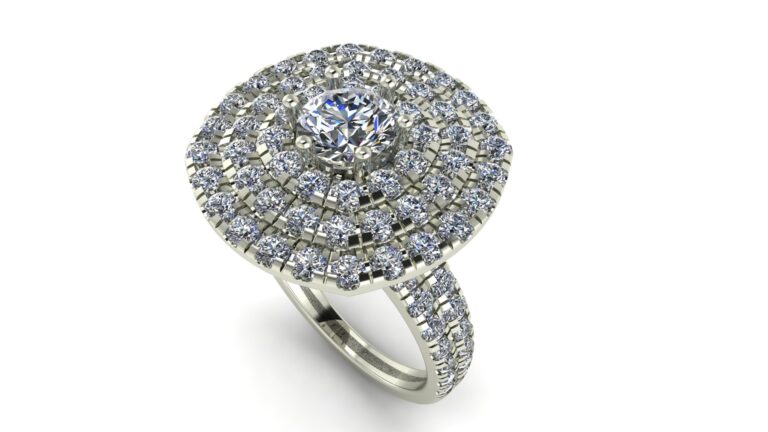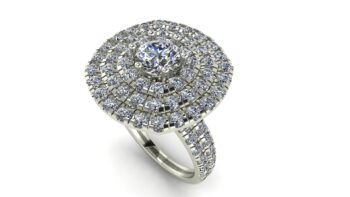 We had a customer with a bunch of old jewelry that she wanted repurposed into something new.  This is a spin on that ring.  We made it in round and rounded square shapes as well.   The 2mm diamonds in the cushion halo are french pave set, but we could make this a shared prong setting as well.  It is also possible to play with stone sizes or even remove a halo if you like.
These types of jewelry stores all have ridiculous overhead that eventually finds its way into the price.  You are paying for their employees to sit in a nice store doing nothing all day.  Additionally, most of the jewelry found in these locations are not one-of-a-kind pieces.  They are mass-produced in Asia and are usually of poorer quality in all phases of manufacturing, yet they still charge an arm and a leg for it.
Custom Made Engagement Ring – Not Just CAD Design
In this age of the internet, there are hundreds of jewelry makers to choose from.  However, finding unique Engagement Rings out of the thousands of pretty much the same designs and styles is a tedious process. With the huge variety of available styles, it can be quite daunting to choose the right one.
You may like style of a ring but its stone shape is not what you like.  Or, are you impressed by the the design of the top half of the ring, but don't like the bottom half. We can help!  And what is the solution to all this confusion? The answer lies in having a Custom Made Engagement Ring created just for you.  We will help you to create from scratch if that is what it takes to make your dream a reality.  Instead of going for mass produced pieces, we can help you transform your own idea into reality.
There is a lot more to design custom jewelry than CAD design. That is the starting point.  However, the finisher can be almost as important as the designer.  And sometimes, what is done after an engagement ring is cast takes the ring to another level.  Case in point: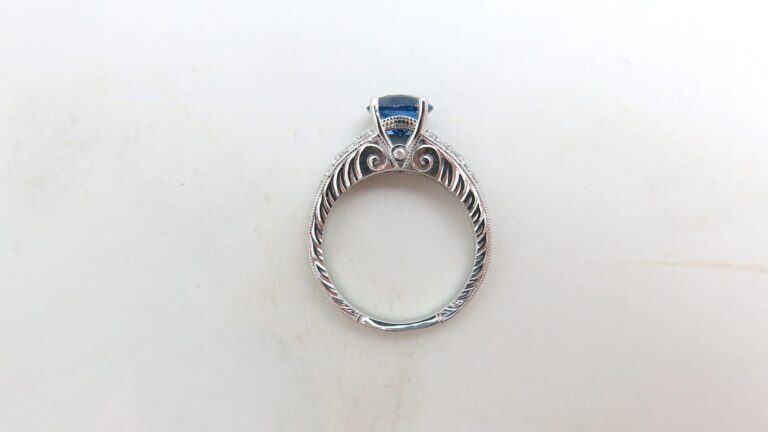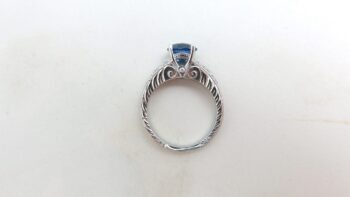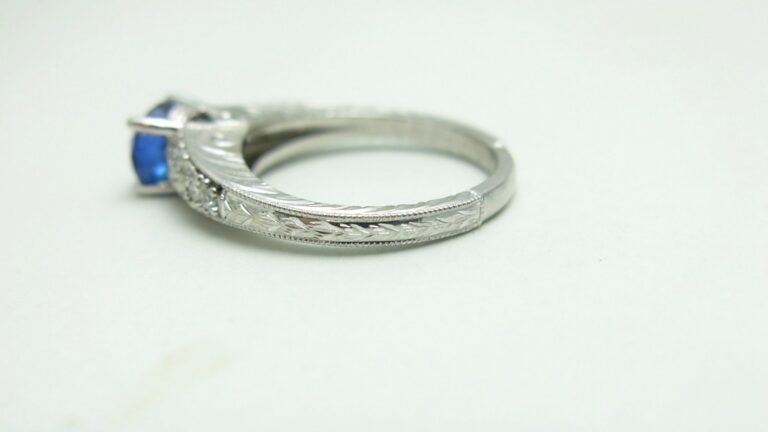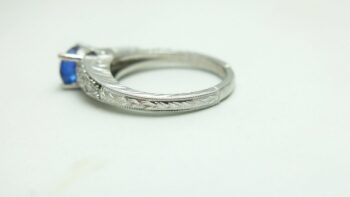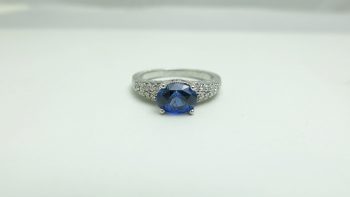 This stunner was created as a blank canvas for our master engraver to fill with his incredible etchings.  This Engraved Engagement Ring is shown with an east-west oval center stone, but a round stone would also work.  The 18 accents total 3/8 of a carat.  This includes 2 bezel set stones under the center stone.
Then, there are the shops with sponsored ads, people who pay top dollar have their site at the top of a relevant search.  These ads aren't cheap.  And while you can find good custom jewelers through paid ads, that advertising cost will find its way into the price.  We only spend money on adwords during Christmas.  The rest of are google rankings are organic.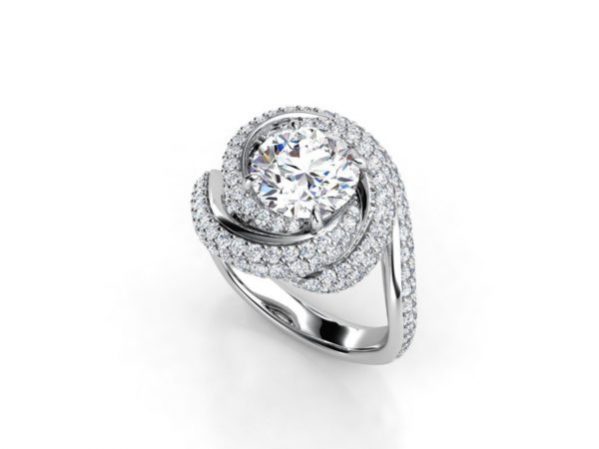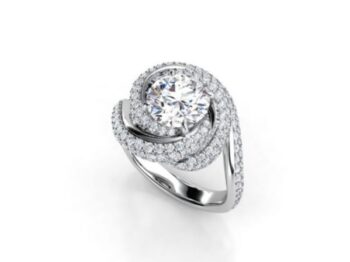 This Swirling Halo Engagement Ring is a unique halo design you won't find in the chain stores.   It is perfect for a smaller center stone.  The shanks wrap up and around the ring, eventually becoming a sort of double halo.  The makes for an elegant effect as the shanks wrap around the center stone and each other. It accented with over 100, 1.3mm stones that total over 1 carat.  This ring could actually be worn as a cocktail ring, especially if it was made with colored gemstones.
Custom Engagement Rings – They Are Your Ring
Valeria Custom Jewelry will sell the mass manufactured pieces if that is what is desired, but we thrive in creating new, unique, one of a kind Custom Made Engagement Ring designs at prices at or less than retail.  We love to create Custom pendants, custom hip hop jewelry, custom wedding rings, custom pins, and custom hip hop pendants.  Basically, if you can wear it, and it is made of precious metals and gemstones, we can make it.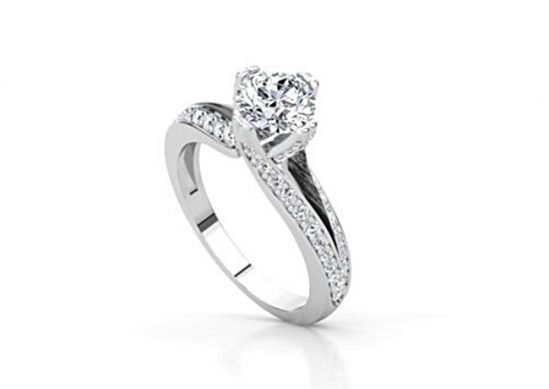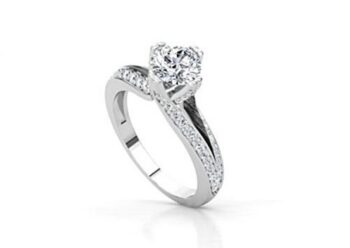 Like most of our designs, this Split Shank Modern Engagement Ring is an elegant one you won't find anywhere else.  2 of the prongs are formed by the shank and the other two appear out of nowhere for a dramatic effect. It accented with 56, 1.3mm stones that total a little over 1/2 carat.
Custom Engagement Ring – Not Just for Wealthy People!
All of our custom jewelry can be changed to your taste and usually for less than something comparable at a mall store. We import the stones used in your Custom Made Engagement Ring stones from overseas, where they are cut, ensuring the best price and value.  We also have a small office and both of these things find their way into our prices.  To view all of our Custom Made Engagement Ring designs, click HERE.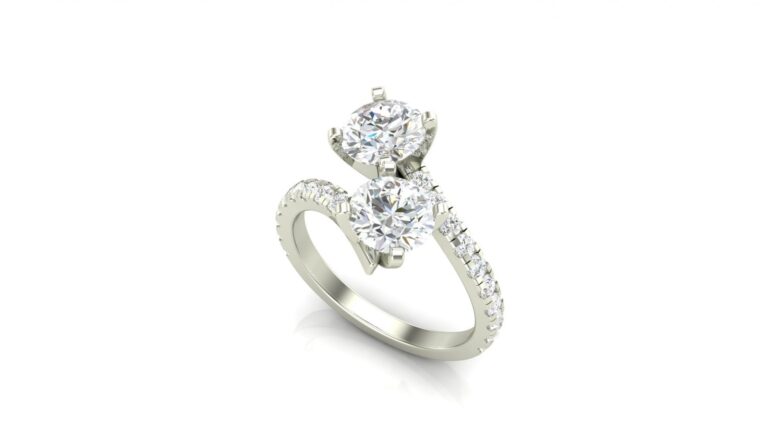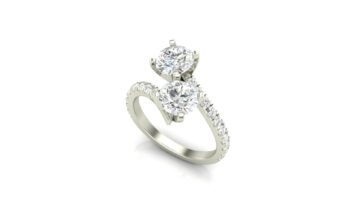 The 2 stone Custom Engagement Ring takes a traditional accented engagement ring and adds a second stone to it.  It isn't much, but it makes it your Custom Engagement Ring when we do something at your request.
Do you turn left when your friends go right? Are trends not important to you? Do you march to the beat of a different beat? If so, you'll appreciate jewelry that's not available to everyone and that makes you a candidate for a Custom Made Engagement Ring.  Unfortunately for you, but fortunately for us, the engagement and wedding rings available at retail stores leave much to be desired in the way of individuality.  That is where we come in!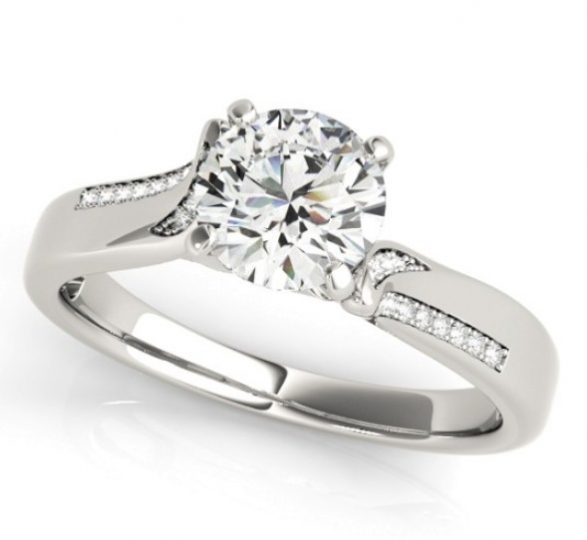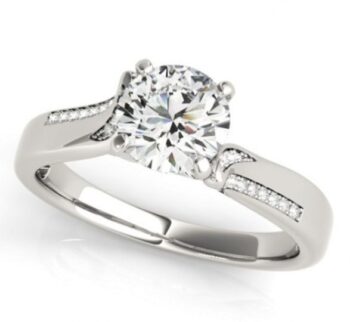 This Modern Cathedral Engagement Ring is a unique spin on the cathedral engagement ring.  There are 2 rows of diamonds on the opposite sides of the band, which is a little cool, but then those rows are interrupted by swooping lines of stones that go up the sides of the cathedral. It is a very dramatic effect.  We think it might be cool to have the stones on the "swoops" be a colored gemstone.  Bus that is just us!
Custom Made Engagement Ring – Whatever you Want Them To Be
The same is true if you've searched the chain jewelry stores and websites and with no luck finding a gift for that truly special someone — something that represents your unique relationship. It's also entirely possible you are the special someone — and can't find the right piece that represents your unique style.  If that is the case, then a Custom Made Engagement Ring might be right for you.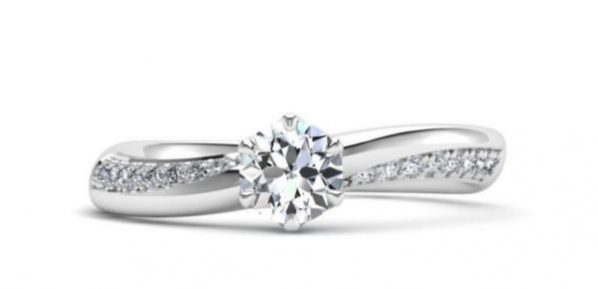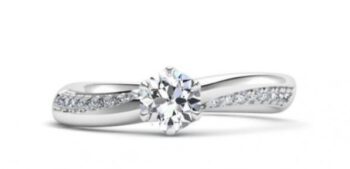 This our 6 prong modern engagement ring set.  We decided to take the regular channel set stones and graduate them.  That is nothing new, but where we set the stones was.
At Valeria Custom Jewelry, we thrive on creating Custom Made Engagement Ring designs that nobody else can or will make.  We don't care if only a few or even 1 person will want the design….we would love to make it! In fact, the fewer we make of one ring design the better.
Custom Engagement Ring – Be As Unique As You Want
It's important to understand the difference between customized and custom jewelry. If you engrave someone's name or "build" a piece of jewelry from a list of options, you will end up with a personalized, meaningful and beautiful piece of customized jewelry.  A Custom Made Engagement Ring is very different.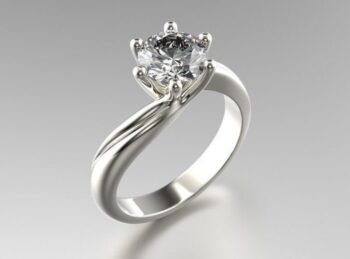 This is one of our Sculptural Solitaire Engagement Ring designs.  This is the type of bypass ring that we just love.  The shank is a wave of motion as it travels from one of the ring to the opposite end.  The 6 prong basket securely holds even the largest stone intact.
Custom Engagement Ring – Give Us A Chance!
A Custom Made Engagement Ring design is usually created from scratch.  A Custom Made Engagement Ring is a good option when you can't find exactly what you want like an updated version of your grandmother's now-lost 1920's platinum earrings.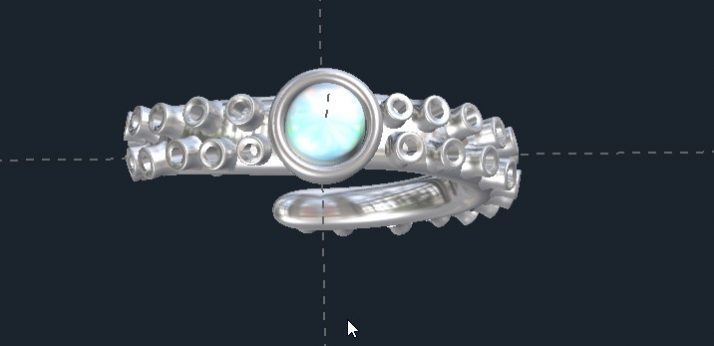 No theme or topic is off limits for us when thinking about Custom Engagement Ring designs.  Nature, video games, and superheroes are all fair game for us.  Our Octopus Engagement Ring looks as if it just jumped from the ocean!  It can be made with both a bezel set cabochon center stone or a prongs set, faceted stone.
Custom Engagement Rings – The Ultimate Expression
A Custom Made Engagement Ring may be similar to something you saw online, but with a simpler design for a fake finger. Or perhaps it's just a memory of a ring you saw somewhere.  You also might have diamonds or gemstones from a ring you want to turn into another piece of jewelry that represents you. Regardless of the reason behind the vision, a Custom Made Engagement Ring is an extreme expression of love.  Your loved one took the time to understand the you in a meaningful way and acted on it.  And it will show in the final result.  it will also show in her reaction to the ring when you give it to her.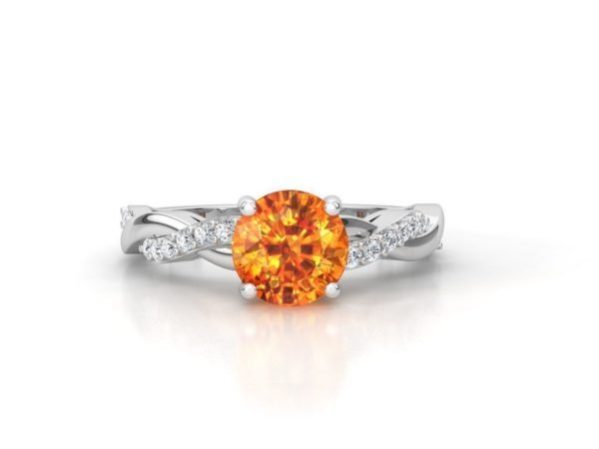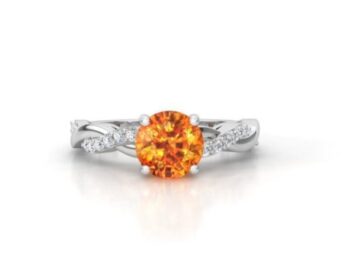 This Custom Made Engagement Ring was created for a Spessartite Garnet and accented with 1.3mm diamonds on one side of the crossover shank.   We think a Ruby or Tanzanite center stone would also be stunning in  in this ring.
We know there are a few good options when shopping for a Custom Made Engagement Ring.  There are also a lot of terrible options out there.  We hope that if you found us, you will at least give us a shot and talk to us.  We are quite sure we offer the best combination of service, expertise, and value around.  Just google us…evidence of our happy customers are all over the internet.
While Custom Engagement Rings are one of our specialties, we don't limit ourselves to that!  Regardless of whether it is a wedding band, pendant, or bracelet, we can make anything.
Click HERE to see more of our custom engagement rings. Click HERE to learn more about custom jewelry, or to contact us about Custom Made Engagement Ring designs.  It can cost less than you think to have your very own custom moissanite engagement ring made just for you. Why hassle with the retail stores for boring and overpriced engagement rings?
Looking for a custom wedding rings?  Click to view some of our faves!