Truly Unique Custom Wedding Rings
Wedding rings have been used to signify love and commitment between two people since ancient times. Even in the earliest civilizations, couples exchanged special jewelry as a sign of their devotion. Over time, custom wedding rings evolved into elaborate symbols of everlasting love.
In the Middle Ages, knights gave their brides gold bands as an expression of their eternal faithfulness. Later on, during the Victorian era, more ornate designs became popular. People would intricately carve their initials or meaningful phrases into the metal. It was a way for couples to make their rings truly unique.
Today, many couples choose custom wedding rings that are tailor-made just for them. With modern technology, there is no limit to what can be created! From diamonds and gemstones to engravings and etchings, you can design your own ring to reflect your individual style. Whether it's traditional, vintage, or something totally unexpected, creating a custom wedding ring allows couples to express their true love.
We Make Creating Custom Wedding RIngs an Easy Process
The custom of presenting wedding bands to each other is an ancient tradition. Neanderthals are thought to have to tied twigs, grass and rushes around the bride's wrists or ankles and regarded this as a sign of loyalty and friendship. The first evidence of modern wedding rings was found in Egyptian civilization dating back more than 3000 years. Ancient hieroglyphs depict scenes of the bride and groom are offering each other braided rings. It was also believed that by doing so the wife's soul would remain intact and that she would live longer. At that time, a woven ring made of reed or hemp served as a wedding ring. How things have changed!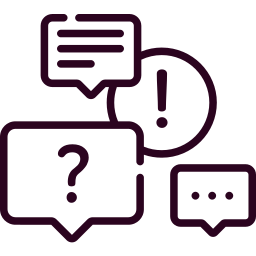 Discuss design ideas, options, budget, with your jewelry consultant – your guide to the custom experience.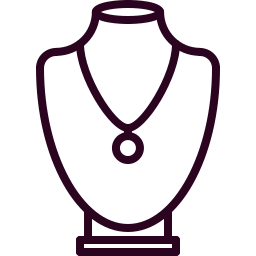 Visualize your piece with high resolution 3D renderings, and we'll adjust every detail until you tell us it's perfect.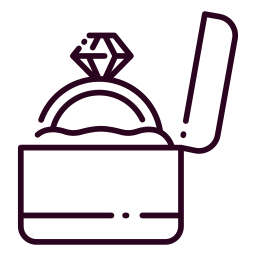 Receive your custom piece, with the assurance it's been made to wear and last a lifetime.
Scalloped Men's Wedding Ring
This Scalloped Mens Wedding Ring is plain except for the scalloped edges going around both sides of the ring. This one is 7.5mm wide, but it could be made wider or narrower as well. If you wanted to add some sparkle or color, gemstones or diamond could be used, as well as enamel.
If you are embarking on the next chapter in your life as man and wife, engagement & wedding rings are on your mind. We wish you the best of luck in your new endeavor and want to remove one of the sources of stress during a wedding: the rings! Let us remove the stress picking out the rings can cause a couple. We will handle everything and make the process as painless as possible. All we need is a little direction to begin.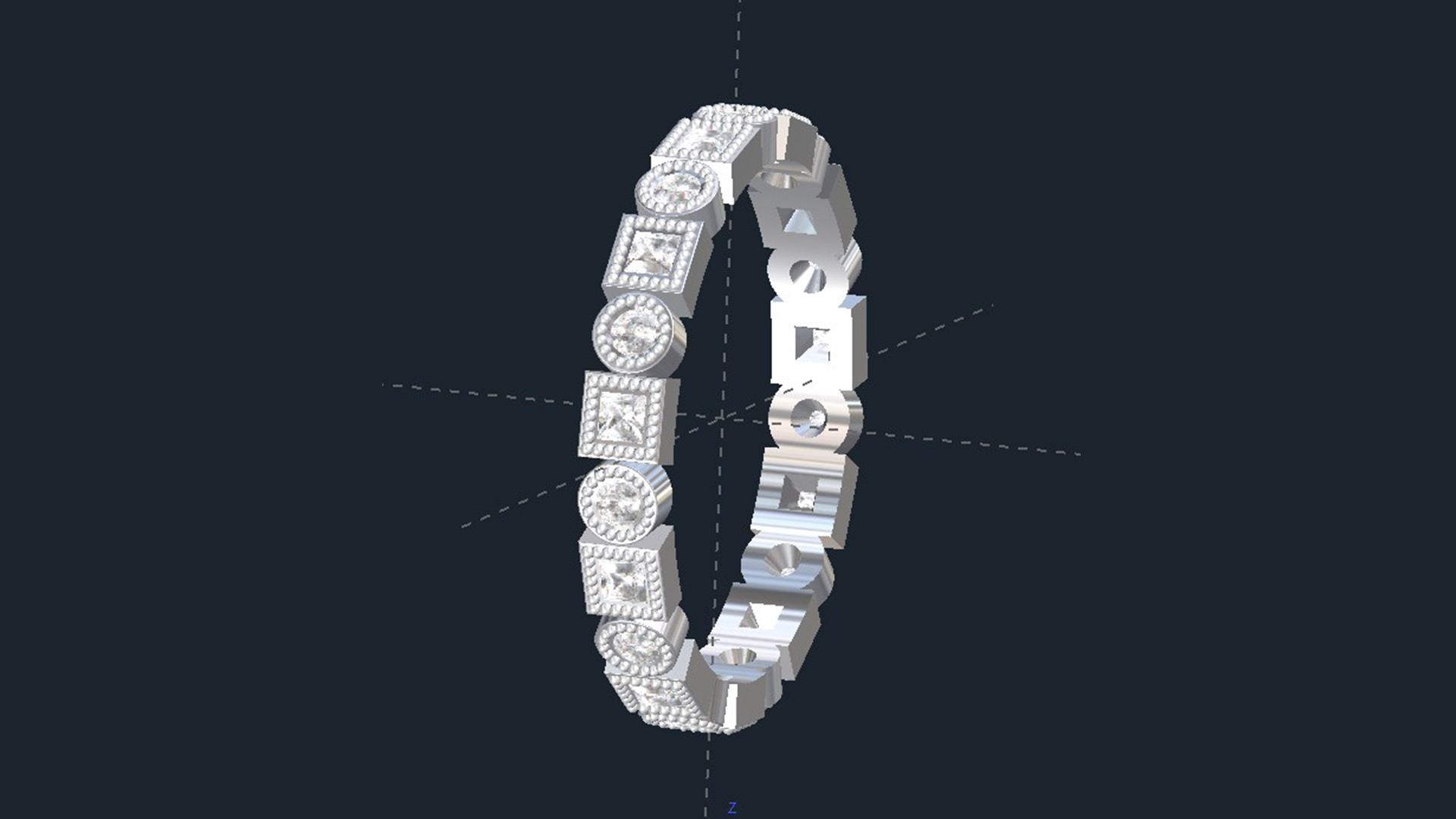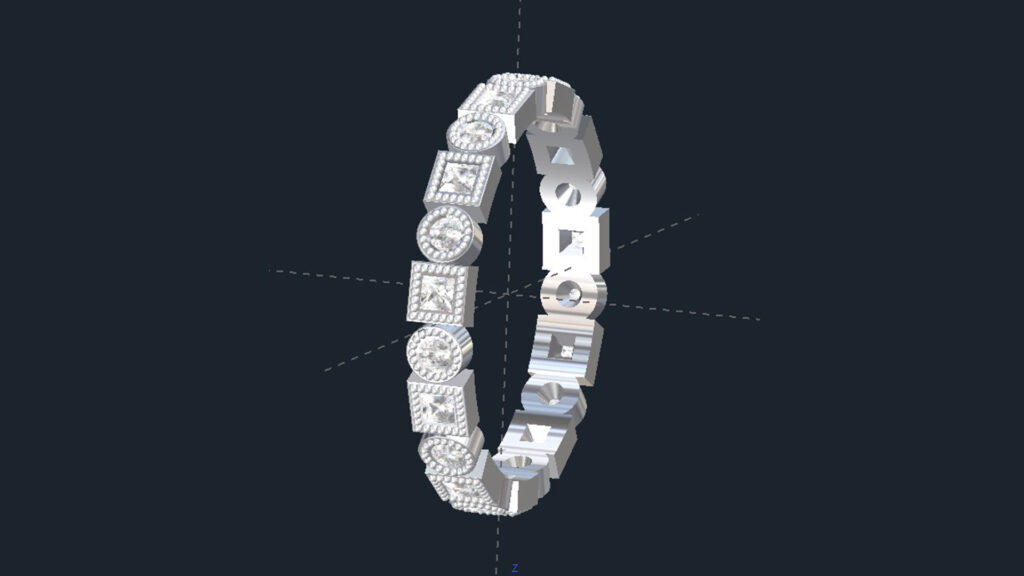 Bezel Set Mixed Cut Eternity Ring
This Diamond Eternity Ring is just one of many custom women's wedding rings we have created. The alternating 1.5mm round and princess cut stones are set in bezels. We wanted to milgrain that bezels, which is how it is shown in our rendering, but the customer opted not to.
CUSTOM WEDDING RINGS – NOT JUST FOR WOMEN!
No doubt, other types of jewelry have also their place, but a pendant is usually the very first thing to be noticed. Lockets and chains are not only bought by individual for personal use, but they also are one of the top options when presenting others with a gift. Symbolizing love, grief, or friendship, pendants are ta gift you can never go wrong with. It is the kind of present that will make any women happy. Pendants are given not only as gifts but are also presented as rewards or for milestones. From academics to sports the gold medal is a special kind of custom pendant worn by a champion.
This Diamond Wedding Ring has crazy sparkle with its 1 carat of 1.3 and 2mm diamonds. 2 rows of milgrain elegantly space the channel and prong set stones. The accents go halfway around, but could go further around if you liked. We have also created this with a French Pave setting if you prefer that type of setting.
For years the only wedding ring that mattered was the bride's. However, men's wedding bands are coming into their own with the explosion of CAD and Custom Wedding Rings. Men's wedding rings should be just as important as the engagement ring that seals the deal, and just like all jewelry, men's ring styles change with the times. We are acutely aware of this and are always abreast of current trends in Custom Men's Wedding Ring designs.
CUSTOM WEDDING RINGS – WHATEVER YOU WANT!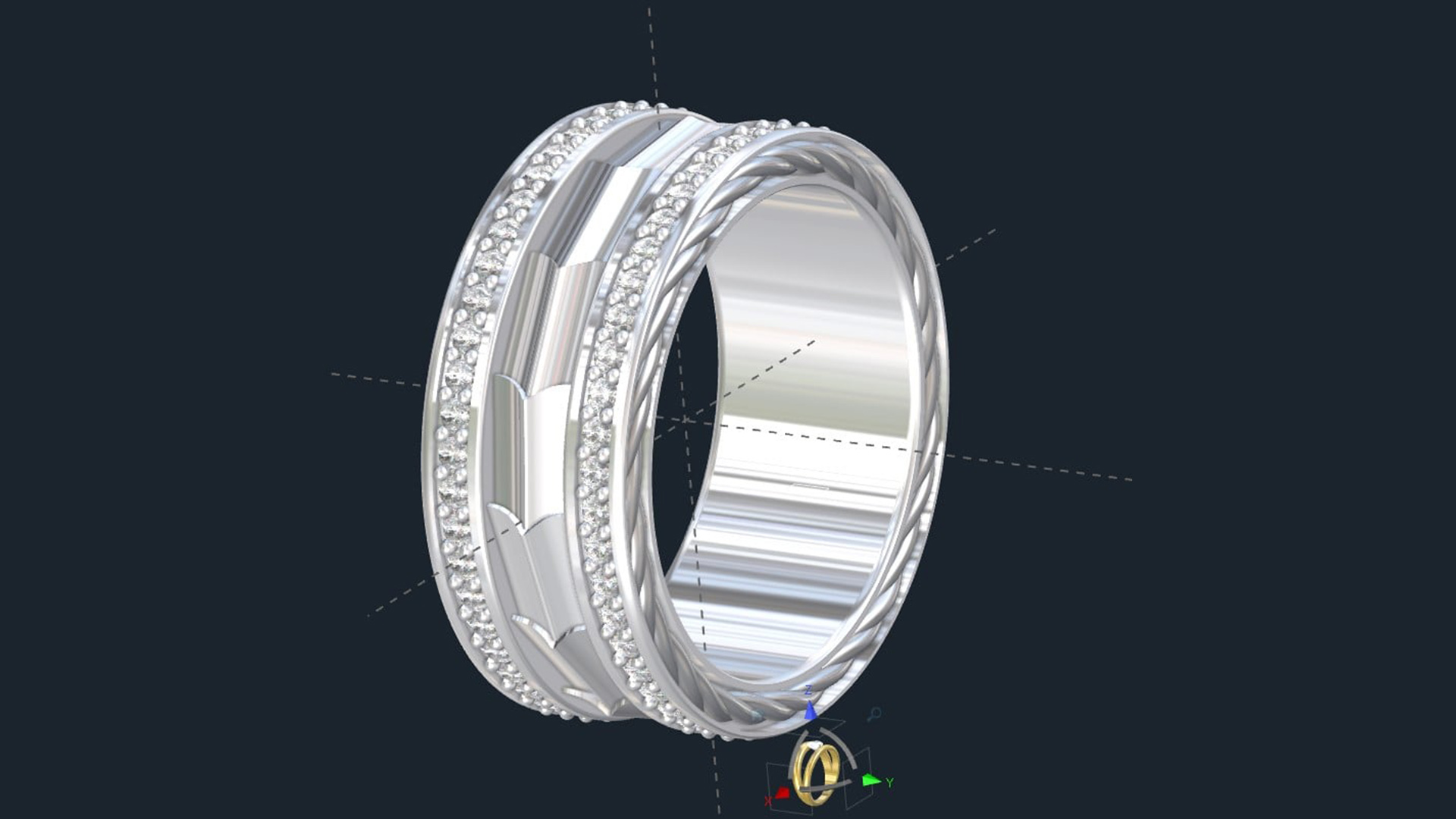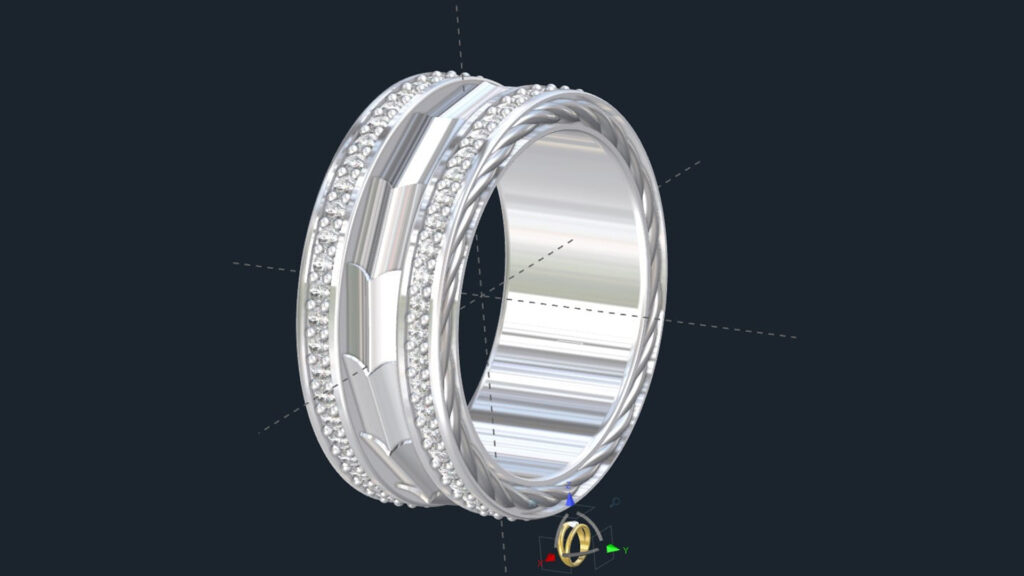 Men's Diamond Armor Plate Wedding ring
This is one of our favorite Custom Wedding Rings for men. It has armor plates (or Spanish tiles if you prefer) going around the middle of the ring that are flanked by two rows of diamonds. There is also a rope ticked in on the sides for an added design element.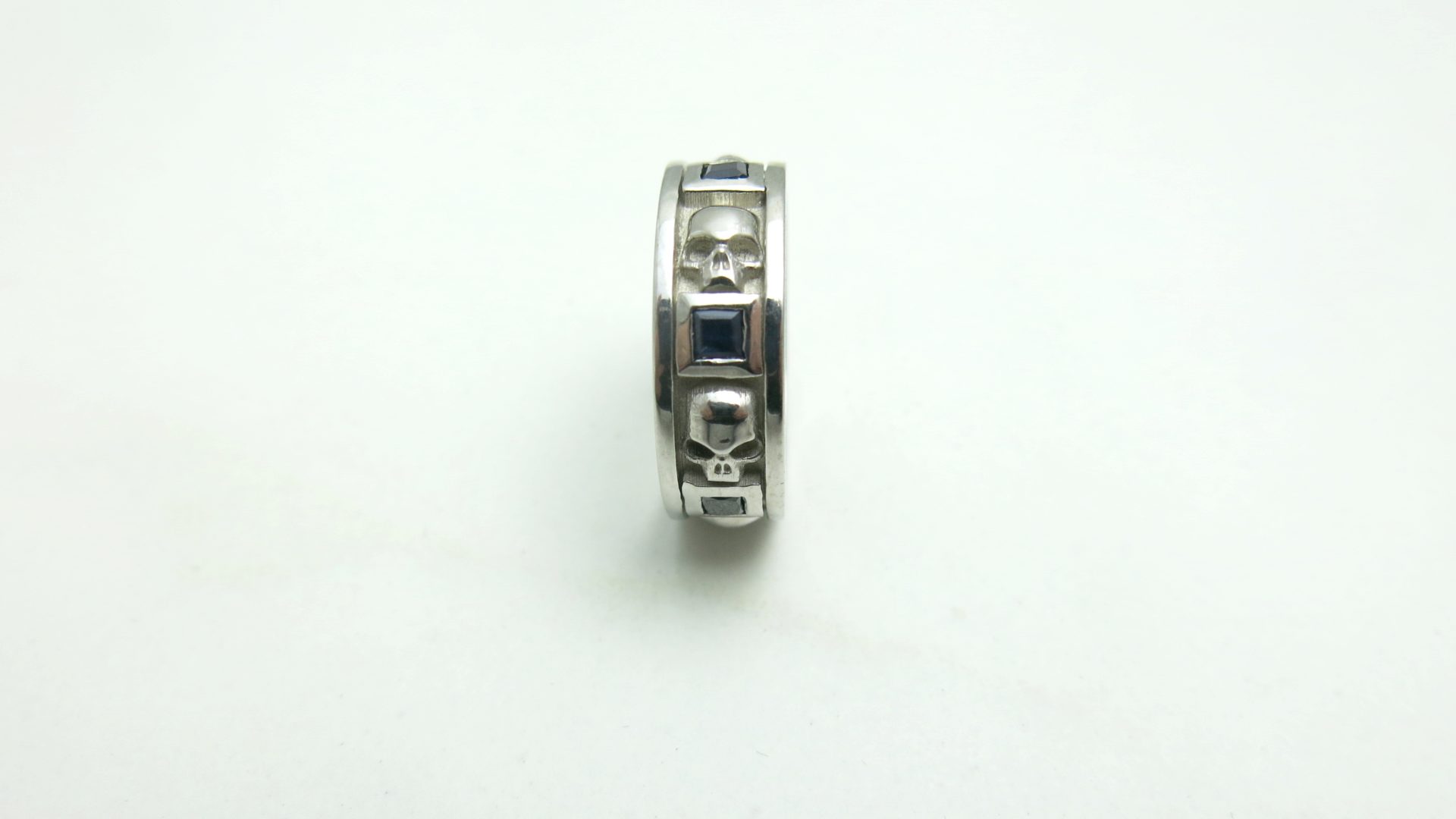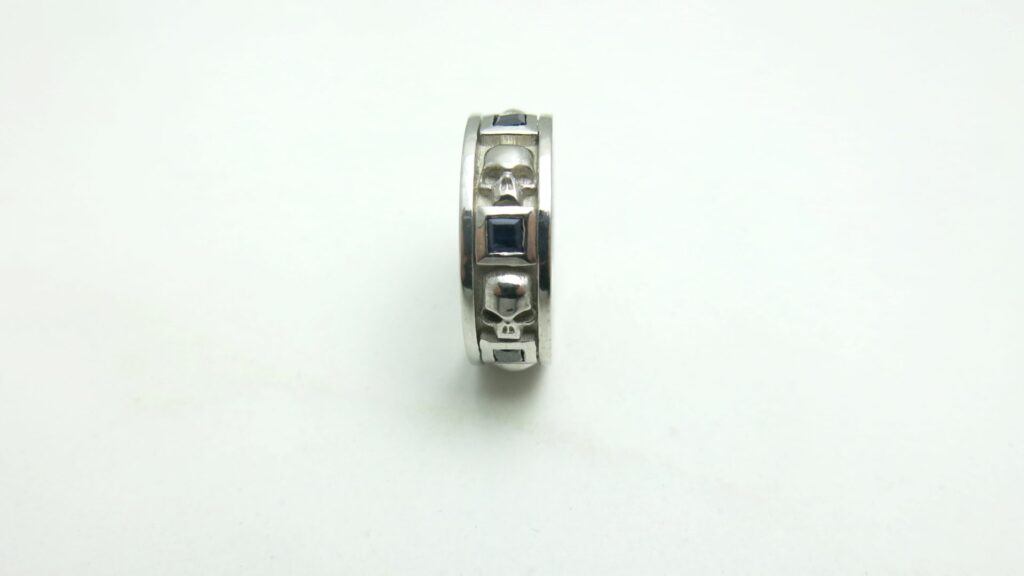 Black Diamond & Skull Wedding Ring
This is one of our favorite Diamond Skull Wedding Rings. It is 8mm wide and has 6 skulls and 3mm Black Diamonds going around it. It can be made as narrow as 6mm and as wide as you wanted it to be. Almost any stone can be used and in the wider width, stones could be added to the eyes. Different skulls can also be used as well. If you really wanted to bling the ring out, we could add stones to the outer rails.
CUSTOM WEDDING RINGS – NOT ALL CUSTOM IS CREATED EQUAL
Many jewelers claim to make Custom Jewelry. But there is a difference between customization and custom jewelry. Adding an engraving or allowing you to choose the head for a setting isn't custom jewelry. True Custom Wedding Ring designs are created from scratch (or almost) specifically for that person. A custom ring usually starts with an idea or an image that the customer has. Then, your ring is designed in a CAD program and manufactured one piece at a time. The cost of a Custom Mens Wedding Ring reflects this. But keep in mind that each Custom Wedding Ring is an original. It is a personal combination of cost of the customer's style and personality, which should command a premium. That isn't to say that a custom wedding band will always cost more than one from the mall.
CUSTOM WEDDING RINGS – ANYTHING IS POSSIBLE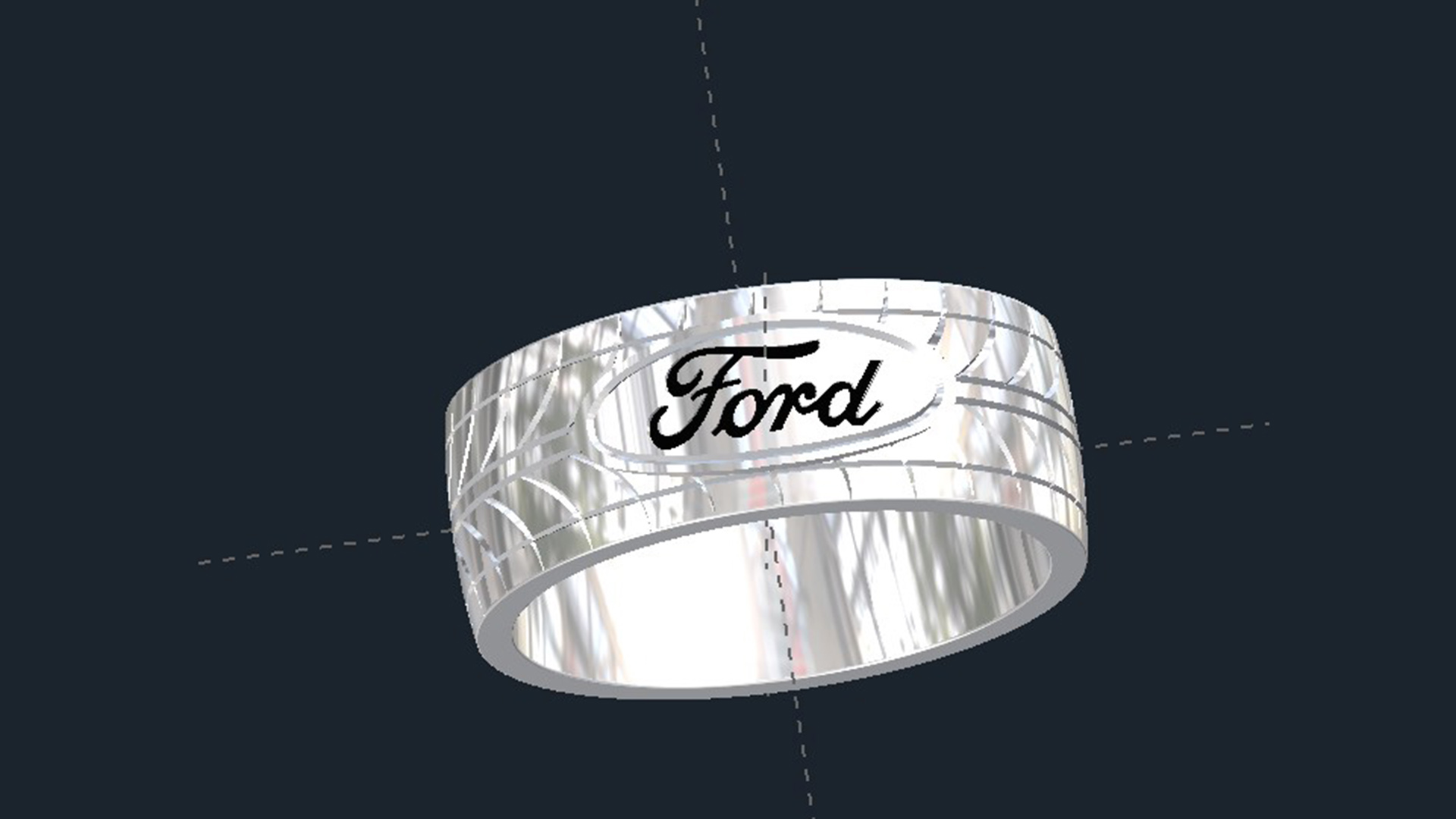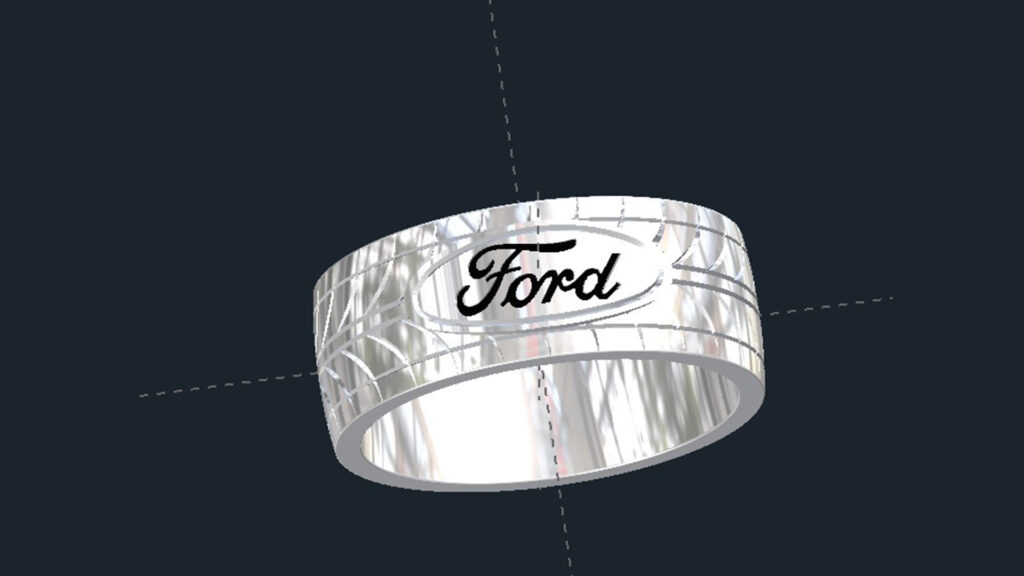 Ford Tire Tread Wedding Ring
Are you looking for a Ford Tire Tread Wedding Ring? We got you covered! Give us any tire tread you want and we will turn it in to a custom wedding ring. We have made them with Ford logos, the Chevy logo, no logo, with stones, without stones. That is the beauty of custom wedding rings..you get EXACTLY what you want.
Let Valeria Custom Jewelry's collection of Custom Wedding Rings guide and inspire you as you search for the perfect expression of your lasting love. Or, if you already have an idea, that is fine as well. We will take that idea and create a stunning piece of custom jewelry for you. From the classic plain band to Batman Wedding Rings, our portfolio is full of Custom Wedding Rings that we can create for you.
However, if you want something we haven't created, send it over to us and we will create it for you. It can be whatever you want it to be when talking about custom wedding rings! We make it easy to express your commitment with a stunning engagement ring. Find the ideal engagement ring at Valeria Custom Jewelry! And if you don't see something you love, tell us what you do love and we can create any Custom Wedding Rings.
CUSTOM WEDDING RINGS – ONCE YOU GO CUSTOM, YOU NEVER GO BACK TO THE MALL!
At Valeria Custom Jewelry, we have shown thousands of customers how they can have a custom piece of jewelry created with superior diamonds or gemstones and craftsmanship at a better value than buying one at a jewelry store, if it is even commercially available. Men's wedding bands have evolved significantly from the traditional simple gold band worn by your grandfather. Choosing or creating a wedding band unique to the groom has become a hot thing. There are many new ways to customize using different metal combinations, textures, and gemstones. Creating a Custom Wedding Ring allows the groom to select flashiness, restraint, or a little bit of both!
CUSTOM WEDDING RINGS – OUR SPECIALTY
Specializing in Custom Wedding Rings, Valeria Custom Jewelry is becoming widely renown for its distinctive & unique designs. We also emphasize personalized service & second to none craftsmanship. Our experienced craftsmen will help you through the procedure of selecting the perfect fine diamond or gemstone for you and creating a design that reflects your unique style and vision.Everyone's personal love story is an intangible thing of rare beauty that should be celebrated. It is precious, powerful and eternal. 
Begin the next stage of your life's journey together with a symbol that's equally unforgettable & breathtaking. At Valeria Custom Jewelry, our master jewelers work with you to craft perfect Custom Wedding Rings. Our custom jewelry are things of rare beauty that will your breath away now, just as it will in 40 years.
Diamond Men's Wedding Ring
This elegant "Bricked" Men's Diamond Wedding Ring features a beveled brick cut band with bright cut diamond accents that give contrasting finishes. This is one of more recent Custom Wedding Rings that look like three rows of bricks, with raised sections separated by grooves, and staggered spacing from one row to the next. The separation of the sections can be amplified with the use of a polished finish in the grooves and a brushed finish on the flat faces.
CUSTOM WEDDING RINGS – SHOW YOUR PERSONALITY AND STYLE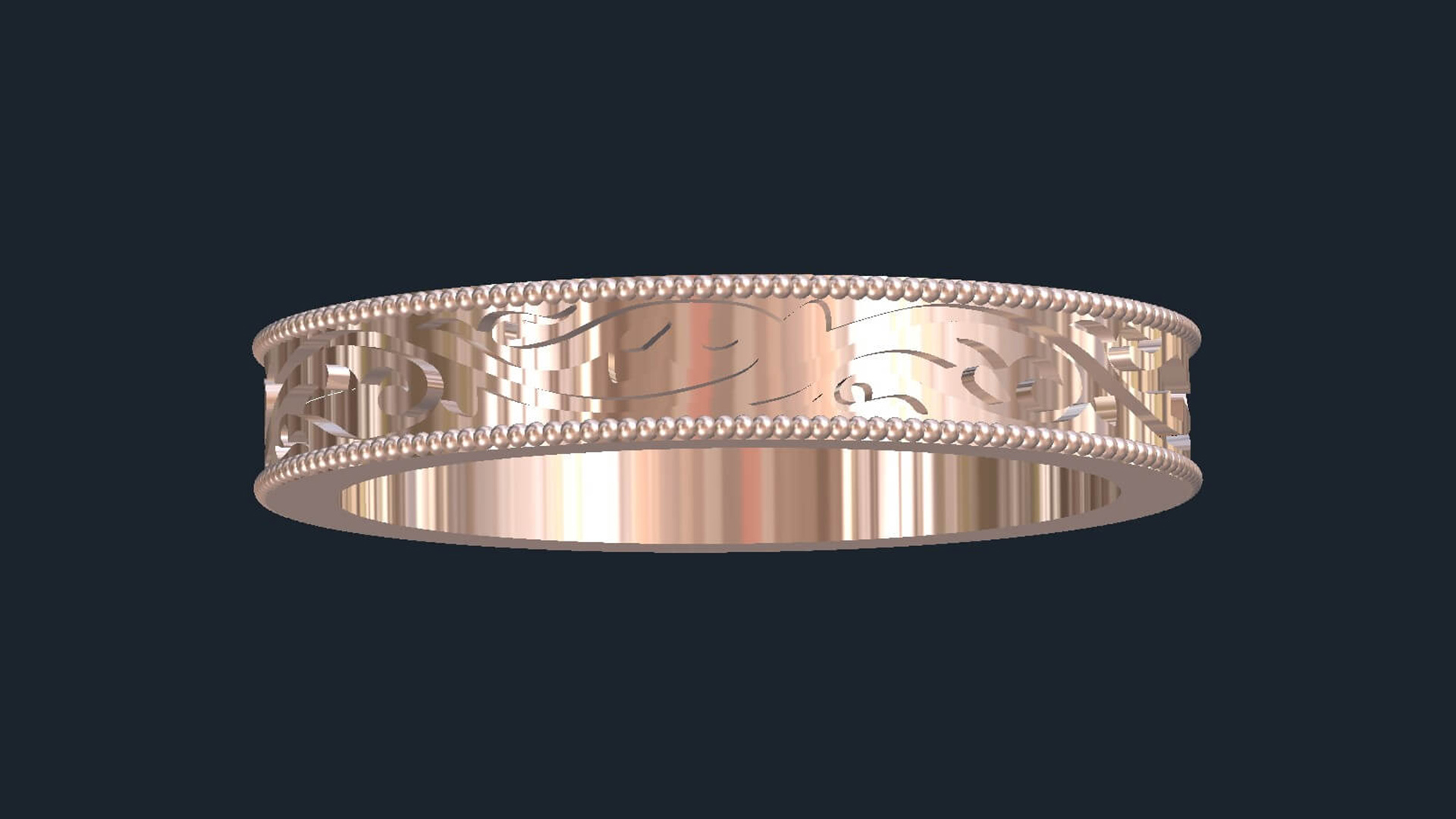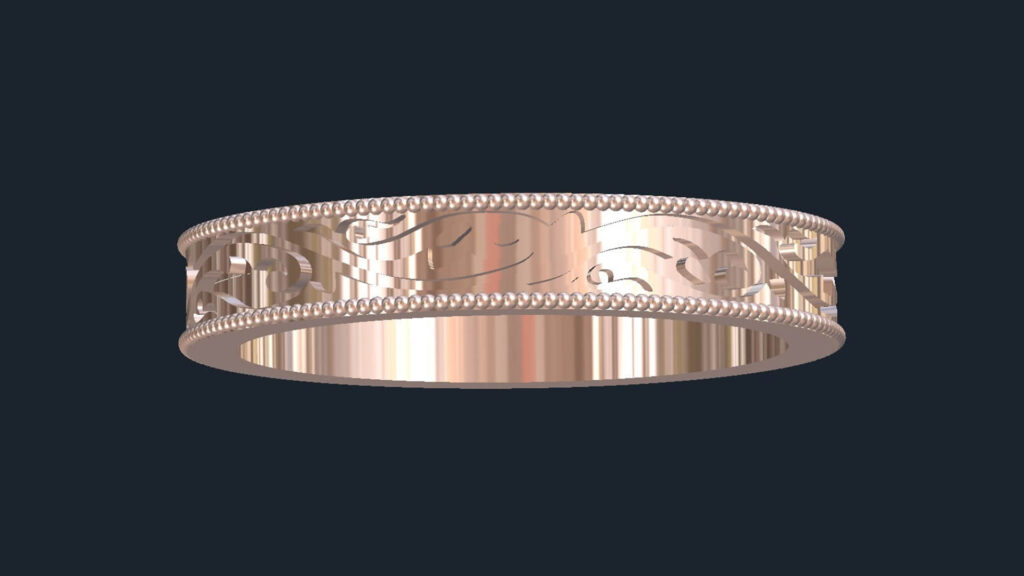 Are you looking for a Floral Wedding Band, but can't find the design you want? We can make a variety of Floral Wedding Ring designs based on any idea. Depending on the pattern that you want, 4mm is the narrowest we could create one of these at. However, they can go as wide as you like. If you don't see the floral pattern that you want in our portfolio, send it to us and we will look into creating it for you. If you want some color or sparkle on the ring, we can always add gemstones or enamel.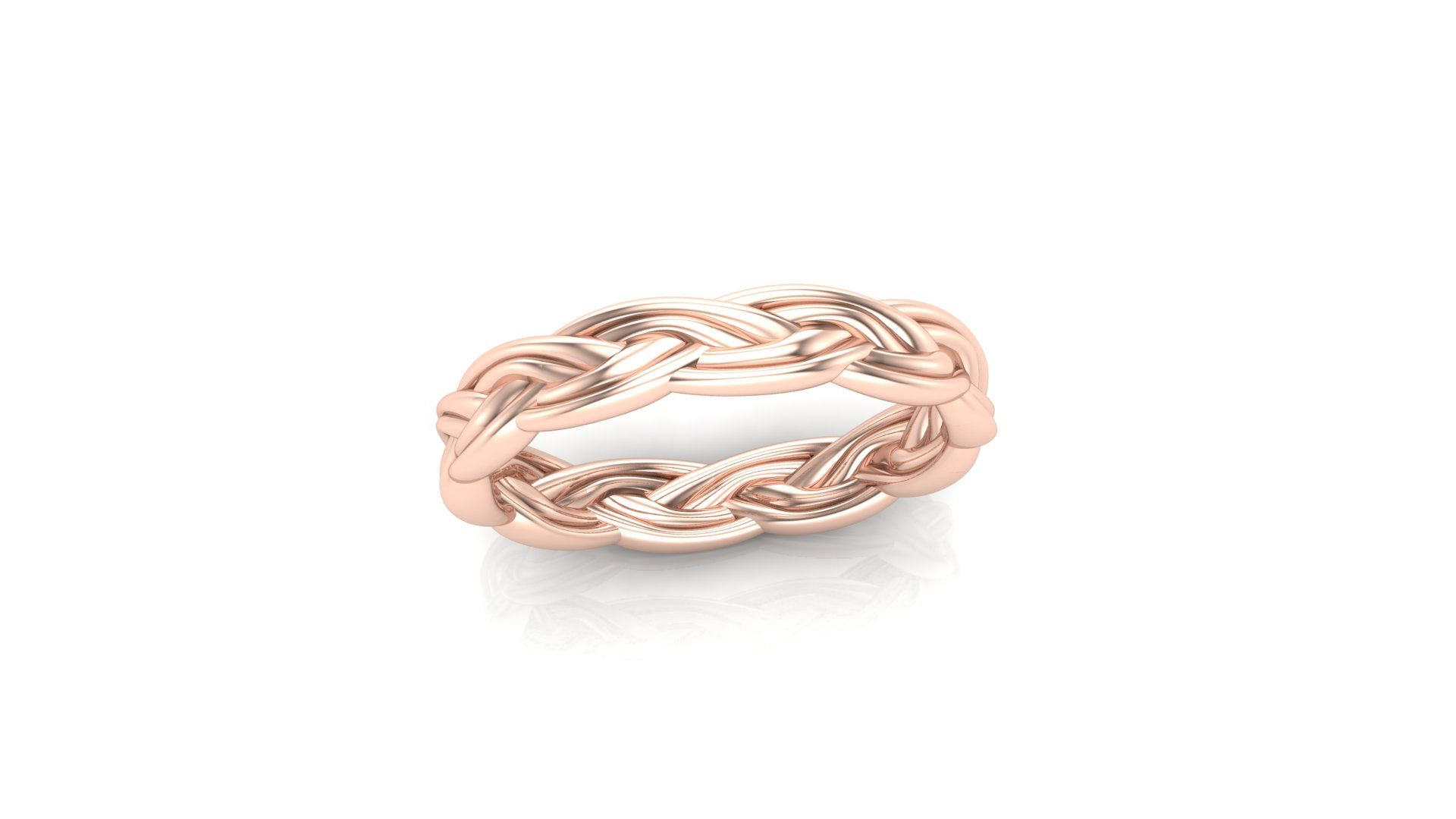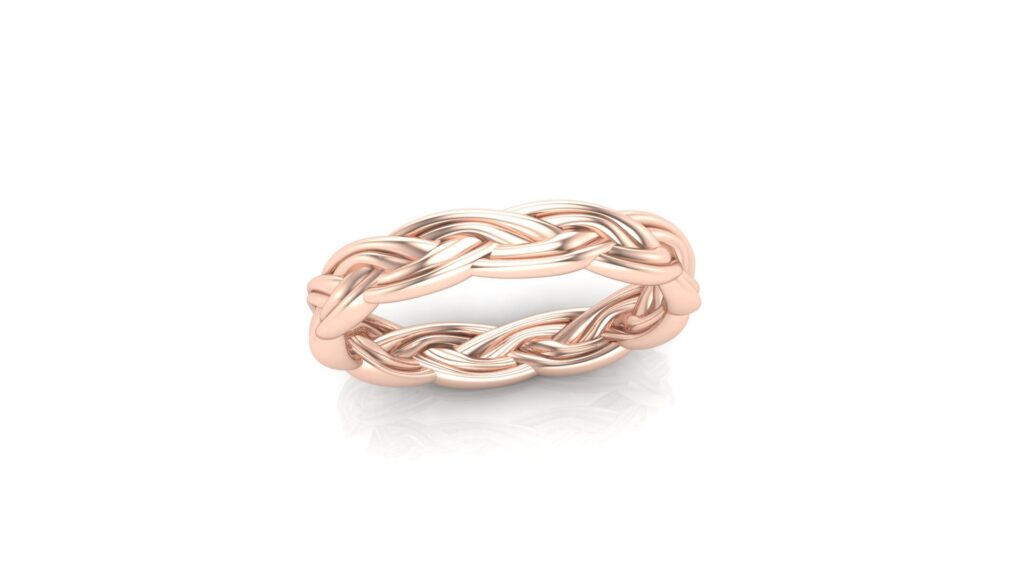 The two strands in this Rope Wedding Band represent the unification of two people for life. This is the female version, which is 4mm wide. We also made a 6mm wide version for the man, which you can see if you click on the image. The rope could also be changed to add strands if you wanted it to represent more than 2 people.
CUSTOM WEDDING RINGS – WHAT DO THEY COST?
The main cost driver for a Custom Wedding Rings is whether or not you want diamonds in it. Adding diamonds to a Custom Wedding Ring can significantly add to the cost, depending on the number and quality of stones. There are less expensive options that cam mimic the look of diamonds though such as Moissanite, CZ, and White Sapphire. The second largest portion of the cost of a Custom Wedding Band is the metal. On the low-end is Sterling Silver, which costs a fraction of the cost of Gold, Platinum or Palladium Custom. There are also the contemporary metals such as Titanium or Tungsten, but we will keep those separate.
TRULY UNIQUE CUSTOM JEWELRY!
No matter what it is that you want and no matter how many places told you no, we will say yes, we can make that! Click HERE to see all of our men's wedding rings and if you don't see what you are looking for, send us your idea and we will see what we can do for you. Custom Wedding Rings can cost less than something comparable at the mall and you will be far happier in the long run.
Hand Engraved Wedding Rings
At Valeria Custom Jewelry, we can create a hand engraved custom wedding ring that few others can. Do you have an idea for a plain band with something engraved on it? We have one of the few remaining master hand engravers local to us and he can do things like this all day. Send us your idea for a custom hand engraved custom wedding ring and we will take it from there.
My name is Lucas Horton and I own and operate Valeria Custom Jewelry in Dallas, Texas. Custom Wedding Rings have been a passion of mine for 20 years now and I wake up every morning feeling blessed that I get to create it. Whether it's an engagement ring, a simple wedding band, a complete bridal set a pair of earrings, a pin or a pendant, I can create Custom Wedding Rings not commercially available anywhere else and usually at a better price.
CUSTOM WEDDING RINGS – GIVE US A SHOT!
Valeria Custom Jewelry will exceed any of your expectations if given the opportunity to design your Custom Wedding Rings. The design skill, value, quality, and knowledge we offer will be evident from the start. Consequently, this usually make us the best choice to turn your vision and dreams into reality. Want some proof? Google Valeria Custom Jewelry and you will find hundreds of 5 star reviews from satisfied customers: why not join their ranks??
Click HERE to learn more about custom jewelry, view our portfolio, or to contact us about Custom Wedding Rings. Click HERE to see out women's wedding ring portfolio. It can cost less than you think to have your very own custom men's wedding band made just for you. Why settle for the lame and overpriced wedding rings from the retail stores when we can make something showing your style and personality?
FREQUENTLY ASKED QUESTIONS
I found Valeria custom jewelry online and when I saw their awesome work on their website I knew this was the best place for custom jewelry. I live in New York and distance was no problem, I contacted Valeria jewelry by email with pictures of a ring that I wanted rubies mounted in and the price was very competitive so I doubled the order last minute and I sent two rings for custom work done, which they said was no problem. So I mailed the two rings and a few weeks later I have the rings and they look great! Job well done to Valeria for the custom jewelry and I can't thank them enough they surpassed my expectations for the rings. Getting custom jewelry done through the mail was easy safe and secure by insured usps. I look forward to having more jewelry done in the future at Valeria and am completely happy with my rings. Their website has good examples of their work so I am sure no matter the distance or need they will get it done quickly and with a good price. Thanks again Valeria !
I found Lucas via a google search, and his reviews honestly seemed too good to be true. I reached out to inquire about setting an antique diamond from a pendant into an engagement solitaire ring, and enlarging an antique wedding band. He responded to my initial email within minutes, and very quickly gave me design choices and an estimate for each. After dropping off the items, the rings were ready within 5 days - and they look better than I was even hoping for. His prices are exceptionally reasonable, and he gave full market value for the scrap gold my diamond was originally set in. I highly, highly recommend working with Lucas for the ease, responsiveness, and exceptional results he provides.
Lucas was absolutely amazing with his level of attention and detail to not only what I was looking for in the creative and concept stage, but throughout the process as a whole. We went back and forth for weeks about setting design and material, and specific gem selection and he was communicative and patient the entire time. Absolutely recommend he and his teams services.
My fiancé had my engagement ring custom designed through Valeria. Absolutely Beautiful, from the diamond setting to the finish. Thank you Lucas and his team for accomplishing this stunning ring in such a timely manner, which led to a beautiful and amazing experience.
Start design with us now!