The jewelry you wear is an expression of your personality, likes, and style. While having a custom designed piece of jewelry may seem overwhelming and daunting, we are experienced at simplifying the process and making even complex designs accessible. We will work together with you to develop a unique design that reflects your vision and budget as well your style. We can bring your inspiration to life by combining the latest design technology with our dedication to artistry and fine craftsmanship. And because nothing is manufactured until you approve the design, you will get the Custom Ring Design that you are looking for.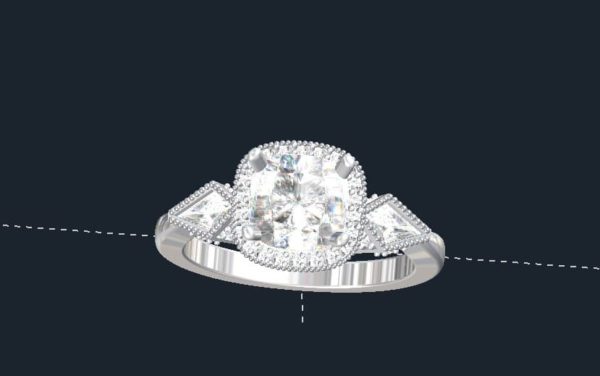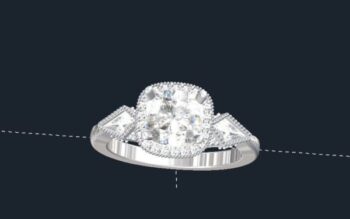 This 3 stone antique engagement ring hearkens back to the days of the early 1900's, when platinum rings like this were fabricated by hand. Thank God for CAD! The center stone is a 7mm Cushion cut accented by Kite, Round, and Square shape stones.  We also added some milgrain for an added design element.
Be inspired by our recent Custom Ring Design.  Or, bring us your ideas, drawings, or images.  Our custom design process makes it easy to create a ring like no other and includes your input and approval as part of the process.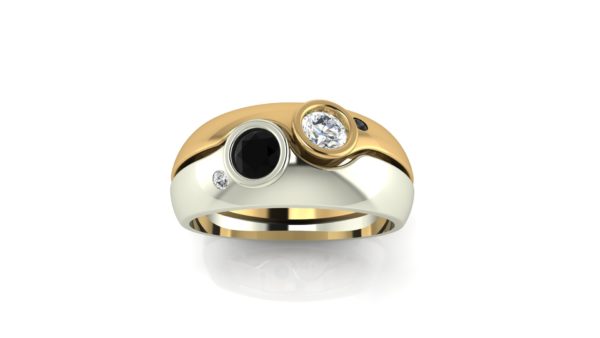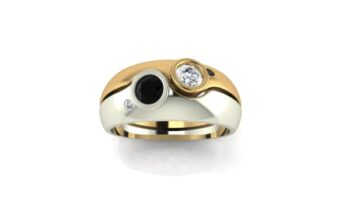 This one was cast separately in yellow and white gold and then assembled.  Bezel set in each metal is a 4mm diamond.  Other, and smaller type of stones could be used as well. 
My name is Lucas Horton and I own and operate Valeria Custom Jewelry in Dallas, Texas. After 10 years in the corporate world and finding myself miserably facing each day, I eventually found myself combining the art of jewelry fabrication, my skills as a gemologist and my unique talent of bring CAD (computer aided design) into Custom Ring Design, which opened up a whole new realm of possibilities. Whether it's a ring, a bracelet, a pair of earrings, a pair of cufflinks, a pin or a pendant, I can create jewelry not commercially available anywhere else.
Custom Ring Design
Here is a breakdown of the Custom Ring Design process.
STEP 1: Contact us to receive a no obligation quote based on your design concept, precious metal, gemstones, and ring size.
STEP 2: We will take your comments, drawings & Pictures and work together with you to create a CAD design that you will be able to have changes made to. Our GIA Graduate Gemologist can help you select the perfect conflict free Diamonds or Gemstones for your design.
STEP 3: Once your design has been approved, we will use the (CAD) model to "grow" a wax of your piece.
STEP 4: Upon completion of the wax, our manufacturing team will mold and cast your design in the precious metal of your choice. Your gemstones are then meticulously set by our expert craftsmen. The piece will then be polished, and any special finish or enameling will be added.
I am confident that if you give Valeria Custom Jewelry an opportunity, you will see that my design skill, value, quality, and knowledge make me the best choice to turn your Custom Ring Design and dreams into reality
If you would like to see more of our custom men's wedding ring styles, click HERE.  Click HERE to learn more about custom jewelry, to see more of our ring designs, or to contact us about custom jewelry creation.  It can cost less than you think to have your very own piece of custom jewelry made just for you. Why hassle with the retail stores for boring and overpriced jewelry that you don't love? We can make EXACTLY what you want.