Custom designed jewelry is an opportunity for you to control every aspect of the creation of your ring, pendant, bracelet, pin, etc.   The end result is a finished piece as unique as the person who created or will wear it.  Are you looking for a ring that is to be worn every day?  Why not take the time to create a one-of-a-kind creation that will act as a daily reminder of your love or some other thing? Instead of purchasing a mass-produced ring from Asia, create a symbol of your dedication and commitment by designing unique Custom Rings.   The process of which will become a treasured story about one of the most significant objects you will ever own.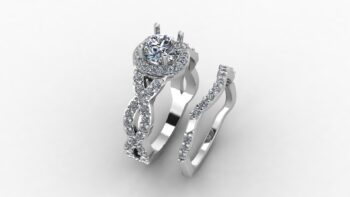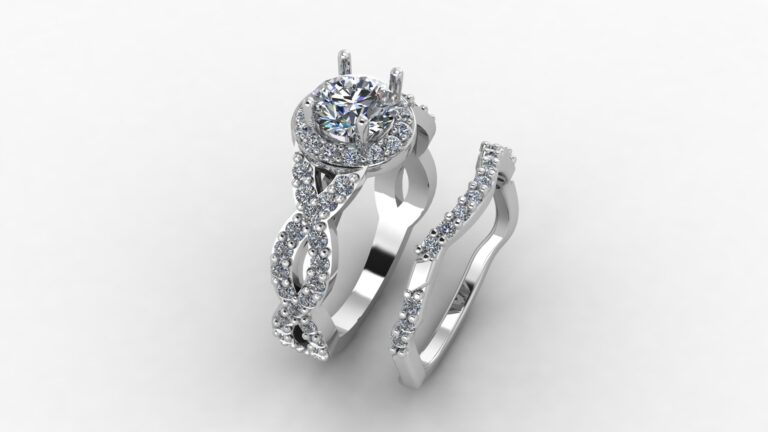 This is our Infinity Halo Engagement Ring with matching band.  You can always find halo rings at the mall.  You can sometimes find infinity rings.  But you won't find a ring with both.  This is why having custom rings made is so cool.  You get to make what YOU want.  Not what the retailers thinks you should want.
Value of Custom Rings
Off-the-shelf jewelry is designed to appeal to a wide base of people while maximizing profit. At Valeria Custom Jewelry, we encourage clients to custom design their jewelry to ensure they receive exactly what they want & nothing less. This is why we never cast a custom jewelry creation without the client's approval.  This means that that you will get the Custom Rings that you are envisioning.  With custom jewelry, the piece you create will be manufactured to standards superior in quality and design to anything mass-produced.  Not to mention the craftsmanship.  Do you wonder why the retail stores offer PAID warranties for stones falling out??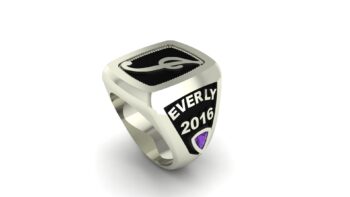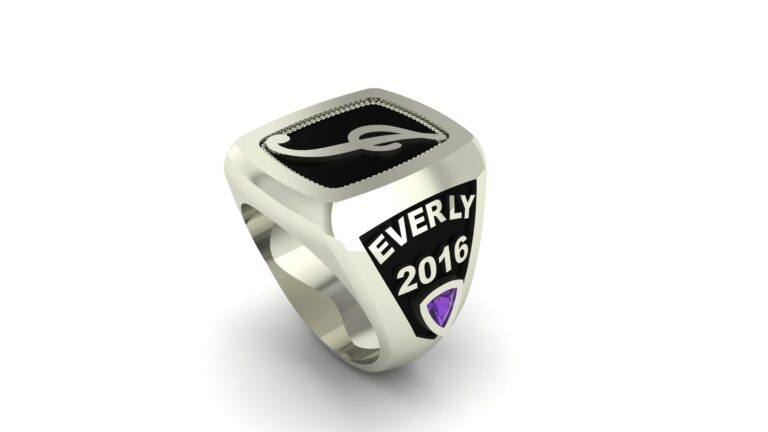 This Championship Style Family Ring was just the custom signet ring for the customer who wanted a family ring, but wanted it big.  It was a first for us, but we came up with something large, yet still elegant.
As the saying goes, you get what you pay for. Custom Rings are your chance to be involved in creating a piece that you will cherish – not only for what it represents, but also because you oversaw and fine-tuned every detail of its creation from the moment the idea was conceived. When it comes to an custom jewelry creation, never settle. At Valeria Custom Jewelry, our designers will work directly with you  to ensure that when you receive the final piece, you're not just satisfied, but blown away. Take advantage of our experienced and knowledge. Contact Valeria Custom Jewelry to start work on your masterpiece today.
Appeal of Custom Rings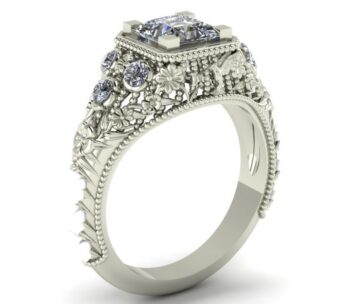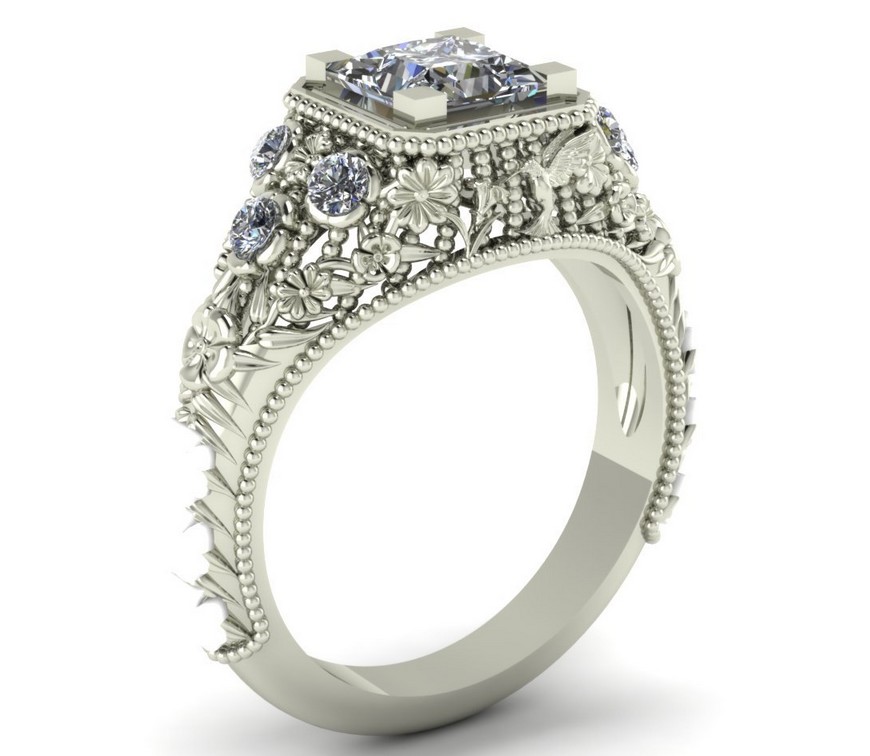 We had a client who loved hummingbirds, but couldn't find a hummingbird engagement ring anywhere. Or if she did, they were cheaply made in Asia, not well designed, or ugly.  Enter Valeria Custom Jewelry.  We created a stunning engagement ring featuring a lone hummingbird feeding in a lush garden of flowers and vines.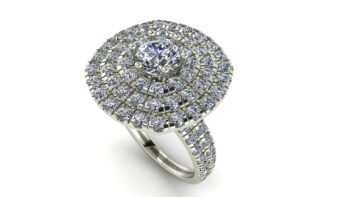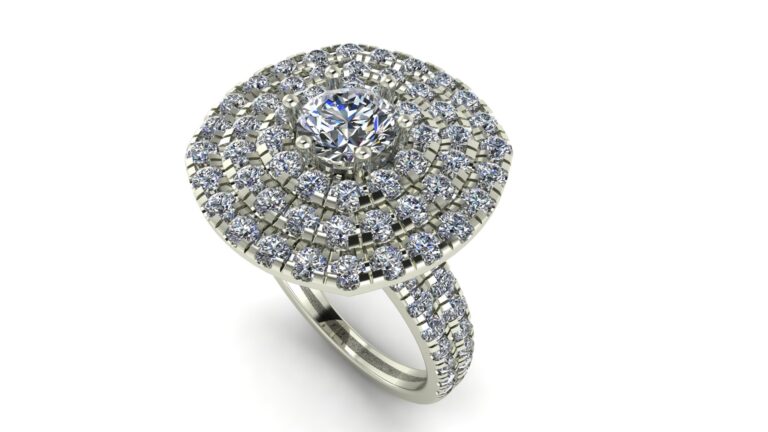 We had a customer with a bunch of old jewelry that she wanted repurposed into something new.  This is a spin on that ring.  The 2mm diamonds in the rounded square halo are french pave set, but we could make this a shared prong setting as well.  It is also possible to play with stone sizes or even remove a halo if you like.
Custom Jewelry Is Superior To What You Find At The Chain Jewelry Store
Valeria Custom Jewelry is becoming known for creating unique one-of-a-kind Custom Rings.  We usually create our Custom Rings from the ground up – from engagement rings, wedding bands, wedding sets, pins, cufflinks, earrings, to necklaces – anything that can be cast in gold, silver palladium, or platinum using the lost wax technique.  And all of it can be accented with the most beautiful diamonds or gemstones available at the best value and usually at prices lower than the chains.
When it comes to jewelry, custom pieces offer a superior option compared to what you find at chain jewelry stores. Custom jewelry is crafted with attention to detail and personalized to your preferences, ensuring a unique and meaningful piece. Unlike mass-produced jewelry found at chain stores, custom pieces are made with higher quality materials and craftsmanship. Additionally, custom jewelry allows for greater creativity and customization, allowing you to express your individual style and personality. Overall, choosing custom jewelry ensures a one-of-a-kind piece that is superior in quality and personal significance.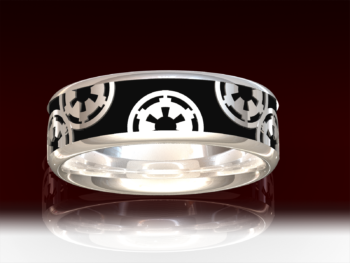 This is one of our Galactic Empire Men's Star Wars Wedding Bands.  It is essentially a patters of the logo going around the ring.  We can make something like this with most Star Wars logos.  The base of the ring would be covered with enamel to create the black.
Custom Rings – Give Us a Shot!
While Custom Rings are our specialty, we offer much more! With the latest in 3D CAD technology & jewelry modifications as well as re-setting gemstones and sourcing diamonds or gemstones, we are a one stop shop for all of your Custom Rings needs.  Don't settle for plain, overpriced, mass produced jewelry from the mall and chain stores.  It  won't nearly as last and won't show any the personality you can instill into a custom piece.  Don't you want your piece to have a story you can tell people???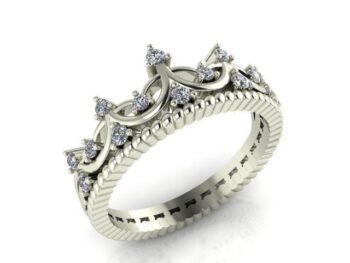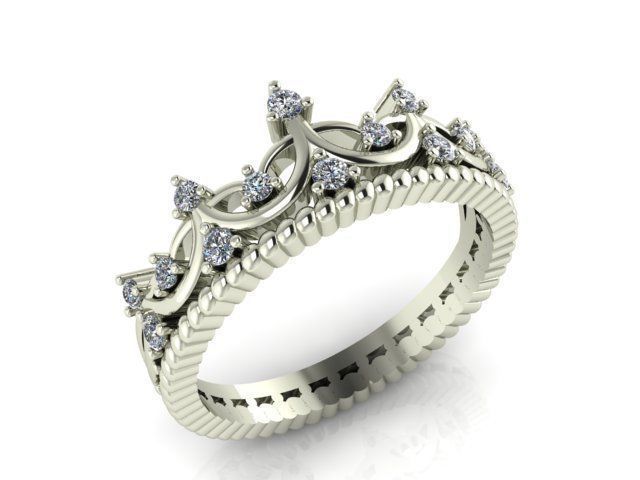 This Princess Ring was created as a diamond promise ring for a soldier deploying to Afghanistan.  He wanted to give his fiance something special before he left to let her know he was thinking of her.  We created a crown ring that is both elegant and unlike what you can get at the mall.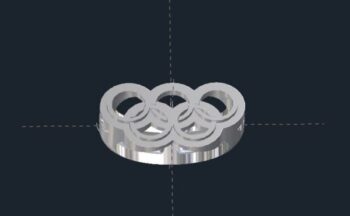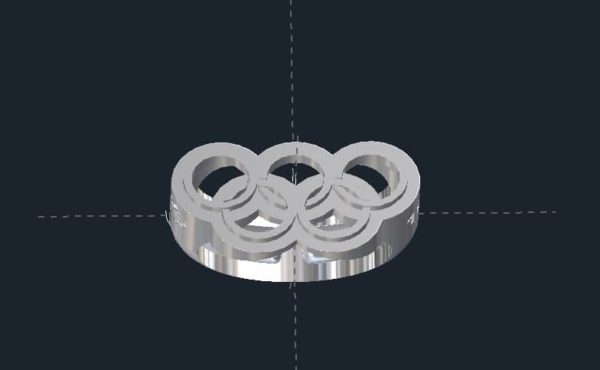 We had a customer who competed in the 1982 Munich Olympics and wanted a custom ring to commemorate it. On the sides were the logo for that years games as well as 1982. Were you in the Olympics?  Let us create something to celebrate that!
Using your unique ideas, possibly along with old and unused jewelry you may have sitting in a drawer or no longer wear, we are able to create brand new pieces you will be dying to wear!  In this way, we make a new piece of jewelry with the original sentimental value still intact.  And with our collaborative process, you will get the Custom Rings you want. We don't begin manufacturing your ring until we receive your approval on the final design. This ensures ample communication between you and the designer and helps for the final product to exceed your expectations.
Let Us Design That Ring You Have Always Wanted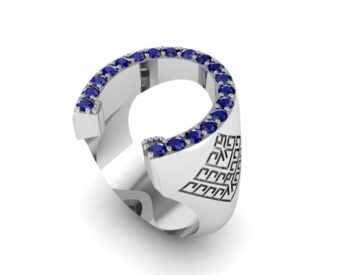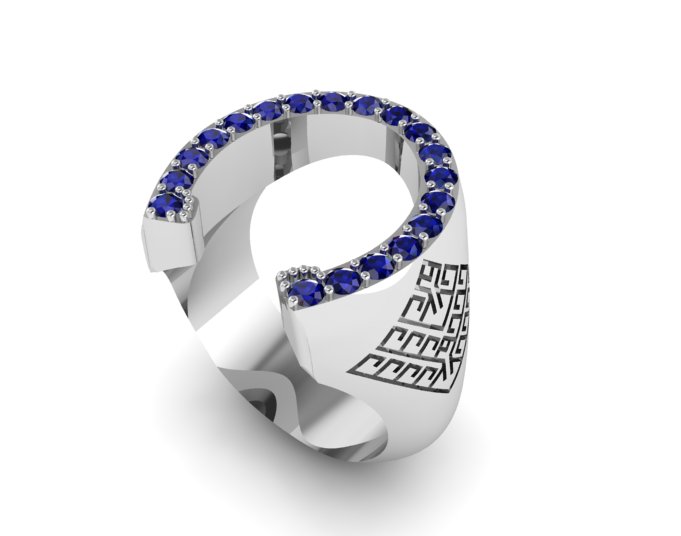 This horseshoe ring was created for a customer who gave us the emblem on the side to put on the ring.  Just another gent's ring showing the possibilities of custom jewelry.
Click HERE to learn more about our bridal jewelry.  Click HERE to learn more about custom jewelry, to see our portfolio, or to contact us about Custom Rings.  It can cost less than you think to have your very own Custom Rings made just for you. Why hassle with the retail stores for boring and overpriced rings that don't suit your taste and style?
We know you have tons of options when looking for Custom Rings.  However, we are confident that if given the chance, our skill, value, and service will put us above the rest.  Especially if you are looking for something that is a little different form what you can get at retail stores.
We also know that there are lots of jewelers claiming to make custom jewelry.  However, adding an engraving or a finish other than high polish isn't custom jewelry.  There are also a lot of jewelers who have others design custom jewelry for them.  This is problematic for various reasons.  But at Valeria Custom Jewelry, you will directly communicate with the person designing your ring.