Tire Tread Wedding Ring
Our tire tread wedding bands are ready to hit the open road!   These unique rings are a favorite among gear heads and motor enthusiasts.  Our collection includes motorcycle, dirt bike, auto, and more! We have the tire tread wedding ring to satisfy your need for speed.
If you love to ride big trucks, motorcycles, or ATV's, then you are going to want one of our custom tire tread ring designs! There's nothing better than a ring that shows off your rugged, outdoorsy side. Our custom tire tread ring designs make perfect wedding rings for ladies or men, and one that you'll actually enjoy wearing! But these designs aren't limited to what you see here.  We can make a ring out of any tread you send us.  Not only will it complement your style and character, but it will look awesome, too!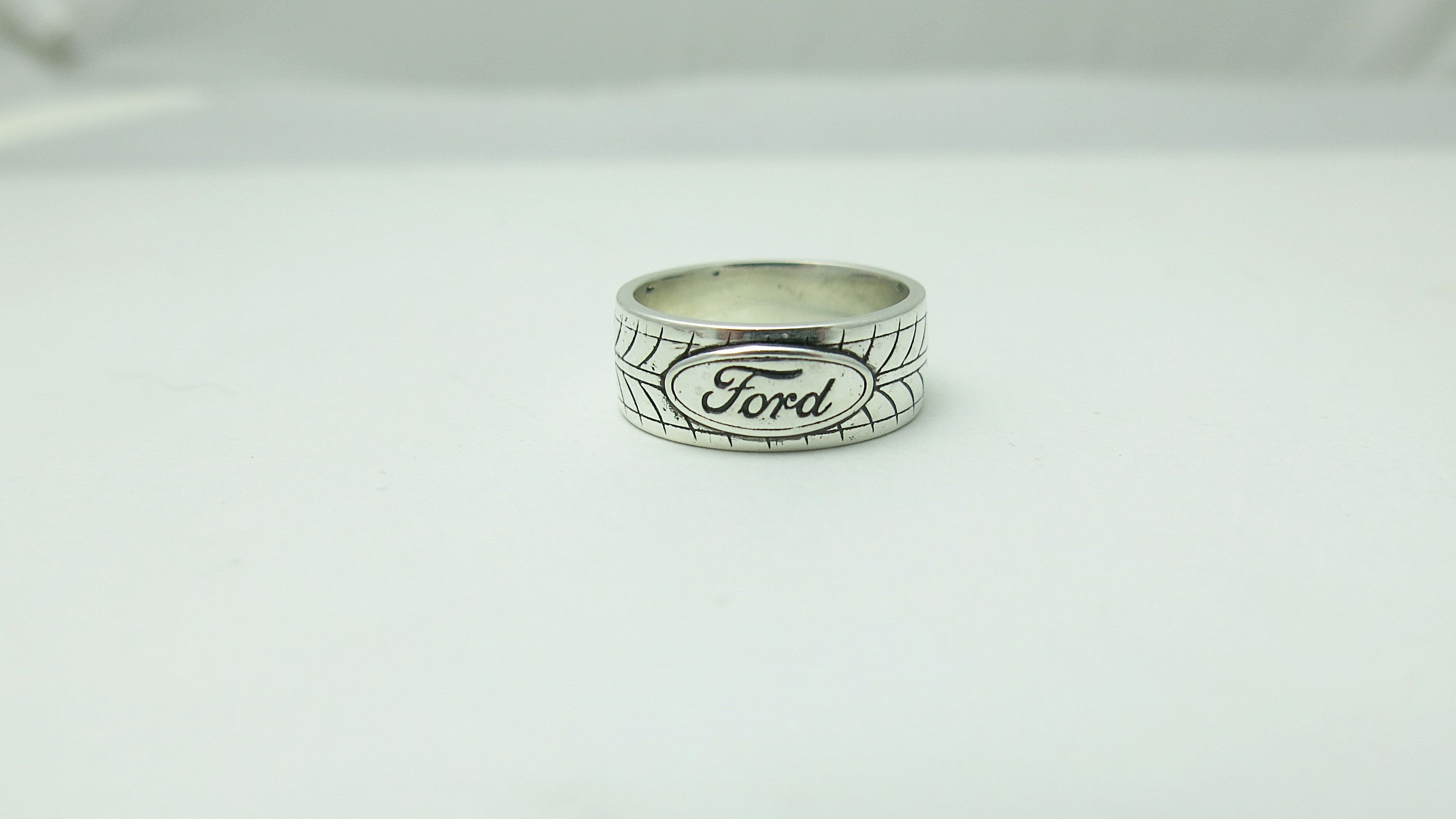 Are you looking for a Custom Ford Tire Tread Wedding Ring?  We got you covered!  We can take any tire tread you want and turn it in to a Tire Tread Wedding Band.
Why Tire Tread Rings Are Popular
Tire tread wedding bands have gained popularity for several reasons. Firstly, their unique design sets them apart from traditional wedding bands. The intricate patterns of tire treads add a touch of ruggedness and individuality to the ring, making it a perfect choice for couples who want something different. Additionally, the durability of tire tread rings is highly appealing. Made from strong materials such as titanium or tungsten, these rings are built to withstand the test of time, symbolizing the lasting commitment of marriage. Lastly, tire tread rings are often more affordable compared to traditional wedding bands, making them an attractive option for couples on a budget. With their distinctive design, durability, and affordability, it's no wonder why tire tread wedding rings have become increasingly popular among couples looking for a unique symbol of their love.
Tire Tread Rings Are Excellent Candidates For His & Hers Sets
Tire tread rings are an excellent choice for couples looking for his and hers sets. These unique rings are made from actual tire treads, giving them a distinct and rugged appearance. They are perfect for individuals who appreciate the outdoors or have a passion for cars. The texture and pattern of the tire tread adds an interesting and eye-catching element to the rings, making them stand out from traditional wedding bands.
In addition to their unique design, tire tread rings are also durable and long-lasting. Made from materials such as tungsten or titanium, these rings are known for their strength and resistance to wear and tear. The tire tread pattern adds an extra layer of protection, making them even more resilient. This makes them a practical choice for individuals with active lifestyles or those who work with their hands. You can wear your tire tread rings with confidence, knowing that they can withstand the rigors of everyday life.
Furthermore, tire tread rings offer a personal and meaningful touch to your wedding or commitment ceremony. They symbolize a shared love for adventure, exploration, and a willingness to go the extra mile together. The unique design of the rings also allows for customization, with options to add gemstones or engrave special messages. Whether you choose a simple and understated design or a more elaborate one, tire tread rings are sure to make a statement and become a cherished symbol of your love and commitment.
What If The Bride To Be Is Hesitant About Her Future Husband Wearing A Tire Tread Wedding Ring?
Many brides-to-be have concerns and hesitations when it comes to choosing the perfect wedding ring for their future husband. One unique concern that may arise is whether or not it is appropriate for the groom to wear a tire tread wedding ring. While this may seem unconventional, it is important to remember that wedding rings should reflect the couple's personal style and preferences. If the bride-to-be is hesitant about her future husband wearing a tire tread wedding ring, it is crucial to have an open and honest conversation about their concerns and find a solution that both partners are comfortable with. However, it must be pointed out that what others think does not matter.  Other's opinions should have no bearing on the rings that a couple choose to wear.
Custom Tire Tread Ring Designs Are Something We Do Better Than Most!
Do you have a soft spot in your heart for your big truck or motorcycle?  If so, then will love our Custom Tire Tread Band designs that allow for almost any tire tread to be turned into a cool wedding ring.  There's nothing better than a Tire Tread Ring that shows off your rugged personality!  Let us create the perfect mud bogger wedding ring for men or women and you will love having your own personal tire tread memorialized in a Custom Tire Tread Ring.  Not only will it show off your personality, but it will look pretty cool as well!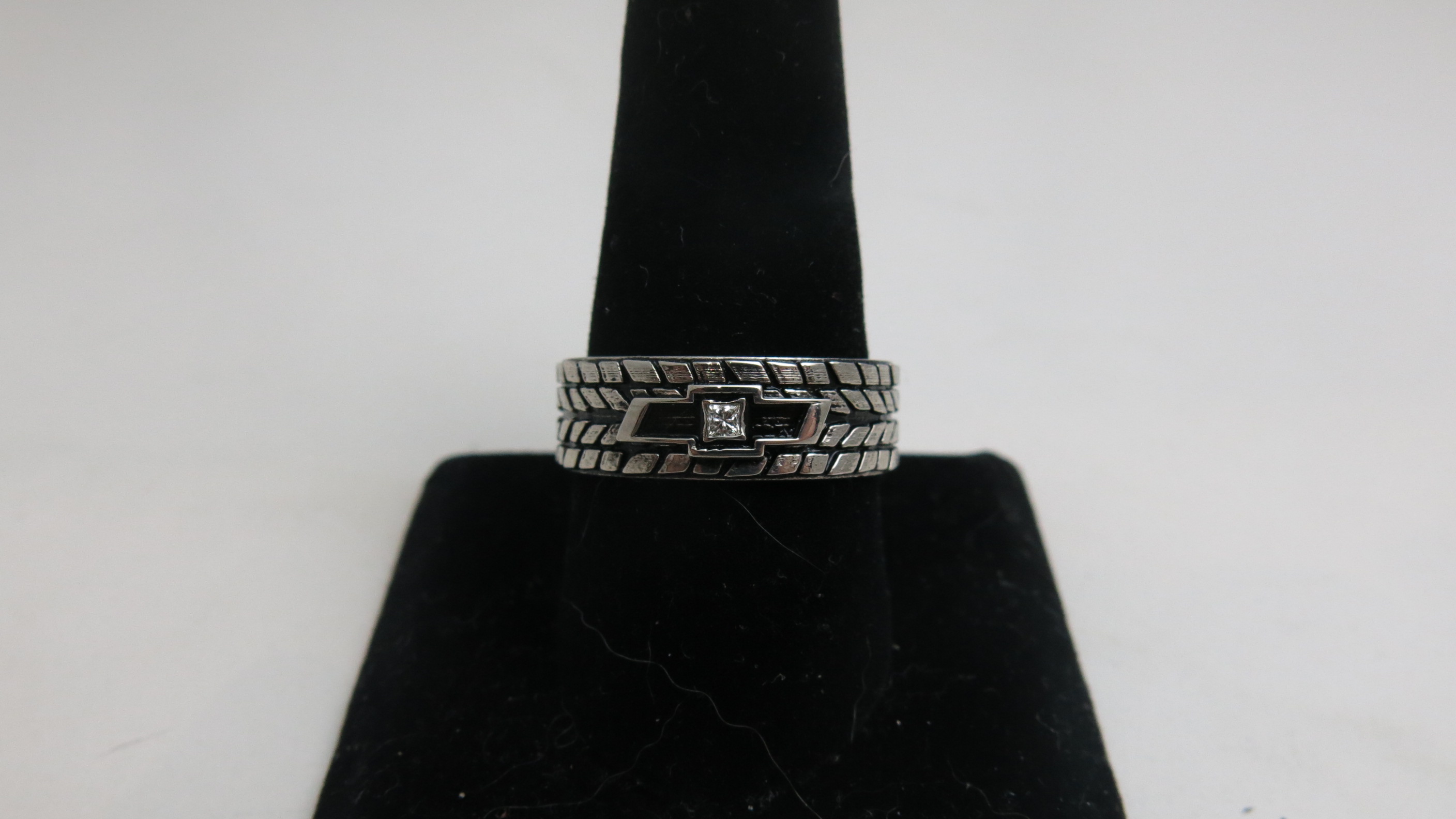 This Custom Tire Tread Ring was based on a tire given to us by a customer who also wanted the Chevy Symbol with a diamond in it.  This is what we came up with.  It was cast in White Gold and set with a 2.5mm Princess cut Diamond.  The base of the tire was painted with aircraft paint.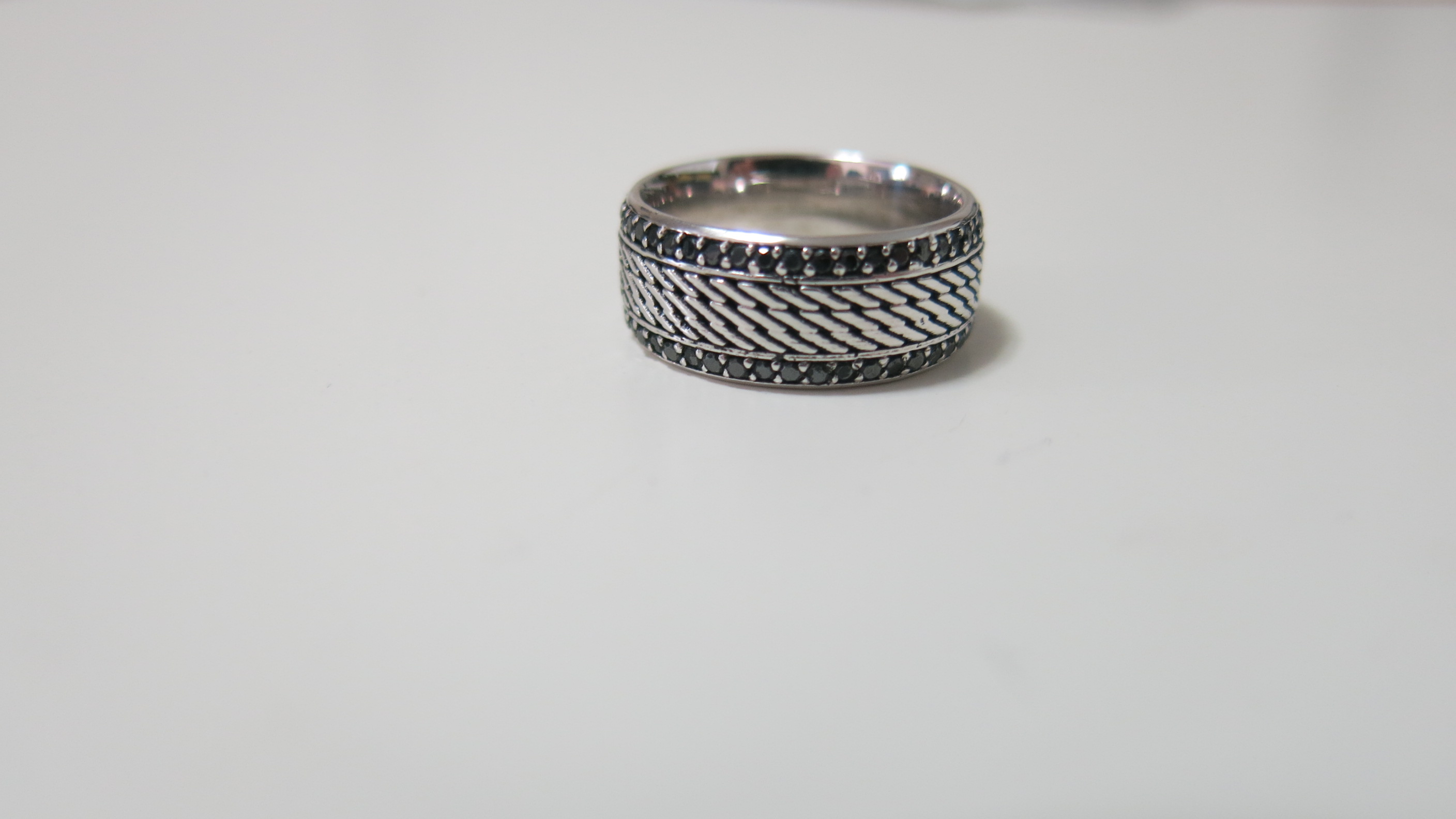 We love this tire tread wedding ring that has the treads capped with two rows of black diamonds.  We call this one our Talladega Nights Ring and have actually made a few variations of it, one with white diamonds as well as one without any stones at all.  That is the beauty of custom jewelry…you can get it made however you want the ring made.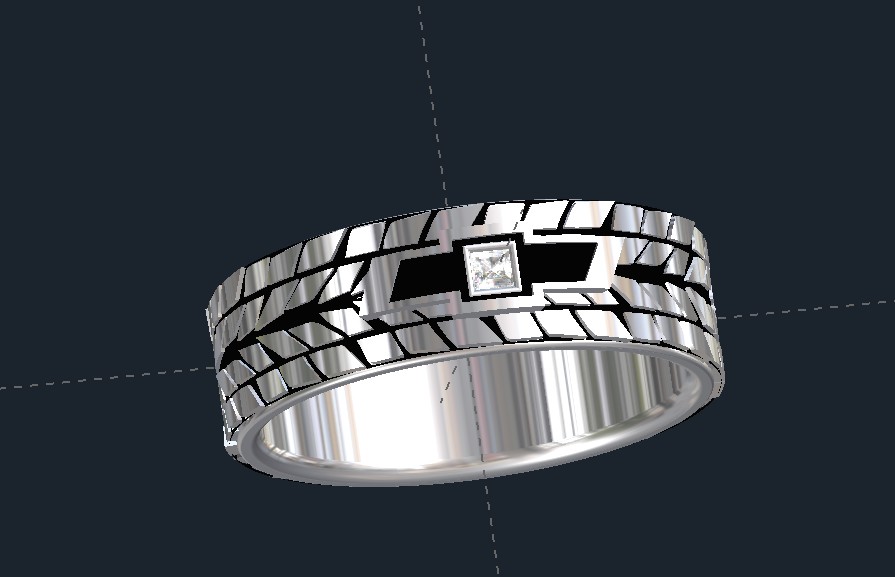 This custom mud bogger wedding ring was based on a customer's ATV tires.  It was 8mm wide, cast in Sterling Silver, and had the base oxidized.  We can't find a finished image of the ring, but it was very nice.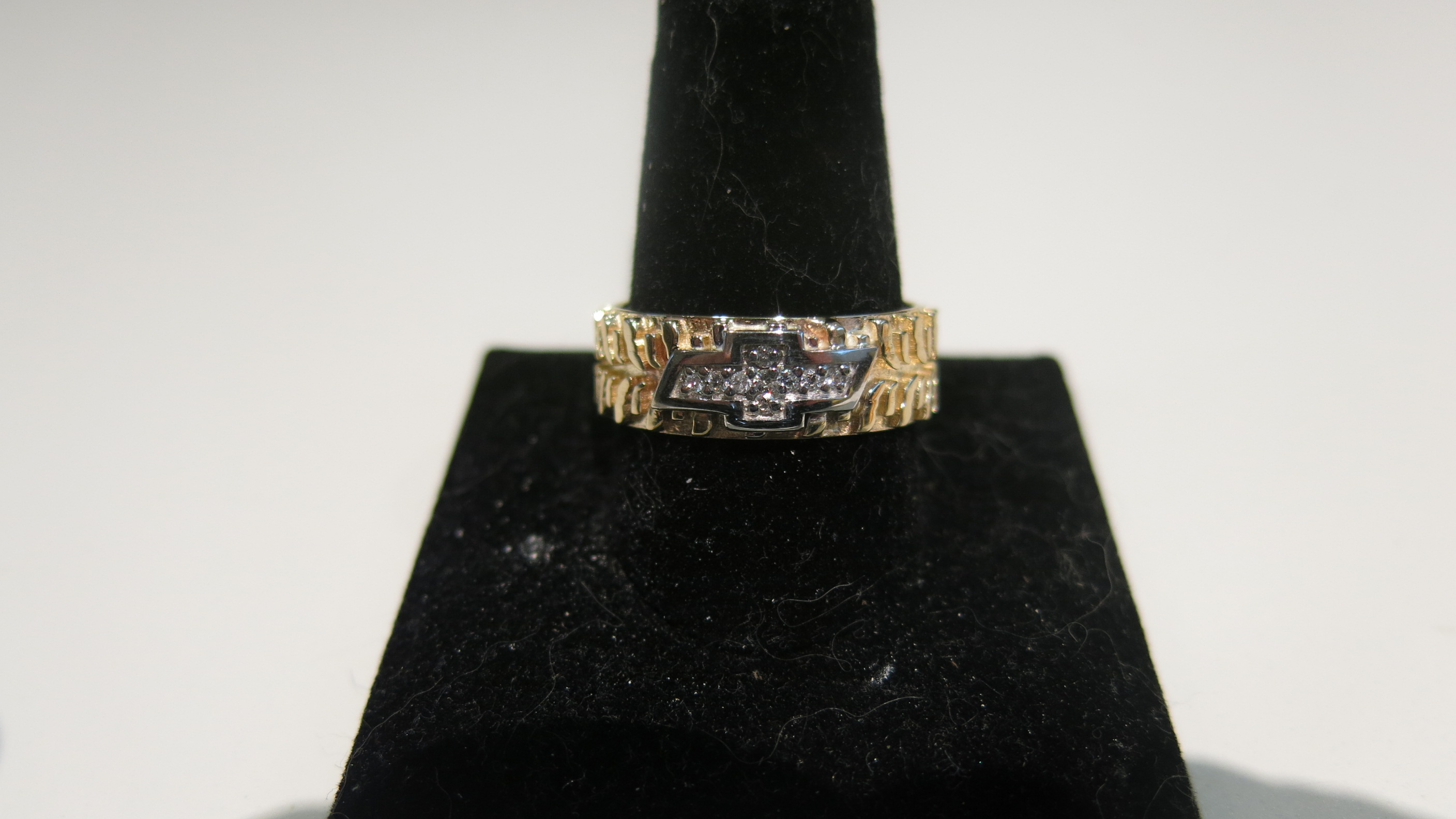 This 2 tone version of our Chevy mud bogger ring.  The Chevy symbol was cast in white Gold and then soldered onto the yellow gold ring. We added a few diamonds in the logo as well for some added sparkle.
Custom Tire Tread Rings – Not All Are Created Equal
You can find tire tread wedding rings and mud bogger rings all over the internet.  However, most are in contemporary metals like Titanium or Cobalt that can't be resized.  That is because they are mass manufactured in Asia.  They create a limited number of designs and have a ton of them made.  But it isn't possible for you to get your own design made into a single ring.  There are also "custom jewelers" who buy these tire tread rings in mass form Asian manufacturers.  That is why you see so many of the same rings sold by multiple jewelers.
A distinctive tire tread pattern makes can make a custom wedding ring unforgettable and a conversation starter.  Don't settle for mass produced, lame, tire tread rings from China!  We can make a tire tread wedding ring with the tread you want.  Just send us your idea….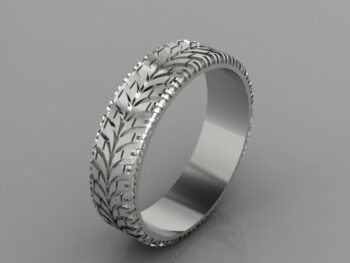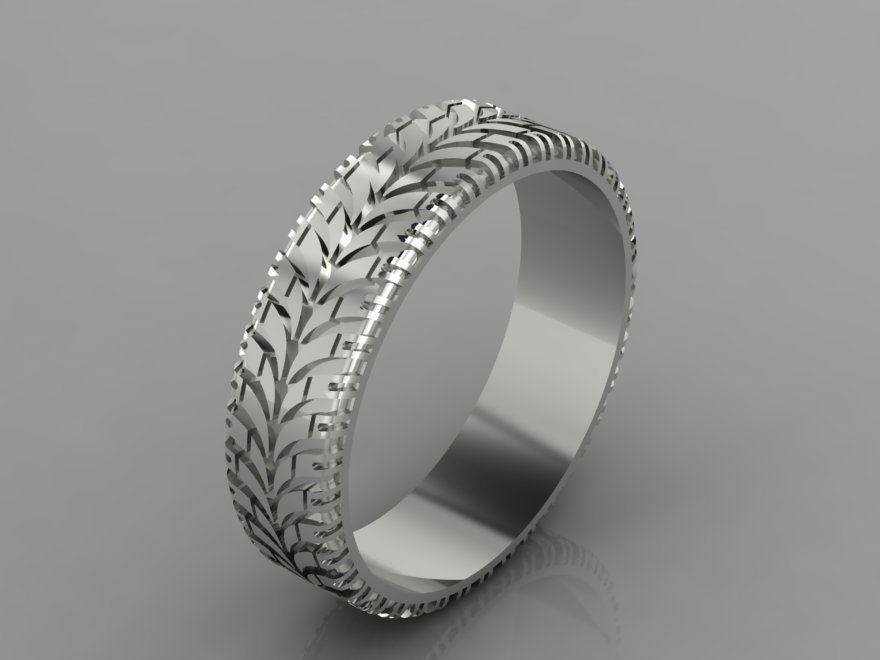 This tire tread ring was created from a tire on a customers custom mustang.  We can create tire tread wedding bands based on almost any tread you have.
Give Us A Shot!
We know there are tons of jewelers out there offering custom tire tread ring designs.  However, they only have a few designs that are offered in different widths and metals.  This is not truly custom jewelry.  There are also lots of jewelers who will make you a custom tire tread ring, but they farm the CAD out to a design house.  We know from experience that this can be problematic. First of all, things can get lost in transmission when you insert an unnecessary person into the mix.  Second, small changes that should take 10 montes can take 24 hours.  And tird, when you add another cook to the kitchen, it will cost more.
At VFJ, you will directly communicate with the person designing your Custom Wedding Ring.  This solves all 3 of those problems and is why we learned CAD for ourselves!
Click here to see all of our custom wedding ring designs.  Click on our Homepage to learn more about custom jewelry, to view our entire portfolio, or to contact us about a Custom Wedding Ring.  It can cost less than you think to have your very own custom wedding ring made just for you. Why hassle with the retail stores for boring and overpriced wedding bands? We can make EXACTLY what you want.