CREATING THE PERFECT CUSTOM
ENGAGEMENT RING
Ding Ding Ding!!!  So you found the perfect partner and are planning the perfect proposal to vow your perpetual fidelity to them. As a symbol of your uncommon love, you are going the custom jewelry route and going with  Customized Engagement Rings.  First off, congratulations! And second,  we commend you on your excellent decision! Not only is a custom engagement ring a very special symbol of your unique love.  It is also a testament of your attention to detail. Details such as aspects of her personality, likes, and style that can be incorporated into the ring.  Creating  Customized Engagement Rings is all about pouring yourself into a piece of jewelry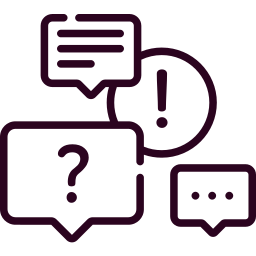 Discuss design ideas, options, budget, with your jewelry consultant – your guide to the custom experience.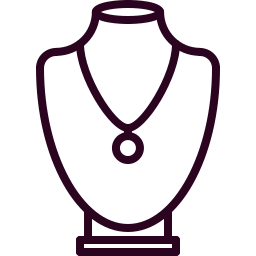 Visualize your piece with high resolution 3D renderings, and we'll adjust every detail until you tell us it's perfect.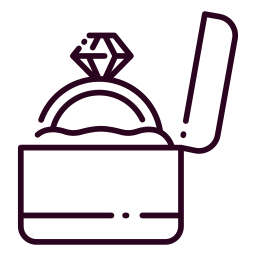 Receive your custom piece, with the assurance it's been made to wear and last a lifetime.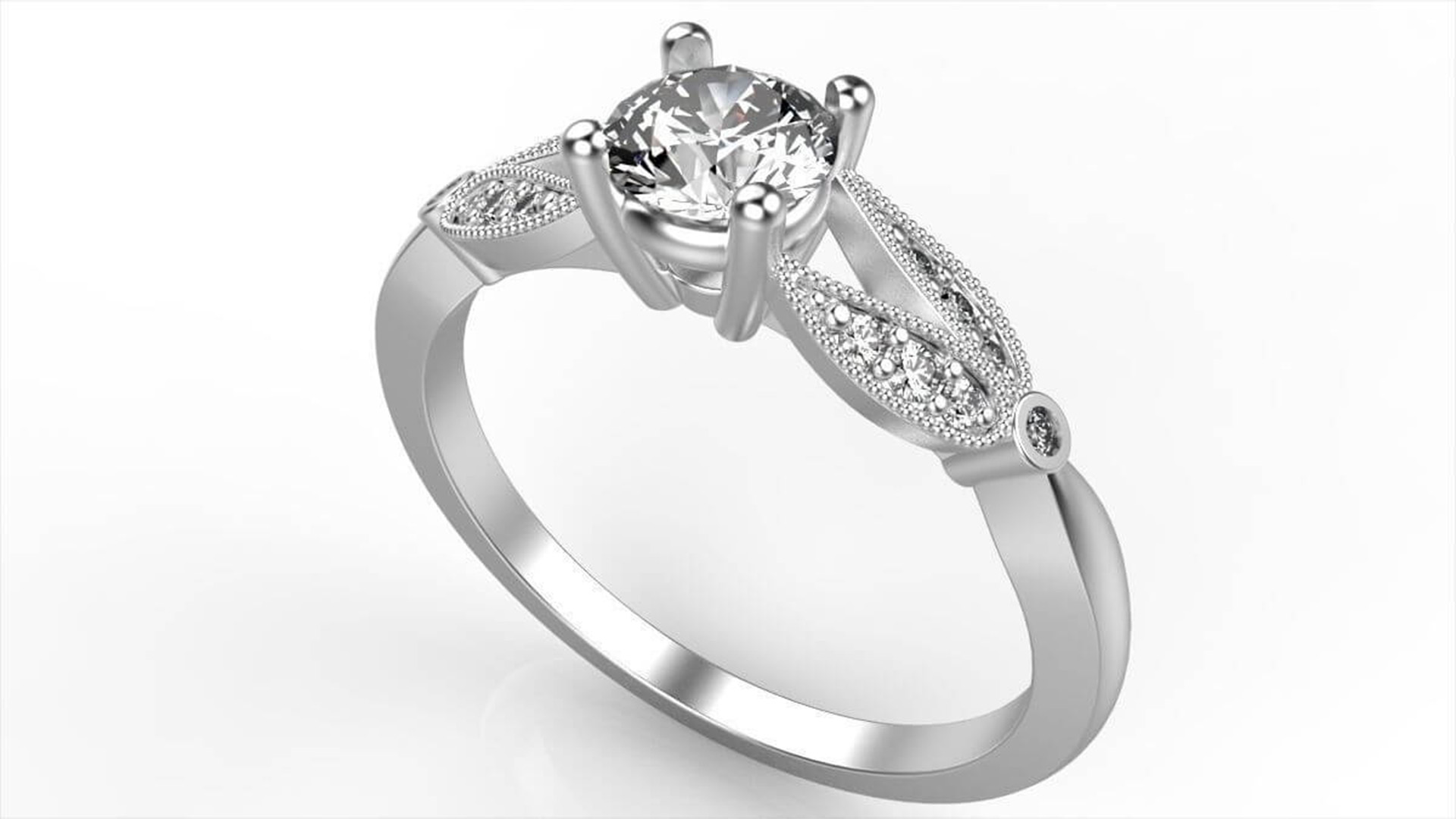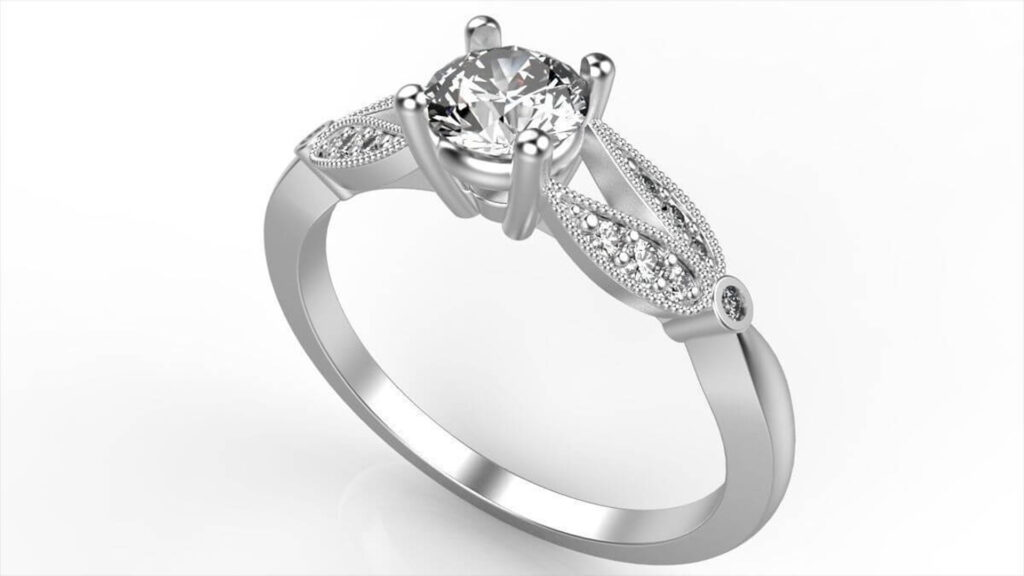 Split Shank Floral Engagement Ring
This Vintage Engagement Ring is one of the more unique rings we have created. In it, the shank splits from a bezel set stone at 10 & 2 O'clock. From there, two diamond set flower petals reach up to the center stone. The center stone is shown as a 5mm round, but other shapes and sizes can be used.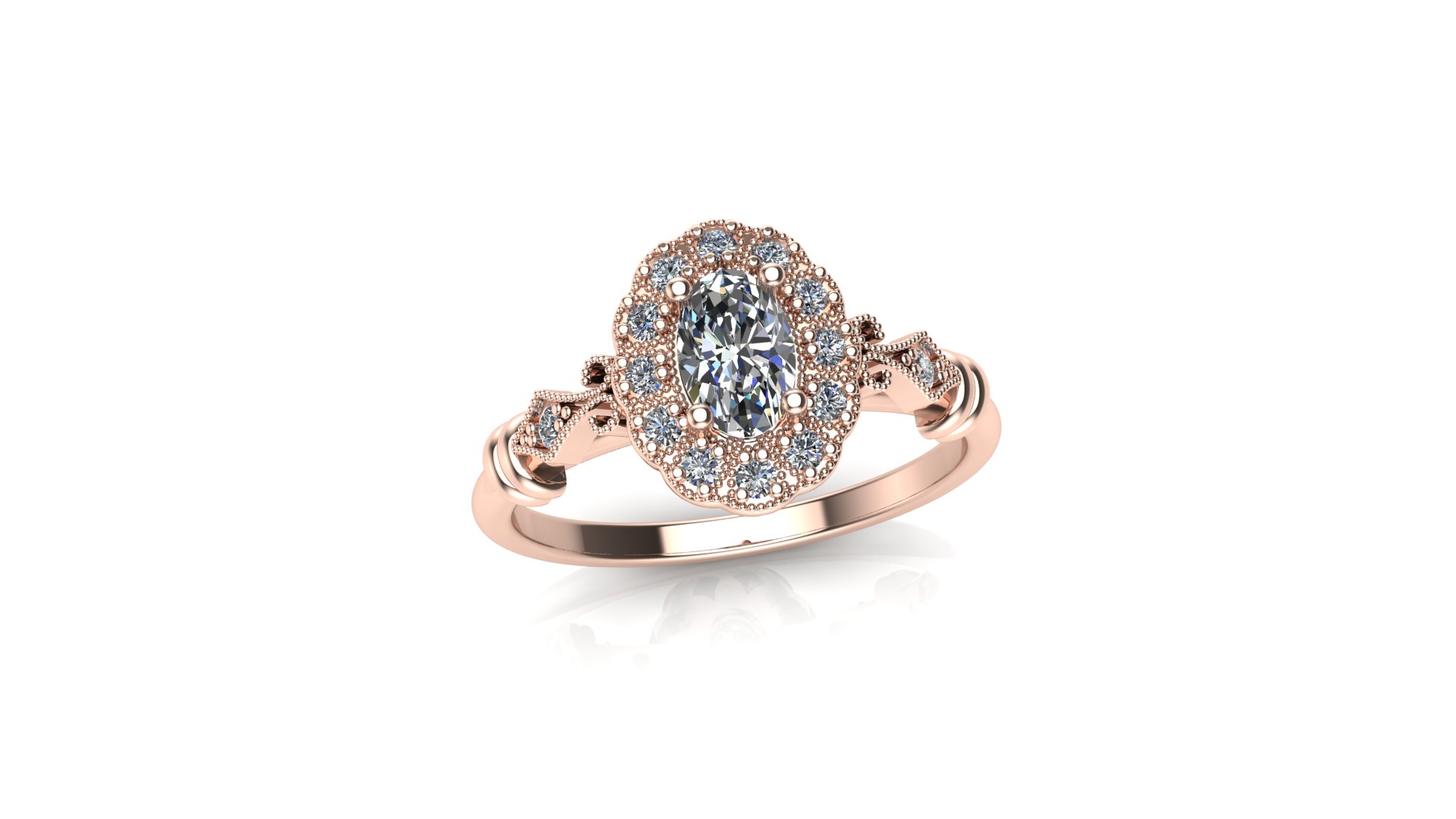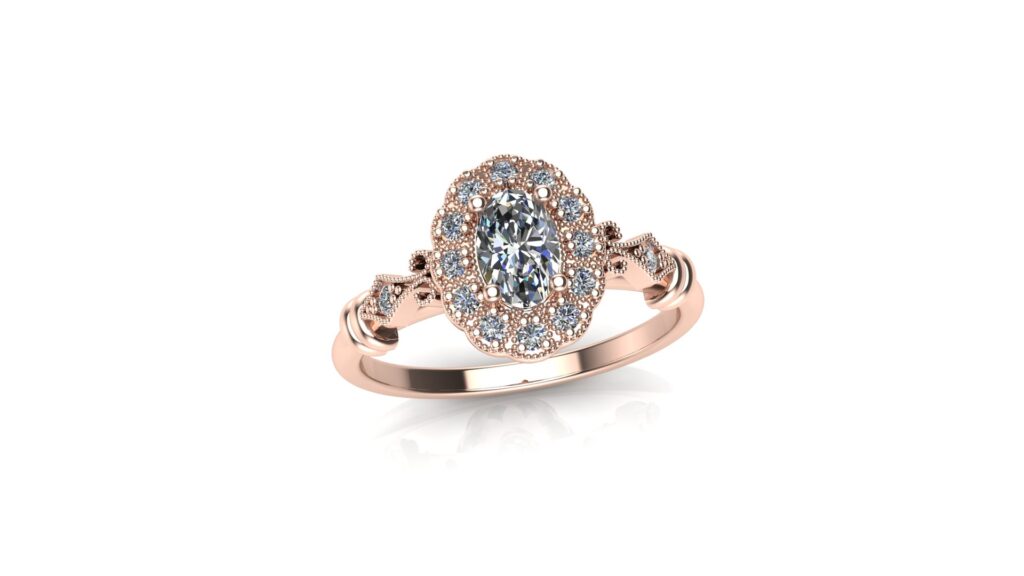 Vintage Halo Engagement Ring
This unique engagement ring pays tribute to the incredible bridal rings created by hand in the twentieth century. The stones in both the halo and band are accented with milgrain while the gallery beneath the center stone is artfully cut out with ballpark squares. There are two small bands encircling the shoulders for some additional decoration. It is shown with a 6.5mm center stone, but other sizes could be used.
CUSTOMIZED ENGAGEMENT RINGS – WE MAKE IT EASY!
However, designing Customized Engagement Rings for your girlfriend can be a daunting task to those who haven't done it before. And usually, it is your first exposure to the world of jewelry, especially custom jewelry. We have already covered all you need to know about selecting the perfect diamond. And in another post, we shared a comprehensive guide on how to choose the other components of an engagement ring such as setting, metal, size etc. If you haven't already, make sure to read those posts before you begin to think about the design and customization of your engagement ring. While you're at it, you can check out our custom engagement trends of 2018 for some inspiration!
Harry Potter Inspired Owl Engagement Ring
This owl ring inspired by a film we are not supposed to name….but oh well, do you do everything you are told?? We just love Hedwig and owls too much. However, even if you aren't a fan of the film, you can still wear this ring without anyone know what inspired it. We also have this ring with stones on the band. And to really put it over the top, we can have the owl hand engraved. Click the image to see a finished ring.
THE FIRST STEPS IN CREATING PERFECT CUSTOMIZED ENGAGEMENT RINGS
So now we can get into the first steps of designing Customized Engagement Rings! The first step to in the process of creating that ideal engagement ring is to refine your design choices. The best way to do this is to think about your partner's distinct personality and style. If you want to keep the proposal a surprise, you will need to know your partner well. You can answer questions like: What are her interests or hobbies? What is her prominent style? Does she mix them? What's her personality like? Is she bold & adventurous or quirky & unconventional? Is she like everyone else? Or is she a one of a kind?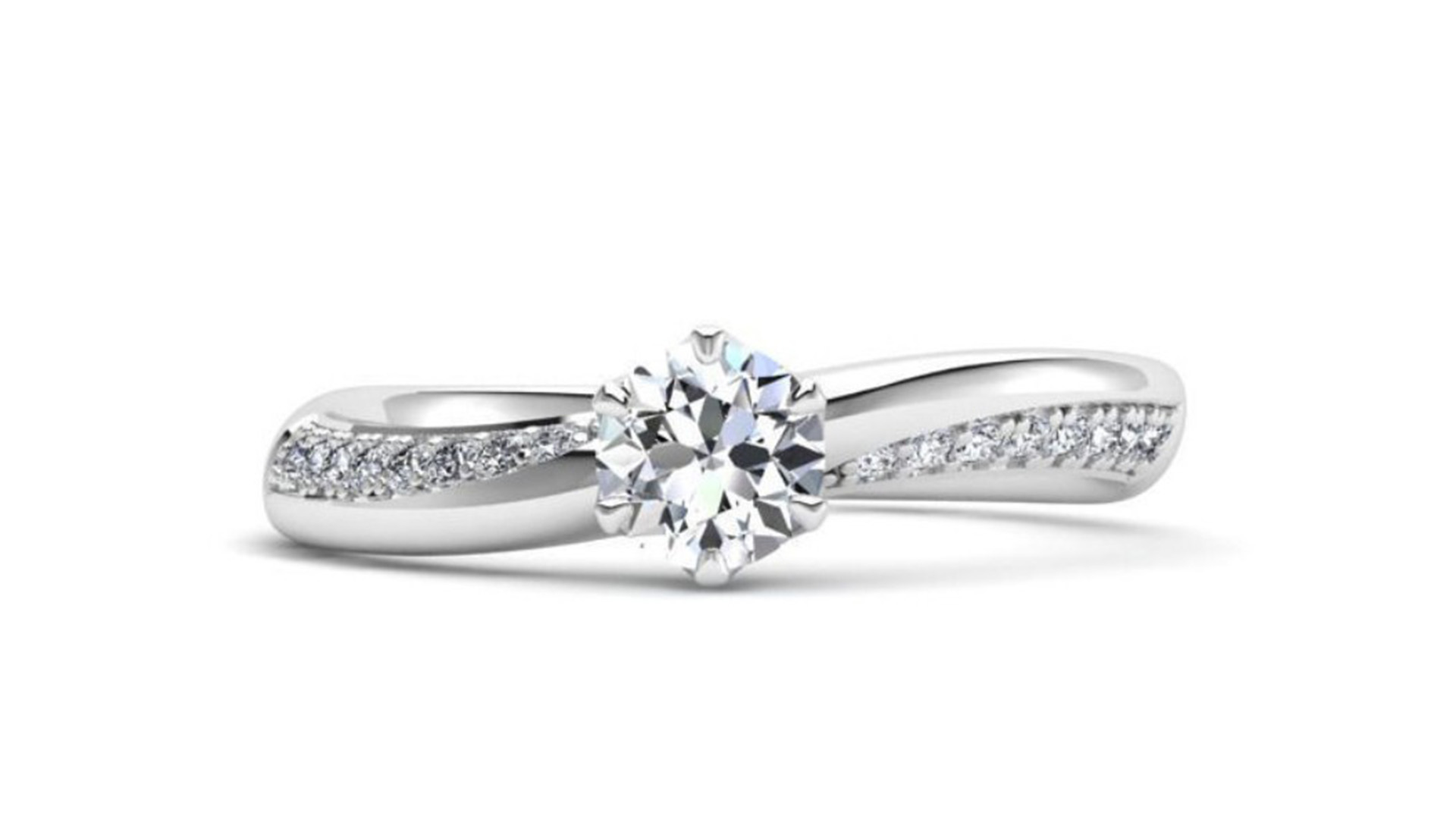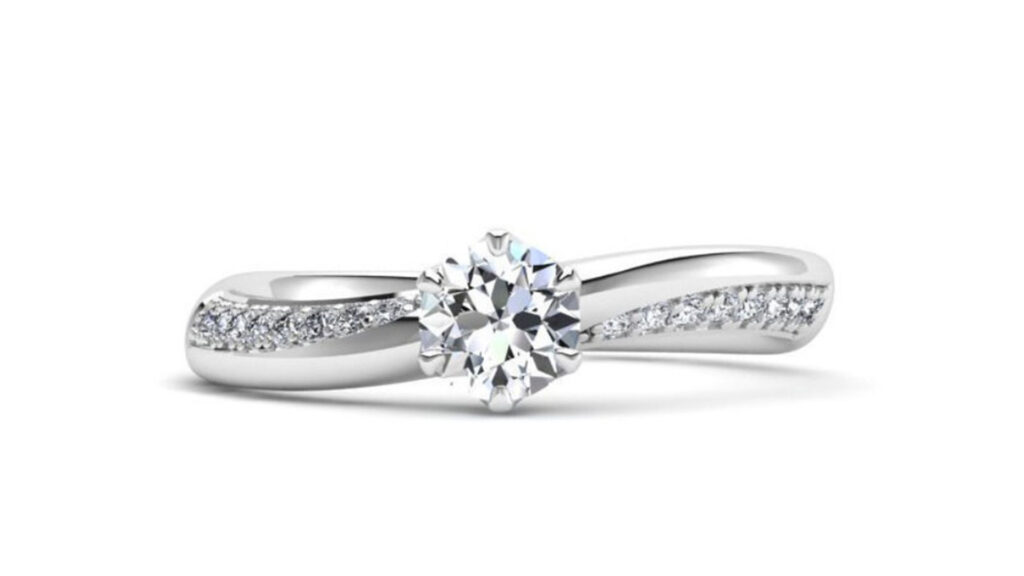 Asymmetrical 6 Prong Engagement Ring
This 6 Prong Engagement Ring is a modern, elegant design that you won't find anywhere else. The center stone is held by 6 claws for maximum security. The graduated accents have been placed on opposite sides of the ring for a unique effect. The accents start at 2mm and go down to 1mm stones, totaling around 1/2 carat. The center stone is shown a round 6.5mm, but other sizes and shapes can be used.
CUSTOMIZED ENGAGEMENT RINGS – MAKE IT YOURS!
Depending on her personality and style, she might want something modern & sleek or elaborate & diamond-studded. On the other hand, she could want something vintage or antique, and with colored gemstone rather than diamonds. With our custom design capabilities, the options are almost endless. With a little thought and effort, you will be able to get the Perfect Custom Engagement Ring. One that matches your girlfriend's lifestyle and unique taste. And it will be handcrafted by our artisan craftsmen here in the US, not an Asian sweatshop.
This Nature Inspired Engagement Ring looks as if it just sprang from the sea! It can be made with both a bezel set cabochon center stone or a prongs set, faceted stone. Any size or type of center stone from 4-8mm can be used. The suckers are hand finished after casting to give them an organic look. If we cast it in Sterling silver, the base of the ring can be oxidized, giving it a black patina on the base.
That said, we tried to break down custom ring styles into 4 style groups. These are four engagement ring styles based on four different types of personality that can be useful in creating Customized Engagement Rings.
CUSTOMIZED ENGAGEMENT RINGS – DARING & UNINHIBITED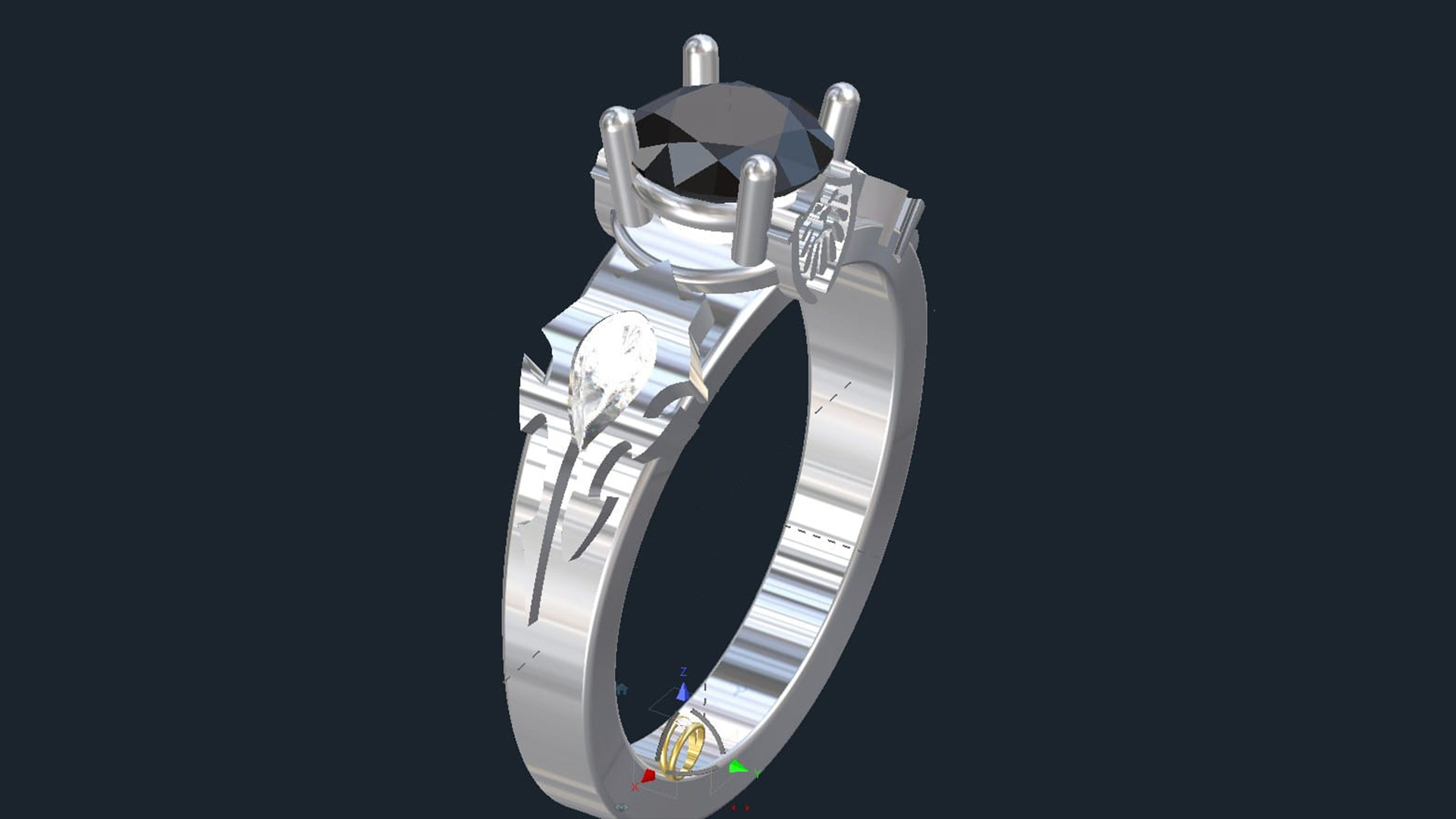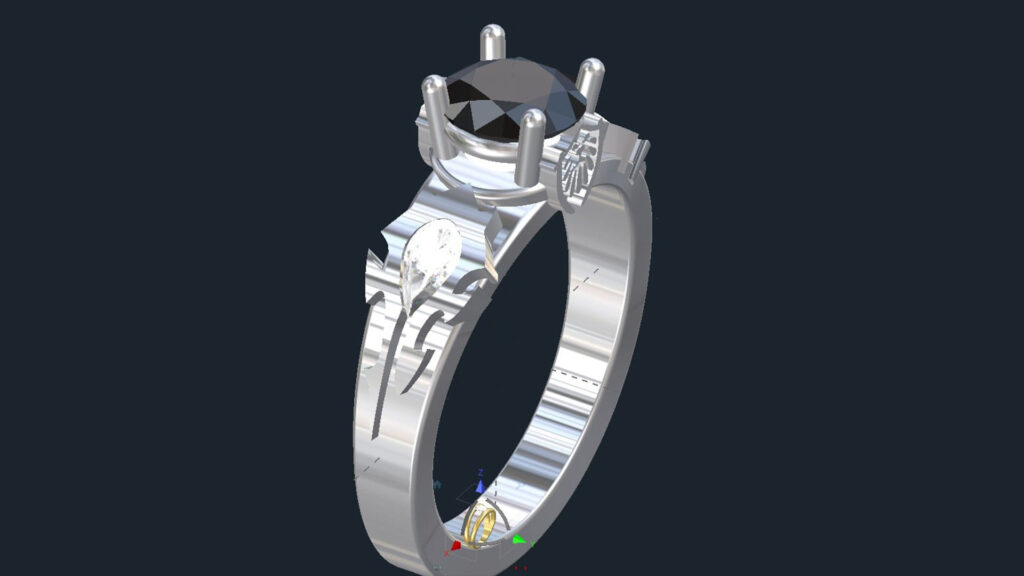 World Of Warcraft Engagement Ring
Show your WOW allegiance to her with our World of Warcraft Ring that even Thrall would find awesome. We have two versions, but they can each be changed to suit your tastes. There is one with the lion underneath the stone, which can be done with round and square stones. Then, we have one with a heart-shaped center stone doesn't have the bear. But these configurations can be changed any number of other of ways.
MORE ABOUT CUSTOMIZED ENGAGEMENT RINGS
The bold woman who knows what she wants. She is also ambitious and tough enough to obtain it. If you're thinking of creating Customized Engagement Rings for a partner with this personality type. Then you probably already have an idea of the design elements ans styles that she prefers. However, you must to keep in mind that this fierce woman wants a ring as brilliant and bold as she is. The halo engagement ring makes an ideal choice for the Perfect Custom Engagement Ring. It makes the center diamond look even larger and have more fire. For those who like the idea of the halo, but want to think outside the box, there are other shapes. The halo oval, emerald, or cushion are excellent diamond cut options to make the ring stand out more.
Split Shank Crossover Engagement Ring
This is one of our many split shank engagement rings. It has a crossover shank with French Pave set stones on opposite sides of the bands.If you prefer a shared prong setting, we could always change it to that. It is shown with a 6.5mm round, but any size or shape would work.
CUSTOMIZED ENGAGEMENT RINGS – QUINTESSENTIAL & COSMOPOLITAN
Iconic designs and timeless styles are recommended for the sophisticated woman who wants to love The Perfect Custom Engagement Ring for a lifetime. Trends might come and go, but classics are here to stay! Defined by simplicity and sophistication, the round cut with a white gold pave setting is the perfect ring to compliment her elegant style. The minimalism of the solitaire and the added sparkle of the pave are definitely the ingredients of the world's most iconic love symbol. Also, a bigger diamond with a high color and clarity grade makes the Perfect Custom Engagement Ring for a woman with an elegant taste.
We had a client who wanted a halo engagement ring, but didn't want it to look like a plain halo ring. SO, we removed a few stones on opposite sides of the center stone and created a semi-halo. The center stone is 7.5mm, but we could go smaller or even larger.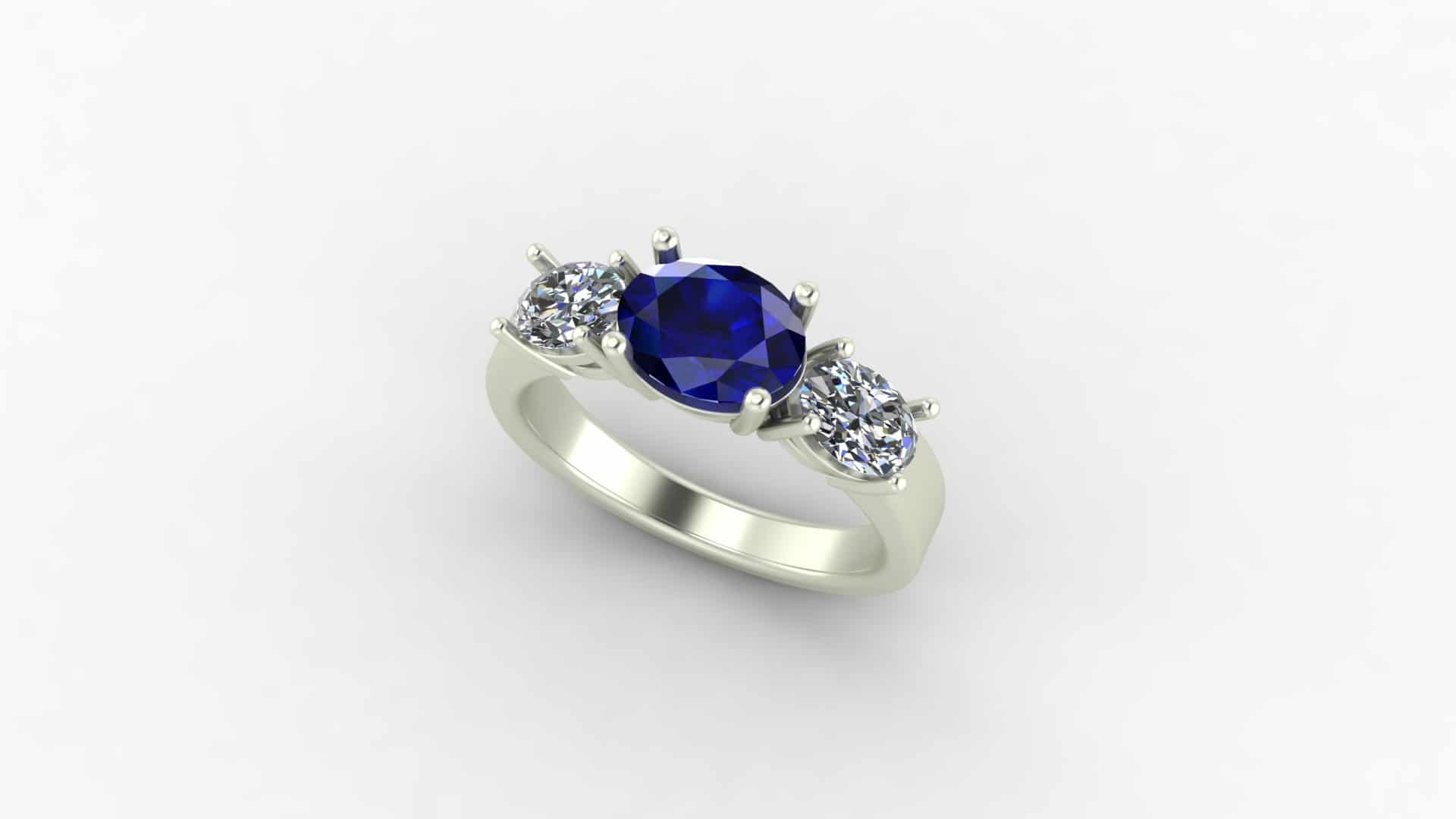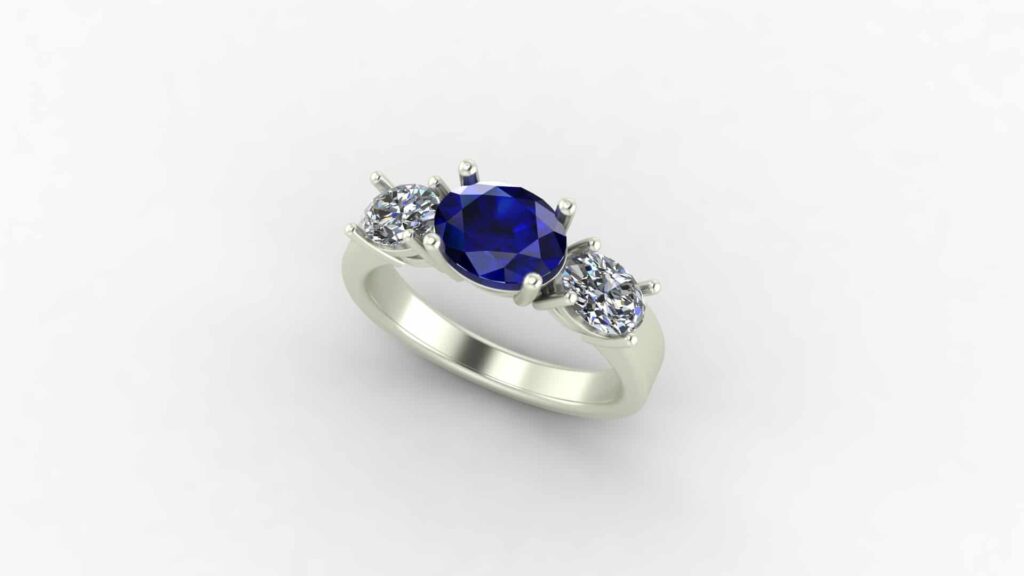 East West 3 Stone Engagement Ring
This the East West version of your plain 3 Stone Oval Engagement Rings. Yet it is definitely more simple and refined than a plain one! Its uniqueness is that the stones are set horizontally rather than the typical vertical style. This one had an 8x6mm Sapphire and 2, 6x4mm diamonds. Other sizes and stone combos are possible. We even like 2 different shapes!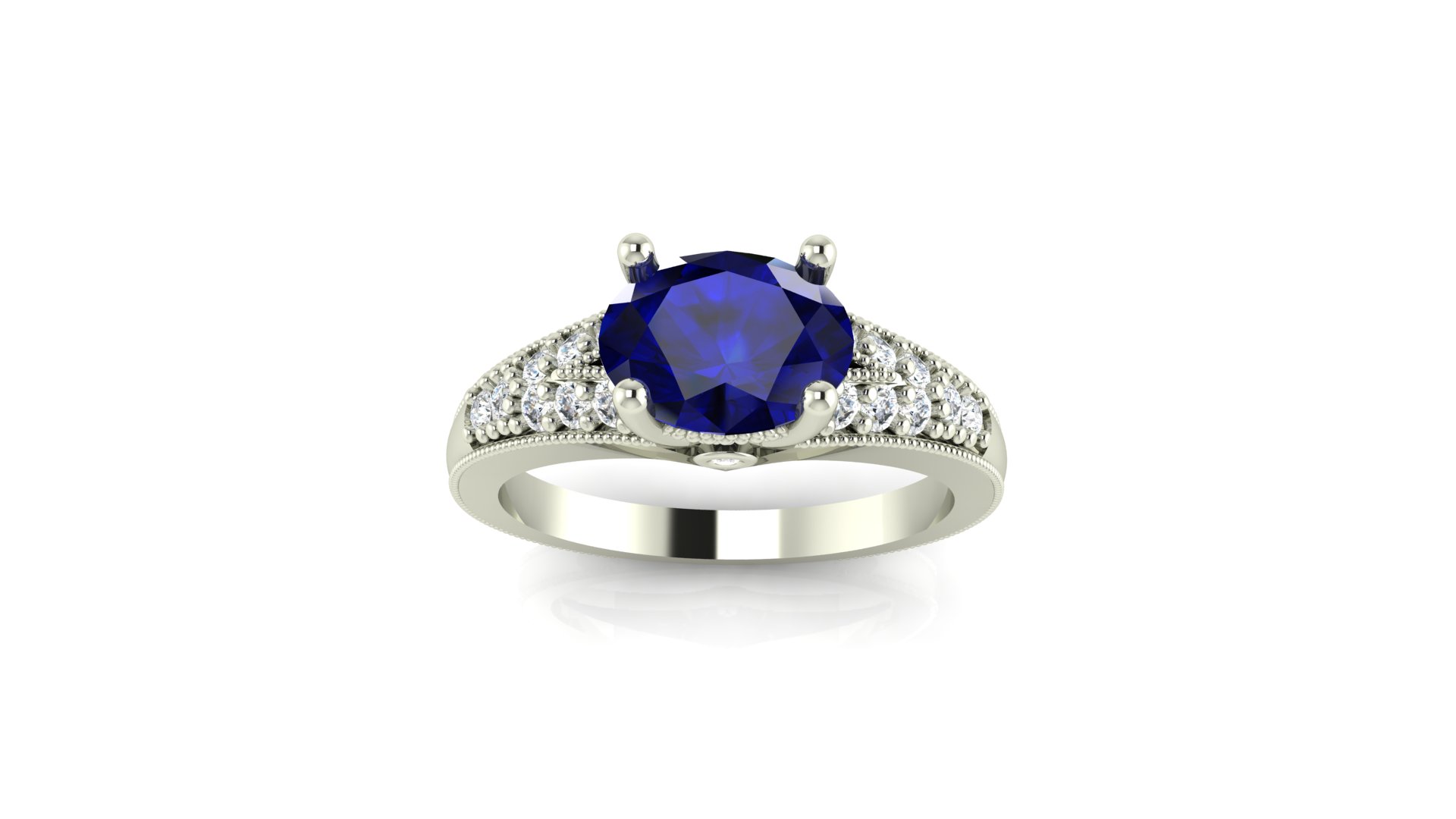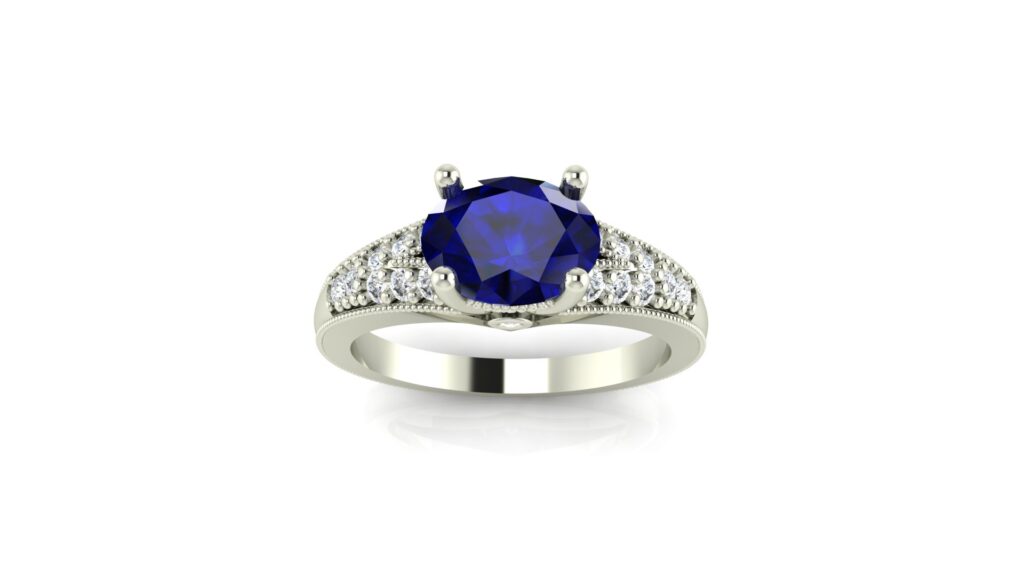 Hand Engraved Split Shank Sapphire Engagement Ring
Here is another east-west setting with an oval center stone. However, other shaped stones would also work with this design. This one is accented by 3/8 of a carat of diamonds, including 2 bezel set stones on the sides. The band is framed with milgrain and leaves plenty of surface to be engraved by our master engraver. Click on the image to see pics of the finished ring.
CUSTOM ENGAGEMENT RINGS – DARING & ORIGINAL
Are you picking a ring for a woman who leads an active lifestyle? We recommend focusing on functionality over style as a more durable ring will be better int he long run. Although diamonds are known to be incredibly solid, they still can suffer from wear and tear. Going for a sturdy setting such as the Bezel would better protect the diamond. For the metal, opting for platinum would be a more durable option than gold. As for the diamond cut, those with no sharp edges is recommended to avoid unwanted chips and breaks.
Tree Branch Engagement Ring Set
This is another of our nature inspired wedding sets. It has antiqued recesses that truly give it the realistic look of tree bark. This patina will only grow over time as the oxidation of the Silver sets in. The set is shown with a round center stone, but any shape can be used as long as you are ok with a prong setting. Click the image to see a finished ring!
CUSTOMIZED ENGAGEMENT RINGS – ECCENTRIC & UNORTHODOX
A rose gold setting with a fancy cut diamond, such as an emerald, is what an unconventional woman cannot say "no" to. Wonderfully one-of-a-kind and yet simple. The emerald engagement ring is one of the most unusual diamond cuts with a vintage overtone. With vertical Emerald settings, the fingers will look elongated and slender with 5% more surface area than the Round cut. Rings with Emerald diamonds also look bigger and always make for the The Perfect Custom Engagement Ring! Whatever shape you want for your custom ring, we are here to make it perfect for you.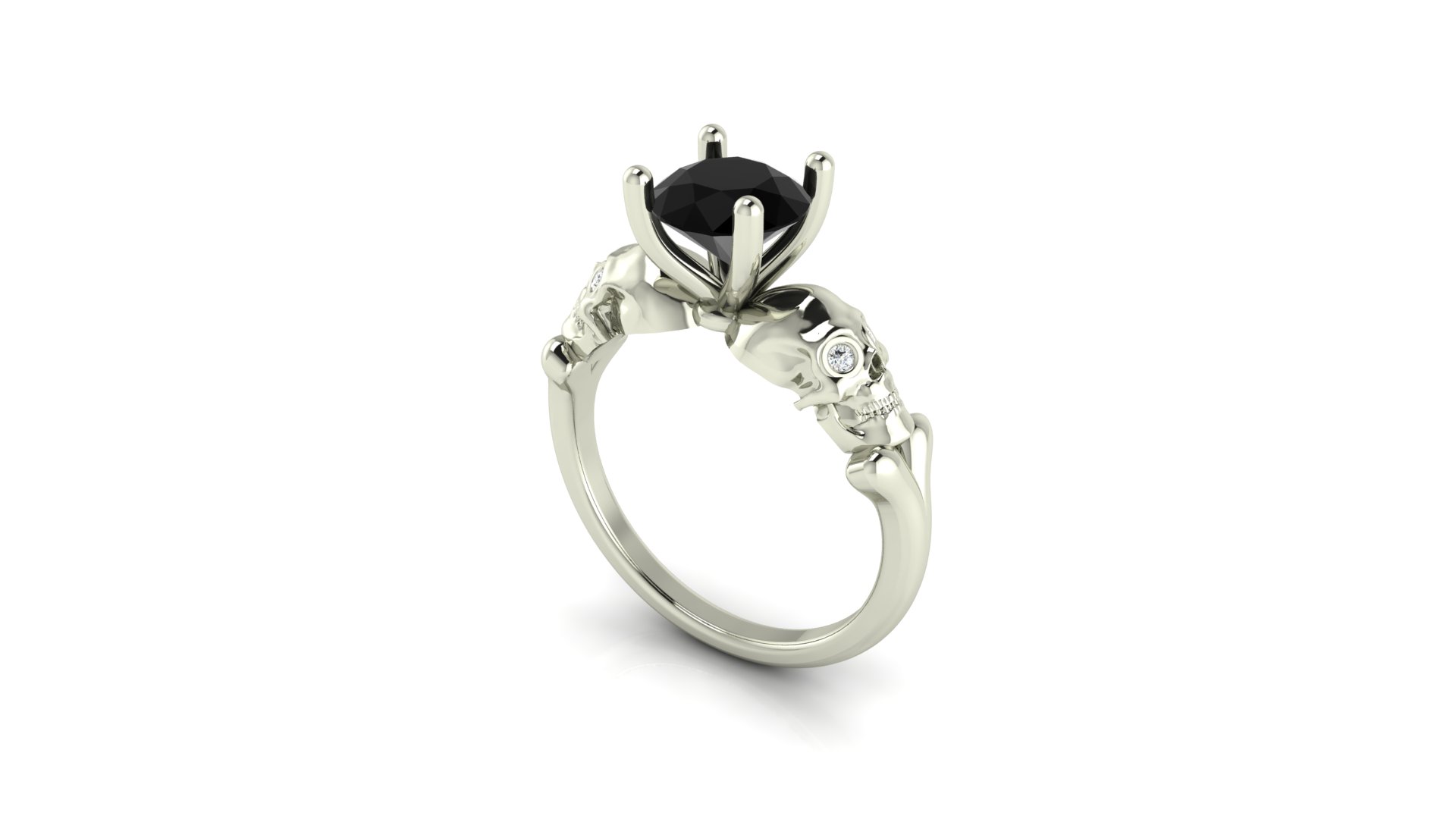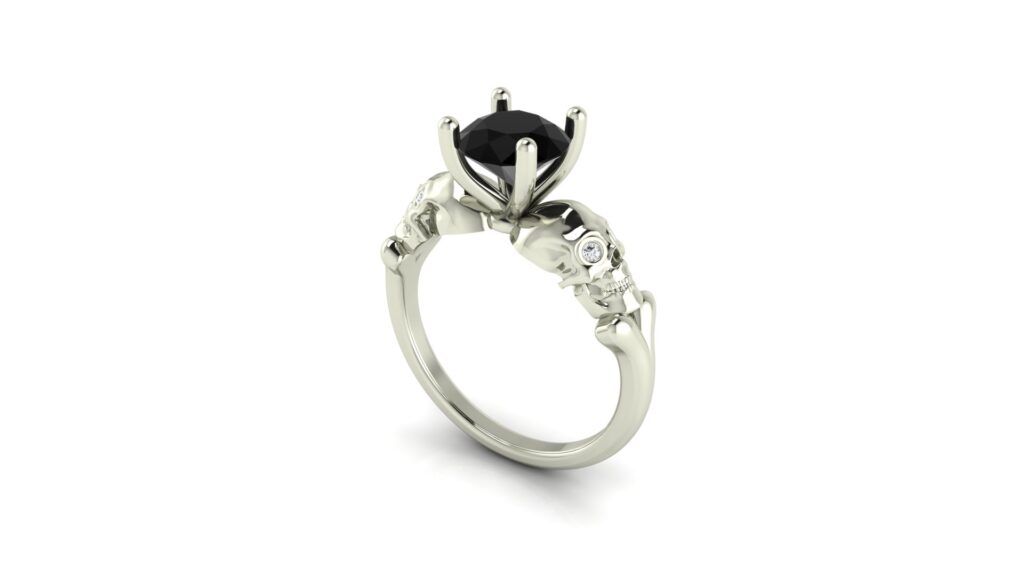 Black Diamond Skull Engagement Ring
This Black Diamond Skull Engagement Ring is a great one for lovers of skull rings. Each shoulder has a skull accented with diamond in its eyes. The skulls are held in place by some bone knobs! If you would like to use another skull in our Black Diamond Skull Engagement Ring, we could change it to something else. We could also make this a halo ring if you wanted that as well.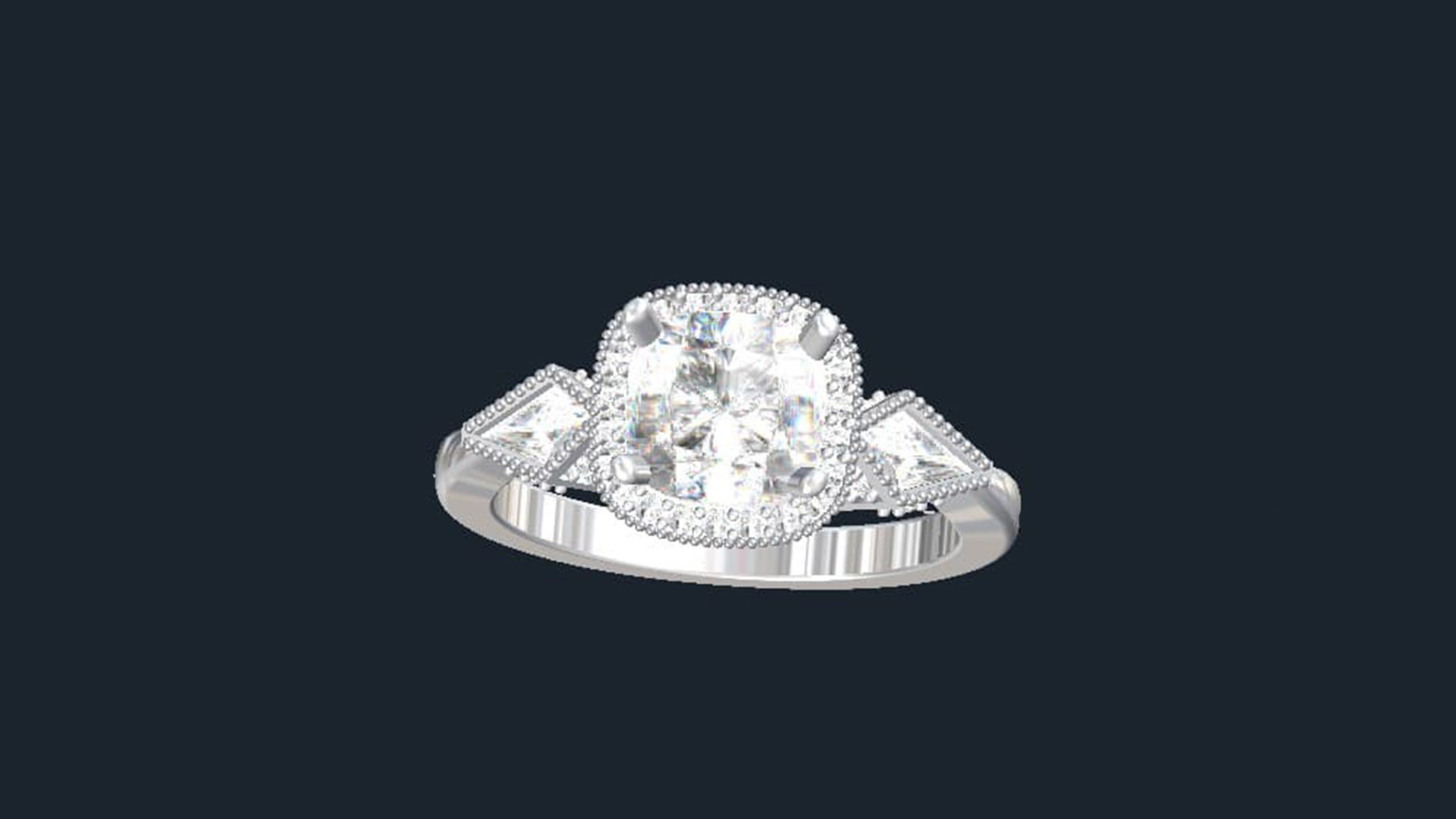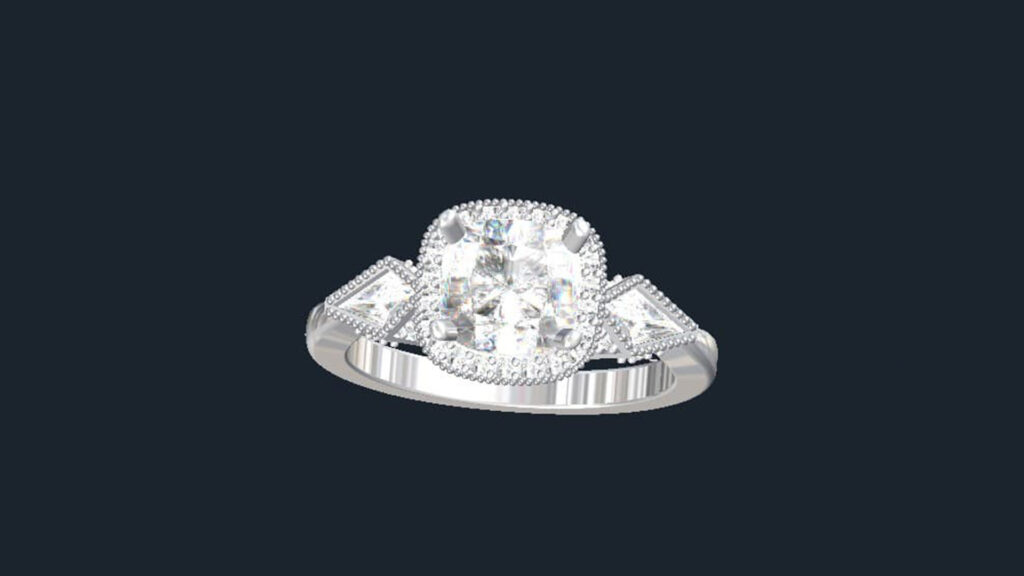 Antique 3 Stone Engagement Ring
This vintage 3 stone engagement ring hearkens back to the days of the early 1900's, when platinum rings like this were fabricated by hand. Thank God for CAD! The center stone is a 7mm Cushion cut accented by Kite, Round, and Square shape stones. We also added some milgrain for an added design element.
CUSTOMIZED ENGAGEMENT RINGS – THE BOTTOM LINE
We know there are plenty of options for having custom wedding or engagement rings made. Not all are created equal, but there are a lot of them. We are quite confident that if given the chance to create The Perfect Custom Engagement Ring, we will wildly succeed beyond your wildest dreams. Or, at least, we are told that is the case when we deliver The Perfect Custom Engagement Ring to one of our customers.
Looking for a Celtic Engagement Ring ? We have celtic symbols adorning the band up to the shoulders, where 3, 1.5mm stones sit in Triquetras symbols. The basket holding the head also has some symbols in it. The cathedrals are cut on the side to add an elegant design element.
Our goal for every job is to surpass any expectations and incur repeat business as well as referrals. We will always make a deal where we will provide the product and service if you promise to leave us a review and tell your friends and family about us. It is a win-win situation that way!
CUSTOMIZED ENGAGEMENT RINGS – GIVE US A SHOT!
Click HERE to learn more about custom jewelry, to see our custom jewelry, or to contact us about Customized Engagement Rings. Click HERE to see our entire bridal portfolio. It can cost less than you think to have Customized Engagement Rings made just for you. Why hassle with the retail stores for boring and overpriced engagement rings? Valeria Custom Jewelry can create Custom Engagement Rings that will wow you if you just give us the chance!
FREQUENTLY ASKED QUESTIONS ​
I found Valeria custom jewelry online and when I saw their awesome work on their website I knew this was the best place for custom jewelry. I live in New York and distance was no problem, I contacted Valeria jewelry by email with pictures of a ring that I wanted rubies mounted in and the price was very competitive so I doubled the order last minute and I sent two rings for custom work done, which they said was no problem. So I mailed the two rings and a few weeks later I have the rings and they look great! Job well done to Valeria for the custom jewelry and I can't thank them enough they surpassed my expectations for the rings. Getting custom jewelry done through the mail was easy safe and secure by insured usps. I look forward to having more jewelry done in the future at Valeria and am completely happy with my rings. Their website has good examples of their work so I am sure no matter the distance or need they will get it done quickly and with a good price. Thanks again Valeria !
I found Lucas via a google search, and his reviews honestly seemed too good to be true. I reached out to inquire about setting an antique diamond from a pendant into an engagement solitaire ring, and enlarging an antique wedding band. He responded to my initial email within minutes, and very quickly gave me design choices and an estimate for each. After dropping off the items, the rings were ready within 5 days - and they look better than I was even hoping for. His prices are exceptionally reasonable, and he gave full market value for the scrap gold my diamond was originally set in. I highly, highly recommend working with Lucas for the ease, responsiveness, and exceptional results he provides.
Lucas was absolutely amazing with his level of attention and detail to not only what I was looking for in the creative and concept stage, but throughout the process as a whole. We went back and forth for weeks about setting design and material, and specific gem selection and he was communicative and patient the entire time. Absolutely recommend he and his teams services.
My fiancé had my engagement ring custom designed through Valeria. Absolutely Beautiful, from the diamond setting to the finish. Thank you Lucas and his team for accomplishing this stunning ring in such a timely manner, which led to a beautiful and amazing experience.
Start design with us now!
Creating the Perfect Custom Engagement Ring