Truly Unique Engagement and Wedding Ring Sets
Are you looking for a Bridal Set, but aren't happy with what you  are finding at the mall or chain stores? Why not try a custom engagement ring set.  They are a a great choice for the buyer who likes to  be involved in everything they do.  With custom Engagement and Wedding Ring Sets, you are able create a ring as with the same traits as the person wearing it and customize it ways not possible at a chain store.  You also get to be more involved in the selection of the stones in your ring.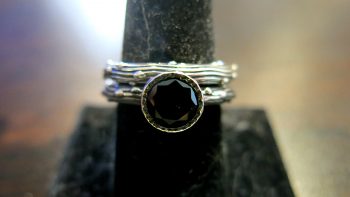 This Bridal was based on tree that was given to us by our customer.  We cast it in Silver and oxidized the grooves to give it a patina.  The bezel set center stone was a 6mm black diamond.  We could easily create a matching men's band for it.
Why Custom Jewelry?
Are you a woman who wears your engagement and wedding rings every day? Most women do.  Then why not take the time to create one-of-a-kind custom Engagement and Wedding Ring Sets that will make you stand out from people wearing big box chain rings. Rather than go to the chain stores and buy Engagement and Wedding Ring Sets that thousand of people can have, create a unique engagement ring with Valeria Custom Jewelry.  The outcome will be a treasured item and become one of the  the most sentimental stories she will have to tell about the beginning of your life together.  Make no mistake, the affect of a custom ring that you put your heart, thoughts, and soul into will be far greater than one you picked up at the mall during a horrible buying experience.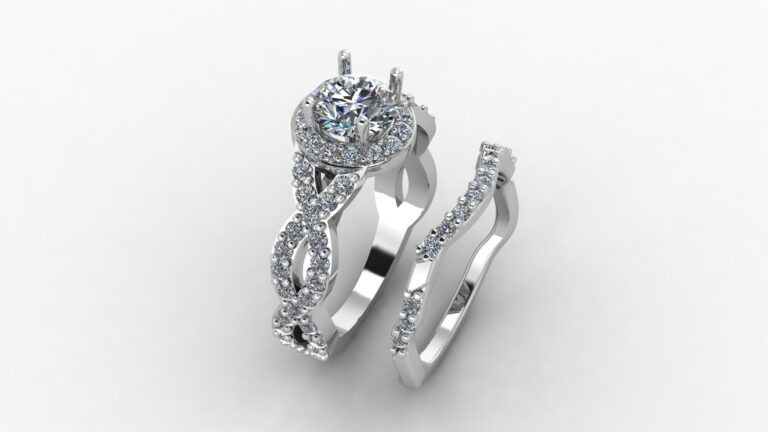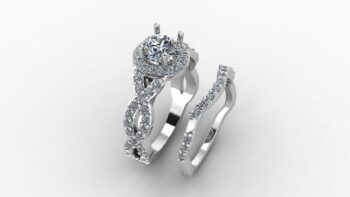 This elegant Halo Infinity Engagement Ring is a simple and exquisite halo setting accented by an infinity band.  The matching band curves to fit the lines of the engagement ring.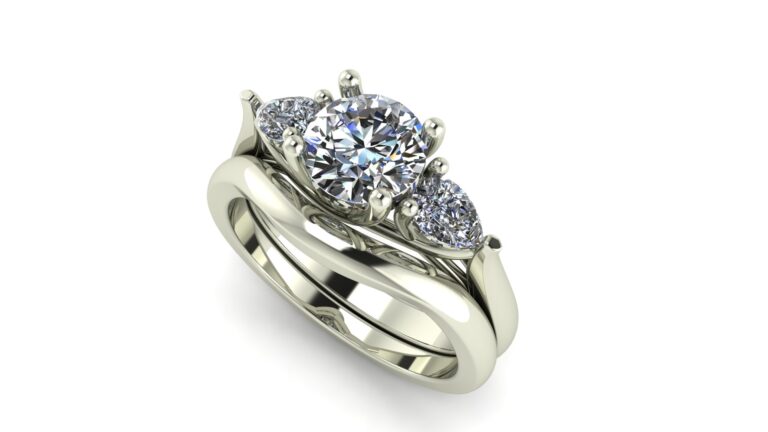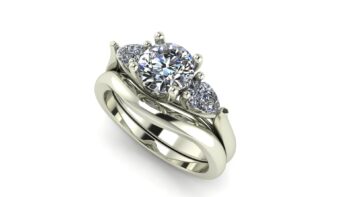 This 3 Stone Engagement Ring is unique for using pear shapes on the shoulders.  You don't see many three stone engagement rings with pears on them.  We also like the elegant trellis setting.  This one had a 3/4 carat center stone and 4.5×3.5mm pears.  Those sizes can easily be changed to suit your needs
The Retail Store Engagement and Wedding Ring Sets
The typical retail Engagement and Wedding Ring Sets are created with a large, herd-like audience with the aim of maximizing profits at the same time. To achieve this, they cast rings as light as possible, use low quality stones, make rings that appeal to the lowest common denominator, and employ children in their production factories.  At Valeria Custom Jewelry, we encourage a more discerning client who wants to have a say in the design their Engagement and Wedding Ring Sets to make sure they get the perfect ring. We also support having products manufactured in the US both for quality and patriotic reasons.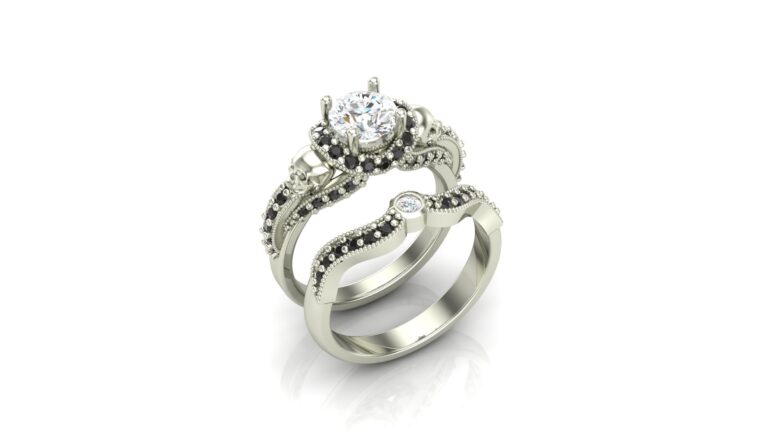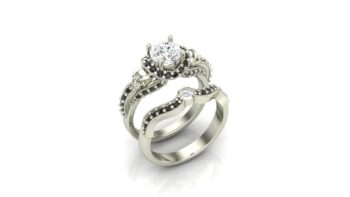 This stunning Gothic Skull Engagement Ring has a center stone flanked by two skulls.  Twisting around the skulls are ribbons of black diamonds.  Delicate milgrain adorns most of the ring for an added design element.  Surrounding the center stone is a halo with more stones in it.
This is why we developed a policy of never casting our jewelry without the client's approval.  This means that that the Engagement and Wedding Ring Sets we create are always what you dreamed of.  At Valeria Custom Jewelry, the piece you create will be handmade and superior in quality and design to anything that has been mass-produced in Asia and heavily marked up at a chain store.
Once You Go Custom, You Never Go Back…To The Mall!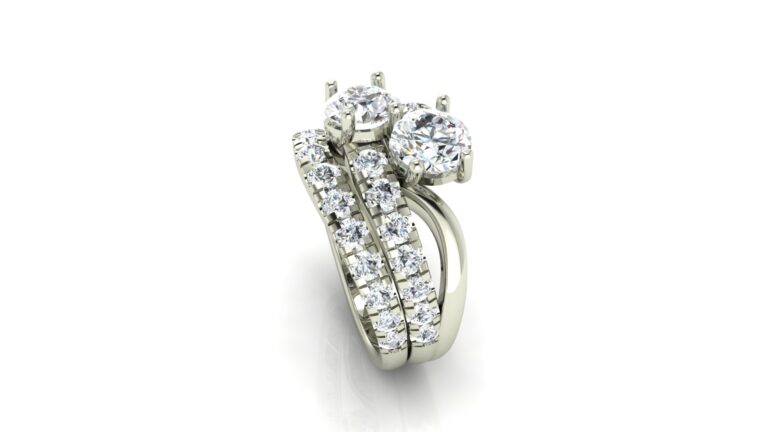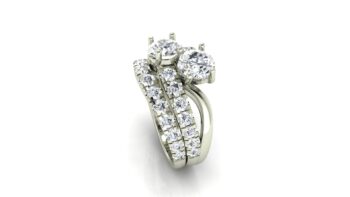 This is one of a couple of French pave diamond engagement rings we have created.  The 2 stones are accented by a split shank that is given with a high polish.  The other shank boasts almost 1 carat of diamond accents.  The matching band mimics those stones.
Creating the perfect Bridal Set is your opportunity to be as involved as you want to be in making your Engagement and Wedding Ring Sets.  If you want to let us do it all, we will.  If you want to give us precise drawings and specs, then we love that too.   When it comes to the perfect Engagement and Wedding Ring Sets, don't settle for anything other than exactly what you want. At Valeria Custom Jewelry, our expert designers will walk you through the entire process.  This ensures that when you receive the finished Engagement and Wedding Ring Sets, you're not just happy with it.  You are astounded. Utilize our experience and knowledge today….Contact Valeria Custom Jewelry to begin the journey of your Engagement and Wedding Ring Sets today.
We Are Becoming Well Known For Custom Jewelry
Valeria Custom Jewelry has become the go to designer for unique and different Custom Engagement And Wedding Rings.  Many of our pieces are so personal that they will never be made for anyone else again. And that is OK with us.  We aim for each ring to be remarkable to its buyer.
We design all of our custom engagement ring from the ground up.  So as long as the rings can be cast, we will find a way to make your idea come true. Using the lost wax technique, we create custom jewelry in Brass, Bronze, Gold, Sterling & Argentium Silver, Palladium, & Platinum.  And the best thing about a custom Engagement and Wedding Ring Set is the much wider selection of gemstones that can be used.  The chain stores will have the traditional options of diamond, ruby, sapphire, topaz, etc.  But that is it.  If you want something more out of the box like a Zircon or Opal, you are out of luck.   As long as the stone is cut in the shape and size required, we can procure and use it.
Give Us A Shot!
Custom Engagement and Wedding Ring Sets are one of our most popular items. However, we don't limit ourselves to those at all! With a state of the art CAD program, we can meet all of your custom needs. We will happily make pendants, bracelets, or a pair of earrings: we can make anything you want us to.  Don't settle the boring, overpriced jewelry from the mall and chain stores that thousands of people can own. Don't you want your engagement and wedding Rings to have a story  or meaning you can tell people??? Contact us for a with your idea today.  It will be less painful than you think!
Click HERE to learn more about custom jewelry, to see our portfolio, or to contact us about Engagement and Wedding Ring Sets.  It can cost less than you think to have your very own custom Bridal Set made just for you. Why hassle with the retail stores for boring and overpriced engagement rings?