Floral Inspired Engagement Rings
Do you love nature?  What about flora and fauna?  We do to!  Especially in jewelry.  Until recently, there was little way to get flora and fauna into a custom ring without sacrificing detail or spending an arm and a leg with a hand wax carver.  Now, with the help of computer aided design, we can design and create almost anything you can dream up.  Do you want roses or tulips in your ring?  We can do that.  What about animals?  No problem.  We can make custom jewelry creations that most can't and at a fraction of the cost as well.   Although more challenging that your traditional custom engagement ring, we can create Custom Floral Inspired Engagement Rings that were just a pipe dream as little as 10 years ago.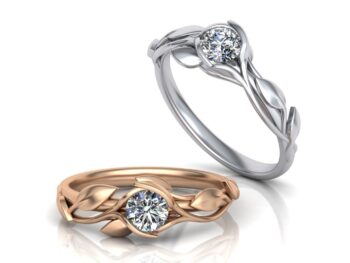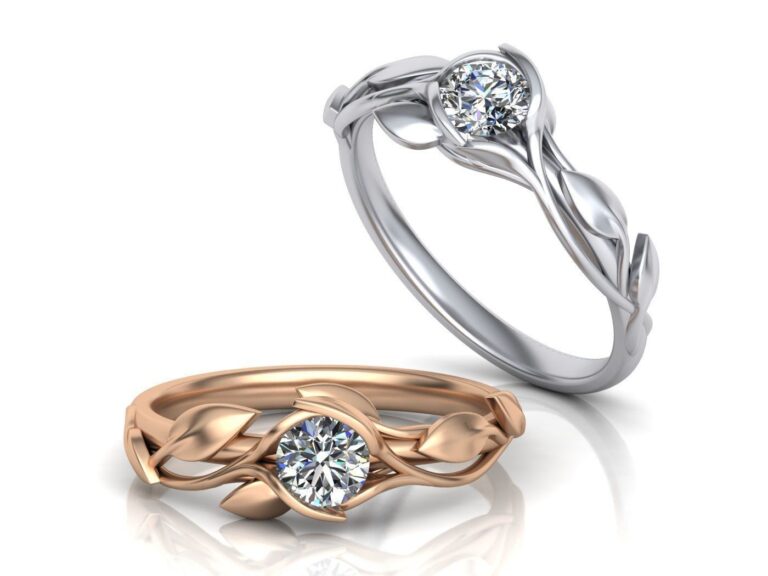 We have created a quite a few floral engagement rings.  However, this one has a tension setting you rarely see anywhere.  The simple elegance and lack of prongs has made this one of our most successful style of Floral Inspired Engagement Rings.  This one has a 5mm center stone, but smaller or larger could be used.
Send Us Your Idea For A Custom Floral Engagement Ring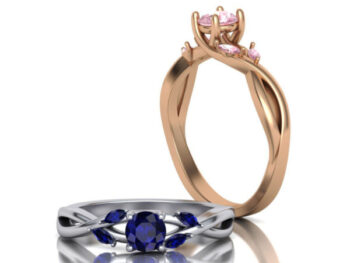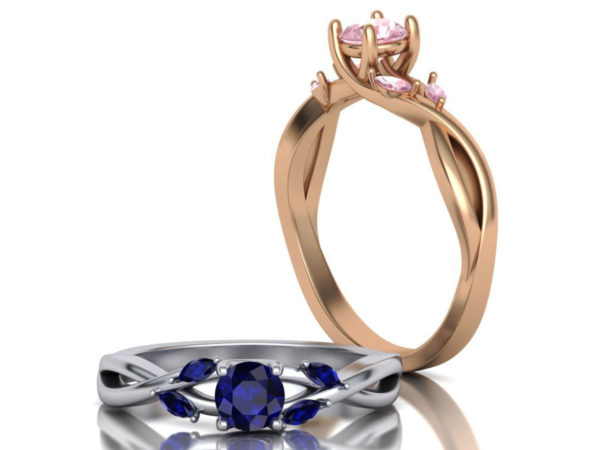 This Floral Crossover Engagement Ring is a unique take on the floral theme you won't find anywhere else.  The shanks split at 3 & 6 O'clock, then continue up the ring, eventually becoming the prongs for the center stone.  This makes for a dramatic effect as the shanks crossover each other on both the shoulders as well as underneath the center stone.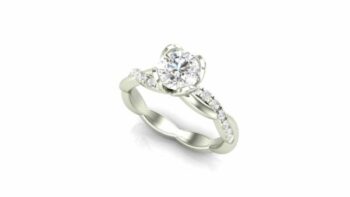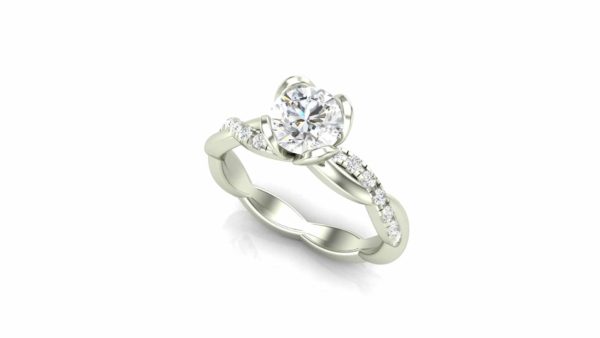 This Tulip Engagement Ring is  the perfect engagement ring for flower lovers.  The center stone, which is held in place by 4 tulip petals, is adorned with 14, 1.5mm stones that total a 1/4 carat.  The center stone in this one is a 6mm round, but other sizes and shapes can be used. It is also possible to make the accents larger or change the flower petals to a different one.  The split shank intertwines its way up the ring, but with only one of the shanks being accented.  This provides an excellent contrast, but we could also make it with both shanks accented.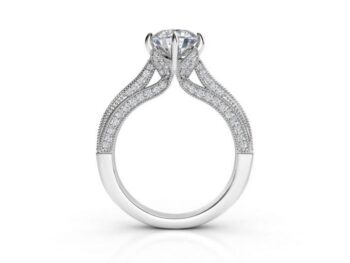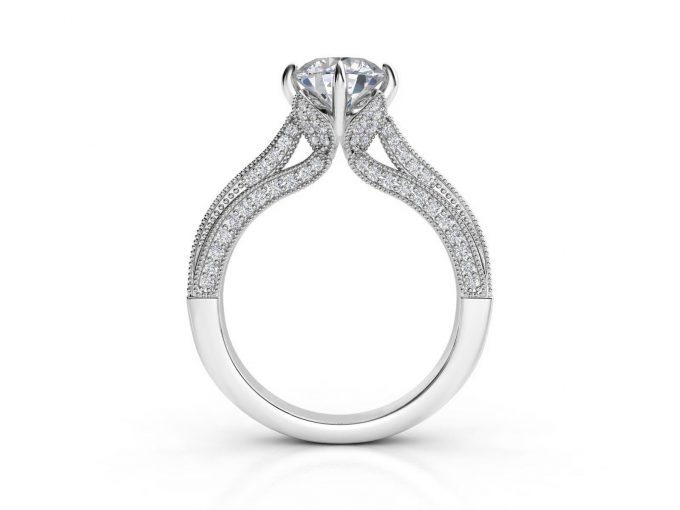 This Cathedral Floral Engagement Ring is absolutely stunning.  This ring exudes sparkle as all sides of the band are accented with 1.3mm stones.  There are also 4 flower petals that have stones on them that seem to have buds growing out of them.  The accents are all framed by elegant milgrain.  If you find it too busy, we could remove it.  We love the arches in the cathedral setting though.
Nature As a Muse For Jewelry Creation
Nature provides all types of artists with an insane amount of material to use as inspiration.  Some media lend itself to nature inspired pieces more than others.  Unfortunately, jewelry is the bottom of this list.  However, as casting and wax growing technologies improve our capability to recreate items in nature with more detail, jewelry will become easier to create with themes from nature.  And we aren't at a total loss for our efforts.  We have access to one of the few remaining master engravers still operating.  Hand engraving is a dying art and we are lucky to have his skills at our disposal. Hand engraving can take a plain or even already beautiful ring to another level.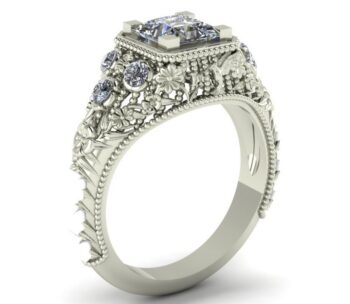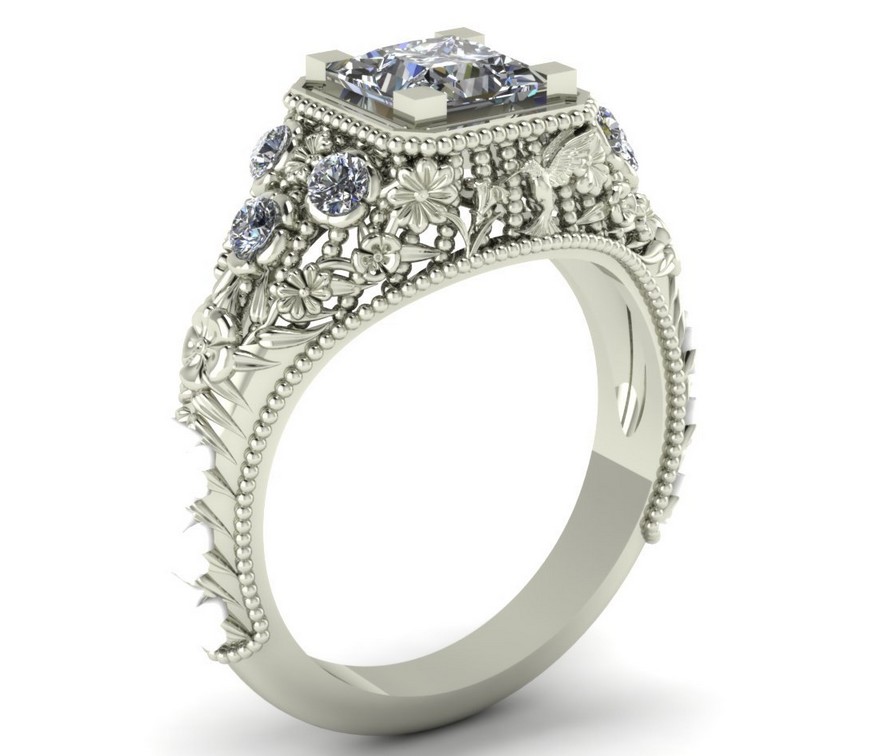 This Art Deco Floral Hummingbird Ring was inspired by an antique art deco ring from the early 1900's, but was requested with a hummingbird on it. This one has a 1/2 carat Asscher cut center stone and is accented by 6, 2mm stones.  If you are a hummingbird lover, this is the ring for you.  We know nothing else like this is out there…so go for an original and be the envy of your friends with a custom ring from Valeria Custom Jewelry.
Floral Inspired Engagement Rings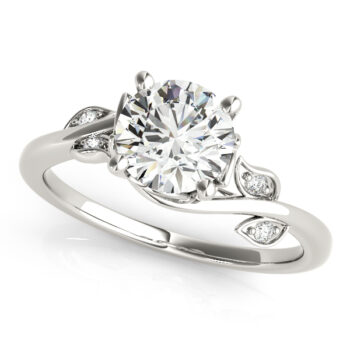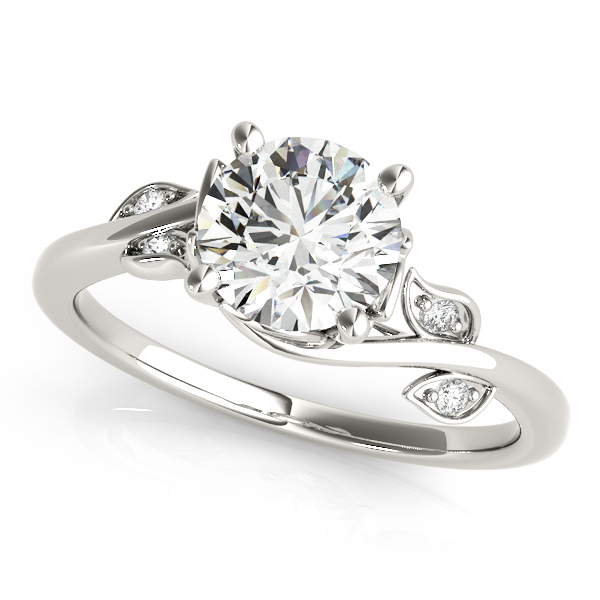 This is delicate & graceful Floral Diamond Engagement Ring design is one that we love for its simplicity.  The 6.5mm round center stone is nestled in 4 diamond encrusted leaves.  The shoulders of the shank are decorated with diamond accented leaves as well .  We also have a matching band for this one.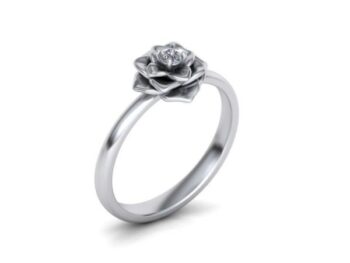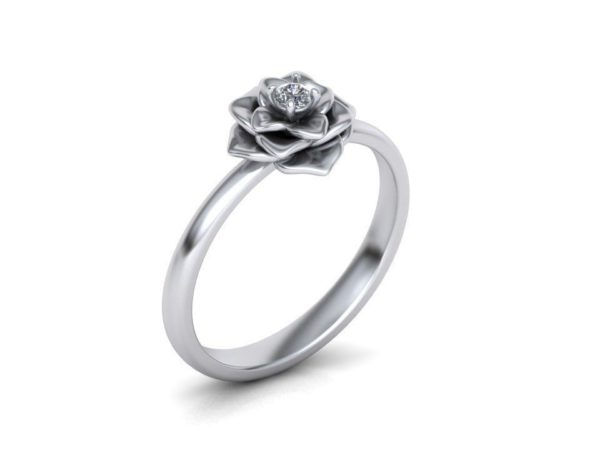 This Rose Promise Ring is about as simple as it gets.  That is what makes it so beautiful.  This is your standard Tiffany shank with a single rose sitting atop it.  Nestled in the petals is a 3mm diamond. However, smaller or larger as well other stone types could be used.   
Let Us Design Your Dream Floral Engagement Ring!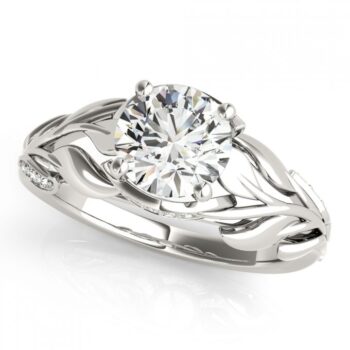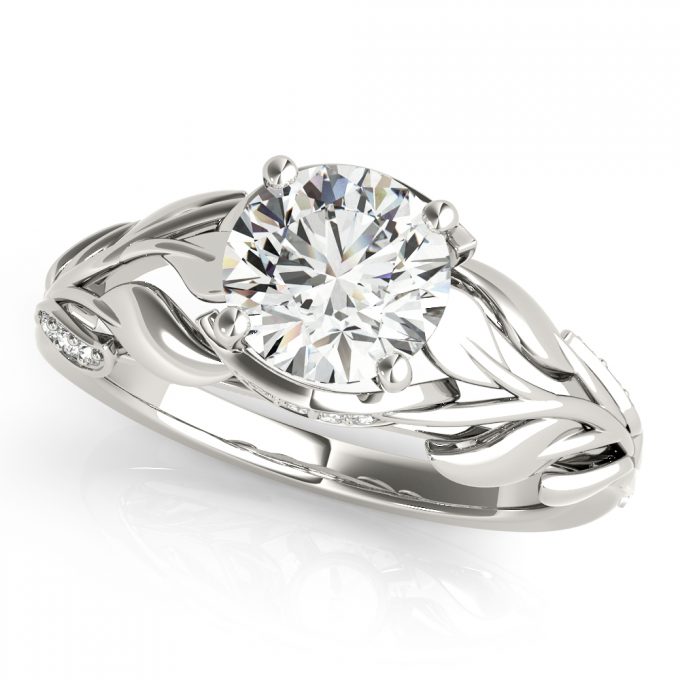 This is more of a substantial ring design compared to many of our nature inspired engagement rings.  But that doesn't stop if from being beautiful.  The 7mm round center stone is rests atop diamond encrusted leaves.  The shoulders of the shank are decorated with diamond accented leaves as well .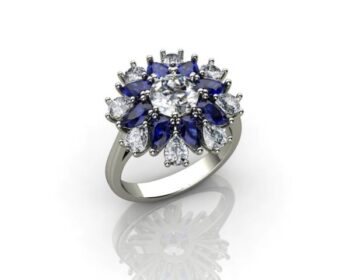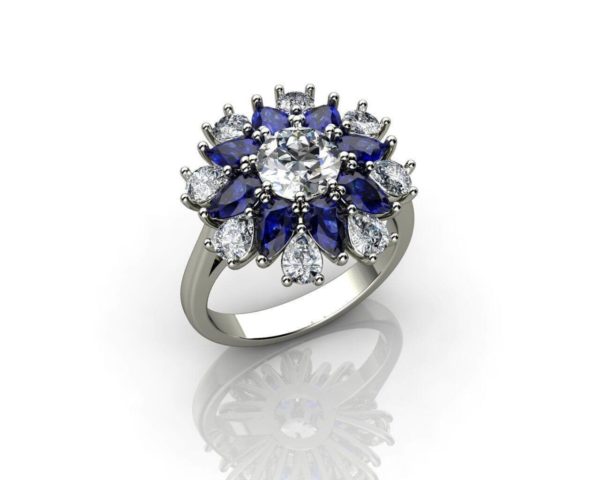 This vintage nature inspired ring is one of the more unique ones we have created.  It could be used both as an engagement ring or a cocktail ring. The 5mm center stone is surrounded by both pear shaped Sapphires and Diamonds.   The layout of the pear shapes forms the leaves of a flower.  We find it stunning.
Floral Inspired Engagement Rings – Elegance & Style With Class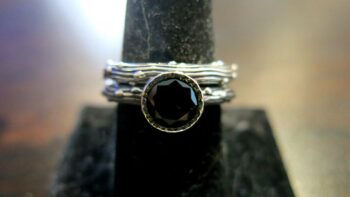 This is one of our nature inspired Tree Branch Engagement Rings. It has antiqued recesses that truly give it a realistic look of tree bark that will only grow over time as the Patina of the Silver sets in. This custom set is shown with a round center stone, but any shape can be used as long as you are ok with a prong setting.
A lot of really intricate engagement rings look gaudy and too busy.  It is almost as if the designer tries to cram as many design elements as he can into one ring just to do so.  For some reason, that doesn't happen with Floral Inspired Engagement Rings.  It is almost as if the beauty of natural elements transcends that issue.  Floral design elements add grace and style.  They also add an aesthetic that non-natural design elements just lack.  We wish we had more chances to design them!
From roses to tulips and gazania flowers to vines, we have created a wide variety of Floral Inspired Engagement Rings.  We have also used stones to form parts of flowers.  And enamel can be used to add color.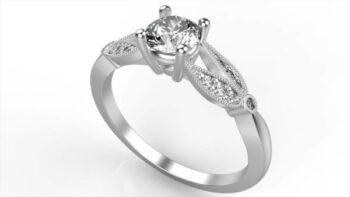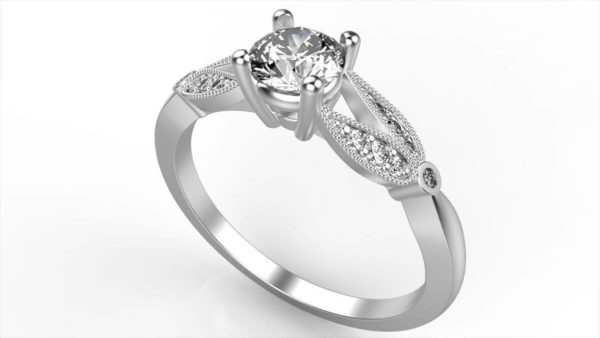 This Split Shank Engagement Ring is one of the more unique floral engagement rings we have created.  In this stunning ring, the band splits from a bezel set stone at 10 & 2 O'clock.  From there, two diamond crusted leaves arch up to the center stone. 
Floral Inspired Engagement Rings – Give Us A Shot!
We know there are plenty of jewelers out there claiming to create custom jewelry.  We actually do create custom jewelry form the ground up!  You will get to talk to the actual person designing your ring, not a go between like with most jewelers.  You will get to approve your design before we cast it.  And we also allow you to be as involved as you want to be in the creation of your custom engagement or wedding ring.  If you want to give us detailed specs, we will create your ring to them.  If you want to do nothing but give us the bare minimum that we need to create a custom ring for you, that it fine as well.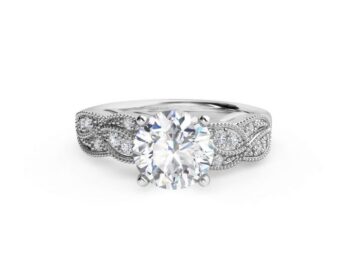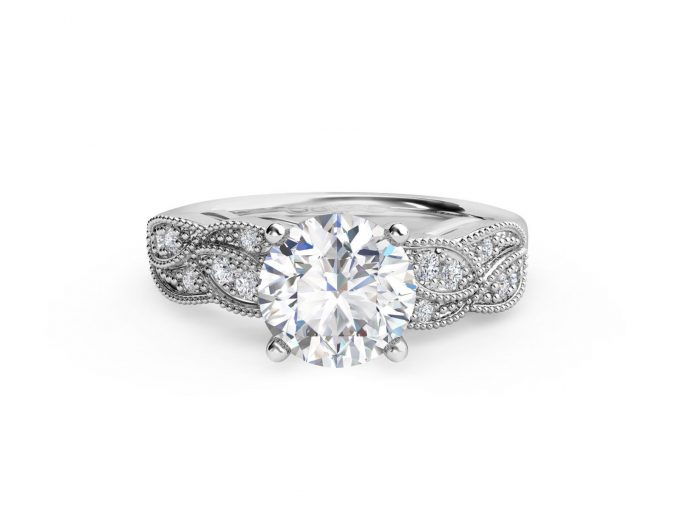 This beauty is another of our Leaf Engagement Ring designs that you won't find anywhere else.   The 6.5mm center stone sits atop 8 diamond encrusted leaves.  They are also encased in milgrain for another design element, but it is optional.  We also added a peek a boo diamond beneath the center stone for some added bling.  
Because we create the majority of our Floral Inspired Engagement Rings based on a request, we have a wide range of styles.  So these rings are very personal.  You might not see what you like or want.  But that is ok.  We will take your ideas and wished and turn them onto a stunning piece of custom jewelry.
Once You Go Custom, You Never Go Back…To The Mall!
You can view our portfolio of custom engagement rings to look for ideas.  Or you can contact us with your own idea for Custom Floral Inspired Engagement Rings.  It can cost less than you think to have your very own custom engagement ring made just for you. Why hassle with the retail stores for boring and overpriced engagement rings?
Follow us on PINTEREST to see our most recent pics!
Floral Inspired Engagement Rings