Unique Wedding Rings
Wedding rings are one of the few consumer items that almost everyone will buy at least once in their lifetime.  And sex doesn't make a difference here.  Neither men nor women can escape the tradition of giving their spouse some type of wedding ring.  Because of this, wedding rings can be unexpired and boring.  The vast majority of men and women probably wear 2 types of wedding bands.  The most common, especially for men, is the plain comfort fit band in gold.  This style probably account for more than 3/4 of that number.  The other ubiquitous style is the plain diamond wedding ring.  These can be prong set, channel set, or some hybrid of the two, but it is the same general idea.  We prefer to take a different route and like creating unique wedding rings.
Are you looking for a Rebel Flag Wedding Ring but can't find anyone that sells them? Unfortunately, they don't have enough mass appeal to be offered at the big box stores.  And in today's political climate, many custom designers would stay away from this theme, but not us!  If you want it and is legal, we will create it!  We even made a matching pendant for this ring. The reason we showed a finished image on this ring is because of the oxidation that was added in the last step.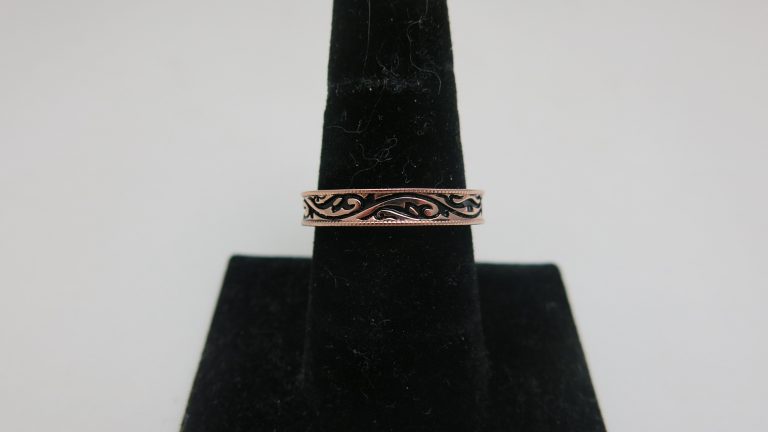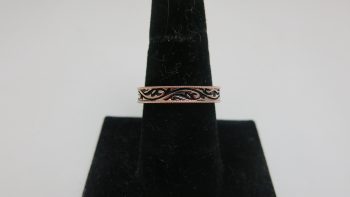 Are you looking for a Floral Inspired Wedding Ring but can't find the design you want? We can create a Floral Wedding Ring designs based on your idea. This one was lacquered to give the vines some contrast.
Unique Wedding Rings – Custom Is What We Do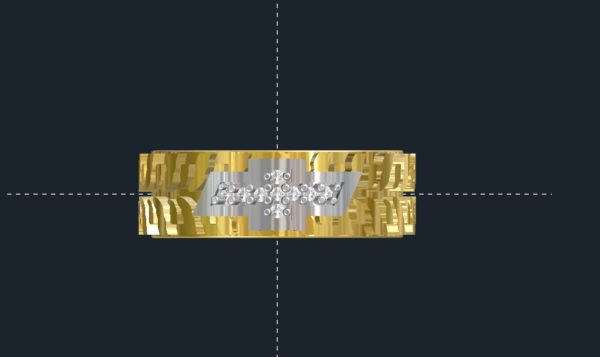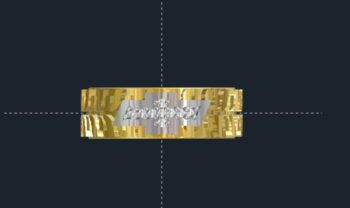 Looking for a Tire Tread Wedding Ring? We can create wedding bands with a huge range of treads and styles based on this idea.  If you don't see the tread you like, send yours to us and we will see what we can do for you.  If you want some color or sparkle on the ring, we can always add gemstones or enamel. We have also made Tire Tread Ring designs with the Ford logo…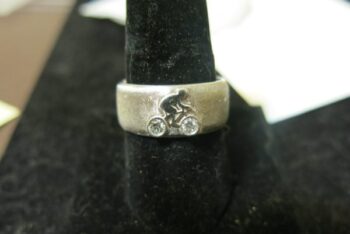 This is the his ring of a his & hers biker wedding ring set.  We bezel set diamonds for the tires and then gave the ring a stone finish to contrast with the high polish of the cyclist.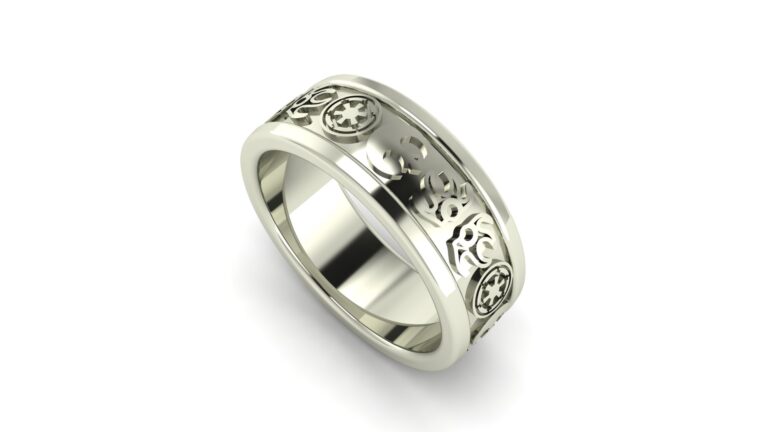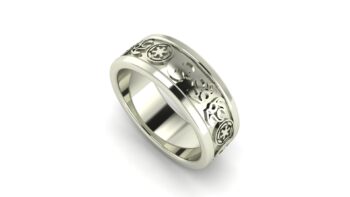 Our Rebel Alliance VS Empire Star Wars Wedding Ring is a play on another of our star wars wedding rings we created.   You can see it HERE.  This one features the rebel alliance and empire logos at odds with each other and we also have thrown in with a few of the shapes from princess Leia's outfit in the the Return of the Jedi.  However, other shapes can be used as long as they fit.  It could also be possible to add stones to the outer rails if you wanted some color or sparkle.
At Valeria Custom Jewelry, we will give you a plain wedding ring if that is what you want.  But we prefer to create something showing your personality and style.  If you look through our custom wedding ring portfolio, you might not see something that says "I am the one".  This is because most of our rings were made specifically for one person.  So, many of our custom wedding rings might seem odd or weird.  That is ok.  We are here to make whatever it is that you want.  It doesn't matter if it is a batman ring, a tree band, or something with a penis on it!  We don't judge and will do our best to to turn your dream into a stunning custom jewelry creation.
Custom Wedding Rings – Who Is To Blame Over The Rise In Popularity?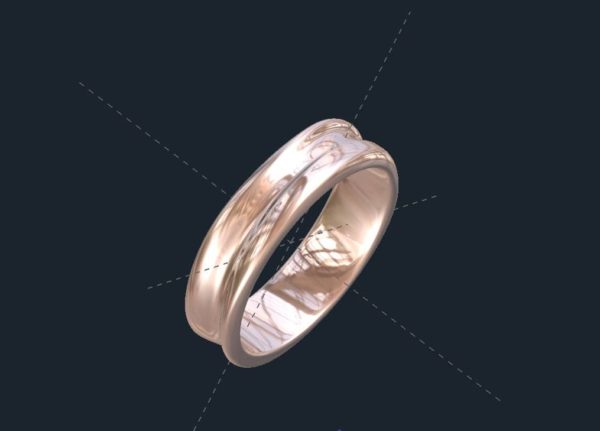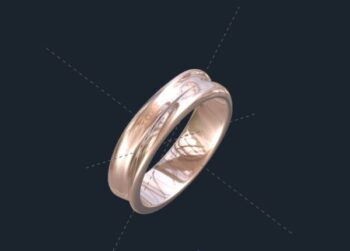 Are you looking for Wedding Rings that both partners can wear? This elegant unisex wedding band has a wave that travels from one side of the ring to the other and back again. This one was 6mm wide, but it could be made as narrow as 4mm wide and could always be made wider. 
Some might ask why all the fuss over a wedding band?  Younger generations like millenials and recently Generation Z are increasingly searching for consumer goods that fit their fashion sense, personality, and lifestyle.  They are not happy to have something that everyone else has.  We applaud that!  Why wear a plain wedding band if you don't have to?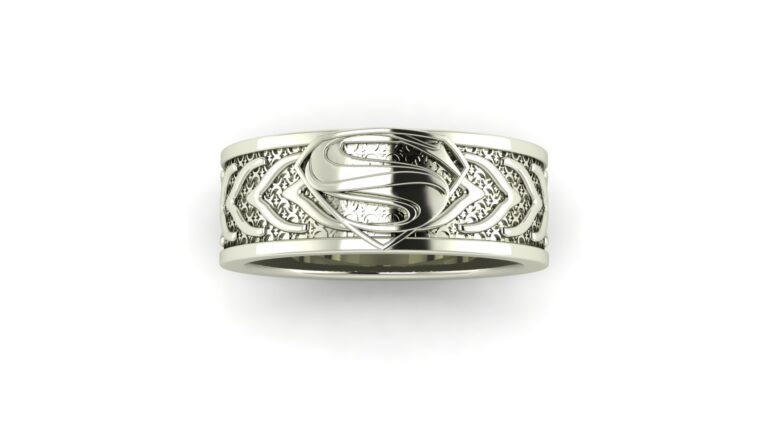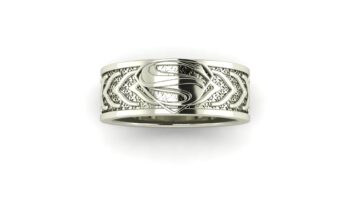 This is one of our White Gold Superman Wedding Ring designs.  However, we can make it in a few different metals.  In this one, we made the S with some swirling to give it motion.  Most of our other superman rings had the S made with enamel.  Then we took the symbols from superman's new suit and put those on the base.  We made this ring for a couple who wanted some kryptonese on the side, but we wanted to do something that clashed less with the background.  So basically, we just thought the wishbone shape looked cool.  If you have an idea for something else, we could make it with that.
We don't necessarily blame the younger generations for this shift in demand.  Technology is the culprit if there is any blame to place.  3d printing and CAD programs have advanced exponentially in the last 10 years.  Before that, a custom wedding ring required a wax carver.  That was pretty much the domain of the rich.  However, dropping prices on equipment and software coupled with rising capability of these technologies have really opened up the door.
Custom Wedding Bands Can Cost Less Than Retail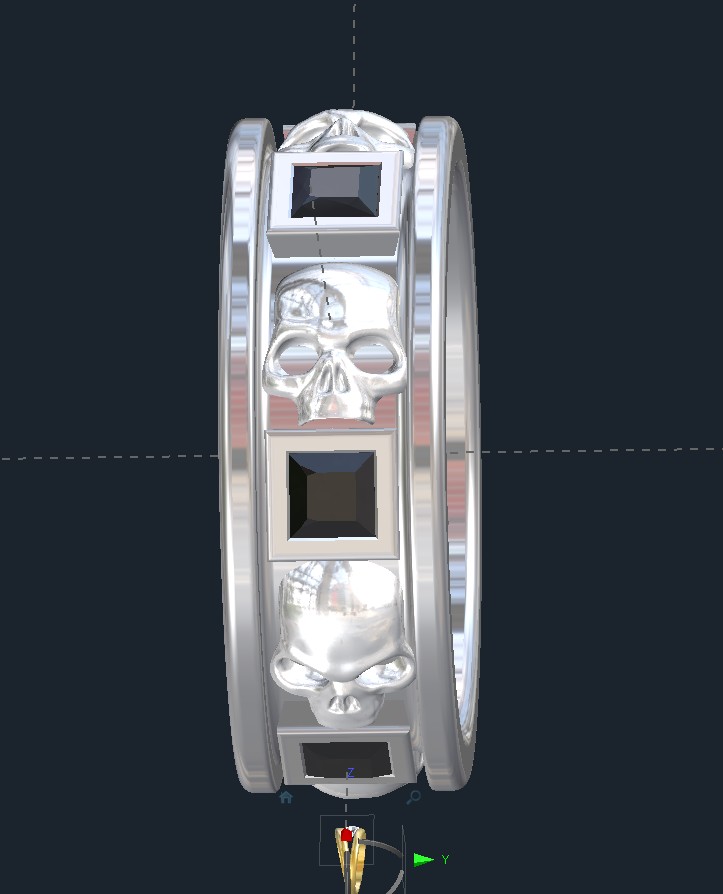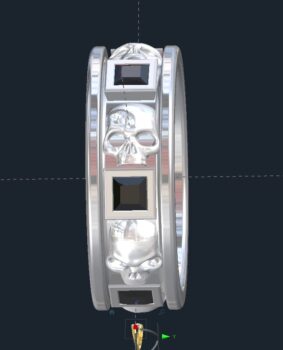 This is one of our favorite Skull Wedding Ring designs.  It is 8mm wide and has 6 skulls and 3mm Black Diamonds alternating around it.  It can be made as narrow as 6mm and as wide as you wanted it to be.  If you really wanted to bling the ring out, we could add stones to the outer rails.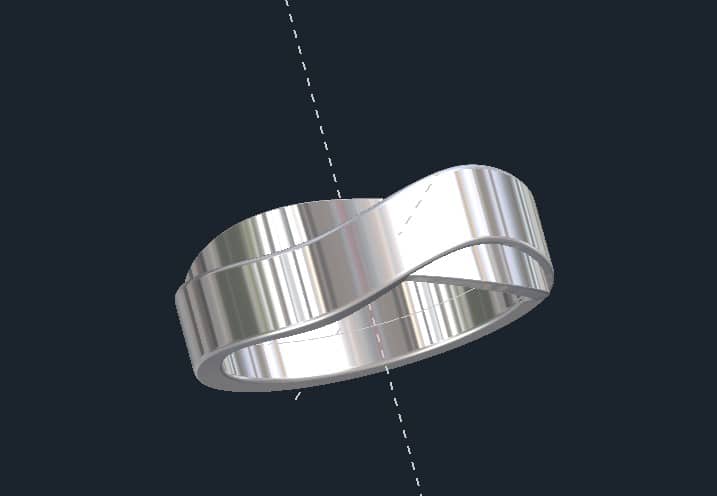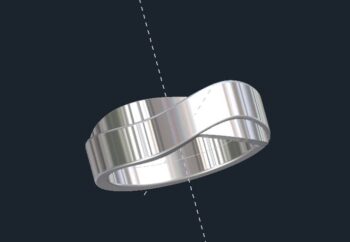 This elegant unisex crossover wedding ring splits into 2 shanks that crossover each other on the top.  We think a single stones in the center would look nice.
You might be thinking that you can't afford a custom wedding ring.  That can be very untrue, especially if you are wanting gold or platinum and diamonds or precious gemstones.  The markup that retail stores have to charge to pay for their fancy stores, large inventory, and numerous employees can really take a bite out of your budget.  At Valeria Custom Jewelry, we have no inventory, salespeople, and we have a modest office that is just enough for us.  Because of this, we can keep prices well below retail once you get in to a ring that costs more than around $800.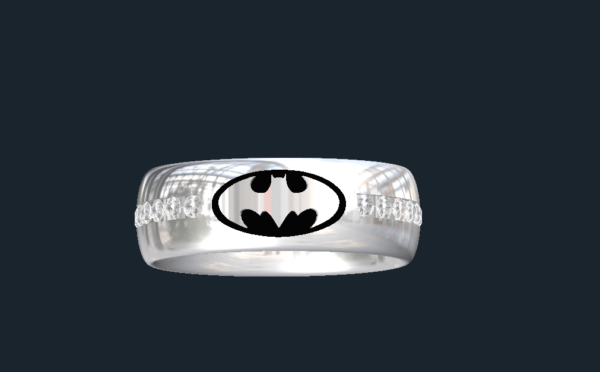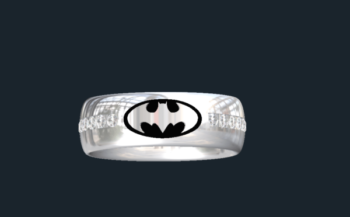 No topic is off limits for us.  In fact, we have probably sold more batman wedding bands than any other style. Granted, we don't really sell plain bands.  However, it just goes to show that if you can dream it up, we can make Unique Wedding Rings.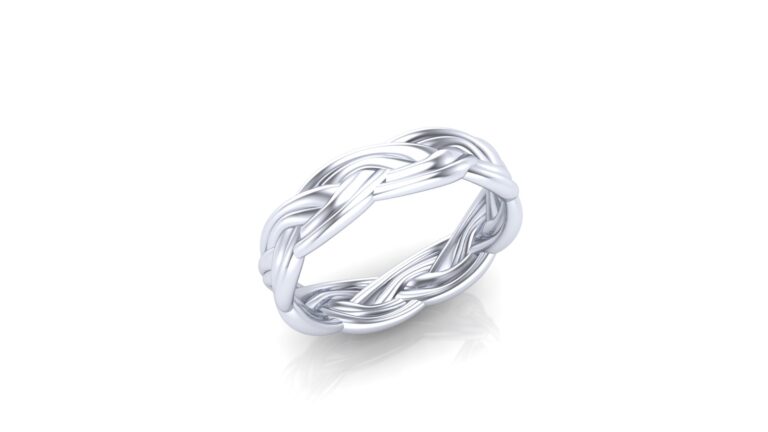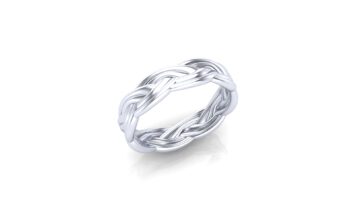 The two strands in this Rope Wedding Band represent the unification of two people for life. It is shown with with both 6mm and 4mm widths, but it can be made wider or narrower.  The rope could also be changed to add strands if you wanted it to represent more than 2 people.
Not All Custom Jewelry Is Equal
We know there are  plenty of custom jewelers out there who can probably make a wedding band for you.  However, most of these jewelers won't be the person designing the ring.  Most jewelry stores offering custom jewelry farm the design of the piece out to a design house.  This means you don't get to talk to the person actually creating your ring.  Stuff gets lost in the transmission that way and can take forever to get what you want.  That 3rd party also has less incentive to create something truly special as well.  We know because we started out that way.  We realized it didn't work and enrolled in a CAD class.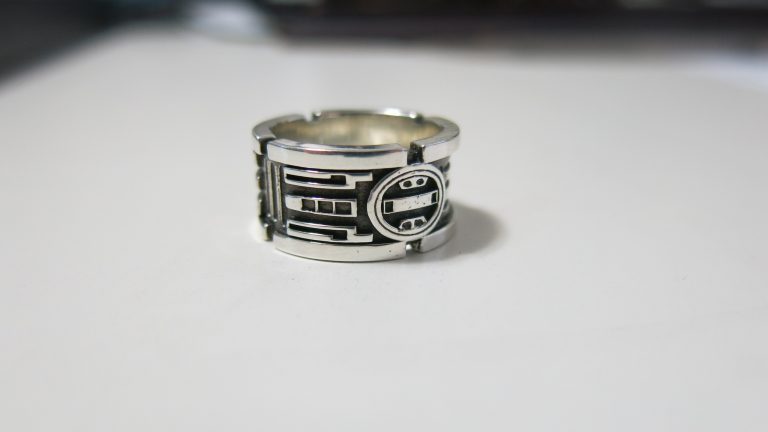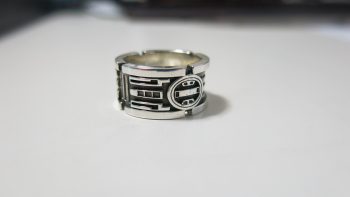 This  lightsaber ring was based on Luke's Skywalker's weapon used in the The Empire Strike Back.  The base has been lacquered to give it some contrast.  But it pretty basic, just like the original handle.  We have made a few different lightsaber wedding rings and could make one that you wanted as well.
At Valeria Custom Jewelry, you will directly communicate with the designer.   And we won't cast your wedding or engagement ring until you approve the design.  So you will get the ring you want.  Additionally, we will allow you to be as involved in the process as you like.  You can provide detailed specs that we can create the ring to.  Or, you can just give us a description of what you want and let us take it from there. That is how we create most of our Unique Wedding Rings.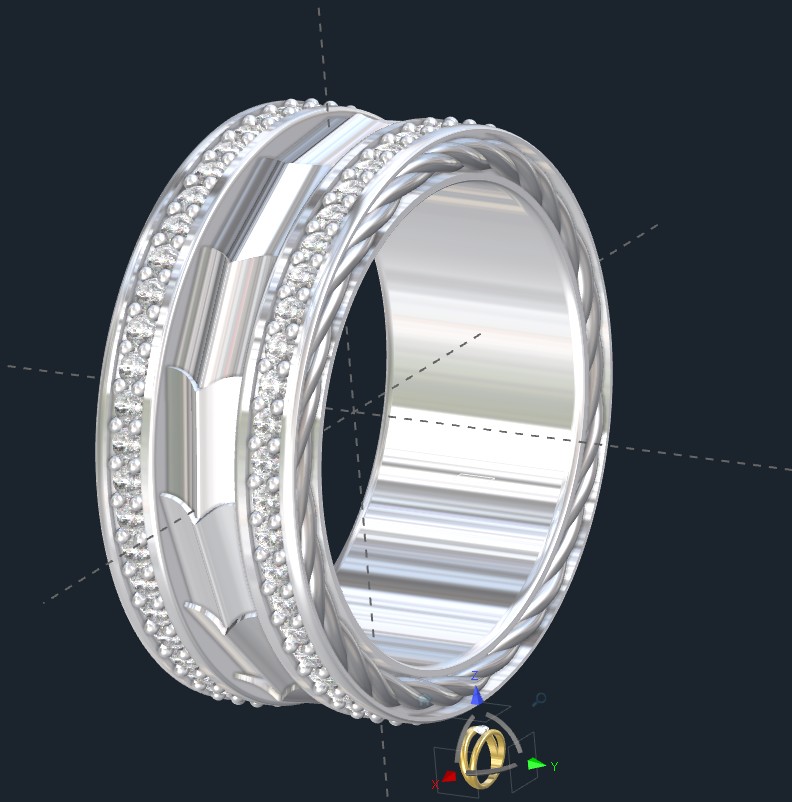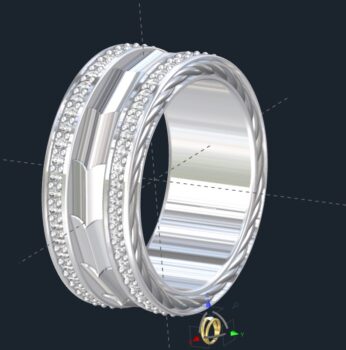 This men's Diamond wedding ring has armored plates going placed around the ring in between two rows of diamonds.  There is also an inlaid rope on the sides of the ring rails.  This would also work with something other than the plates..like  skulls or maybe some Roman numerals. 
We also know that there are tons of jewelers claiming to create custom jewelry when they really don't.  They believe that adding an engraving, offering a few types of finishing, or allowing them to choose a stone constitutes custom jewelry.  It doesn't.  They are still taking a mass produced ring and just modifying it a little bit.  While we have no problem doing that for someone, we have a problem with calling it custom jewelry.  It isn't the same thing.
Give Us A Shot On A Custom Wedding Ring
Click HERE to learn more about custom jewelry, view our portfolio, or to contact us about Unique Wedding Rings.  Click HERE to see out complete men's wedding ring portfolio.  You can see our women's wedding rings HERE.
It can cost less than you think to have your very own unique wedding ring made just for you.  Why settle for the lame and overpriced wedding bands from the retail stores when we can make something showing your style and personality?  You know what they say.  Once you go custom, you never go back….to the mall! Do you have ideas for Unique Wedding Rings, but can't find them in retail stores?  Send it to us and let us see what we can do for you.
Follow us on PINTEREST to see our latest images!