Black Wedding Rings
One of the recent trends that we've seen in the bridal market is a rise in popularity of black wedding rings for men. These rings are usually created in palladium, tungsten or carbon fiber, but can also be made in gold, silver and platinum. Although they have been around for awhile, they have become far more prevalent these past few years. The number of men who come in specifically asking for black wedding rings would surprise you.   We have even made a few black engagement rings.
Black Is Not All It Is Chalked Up To Be
Black wedding rings are cool, hip and in fashion at the moment. There is also a greater selection than ever before!  However, there are also a few problems with black wedding rings over more traditional metals that might become a deal breaker for you when it's time to shop for your band.  And that isn't to say that the traditional metals done in black don't have their own set of issues.
We want to make sure you are informed before you decide that buying a black band is your first choice. Let's explore a few different things that you should know before you decide to buy a black wedding band.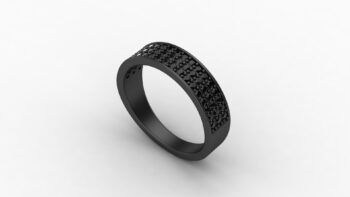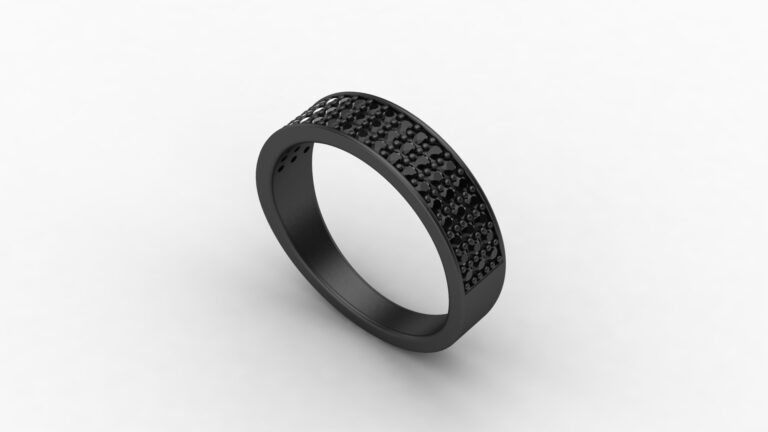 The ring to the above was cast in White gold and plated with Black Rhodium.  This guy really loved black, because he went with black diamonds as well.  We would have gone with white for some contrast.  But oh well.  It isn't our ring! Click the image to see the ring in yellow gold.
Most Black Wedding Rings Can't Be Re-Sized in the Future!
Black Wedding Rings are a cool, young and look sleek.  However, there are also a few downsides that you should be made aware of before choosing these rings. For instance, many Black Wedding Rings cannot be resized in the future. Some are not even able to be polished or cleaned by a jeweler.  With metals like gold or platinum, most jewelers can resize those rings without any problem. As we grow older, it's rare that our bodies will remain the same exact shape. Consequently, it's very common that people will return to have their wedding band resized their bands at least once throughout the course of their marriage.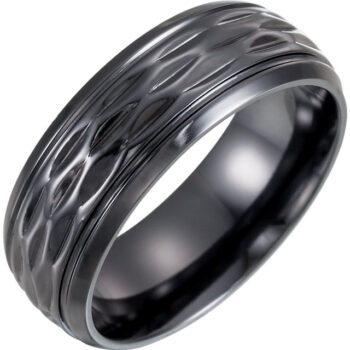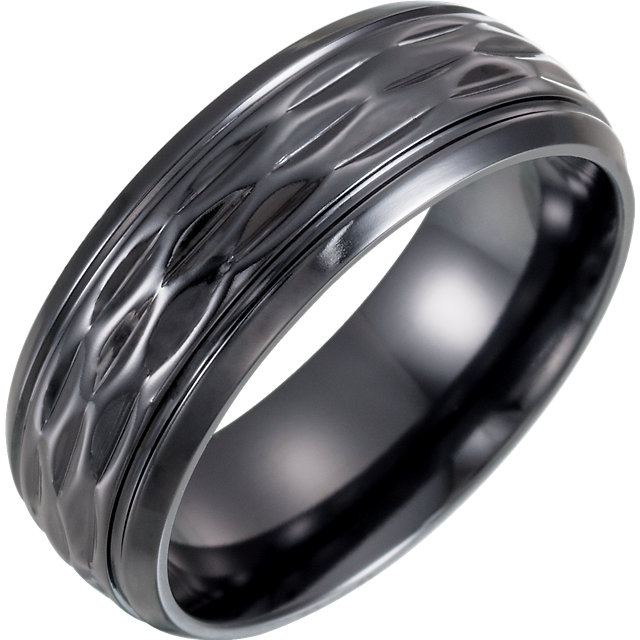 The ring above is one of our Black Wedding Rings in Titanium.  It has had rounded oblong divots going all the way around the ring.
This is something to consider if you want a black wedding ring. Tungsten rings, for instance, cannot be resized at all, while carbon fiber is often impossible to adjust as well.  If you were to ever need a new size for your ring, you would need to get a completely new ring. And if you get a new ring, then you aren't wearing the ring that you originally got married in. Sometimes this can be a deal breaker when some men hear about this.  It should at least be a consideration since you will be wearing this ring for the rest of your life.
Most Black Wedding Rings Can't Have Stones Set in Them
You can see with the ring to the left, that cool designs are possible in these "contemporary" metals.  But they are limited to what you can do in with the metal alone.  It is impossible to set stones in these metals.  Sometimes, you will see gold bezels set into the ring where a stone can be set into, but that is it.
Black Wedding Rings Made in Traditional Metals Aren't Truly Black!
Black Wedding Rings made of silver, gold, platinum, or palladium cannot be made solid black. There just isn't an alloy that allows for it.  With the case if silver, the metal is oxidized.  The other three are plated with black rhodium.  However, those plating and oxidation are only surface treatments and they are not permanent.  Oxidation can wear off in as little as a week and plating can last 9-16 months, depending on wear.
Will Black Wedding Rings Remain in Style?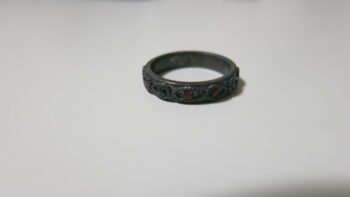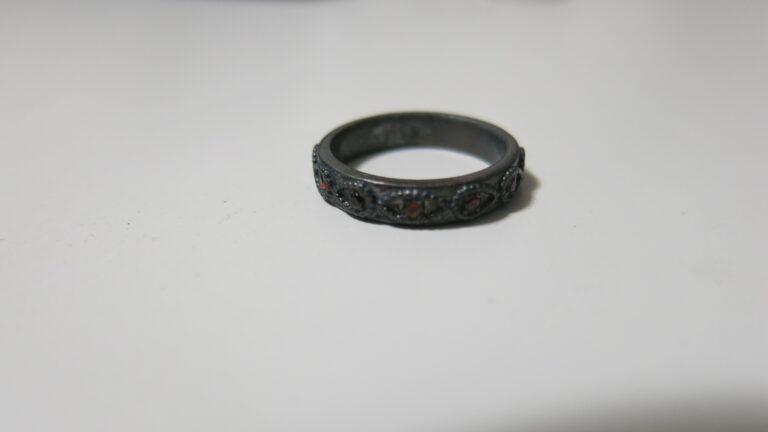 Another issue with black wedding rings is their lifecycle. Because black rings are a popular trend right now doesn't necessarily mean that they will remain so forever. Other more popular wedding ring metals like yellow gold, white gold or platinum have already stood the test of time, yet have still gone in and out of fashion. Buying a black wedding ring, either tungsten or carbon fiber, may mean that you are buying a ring that could potentially go out of fashion down the road.
The Black Wedding Ring above was white gold plated with black rhodium.  Another potential issue with the plated black wedding rings is that they are a matte black.  There is no way to get a glossy black like you can with the contemporary metals.
Think to yourself…. can you see yourself wearing a Black Wedding Ring for the rest of your life? Because these wedding rings are a relatively new phenomenon, we aren't 100% sure that this style will remain popular in the future.  We think the fad could die until a more workable black metal solution is created, because you know there are people working on it right now!
Give Us A Shot
Click CUSTOM JEWELER to see all of our custom men's rings, or to contact us about your own custom wedding ring.  It can cost less than you think to have a custom wedding ring made. Why deal with the hassle of retail stores when you can get a custom ring made from the comfort of your own home?
A Few Things To Know About Black Wedding Rings