Unique Halo Engagement Rings
The halo engagement ring first appeared in the 20s, when the style known as Art Deco rose to prominence.  They were all the rage for awhile and then their popularity waned.  Their current return to fashion has propelled halo rings into second place behind the classic solitaire as the most popular engagement ring style. Halo rings can be almost considered as classic as the solitaire, but our Unique Halo Engagement Rings come with a twist!
The halo ring style offers a wide variety of options for creating big diamond looks with smaller center stones, as well as ways to personalize and customize your engagement ring.  A halo ring is a setting that encircles a larger, center gemstone in a row of round gemstones. These prong and sometimes bezel set stones flash with light and focus the attention of the viewer back to the center stone, drawing people's eyes to your ring. A larger center diamond can look enormous in a halo setting. But  1/2 or even 1.3 carat diamonds can look, by some estimates, as much as a half a carat larger when set in a halo. So no matter what your budget, a halo engagement ring will give you a bigger bang for your buck.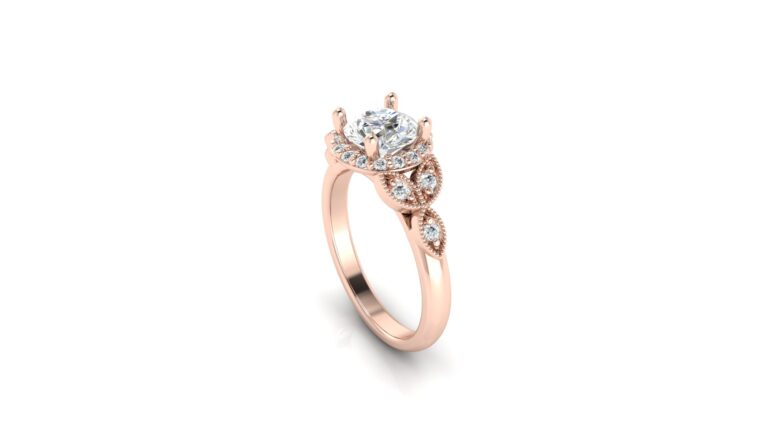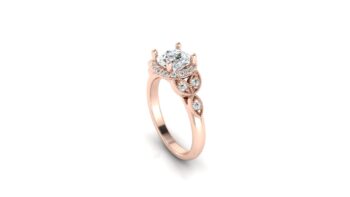 This Celtic Inspired Engagement ring starts with the center stone and halo.  But what makes this ring special is the diamond accented triquetras on the shoulders of the ring.  That is a design element you won't see in the mall!
What is a Halo Engagement Ring?
The typical halo rings is one with a big stone supported on a narrow, stoneless band. Imagine a round diamond circled by smaller stones on a white gold or platinum ring. "White on white on white" can impart a stunning statement that we just love. This look also works well when used with a princess- or cushion cut center stone.  There's a lot to think about when you're looking for a halo engagement ring. But if you can't find EXACTLY what you're looking for, remember that we can build your engagement ring from the ground up.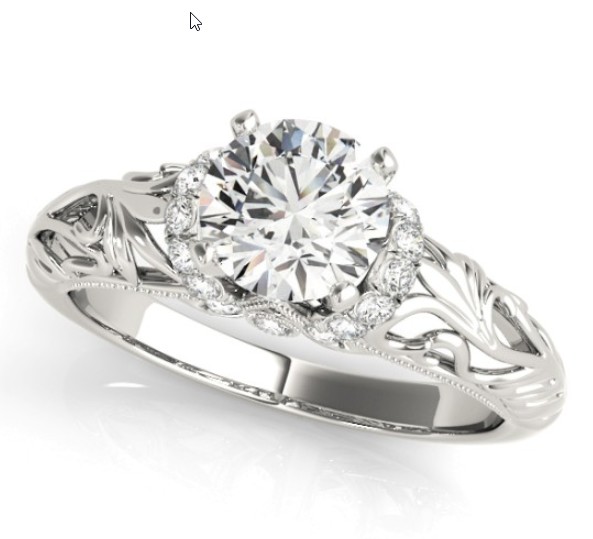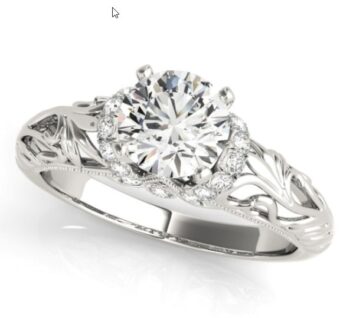 This Art Deco Halo Engagement Ring isn't your typical halo.  It is inset into a v shape from the side view, but looking from the top, it appears to be a standard halo. The stones in the halo as well as beneath the center stone are bezel set, defining each stone.  The band is elegantly adorned with floral scrollwork with some milgrain thrown in for good measure. 
Additionally, you can choose to pavé part of the shank (the part that wraps around your finger) or leave the metal plain.  Pavéed or not, this ring will give you that classic halo look.  In this post, we go beyond the classic halo ring and present some Unique Halo Engagement Rings.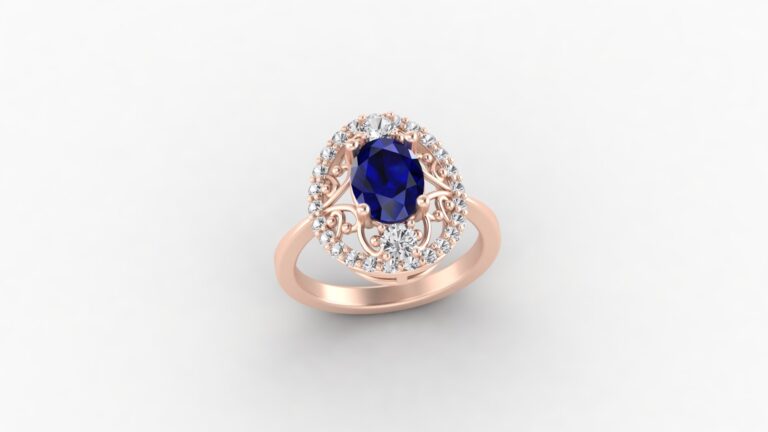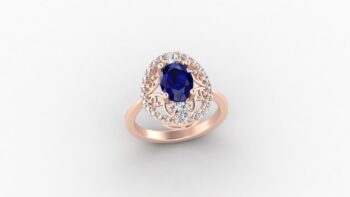 This Vintage Halo Ring is surrounded by knobbed arches leading to a halo of 26, 1.3mm stones.  The center stone in this one is an 8x6mm Sapphire.  The filigree is accented by 2, 3mm round stones as well.  Colored center stones and the vintage look are hot at the moment, which is why this one made our list of Unique Halo Engagement Rings.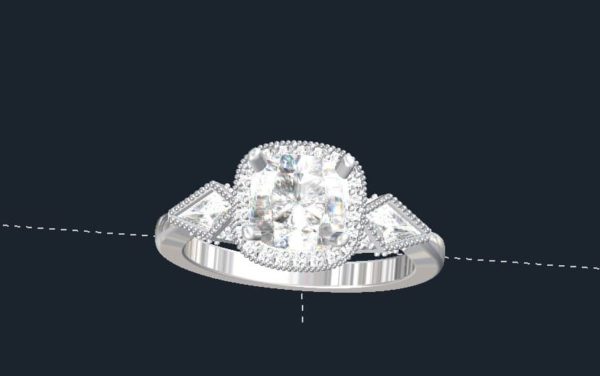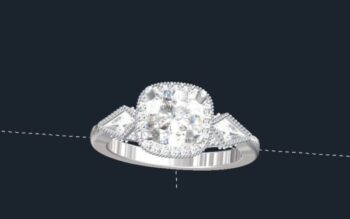 This 3 stone antique engagement ring hearkens back to the days of the early 1900's, when platinum rings like this were fabricated by hand. Thank God for CAD! The center stone is a 7mm Cushion cut accented by Kite, Round, and Square shape stones.  But the real kicker on this ring is the milgrain, which adds an elegant design element that really calls attention to the stones, which puts this ring on our Unique Halo Engagement Rings list.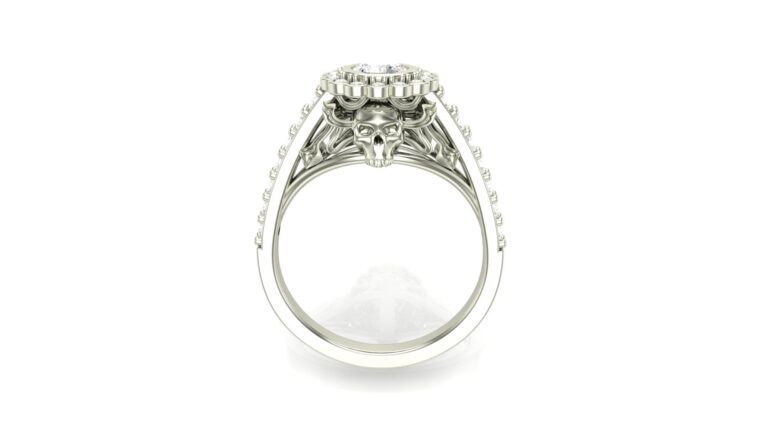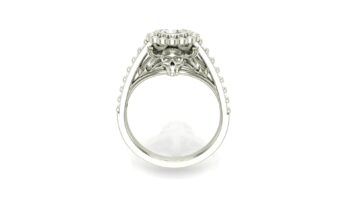 This art deco skull ring has a halo set with a hybrid channel-prong setting that makes this one of our Unique Halo Engagement Rings.  But it isn't only the halo setting that make this one of our Unique Halo Engagement Rings, it is the skulls on both sides of the ring with wisps of smoke blowing around them.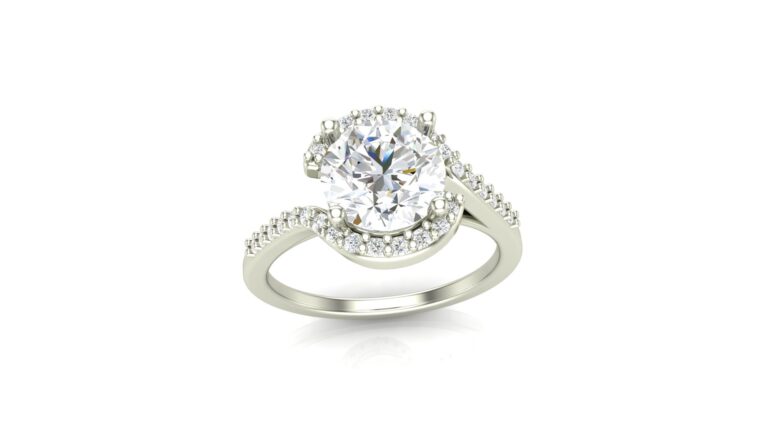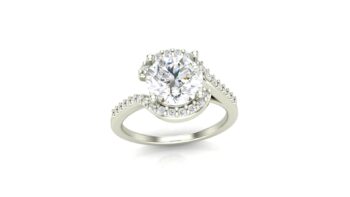 Who says a halo has to go all the way around the center stone? This custom ring has a few stones missing on either side of the center stone, almost as if two hand are about to join, making this one our Unique Halo Engagement Rings.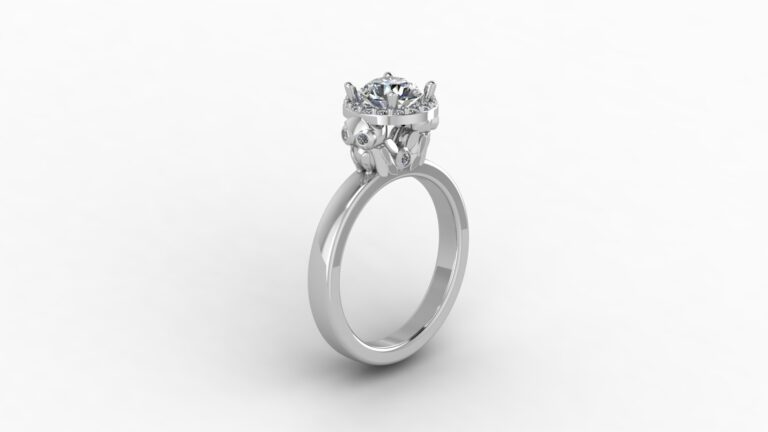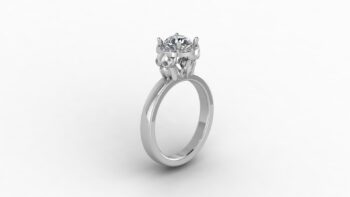 This is one of our custom Owl Engagement Rings inspired by a film I am not supposed to name….but oh well.  It's a Harry Potter Hedwig engagement ring.  What makes this one one of our Unique Halo Engagement Rings is the two owls facing out on the shoulders of the ring that prop up the halo.  As long as it fits, almost anything could be used in place of the owls.
Unique Halo Engagement Rings – Engraving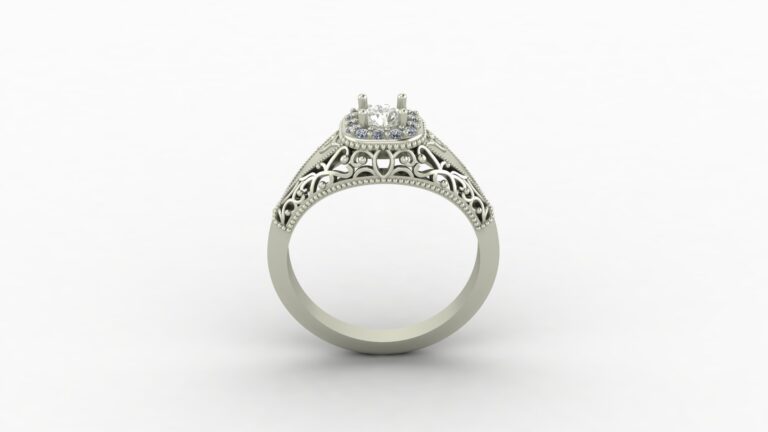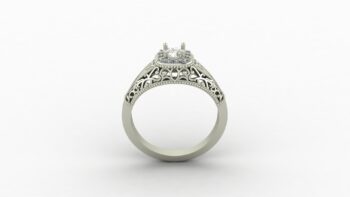 This is one of our favorite Unique Halo Engagement Rings.  The art deco ring itself is plain, with not much going on.  But it is just cast that way and then hand engraved to give it an antique, beautiful look.  Click on the image to see the finished images.
Unique Halo Engagement Rings – V Halo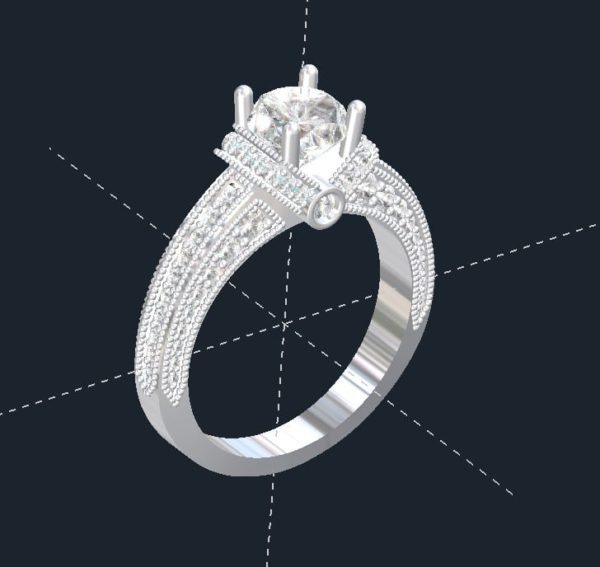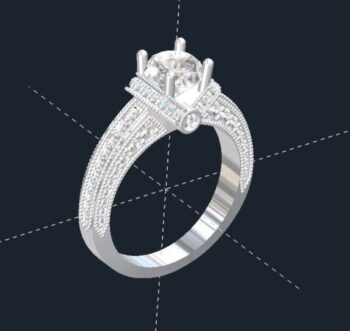 Not all Halos have to be circular, use the same setting type, or even be level with the center stone. This vintage style engagement rings starts with a round stone that is nestled into a milgrained, V shaped halo.  At the top and bottom of the halo are two bezel set stones, giving the halo a regal look.
The Bottom Line
Does the traditional halo engagement ring leave you wanting more? Do you want something different than what is at the mall?  Then one of our Unique Halo Engagement Rings is for you. There are so so many ways to customize a halo engagement ring that you can't go wrong with having one made just for you.  Creating Unique Halo Engagement Rings is all about the details and we can help you traverse those details if it seems a daunting task, giving you time to worry about other things as well as a stunning halo ring that no one else has.  For brides looking for a versatile, yet still traditional diamond engagement ring, halo rings make an excellent choice.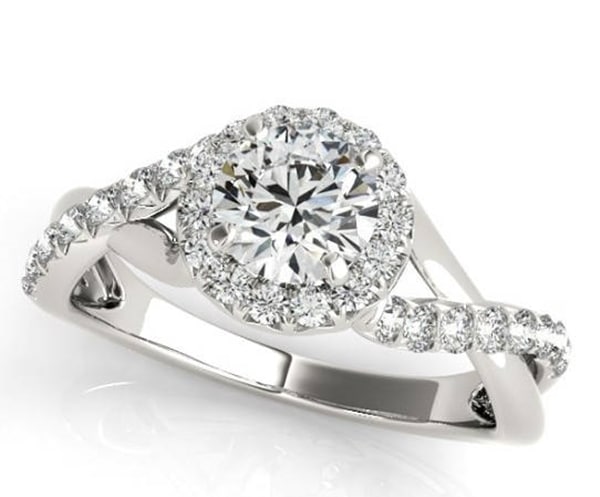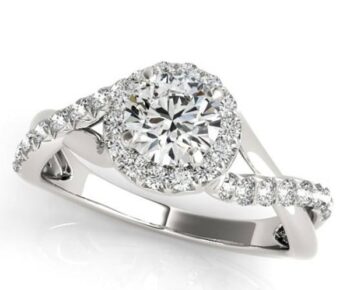 Our Split Shank Crossover Engagement Ring is surely a stunner.  With it's crossing bands of Diamonds and Gold flowing into the halo surrounding, it definitely makes for a dramatic look you won't find many place.
 Let Us Show What We Can Do!
As you can see from the images in this post, the halo can be easily be customized in an a few different ways. If the goal is creating something no one else has, a halo ring will allow you to do so.  The halo engagement ring is one of the more traditional styles. However, it is still a versatile engagement ring style that we love.   We can combine halo rings with other styles and design elements to create a stunning, modern ring.  We are in love with the halo engagement style because of the countless possibilities it provides in terms of customization.  If you want to create a ring that is truly yours, these give you one of the best chances to achieve that goal.
Want to start your own custom engagement ring? Contact us with your idea today…It can cost less than you think to have your very own ring created just for you.
Click HERE to learn more about custom jewelry, to see our portfolio, or to contact us about our Unique Halo Engagement Rings.  It can cost less than you think to have your very own custom Custom Engagement Rings made just for you. Why hassle with the retail stores for boring and overpriced halo engagement rings?  We can create the perfect Perfect Engagement Ring for you if given the chance!
Our Unique Halo Engagement Rings