Customized Name Necklaces
OUR CUSTOMIZED NAME NECKLACES START AT $350
A custom pendant with your name is a beautiful way to express your self-worth and achievements. You have gifted delicate name necklaces to your dear ones to make them feel special. It is time to serenade yourself with a special one. Customized pendants with names are not only look striking but they also highlight that you prioritize yourself in every sphere of your life.  Self-care is the most constructive way towards creating more positive and affirming life experiences.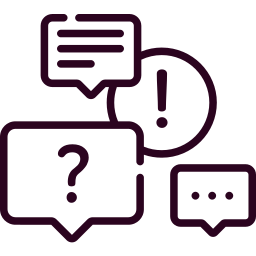 Discuss design ideas, options, budget, with your jewelry consultant – your guide to the custom experience.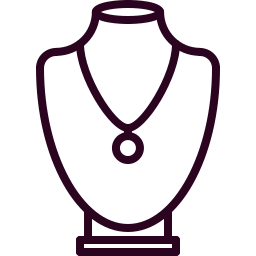 Visualize your piece with high resolution 3D renderings, and we'll adjust every detail until you tell us it's perfect.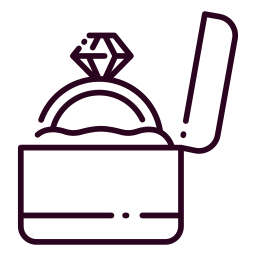 Receive your custom piece, with the assurance it's been made to wear and last a lifetime.
We are your 1 stop shop for Custom Pendants.  No matter what it is, we can make it if it is possible to be made. Looking for a winged heart name necklace? We can do it…
Incorporating Customized Name Necklaces into your jewelry every day collection will create an interesting and delicate style. A couple of investment pieces with your initials or names can ready you to take on the world. Your jewelry wardrobe is the perfect place to start a change, pursue it, and take it to a bigger level into your society.
CUSTOMIZED NAME NECKLACES – An Always popular trend!
Pendants and chains have always been and remain one of the most highly sought-after fashion trends. They can be layered to elevate even the most mundane and formal of outfits. When a name pendant is brought into the mix, it can become the ultimate head-turner in any party or event you wish to go. Two simple, classic gold chains when combined with a stylized name pendant offers endless possibilities.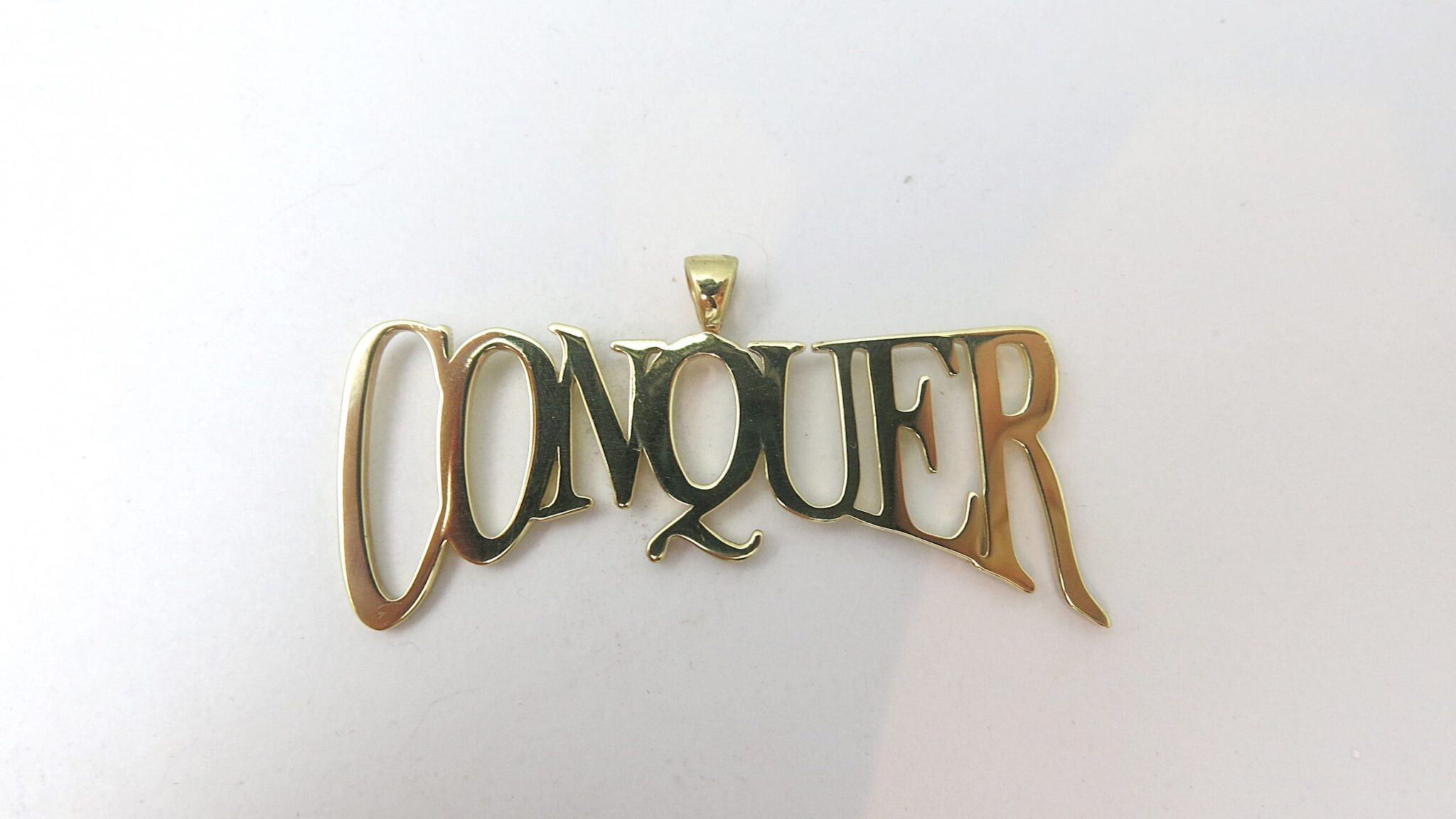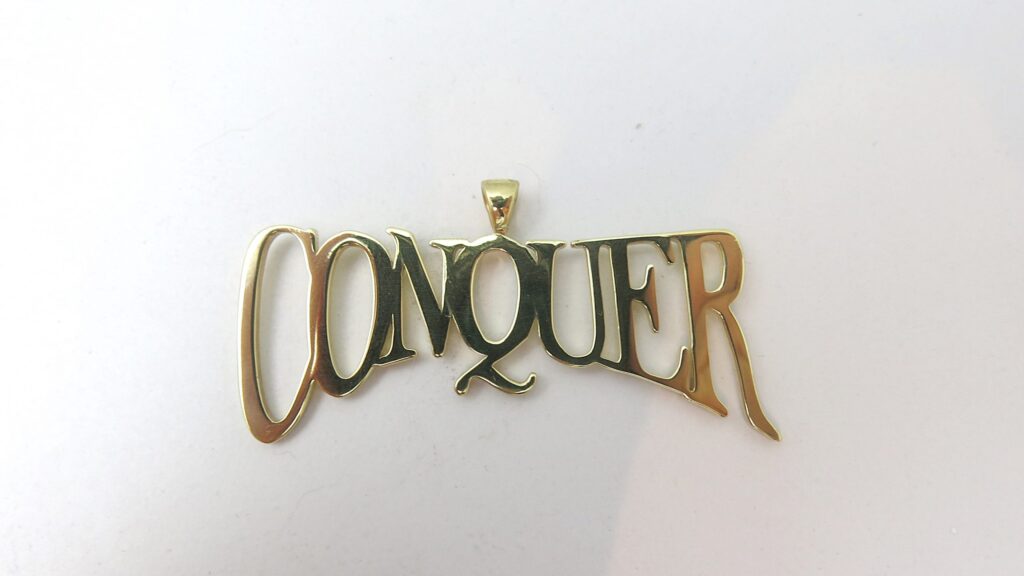 Have you been wanting a Gold Name or Word Necklace with a word that represents you? Do you have a funky nickname that you would never find a necklace of in a store?
We can create almost anything you can dream up! We know that it can be difficult to find something other than the mass produced necklaces coming from Asia. Unless it is something that thousands of people will want, you won't find it for sale. We aim to make customized name necklaces universal!
Customized Name Necklaces With Colored Gemstones
Frequently, name pendants are set with white diamonds to add an element of of brilliance and sparkle into the design. However, when personalizing the pendant, you need not restrain your imagination within predictable boundary of colorless diamonds. Add some vibrant colored gemstones in your pendant to accomplish a more cultivated yet unexpected accent. More creativity means bigger design ideas and striking results.  We love using Sapphire, Ruby, Opal…anything that is durable enough will work.
TRULY UNIQUE CUSTOMized name Necklaces
Gold and silver, or gold and platinum can be gorgeously tackled in a mixed metal custom name necklace. Going beyond the limiting concept of plain gold or plain silver, you can obviously try blending both to render something entirely exceptional. A thin gold link chain can stunningly accommodate a silver name pendant or vice versa. They result in versatile pieces that will certainly dominate your jewelry repertoire for the years to come.
If it can be cast, we can create it.  We know that mass produced necklaces coming from Asia leave a lot to be desired in terms of styles, quality, and selection. Un less you want something that thousands of others do, you are probably out of luck.  Sadly,  names and initials that few people want are just not made. We want to change that!.
CUSTOMized NAME NECKLACES
Charm necklaces are beautiful, bohemian and big on memories. Hearts, rhinestones, discs, butterflies, name it and you can have them all. Single letters and names make lovely improvements to the necklace. Dainty features like a dangling inverted name or stylish monograms add a deeply personal touch. Personal yet super-stylish, customized pendants with names will contribute adorably to your charm obsession.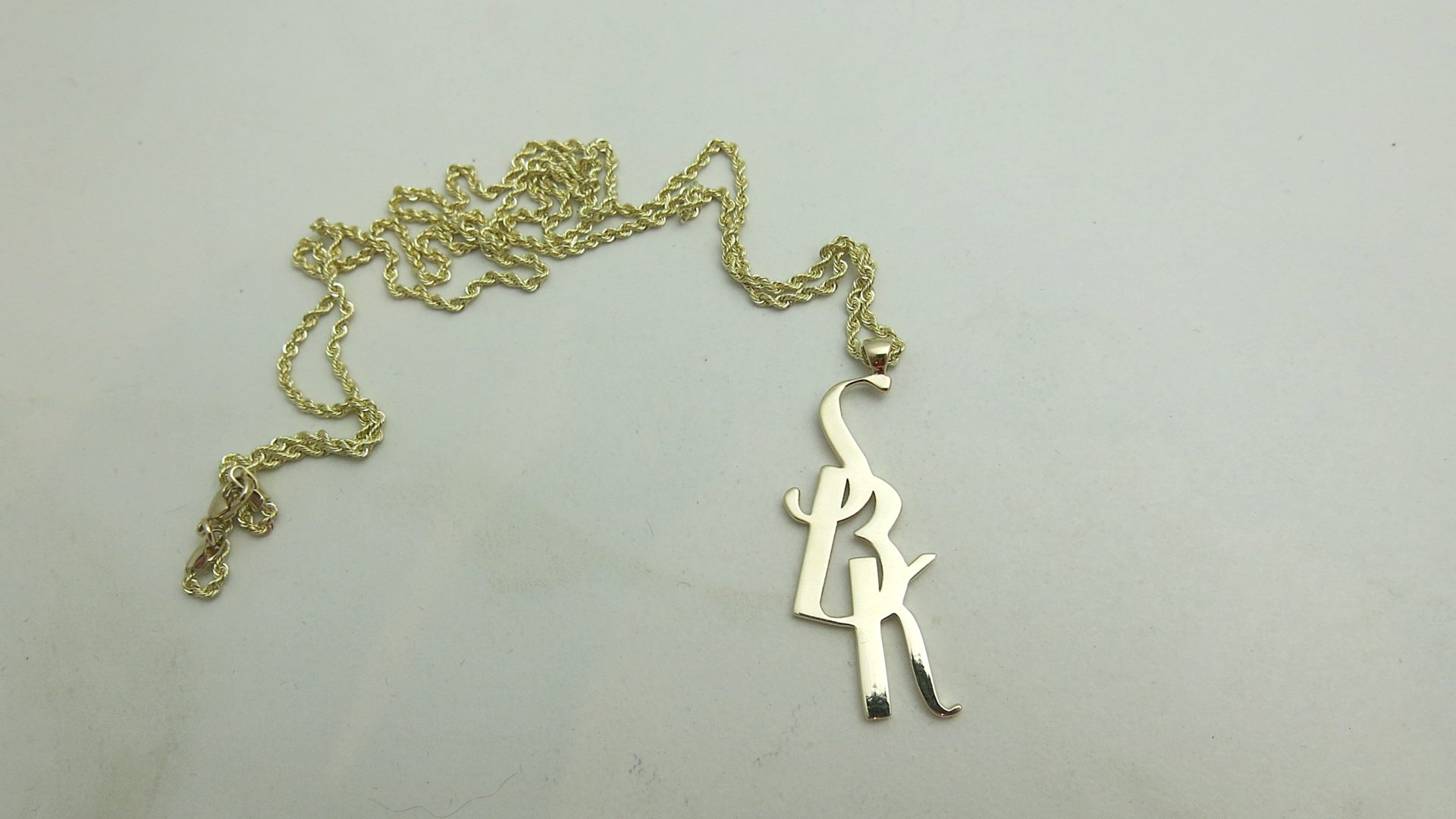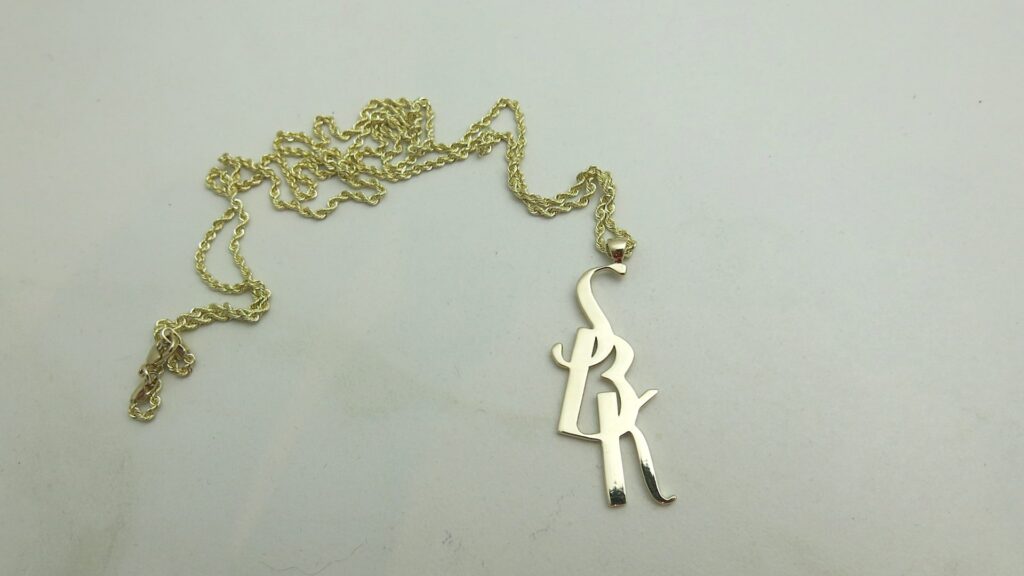 We had a customer who wanted a monogram pendant with his initials, but he didn't want the standard horizontal layout you see everywhere.  Enter our designer.  We took hos initials and cascaded them both horizontally and vertically to create a fresh look you won't find anywhere else.
Your intensely personal attitude to jewelry can be taken a notch higher when your zodiac gets involved in the design. They are about reflecting your characteristics and interests. A zodiac pendant is a popular trend championed by celebrities. You can easily add your signature to the style by jazzing it up with your moniker. The best part about such personal designs is that you can wear them effortlessly through fashion seasons and trends. Playful yet classic, name pendants will always stand out!
ONCE YOU GO CUSTOM, YOU NEVER GO BACK (TO THE MALL)
Many people think that custom jewelry is only for the ultra rich. While once the case, this is not true anymore.  More affordable casting and milling tools have become available in the last decade, drastically reducing the cost of creating custom jewelry.  If you give us a chance on customized name necklaces, you will wonder why you ever went to the mall in the first place.
Timelessness and absolute simplicity are two keywords often used with pearls. A hint of pearl can elevate an ornament to a whole new level. Pearl is one jewel that brings in a refined touch of vintage quality along with it. When this prevailing classic has been integrated with a stylishly crafted sobriquet, an heirloom is born. It is something you will treasure for the years to come.  A pearl and gold custom name pendant a singularly chic statement.
Whether your budget is $400 or $4000, we will exceed your desired in both quality and customer service. We hope every one of our customers feels special and that we only care about their piece. As a result, we will do whatever it takes to make sure that happens. Our ultimate goal is that your experience is one that causes you to tell all of your friends, family and anyone else about us. We are trying to cultivate lifetime relationships, not single purchase customers.
Do you like birthstone jewelry?
The bonhomie and warmth a birthstone exude can never be replaced any other gemstone. Birthstones have been hogging the limelight like never before. A great jewelry option that promises to stay relevant for a long time. A birthstone-studded name pendant beautifully coexists with other jewelry staples and ups the ante of your entire ensemble. A birthstone spells singularity and bespoke. Nothing lives up to the allure of birthstone Customized Name Necklaces.
Whether you want to splurge on fine jewelry or save with a budget piece, custom making the jewelry will get you the best of both worlds. Luxe-looking yet affordable choices can be best designed when you tailor-make your very own. Customized Name Necklaces, charms, miniature trinkets, zodiacs and birthstones – the options are versatile and endless. All you need to do is find the perfect jeweler to get your job done the way you want it to be!
We use CAD, lost wax casting, and even hand engraving to create our custom jewelry creations.  We can create almost anything you can come up with.  Usually, this means pieces you can't find at the mall or retail jewelry store. As we said before, unless it has mass appeal, you won't find it at the mall.  We want to bring jewelry to all those not named Joe and Jennifer!
Having a custom necklace made by Valeria Custom Jewelry is a much more personal experience than buying jewelry from a big box chain store. They go above and beyond to make sure each customer feels special and that his or her needs are all that matter. Consequently,Valeria Custom Jewelry will do whatever is required to make sure you're so satisfied with your purchase that you keep coming back for more.
NOT ALL CUSTOM IS CREATED EQUAL We know there are plenty of people claiming to make custom jewelry. However, adding an engraving or switching out a stone does not constitute custom jewelry. There are also many who will take your job and ship it off to a design house. While this can be ok, it can take longer and cost more. At Valeria Custom Jewelry, you will speak directly with the person designing your customized name necklaces. Not only does this keep cost down, but it ensures your vision is understood.
This customized name necklace is another example of a pendant you would not be able to get at the retail stores.  There just aren't enough "sara k's" to buy them!  We actually prefer making one off designs.  Why wear something that thousands of others are wearing when you can have your very own customized name necklaces made just for you.
Customized pendants are for every type of wear
We can create Customized Name Necklaces for any occasion.  Whether for every day wear, a night out with girlfriends, or a black tie gala.  We can make it all.  And there are are pieces than can be worn for all types of occasions.  Give us a shot, you will be happy you did.
Click to see more of our Custom Pendants or to contact us with your idea for a quote. Or, click HERE to learn more about custom jewelry in general or to view our portfolio. Our mantra is…If you can dream it, we can create it! It can cost less than you think to have your very own Custom Name Necklaces made just for you.
Start design with us now!
Customized Pendants With Names