Unique Diamond & Gemstone Necklaces
Gemstone Necklaces sold at the majority of retail stores are not unique at all!  They are mass manufactured in Asia in sweatshops and are thin, flimsy, and not very durable.  Also, the diamond or gemstone quality leaves a lot to be desired, even at mass-produced prices.  At Valeria Custom Jewelry, we can create any type of gemstone necklace you want with the sizes and types of stone desired.  All at prices lower than at the mall, for better quality, and your personal design.  Send me your idea and let's get a custom jewelry project started!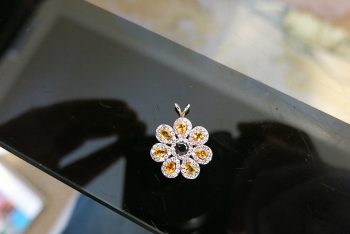 We can make all kinds of floral or sunflower necklace designs. This one had a 5mm Black diamond in the center and 5x3mm pear-shaped Citrines. The accents were diamonds.  
Are you concerned about the diamonds in your Unique Diamond & Gemstone Necklaces being used to add to the violence in Africa?  As consumers, we need to be aware of how "blood diamonds" can be used to promote war, but please don't be concerned about diamonds bought in the US.
Any diamond sold in the US is vetted using the Kimberley Process, which keeps conflict diamonds out of the mainstream jewelry business.  It's stated mission is "The Kimberley Process (KP) unites administrations, civil societies, and industry in reducing the flow of conflict diamonds – 'rough diamonds used to finance wars against governments' – around the world."
Every wholesaler is vetted regularly to ensure compliance with this process and to make sure that blood diamonds are not sold in the US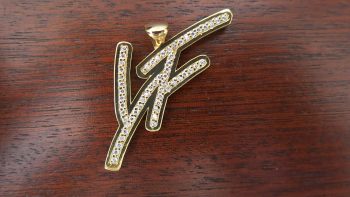 We can create Diamond Name Pendants up to 3.25 inches wide or tall in Bronze, Brass, Copper, Sterling or Argentium Silver, white, yellow, or rose Gold, Palladium or Platinum.  We have thousands of fonts or can create a custom design based on your direction.
Do you have too much diamond jewelry or don't want to spend the money on diamonds, colored gemstones are always a great option in our Unique Diamond & Gemstone Necklaces.  Even if you want a clear stone, there are options like White Sapphire, Moissanite, OR CZ.  But for my money, there are few prettier things than the green of Emeralds, the blue of Sapphire, the red of Ruby, or the purple of Tanzanite!
This pendant is the company logo for a customer of ours.  He wanted blue and yellow diamonds to be the land and sea of a globe, which you can see if you look far afar.  Do you have an idea for a custom or "iced out" pendant?  Contact us so we can make it happen.
I am a GIA graduate Gemologist and am able to find the best gems for the price.  It is all about value with gemstones and I search out the best for your Unique Diamond & Gemstone Necklaces!
Do you consider yourself an original person with your own style? Do you hate it when you see somebody wearing something that you own?  Even worse is when they are wearing it at the same time as you do.  I like to be original.  Make sure you are being original by having your Unique Diamond & Gemstone Necklaces custom-made by Valeria Custom Jewelry.  It will cost less than you think to let your style show through.
I am confident that if you give Valeria Custom Jewelry an opportunity, you will never go to a big box or chain store again.  The experience and value provided by an independent jeweler, combined with lower prices, will leave you wondering why you ever went to a chain in the first place.
Click HERE to see more of our custom pendants. Click HERE to learn more about custom jewelry, to see our portfolio, or to contact us about a diamond name necklace.  It can cost less than you think to have custom name pendants made just for you. Why hassle with the retail stores for boring and overpriced name necklaces?