Let Us Create a Truly Unique Customized Name Necklace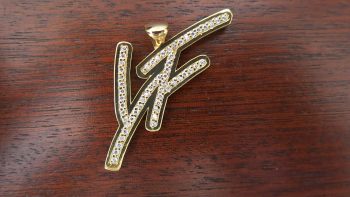 This is just one of hundreds of custom name pendants we have created for happy customers.  No matter what it is, we are able to turn your idea into a stunning piece of custom jewelry that you can't get anywhere else.  Let us shatter the myth that custom jewelry is either expensive and or difficult to have made.
As a custom jeweler that's been reinventing the custom jewelry game since 2008, we don't follow trends—we set them. Explore our Customized Name Necklace collection and discover how Valeria Custom Jewelry can create a gold and diamond Customized Name Necklace design differently for you.  All it takes is a click to contact us!  We know that you will be happy that you did.
Customized Name Necklace – Whatever You Want!
A Customized Name Necklace is a personalized piece of jewelry that features an individual's name or a word of significance. It is typically made from materials such as gold, silver, or stainless steel, and can be customized with different fonts and designs. These necklaces became popular in the early 2000s, as people began seeking unique and meaningful ways to express their personal style. Today, Customized Name Necklaces continue to be a popular choice for those looking to add a personal touch to their jewelry collection or give a heartfelt gift to a loved one.
Shorty Smooth wanted a "smooth" pendant to wear every day.  We weren't sure what that meant, but we chose this font and put it together in a way that was cool, yet still durable.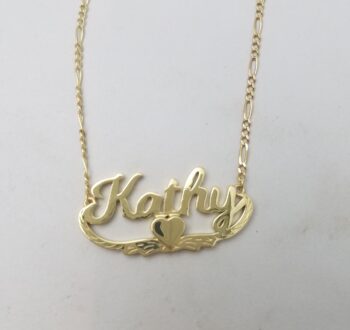 Are you looking for Custom Winged Name Pendants?  Using CAD, lost wax casting, and even hand engraving, we can create almost anything you can come up with. It can cost less than you might think to have your own Custom Name Pendants created just for you.  Send us your idea and let's get started.
Custom jewelry is all we do.  It is what we do best and what we love doing most. We can always buy something from a mass manufacturer and sell it to you, but where is the fun in that?  We would prefer to create something that nobody else has and that you can't buy at the mall.  Whether you're looking for custom gold grills or your next iced out name necklace. We pride ourselves on manufacturing high quality custom jewelry using the highest quality materials. We also have with fast turnaround times, with the average name necklace taking 10-16 days if there aren't 300 stones in it!  Work with us to transform your ideas into reality and we will create a stunning name necklace that captures the imagination of everyone who sees it. No idea too big, no detail too small: let us design your dream.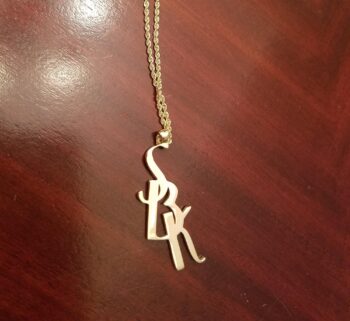 You normally think that a Name Necklace is horizontally oriented.  But that doesn't always have top be the case.  We took this customer's initials and cascaded them downwards to give this monogram pendant a unique look.
Let us put a beautiful Customized Name Necklace around the neck of a loved one or even yourself!  Create your own Customized Name Necklace with our experienced pendant designer to show your unique personality, celebrate an milestone, or tell a personal narrative.
Why Customized Name Necklace Are So Popular Right Now
Customized name necklaces have become incredibly popular in recent times. These personalized pieces of jewelry allow individuals to express their unique style and identity. By wearing a necklace with their name or initials, people can showcase their individuality and make a fashion statement. Customized name necklaces also make for thoughtful and meaningful gifts, as they can be personalized with the recipient's name or a special message. With their versatility and personal touch, it's no wonder that customized name necklaces are all the rage right now.
One of the reasons why customized name necklaces are so popular is their ability to be tailored to individual preferences. Whether it's a classic font or a more elaborate design, there are countless options to choose from. Customers can select the metal type, chain length, and even add gemstones or birthstones for an extra touch of personalization. This level of customization allows people to create a necklace that perfectly reflects their style and personality.
In addition to being a fashion statement, customized name necklaces also hold sentimental value. They can serve as a reminder of a loved one, a special occasion, or simply a personal mantra. By wearing a necklace with their name or initials, individuals can carry a piece of their identity with them wherever they go. This emotional connection makes customized name necklaces cherished possessions that are treasured for years to come.
We Make the Customized Name Necklace Designs That You Can't Find Anywhere Else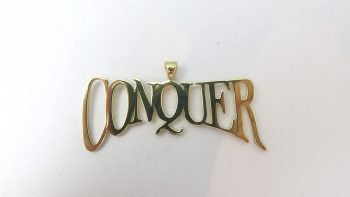 Are you looking for a Gold Word Necklace with a word that represents you?  We can create almost anything you can dream up!  We know that it can be difficult to find something other than the mass produced necklaces coming from Asia.  Unless it is something that thousands of people will want, you won't find it for sale.  We are here to stop that. 
There are literally thousands of fonts or create something totally custom for your tastes.  We can also add stones for some sparkle and or color as well.  Enamel is another option for customization and the addition of color.
This "ROO" pendant is just one of many Name Necklace designs that Valeria Custom Jewelry can create for you. Using the latest CAD software, we is virtually create our designs before casting them using the lost wax method.  The resulting piece of custom jewelry is something that you won't find anywhere else and one you will see and approve before it is cast and finished out.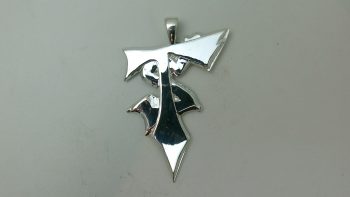 Are you looking for a Gold Initial Necklace but either can't find one with your initials, or it is a lame design?  If you can dream is, we can create it most of the time.  We know that it can be difficult to find something other than the mass produced necklaces coming from Asia.  Unfortunately, names and initials with low demand are just left out.  Our goal is to stop that.  
Once You Go Custom, You Never Go Back. To The Mall
Having a Customized Name Necklace or any piece of custom jewelry made by Valeria Custom Jewelry is a more highly involved experience than if you bought something from a big box chain store. We do whatever it takes to make sure each customer feels special and that his or her wishes will be more than met.  As a result, we hope and expect that you will be a repeat customer for life.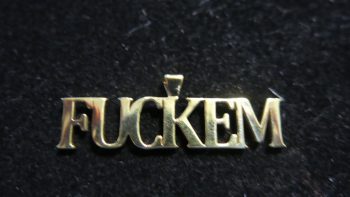 No topic or theme is off limits at Valeria Custom Jewelry: nothing can offend us!  The Fuckem pendant was for a customer who wanted to let the world know what he thought of them!  As long as the piece can be cast and is durable enough to be worn, we will create it for you.   Well…it has to be legal as well.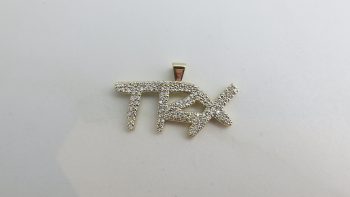 This diamond name necklace was commissioned by a British hip hop group of the same name.  They had the name, but no logo, so we created one for them using broad brush strokes.  Then we covered those strokes with diamonds.  The result was a Custom Name Necklace that can be seen sparkling on the necks of the group by fans in the crowd.
Give Us A Shot On A Customized Name Necklace!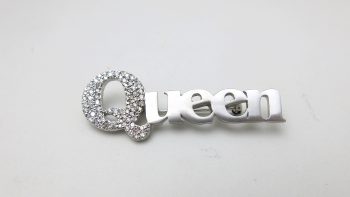 We know this page is for pendants, but a pin is basically a pendant on a stick!  Are you looking for Diamond Pin but can't find anyone to make them for you?  Using CAD, lost wax casting, and even hand engraving, we can create almost anything you can come up with. It can cost less than you might think to have something like this diamond Queen Pin created just for you.  Send us your idea and let's get started.
Distance doesn't stop us from building relationships with our customers. Contact us today for competitive prices, creative custom designs, and stunning quality. We create unique Customized Name Necklace designs specifically tailored for to the taste of the individual. If you can imagine it, we can create it.  And we guarantee that you will love your pendant because you have to approve the design before we cast it.  This promotes collaboration, which we have found always results in a better final piece.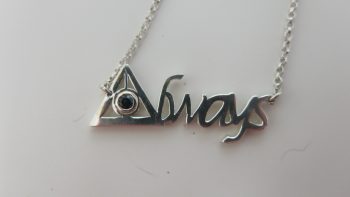 We weren't told the reason behind this custom pendant, but it held enough meaning to our customer that he had us create it.  It was in silver and the "A" triangle had a bezel set round black Diamond in it.  We think it was a Harry Potter thing, but aren't sure.  Who cares.  if someone wants it, we will create it for them!
Not All Customized Name Necklace Creators Are Equal
We know there are tons of jewelers claiming to make custom pendants.  However, if you dig a little deeper, most don't actually create anything.  The vast majority of "custom jewelers" send there CAD design to a design house.  Not only does this cost more, but it takes longer as well.  We know from experience that isn't the best way to have your custom jewelry creations fabricated.  We know from experience.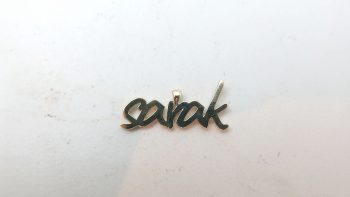 At Valeria Custom Jewelry, you will directly communicate with the person designing your name necklace.  This will ensure that your vision for a custom name necklace is heard and understood.  Our resident CAD designer is Lucas Horton, who has years of both bench fabrication as well as CAD design under his belt.
A talented designer, Lucas has more than the creative eye and talent for jewelry design.  He spent years in fabrication classes at the Craft Guild of Dallas, earned his GG from GIA, acquired connections to reputable diamond and gemstone dealers around the world, and gained overall insight into the world of jewelry.  This has turned him into a trusted source for custom jewelry that is high quality, yet fairly priced.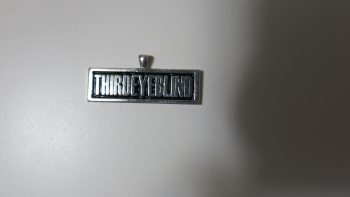 There are numerous ways we can take name or words and turn them into something to wear around your neck.  We can make cutouts or we can extrude the words off of a back.  Or like in this  third eye blind name necklace, we can can put fill the background with black enamel.
Give Us A Shot!
Click to see  more of our custom pendants.  Click Custom Jewelry to learn more about custom jewelry or to contact us with your idea for a Customized Name Necklace.  It can cost less than might think to have your own custom necklace created for you.  What are you waiting for?? You know what they say.  Once you go custom.  You never go back.  To the mall!