Gold Engagement Rings
We know there are different colors of gold.  But for the purpose of this post, we are going to group red, yellow, white, and green gold in one group: Gold Engagement Rings. And know that any of our custom jewelry designs can be cast in any color of gold.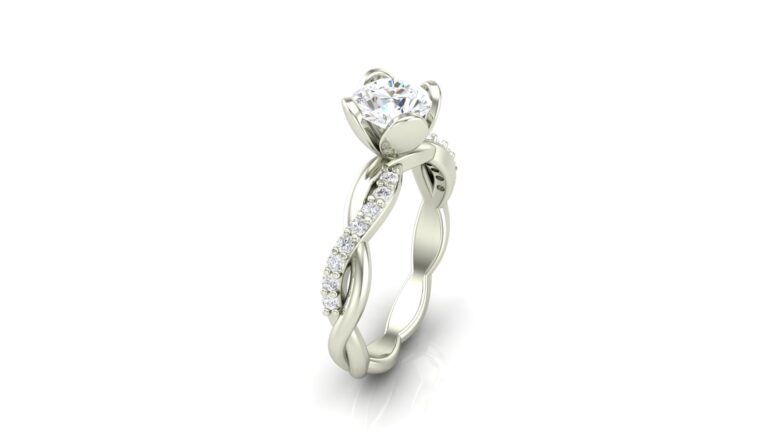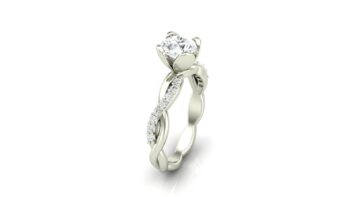 This is one of our floral Gold Engagement Rings.  The stone is held in my rose petals.  But the star of this ring is the crossover shanks that have one accented with diamonds and the other left with a high polish.  It makes for a dramatic effect and stands out from rings where the whole shank has stones on it.
Engagement rings should last a lifetime, even if diamond ring trends come and go. As a custom engagement ring designer, we're always on the forefront of  new jewelry trends popping up, but we'll only make engagement rings that are not only built to last, but designed to be timeless. Here are some of the latest diamond ring trends that we put our stamp of approval on.
Gold Engagement Rings – A Little History
Gold is the most loved and worn metal in the world.  It has been worn almost as long as silver.  And that is only  because silver is more easily mined and was found first. Ever since the ancient Romans, well to do husbands have been giving the brides a gold wedding band.  Although those wedding rings didn't have the same connotation that they does today, the tradition stuck and evolved.  That gold band became the main symbol of marriage for hundreds of years, until the 1500's, when Archduke Maximilien gave the first diamond engagement ring to his fiance.  But even then, the ring was made of gold.  And it was another 300 years or so before diamonds became affordable for the masses.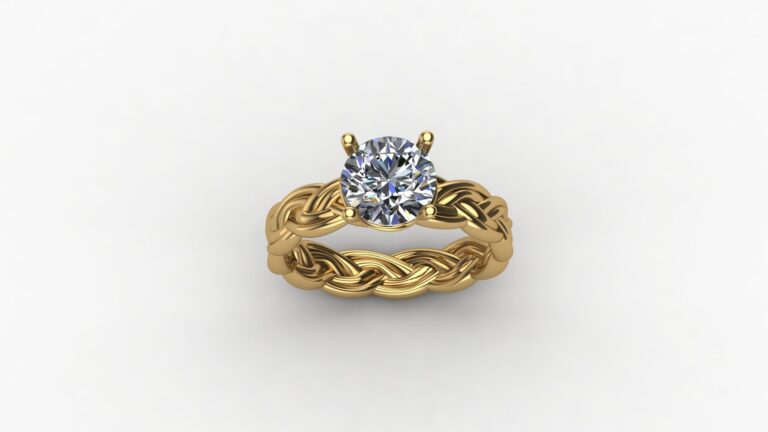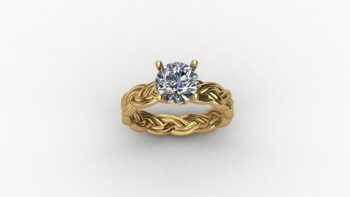 This is one of our simpler Gold Engagement Rings.  It consists of an elegantly woven band and the center stone.  But that is all it needs. It is a nice choice for someone who wants a solitaire, but not the Tiffany setting.  This setting can be used with size or shape center stone.
Gold Engagement Rings – A Well Know Fact
Gold has been lusted after since it was discovered.  It has caused wars and prodded the discovery of the new world as explorers searched for mines.  Not only was it durable, but it is beautiful.  A well polished piece would show once's reflection before mirrors had been invented!  This is why gold is and will remain the most popular metal for bridal or any other type jewelry in the world.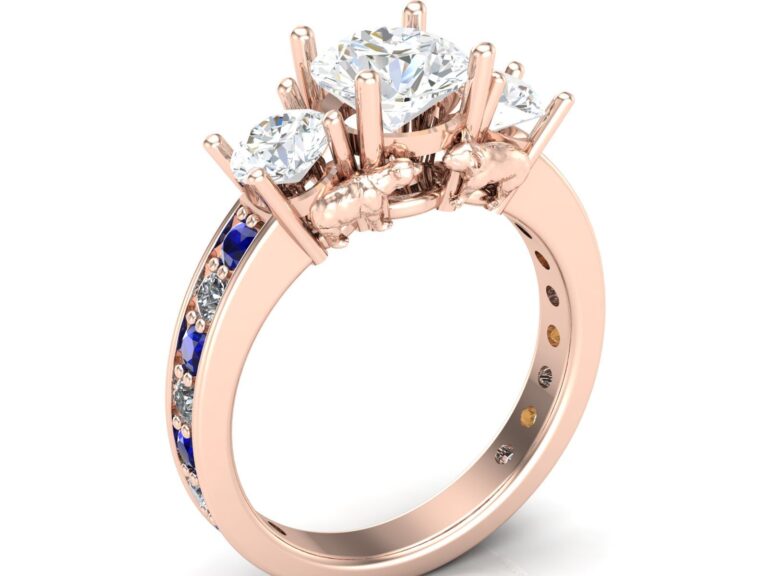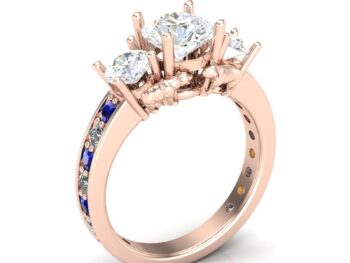 This is one of our nature inspired Engagement Rings.  It features both a Koala and Panda Bear facing off beneath the 3 main stones.  Hybrid, prong-channel set accents adorn the shank.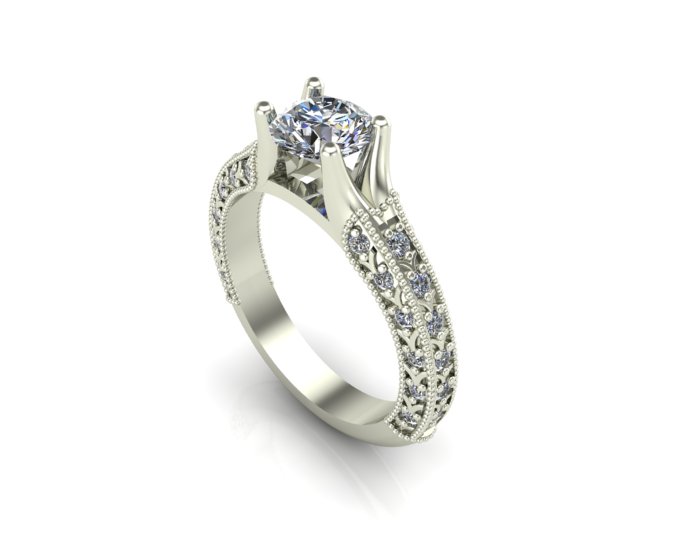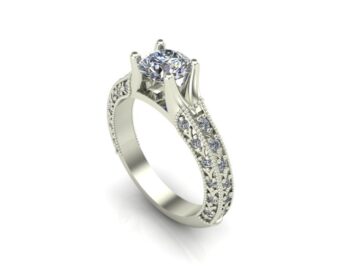 This art deco engagement ring designs is one of our favorites.  Milgrain, diamond accents, and V shapes adorn the shank of this ring.  It is reminiscent of a bygone era, but beautiful nonetheless.  What we love about it is how the center stone really is showcased with how the center of the ring is empty.
Gold Engagement Rings – That Isn't All We Do
Valeria Custom Jewelry is becoming known for creating unique one-of-a-kind Gold Engagement Rings.  On top of the Gold Engagement Rings we create, we offer handcrafted custom jewelry – from engagement rings, wedding bands, wedding sets, pins, cufflinks, earrings, to necklaces – anything that can be cast in Bronze, Copper, Gold, Sterling Silver, Argentium Silver, Palladium, or Platinum using the lost wax technique.  And all of it can be accented with the most beautiful diamonds or gemstones available at the best value.  We ethically source our stones from suppliers all over the world and pass those savings on to you.  This helps to ensure the best value in our Gold Engagement Rings.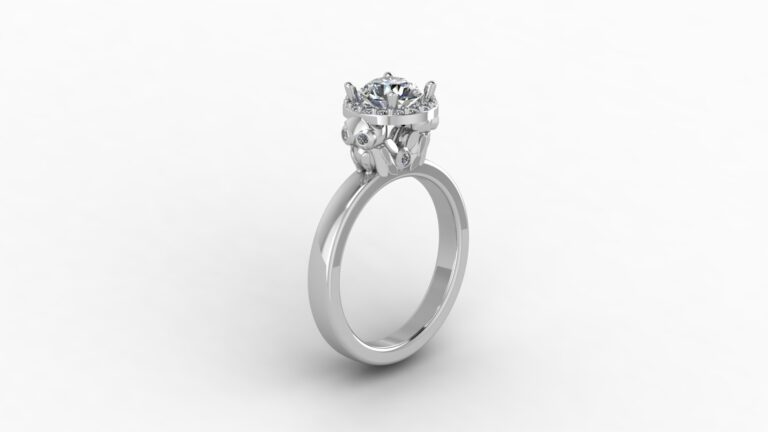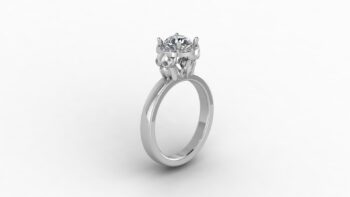 Our harry potter inspired owl engagement ring has a center stone surrounded by a halo of 1.3mm stones.  The halo is supported by two owls accented with diamonds in their eyes.  We also have this ring with stones on the band.  And for even more punch, you can have the owls hand engraved to give them a crazy amount of detail.
Gold Engagement Rings – Give Us A Chance!
While Gold Engagement Rings are our specialty, we offer much more! With the latest in 3D CAD technology & jewelry modifications as well as re-setting gemstones and sourcing diamonds or gemstones, we are a one stop shop for all of your Gold Engagement Rings needs.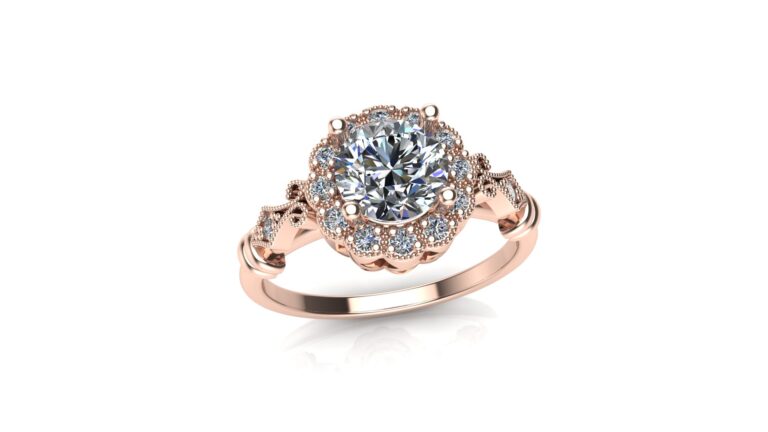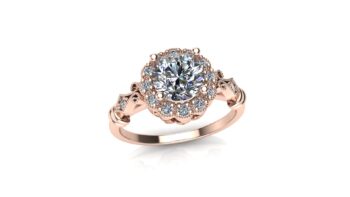 This is one of our vintage engagement rings.  It has a 6.5mm center stone and a halo of 1.3mm stones.  The band is a mix of diamond accents and scrollwork.  We also have this ring with an oval center stone.
Using your unique ideas, along with old and unused jewelry you may have sitting in a drawer or no longer wear.  We are able to create brand new pieces you will be dying to wear!  In this way, we make new Gold Engagement Rings with the original sentimental value still intact.  And with our collaborative process, you will get the piece you want as we don't begin manufacturing until we receive your approval on the final design.
Let's Collaborate!
Don't settle for boring, mass produced Gold Engagement Rings from the mall and chain stores.  They won't nearly as last and don't show any the personality you can instill into a custom piece.  Don't you want your piece to have a story you can tell people??? All Gold Engagement Rings created by Valeria Custom Jewelry has both a story and a meaning personal to the buyer.  You can't get that from a chain store.
Click HERE to see our portfolio of Engagement Rings.  Click HERE to learn more about custom jewelry, or to contact us about Custom Gold Engagement Ring.  It can cost less than you think to have your very own custom engagement ring made just for you. Why hassle with the retail stores for boring and overpriced Gold Engagement Rings?