Truly Unique Hip Hop Necklaces
Have you ever noticed the huge, audacious, sparkling pendants hanging around the necks of rappers and hip hop artists?  Usually fabricated with diamonds and fashioned into some name, those pendants can be quite stunning, right?  Those sometimes obnoxious pendants are known as Hip Hop Necklaces.  Pendants have always been an important part of neckwear.  Created in different shapes, sizes, and colors, they have been an big part of displaying glamour and riches.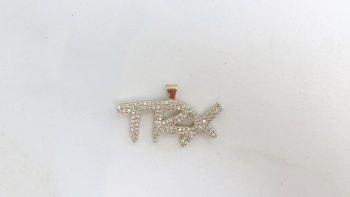 Do you have an idea for a Custom Diamond Hip Hop Necklace or Diamond Name Necklace with your "catch phrase" or nickname on it? What about a logo or character that you like? Contact us and let us know….It will cost less than you think. Send us  your idea and let's get a custom project going. 
Can Hip Hop Pendants Ward Off Evil Spirits?
A thousand years ago, pendants were worn as sacred talismans and were thought to have powers either to attract luck or to keep them safe from evil spirits.  The mystery of magic and religion solidified the place of pendants among the masses.  As jewelry became available to the everyday person, pendants caught garnered attention as a symbol of status, power, and wealth. They are now worn by in a wide number of religious and non-religious ways.  The first one is actually still far more popular these days.  In fact, crosses make up the majority of pendants.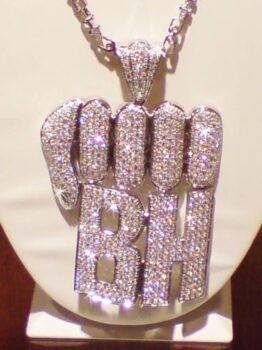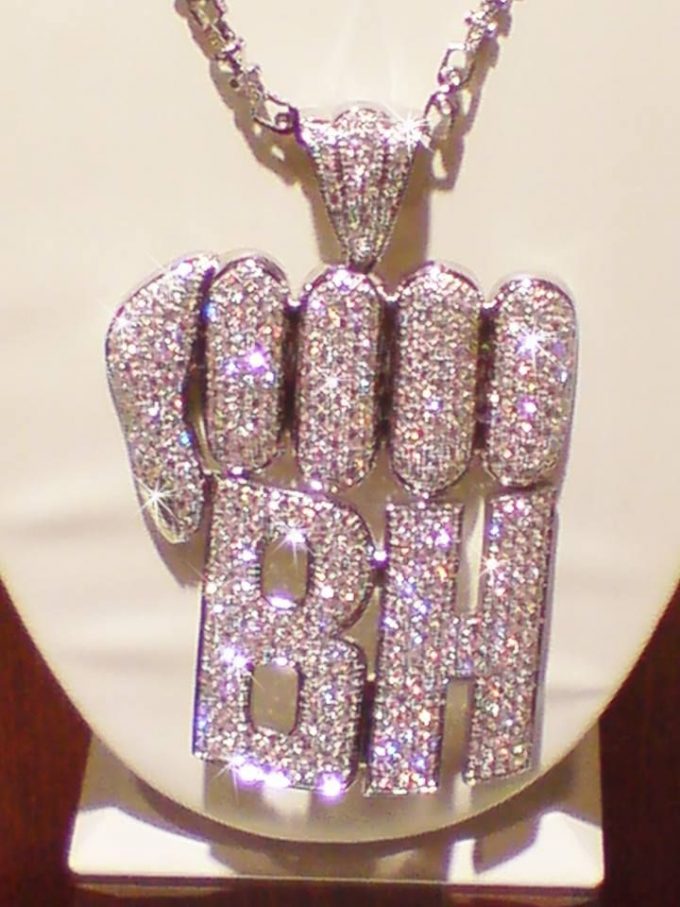 This Diamond Hip Hop Pendant was created from a logo given to us by our customer.  He wanted "big and blingin'" and this is what we came up with.  It was 3 inches tall with the bail and 2.5 inches wide. It was cast in White Gold and had over 5 carats of fiery white diamonds.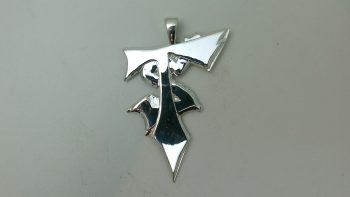 Are you looking for a Gold Initial Necklace but either can't find one with your initials, or it is a lame design?  We can create almost anything you can dream up!  We know that it can be difficult to find something other than the mass produced necklaces coming from Asia.  Unfortunately, names and initials with low demand are just left out.  We are here to stop that.  
Hip Hop Necklace Are Just A Subset Of A Much Larger Norm
With the rise in popularity of hip hop necklaces, the goal of these pendants went through a change. Hip hop pendants can act as a promotional tool to put your "brand" on display.  Custom hip hop pendants can bring your logo, name, or catch phrase to life.  Thanks to the magic of CAD, whether you want words or even a character, it is now possible to have it hanging around your neck on the chain of our choosing.  Because of the real estate Hip Hop Necklaces occupy, they are almost impossible to ignore.  If you look at someone from the front, you will see them.  The variety of shapes, colors, and sizes available are almost unlimited.  As far as the materials are concerned, most hip hop pendants are made of silver, platinum, or gold.  However, a range of complementary materials can also be utilized in their fabrication.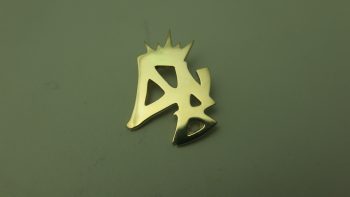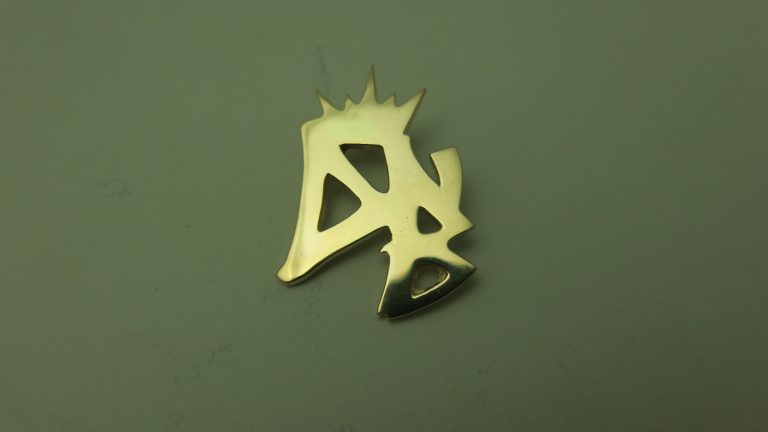 Are you looking for a Custom Hip Hop Pendant, but can't find what you want?  Are you unhappy with the quality found at the mall or other online jewelers?  Using CAD, lost wax casting, and even hand engraving, we can create almost anything you can come up with.
Fashion Can Run In Cycles
Fashion has always been dynamic. Styles once in fashion on e year can be totally ignored the next.  Many jewelry styles, once thought to be cool, now seem lame. Rarely is something permanent in our lives except maybe change itself!   With that new trends appearing daily and old ones being recycled, no one can say what will be hot in the future.   From dresses to hairstyles or makeup to jewelry.   Every aspect is fluid.  But the one thing that will never go out of style are our custom Hip Hop Necklaces.  When something is created just for you, it has meaning.  That never goes out of style, no matter what the current fashions are. And up until recently, custom jewelry was out of reach for the average consumer.  Not anymore.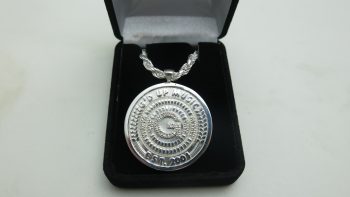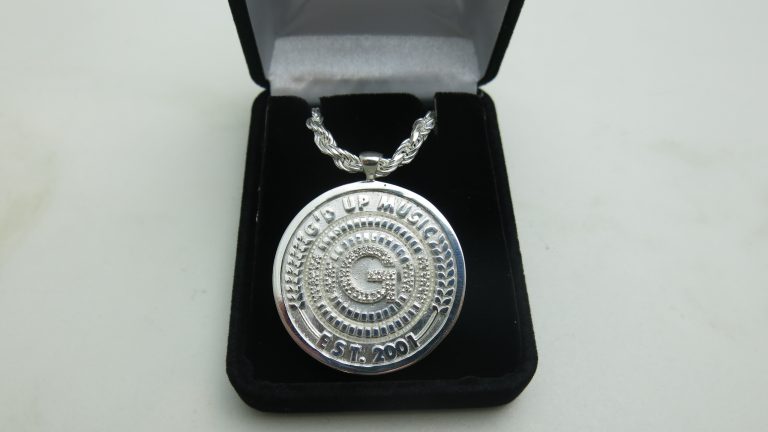 Do you have a business logo you created? A nickname that you like? We can create  Hip Hop Pendants up to 3.25 inches wide or tall in Brass, Bronze, Sterling or Argentium Silver, white, yellow, or rose Gold, Palladium or Platinum.  A wide variety of stones can be used, but they aren't mandatory.
Wearing Jewelry To How Status Is Not New
Jewelry has been a symbol of status and wealth for most of human history. Since the beginning of mankind, wearing jewels have been a deeply rooted desire for people, especially women.  Even before the discovery of precious metals and gems, our ancestors used fashioned ornaments made of ivory or other organic materials. Some archaeologists have even found evidence of reed and grass rings which were presented by grooms to their brides long ago and in multiple places in the world.
As civilization evolved and technology advanced, jewelry moved towards silver, gold and gemstones. Although the materials and styles were different, the basic idea has been the same.  Pendants are a good example.  Whether made from stone beads or precious gemstones, the concept of the pendant is still the same. However, each culture creates it own riffs on the idea.  So..what are Hip Hop Necklaces?  Where are their origins?  What do they mean?  That are the questions we are going to discuss in this particle while showing some samples of our work.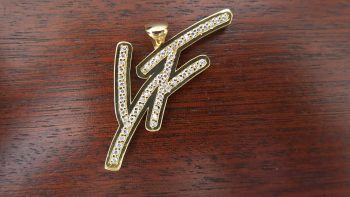 We can create Diamond Name Pendants up to 3.25 inches wide or tall in Bronze, Brass, Copper, Sterling or Argentium Silver, white, yellow, or rose Gold, Palladium or Platinum.  We have thousands of fonts or can create a custom design based on your direction.
The Emergence Of Hip Hop Necklaces
Bling Bling, Iced out, or Hip Hop Grillz.  All of these terms relate to a relatively new style of jewelry that emerged in the the late 70's and early 80's.  Disco was dying and new genres of music were filling the vacuum left.  Hip Hop, one of these genres, took its roots from the street parties and eventually came to permeate our society, becoming what is now one of the largest genres.  The culprits behind hip hop were the emcees and dj's spittin' out the rhymes.  And they were wearing a new type of jewelry nobody had really seen before.  It was characterized by long thick gold chains,  huge diamond pendants, gaudy rings, watches, and belt buckles.  And it wasn't before their teeth were covered in gold and diamonds!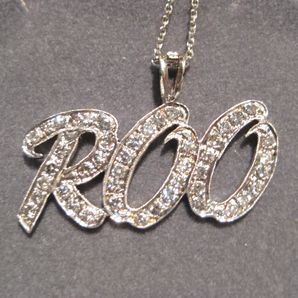 We can take almost any word, name, or letters and turn them into a stunning custom jewelry creation.  We have hundreds of fonts we can use, or we can create a custom font like in this name necklace.
Not Just For Rappers Now
Initially, Hip Hop Necklaces were limited to the elite hip hop artists.  Custom jewelry wasn't common then and the high cost of these pieces could only be afforded by the richest.  However, this changed with the growth of CAD design.  Custom jewelry was now available to the masses.   It is worth noting that hip hop necklaces were not just worn to flaunt their wealth, although that was surely one goal.  Rather, they were more symbols of success than anything.
Not all hip hop pendants are iced out.  We had a rapper who wanted his pendant to be smooth like his name.  So we picked a smooth font and put it together without any stones.  Hip hop pendants are more about an attitude than anything else.  So if you want it, let us create it.
Most rappers came from the ghetto, growing up with little.  So Hip Hop Necklaces were a great way to show others that you were a player.  They also advertised the brand of the wearer, which was immensely helpful to your image.  Copycats began to buy cheaper, fake versions of their favorite hip hop artist's Hip Hop Necklaces.  So..the more your one's recognized Hip Hop Necklaces were seen on others, the more cred you earned.

Are you looking for a Gold Word Necklace with a word that represents you?  We can create almost anything you can dream up!  We know that it can be difficult to find something other than the mass produced necklaces coming from Asia.  Unless it is something that thousands of people will want, you won't find it for sale.  We are here to stop that.  
Rappers' Are Obsessed!
Almost every rapper you see in today's pop culture, whether black or white, wears some type of hip hop jewelry.  Whether a ring, pendant, or grill.  They wear something.  And as we mentioned, it isn't just the artists themselves wearing it.  Their fans are also very likely to wear similar types of jewelry.  Well, every trend has a trendsetter behind it, so from where did this style come in? Who is the person behind this invasive fashion?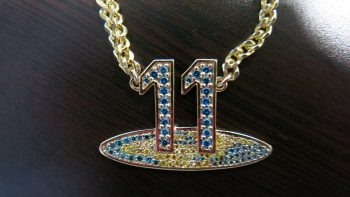 This pendant is the company logo for a customer of ours.  He wanted blue and yellow diamonds to be the land and sea of a globe, which you can see if you look far afar.  Do you have an idea for a custom or "iced out" pendant?  Contact us so we can make it happen.
Thank Kurtis Blow
It all started with Kurtis Blow, considered the father of hip hop music.  He is also one of the pioneering personalities of pop culture. In 1980, he released his debut album.  It featured a shirtless blow wearing 6 or 7 of the forerunners of Hip Hop Necklaces.  It was the very first showing of this kind of jewelry. The precedent set by his album cover set the stage for what was to come.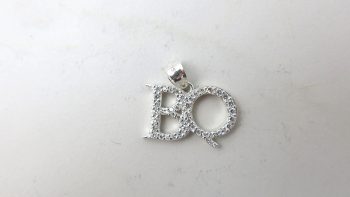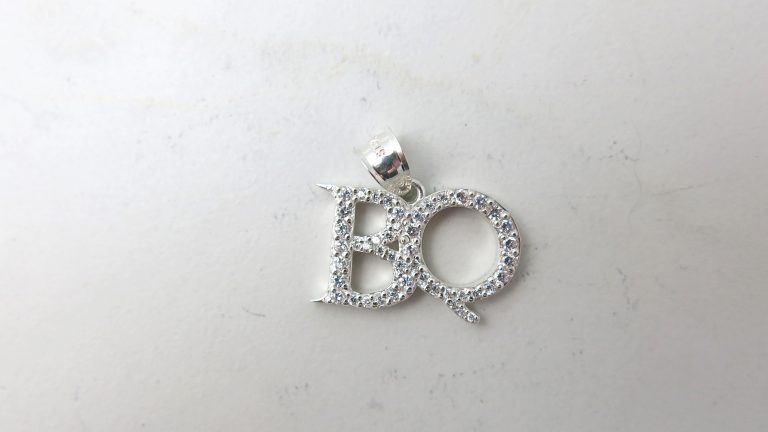 Are you looking for an Initials Necklace, but aren't happy with the limited selection of font, size, materials, and quality?  Using CAD, lost wax casting, and even hand engraving, we can create almost anything you can come up with. It can cost less than you might think to have your own Initials Necklaces created just for you.  
Mainstream Hip Hop Necklaces
Following Blow, many pop stars emerged popularizing the new music style as well as the jewelry connected with its culture.  LL Cool J and Biz Markie appeared wearing huge gold rope chains, four-finger rings, and diamond encrusted accessories.  In 1987, Eric B. and Rakim released an album called "Paid in full".  It gained much fame in the community because of its over the top cover photo featuring the two wearing heavy gold chains, huge rings and gigantic pendants.  According to an estimate made by Ben Baller from IF & Co. Jewelry, the price of the chains worn by Eric and Rakim cost about $100,000 each.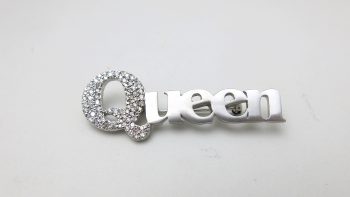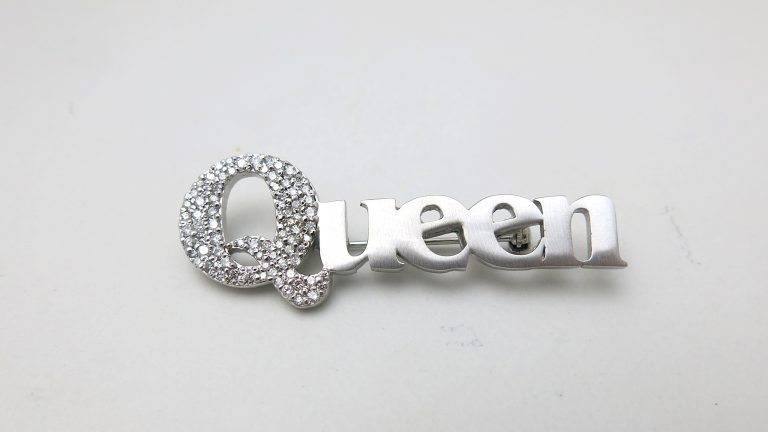 Yes, this is a hip hop pin, but put it on a chain and it serves the same purpose.  Hip hop jewelry isn't just for the pimps either.  Hoes can get in on the action as well!  We made this diamond pin for a sister who wanted everyone to know who was in charge.  So we paveed the Q and brushed the rest of the letters for a cool effect.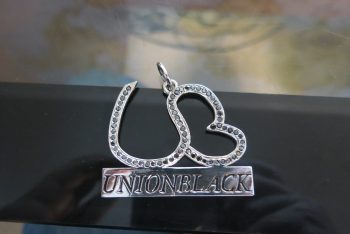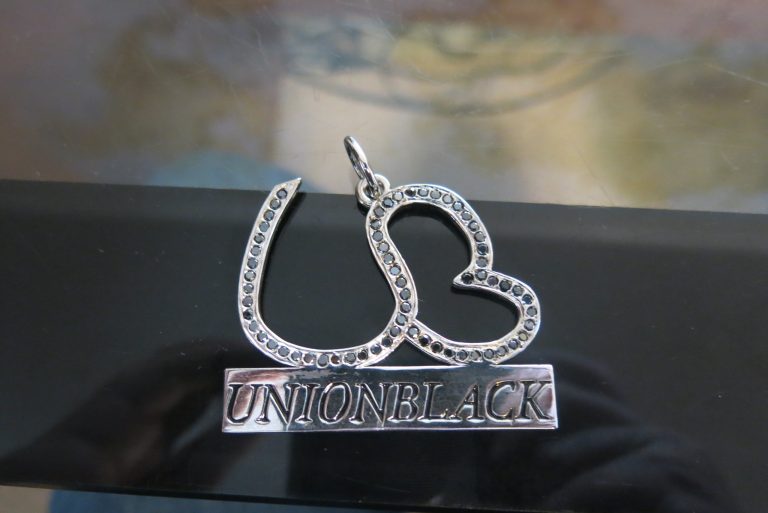 Using stones, texture, and enamel, we are able achieve a broad array of looks that will set your business apart from others. This was created for a record label owner in Britain.  The black diamonds were flush set in this one and we enameled the name.
Early Hip Hop Artists Started The Trend
What began as a symbol of success gradually turned into a show of competition among rap and hip hop artists. In the late 80's, there seems an unending array heavy gold chains on every new cover of a a rap album. In the early 90s, the hip hop genre had become an industry to itself and jewelry became an integral part of its marketing. Platinum chains replaced gold and diamond studded hip hop necklaces became the norm.
By the 21st century, a few mainstream jewelry brands start dabbling in hip hop jewelry, commercializing it on a grand scale. With the current price of gold, the trend has shifted from the heavy gold chains to more affordable options.  Necklaces made of stainless steel have become popular for their cost and platinum appearance.  Yet you will still see the huge, Hip Hop Necklaces on almost everyone in the business. Those will probably never go away.
Hip Hop Pendants – Not Just For Rappers
Hip hop pendants are worn by tons of celebrities not in the music business. Athletes will often create hip hop necklaces with their number or team logos.   You will also see artist types wearing pendants ranging from skulls to crosses and initials to names.  Using the latest CAD and 3D printing technology, custom jewelers can create nearly any kind of Hip Hop Necklaces that can be dreamed up.   Consequently, you see the the hip hop style jewelry expanding into other topics.  Hip hop style necklaces are not just about the pendant though.   Many times, just as much is spent on the chain as the pendant.  This great variety of hip hop chains is more than enough to satisfy every person's taste leading from a simple cut to die hard fancy styles. Here are a few of the most popular chain styles for Hip Hop Necklaces.
Types Of Chains
Bead chain:  They are also known as ball chains. These chains are made of small balls or beads soldered together.  They can also have spaces in between them.
Box chain: Box chains have square or rectangular sections that are joined over a bendable base.  These are quite strong and are preferred by both men more than women. They are also more durable compared to many other chains. In gold, these can be quite heavy and consequently, expensive.
Cable chain
Cable chains are the most common chain you will find for necklaces. They have a close resemblance to old iron chains.  The best thing about cable chains is that they are easy to repair of broken without ruining the chain.
Figaro chain: Figaro chains were initially developed in Italy. They have a unique pattern with a set of one long filament following two or three short length filaments. The size of filaments can vary in width and length from chain to chain. Figaro chains are more likely to be worn by females. These are also easily repaired if broken.
Rope chain
They are made of metal wires twisted as to give a shape of a real rope. Diamond cut rope chains are very shiny because of their twisted pattern. They are also very strong and durable when solid.  Consequently, they are often worn with heavy pendants to provide the desired support.  Even the thinner rope chains are quite strong. Their texture makes them more resistant to showing damage in both the thick or thin designs.
Curb or Cuban Link chain: This is the most popular chain for  hip hop necklaces.  They have a flat profile with links of equal sizes connected uniformly over the whole chain.  Curb chains are among the best choices for hip hop necklaces as the thick ones are loved by men.  The thin ones are preferred by females and still look nice with a delicate-looking pendant. Curb chains come as variable widths, thick as well as thin.  Their interlocked links give them an ideal strength to resist damages and pressures, making them durable.
Tips On Buying Hip Hop Necklaces
Hip hop necklaces have a rich history using gold and diamonds. But these days, it is possible to achieve the same look using cheaper materials. No one wonders whether your pendant is solid gold or if the diamonds are real.
There are several opinions when it comes to the length of a chain. Iced out necklaces are available in a variety of lengths starting from 20 inches and going to 36 inches. However, the most popular size is 24 inches, putting is right at the sternum. Longer than that and it swings too tide.  Shorter than that and it looks funny.
Besides length, the width of the chain is also one of the chief factors determining the weight and heft of a chain.  Starting a 4mm, chains for hip hop style pendants can be as wide as 12mm. Usually, men go for thicker chains as opposed to women who opt for thinner ones.
When shopping for custom Hip Hop Necklaces, ask the right question of the jeweler you are talking to.  Make sure that you will get to speak directly with the designer.  This ensures you will get what you want.
If you are using diamonds in your pieces, inquire as to the color and clarity of the stones.  We have seen plenty of Hip Hop Necklaces that were inexpensive, but the diamonds looked like frozen spit.  If you are going to have a custom pendant made, at least make it a blingin' one!
Give Us A Shot!
We know there are tons of options out there for custom pendants.  We also know that we stand a notch above most!  If given the chance, we are confident that the expertise, service, and value we provide will be evident from the start.  We also know that there is cheaper jewelry out there.  But know that all Hip Hop Necklaces are not created equal.  What we create can't be compared to mass-produced pendants created in Asian sweatshops.  Besides the cost of labor being pennies on the dollar when employing 13-year-old children.  Mass produced jewelry is lightweight and not as durable as something made in the US.  And if there are gemstones in the ring, they will be of lesser quality than advertised.  Need customer service? Forget it. We have dealt with Asian manufacturers and service is a foreign idea to them!
We will exceed any of your expectations if given the opportunity to design your Custom Wedding Rings.  The design skill, value, quality, and knowledge we offer will be evident from the start.  Consequently, this usually make us the best choice to turn your vision and dreams into reality.  Want some proof?  Google Valeria Custom Jewelry and you will find hundreds of 5 star reviews from satisfied customers:  why not join their ranks??
Check Out Our Work
Click here to see all of our custom pendants, or contact with your idea.  It can cost less than you think to have your very own Custom Pendant made just for you. Why hassle with the retail stores for boring and overpriced pendants  that don't suit your taste and style?  Click HERE to follow us on Pinterest.