Custom Hummingbird Engagement Ring
This Custom Hummingbird Engagement Ring was for a client who loved hummingbirds.  The only direction we were given was hummingbirds in a garden!  It was a challenge to create the tiny hummingbird in such a small space, but it turned out beautifully.  The only bad thing about this ring is that it can't be modified anymore as we do not use the program used to create it anymore.  So, we can play with the type of stones as well as the size a little, but that is it.
This ring starts with the center stone. It can be a round or square shape from 5-6mm.  There are 6, 2mm accents as well.  There are a wide variety of stones that could be used.  It really boils down to personal preference. Billowing around the center stone is a lush garden of vines and flowers.  About to partake of some sweet nectar is a hummingbird, his wings frozen in an outstretched position.  The other side of the ring is adorned with more flowers.  The band, which is framed in milgrain, has a scalloped design going down the shank.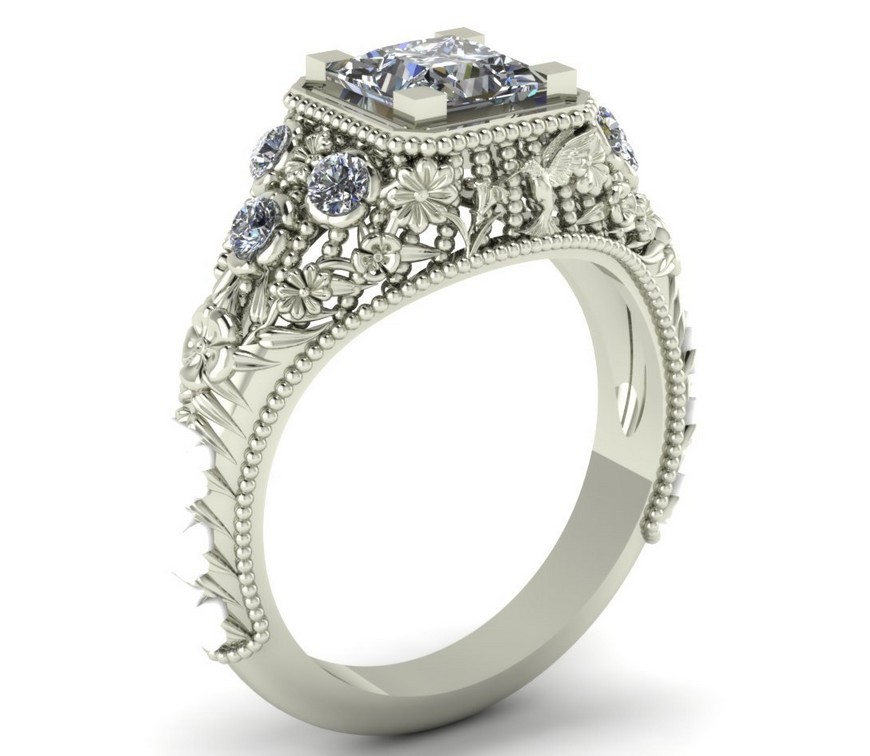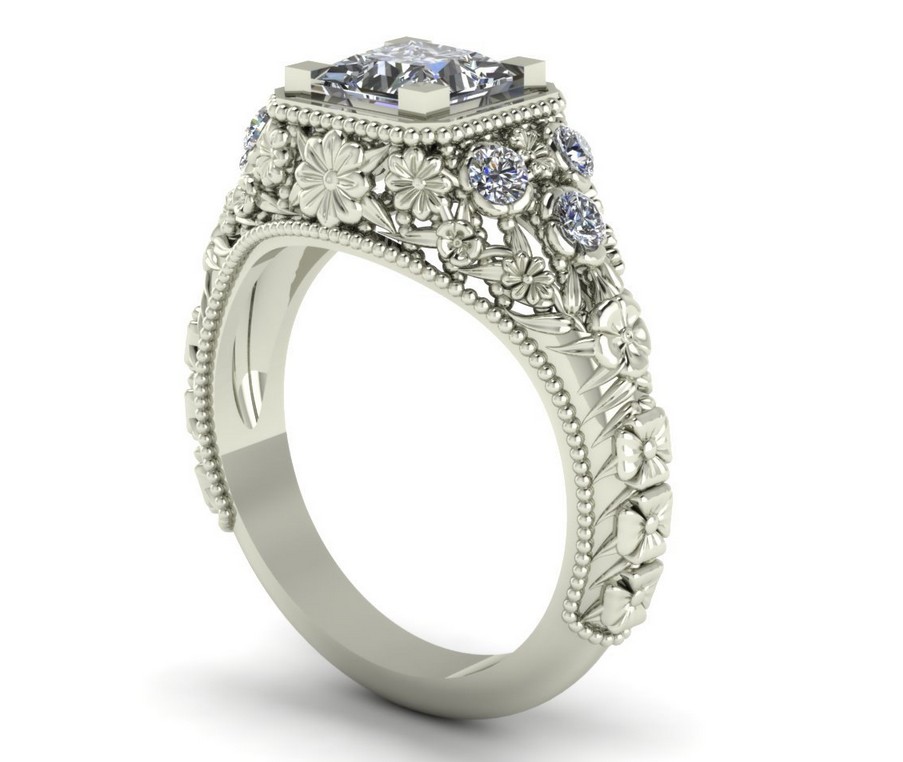 Why A Hummingbird Engagement Ring Has To Be Custom Made
A hummingbird engagement ring has to be custom made due to its unique design and symbolism. The delicate and intricate nature of a hummingbird requires the expertise of a skilled jewelry designer to capture its beauty in a ring. Also, a chain jewelry store would never carry something like this. It is too niche of a ring and not enough people would want one.
Furthermore, a custom-made engagement ring allows you to incorporate meaningful elements into the design. Whether it's adding birthstones to represent important dates or engraving initials or messages inside the band, customization offers endless possibilities for personalization. This allows you to create a ring that tells your unique love story and serves as a constant reminder of your special bond.
Lastly, a custom-made hummingbird engagement ring ensures that you are getting a high-quality piece of jewelry. Most of the rings you see in the chain stores are mass produced in asia. Unfortunately, asian manufacturers are infamous for creating lighter pieces that are not as durable as a custom made piece.  Our custom jewelry creations are a little thicker and more substantial than what you get from the chain stores.  This ensures it will last forever.
Custom Nature Inspired Engagement Rings
Not only have we created the Custom Hummingbird Engagement Ring, but we also have more than a few Nature Inspired Engagement Rings.
When you've finally found "the one," why propose with a generic ring from a big box store?  On top of overpaying, you will be severely limited in terms of styles and stone choices.  Does your significant other have an individual style? Then why not let them display it with a custom engagement ring?
Do you have another animal you want put in a piece of jewelry? We have done bears, birds, cats, almost anything is possible! As long as there is room for what you want, we can make it happen.  Here is another example of our nature inspired engagement rings:
We create custom, one-of-a-kind nature inspired engagement rings like our Custom Hummingbird Ring that are as unique as your significant other. As a customer, you have a say in every aspect that goes into creating the ring.  This includes choosing the metal of the band to the cut of the center stone.  And can rest assured that no other person in the world has a ring quite like yours.  We don't cast a piece until the design is approved, so you always get the piece you want.
Custom A Hummingbird Engagement Ring
Using Comprehensive Computer-Aided Design (CAD) and lost wax casting, we can bring ideas like this Custom Hummingbird Engagement Ring to life.  Up until 10 years ago, something like this required an expert wax carver and would have cost an arm and a leg.  Thanks god for CAD! The flora and fauna inspired engagement rings like our Custom Hummingbird Engagement Ring are truly a testament to the level of customization available at Valeria Custom Jewelry.  We can take almost any idea you have and turn it into a stunning custom jewelry creation.  And many times, at a lower price.
Our connections with diamond and gem sources around the world lower our procurement costs.  This allows us to create pieces with the same high-quality materials found at larger chain stores while still staying within your budget.  And usually, we can use higher quality stones than used by the retail stores and still keep the cost below retail prices.  And whether your budget is a few hundred dollars or upwards of a few thousand, our goal is the same. We want to exceed the expectations on your custom engagement ring and to have you return as a repeat custom while recommending me to all of your friends.
Give Us A Shot!
Click here to see more of our nature inspired engagement rings.  Click hereto learn more about custom jewelry, view our portfolio, or to contact us about your Custom Hummingbird Engagement Ring.  It can cost less than you think to have a special ring made just for you.  Why settle for the lame and overpriced bridal jewelry from the chain stores?  We can make something showing your style and personality? You know what they say.  Once you go custom. You never go back…to the mall!
Follow us on PINTEREST  to see funny images and the latest designs before they show up here!