Custom Nature Inspired Engagement Rings
Are you a "natureholic"?  Do you and your partner share the love of nature?  Does nature play a large part of your relationship?  Then why not incorporate whatever it is that you love most about nature into your engagement ring?  We have created quite a few Engagement Rings Inspired by Nature and it is one of our favorite themes.  Using the latest CAD program, we can create almost anything that you can dream up.  The only restriction we have is size.  So, keep in mind that we are talking things measured in inches and feet and shrinking them into things measured in millimeters.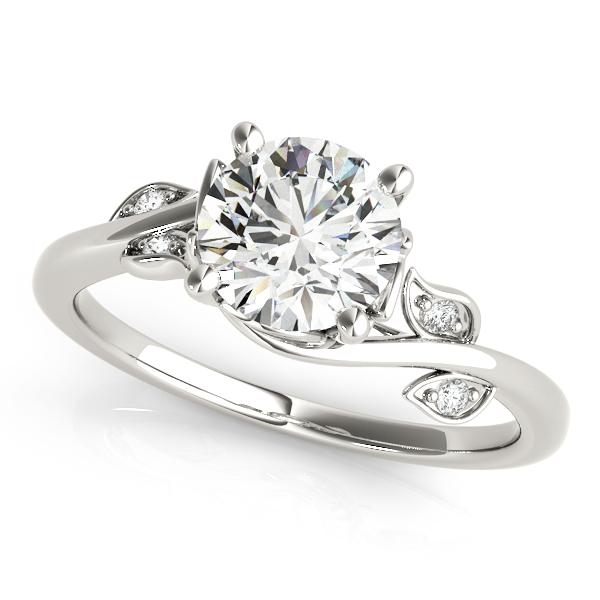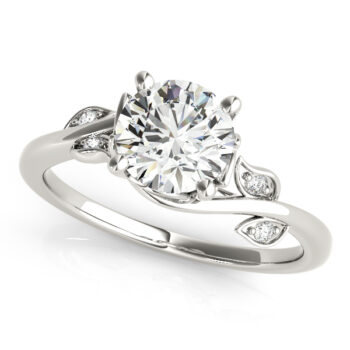 This is a dainty and elegant Floral Diamond Engagement Ring design that we love for its simplicity.  The 6.5mm round center stone is nestled in 4 diamond encrusted leaves.  The shoulders of the shank are decorated with diamond accented leaves as well .  We have it shown with an optional band that consists of 5 diamond leaves set to adhere to the contour of the engagement ring.
Why Go To The Mall For One Of The Most Important Purchases Of Your Life?
That said.  We can create engagement and wedding rings that draw from all kinds of natural themes.  When you've finally found "the one," why propose with a generic ring from a big box store?  On top of overpaying, you will be severely limited in terms of styles and stone choices.  And there will almost certainly be no Engagement Rings Inspired by Nature at your local mall.  The problem is that most don't know you have to settle for the limited selection at retail stores.  We are trying to change that and make custom engagement  rings accessible to everyone.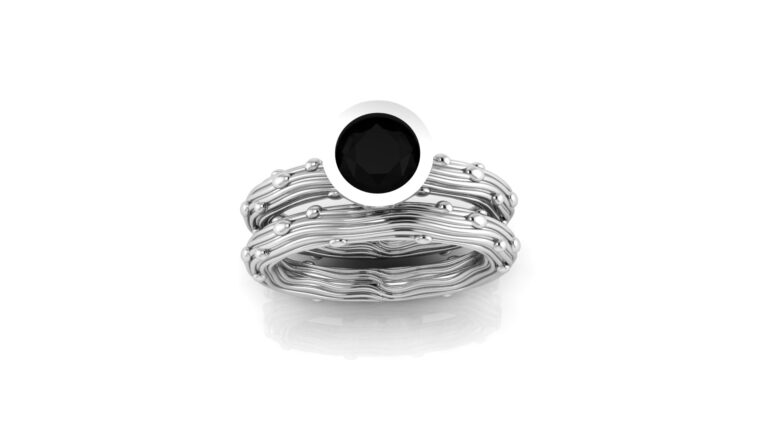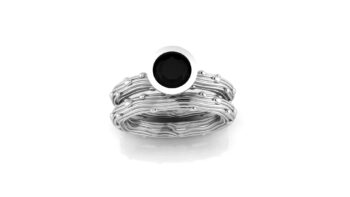 This is one of our nature inspired Tree Branch Engagement Rings. It has antiqued recesses that truly give it a realistic look of tree bark that will only grow over time as the Patina of the Silver sets in. This custom set is shown with a round center stone, but any shape can be used as long as you are ok with a prong setting.  The shank is 3.5mm in diameter and is shown with an 8mm black Diamond.  It is shown with an optional band.
Custom Nature Inspired Engagement Rings
At Valeria Custom Jewelry, we create unique, one-of-a-kind Custom Nature Inspired Engagement Rings that are as unique as your significant other. As a customer, you have a say in every aspect that goes into creating the ring – from choosing the metal of the band to the cut of the center stone – and can rest assured that no other person in the world has a ring quite like yours.  We don't cast a piece until the design is approved, so you always get the piece you want.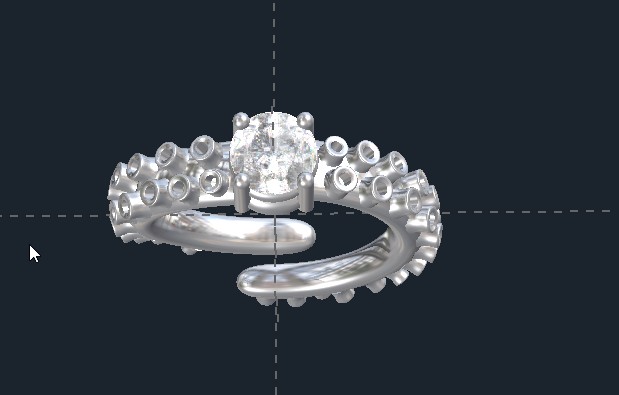 This is our Octopus Engagement Ring.  We made it with a bezel set cabochon opal, but also have created it with a prong setting.  The shank is open at the bottom, which we could also change.
Browse our collection of Custom Engagement Rings to help get you started. Nature lovers are sure to enjoy the nature inspired engagement rings. Choose from silver, gold, palladium or platinum for the metal .  Accent stones of diamonds, cubic zirconium, emeralds, rubies and sapphires can also be added to frame the center stone. You can keep things simple and clean with a white gold band and diamonds, or play into the nature theme with a rose gold band and an expertly cut emerald.
Custom Nature Inspired Engagement Rings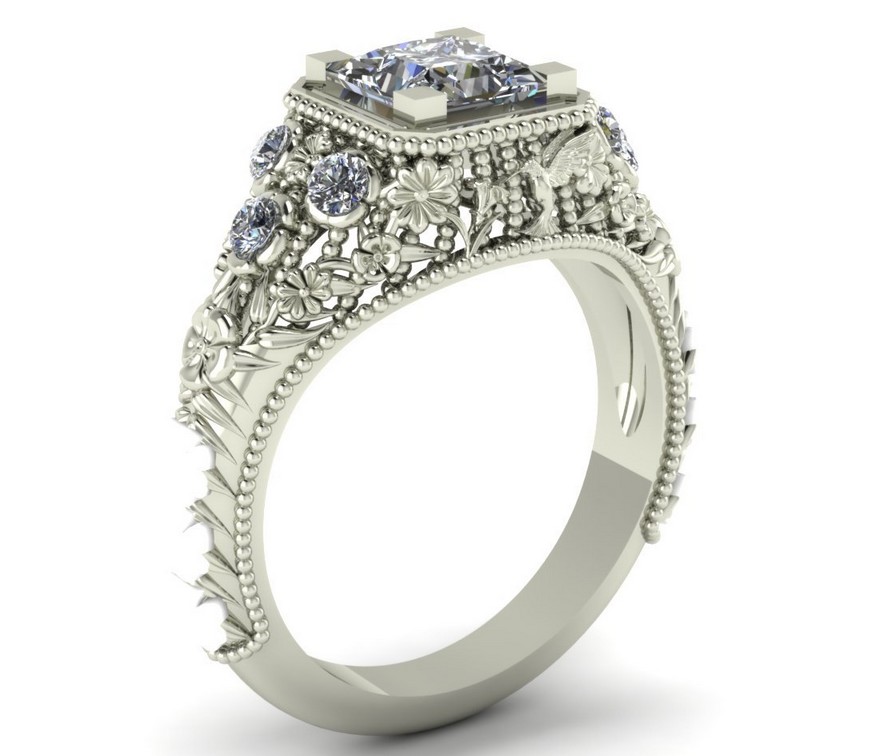 This is our art deco floral hummingbird engagement ring. It is one of our favorite Custom Nature Inspired Engagement Rings. It features a 5-6mm round or square stone that sits in a garden of flowers and a hummingbird.
Our Custom Nature Inspired Engagement Rings are truly a testament of the customization we can offer you. My name is Lucas Horton, the owner and designer at Valeria Custom Jewelry.  Using CAD and lost wax casting to bring your custom jewelry creations to life. We have cultivated connections with ethical diamond and gem dealers around the world lowers our procurement costs.  This helps us to create pieces using higher quality materials than found at larger chain stores while still staying within your budget.  And whether your budget is a few hundred dollars or over $10,000, our goal at Valeria Custom Jewelry is the same: to exceed your expectations, have you return as a repeat custom, and  recommend them to all of your friends.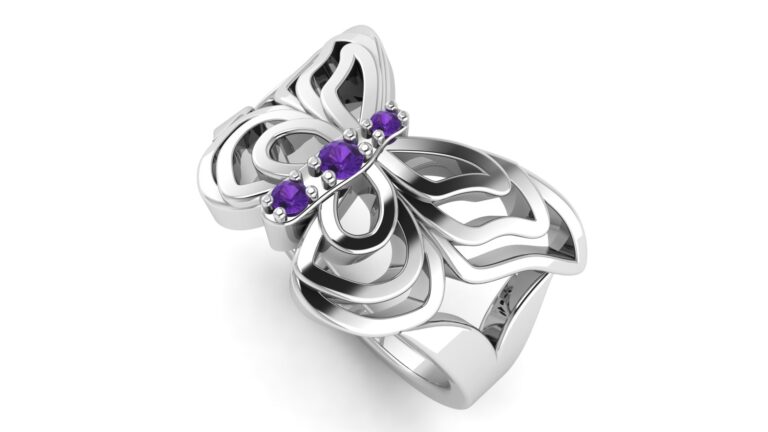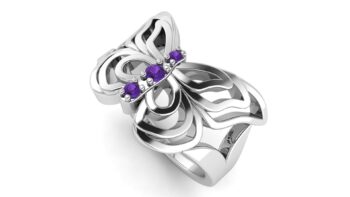 OK, we know this isn't an engagement ring, but we could turn it into one very easily.  And if you have another wing pattern you would like, we could do that for you as well as long as it fits.  We have 3 amethyst on the body, but these could be any type of stone or even be removed.  The cutout wings gracefully flutter towards an elegantly splitting shank.
Once You Go Custom, You Never Go Back.  To The Mall!
Click HERE to see more of our nature inspired engagement rings.  Click HERE to learn more about custom jewelry, view our portfolio, or to contact us about your custom engagement ring.  It can cost less than you think to have a special ring made just for you.  Why settle for the lame and overpriced bridal jewelry from the chain stores when we can make something showing your style and personality?