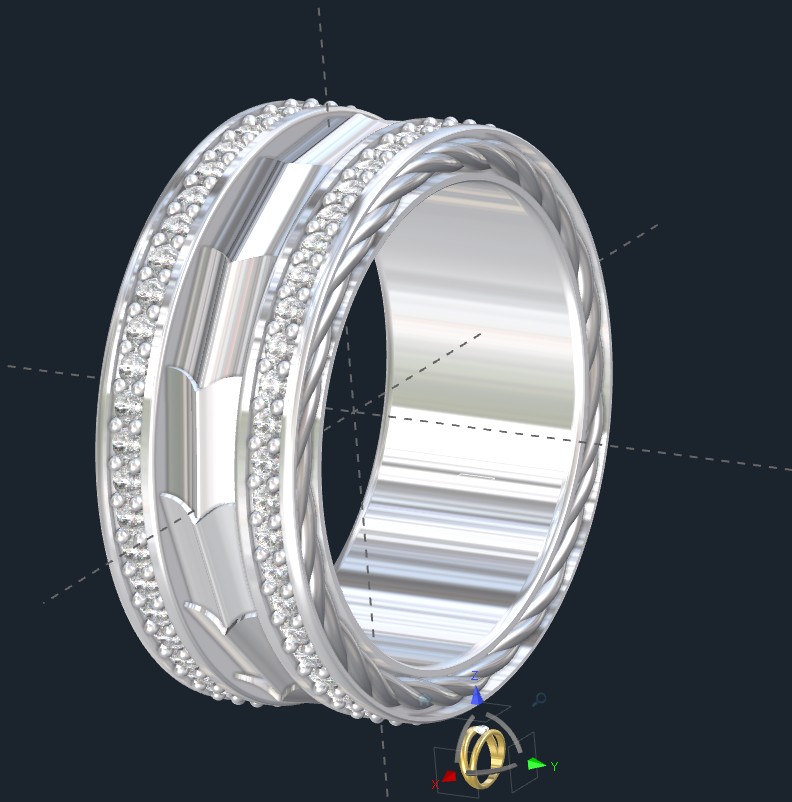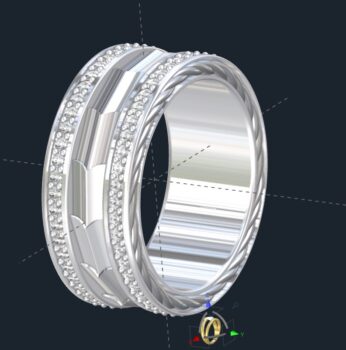 A customer was looking for Male Wedding Rings that didn't look like anything else he had seen.  All he knew was that he wanted it big, in white Gold, and with diamonds.  Somehow we got to talking about his new roof, which was Spanish tile, and I got the idea to use a duplicated tile going around the center of the ring.  This is what we ended up with…
Male Wedding Rings – Make it what you want
Our philosophy Male Wedding Rings: anything's possible (almost). At Valeria Custom Jewelry, we want to create as many Male Wedding Rings as possible to get rid of the idea that a plain band is the way to go!  Show some personality and originality by having a custom ring made by Valeria Custom Jewelry.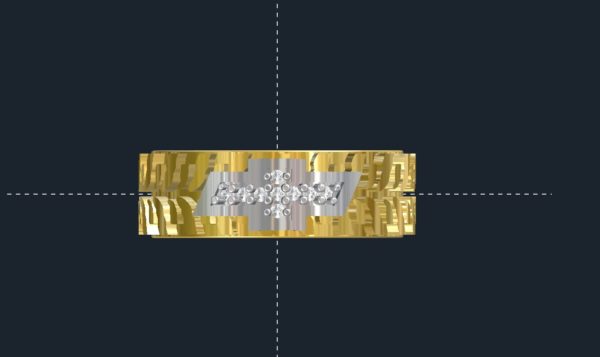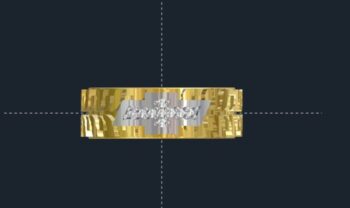 We had a customer who wanted a tire tread wedding ring made from his ATV tire.  He was also a Chevy fan so he wanted the logo used somehow.  So we cast the Chevy symbol in white gold and et some diamonds in it.  We then soldered it onto the gold ring we created with his tread on it.
Browse our portfolio of Men's Wedding Rings and use it as a guide to inspire you as you search for perfect the perfect wedding ring for you.  From the classic diamond band to contemporary and whimsical ring styles, our selection of Male Wedding Rings is whatever you want it to be.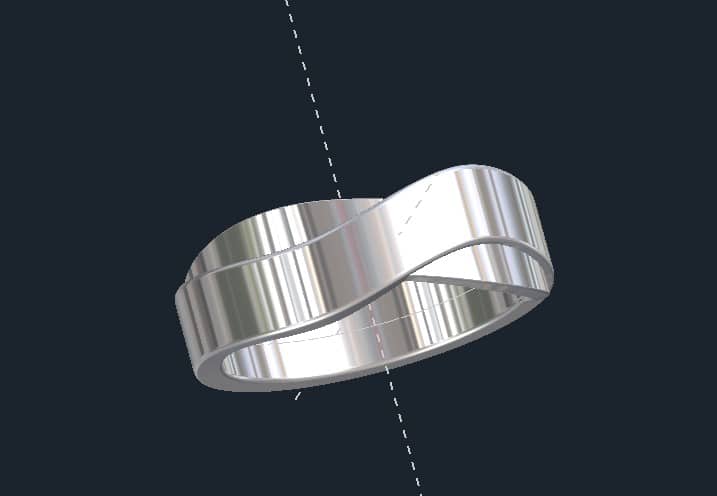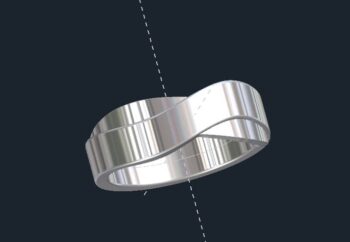 This crossover wedding band works for both men and women if you are interested in having a matching wedding set with your partner.  We made the female version 4mm wide and the men's version 6mm wide.
While men's wedding rings are usually less flowery than women's, there are still numerous ways you can customize  Wedding Rings to reflect your own personal style and the celebration of your pending nuptials. You can select from a variety of metals including white gold, yellow gold, platinum and silver, and we can always add diamonds or the gemstone of your choice. So don't just settle for a plain band – let Valeria Custom Jewelry create the Male Wedding Rings that truly symbolizes your personality and character.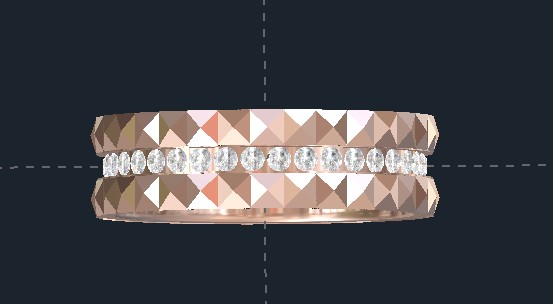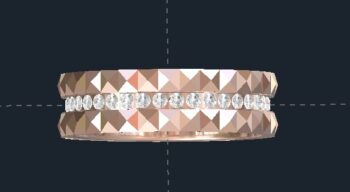 This Pyramid Men's Diamond Wedding Ring has a band of diamonds sandwiched between rows of 3d pyramids.  This one is 8mm wide with 2mm diamonds, but it could be made wider or smaller and the stone size adjusted accordingly.  If you don't like the pyramid shape, we could use something else.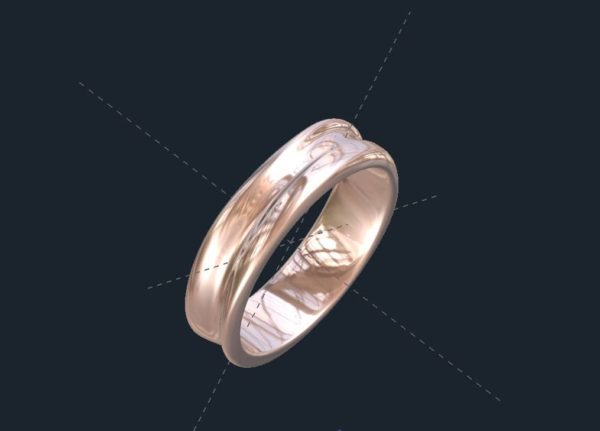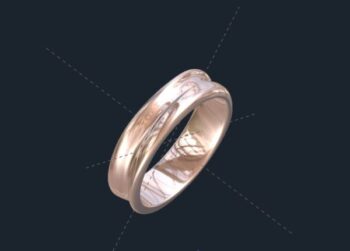 These unisex wedding bands feature a crested wave that travels from one edge of the ring to the other as you spin it.
At Valeria Custom Jewelry, we have shown thousands of customers how they can have a custom piece of jewelry created with outstanding craftsmanship at a better value than buying  from a big box chain store, if it is even commercially available. So don't settle for the plain jane band everyone has and stand out from a ring from  Valeria Custom Jewelry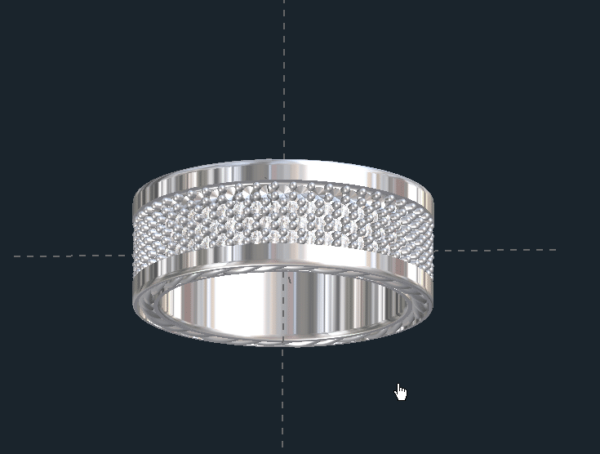 This men's diamond wedding ring has 4 rows of diamonds, although we could go down to as few as two rows if that is what you want.  The sides of the ring are decorated with a rope, but we could do something else there as well.
Don't know where to start for Male Wedding Rings? It is far easier than you think and can be done from the comfort of your own home!
My name is Lucas Horton and I own and operate Valeria Custom Jewelry in Dallas, Texas.  Creating Male Wedding Rings has been more of than a passion for me, but almost an obsession for many years now.  I am lucky to wake up every morning feeling blessed that I get to create the Male Wedding Rings that makes so many men and wives happy. Because everybody knows…a happy wife means a happy life!  Whether it's an engagement ring, a simple wedding band, a complete bridal set, a bracelet, a pair of earrings, a pin, or a pendant, I can create Custom Jewelry not commercially available anywhere else and usually at a better price.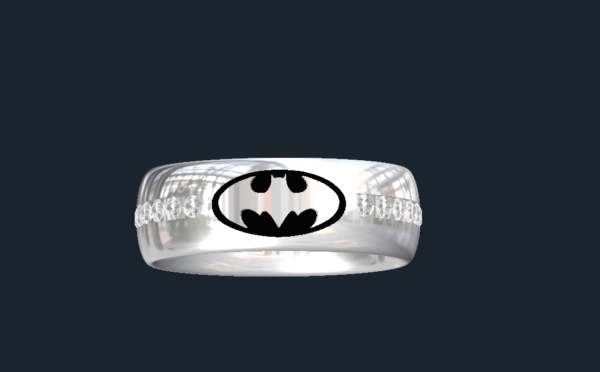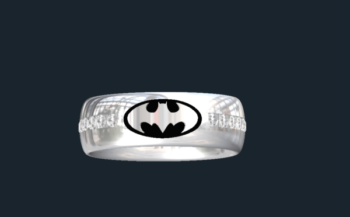 This is one of our many diamond Batman wedding rings.  We can also make a ton of other superhero wedding rings as well.
Specializing in Male Wedding Rings, Valeria Custom Jewelry is becoming known for its cool & unique designs. There is also an emphasis on personalized customer service & second to none craftsmanship. Our experienced designers will help you through the procedure of creating a design that reflects your unique style and vision.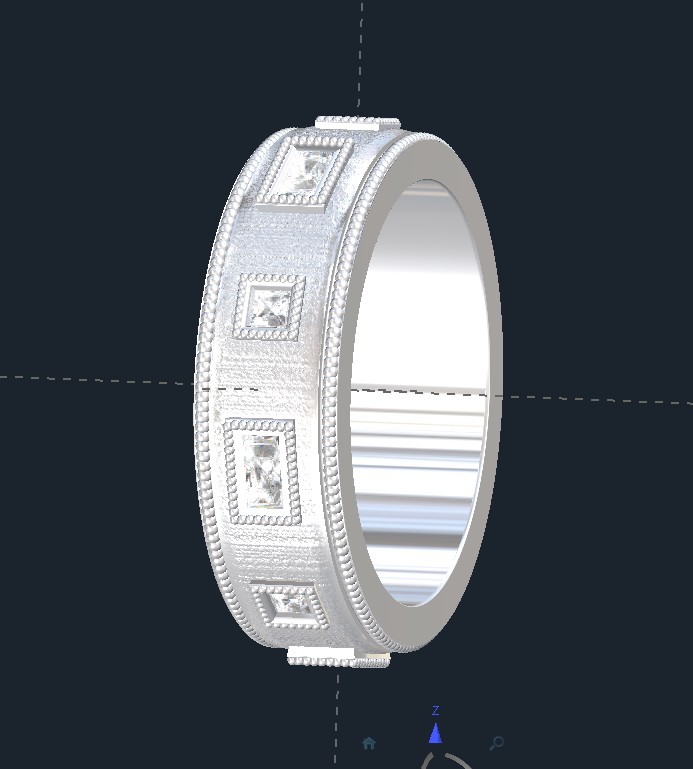 This Milgrained Men's Diamond Wedding Ring has a brushed finish that makes the alternating diamonds really pop.  Accenting both the bezels and edges of the stone is an elegant milgrain.
SKETCH OUT YOUR IDEA  OR FIND PICTURES OF WHAT YOU WANT.
Ask yourself: Do I have an idea of the ring I want? Simply wanting "something different" doesn't warrant going the custom jewelry route, because any all Male Wedding Rings can be made to be unique.
If you don't have images from the internet, crudely sketch out your idea as best you can. If your idea isn't ultra-specific — or if you want to further articulate your desired style — start prowling the Internet sites like Pinterest or Instagram and if necessary, sketch the elements (filigrees, unique settings, organic lines, mixed metals) that you want used in your ring.  On male wedding rings, The more specific you are will get you closer to your vision.
Collude With Your Designer
Once you have an idea ready, send your sketch(es)and or images over to us and we will get your custom project moving in the right direction. Once the design is completed, you will see a CAD rendering.  You will then have a chance to make any changes that you want.  Once you are happy with the design, we will move on to manufacturing your piece.
Some might feel intimidated when talking to an jewelry designer about their person custom jewelry idea. But go ahead and ask any questions you might have and voice any concerns as well. It's your ring, not the designer's.
If given the chance, Valeria Custom Jewelry will surpass all of your expectations when creating custom wedding rings.  If not, we will do whatever it takes to fix the issue.  Our design skill, value, quality, and knowledge will be evident from the start and always make Valeria Custom Jewelry the best choice to turn for Male Wedding Rings or any other type of custom jewelry. Our expert designer will help you figure out the details, explains your options, and guides you through each step of designing Male Wedding Rings, making it as easy and painless as possible.  We also will complete your project quicker than most, with turnaround time as low as 2 weeks.
Click HERE to see our men's wedding ring portfolio.  Click HERE to lean more about the custom jewelry process, contact us about an idea for a custom wedding ring, or to see more of our work.  It can cost less than you think to have your very own custom wedding band made just for you.  Why settle for uninspiring and overpriced wedding rings when you can have exactly what you want?