Men's White Gold Wedding Rings
 Although gold, platinum, silver and palladium remain popular choices in men's wedding bands.  A new trend in contemporary metals has emerged, along with new and different styles. These new metals like titanium, cobalt, and tungsten, are manufactured to satisfy both conservative tastes defined by elegant simplicity as well as the more eclectic penchants characterized by inlays of camo, polished wood or even real meteorite.  For this post, we will stick the the more traditional and ubiquitous Men's White Gold Wedding Rings.  They are by far the most common metal for wedding rings.  They are also our top sellers.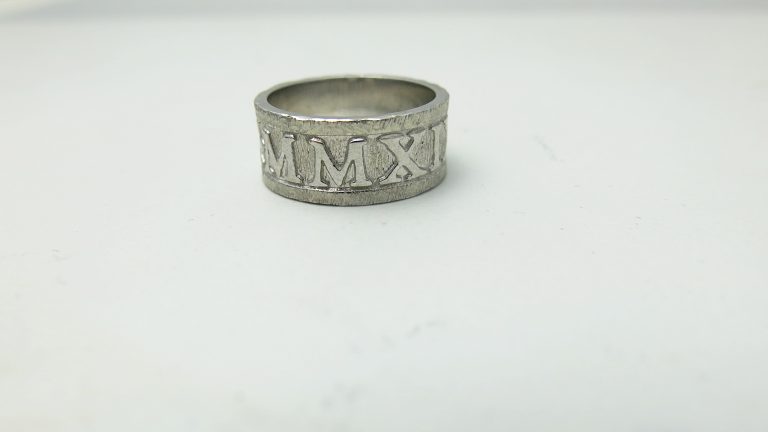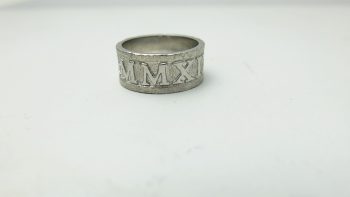 This custom wedding ring had the customer's wedding date that was capped off by two Celtic crosses.  We used an "ancient" font  for the roman numerals and gave the ring a stone finish to look like an artifact.  Ready for something cooler than an off the rack wedding ring???  Send us your idea and let's see what kind of custom wedding ring we can make you!
These new metals and styles are not to be written off as fads. They have proven to have as consistent an appeal with younger consumers as their traditional counterparts for over a decade. And if price is a consideration (as it always is), in almost all cases, they are less costly than Men's White Gold Wedding Rings.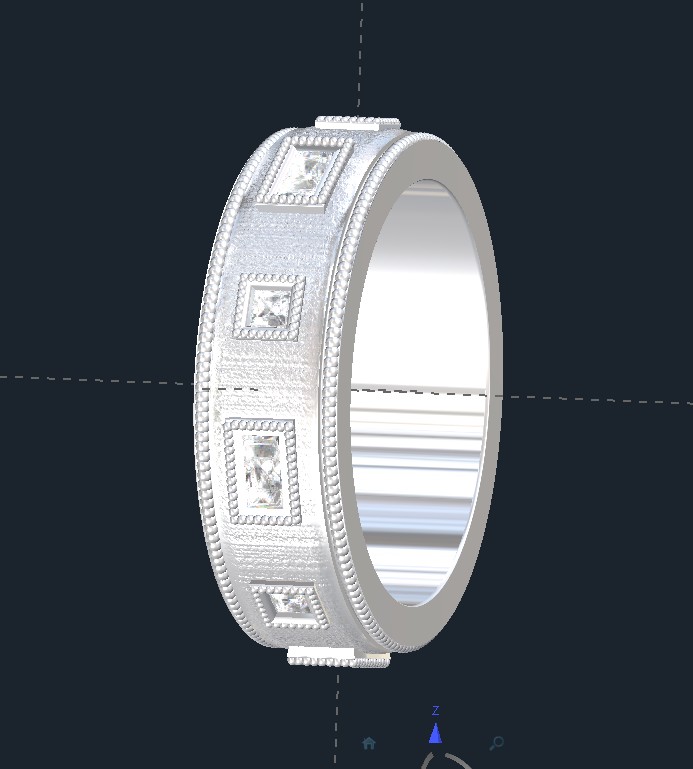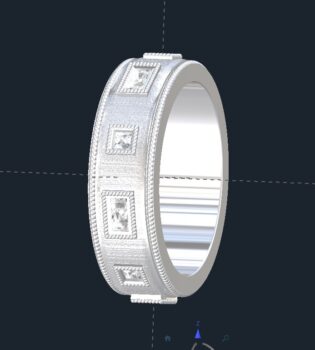 Our Bezel set men's diamond wedding ring has a brushed texture that makes the alternating princess and baguette diamonds really pop.  Accenting both the bezels and edges of the stone is an elegant milgrain.
We Have Created a Wide Variety of Men's White Gold Wedding Rings
These are  just a few of our favorite White Gold Wedding Rings.  As you can see, we can do it all.  Whether it's a tire tread band or boba fett wedding ring, engraved chess pieces ring, or an armor plate wedding ring.  We can create almost anything you can some up with.  So contact and let us see what we can do for you.  It is easier and less expensive than you think to have a custom wedding ring made.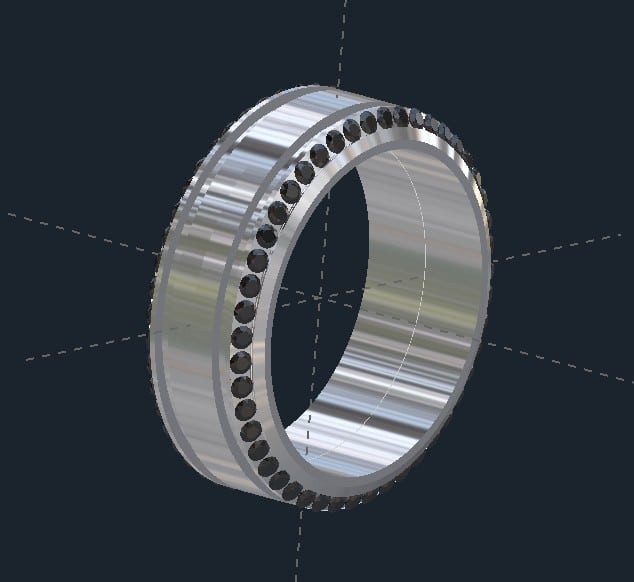 This men's black diamond wedding ring begins with 2 rows of black diamonds at an oblique angle.  They can be seen both from the side as well as the top.  The top of the ring consists of 2 grooves that form a channel on the middle.
Why Men's White Gold Wedding Rings?
White gold is the most durable of all gold alloys. Because of the nickel content, it is much harder than yellow gold and it's copper alloy.  It also is a more neutral color than yellow gold.  This makes it work with all skin tones.  It also make white gold jewelry go with any ensemble.  These are just two of the reasons why White Gold Wedding Rings have outsold any other in the last decade.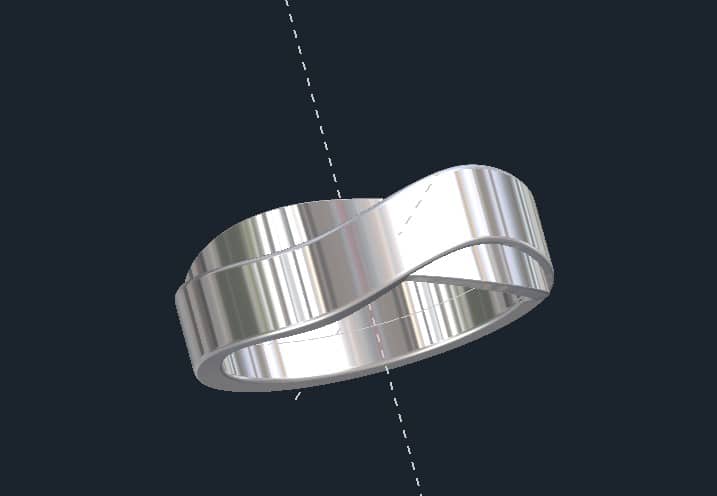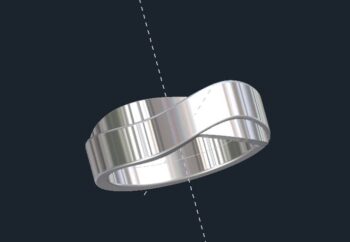 This is one of our Unisex White Gold Wedding Rings than can also be worm by females.  In fact, we made a matching pair for a couple last year.  We basically took 2 inverse bent bands and laid them on top of each other.
Men's White Gold Wedding Rings – Not Just A Plain Band Anymore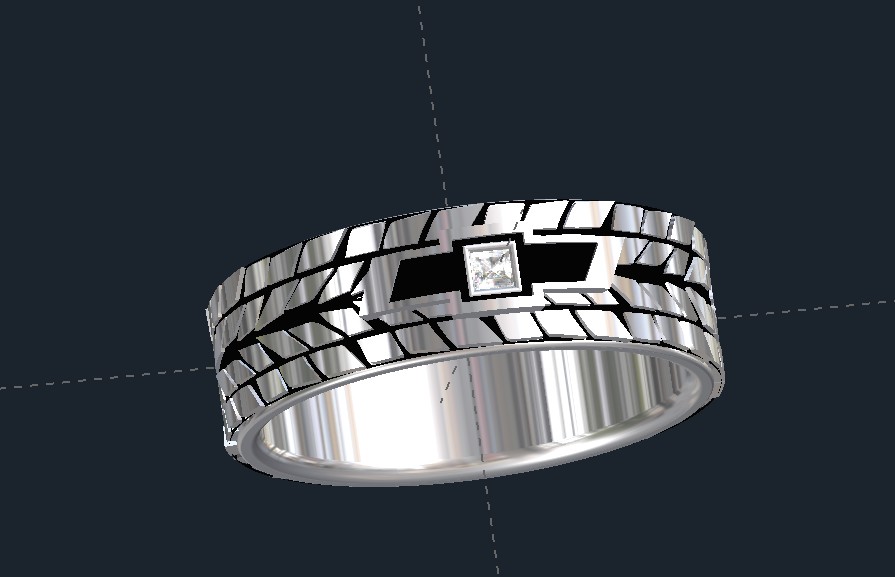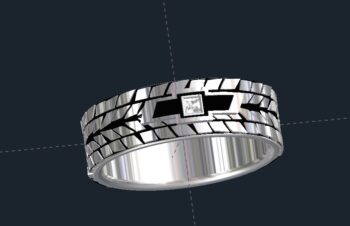 The tire tread ring was made from the tread of a customer's Chevy.  We blacked out the base of the ring to give some contrast.  Then we set a princess cut diamond in it.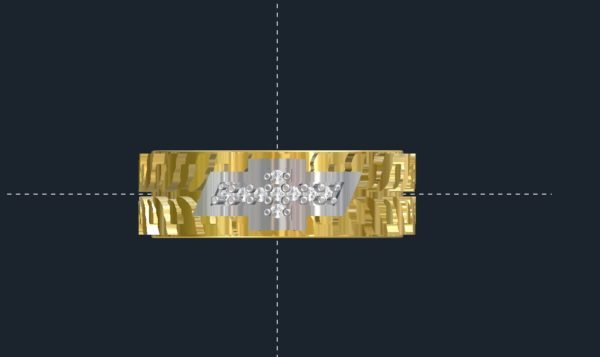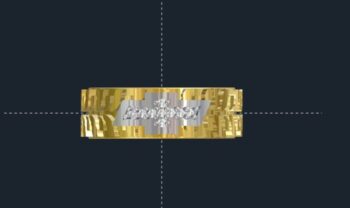 Here is another tire tread wedding ring we just had to include.  This one was cast in white and yellow gold and then soldered together.  The majority 2 tone wedding rings you see in the mall stores have been plated on.  That isn't permanent and we try to avoid making things that aren't at least semi-permanent.
Lucas Horton, owner and artisan designer at Valeria Custom Jewelry, has created hundreds of Men's White Gold Wedding Rings specifically for those who want something different than what you can buy at the mall!  Don't settle for the overpriced snore pieces that are mass produced; have custom Men's White Gold Wedding Rings made that shows your personality and style.  You will be much happier wearing it every day for the rest of your life.
Men's White Gold Wedding Rings – No Topic Is Off Limits
Many of our custom wedding rings draw inspiration from atypical places.  We have made superhero wedding rings, gamer wedding rings, nature wedding ring.  As long as it fits onto a ring, we will make it for you.
Our custom Men's White Gold Wedding Rings rings can be cast in sterling or argentium silver, yellow gold, white gold, rose gold, palladium or platinum.  It is also possible to fabricate 2 tones pieces, casting each piece in its respective metal and then soldering them together.  We can add color using stones or even enamel as in the ring below.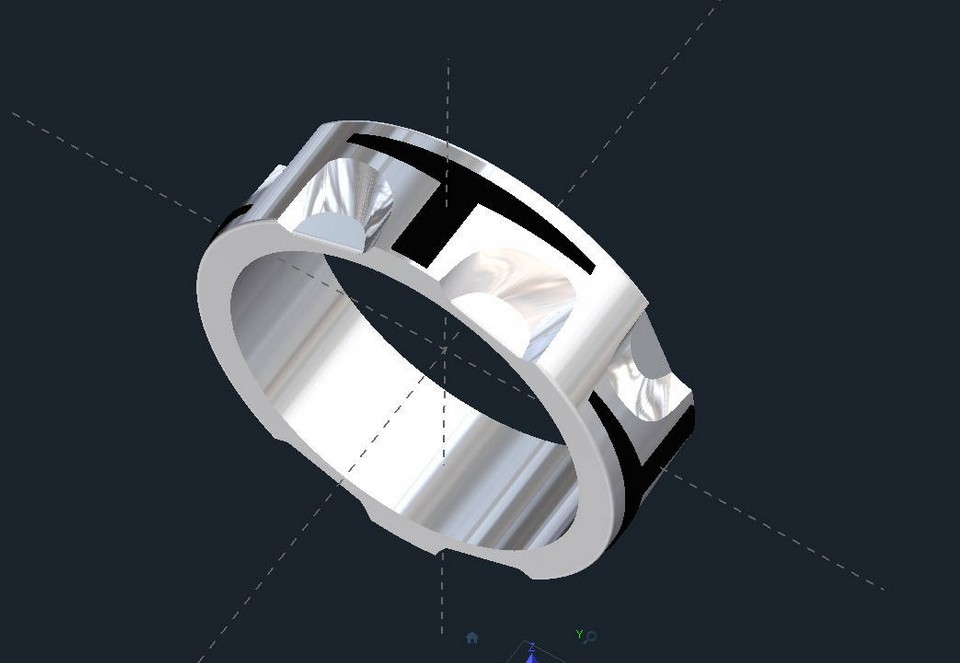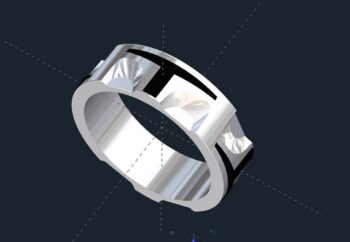 This is one of our custom star wars wedding bands. We call it our Boba Fett Bounty Hunter Ring.  We took the idea of his visor and cheek indentions and put them into a wedding ring.  The black is done with enamel.
Lucas earned a graduate degree in gemology from the Gemological Institute of America, which is the premiere training authority in the American jewelry industry. Holding the most prestigious credential the market, Lucas has the technical expertise, practical skills and comprehensive knowledge of diamonds and colored gemstones to ensure that every piece he creates uses nothing but stones with the best color, clarity, cut and carat weight. Rest assured that every diamond arranged into any Men's Wedding Rings is of the highest quality.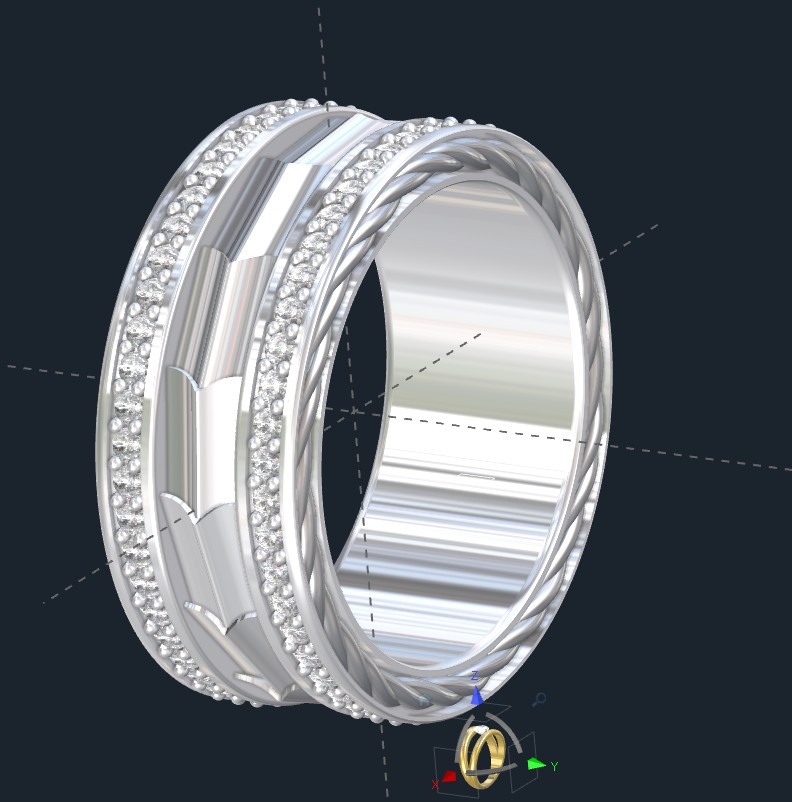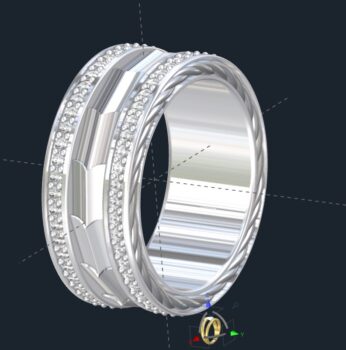 This is our armor plate Men's White Gold Wedding Rings.  The center strip is comprised of "armor plates".  On either side of the plates are two rows of diamonds.
Custom Men's Wedding Rings – Give Us A Chance!
With a creative eye for design, and vast inside knowledge of the jewelry industry.  Lucas has been creating clever, intricate and customized Men's White Gold Wedding Rings that you won't find in any commercial jewelry stores. Investing in custom jewelry allows you to integrate your hobbies, interests and passions into your pieces. Lucas can even create Men's Gold Wedding Rings to match existing engagement rings, and vice versa. So if you want a bridal set to match your Men's Wedding Rings, Lucas is the man for the job.
As you can see, our unique men's wedding bands lend themselves to lots of room for your own creativity. They are far from the Men'sWedding Rings that Dad and Grandpa have worn over the years. Our increasingly popular custom wedding rings offer both aesthetic appeal and value over the traditional plain band.  If you have any inclination towards seeing more of these specimens, we have a huge collection for you to browse through here.
Click HERE to learn more about custom jewelry and be sure to visit our portfolio to see one of our many Men's White Gold Wedding Rings. Click HERE to see our entire portfolio os men's wedding rings.  It can cost less than you think to have your very own ring made just for you.  Why buy a mass produced, overpriced, and boring wedding ring when you can have one that mirrors your style made? Our Men's White Gold Wedding Rings are second to none!