Finding That Perfect Engagement Ring…
We know that finding the Perfect Engagement Ring can be stressful and difficult, especially if you don't know anything about jewelry.  We were in that boat when we got married and know the frustration it can cause when you have no clue what you want or are looking for.  This post is dedicated to all you need to know about the metal color, diamond shape, ring size, and style preference of Perfect Engagement Ring – basically, everything but the diamonds or gemstones that will go in the ring.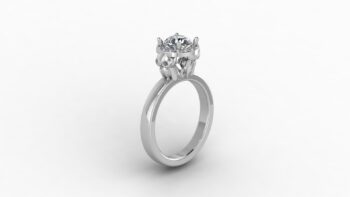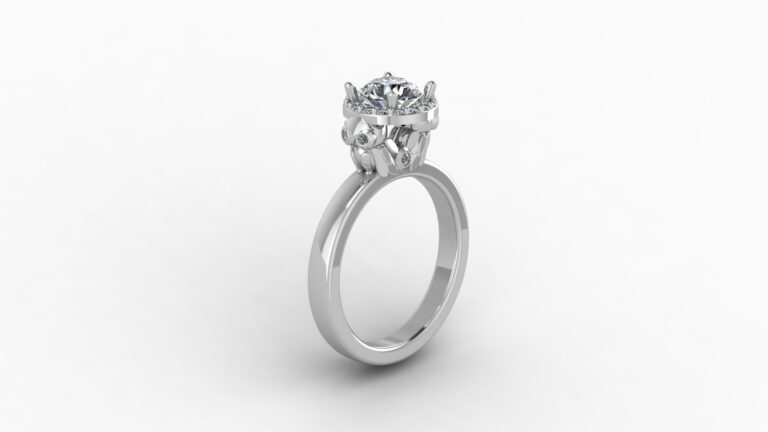 This is our owl halo ring was inspired by a film I am not supposed to name….but oh well, do you do everything you are told??  We just love Hedwig and owls too much.  However, even if you aren't a fan of the film, you can still wear this owl ring without anyone know what inspired us to make it.  We also have this ring with stones on the band and there is the option to have the owl hand engraved as well.  Click on the image to see a finished ring.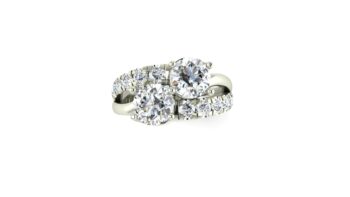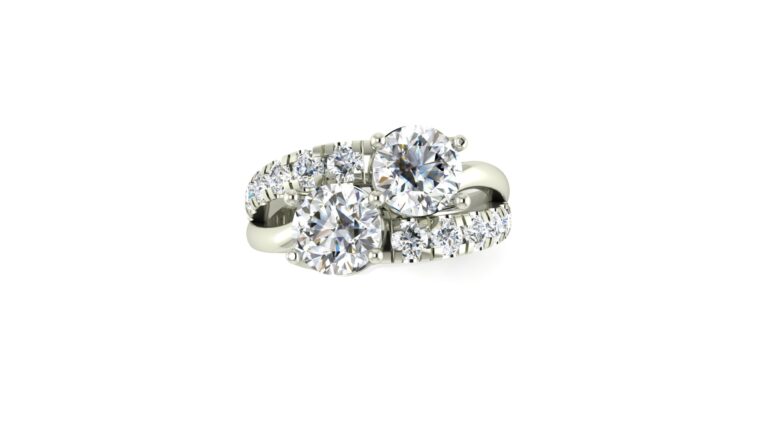 This is one of a couple 2 stone engagement rings we have created.  This one has a split shank with accents on opposite sides of the ring in a French Pave setting, but we could easily change this to prongs.
First Steps
Before you start searching for engagement rings, it is a good idea to check in with your partner and ask for their opinion when it comes to the type of engagement ring they prefer.  Even a small idea of their taste will be helpful in choosing the Perfect Engagement Ring for your partner.  Although this ruins a planned surprise, this is a piece of jewelry that they will wear every day. Consequently, it should be something that they love.  If you don't want to directly ask, you can take a look at their Pinterest or Facebook profiles.   Asking friends or family is a good approach as well. After conducting the initial research on their preferences, then it's time to go over the options when it comes to selecting the perfect engagement ring.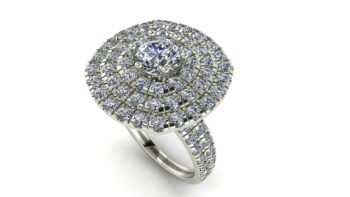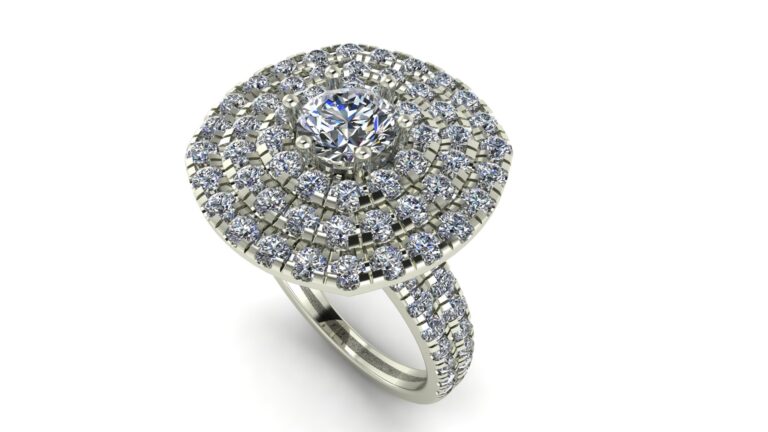 We had a customer with a bunch of old jewelry that she wanted repurposed into something new.  This is a spin on that ring.  We made it in a rounded square shape, a round shape, and a cushion cut..    The 2mm diamonds in the cushion halo are french pave set, but we could make this a shared prong setting as well.  It is also possible to play with stone sizes or even remove a halo if you like.
What Metal Color Works For You?
Here are the four most popular metal choices – white gold, yellow gold, platinum or palladium, and rose gold. The best way to select the right metal color is to consider which shades look best against which skin tones. The basic rule is that people with ashen skin and pinkish undertones should stick to white gold or platinum. If the skin is sensitive, then choose platinum (it's hypoallergenic). Rose gold is a potential alternative. However, depending on the pinkness of the wearer, it can make a finger look too red. People with tan or olive skin look great in yellow gold while those with darker skin tones can pull off any of these metals.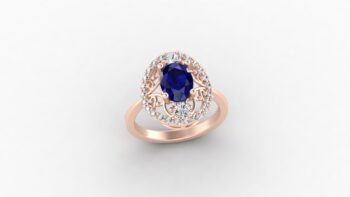 This Vintage Halo Sapphire Ring has an oval center stone surround by swirling bulbed arches.  These make way to a halo of 26, 1.3mm stones.  There are also 2, 3mm round stones at 6 & 10 o'clock as well.  We like the warmth of the pink gold with the sapphire.
The Perfect Engagement –  Ring Size
There's no easy way to guess your girlfriend's ring size.  Here's our guide on how to determine your ring size. The most common women's ring size is 6.5.  If you absolutely cannot find out your girlfriend's ring size and it has to be a surprise, then we recommend getting a 6.5 and having it resized after you propose. However, make sure the ring you choose can be resized as not all rings can. We do get many customers saying they measured their fingers with string or used some circles they found online.  These methods are horribly inaccurate and will result in a ring that doesn't fit.  That is NOT the The Perfect Engagement Ring!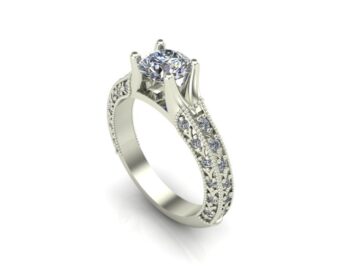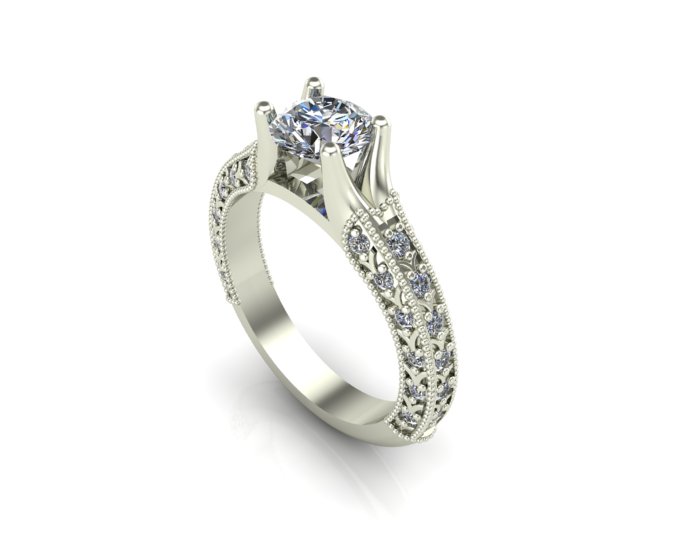 This beautifully Milgrained Art Deco Engagement Ring will definitely turn heads with its elegant design elements and minimalist setting. The center stone is 6mm, but larger or smaller could be used.  Almost any type of stone could be used.   The accents are 1.3mm, but 1.5 could be used without making it too bulky as well.
Engagement Ring Styles
There are many styles that can constitute the Perfect Engagement Ring and we could write ten blog posts going over them. So instead of taking you into a confusing maze, we will focus on three of the most popular engagement ring settings here.  The solitaire, halo, and three-stone. If you are interested in a less common style, contact us and we can discuss your Perfect Engagement Ring.
The Solitaire
Solitaire, as its name suggests, features a single diamond. It's the classic, most common choice for that "Perfect Engagement Ring".   If your girlfriend likes simple, minimalist jewelry.  Or, if she doesn't wear jewelry, then solitaire is a good option.  The ubiquitous Tiffany style solitaire engagement is the most common of these rings. But we have created a suite of solitaire engagement rings that give you more in terms of design elements than just a plain band.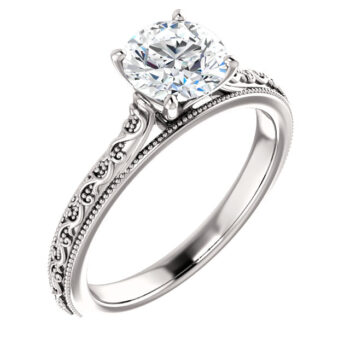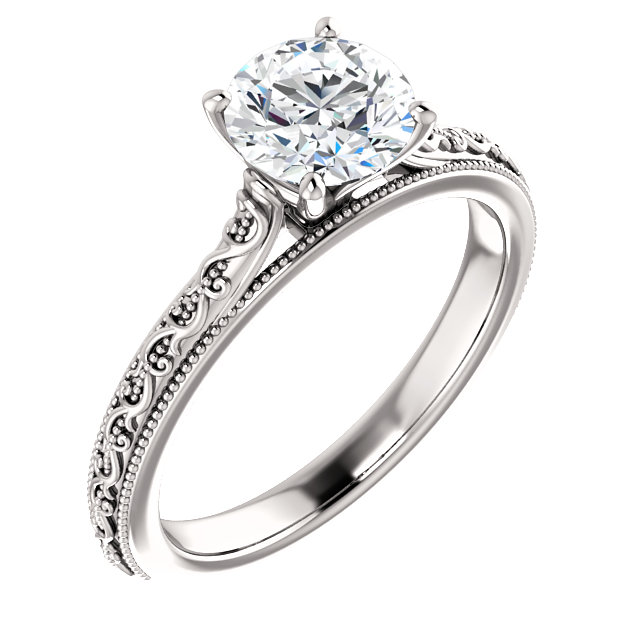 This is one of our Cathedral Solitaire Engagement Rings.  It has an interesting milgrain and vine pattern going down the cathedral shanks.  It was inspired by a script in Lord of the Rings, but we can use anything you like on it.
The 3 Stone
Alternatively, the three-stone engagement ring is perfect for girls who like more flash and sparkle. We like to shake it up a bit and set the stones east west.  However, you do need nicer diamonds for this ring style as they feature so prominently and are larger than normal accents. The only thing worse than receiving a mediocre diamond is receiving three mediocre diamonds.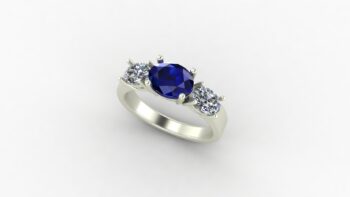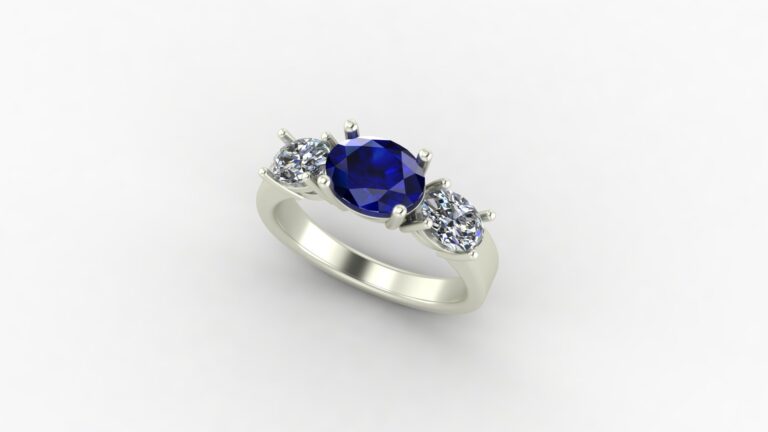 To the left is an East West version of one of our 3 Stone Oval Engagement Rings; and it is definitely simple and refined.  What makes this unique is that the stones are set horizontally rather than the typical vertical style.
The Halo
Finally, the halo setting has a more antique look.  Popular in Victorian times, The halo engagement ring is a setting that encircles a center gemstone in a row of round pavé or micro-pavé diamonds (or faceted color gemstones). The accent stones flash with sire and focus attention back on the center stone to create interest and draw people's gaze to your ring. It's an excellent choice for women with vintage tastes.  The halo make for the Perfect Engagement Ring for those with smaller budgets as a halo can make a stone look twice as large in some cases.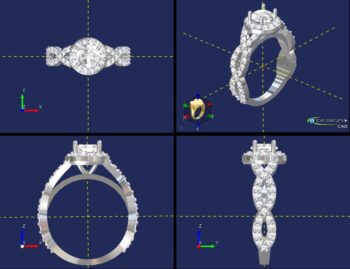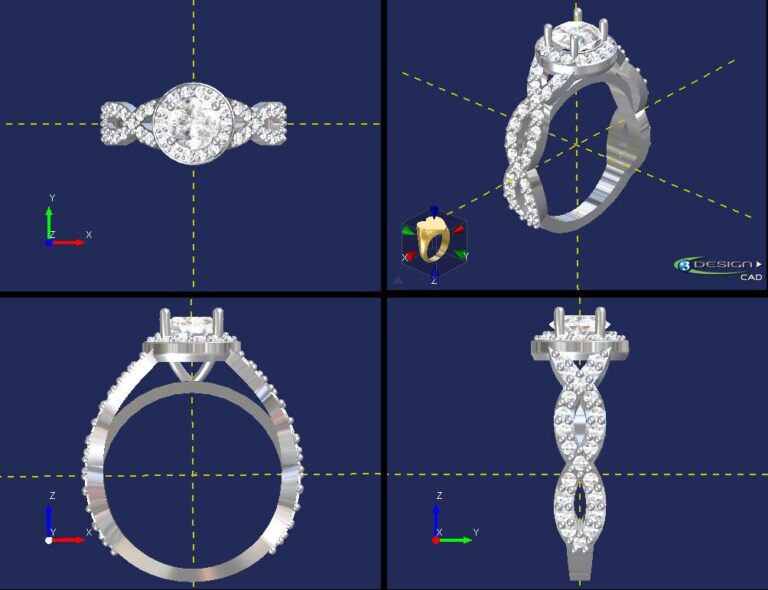 This elegant Halo Infinity Engagement Ring is a simple and exquisite halo setting accented by an infinity band.  There isn't much we can do to make this one any more stunning!
The Diamond Shape
Technically, you can cut a diamond into any shape that the rough stone will allow for.  However, diamond cutters focus on 10 cuts that constitute the bulk of diamonds cut for the Perfect Engagement Ring. These shapes are round, princess, oval, pear, cushion, emerald, asscher, radiant, marquise, and rose.
The Round Brilliant Cut
The round brilliant is by far the most popular shape for all types of jewelry.  It is cut to reflect the most amount of light and allows for unmatched brilliance and fire in comparison to the other shapes.  Second in popularity is the princess cut. This is because it offers almost as much brilliance as a round brilliant. It's a favorite shape for engagement rings in particular. With the square shape and pointed corners of this cut, we suggest selecting a design with a low profile with corner-set prongs or a bezel to protect the corners.  The tips of princess cut stones can easily be damaged..which does NOT make for the Perfect Engagement Ring.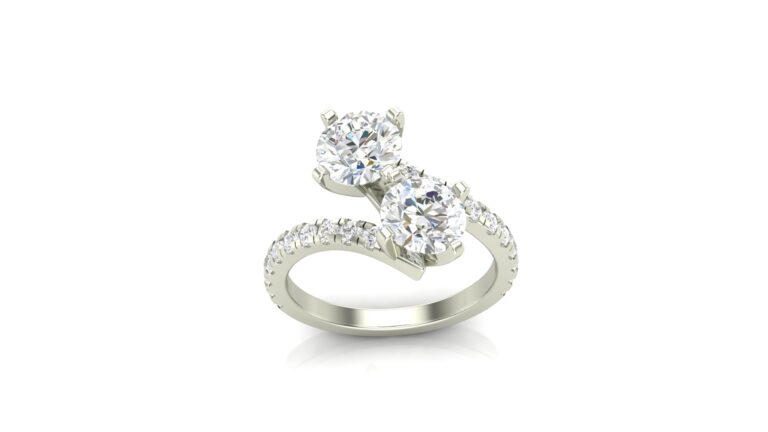 Get TWICE the beauty with 2 center stones in this 2 stone engagement ring with French pave set accents. Here we have 2, 6mm diamonds with 1.5mm accents.  We also have this one without the stones on the band
The Modified Oval Cut
One of the oldest gemstone shapes, the oval has many of the attributes of the round cut.  That includes similar brilliance and sharp facet lines. The elongated profile can make it appear larger than its carat weight, another reason for its popularity.  This shape has been gaining popularity in the 10 years as we've seen with a flood of celebrity engagement rings featuring this shape.  While not our favorite shape, many would disagree that it makes for the Perfect Engagement Ring.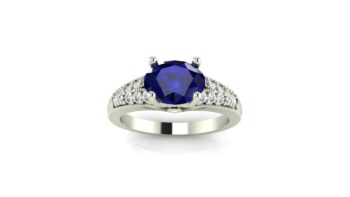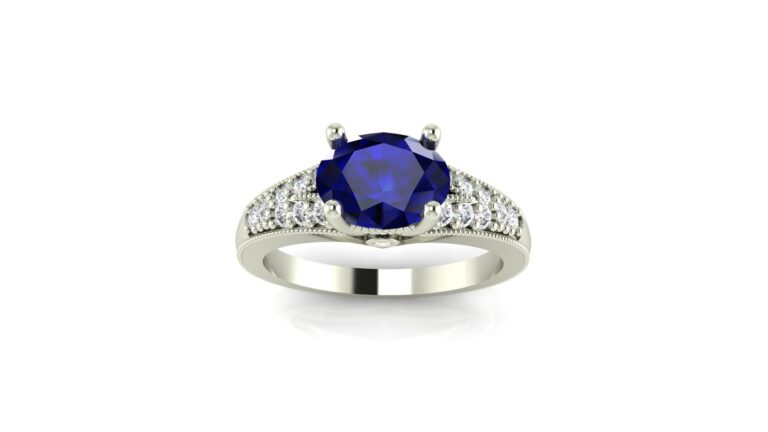 This Engraved Oval Engagement Ring is shown with an east-west oval center stone, but a round stone would also work.  It is accented by 3/8 of a carat of diamonds, including 2 bezel set stones on the sides.  The band is framed with milgrain to call attention to the engraving that does there.  Click on the image to see the finished engraving.
The Cushion Cut
Next is the cushion cut.  The square outline with soft corners of a cushion cut has made it a popular choice in the last few decades for those looking for optimal fire, but a more unique shape than a round brilliant or princess cut. This shape can simultaneously look contemporary and antique with its romantic shape mixed with modern faceting.  The Perfect Engagement Ring is a personal thing.  If you love the look of a cushion, then go for it!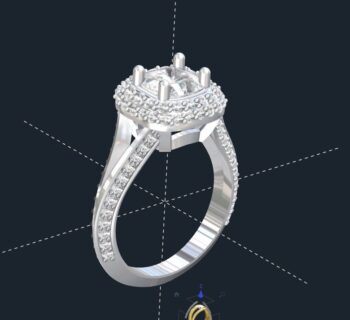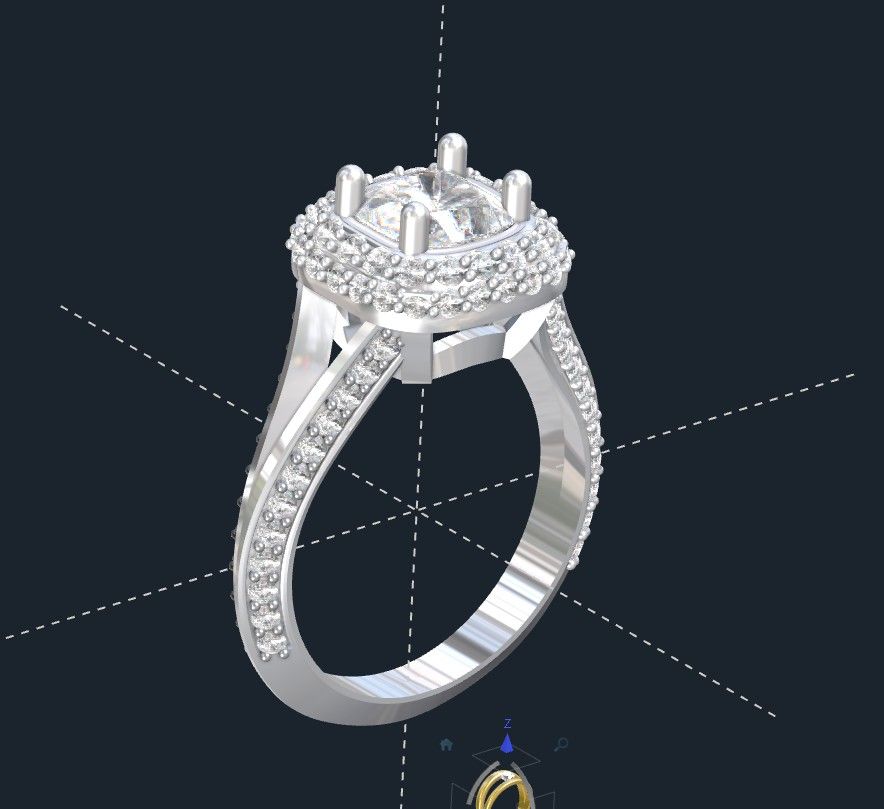 Our Split Shank Double Halo Engagement Ring to the right gives you a look not seen in the chain stores.  The double halo surrounds a cushion cut stone in this one, but any square or round shape will work.  The accented knife-edge shank is split at the top, giving this remarkable ring some movement.
The Emerald Cut
First made popular in the early 1900's, and emerald cut creates a "hall of mirrors effect" with its step cut facets, where the interplay of light and dark creates reflected repetition. This shape is perfect for those looking for a diamond with understated elegance. With less faceting and light return than a brilliant cut diamond, paired with a large table, look for a diamond that is eye-clean, VS2 or better, to ensure no inclusions are visible.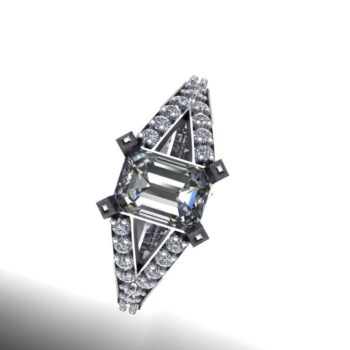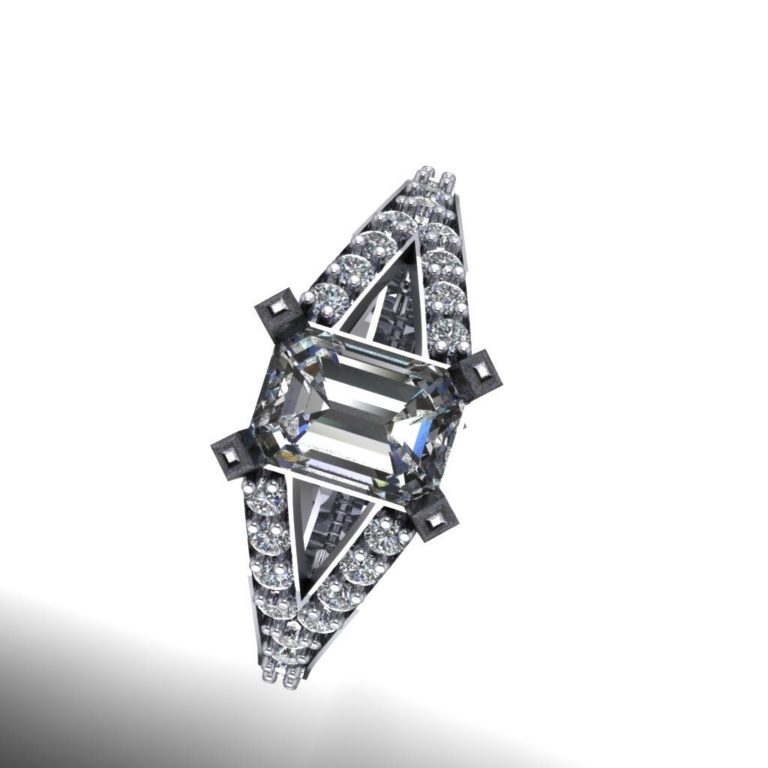 This is one of the first custom rings we ever created..can you tell by the rendering?  Our customer had an exquisite emerald stone he wanted turned into a simple ring.  This is what we came up with.
The Asscher and Radiant Cuts
The asscher cut is similar to an emerald cut with a step cut facet arrangement. However, it has a 1.0-1.05 length to width ratio to create a square. Asschers have a timeless sophistication and art deco appeal.  However, when looking at asschers, factor in that they do not hide color or clarity as well as other shapes with more facets. This shape tends to be cut to show off spectacular quality while not looking as good in the lower qualities.  Either way, the asscher can be an integral part of the Perfect Engagement Ring.
Radiant cut diamonds are a top choice for those looking for the rectangular silhouette of an emerald with a top brilliance of a round. First prominent in the 1980's, the radiant cut is not commonly seen and preferred for those wanting a unique shape with modern sparkle. Because of its faceting and maximum light return, lower colors and clarities are easily concealed in this shape.  This makes these stones budget friendly: a crucial part of the The Perfect Engagement Ring.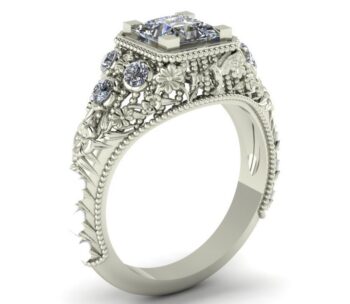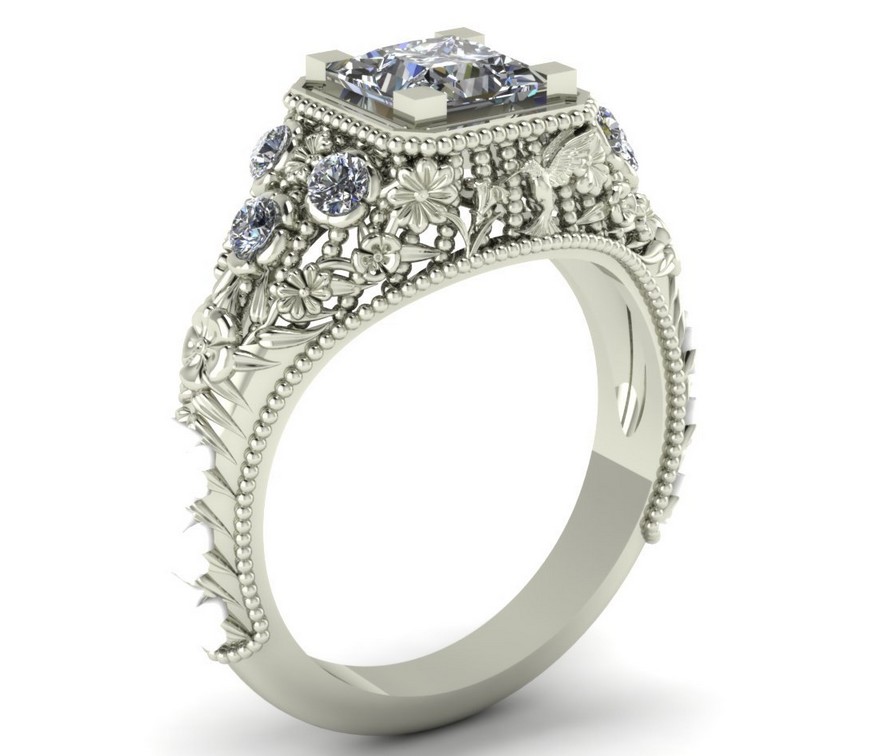 It is hard to see the radiant cut center stone, but it is there.  We would rather show you the garden of vines and flowers that are home to a hummingbird.  This is one of our art deco engagement rings.  We can't really modify this one, but luckily, we made it to fit a 5-6mm round or square stone.
The Pear Shape
The pear shape is a timeless choice mixing round brilliant and marquise shape stones. Pears can create a slimming effect on the finger because of its elongated shape. Symmetry is key when looking for a pear shape to avoid a significant bow-tie. The marquise is a long narrow shape with pointed ends. This graceful shape can create the illusion of being larger than its carat weight. I can also have an elongating effect on the finger of the wearer. Symmetry is again key with this shape.  Both points should align with sides being nearly identical, with a Very Good symmetry grade or better.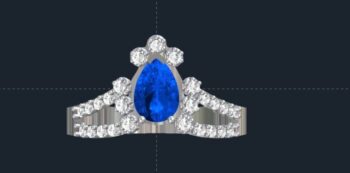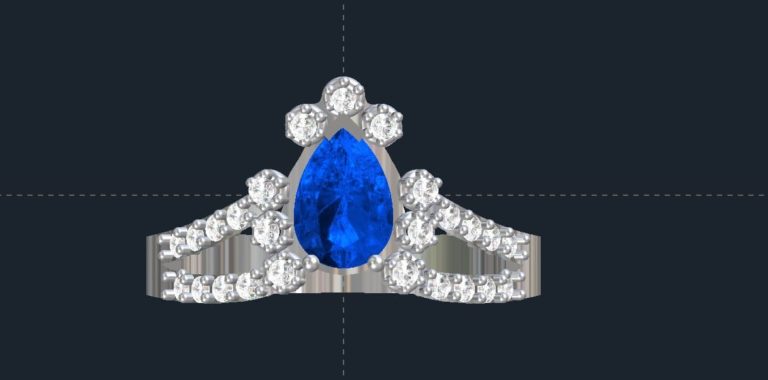 This pear engagement ring will definitely garner tons of compliments with its unique layout.  On top of the split shank, the halo isn't fully set with stones.
The Rose Cut
Round and Oval Rose cuts are an antique shape first appeared in the 16th century to utilize flat rough material. The stones are cut with a flat bottom with a faceted domed crown. Named for resembling a rosebud, these cuts have less light return or fire than a brilliant cut round or fancy shape. This means opt for a higher clarity to avoid eye-visible inclusions.  Even if not as bright as brilliant cuts, rose cuts can still be used to make the The Perfect Engagement Ring.
Click here to see all of our custom engagement rings.  If you don't see anything you like or can modify to your taste, send us your idea.  We will see what we can do for you. It can cost less than you think to have your very own custom Engagement Ring made just for you. Why hassle with the retail stores for boring and overpriced engagement rings when we have that Perfect Engagement Ring that you just don't know about yet?
The Expert Guide to Shopping for the Perfect Engagement Ring