Many couples dream of a Beach Wedding, but are intimidated at the idea of executing it.  But to be honest, there really isn't much difference between the two. You are just outdoors in the sand rather than in an indoor church.  But, the differences do require a bit pf planning that differs from an indoor wedding.
But think about it! Imagine you and your partner standing in front of an officiator and exchanging vows while the waves roll in.  The sun is shining. Maybe there are birds flying overhead.  However, as perfect as that sounds, beach weddings require some extra planning to ensure they come off without a hitch. Don't worry though!  We have some tips to help make it a day you and your spouse will never forget.  From finding the perfect location to choosing the correct beach wedding attire, we will talk about it all. So..grab a drink with an umbrella in it, take off your shoes, and get ready for your beach wedding!
Locate The Perfect Location For Your Beach Wedding
A beach wedding can be a dream come true.  However, finding the perfect location can be a challenge and is your first step. To start, consider the weather. You don't want to plan your special day during hurricane season or when the beach is crowded with tourists. Look for a beach that offers privacy, but also has easy access for guests.  Parking is also something to consider.
Next, think about the scenery. A beach with a stunning sunset or crystal clear water can make for a breathtaking backdrop. Don't forget to check if there are any noise restrictions or permits required for the beach you have in mind. It's always better to be safe than sorry.  You also want to think about if you want the ceremony on a secluded beach area or near a public beach on a touristed boardwalk
Finally, consider the amenities offered nearby. Are there hotels or resorts for guests to stay at that are not too far? Are there restrooms and changing rooms available? These are important factors to keep in mind when choosing the perfect beach wedding location. With these tips in mind, you'll be sure to find the best location for your dream beach wedding.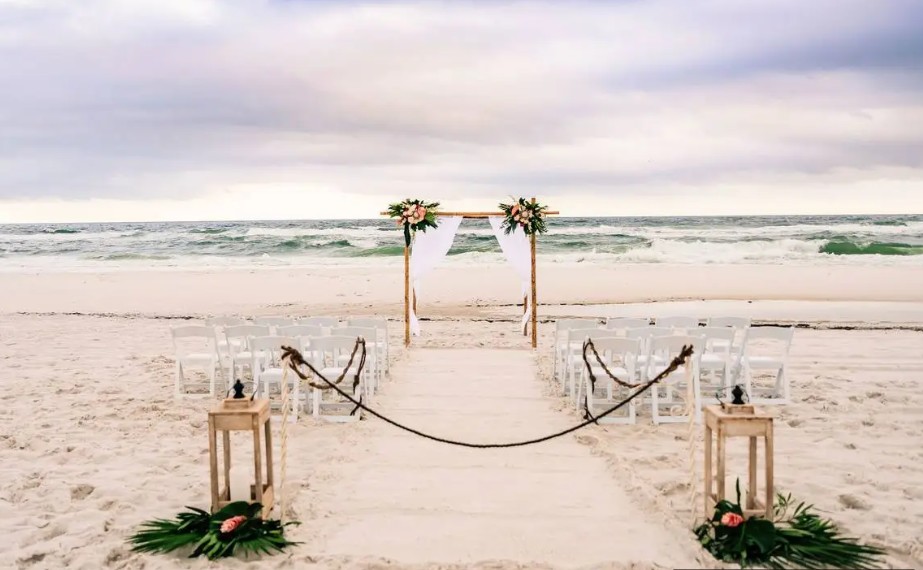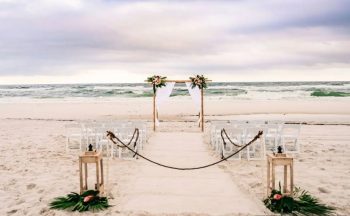 Consider The Weather
Planning a beach wedding is a dream come true for many couples. However, the weather can be unpredictable.  So, it's important to consider and plan for it. First and foremost, check the weather forecast regularly in the days leading up to the wedding. This will give you an idea of what to expect and allow you to make any necessary adjustments.
Secondly, consider providing your guests with some weather-related essentials. Sunscreen, sunglasses, and fans are all great options to keep your guests comfortable and protected from the sun. Additionally, consider having a backup plan in case of rain or extreme heat. This could mean having a tent or indoor space reserved, or even just providing umbrellas for guests.  Customized ponchos could be a good idea and also a nice party favor for your guests.
Lastly, embrace the weather and make it a part of your wedding theme. If it's a particularly hot day, provide guests with refreshing drinks and popsicles. If it's raining, embrace the romantic atmosphere and provide guests with umbrellas and rain boots. Remember, the weather is out of your control, but how you handle it can make all the difference in creating a memorable and enjoyable beach wedding experience for everyone involved.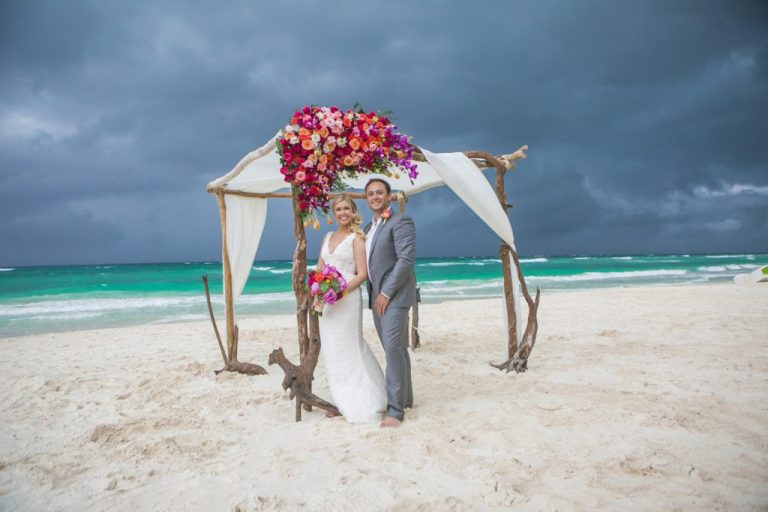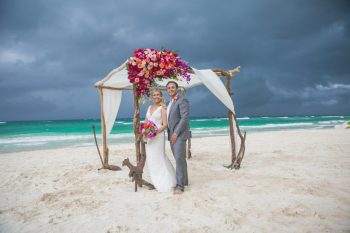 How to Dress For Your Beach Wedding
When it comes to weddings on the beach, choosing the right attire can be a challenge. You want to look your best, but also be comfortable in the warm weather. Our advice is to opt for lightweight fabrics such as cotton or linen. These materials will keep you cool and comfortable throughout the day.  And if you want it to be a little more casual than a formal wedding, you can note that on the invitation.
Another important factor to consider is the style of the outfit. For men, a light-colored suit or dress pants paired with a dress shirt and tie is a classic and stylish option. Women can opt for a flowy sundress or a jumpsuit in a light, airy fabric. It's important to choose an outfit that is appropriate for the occasion, but also reflects your personal style.
Finally, don't forget about your footwear. For men, loafers or dress shoes are a great choice. Women can opt for sandals or wedges that are comfortable to walk in on the sand. Just make sure to avoid high heels that could sink into the sand.  Again, if you want to go for a more casual affair, note that flip flops are ok!
In summary, choosing the appropriate attire for a beach wedding requires a balance of style and comfort. Opt for lightweight fabrics, choose a style that reflects your personal taste, and don't forget about comfortable footwear. By following these tips, you'll look perfect and feel comfortable throughout the day.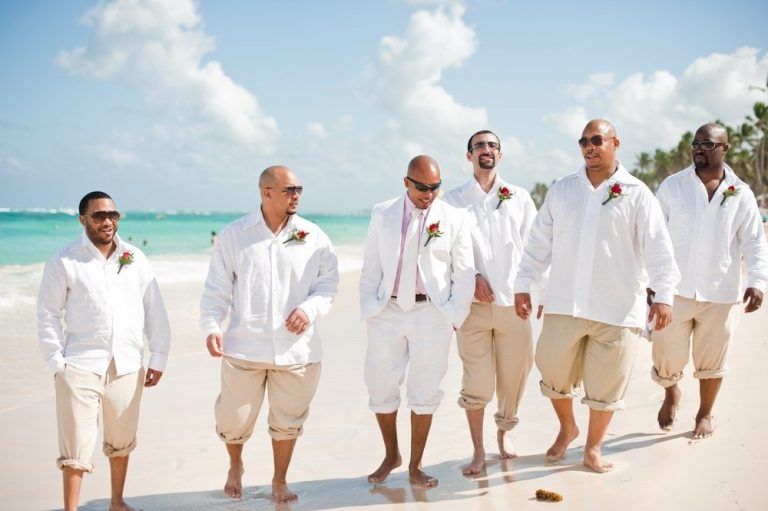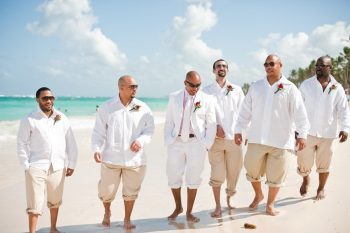 Beach Wedding Bridal Jewelry
Beach inspired jewelry is a popular choice for beach weddings because it adds a touch of whimsy and elegance to the occasion. This type of jewelry is typically made from natural materials such as shells, pearls, and coral, which evoke the beauty and serenity of the ocean. It is also often designed with intricate details and delicate patterns that reflect the intricate beauty of the sea.  A large benefit to this is the cost.  Beach jewelry is going to cost less than more formal bridal jewelry.
In addition to its aesthetic appeal, beach inspired jewelry is also practical for a beach wedding. It is lightweight and comfortable to wear, which is especially important in the hot and humid beach environment. It is also durable and can withstand exposure to sand, saltwater, and other elements that are common at the beach.
Overall, beach inspired jewelry is a great choice for a beach wedding because it is both beautiful and practical. It adds a unique and personal touch to the occasion while also being comfortable and durable enough to withstand the beach environment. So if you're planning a beach wedding, consider incorporating some beach inspired jewelry into your bridal look for a truly unforgettable experience.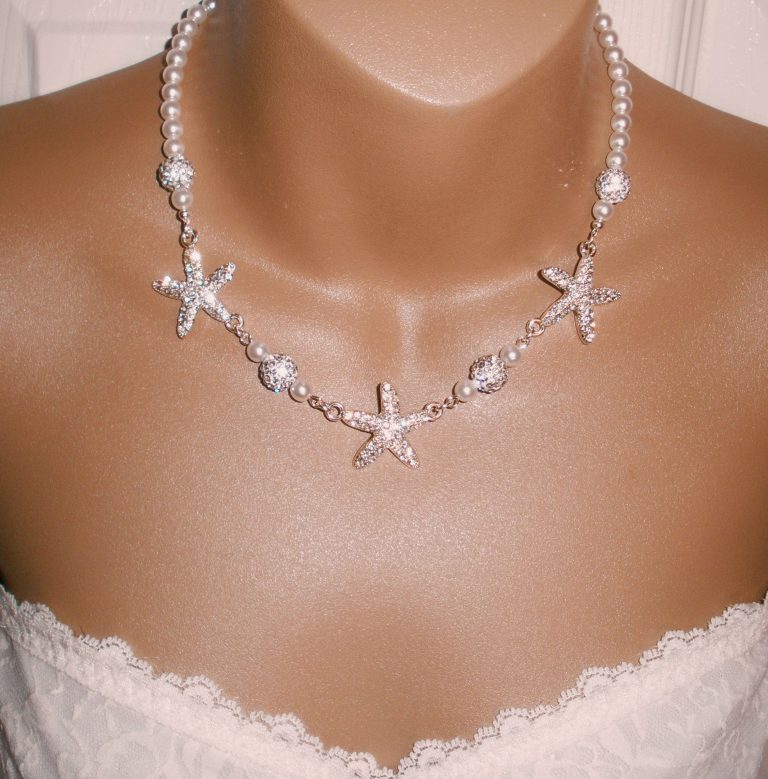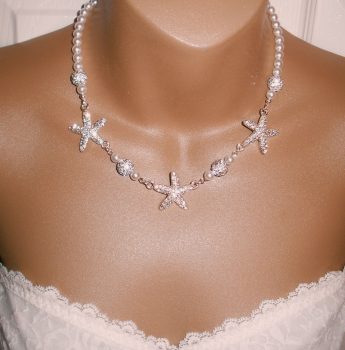 Décor Can Make Or Break Your Ceremony
Beach weddings are a dream for many couples, but creating unique décor can be a challenge. Here are some tips to make your beach wedding décor stand out without being too difficult.
First, incorporate natural elements. Use seashells, starfish, and driftwood to add a beachy feel to your decor. These items can be easily found on the beach and can be used in a variety of ways, such as centerpieces or hanging decorations.
Second, play with color. Don't be afraid to use bold, bright colors that pop against the natural beach backdrop. Think coral, turquoise, and sunny yellow. These colors will add a fun and playful vibe to your wedding.
Lastly, add some personal touches. Use photos of you and your partner, or incorporate items that have special meaning to you both. This will make your wedding décor unique and special to you.
Creating unique beach wedding décor doesn't have to be difficult. By incorporating natural elements, playing with color, and adding personal touches, your wedding will be a beautiful and memorable event.
Beach Wedding Entertainment
When it comes to choosing the best music and entertainment for your beach wedding, there are a few things to consider. First and foremost, think about the vibe you want to create. Do you want a laid-back, beachy feel or something more upbeat and energetic? Once you've established the vibe, start researching local bands or DJs that fit the bill. Don't be afraid to ask for recommendations from friends or your wedding planner.
Another important factor to consider is the size of your wedding. If you're having a smaller, more intimate affair, a solo musician or acoustic duo might be the perfect fit. However, if you're planning a larger celebration, you'll likely need a full band or DJ to keep the party going. Make sure to ask about their experience playing at weddings and their ability to read the crowd and keep the energy up.
Lastly, don't forget about the little details that can make a big impact. Consider adding some fun beach-themed props like sunglasses or flip flops for your guests to wear on the dance floor. And don't be afraid to get creative with your entertainment choices. Maybe you want to hire a fire dancer or have a photo booth set up for guests to capture fun memories.
Overall, choosing the best music and entertainment for your beach wedding is all about creating the right atmosphere and having fun. With a little research and some creative thinking, you're sure to find the perfect fit for your special day.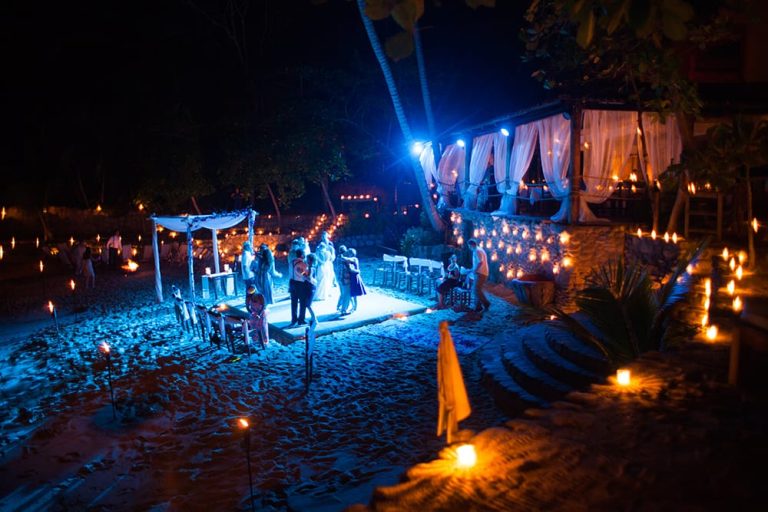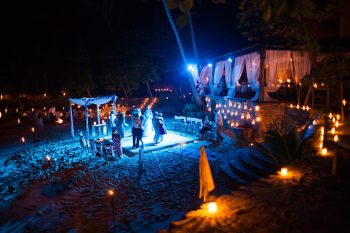 And Finally…The Ocean!
If you're planning a beach wedding, why not incorporate the ocean into your special day? Here are some ideas to make the ocean a part of your wedding celebration.
First, consider having your ceremony on the beach with the ocean as your backdrop. The sound of the waves crashing against the shore will create a serene and romantic atmosphere. You could even have your guests seated in a semi-circle around you, with the ocean as the focal point.
Secondly, incorporate ocean-themed decor into your wedding. Use seashells, starfish, and coral as table centerpieces. Hang fishing nets and sea glass from the ceiling. You could even have a seafood buffet for your reception.
Lastly, consider having a beach bonfire after the reception. This is a great way to end the night and enjoy the ocean at night. You could even have a s'mores station for your guests to enjoy.
Overall, incorporating the ocean into your beach wedding is a great way to make your special day even more memorable. With a little creativity, you can create a beautiful and unique wedding celebration that you and your guests will never forget.
Looking For Bridal Jewelry??
Click HERE to learn about custom jewelry, browse our portfolio, or contact us. Whether you are having a beach wedding or not, we can help create all of your bridal jewelry.
Tips To Own Your Beach Wedding