Our Top Batman Wedding Ring Designs
With the almost monthly revamping of classic comic books or graphic novels into big screen movies or Netflix shows, superheroes are becoming a popular part of pop culture like they were in the 50's.  Realizing this, we created our first batman superhero wedding ring and haven't looked back since!  Since then, we have created geek wedding rings based on Halo, Superman, Harry Potter, World of Warcraft, etc, etc.  Are you looking for a quality superhero wedding ring, but can't find what you want, or one made in the USA?
Valeria Custom Jewelry can create almost anything you can dream up.  We have created ring with logos from batman, superman, deadpool, spiderman, the flash, the green lantern, and many others.  However, it is our favorite Batman Wedding Ring designs that outsell all others combined.  And please know that these are just rings we have already created.  If you have an idea that we haven't made, contact us and we will see what we can do.
Why Batman?
With films like the The Avengers or the recent release of the Man of Steel gaining so much popularity and devotion among fans, there's no surprise that many retailers are utilizing these superhero themes to draw in that youthful and hip consumer. From sleek cufflinks sporting the infamous Superman logo on it to pendants shaped like Gotham City from the Batman series, we can create custom jewelry that will definitely have diehard comic fans clamoring to add superhero jewelry to their collection.
By a huge margin, the most popular superhero is Batman: it isn't even close.  Because of this, we have created a ton of our Top Batman Wedding Rings for hundreds of fans of the Bat.  Many included customizations only meaning to that person, so they wouldn't work for everyone, but we have done plenty that are more universal.  Not to leave out you girls, our Top Batman Wedding Rings do include some rings for you.
Our Favorite Batman Wedding Rings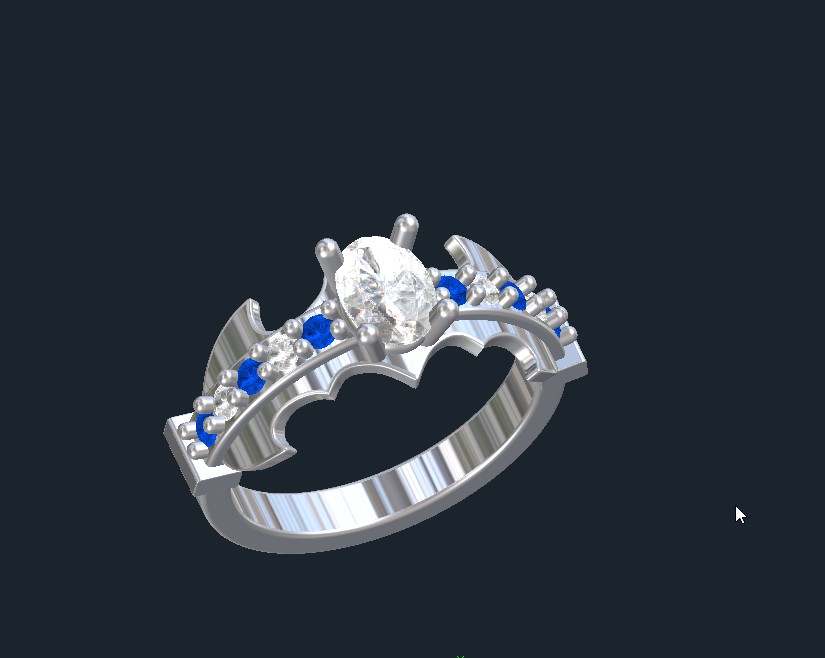 This Unisex Batman Engagement Ring has an 8x6mm oval stone in the center, but a round would work just as well.  There are 10 accents going the length of the bat.  This one isn't as popular, but it is a personal favorite, we included it in our list of Top Batman Wedding Rings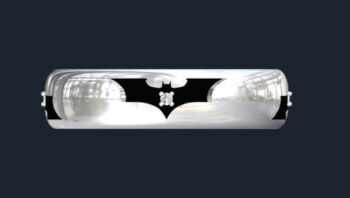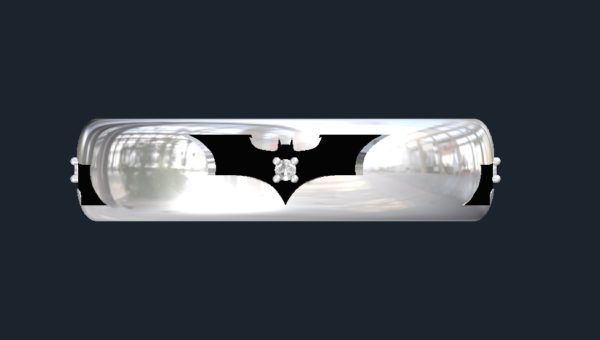 This version of our Batman Wedding Rings has 4 of the old school bats going around the ring, two inverse of the others.  We like this one as you can always see the bat, no matter how much the ring has spun. It is also possible to add a stone in the middle of each bat. If you like the Michael Keaton bat better, it will also work with this design.
Our Top Batman Wedding Rings
Ladies, wearing Batman jewelry is the perfect way to show off your inner-geek in a formal way. Depending on your age, it may no longer be deemed appropriate to dress in a Batman suit on dates other than Halloween — even if you really want to. If you have a crush on Batman, especially the most recent Batman portrayed by Ben Affleck, then show off your love appropriately with some of these cute bat pieces.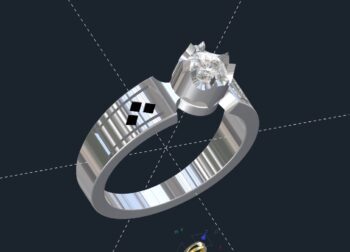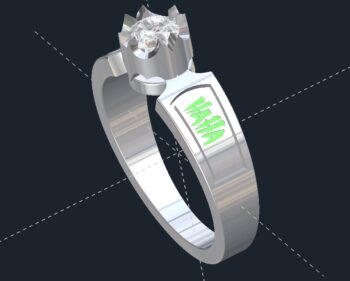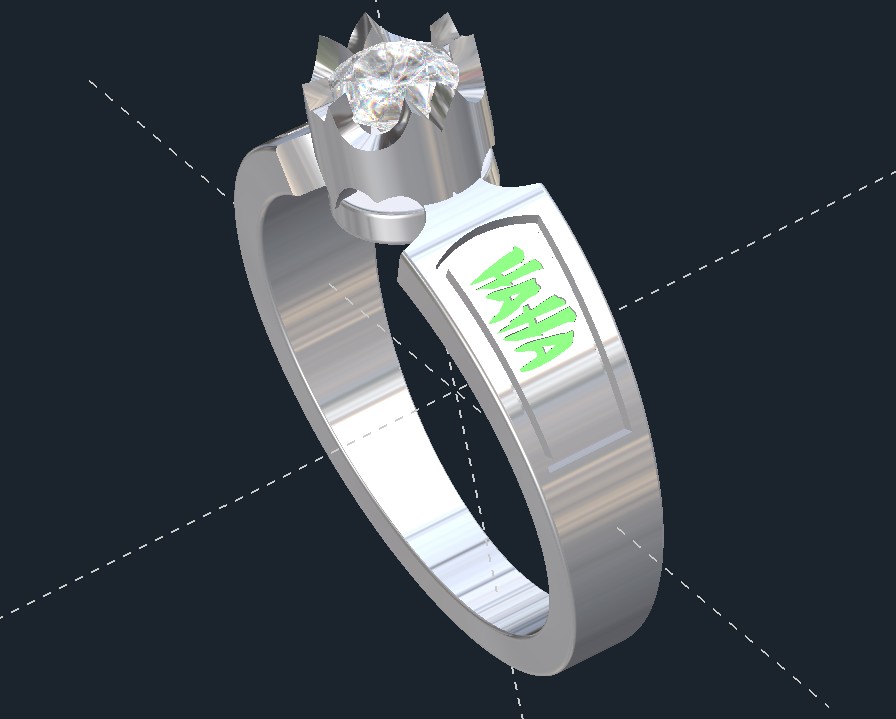 This is our Batman Bezel Engagement Ring.  It was the first geek engagement ring we ever created.  The center stone is held by two bats forming a bezel and the shoulders can be filled with anything from the Harley Quinn symbols to the Joker "J", to gemstones.  If you want a Batman engagement ring, but one that not everyone will know is a Batman Engagement ring, this is the ring for you.  The ring is a classic and elegant diamond engagement ring with the added edge of the black and white diamond pattern that covers Harley Quinn's iconic harlequin jester costume.  This Harley Quinn Batman engagement ring is not only beautiful and stylish but it also unique with its comic book-inspired pattern, and is a fitting tribute to both the couple's love of comics and her love of one of DC's most iconic and most loved comic book villains.
Our Top Batman Wedding Rings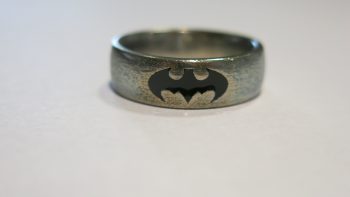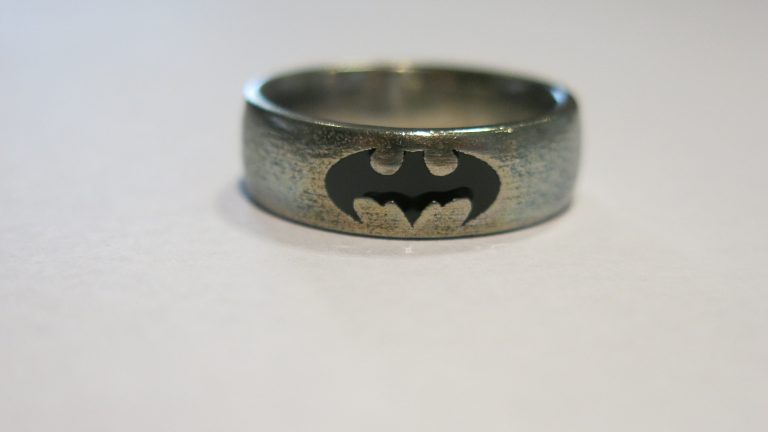 This is one of our Top batman wedding rings created in Stainless Steel and with a stone finish.  It can't be resized nor be given any other finish, but it is an alternative to the traditional metals.  Also, it is at a much lower price point. This makes it possible to just buy a new one if something happens to the ring or you gained weight. We wish it was possible to get a high polish on it, but it isn't possible with our equipment.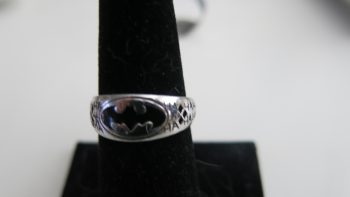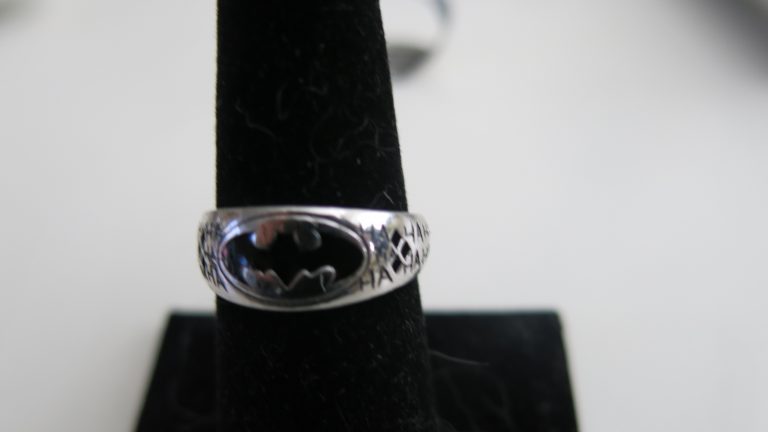 This version of our Top Batman Wedding Rings has the Oval cutout around the bat.  But also have "HA HA's" engraved all over the ring.  The Harley Quinn Symbols are done in black enamel. However, like with our other rings, there are tons of things that can be put there, especially on this wider ring.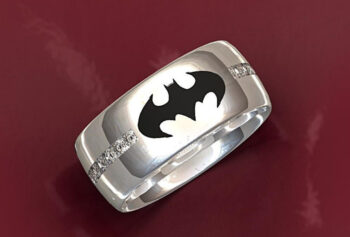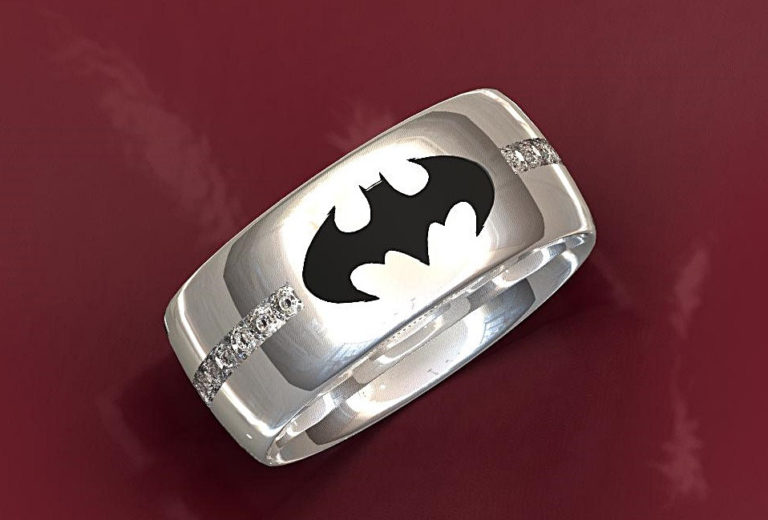 The popular of our Top Batman Wedding Rings, by far and way.  This one is just the enameled bat with stones going around the ring.  It is hard to improve on this one…it is just classic and simple.  And keep in mind that you aren't limited to diamonds on any of these rings.  Click the image to see finished versions of this ring.
Our Top Batman Wedding Rings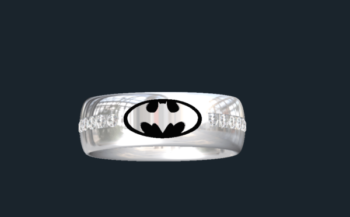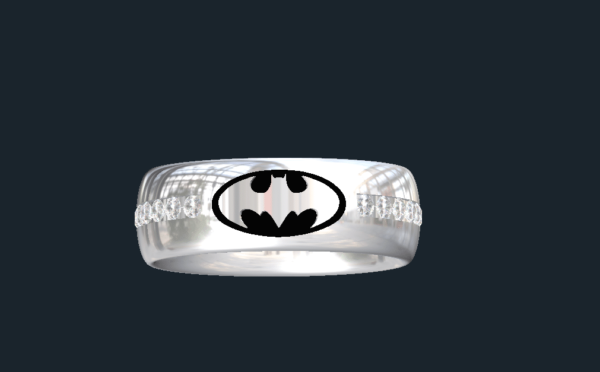 This is our Inverse Batman Ring, where the negative space is black instead of the bat.  It can also be accented with channel set stones.  Another option would be to leave the enamel out. This would give the bat a rough finish to contrast with the high polish of the band.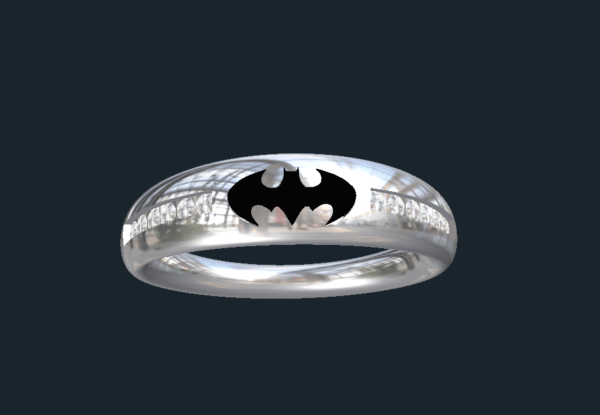 We told the women we didn't forget about them for our Batman Wedding Rings.  This is out most popular men's batman ring, but tapered down to 2mm for a women.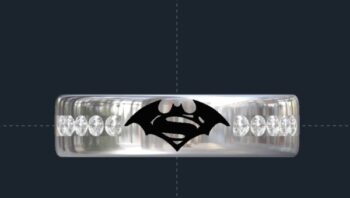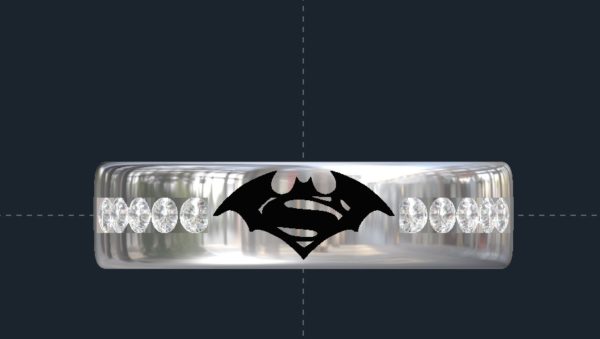 This is our Superman Batman Wedding Ring.  We took the "Battle for the Cowl Batman" logo and added the Superman "S" to it.  It looks pretty cool doesn't it!  We also have it without the stones, which can be made smaller. But we think it look so much better with stones.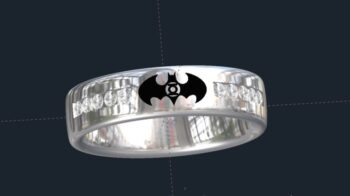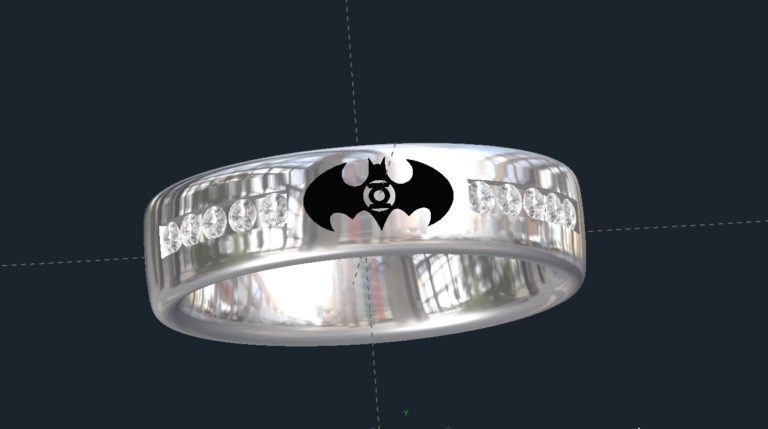 Here is our Green Lantern Batman Wedding Ring. It has the "Batman Chronicles" logo with the Green Lantern Logo in it.  If the ring is wide enough, a green stone could be put in the Lantern emblem, giving another level of Geekiness!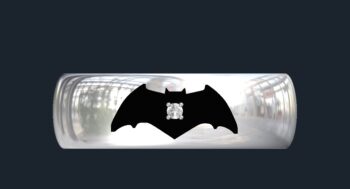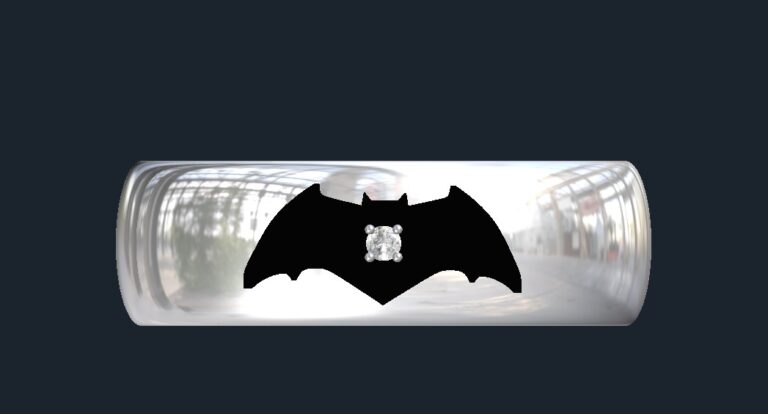 This Justice League Batman Wedding Ring is just the bat and a single stone in it.  We could also add stones on either side of the bat, but we think it might look too busy.
Our Top Batman Wedding Rings – Buy Made In The US!
You might find rings that look like our Our Top Batman Wedding Rings for less on Ebay, Etsy, or Amazon.  But rest assured they are made in Asia where quality is low on the list of priorities. If you want one of our Our Top Batman Wedding Rings that will last, have it made in the USA!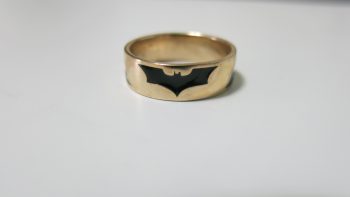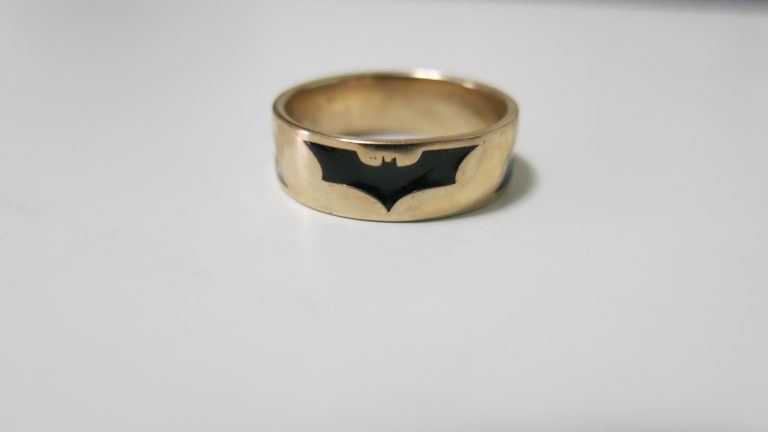 If you want the bat and nothing else, this is the ring for you. Plain and simple. We can use any bat that you like.
Why Batman & NERD Wedding Rings Are Popular At The Moment
Batman and NERD wedding rings have become increasingly popular in recent times. These unique and stylish rings offer a perfect blend of fandom and romance, making them a hit among couples who share a love for superheroes and all things nerdy.
One reason for their popularity is the rise of comic book culture and the mainstream acceptance of geekiness. Superhero movies and TV shows have gained immense popularity, attracting a wide range of fans. Batman, being one of the most iconic superheroes, has a massive fan base. Couples who are passionate about Batman and the NERD culture find these rings to be a perfect representation of their shared interests and values.
Another factor contributing to the popularity of Batman and NERD wedding rings is the desire for unique and personalized wedding bands. Couples are increasingly looking for rings that reflect their individuality and tell their love story. Batman and NERD rings offer a creative and distinctive alternative to traditional wedding bands, allowing couples to express their personalities and showcase their shared passions.
Basically, the popularity of Batman and NERD wedding rings can be attributed to the growing acceptance of geek culture and the desire for personalized wedding bands. These rings not only symbolize love and commitment but also celebrate the couple's shared interests and fandom. With their unique designs and meaningful symbolism, Batman and NERD wedding rings have become a popular choice for couples who want to add a touch of geekiness to their special day.
Why Custom Jewelry is Best For A Batman Wedding Ring
Custom jewelry is the best choice for a Batman wedding ring for several reasons. First, it allows for personalization and uniqueness. With custom jewelry, you can design a ring that perfectly captures the essence of Batman, incorporating symbols and motifs that are meaningful to you and your partner. Second, custom jewelry ensures high quality and craftsmanship. By working with a skilled jeweler, you can be confident that your Batman wedding ring will be made with attention to detail and precision. Finally, custom jewelry offers the opportunity for sentimental value. By creating a custom ring, you can infuse it with personal stories and memories, making it even more special and meaningful. In conclusion, custom jewelry is the ideal choice for a Batman wedding ring, allowing for personalization, quality, and sentimental value.
Give Us A Shot!
Click here to see all of our custom men's rings.  Click HERE to lean more about custom jewelry, to view our the rest of our custom jewelry creations, or to contact us about our custom Batman Wedding Rings.  It can cost less than you think to have your very own custom batman ring made.  Why settle for boring, uninspiring, mass-produced wedding bands from the mall?  We can make exactly what you want.  Don't see what you are envisioning in our Top Batman Wedding Rings?  Send us the design you want and we will bring it to life.
No matter where you live, whatever the age or sex, you would be hard pressed to find anyone who hasn't heard of Batman.  Whether it be the Adam West, Michael Keaton, or Ben Affleck incarnations, you know at least one.  The Batman has captured imaginations for over 50 years and the theme doesn't show signs of abating.  We realized an underserved demand  for both men and women and created a collection of Batman Wedding Ring designs to serve it.  There Batman Ring designs for both men and women as well as unisex engagement rings.
We Know Batman Wedding Bands Are Not For Everyone
Hundreds of fans of the Bat have had batman wedding rings created for them.  Many included customizations only meaning to that particular person.  So they wouldn't work for everyone.  However,  we have done plenty that are more universal.  And not to leave out you girls, we have designed a few Batman Engagement Rings for you as well. And if you have an idea that we haven't created, we can make that for you!  Give us a shot!! You will be happy that you did.