Unique Custom Made Jewelry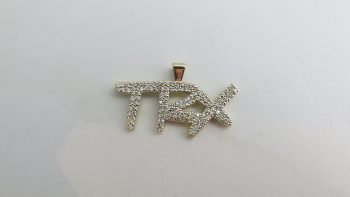 This iced out pendant was for a British hip hop group of the same name.  They wanted something that their fans would see from the crowd.  So we gave them 1.25 x 3/4 of an inch of diamonds.
As Jewelry designers, we can say that our Unique Custom Made Jewelry is an opportunity for you to control every aspect of your custom jewelry creation. This allows you to create a finished piece as unique as the person who will wear it. If you want a piece that is to be worn every day, why not take the time to create a one-of-a-kind creation that will act as a daily reminder of your love or some other thing? Instead of purchasing a mass-produced piece from Asia, create a symbol of your dedication and commitment by designing a unique and custom jewelry creation – the process of which will become a treasured story about the most significant object she will ever own.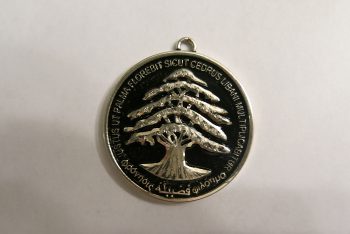 We can't remember what this was for, but it turned out well.  We can make single piece like this up to 2.75 inches in diameter.
Unique Custom Made Jewelry Has Great Benefits:
Your Custom Made Jewelry piece will feel inspired and creative, a pure reflection of your individual personality.
It will reflect your interests and values.
No one else will have a piece quite like yours.
A truly unique design will garner attention, and will be a conversation starter for years to come.
If  creating matching rings, you can also create a symbol of who you are as a couple.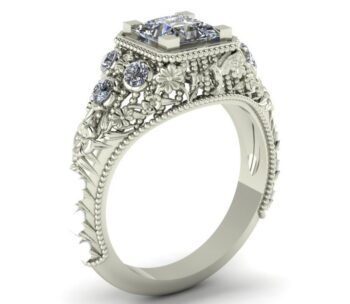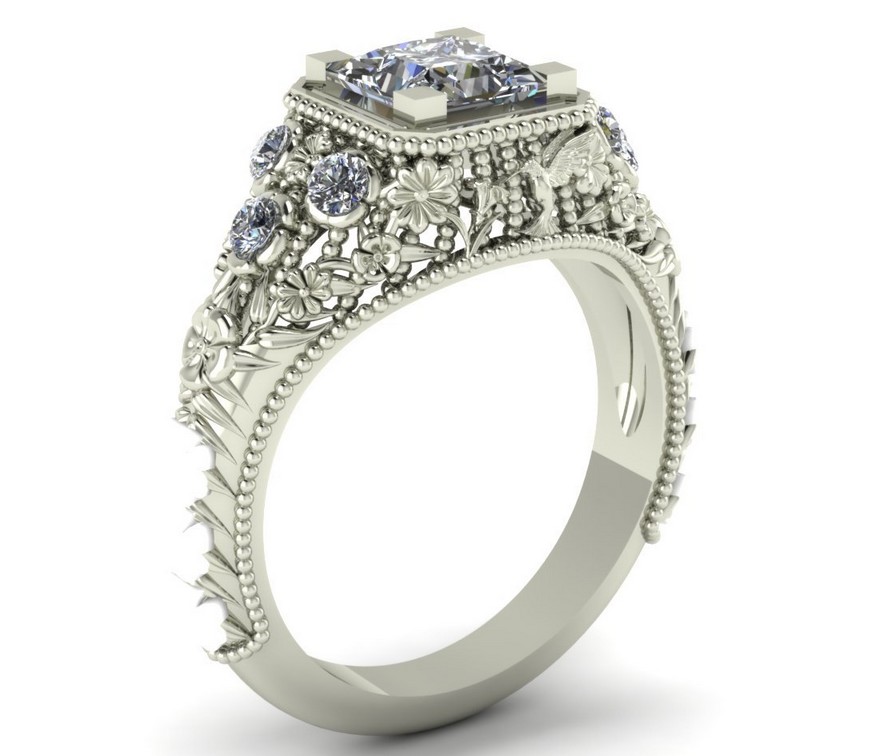 This Art Deco Floral Hummingbird Ring was inspired by an antique art deco ring from the early 1900's, but was requested with a hummingbird on it. This one has a 1/2 carat Asscher cut center stone and is accented by 6, 2mm stones.
Custom Made Jewelry Cost
But you should also keep in mind the trade-offs you make when creating a custom piece of jewelry:
Unique Custom Made Jewelry can be more expensive than mass produced. Don't be surprised to pay up to two times what you would for a non-custom piece of jewelry that is mass produced in Asia. How much more depends on how elaborate the design is and the materials involved.  However, it CAN be less expensive as well.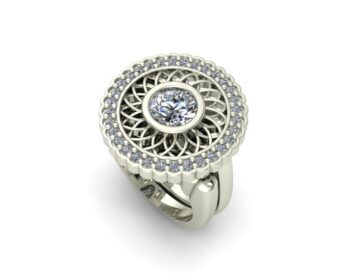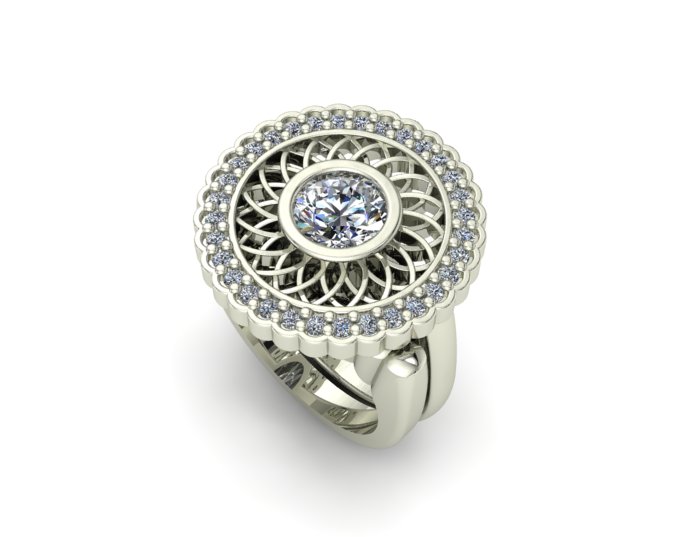 This nature inspired engagement ring was based  on the Gazania Flower.  The bezel set center stone was 5mm and was surrounded by a halo of 1.5mm stones.
It can take longer as well. While it's on the extreme high end, 2 months isn't out of the realm of possibility. On the low end, expect a well-thought-out Unique Custom Made Jewelry design to take a month from idea to finger.
It requires more involvement (a good deal of collaboration) on your part.
The jeweler also has a say in the ultimate design — and as the expert with precious metals and stones, he or she should.
It's unpredictable. You don't get to see, touch and feel the weight of the ring until it's finished. But you will see a 3d rendering that is used to create your piece. This is the only drawback to Custom Made Jewelry.
Value of Buying Custom Made Jewelry
Off-the-shelf jewelry is designed to appeal to a wide base of people so the profits are maximized. At Valeria Custom Jewelry, we encourage clients to have us make them Unique Custom Made Jewelry to ensure they receive exactly what they want & nothing less. This is why we never cast Custom Made Jewelry without the client's approval.  This means that that you will get the Custom Made Jewelry piece that you envisioned.  With our Unique Custom Made Jewelry, the piece you create will be handmade and superior in quality and design to anything mass-produced.
Appeal of Unique Custom Made Jewelry
As the saying goes, you get what you pay for. Custom Made Jewelry is your chance to be involved in creating a piece that you will cherish – not only for what it represents, but also because you oversaw and fine-tuned every detail of its creation from the moment the idea was conceived. When it comes to an custom jewelry creation, never settle. At Valeria Custom Jewelry, our designers will work directly with you  to ensure that when you receive the final piece, you're not just satisfied, but blown away. Take advantage of our experienced and knowledge. Contact Valeria Custom Jewelry to start work on your masterpiece today.
Valeria Custom Jewelry is becoming known for creating unique one-of-a-kind Unique Custom Made Jewelry.  We create pieces designed from the ground up.  From engagement rings, wedding bands, wedding sets, pins, cufflinks, earrings, to necklaces. Anything that can be cast in gold, silver palladium, or platinum using the lost wax technique.  And all of it can be accented with the most beautiful diamonds or gemstones available at the best value. In addition, it is usually at prices lower than the chains.
Unique Custom Made Jewelry – Give Valeria Custom Jewelry a Chance!
While being a Custom Jewelry Maker is our specialty, we offer much more! With the latest in 3D CAD technology, we are a one stop shop for all of your Unique Custom Made Jewelry needs.  Don't settle for plain, overpriced, mass produced jewelry from the mall and chain stores.  It  won't nearly as last and won't show any the personality you can instill into a custom piece.  Don't you want your piece to have a story you can tell people???
Using your unique ideas, along with old and unused jewelry you may have sitting in a drawer or no longer wear, we are able to create brand new pieces you will be dying to wear!  In this way, we make a new piece of jewelry with the original sentimental value still intact.  And with our collaborative process, you will get the piece you want as we don't begin manufacturing until we receive your approval on the final design.
CClick here to learn more about custom jewelry, to see our portfolio, or to contact us about creating some Unique Custom Made Jewelry for you.  It can cost less than you think to have your very own custom engagement ring made just for you. Why hassle with the retail stores for boring and overpriced engagement rings?